~ This post contains affiliate links, which means we will receive a small commission if you make a purchase after clicking on our direct link. Don't worry, it doesn't cost you anything extra. And, we won't recommend anything we're not personally a fan of! Please reach out if you have any questions about sponsorship or ads on our blog. We're happy to help explain how this works, and as always, thank you for reading and supporting LovingHere! ~
---
This is Part 2 of our ultimate baby registry guide of favorite baby items. For PART 1, which includes are awesome crib, car seat, and stroller, CLICK HERE.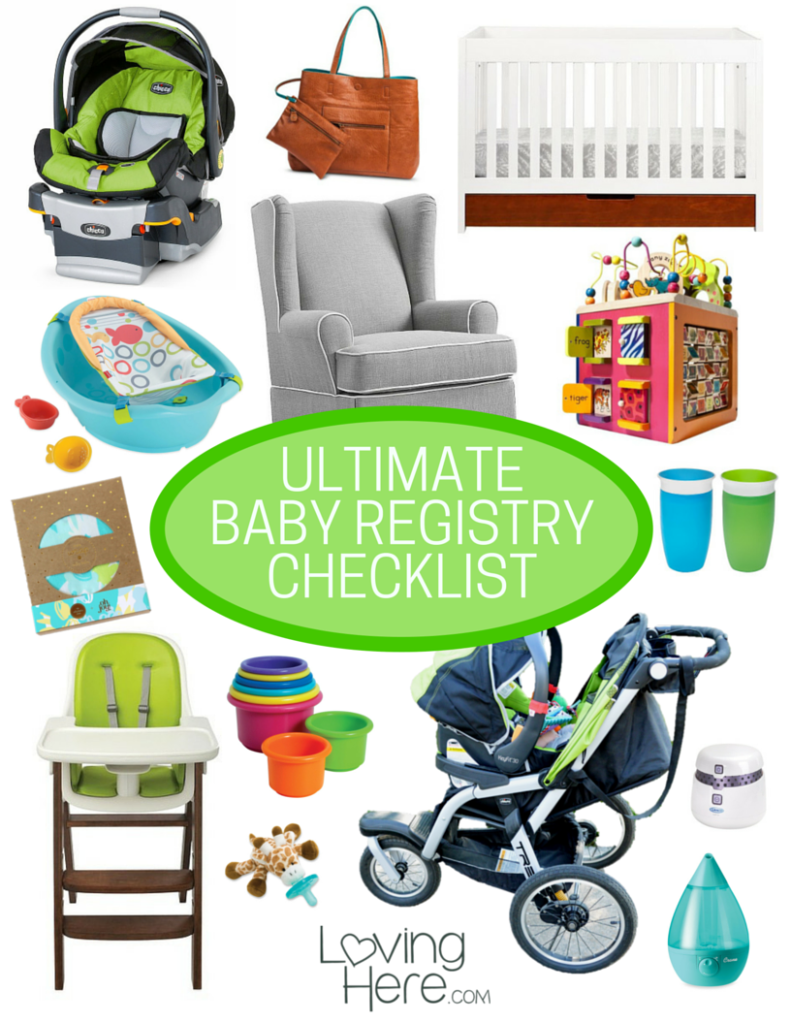 I can't believe Will is almost a year old! Seriously, I'll be over in the corner sniffling over baby photos while you read this post. I know I shouldn't get too sentimental about the past, but darn it, my baby boy is growing up so fast and I'll take a few moments to wish time would slow down if I want to! In the meantime, here are 7 more of our favorite baby gear items that have gotten us through this first year as first-time parents.
These were one of our favorite items for the first six months, but Will actually never uses this anymore. Maybe the fact that he's not actually sucking on it in any of these photos is telling?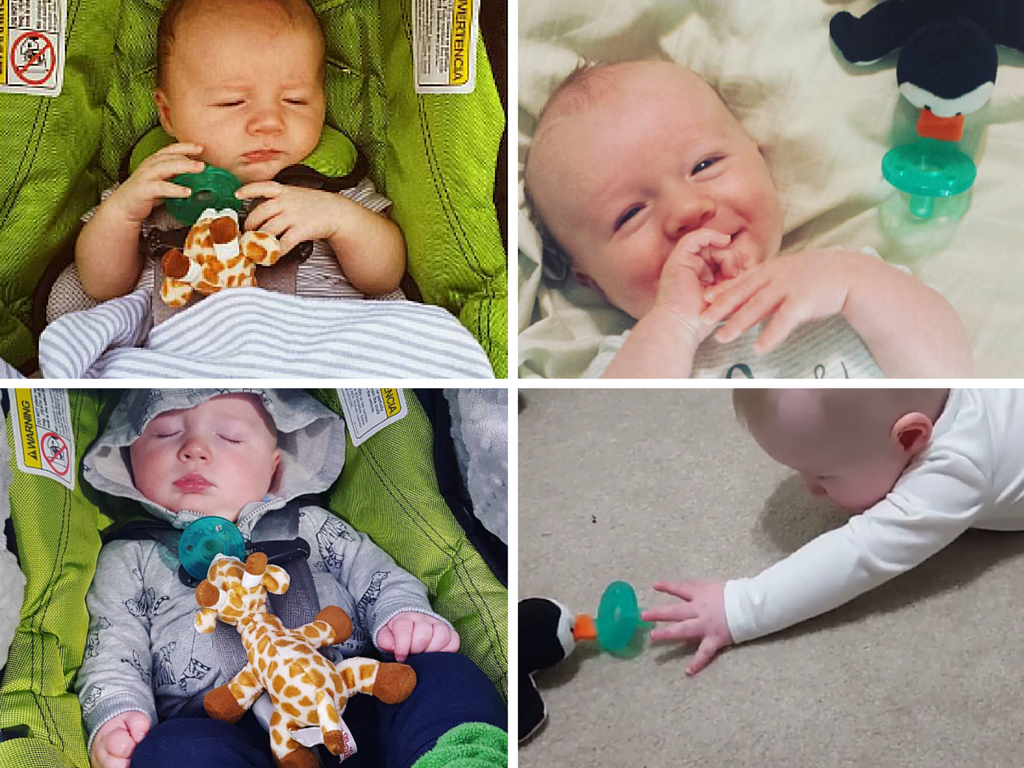 In fact, I've packed his pacifiers away. A small part of me wishes Will would still use these. It would be easier when he has a meltdown in person! But, he seems to have outgrown it on his own. Still, for awhile, it was really, really great to have. Not only is it cute, but the stuffed animal helps him hang onto the pacifier himself, even putting it into his mouth before he mastered the pincher fingers. But, Wyatt also used to wedge it between his body and Will's body, to help hold in the pacifier on those fussy nights when he was too tired to suck on it, but cried when it fell out of his mouth.
Plus, they have so many animals to choose from. Just adorable.
9. Fisher-Price® Rinse 'n Grow Bathtub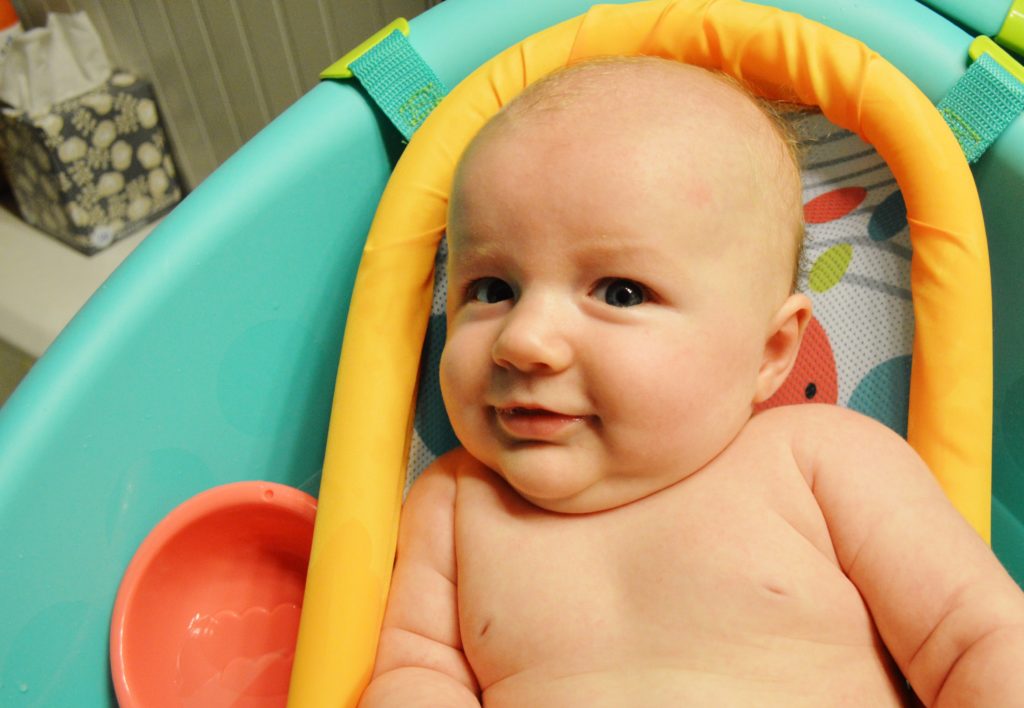 We have been really, really pleased with this one. Mostly because it has worked for the entire first year with the included infant swing, but also because Will freakin' loves the little cups that came with it. He would play in the bathtub with these all day I think. Seriously, he crawls into the bathroom any time we accidentally leave the door open and goes right for them every time. We even take them out to the pool when we play because he thinks splashing water with these is the best thing ever.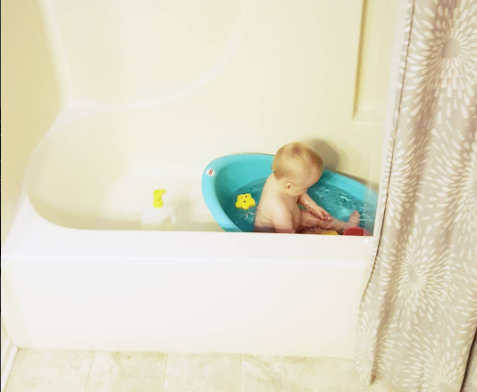 Of course, we've done sink baths, and even just a dip in the actual tub a few times, but overall, we use this bathtub most of the time because it's easy and the perfect size. (It doesn't take much water to fill, so we're not wasting time or resources. And, while we considered getting one that would fold up and fit in a cabinet, since we bathe Will in our guest bathroom, we just leave it in the tub. The few times we've had guests, we just remove it and set it on the floor or the sink, then it goes right back into the tub for storage.
10. Crane Drop Humidifier in Turquoise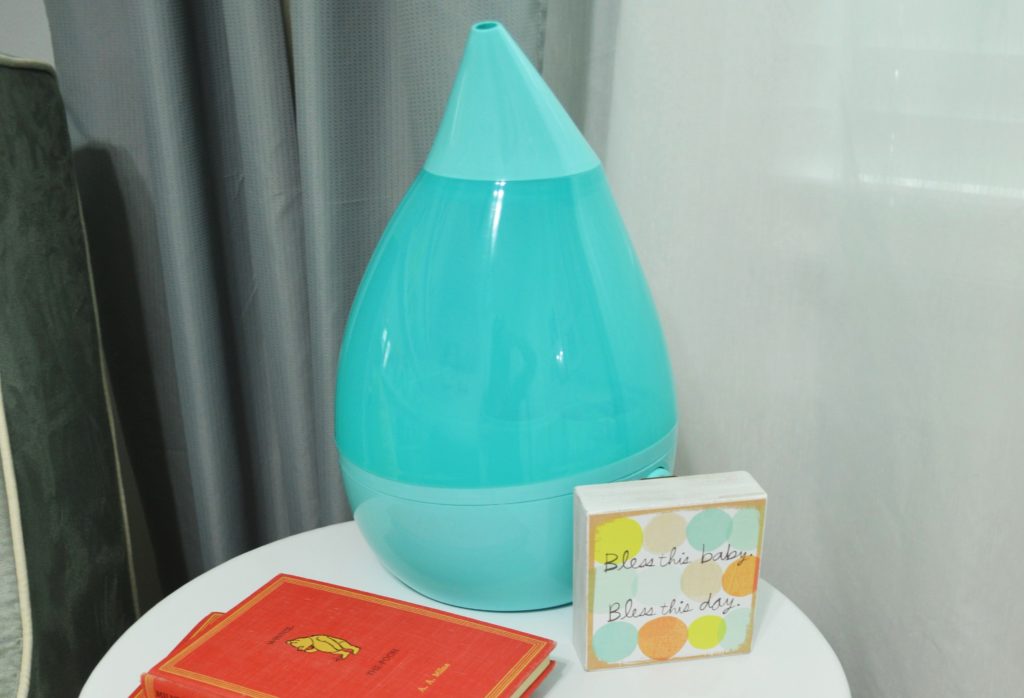 We weren't sure we needed a humidifier and almost didn't include one on our registry, but when Will got RSV right before Christmas and was having trouble breathing, we were so glad to have one at home already that we could immediately begin using.
This one worked well for us, and was relatively easy to clean when we followed the manufacturer instructions, except for the filter, which was really hard to get deep cleaned. We did get these replacement filters, though, because we had some issues with getting the filter than comes with it all the way clean.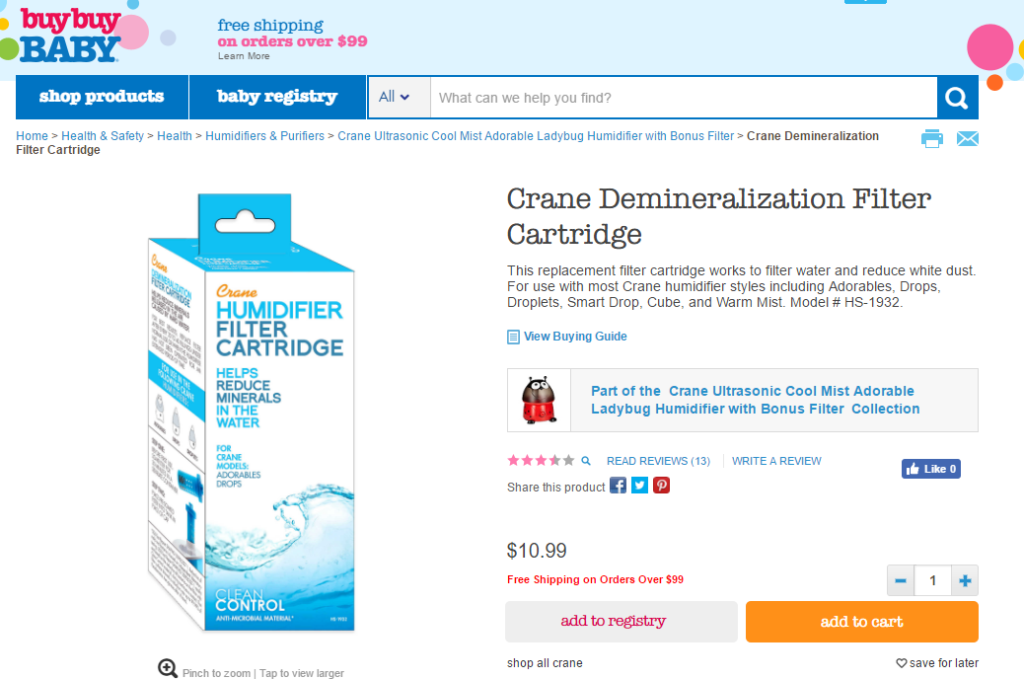 CLICK HERE to find the filters.
11. Zany Zoo Wooden Activity Cube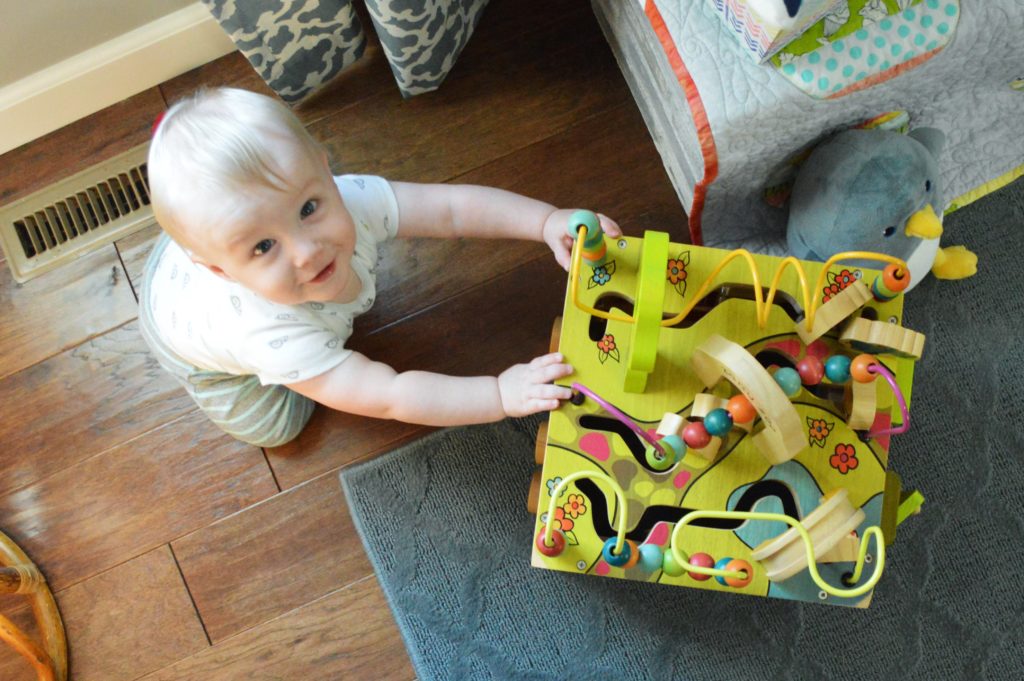 This was one of Will's Christmas presents for his first Christmas (he was about 6 months old) and even though it took him a few more months to really get the hang of it, he's a big fan now. Not only does he sit and open the doors and spin the moveable blocks, but he also likes to pull up and stand on it to play with the beads on the top. I have a feeling he'll play with this for awhile, too, because right now, he's just making noise or movements. When he understands about letters and animals a little better, I think he'll have even more fun.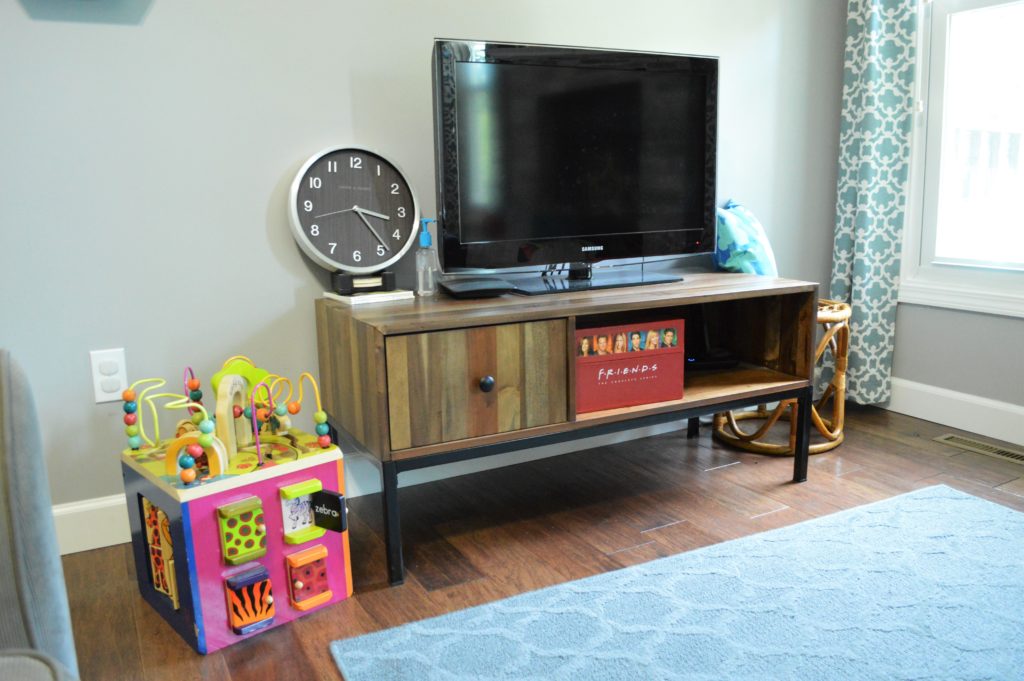 Plus, it looks cute sitting out in the living room. It provides entertainment without looking cluttered or messy, which gives it major bonus points in my book.
12. Graco Sweet Slumber Sound Machine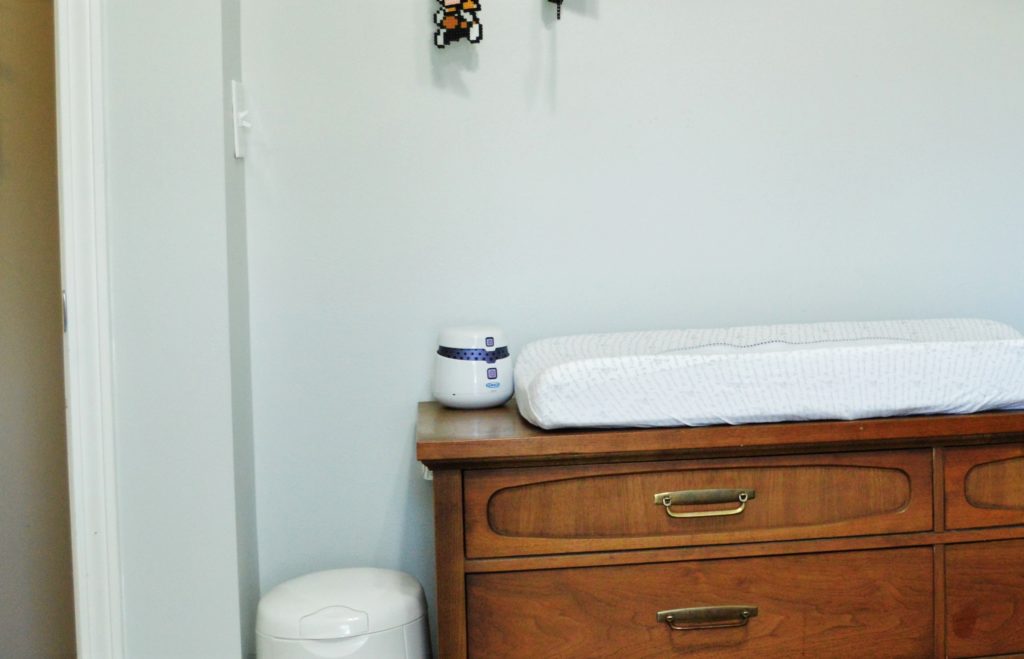 Having a sound machine has been great for us. I know there are some who disagree and say they aren't necessary and that kids should learn to sleep without them, but we've been really thankful to have it, especially in those rough newborn days when he would cry and cry and cry before falling asleep. Man, those days were hard. For as cute as Will is, people never believe us when we tell them he's not always that smiley. In fact, sleeping has always been a challenge for our super alert, super curious little boy.
But, he's always calmed with a shushing sounds, and not having to constantly make the sound with our mouths was so nice. Plus, this one is light and easy to travel with. We can also use it as he gets older to play music with an MP3 attachement, and it has a built-in nightlight. Cool.
Of course, this is another item that we don't use as often anymore now that Will is older and cries a lot less. We don't use it at all for naps, and have turned it way down at night, if we use it at all then. But, for the first 9 months, it was a lifesaver.
13. Reversible Tote Purse/Diaper Bag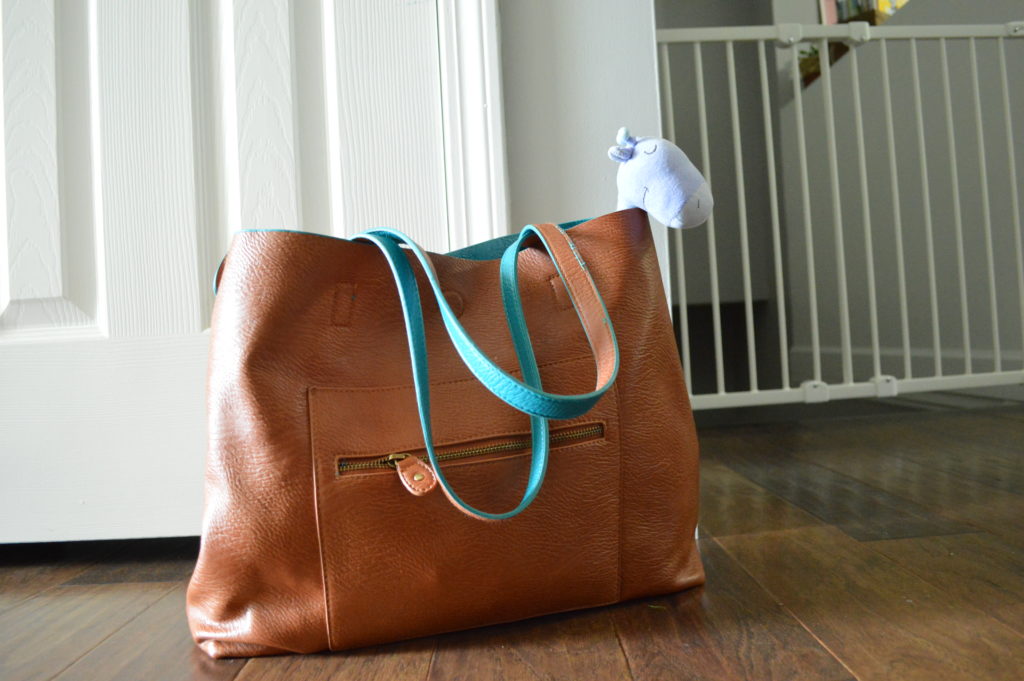 I used a backpack in the early months since we had a lot more to haul around. But now that Will's older and doesn't need as much, this works so much better because I have one bag that acts as both a purse and a diaper bag. Before, I was always moving my wallet from the diaper bag to my purse and I was always afraid I'd get to the checkout counter at the grocery store and realize I didn't have it. It's big enough for all my stuff, and his stuff. It's reversible, but I always leave the blue side in as an accent. The attached little zipper bag is also nice. I use it for quick access to hand sanitizer, toys, and other stuff for him.
Keep in mind, this might work for you, if you're a minimalist when it comes to packing around baby stuff, but as a first-time mom, I tended to carry more than we needed. I'm since simplified now that Will is older. It's VERY rare he'd need an outfit change, and I no longer carry the nursing cover and a bunch of burp rags everywhere, for example. But, it is actually plenty large for that stuff if you wanted to carry it with you all the time. The bag is even big enough to fit our tiny cooler if we need to pack milk or other snacks around for a day out.
14. Solly Baby Wrap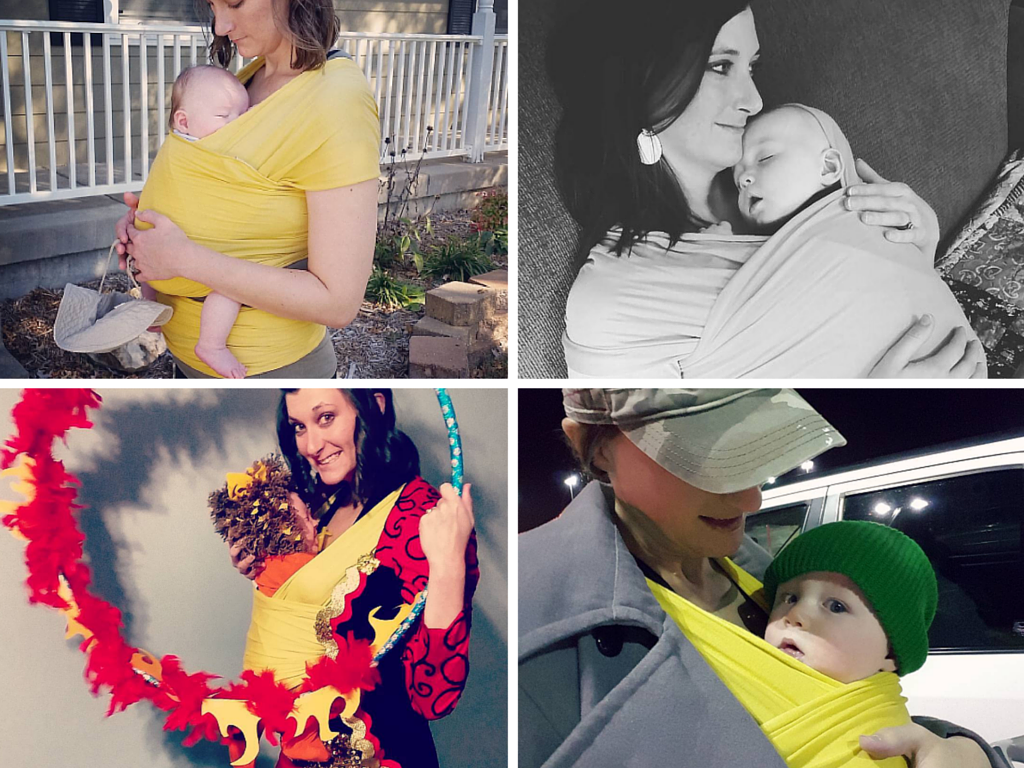 You've seen me gushing over our Solly Baby Wrap before, especially on Instagram, but this is seriously my favorite and it's worth saying again. I loved wearing Will in this, and yes, he gets hot in the summer, but honestly, this wrap is really breathable and I don't think he gets much sweatier than he would if I was just holding him. (That's what led me to this brand instead of some of the cheaper versions I considered.)
I love snuggling him when he's wrapped tightly to my chest, and I think it's one of the things I'll miss most of this newborn stage. I still wrap him occasionally, but not as often as I did when he was smaller. Still, I'd consider this a must have item for the first year, for sure!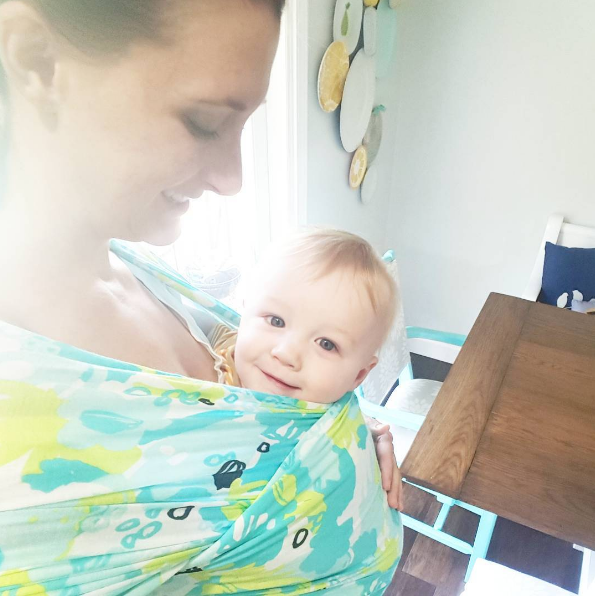 P.S. This isn't as affiliate link or anything, but I had to include them in the list anyway!
Ok, that's enough words for today. It's been fun looking back over the past year and thinking about our favorite products. We certainly have a few things we wouldn't buy again (what first-time parent doesn't end up with more stuff than they really need?) but we're pretty pleased with the items we chose for our registry and hope our reviews and suggestions can help others who are shopping, too. And don't forget, this is Part 2 of our ultimate baby registry guide of our favorite baby items. For PART 1, which includes are awesome crib, car seat, and stroller, CLICK HERE.
What are some of your favorite baby products? I'd love to know what I should add to our list!
Don't forget to create your Target Baby Registry and Register Your Baby Registry online at buybuyBABY and Receive FREE Goody Bag in Store!
 –even if you don't get all the items as gifts, you get a completion discount you can use to save money on big purchases.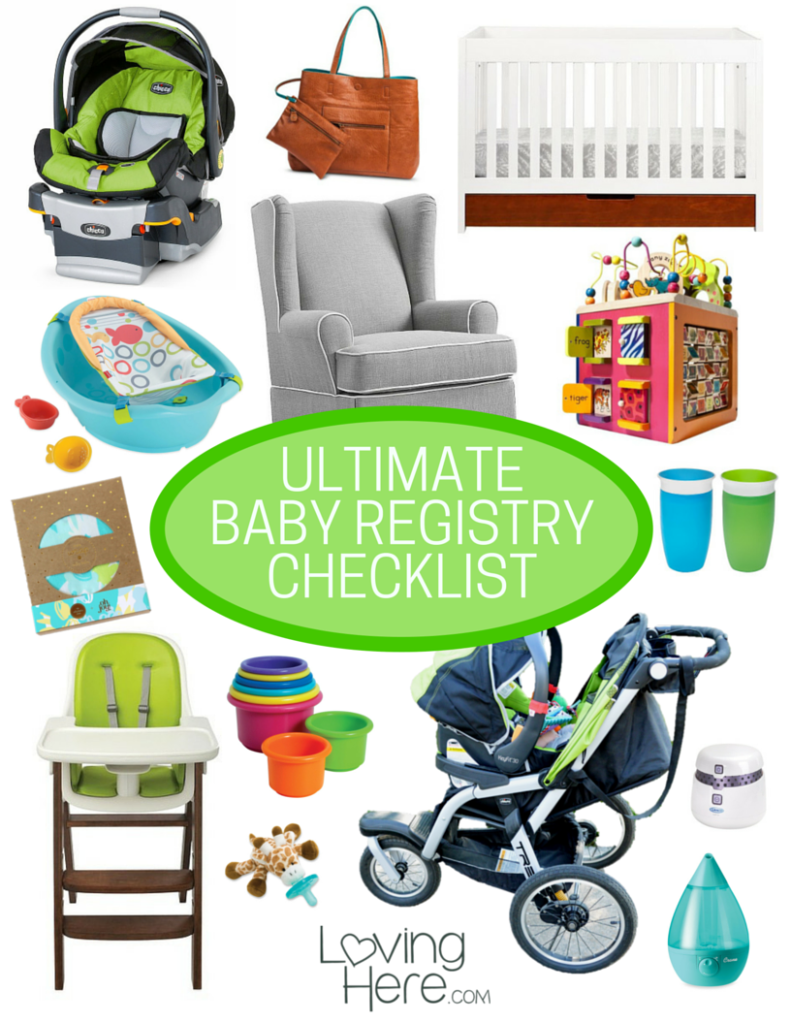 ---
~ This post contains affiliate links and we will receive a small commission if you make a purchase after clicking on our direct link. It doesn't cost you anything extra but it helps us! Please reach out if you have any questions. Thank you for supporting LovingHere! ~