---
~ This post contains affiliate links, which means we will receive a small commission if you make a purchase after clicking on our direct link. Don't worry, it doesn't cost you anything extra. And, we won't recommend anything we're not personally a fan of! Please reach out if you have any questions about sponsorship or ads on our blog. We're happy to help explain how this works, and as always, thank you for reading and supporting LovingHere! ~
Be sure to follow all our other projects, here! We hope you enjoy our little corner of Blog Land and stop to look around a few other pages, like our DIY Foam Cooler Ottoman, Ruler Growth Chart, our Kitchen Renovation, and my free printables.
---
Let me just say that I know this post is likely to be a little controversial. My mom was on "Team-Don't-Paint-The-Brick" since I first mentioned it. My friend Erin has been behind my plan to paint from the beginning. All that being said, here's a comparison shot to sway you to my point of view. I'd love to hear your comments at the end after checking out how to whitewash brick the easy and (maybe even) free way!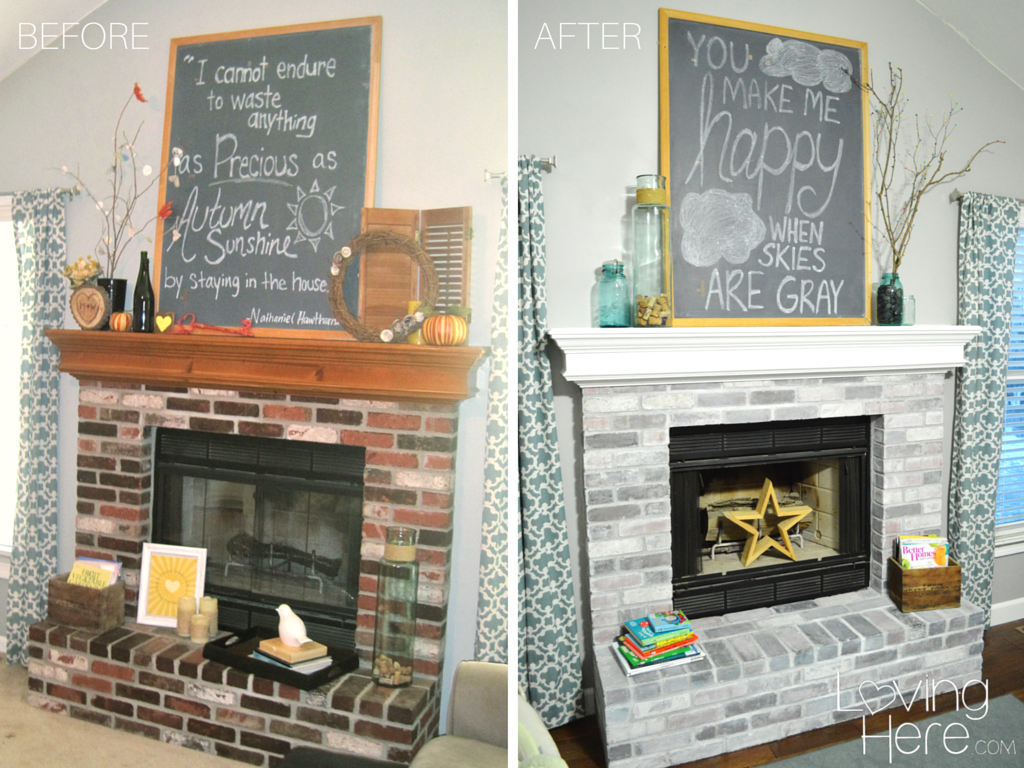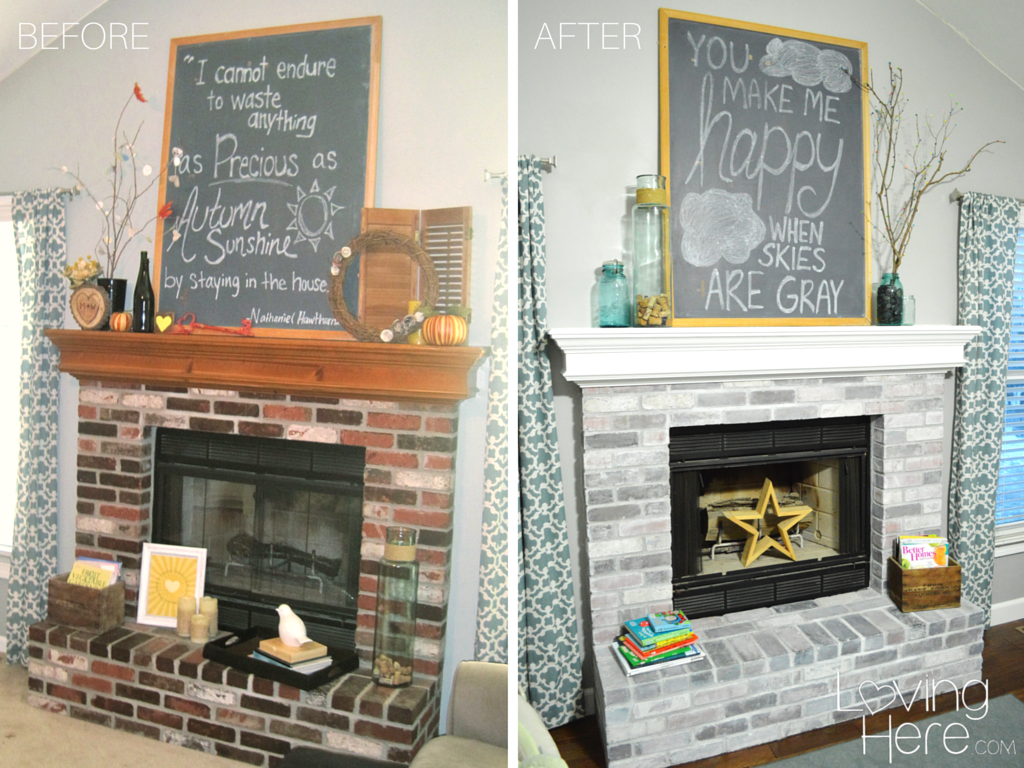 It all started with a hasty decision to finally just bite the bullet and paint our mantle white–something I'm been wanting to do since we moved in but just hadn't ever fully committed.
But, as we're in the middle of the January slump (the stage of the year when it's too cold to paint anything outside or in the garage), I craved some sort of progress, and since we had the white paint on hand anyway, and the mantle was already bare after removing the Christmas decorations, I figured I might as well jump in with both feet.
So, last Saturday afternoon, this happened: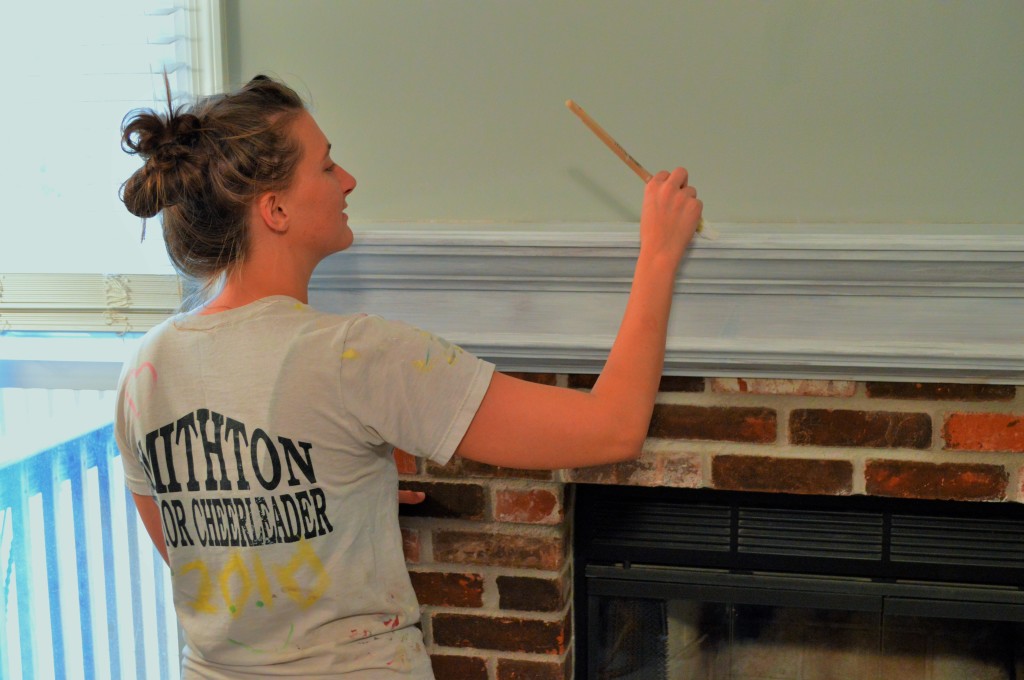 We used our Zinsser Primer
, which we buy from Home Depot and use for anything that has been pre-finished. It allows paint to stick without needing a lot of sanding or de-glossing.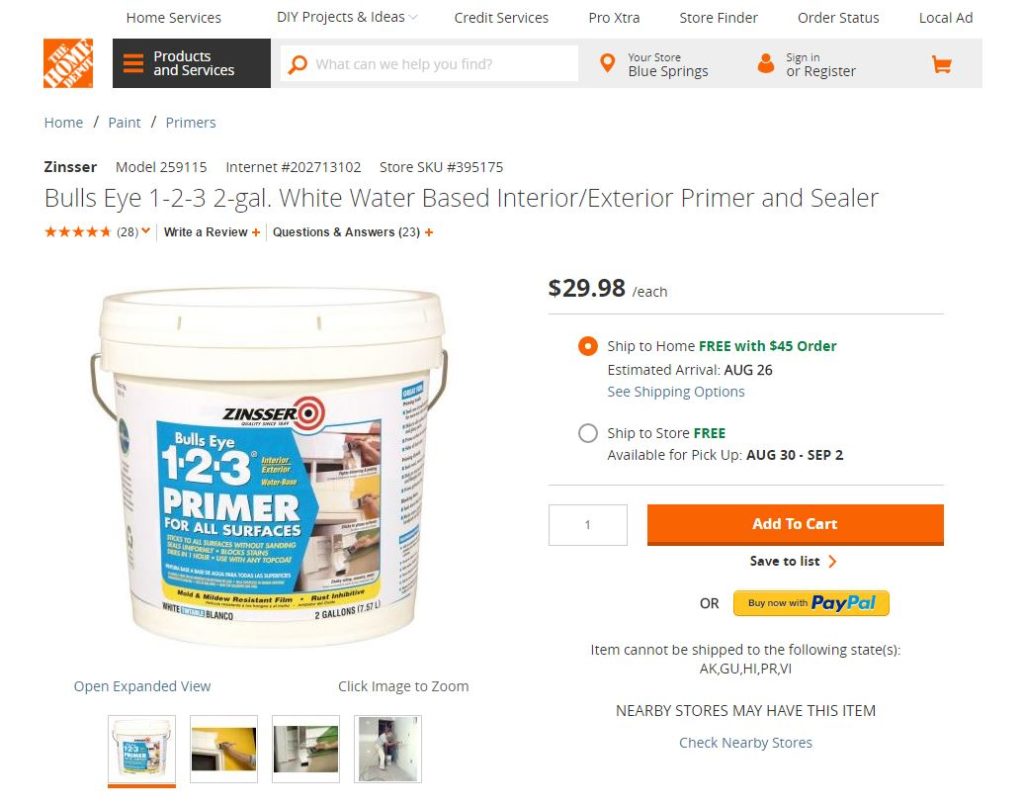 We buy the 2-gallon size, because it's a better deal, but if you're only tackling the fireplace mantle, the one gallon size will be plenty…and give you some leftover for refinishing a coffee table someday.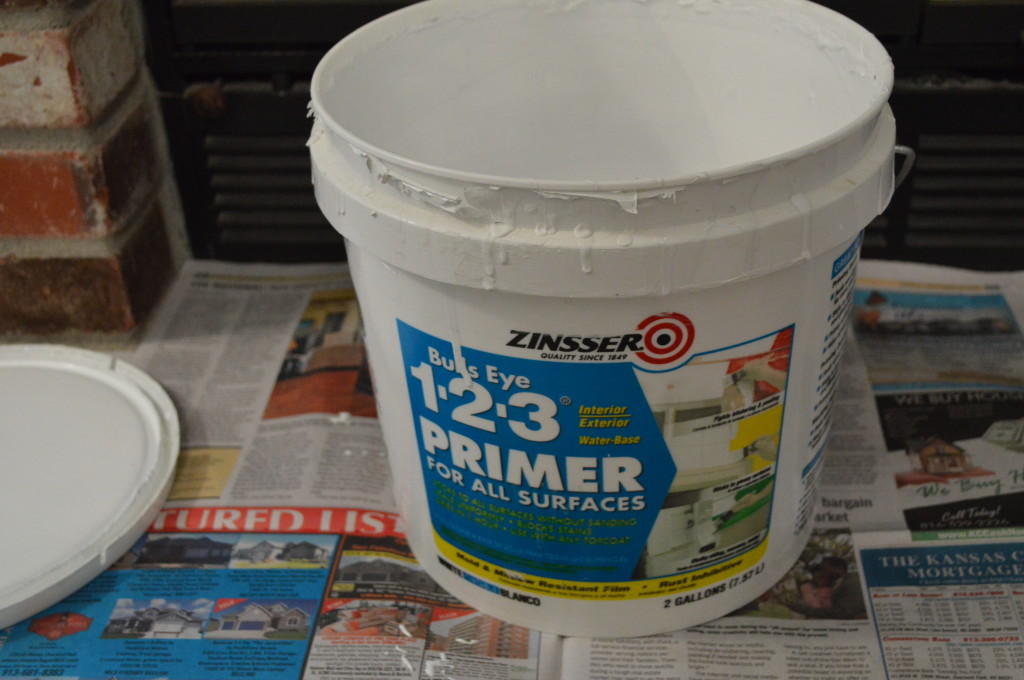 And before I started, I went over the wood with some sandpaper to rough it up a little. Even though with Zinsser, you don't really need to sand, I wanted to at least go over it a bit anyway since the wood was pretty glossy with several coats of lacquer.
At that point, I asked Wyatt if he was having second thoughts and he said, "No, but I kind of wish you'd started in the basement…"
So much for confidence, huh?
But it was too late, so I simply got out my paintbrush and got to work.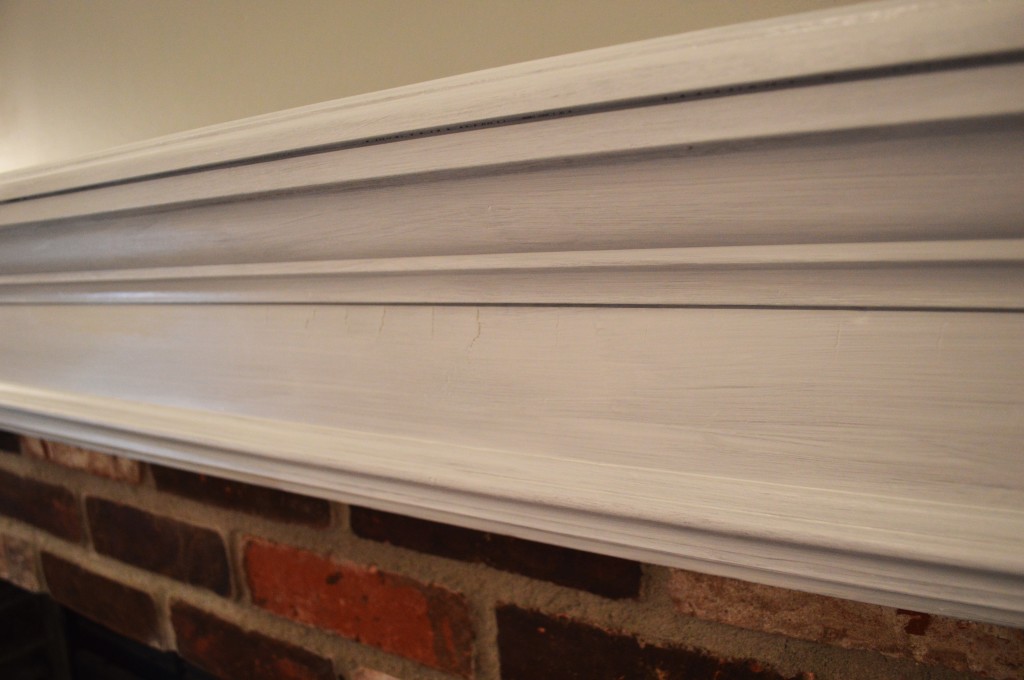 This is after two coats of primer, so it wasn't really done, even as fine as that was, I knew I wasn't finished. And in fact, Wyatt was the one who said it first.
"You're going to want to do something with the brick now," he said.
He was right.
As nice as the white mantle looked (we're moving away, slowly, from the orangey wood tone that filled our whole house when we moved in), the dark brick stood out so much now that the contrast was a little too much.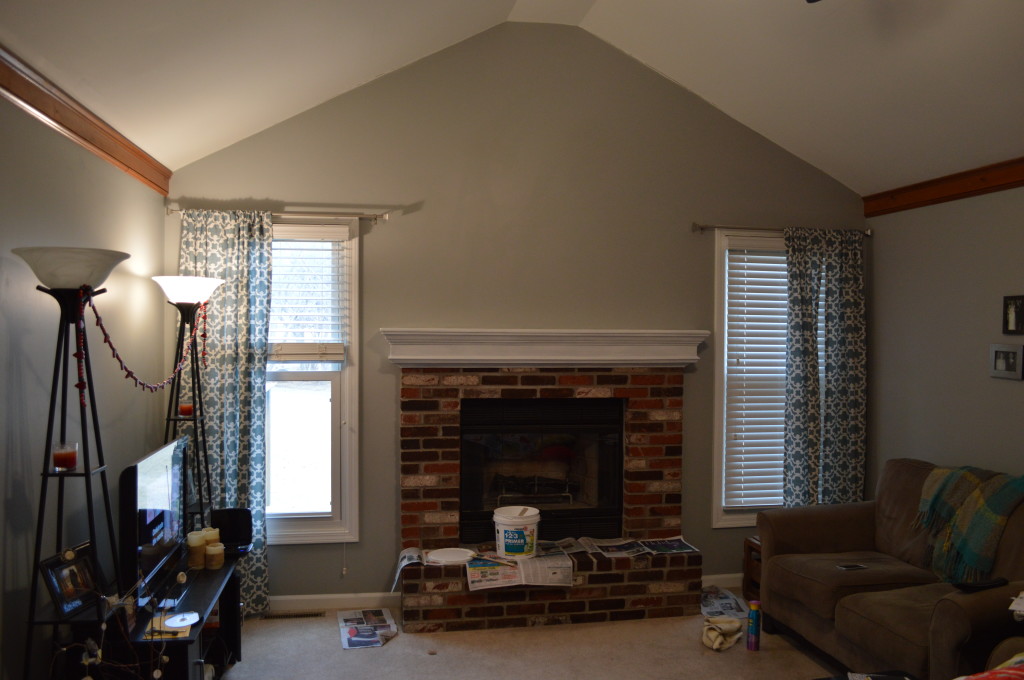 Originally, we had considered painting the brick white, which is how John and Sherry did it in their old house. (Go check it out, if you're not a fan of painted brick and it will change your mind!) But, he wasn't ready to commit to that fully yet. And I agree, it's a big step, because once you go with paint, you can never go back to the natural look of the brick.
Still, something needed to be done.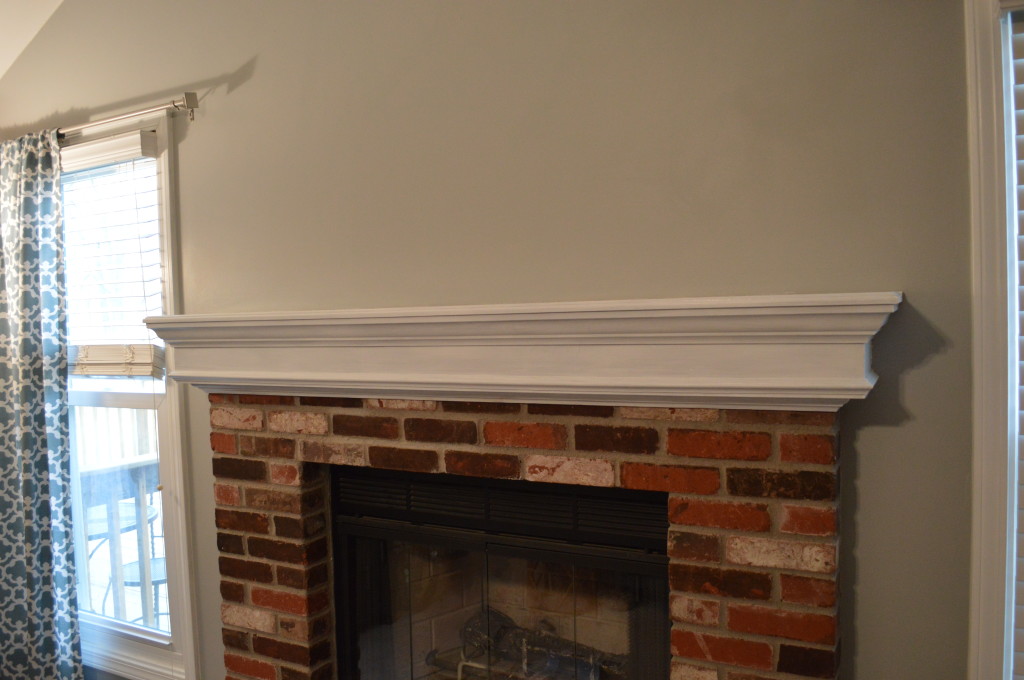 After a quick search online, I had the idea to possibly whitewash the brick, and when I showed this photo from East Coast Creative to Wyatt, he was interested. Go check out her post for more inspiration on how to whitewash brick and transform the entire look of a room.
He was a little unsure about the white mantle since it was dark gray in the example above, but after a little convincing, he was ready for me to pick up the paintbrush and get to work. Speaking of paint brush, this is my favorite one.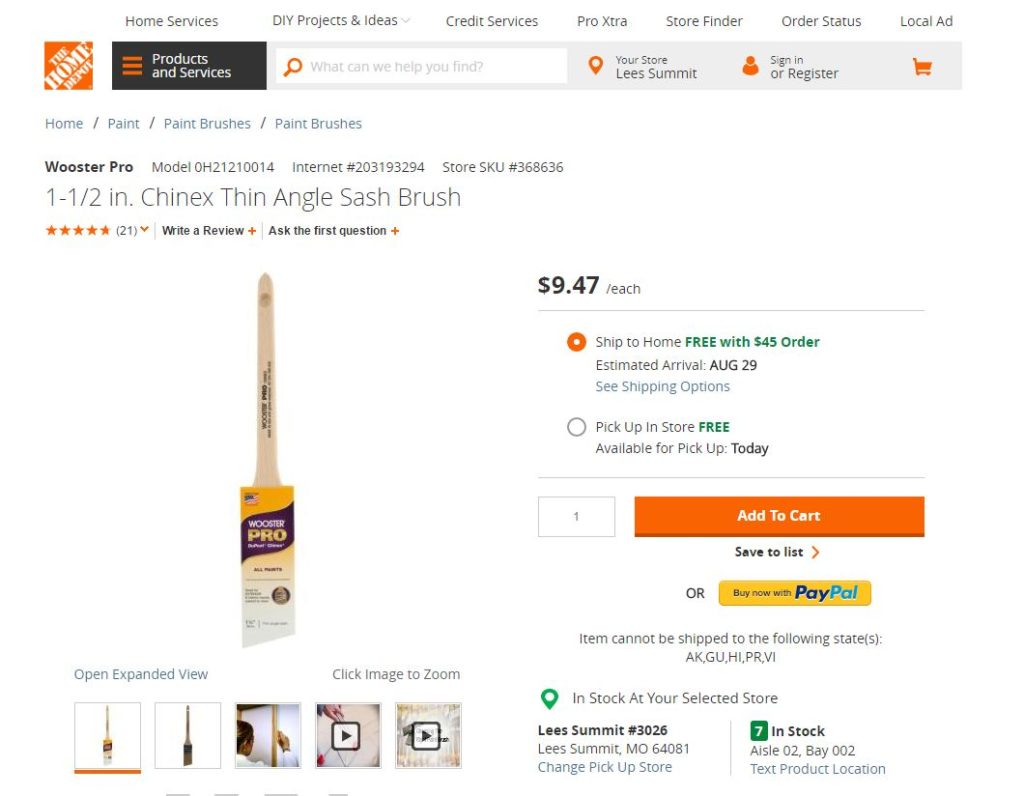 It's from Home Depot and it's a 1.5-inch angled brush by Wooster Pro. I buy a couple of these to have on hand at all times and I'm pretty protective of them. I clean them carefully after each job and they usually last a year or so. Wyatt prefers the 2-inch size.
To start, I mixed the paint in a Chinese take out container (Egg Drop soup anyone?), but it would be nice to use an actual paint cup with a handle. We like this one from Home Depot.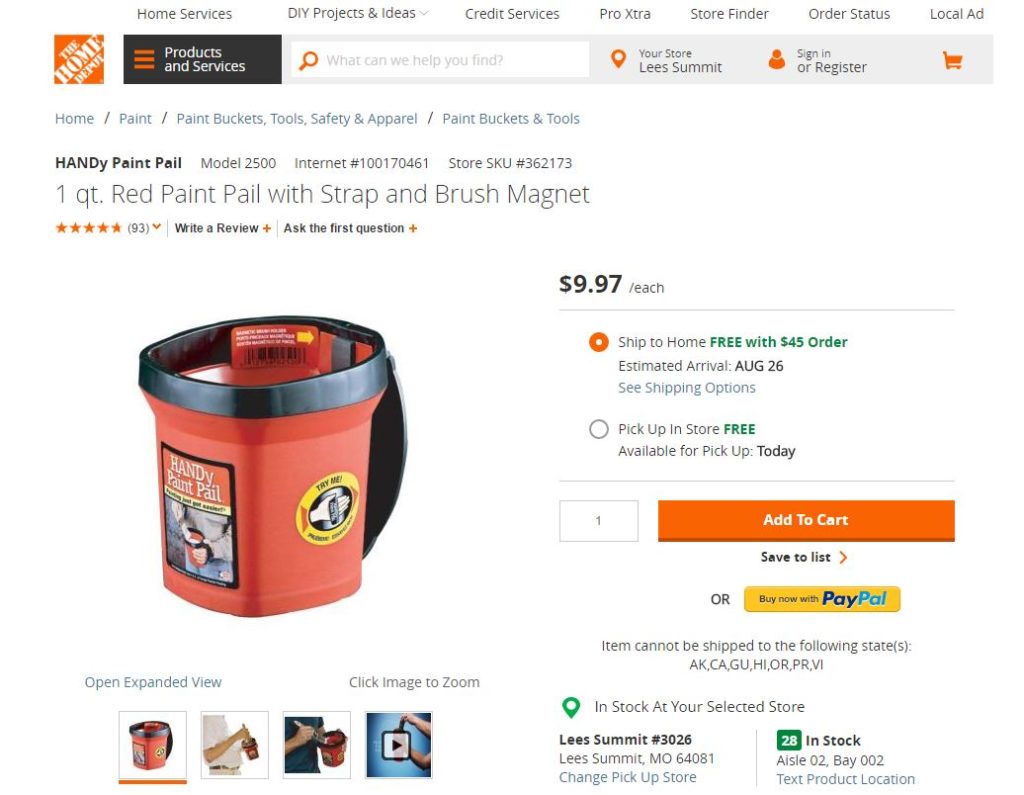 It's less than $10 and worth it for the convenience. It has a magnet inside that holds the paintbrush upright, which is great since you'll need both hands free for wiping drips with a rag during this white-washing project. Anything that contains a mess is a win in my book.
Plus, it has these clear liners that can be purchased to go with it, which make whitewashing a lot easier because you can easily see if your paint/water mixture is thoroughly mixed. And, you don't have to clean the pail if you use one of these. #WorthIt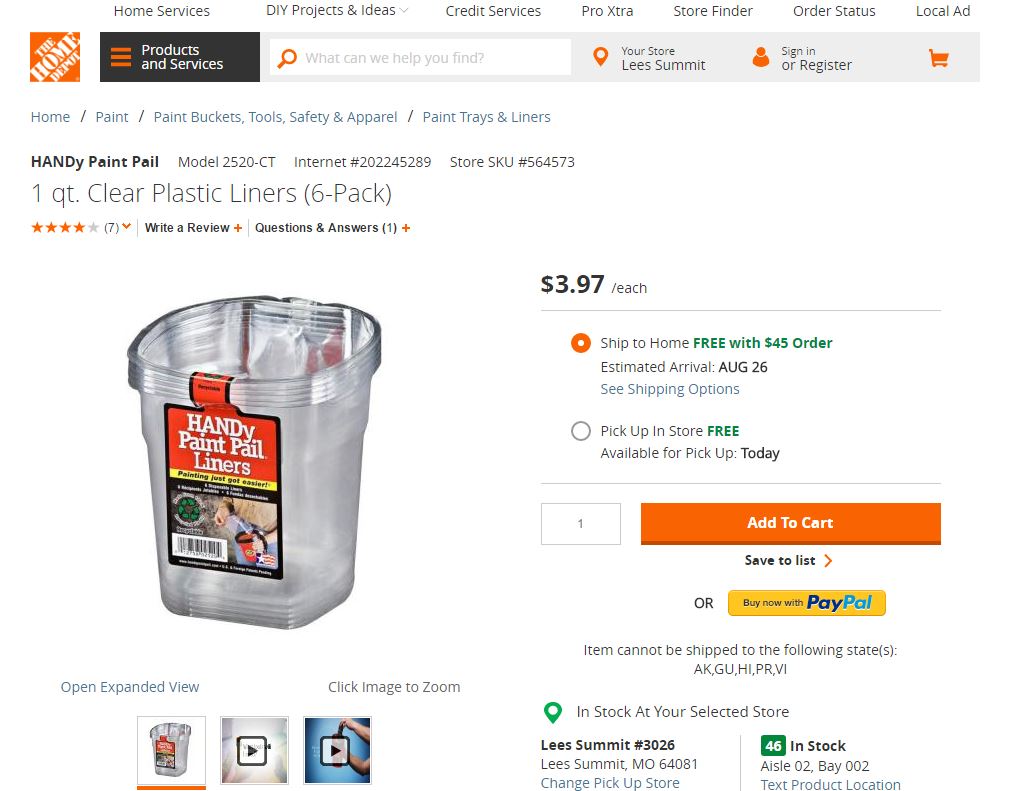 First, fill your container about a third of the way full with paint…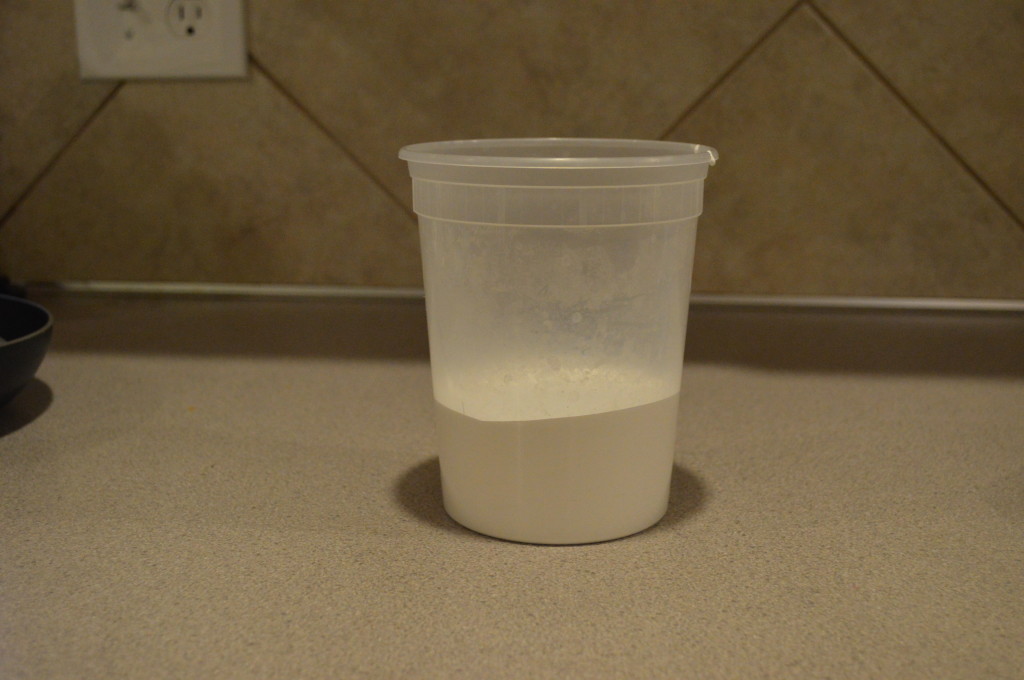 …and then add enough water to fill it.
Then, stir, stir, stir. Seriously, you have to stir it really well. And often. When you think you have it stirred up well enough, keep stirring. We found that stirring every few minutes while applying the whitewash was also really helpful for getting even coverage. Again, this is where those clear liners come in handy.
While I was doing that, Wyatt put down some protection for the carpet.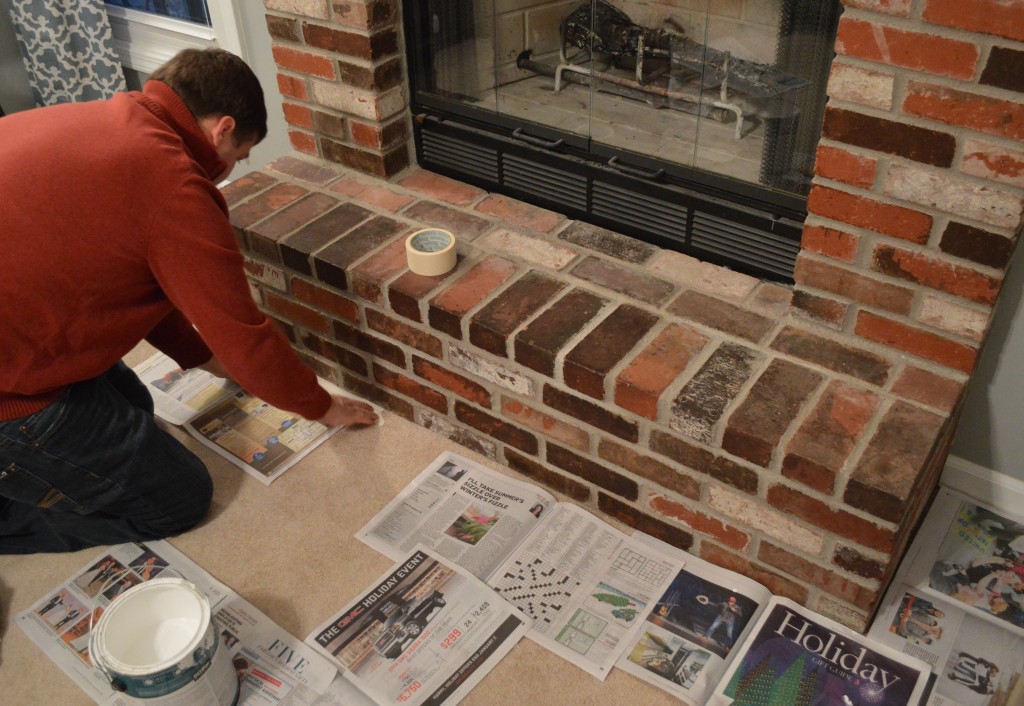 We weren't super worried about it because we're hoping to replace the flooring in here soon…but we don't want to live with painted carpet until that time comes. Luckily, we save our newspapers for recycling and they do a great job of protecting things from my messy painting.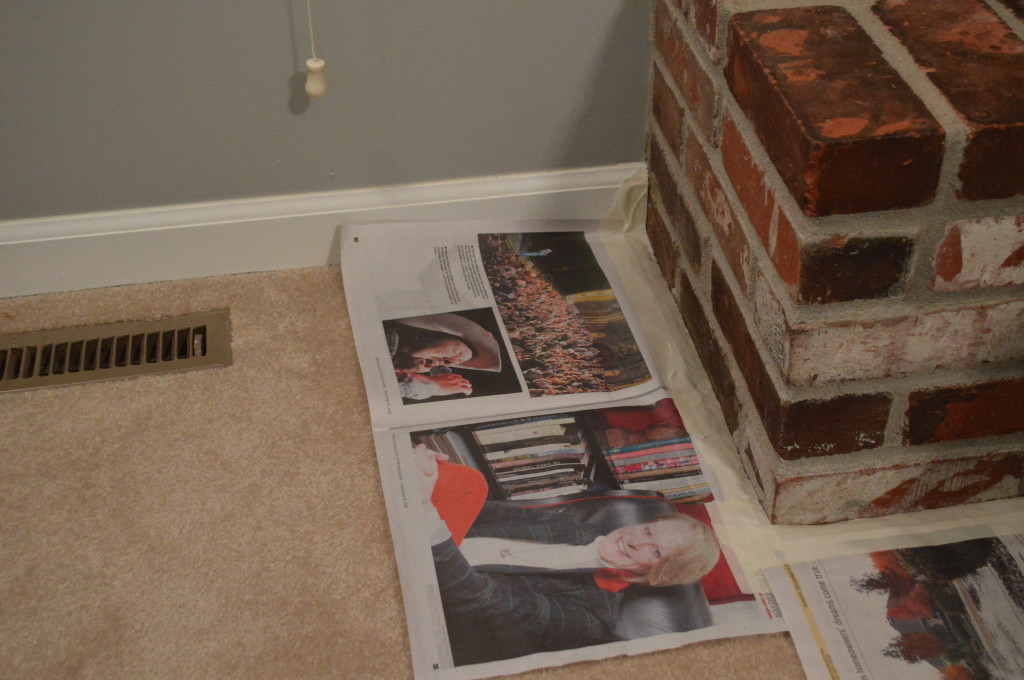 Before we started, we also wiped down the entire fireplace to make sure there wasn't any dirt, dust, or soot on it.
Then, just brush the paint and water mixture on a few bricks at a time and wipe off before it dries.
I did find that it really helps to apply your brush to the grout first (instead of a brick) after dipping it into the paint and water mixture because it's so runny that it drips like crazy and the grout soaks in the liquid a lot better, preventing major drips and runs. It's still pretty drippy though, so I'd recommend working as fast as possible to smooth those out so you don't end up with any weird drip marks in your final result. It's pretty forgiving, though, and you can always go back over an area if you want to touch it up.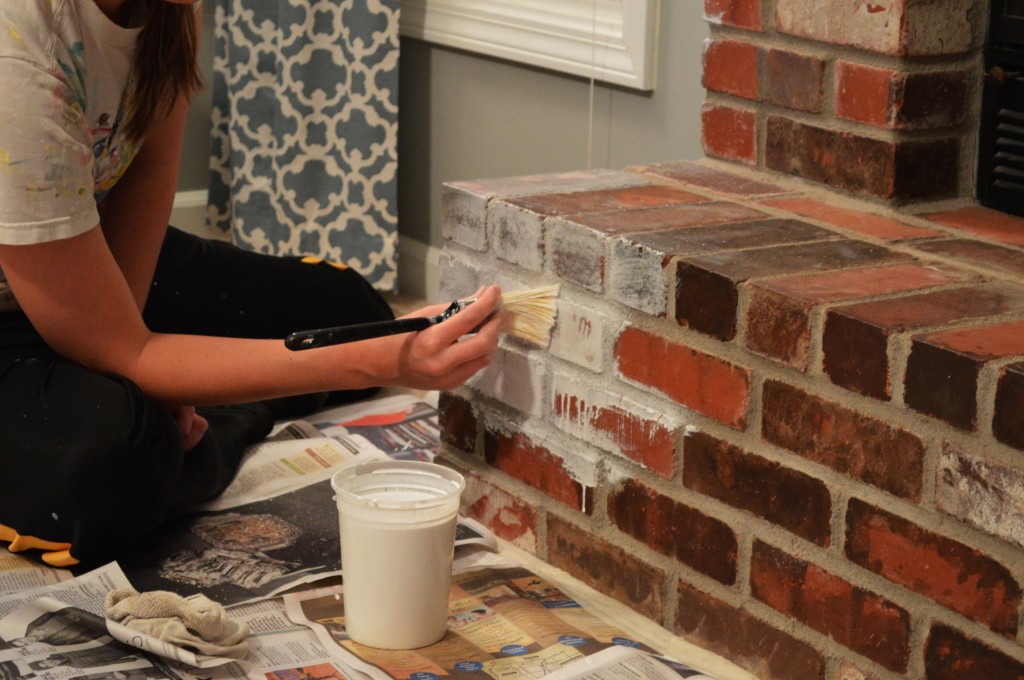 We also found that our some of our bricks had some type of weird texture (perhaps they were partly sealed with something) that made it really hard to get good coverage. On those bricks, I just kept brushing on the whitewash mixture over and over again until it finally covered the surface of the brick.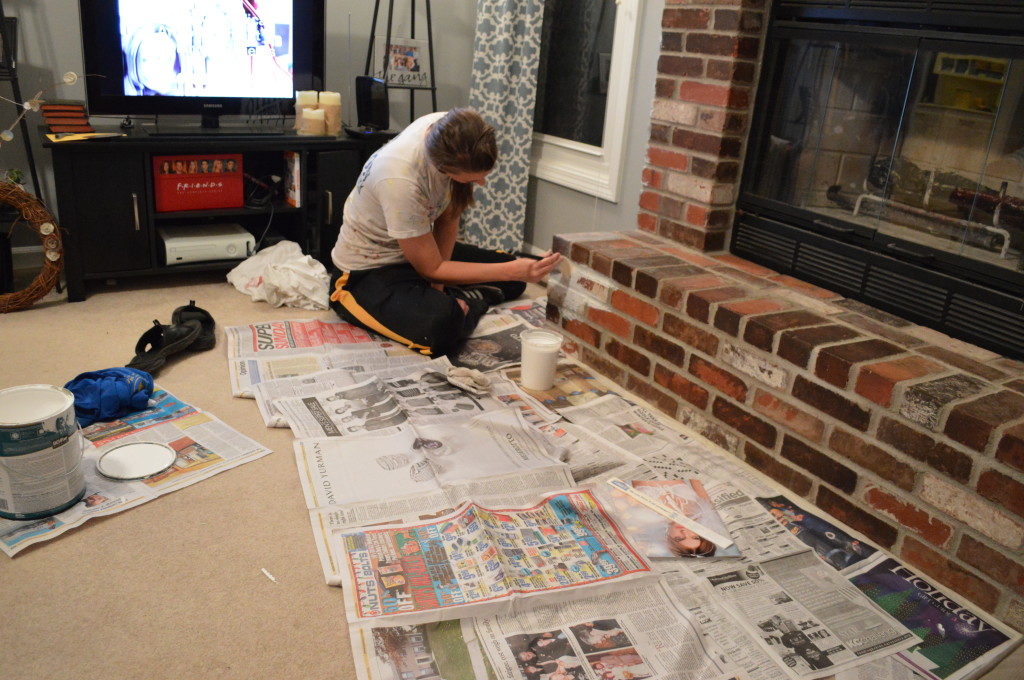 Keep in mind that as you go, a lot of the liquid will soak into the bricks and you'll likely have to go over it again, but the good thing is that you are looking for random differences in coverage in order to preserve the natural look of the bricks so you can always go back and add more paint to any places that aren't as white as you'd like. Or you can leave it if you're okay with a lighter coverage in those areas.
We found the process to take about an hour and a half for our fireplace (I could have gone faster if our paint hadn't been so thin and my brush so stiff–that made for a lot of splatters to stop and wipe up from the walls, and the…ahem… furniture. Oops.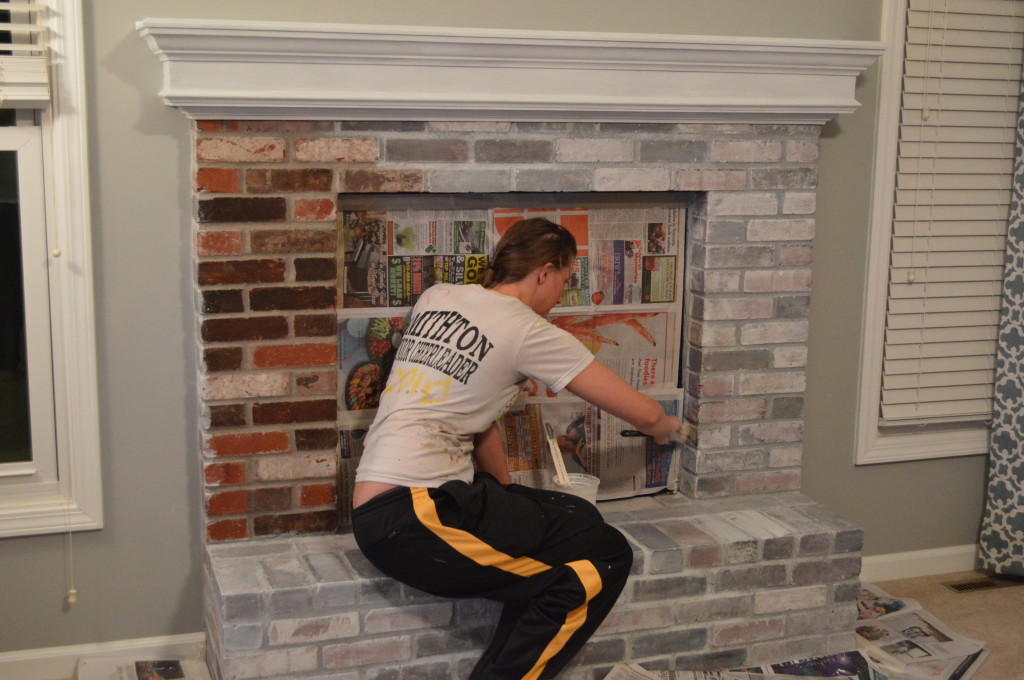 (We did tape off the carpet around the fireplace, but didn't tape the fireplace insert until after I had splattered all over it, which meant we had to do some clean-up, which wasn't that fun.)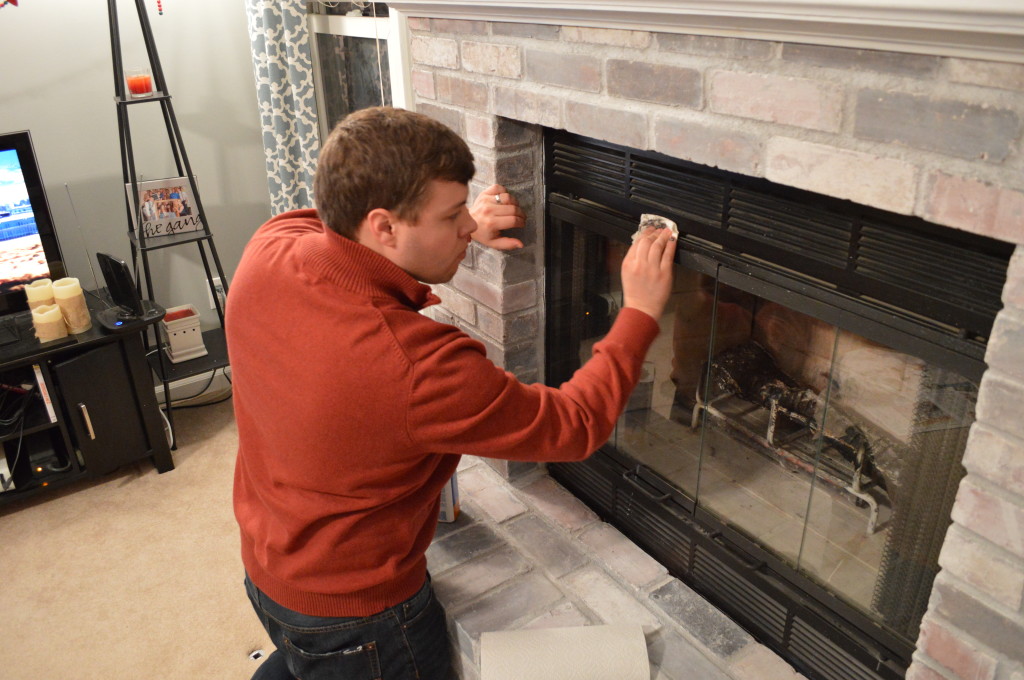 After stepping back and checking to make sure everything was as light as we wanted it to be, this was the finished result: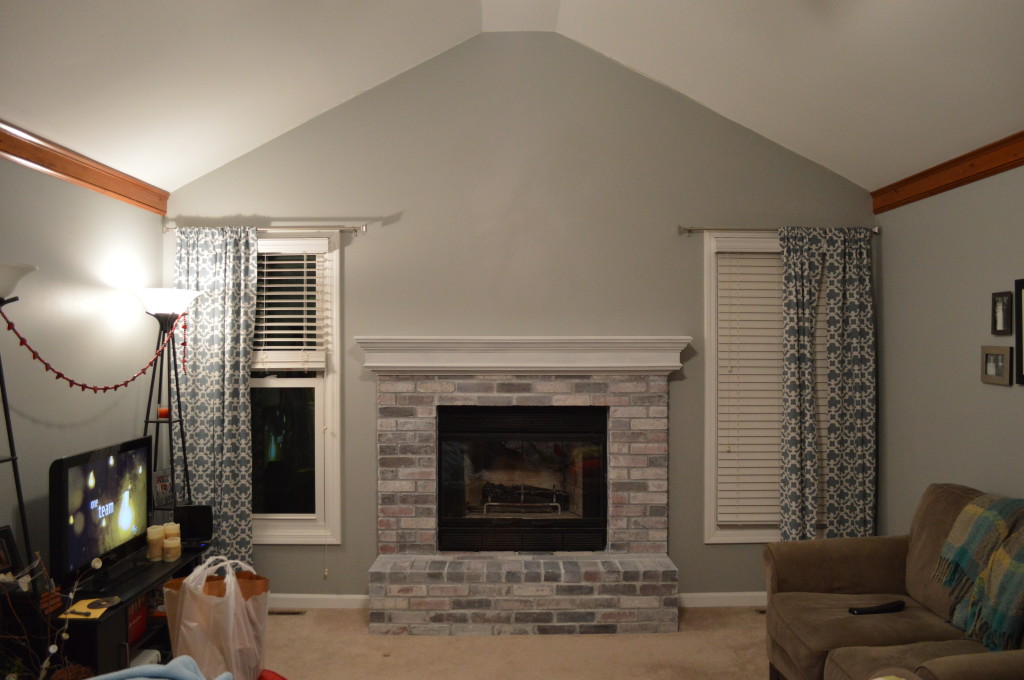 We really like the grayed out look it gave to the formerly orange and red bricks. It really lightened up the room and made things a lot more modern looking. In fact, it's made me kind of want to go darker on our walls now!
At that point, I figured since I had leftover whitewashing liquid, I might as well go ahead and tackle the basement as well, so this post marks our first official attempts at taking over that currently unused space!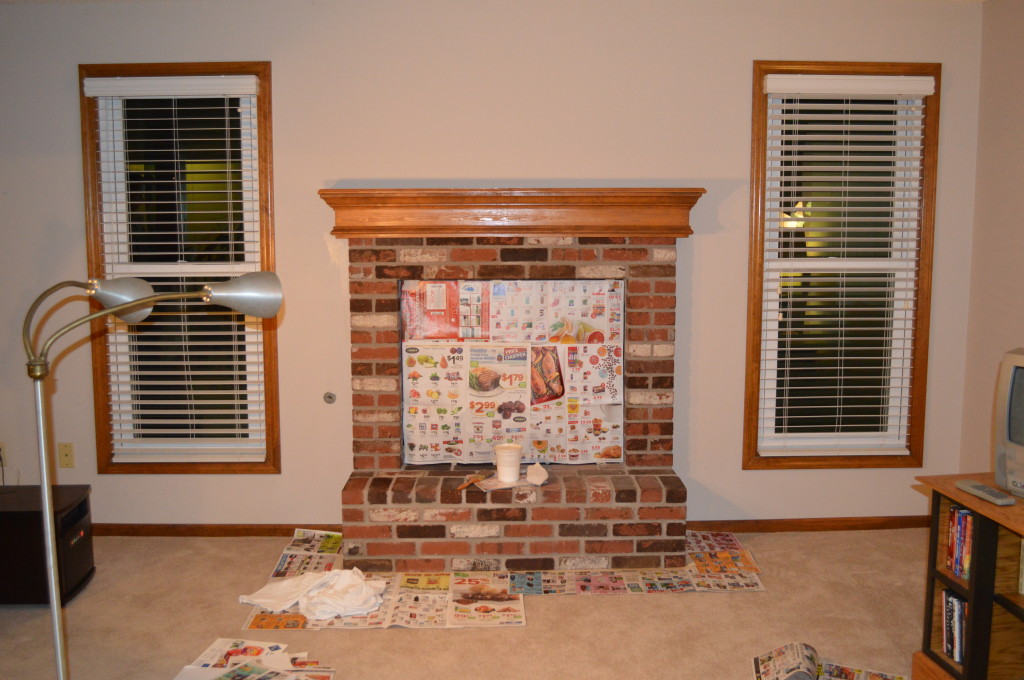 I had already decided I was going to paint the brick on the basement fireplace, but since we liked the look of this whitewash so much, I went ahead and just did the same treatment down there.
We were smarter this time and taped off the fireplace insert with newspaper to prevent splatters. I also used a softer brush, which helped control the mess. Also, since the walls down there haven't been painted yet, it didn't really matter if I got white splatters on them…
Again, I wiped down the surface of the bricks first, which was especially important since it was a lot dustier (cobwebby) down here. (I hope you aren't judging my painting outfits in this post—they're Wyatt's old clothes…and my shirt from when I was a cheerleader in 2nd grade…)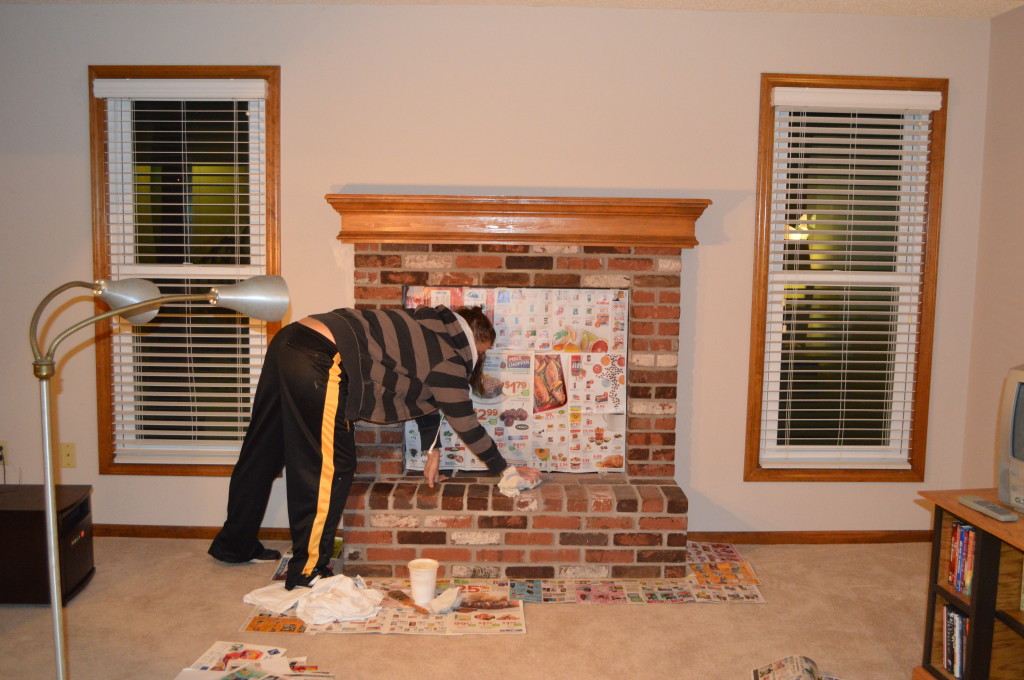 Of course, we still might decide to eventually paint the brick, but this will be a nice stepping stone to that if we do. I'm pretty sure we'll be leaving the whitewash in the living room for awhile though, because we both really like the natural, yet muted look it has. And the gray brick seems a lot more modern that I don't even mind it.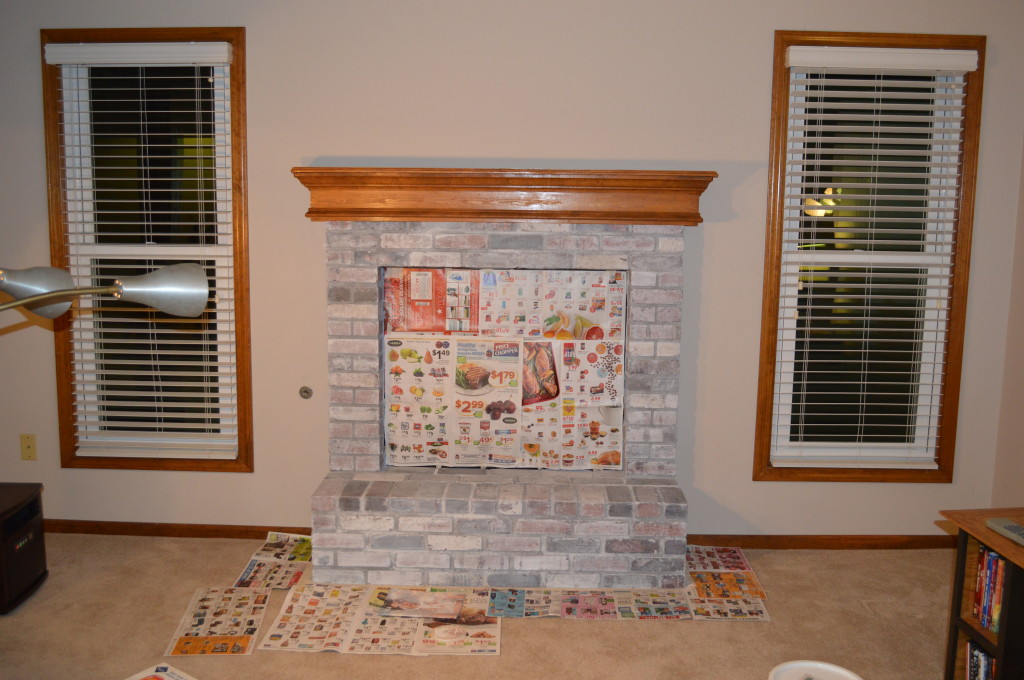 As you can see, I still need to paint the mantle down there, but I'm still feeling pretty crummy so I haven't had the energy to tackle it yet. Maybe over the weekend. Or not. We'll see. Either way, how exciting that we now have lighter, more modern brick upstairs?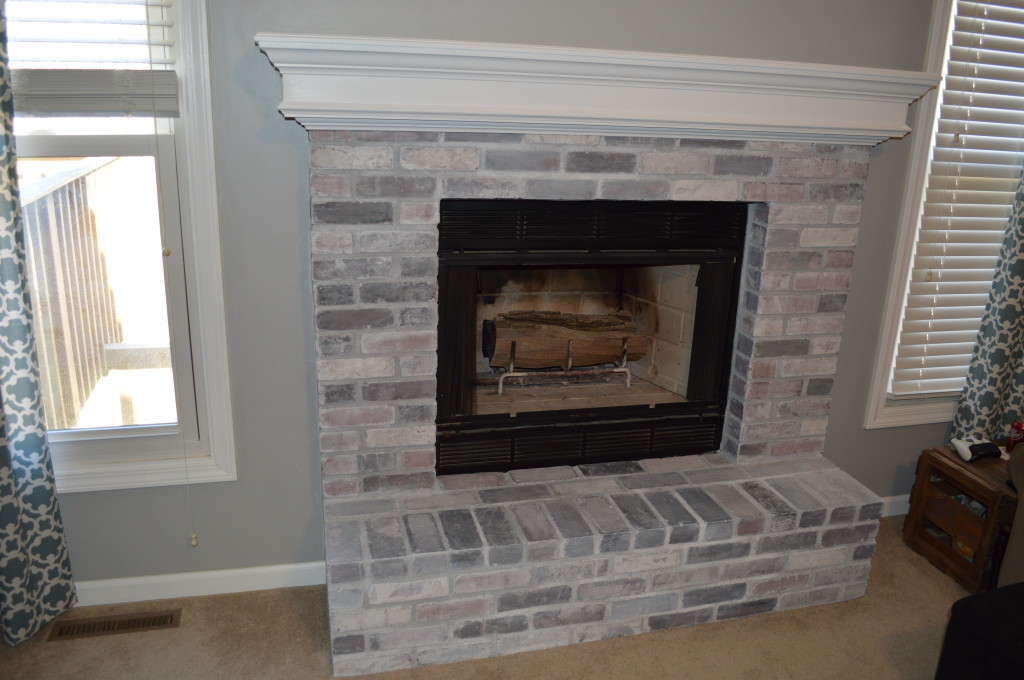 And for a total cost of ZERO DOLLHAIRS!
Not bad for a full tutorial on how to whitewash brick, eh? I told you it was a good project. Seriously, the before and after is pretty crazy.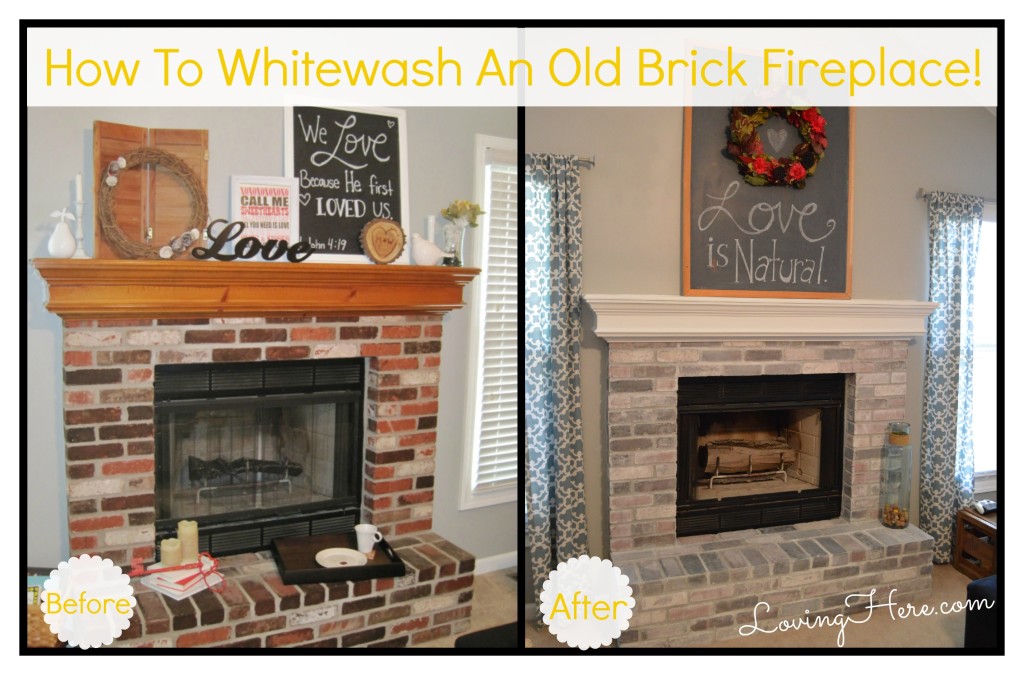 Of course, if you didn't already have the paint stuff on hand, it might cost you a little for the supplies. Still, a super cheap update, I think! Here's a breakdown on all the supplies you'll need:
That's a total of less than $70, but again, most of these supplies will serve you well for many projects to come between the quality brush and the leftover paint and primer. All in all, an inexpensive update that makes a room feel lighter, brighter, and more modern. You can do it within an afternoon, and I bet you'll be super pleased with the results!
Go ahead, now tell me if you're on Team-Paint-the-Brick or not…
And, here's an updated look at our living room after a bunch of more recent projects. (Click here for more on how we've transformed this room, including our DIY honeycomb shelving!)
Thanks for reading our tutorial for how to whitewash brick! Want to see other DIY projects we've tackled? Check out more, here! Or, see what we're currently working on, here. Also, be sure to "like" us on Facebook and follow on instagram! Thanks for reading!