You guys, I can't even begin to tell you how excited I am to say WE PAINTED THE CHAIRS! Cue the parades and confetti, because it has been a LOOOONG time coming, right? So, now I'm going to write 1000 words on the process. Yay….?
To back up, we've been talking about fixing up these thrifted chairs since I revealed I had a chair-buying problem and a huge stash in our basement. That was in 2013. Two years ago. Sheesh.
We spent some hours over the past couple of years fixing and stabilizing these well-loved/well-worn chairs.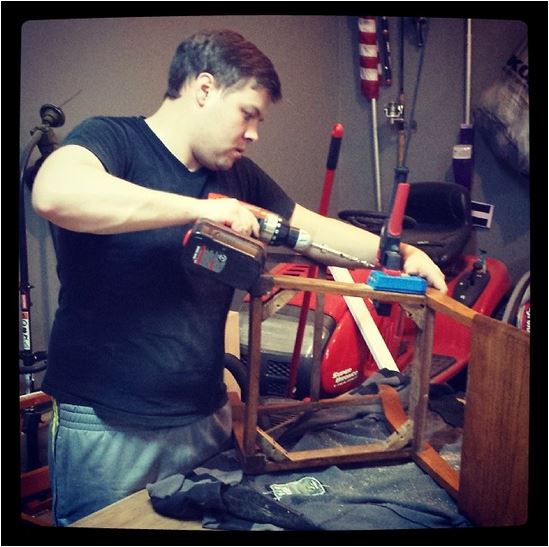 And, they've lived in our garage WAY TOO LONG, taking up precious, precious floor space out there.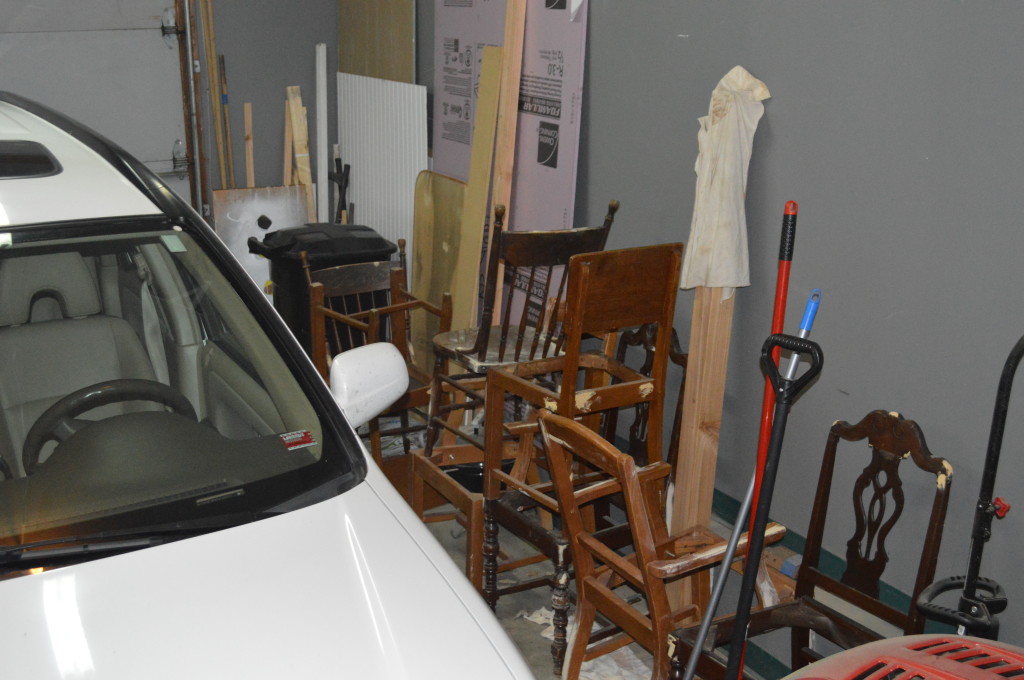 To sturdy them up, Wyatt added some screws where they were needed. Then, we had to putty over all his additions. We also used wood putty to fill some (we couldn't do all!) of the knicks and dents in the wood.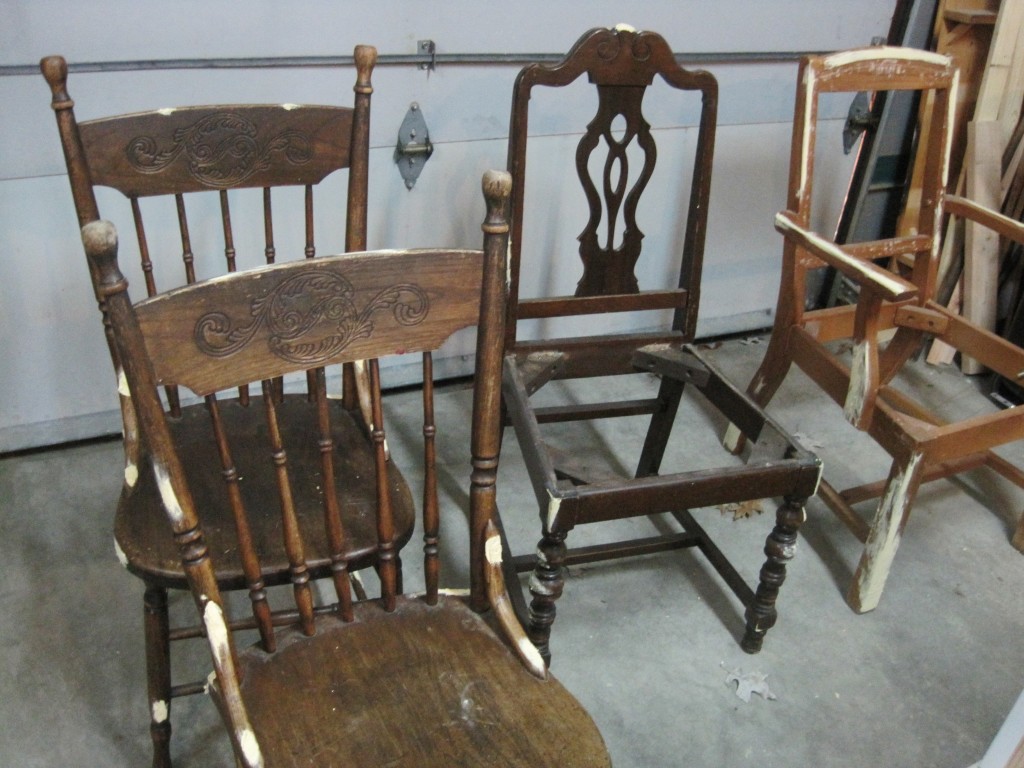 For example, one of the chairs looked like a dog had chewed one of the rungs, so it got several coats of wood putty to fill in the bite marks. Wood putty is a frustrating product to use because you have to apply it, sand it, apply it, sand it, apply it, sand it…you get the idea. And there needs to be sufficient drying time for each of those steps. We started this process of fixing up the chairs way back when we were working on our farmhouse table. But…the chairs got side-lined as our focus shifted to the kitchen.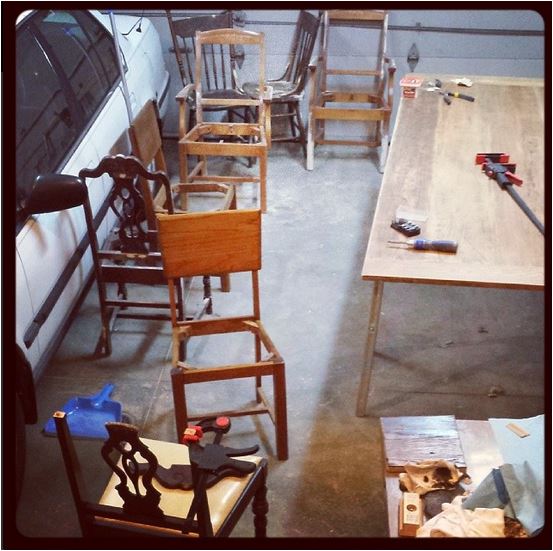 Not that I'm trying to make excuses for how long we've been working on these chairs, but it was definitely an off and on process. I'd spent a few minutes on a Sunday night applying wood putty. Then a couple weeks later, I'd sand a couple chairs, apply some more putty, and then a couple weeks later, do some more sanding. It was fun, let me tell ya!
But…we FINALLY made it to the painting stage this past weekend, which meant we got to pull out our paint sprayer that we hadn't used since we painted the pew.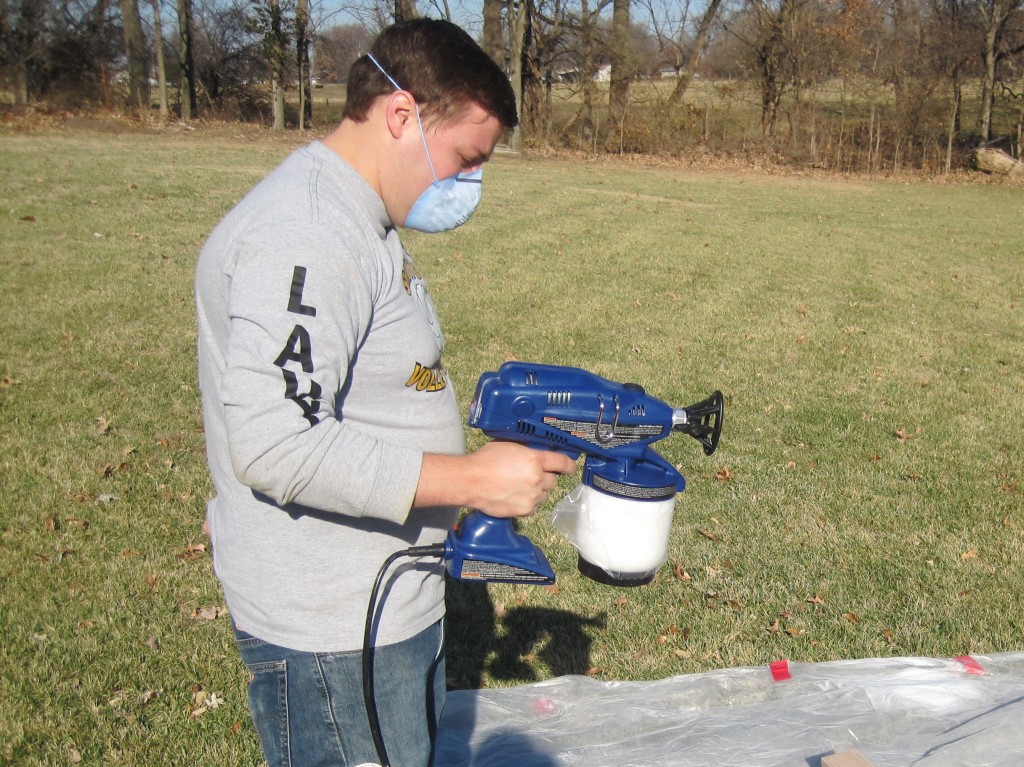 (There's a video and more info, here.)
So, to get started, each chair got one final wipe down to remove dust and any last-minute sanding residue from a few touch-ups.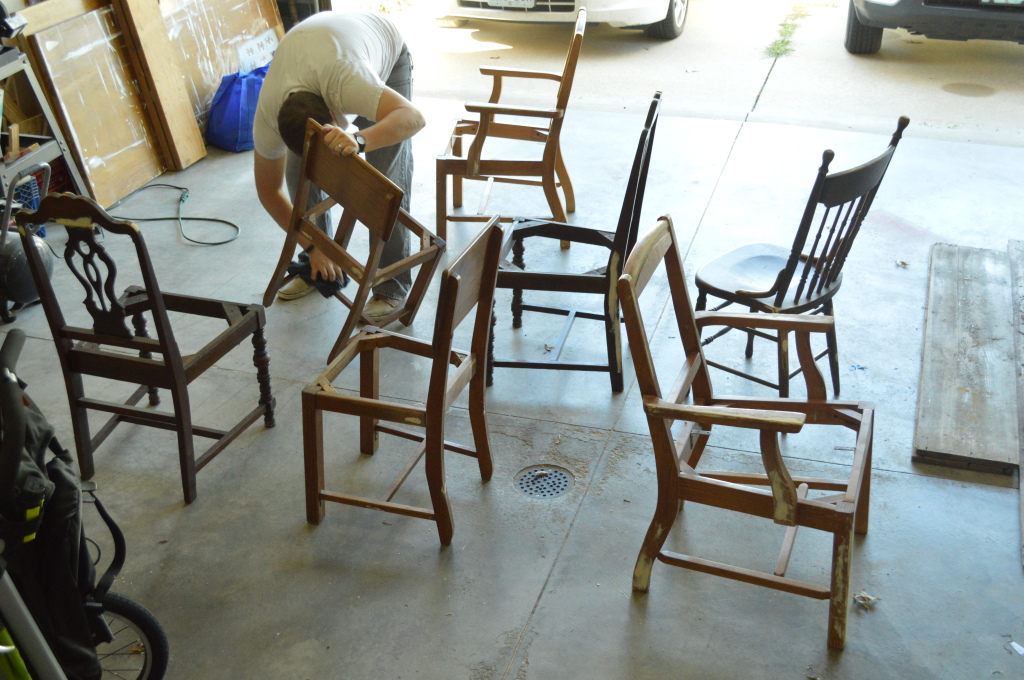 We used the power sprayer to do all the priming, which means we set up outside on our patio and got to work.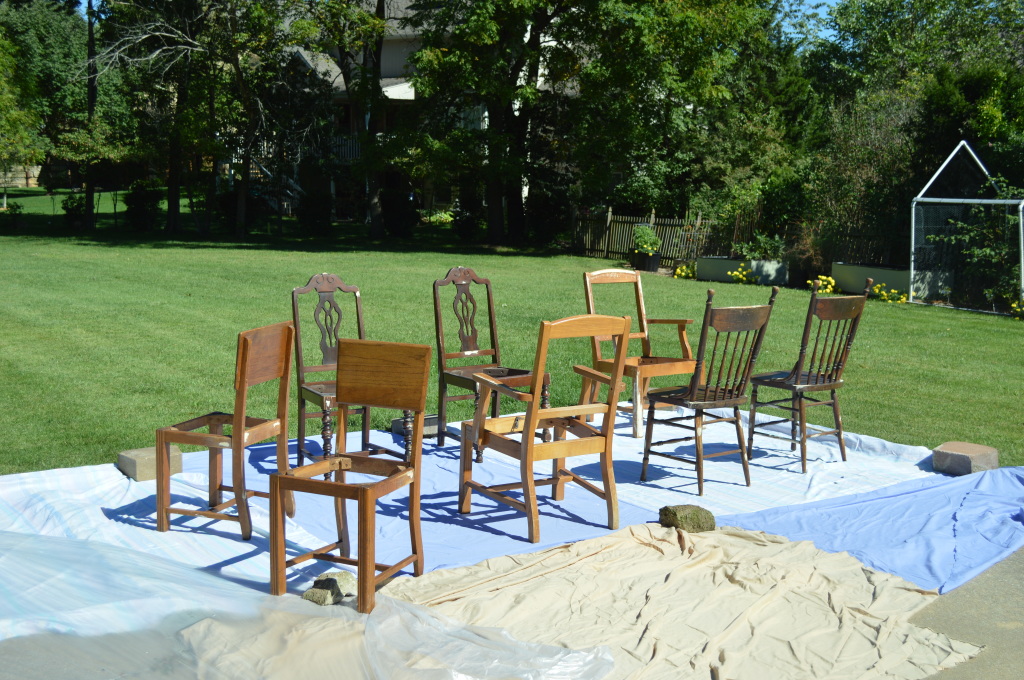 Wyatt is our resident expert, as usual.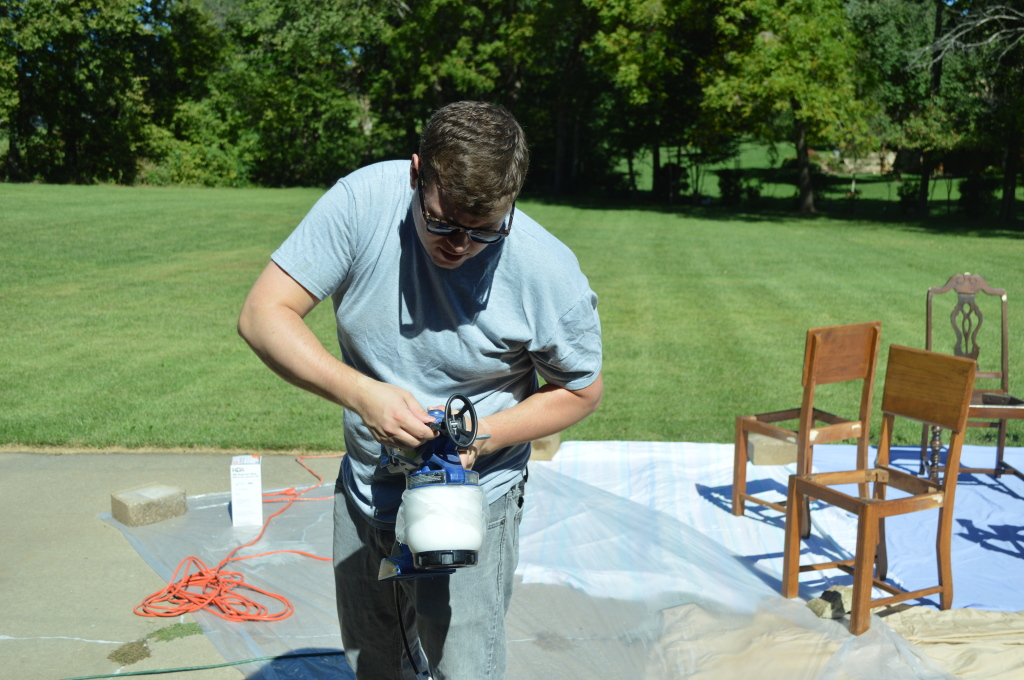 It went pretty well, and we were blessed with the perfect day to do this. Not too hot or cold. Not too sunny. Not too windy.
We, of course, made sure to tarp the area (although some still got on our concrete patio) and we were far enough away from the house to avoid any overspray issues.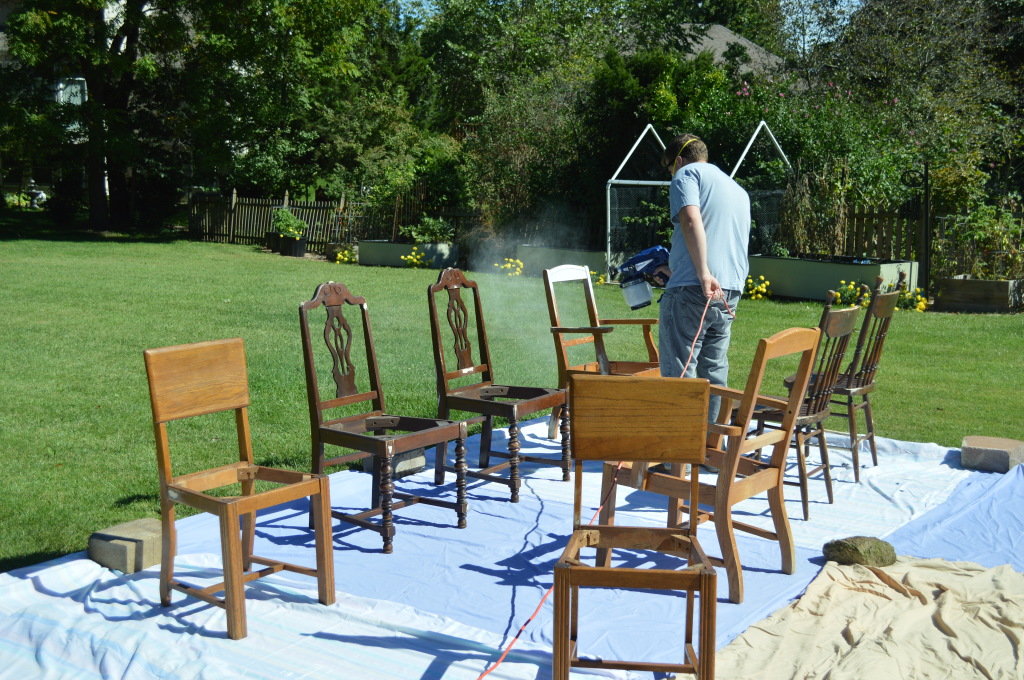 We let them dry 30 minutes between coats. We just used regular Glidden primer from the 5-gallon bucket we had leftover from doing the ceilings in the nursery and guest room.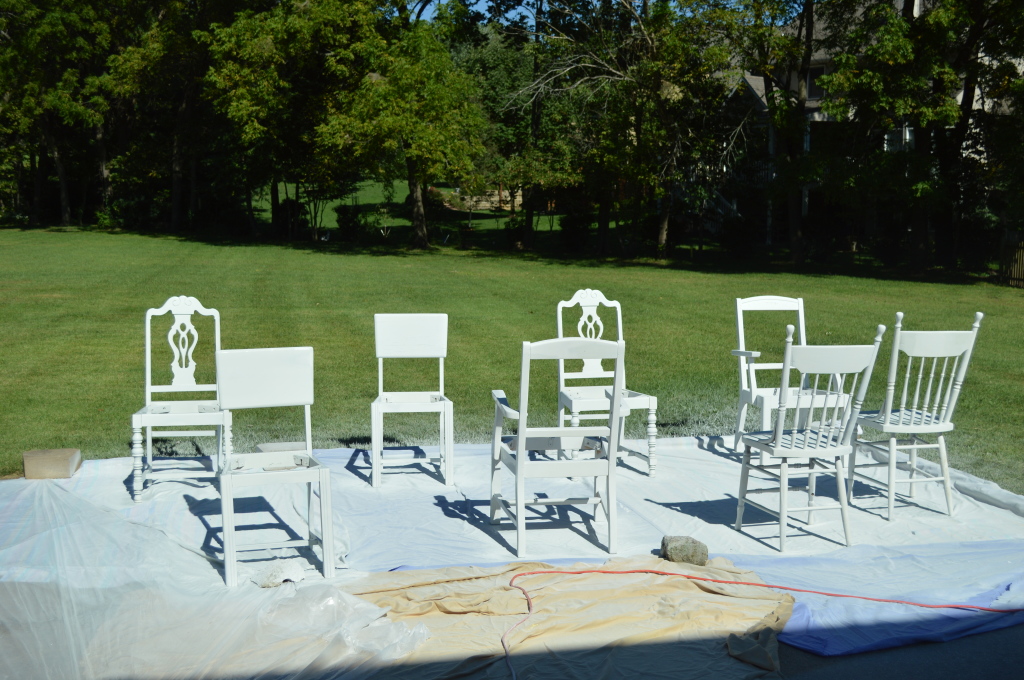 But…we ended up deciding to use actual spray paint, for a few reasons I'll share later, for our finish coats. And I'm super-duper pleased with how they turned out.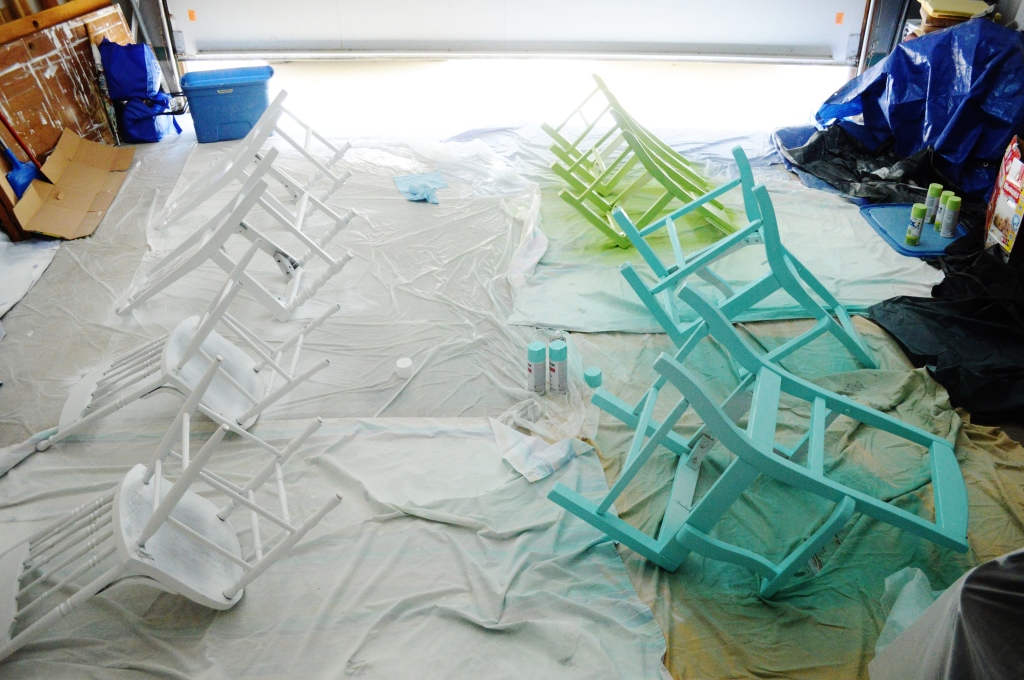 As you can see, we went with a mix of colors.
We decided to paint four of the chairs white, which would give us enough white chairs for a "full set" if we wanted to go all white in the future.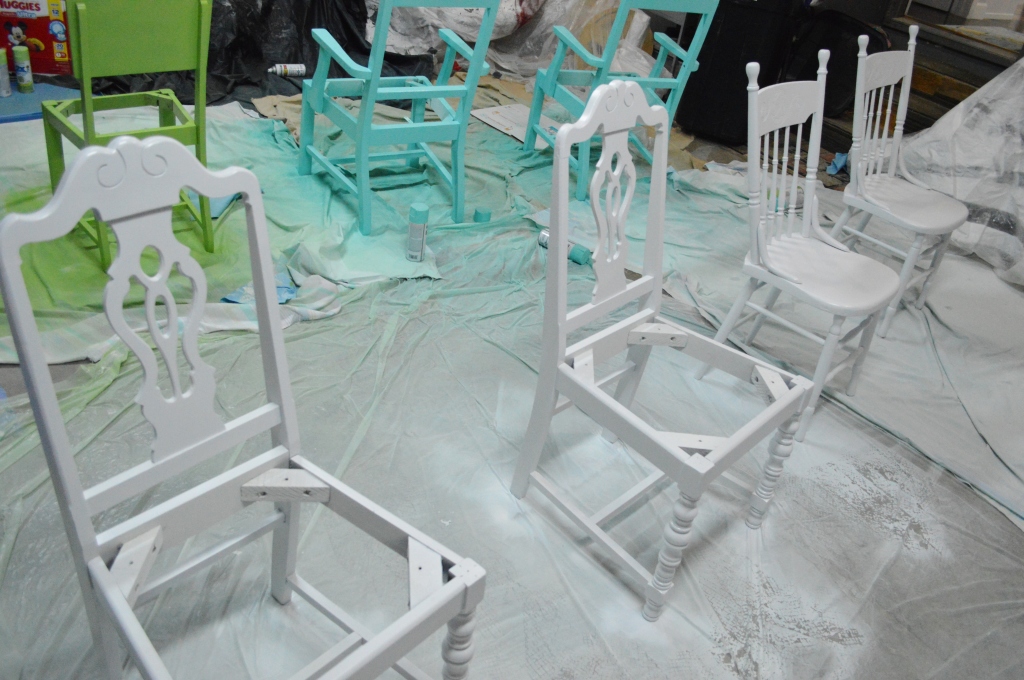 We used our favorite white spray paint, Rustoleum's paint+primer, in a semi-gloss finish.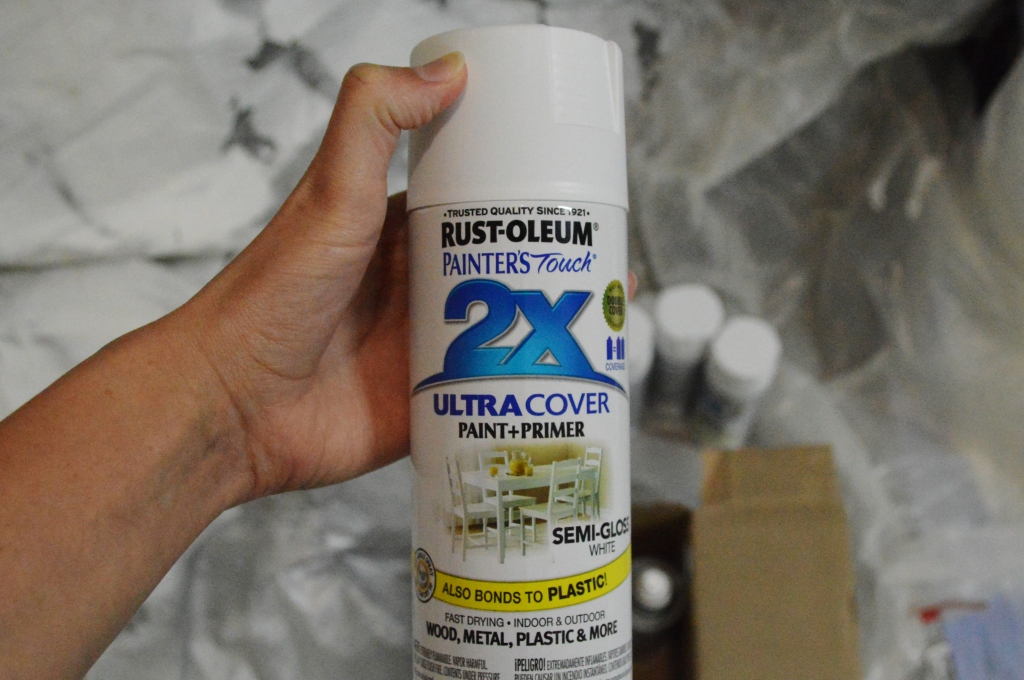 But, we also painted two of the chairs torquoise. We're planning to use these as our "captain's chairs" for the head of the table. They have arms and a back cushion and just feel a little more "captain-y" than the others.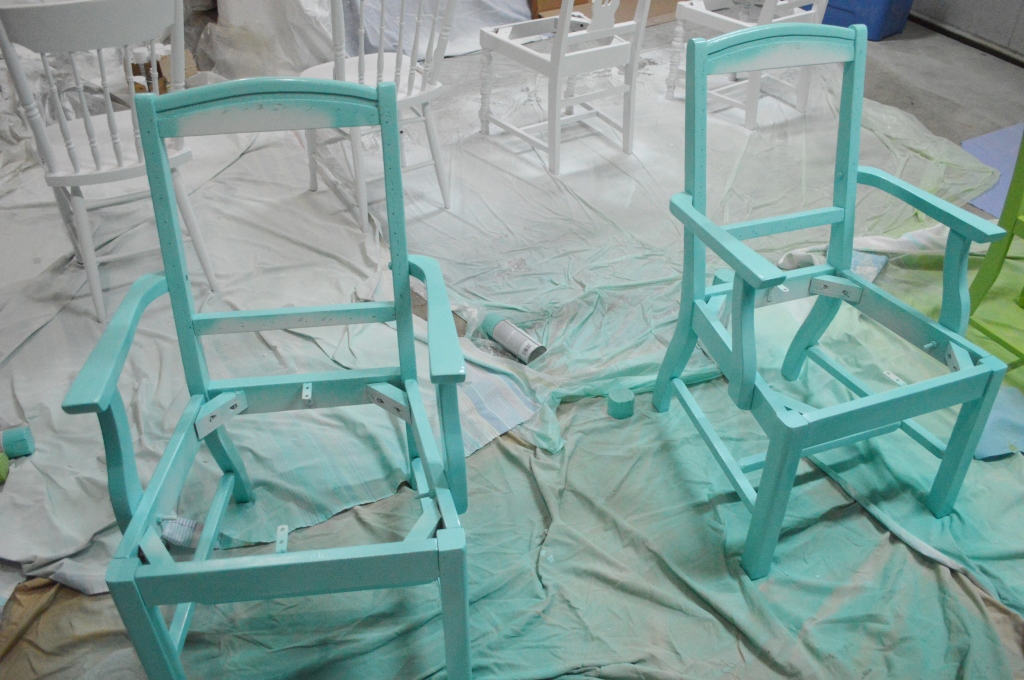 We used the regular Rustoleum enamel in light turquoise for these and it worked great.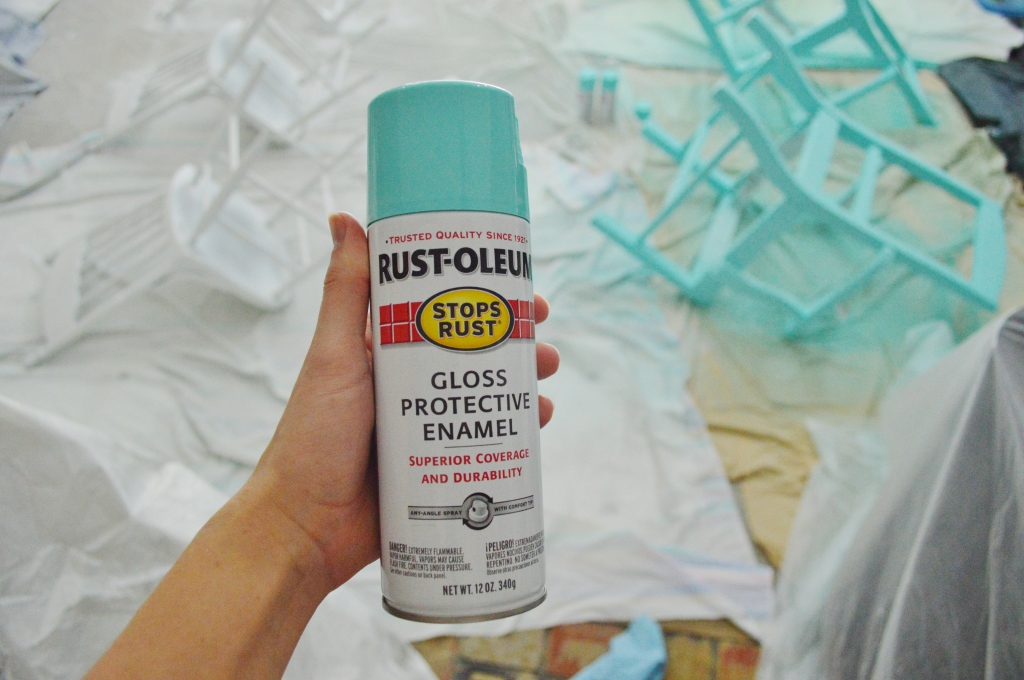 The remaining two chairs are green. We can either use them in addition to the white ones, or sub them out for the white ones, depending on how many chairs we have around the table at any given time. (We only have room to use a maximum of 6 chairs at a time if we keep using the pew, which we plan on doing.) That gives us two extra chairs unless we're really cramming people around the table for a big dinner.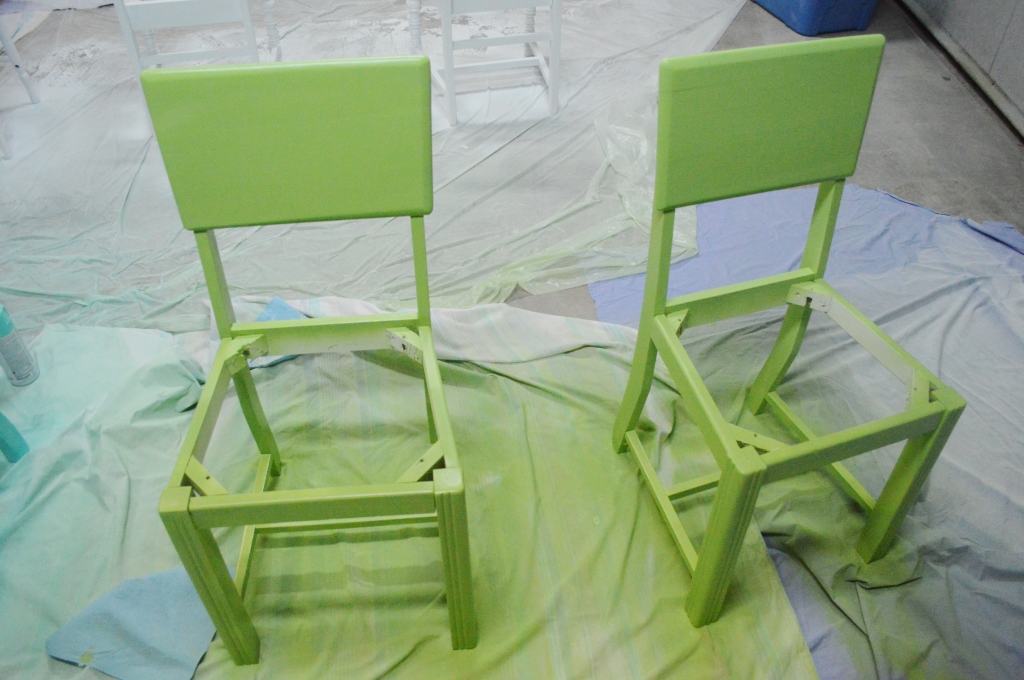 We choose Rustoleum's Green Apple. I almost went with the keylime option, but I'm glad we didn't go quite that bright.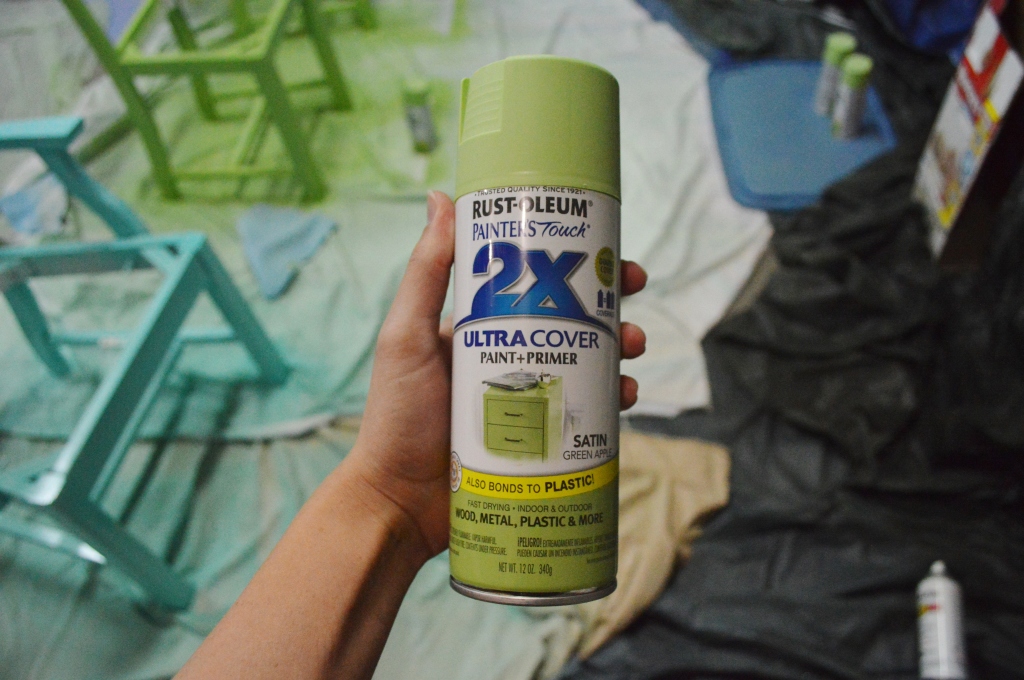 All in all, I think this was a good solution because it gives us so many options depending on my mood or the occasion.
The garage was a great work station, although we opened the door a little for ventilation and had to tarp everything.
It took us one afternoon (about 2 hours of total spraying time I'd guess) to do 2-3 coats on each chair. We found it easiest to spray the bottoms first with two coats, with the chairs upside down, and let that dry completely. Then, we flipped them over and did two more coats on the top side.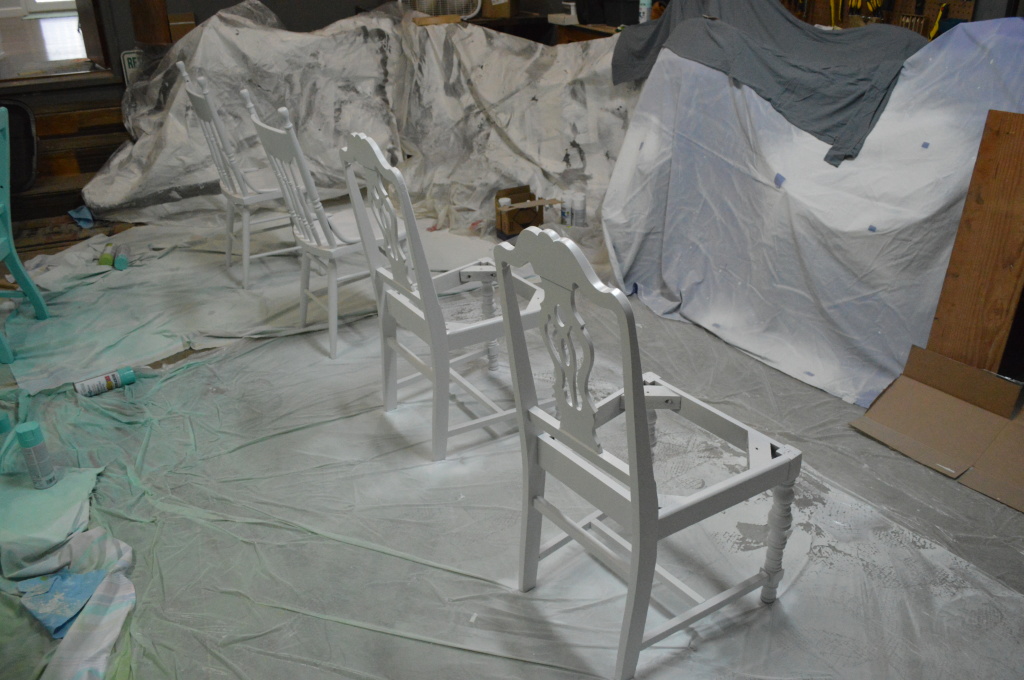 Of course, there were a few casualties. Wyatt and I are both sore from the marathon spraying session. I'll admit I always sort of judged people who bought those trigger grip things for spray paint cans (how hard is it to use spray paint?) but I TOTALLY get it now. And may invest in the device for the future. Seriously.
Oh, and my feet are semi-permanently painted teal and green…sorry in advance for the gross feet picture. This momma needs a pedicure, and some special paint soap.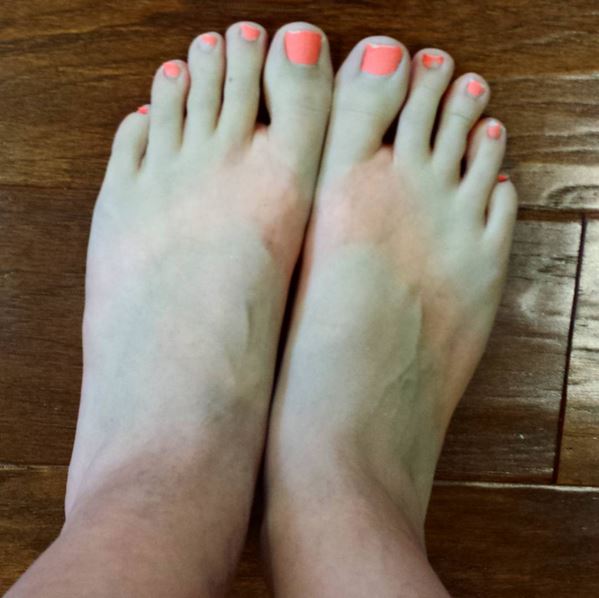 I tried some heavy-duty scrubbing without much luck. It's wearing off slowly…very slowly.
Anyway, thanks for all your insight and opinions via this post. It helped me sort out my thoughts to decide on our final color scheme. Now, I just have to decide on fabric for the seat cushions…and that's a whole battle in itself. Right now, I'm thinking I want something similar but different for each set of chairs, and since one set doesn't have a cushion, that means I'd need to pick 3 coordinating fabrics.
Of course, the other option is to pick one fabric to tie everything together better instead of fully embracing the mismatched look…I'm not sure yet.
Also, keep in mind, the pew already has a cushion in a bold yellow fabric. I could always make a new cover for the cushion…but it was a lot of work, so I'm not planning on it at this point. So, I need to pick something that plays nicely with it already. So far, I'm feeling inspired by these choices, but haven't really decided on if I want something more white/gray or blue/green. Thoughts on the ones below?
I want to keep moving on these while we have a little momentum, so I need to pick some fabric and get going on the cushions. Wyatt is also going to apply a clear coat on top of the paint now that it's all dry. In the meantime, here's a reminder of how the table looked before when we were using the folding chairs…
Thoughts overall? Be honest, how much are you judging us for taking two years to get a few chairs painted? Do you think we should do bold or subtle on the fabric now that you've seen our paint choices?