On Monday, I asked you all how to finish decorating a wreath I had made.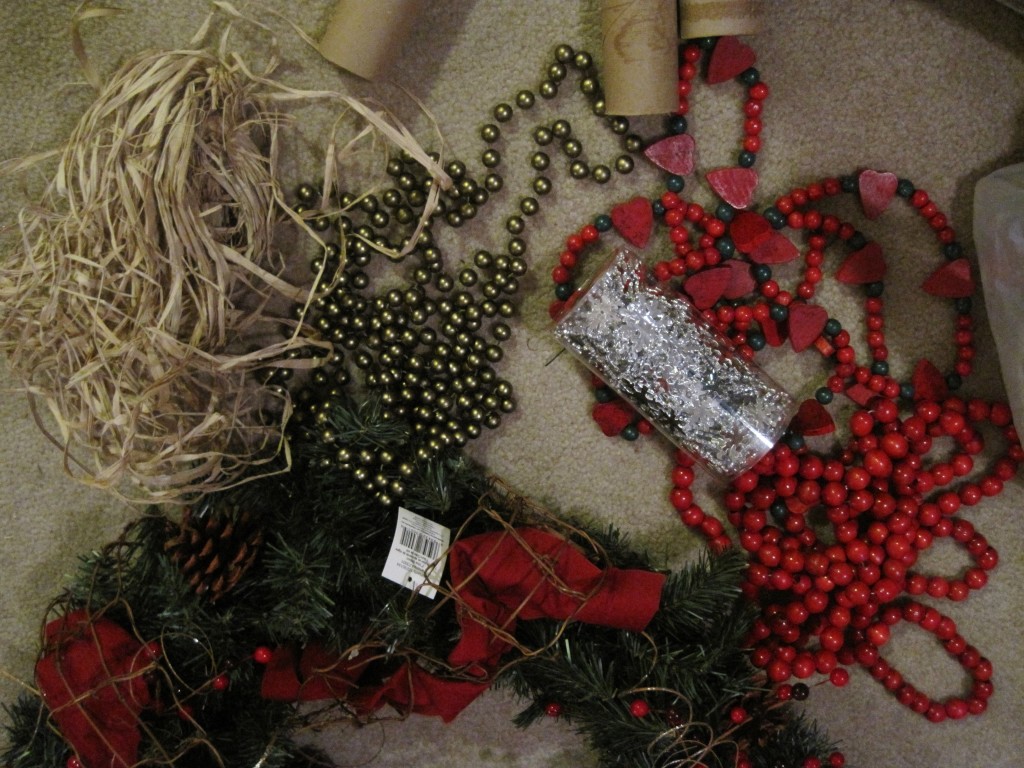 I wasn't sure which of my endless options to try but you guys unanimously voted for the natural look, which matches our tree, so that's exactly what I did.
I also added, as I'm sure you noticed, the large "S" hanging in the middle for a fun monogram touch. I simply grabbed a wooden letter from Hobby Lobby and spray painted it red with some leftover spray paint. Then, I used this awesome red glitter spray paint I found at Wal-Mart to give it a little glam.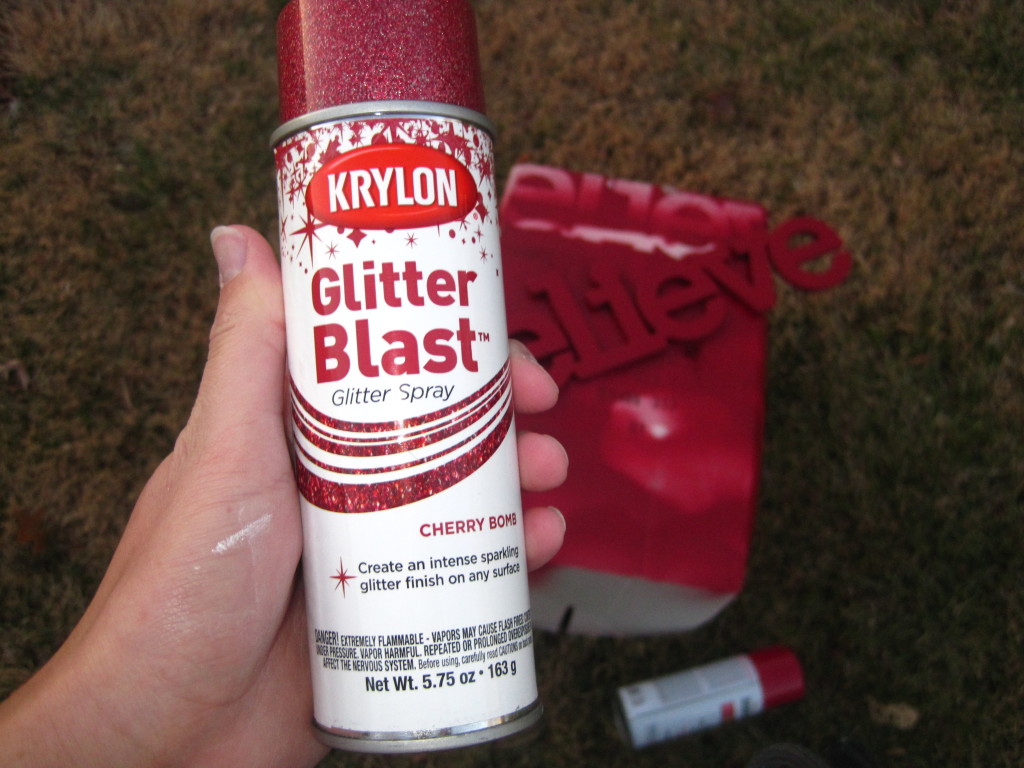 It's actually really glittery in person, though this photo doesn't show it. And it doesn't flake off like glittery things from the store sometimes always does.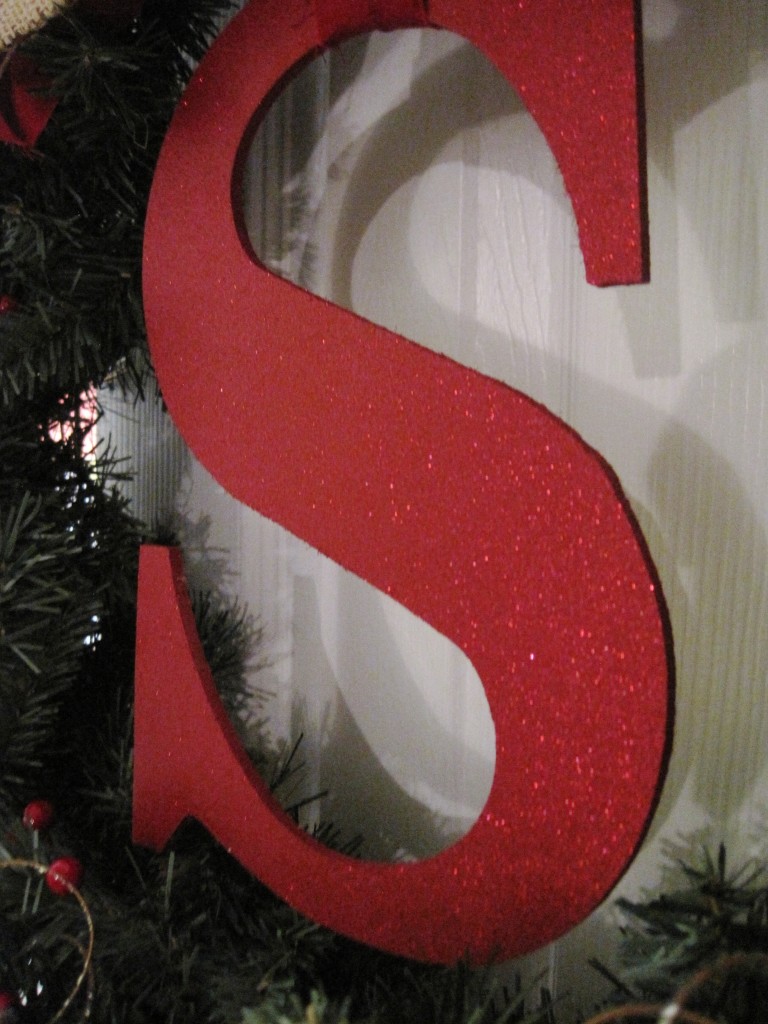 Attaching it was pretty simple. I used some leftover red fabric from the tree skirt I made last Christmas and simply made a loop and then stapled in into place. I strategically arranged the fabric in the greenery to hide it a little bit, too, just to help the ribbon lay nice and flat.
For the berries, I just cut the larger bundles into smaller pieces with wire cutters and placed them around the wreath.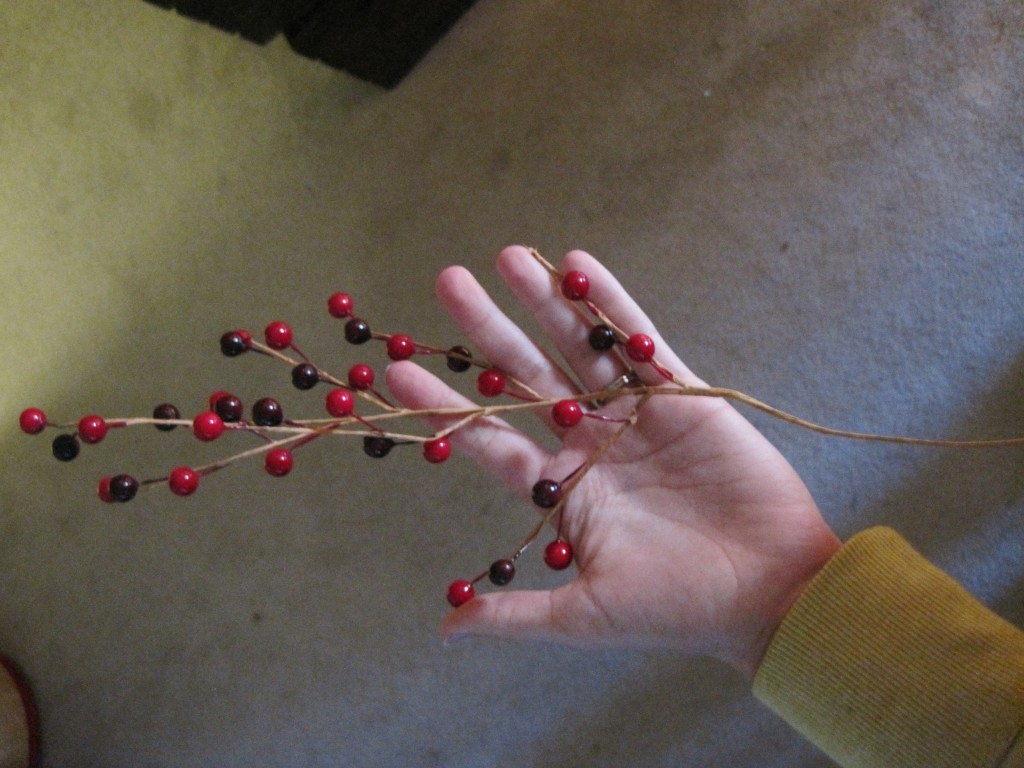 I always try to rotate them to look like they are alternating between facing "up" and "down" because I think it looks a little more natural, if that makes sense.
I did the same thing with the swirls, breaking off the long stems and just tucking the little pieces in. You'll want to leave a little tail for tucking though.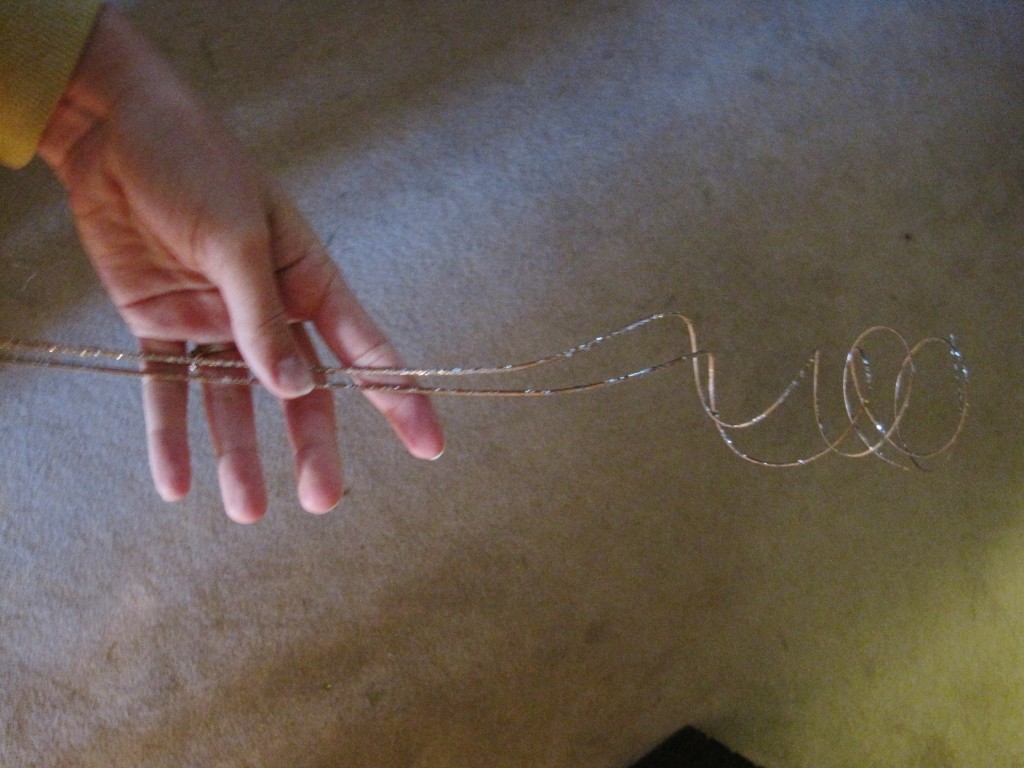 I think it's fun to let the swirls wrap around some of the greenery like a vine. It makes it more integrated I think.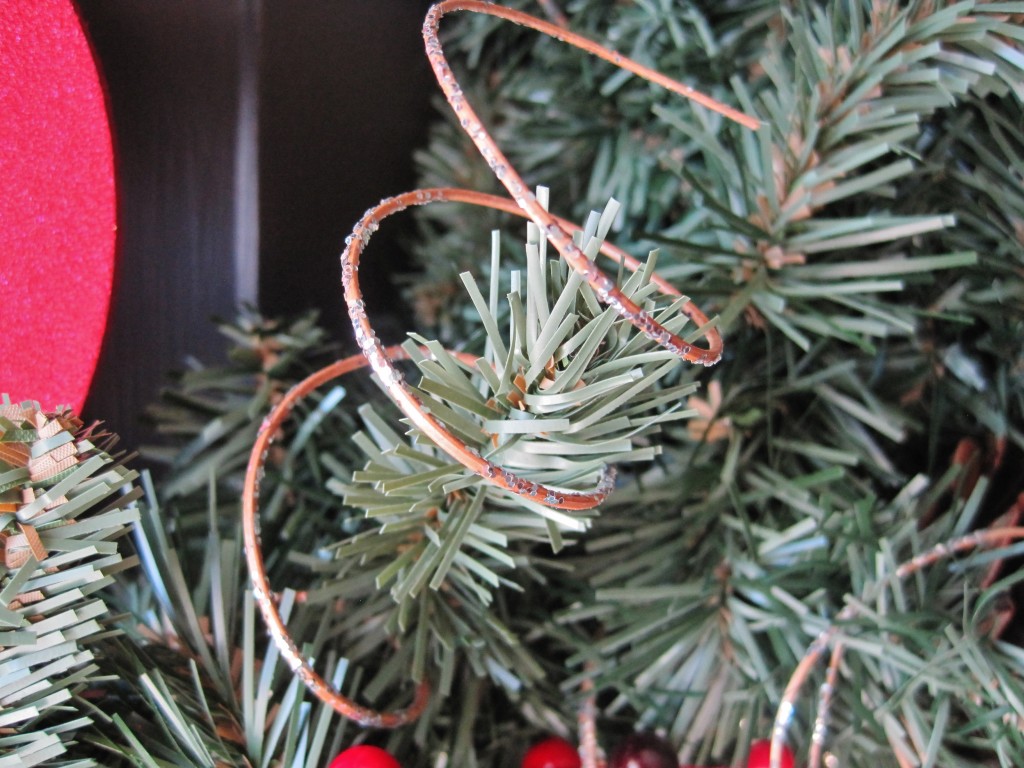 Since this is going outside (sort of–it's behind our glass storm door) I did twist each of these in using some of the longer greenery arms, just to make sure nothing blows away or falls out when we open and close the door.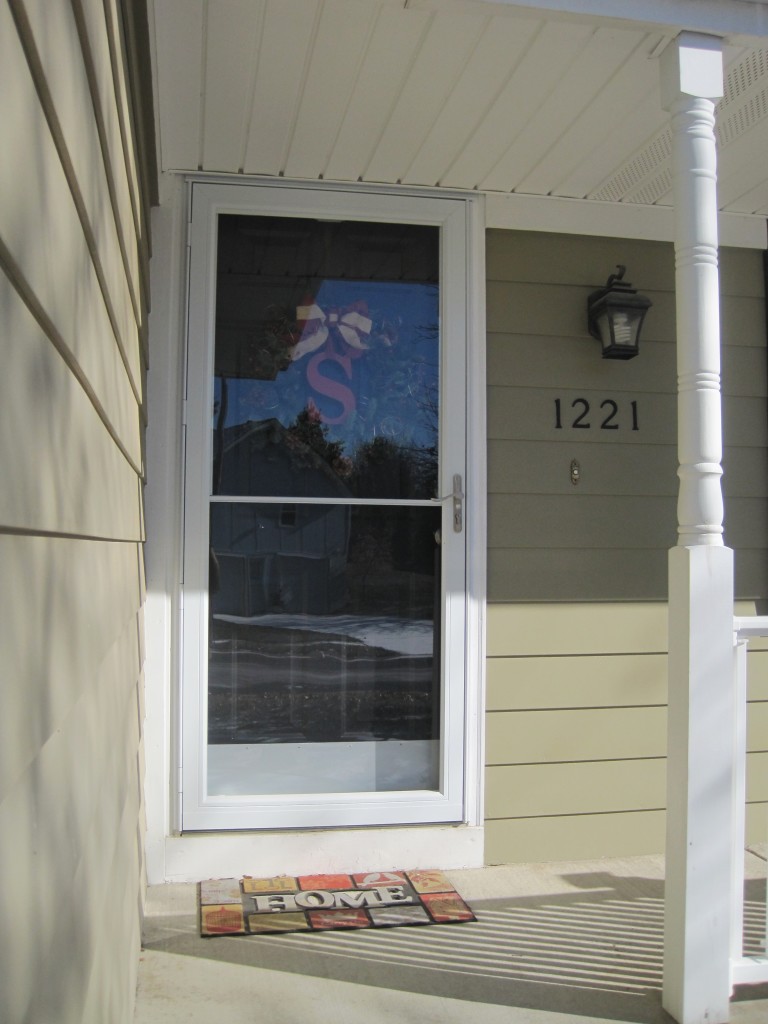 The bow was a cheater bow made with more leftover red fabric and burlap from the tree skirt. I used staples to hold it together because I'm sometimes a lazy crafter. (I show you how I learned to make a decent looking "cheater" bow without any pesky tying necessary here.)
I tucked that bow behind the wreath holder and it seemed snug enough on it's own so I didn't fasten it any more than that.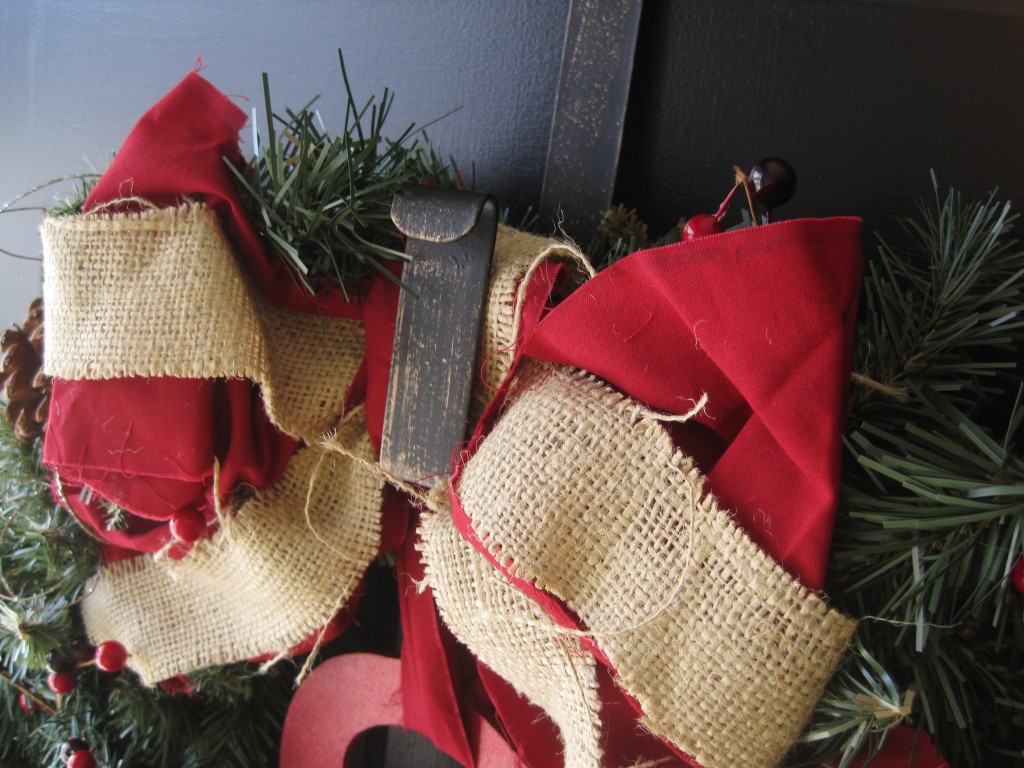 Then, I added two more pieces of fabric and burlap, stacked together like this…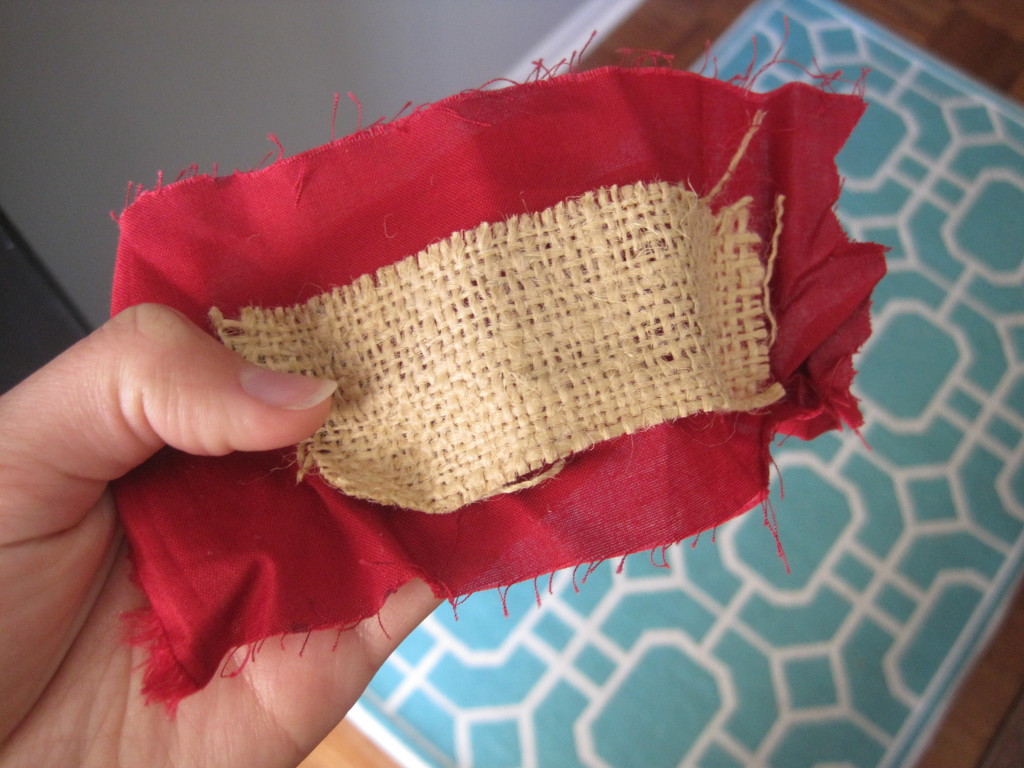 …and just wrapped them around the metal wreath hanger like this…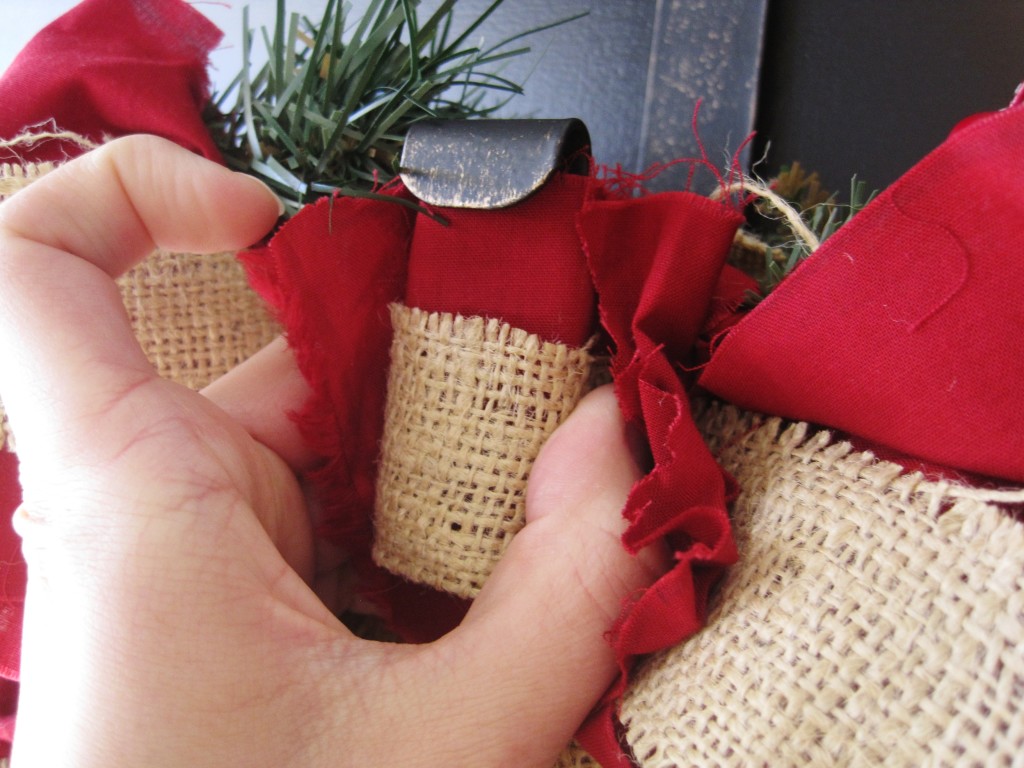 …until the ends were all hidden and everything looked tidy and cute.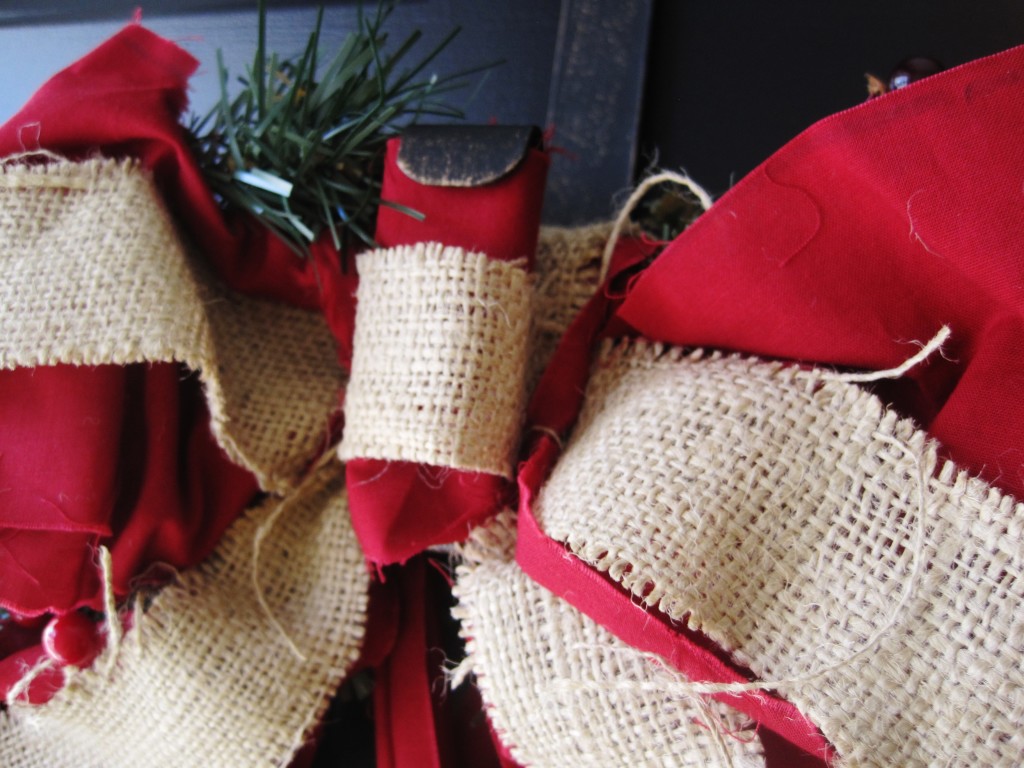 Then, I just tucked the ends of the bow into the wreath to keep them from hanging in front of the letter.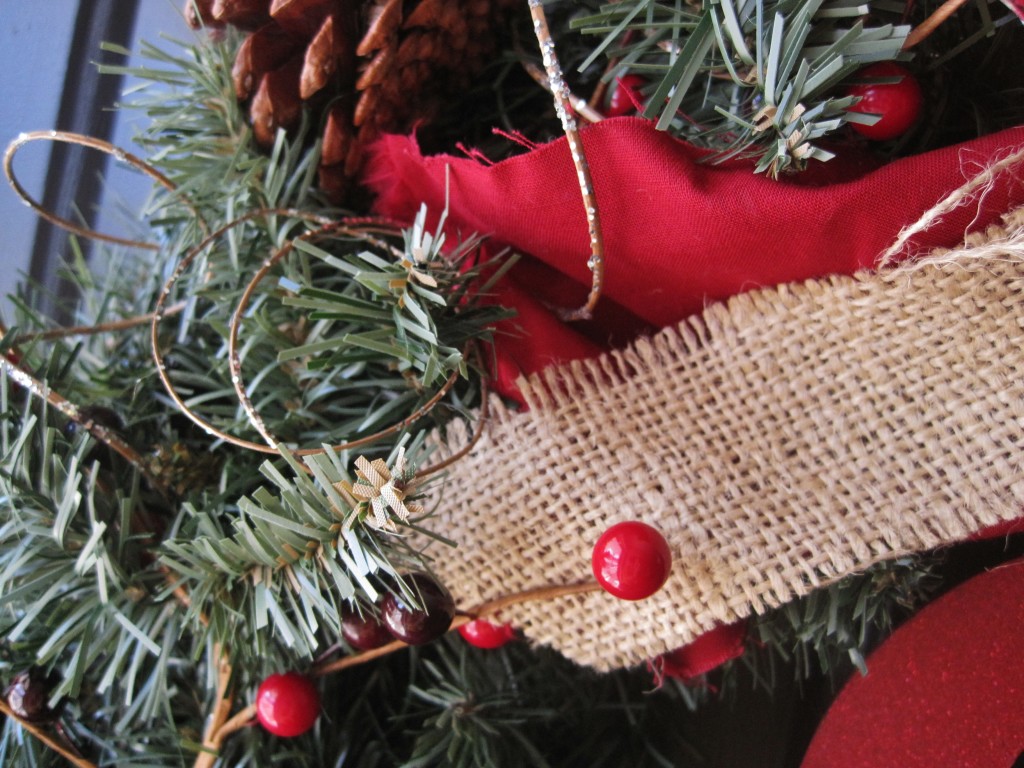 I think it turned out really well for the first wreath I've ever made…other than those little ones made from a paper plate in elementary school! Just a reminder, here's the pre-wreath, all bare and basic, as I finished making it: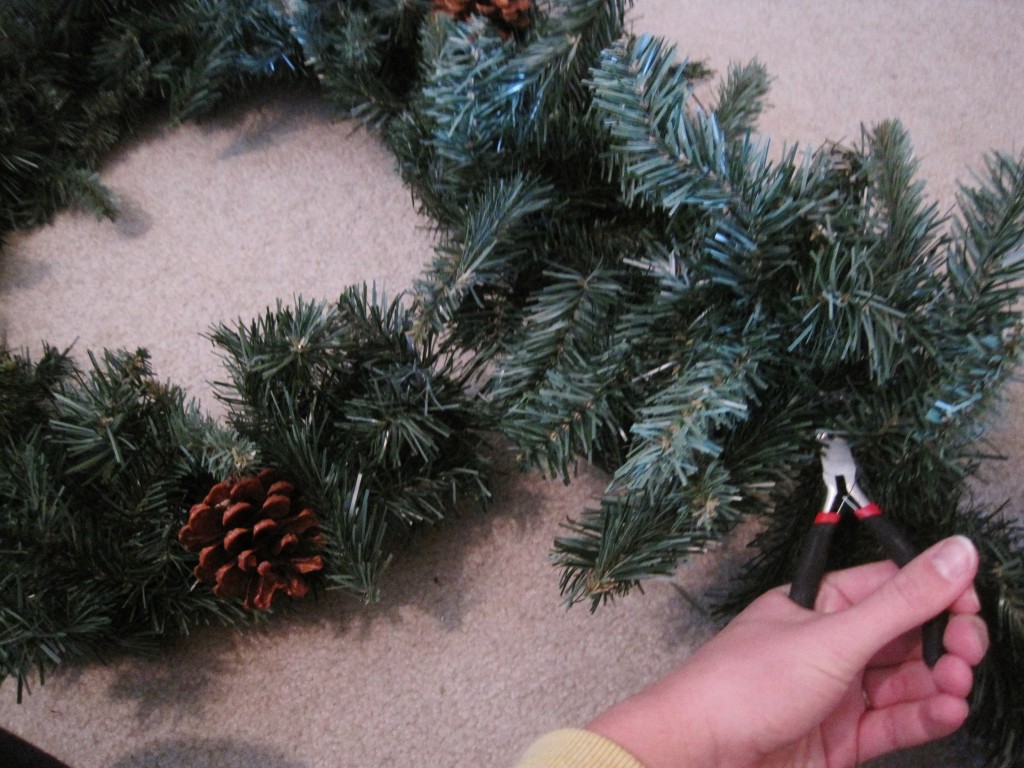 And here's the finished product, hanging happily on our front door.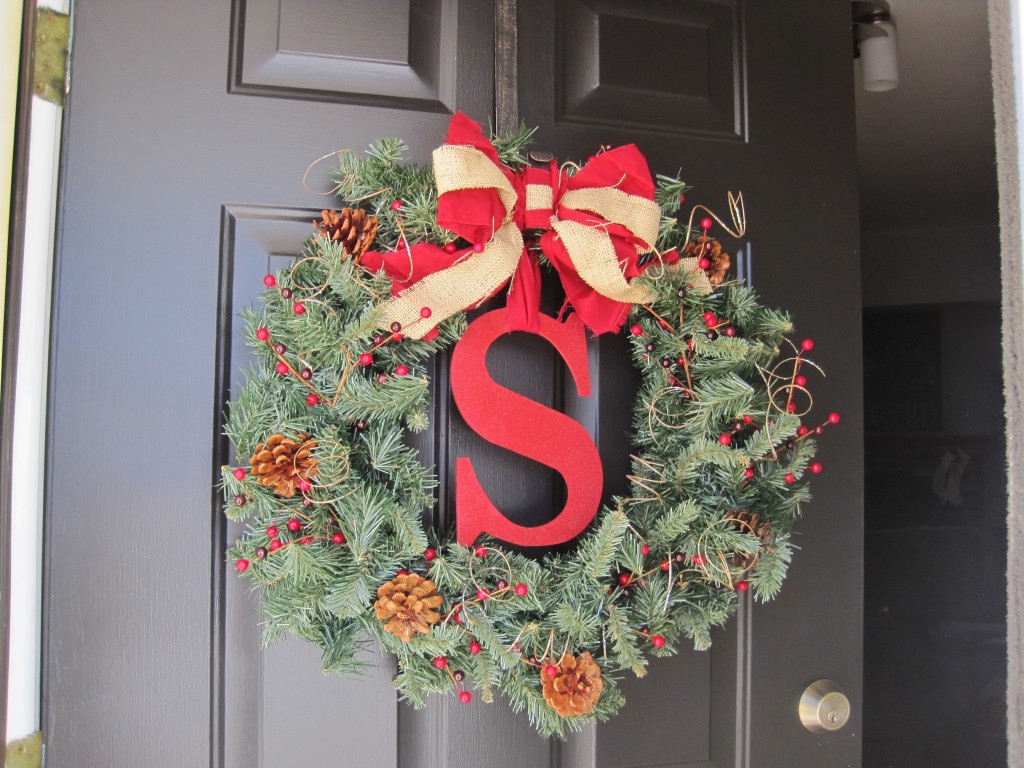 Now the outside of our house looks at least a little festive…since we STILL don't have our lights up out there–oops! It's a little hard to tell with the storm door there, but when you get closer, you can totally tell we have the Christmas spirit, right?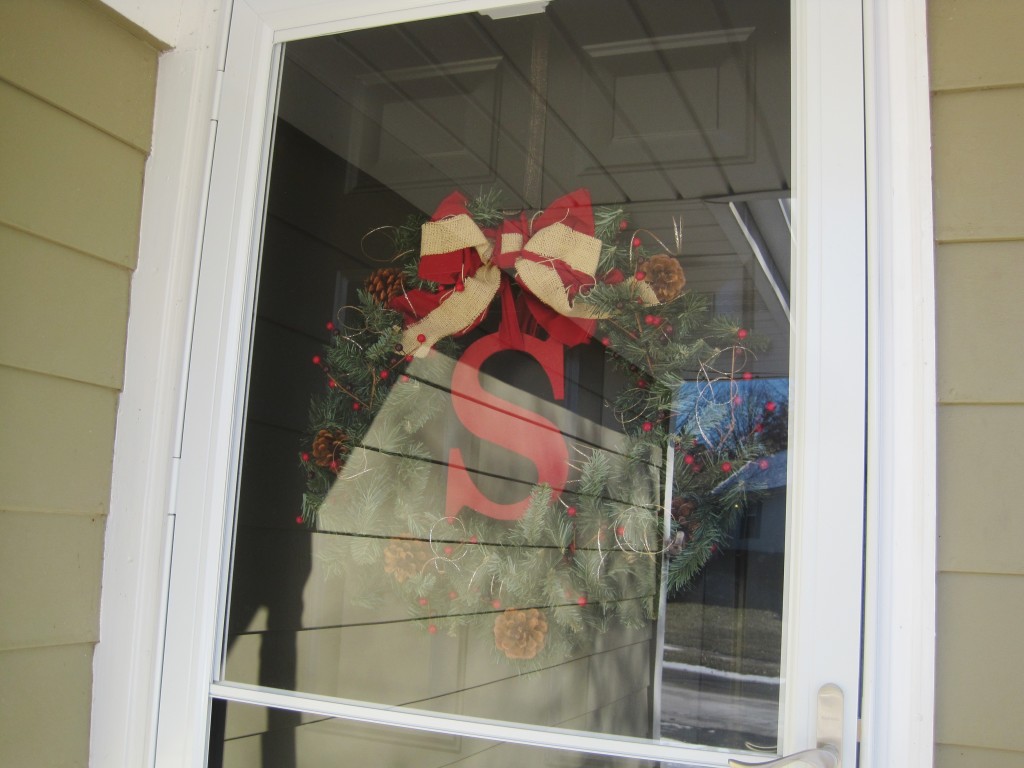 And then, when you open the door, it's even more impressive, at least to me, who is still a little giddy at how well this impromptu project came together.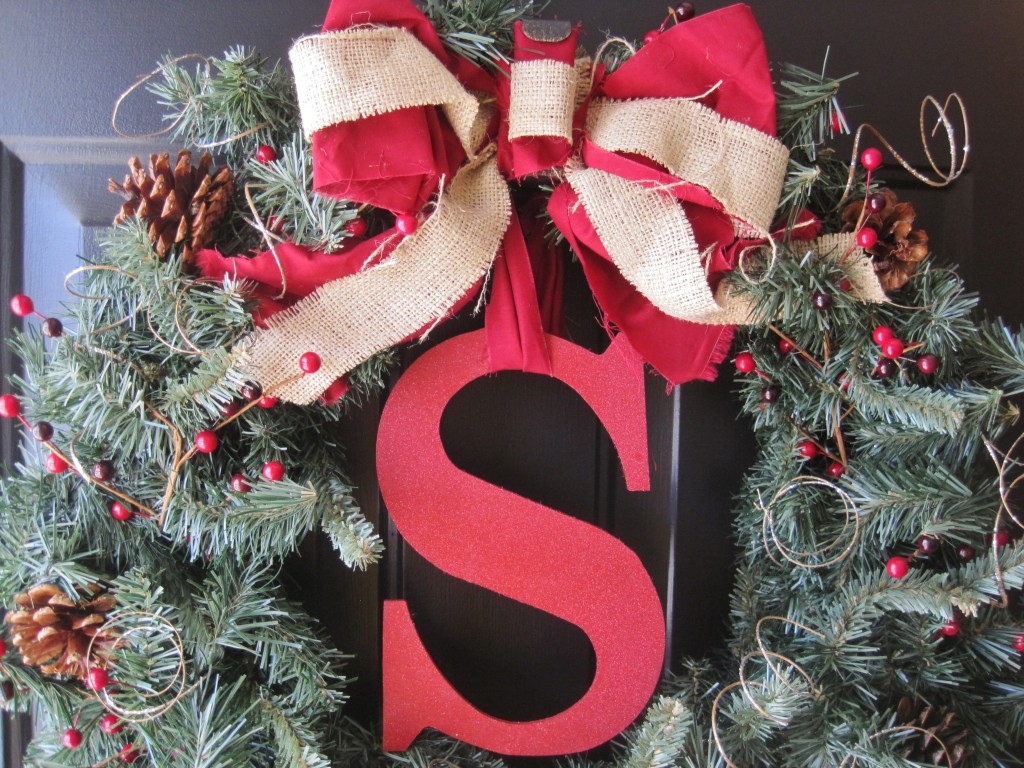 The red berries and little glittery swirls do look nice, all rustic and charming, and I'm really glad I ended up taking this route. You guys give great advice! Thanks!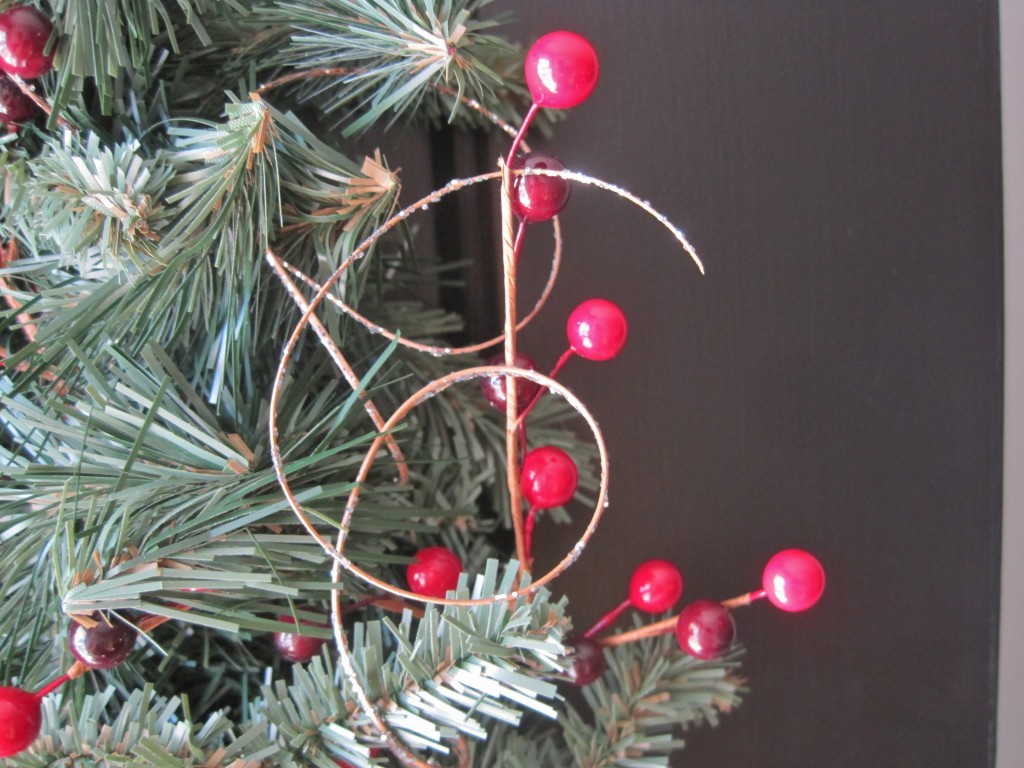 Oh, and speaking of looking nice, I have to brag for a minute on our wreath holder. I snagged it on double Christmas clearance at Kirkland's two years ago (and haven't used it yet since I didn't own a wreath!) but it was totally worth the $0.75 I paid for it. I love the oil rubbed bronze look that blends in but stands out just enough from our black door and that it can used to hang a wreath on both sides of the door (after hubs modified it a bit for me to include a lip on the other side)!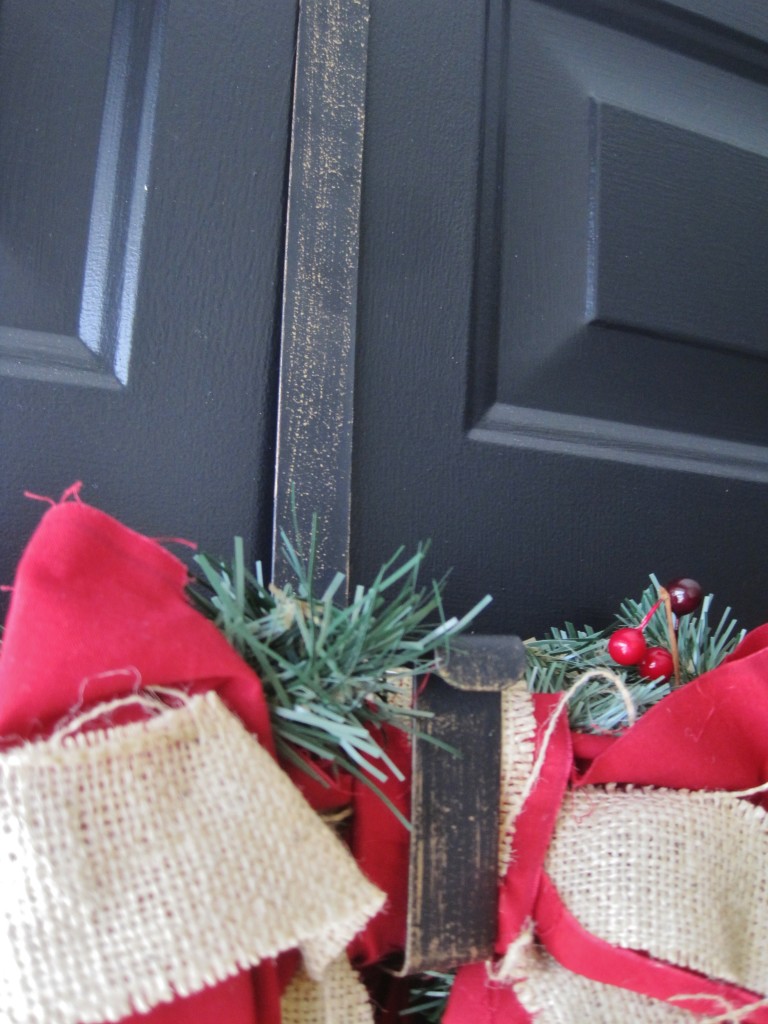 Tell me about any wreath adventures you've had. Ever make a monogram wreath before? How do you store it after Christmas…I may have to rethink how awesome I think it is when I can't fit it in any of my boxes!