Guys, I can finally say the flooring is done. Let's all pause for cheering and celebration, okay? I hope you also celebrated Thanksgiving and had a grand 'ole time. It's been a crazy, busy couple of weeks around the Loving Here household. Are you all celebrated out? Good. Thanks for joining in on that with me.
Anyway, we'll be back to share some lessons and such we learned along the way, but I couldn't wait to share a few photos of the finished result.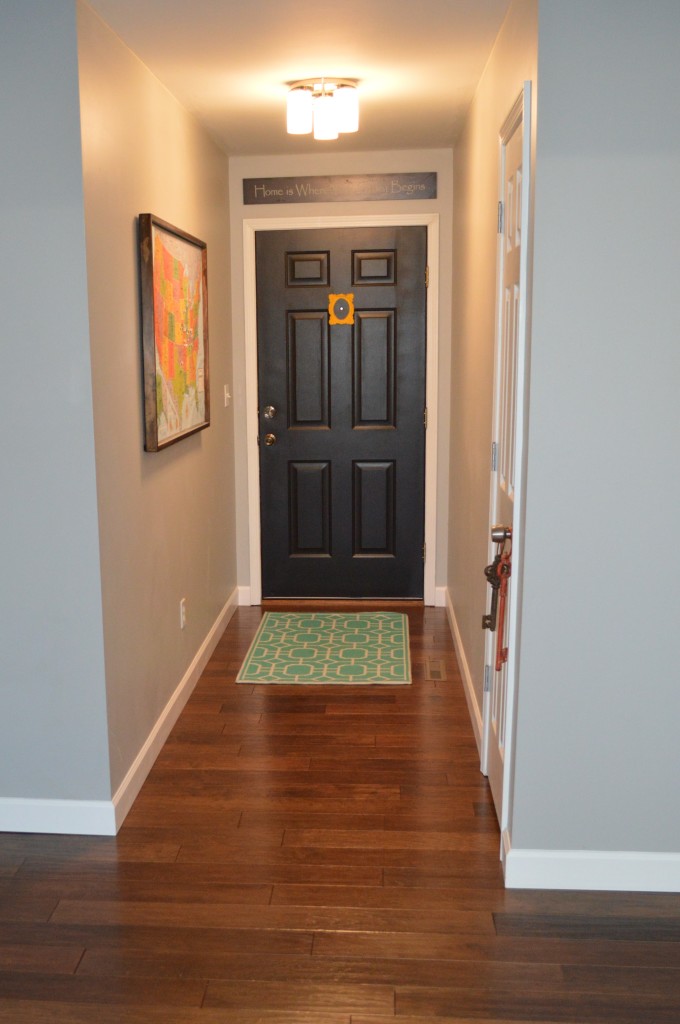 So pretty!!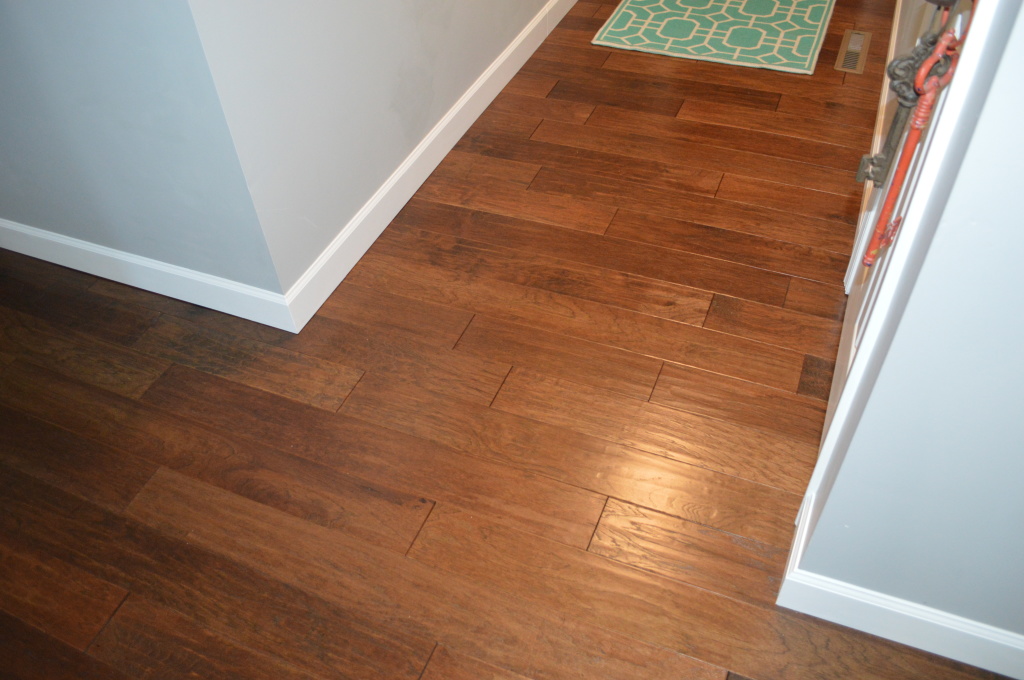 First of all, we chose to use an engineered hardwood. Which basically means the boards are like plywood, with thin layers making up the total thickness instead of one solid piece of wood like you would see with regular hardwood floors. Engineered floors are often considered more durable for this reason. And they can be applied over a wider range of subfloor types and with a wider range of methods.
In the end, we were going with stapling our engineered wood into a wood subfloor, so we could have used the regular stuff, but by going with the engineered product, we saved several dollars a square foot. Which, let me tell you, adds up.
There is a layer of solid wood at the very top which provides the wood-look finish. Sort of like a wood veneer. That means it could be sanded down and refinished…maybe. Depending on how thick that top layer is. However, the finish on a wood floor should last at least 15-20 years if you care for it well and that's likely longer than we'll be in this house, so we're not thinking about ever refinishing these floors down the road.
Don't get me wrong, this was still a BIG purchase for us, and one we saved up for. We shopped around a LOT to find the best deal on a floor we liked. You might remember some of that shopping, which we talked about, all the way back in February. (Yes, it was THAT LONG AGO.) Sheesh.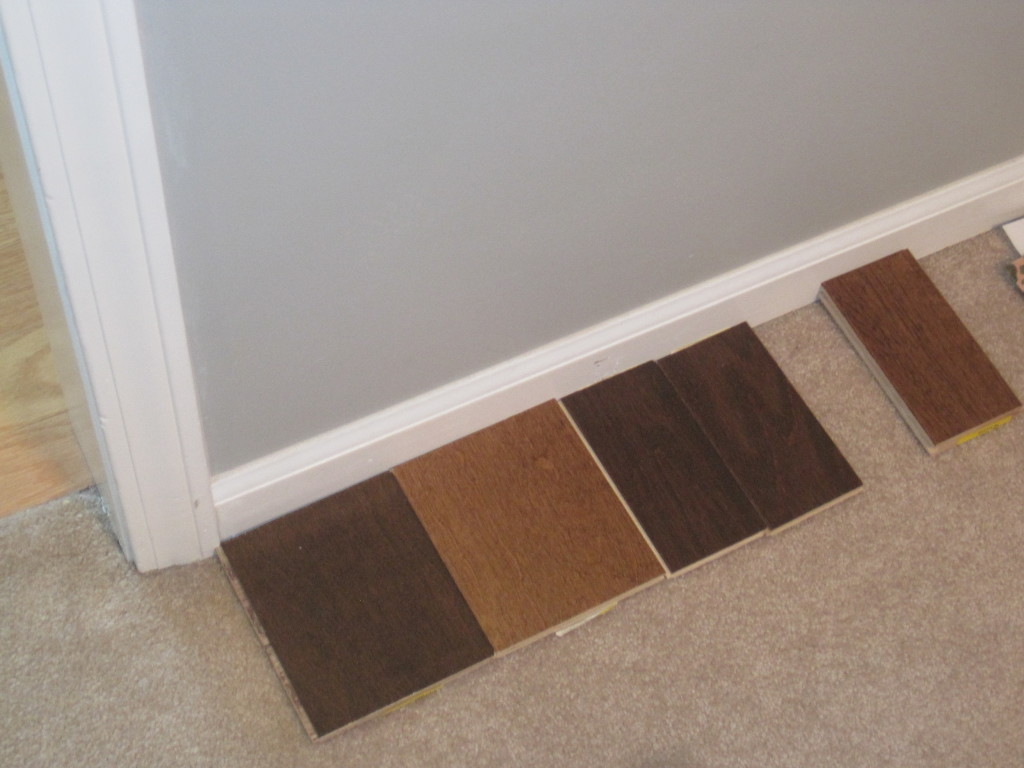 In the end, we chose the American Scrape line of products from Armstrong flooring. It's a hickory product and had the more rustic look we wanted. I'm not actually 100% sure which color finish we chose, but I think it is the one called Eagle's Nest. I don't seem to see the color name on our label anywhere.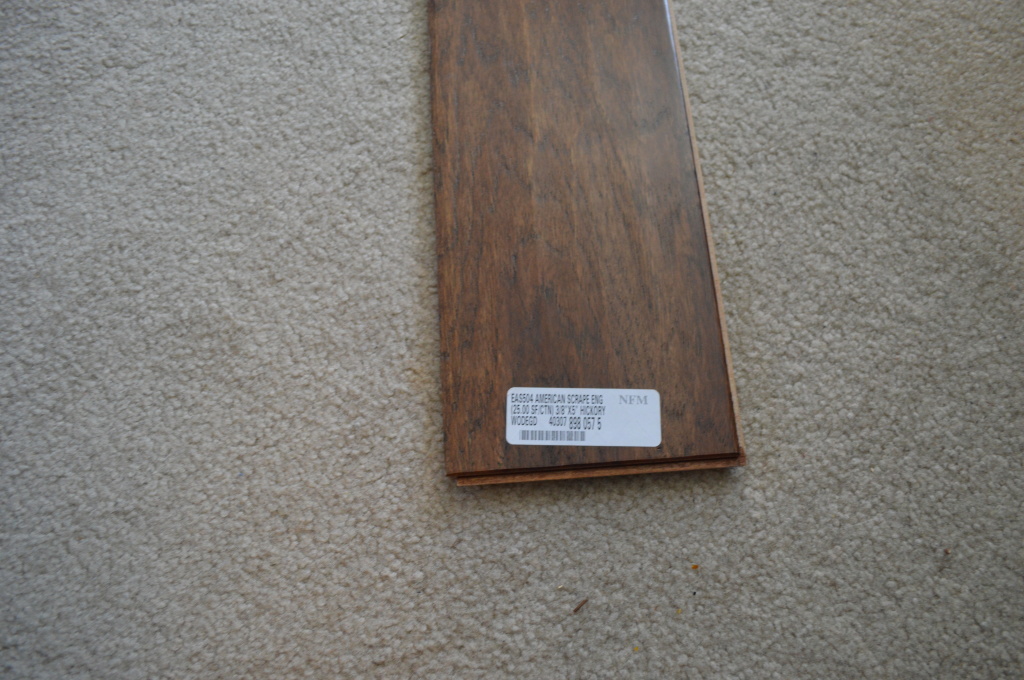 It's hard to tell the exact color in photos but I'd describe it as medium brown with some reddish and golden undertones, but not too red or golden, if that makes sense?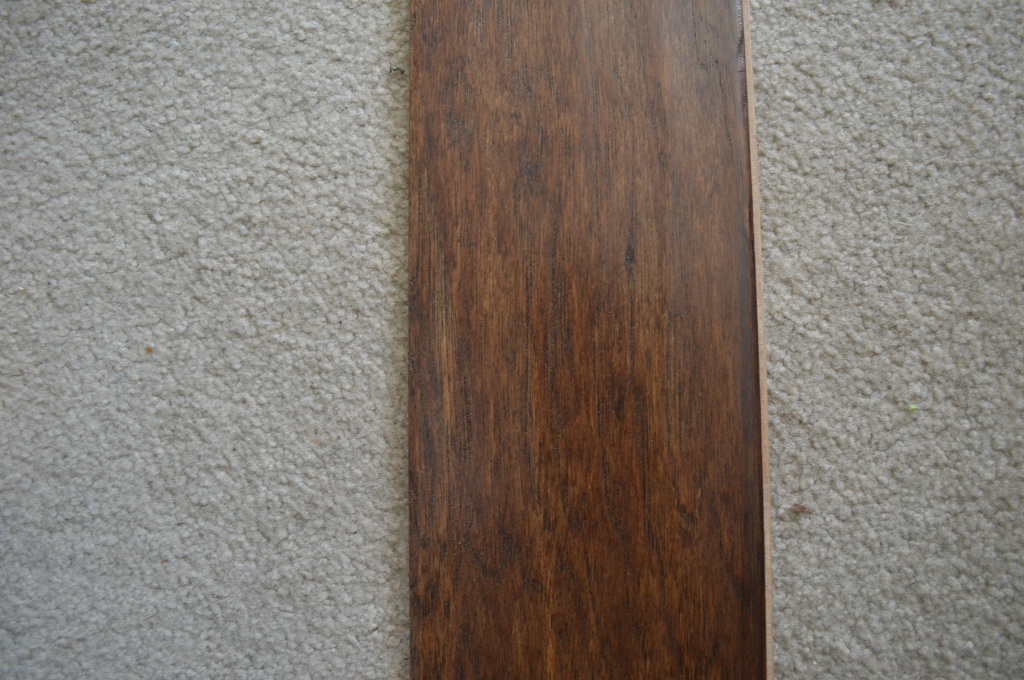 We found it at Nebraska Furniture Mart in Kansas, and got a pretty good deal on it. It's since gone up in price by more than $1 a square foot, so I suppose buying it in February and storing it in our house for more than 6 months was worth it, huh?
Here's the link to the product page online from NFM. I also found this listing online, which has a few more details and shows the color sample selections.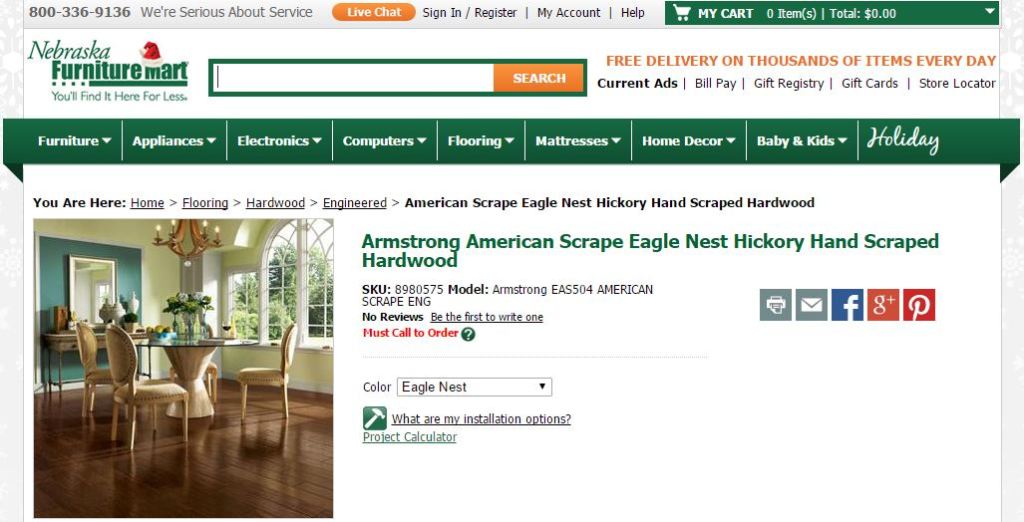 One of the main reasons I'm showing the entryway is that it's the only area that's officially moved back into. That and the hallway. And can you guess why those areas are the only ones we've moved back into?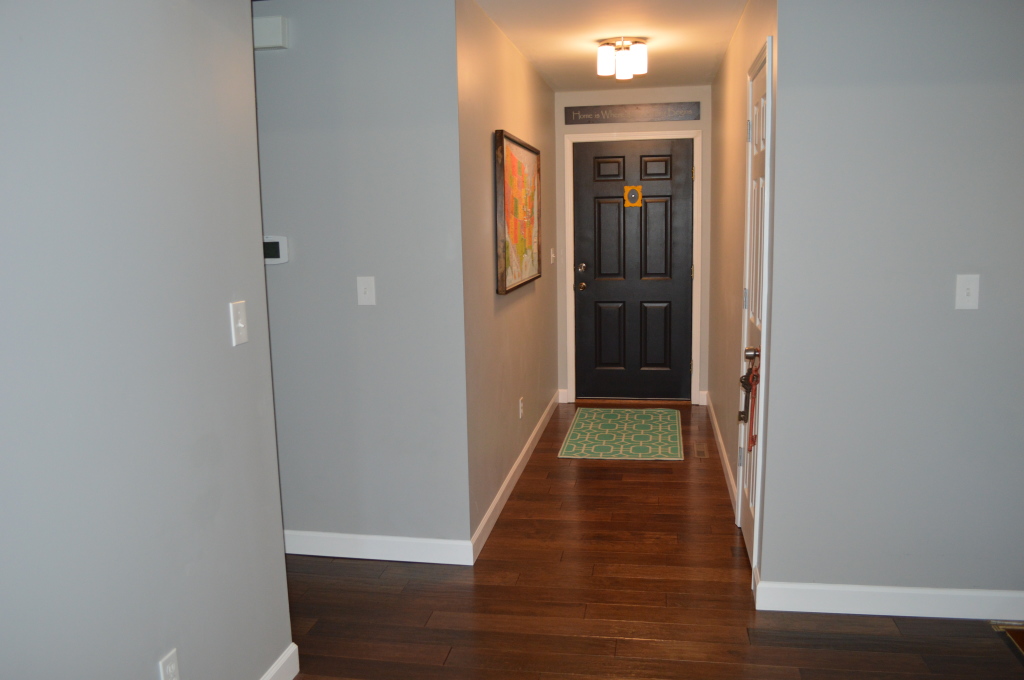 Because there isn't much to do there was the correct answer. 🙂 I added the rug, which we already had, and I moved back into the coat closet.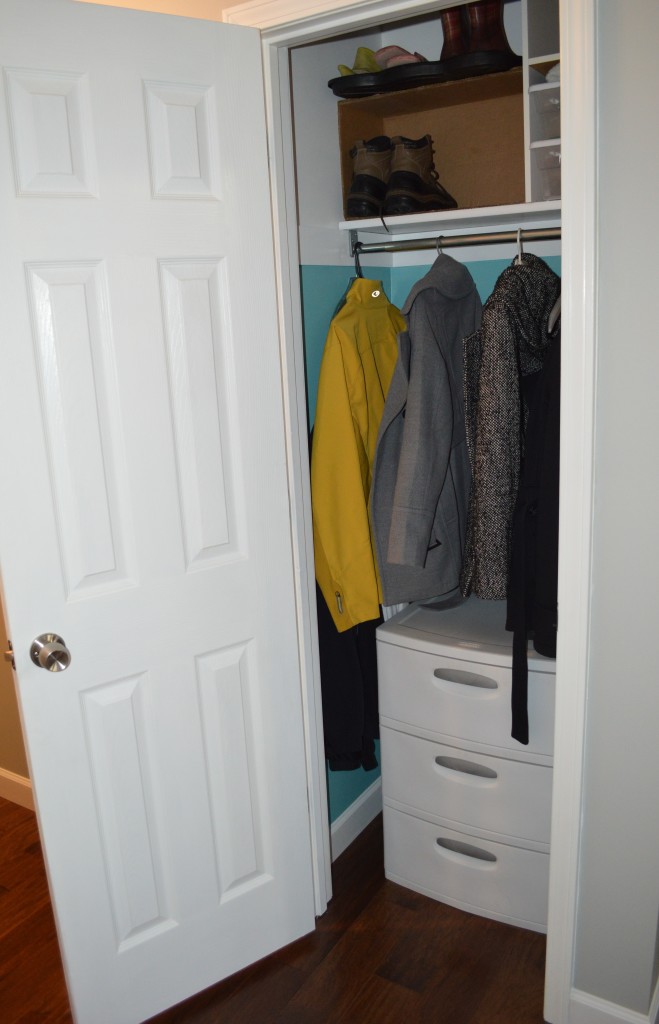 I recently painted it blue, if you remember from this post and had some requests to show the inside of the closet once we had all our stuff back in it. You don't see too much blue behind all our coats, but it's enough of a hint to add some cheery brightness I think.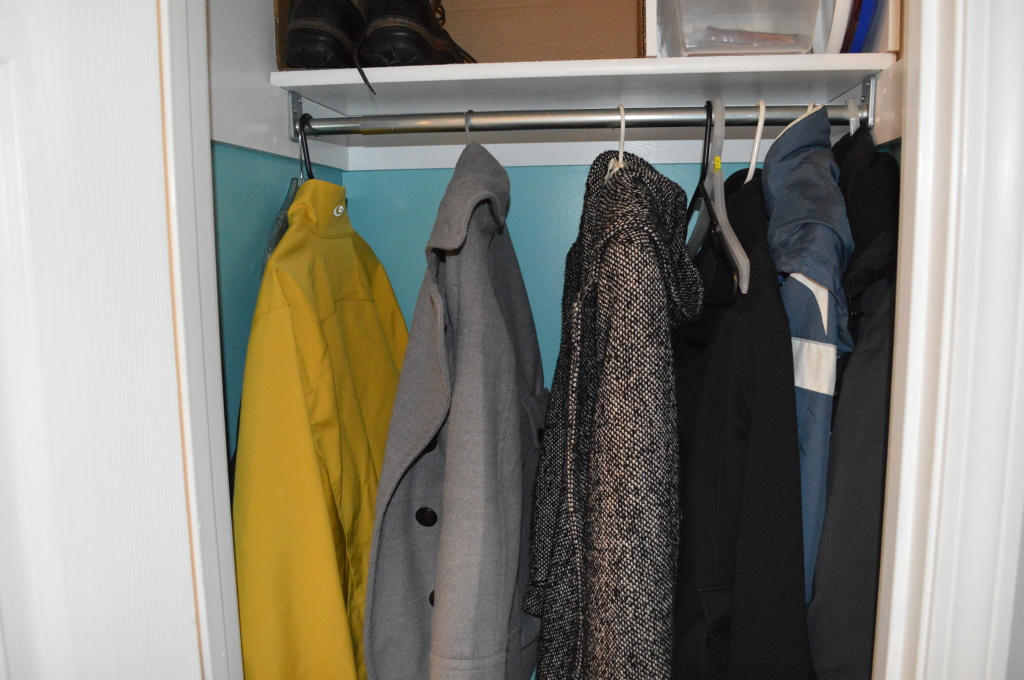 You can see the blue at the bottom, too, and it looks so fun with the white trim and wood floors.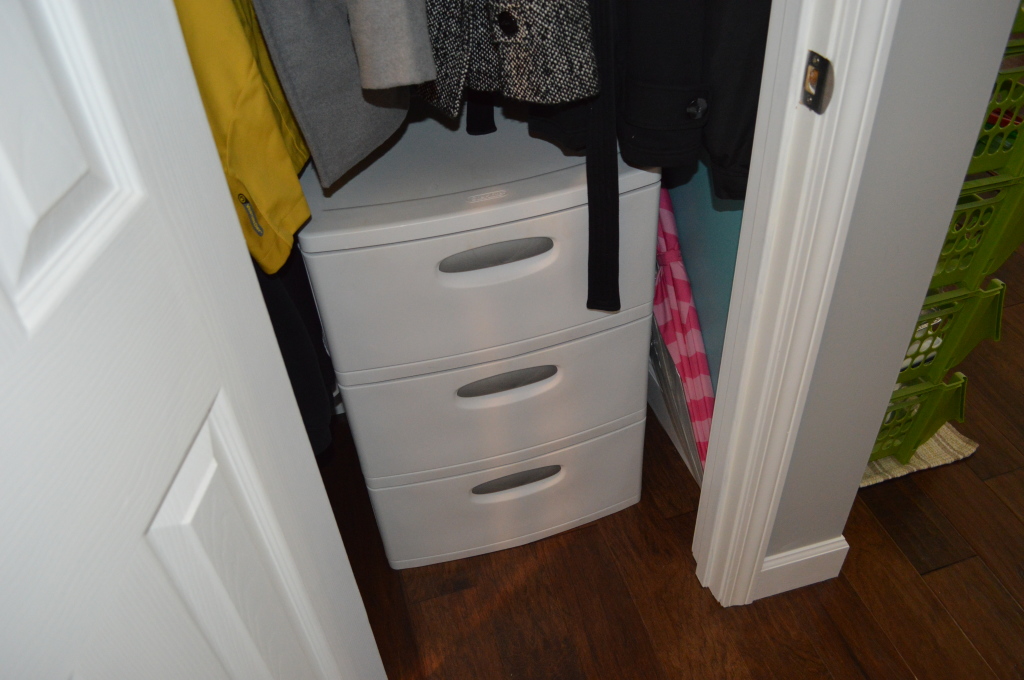 So basically, to sum up, I'm sitting over here enjoying the new floors, and I'm sorry we've been so absent lately. Life has been crazy with the holiday and the kitchen remodel on high speed to the end. Not to mention that work has been really busy with deadlines.
So, let's catch up. What have you been doing? How was your Thanksgiving? 
Now that we're all done with this project, I've since added one more photo to better show the finished floors: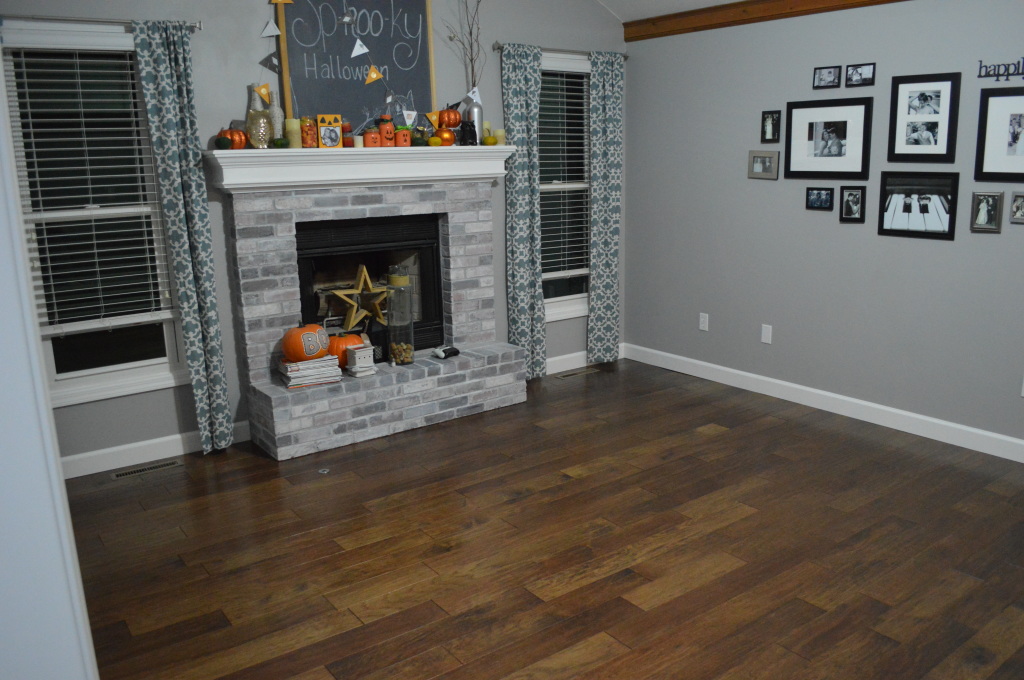 Oh, and here's a recap of what we learned while installed these floors. Part 1. Part 2.