---
I teased at a craft project that wasn't turning out like I planned in yesterday's post about our productive weekend. Turns out, even a project that doesn't go as planned can be fun, so I'm still excited to share it with you all. This is the story of the rug of many colors…and coats of paint.
I had seen a few Pinterest pins about painting rugs, so I figured I'd give it try in hopes of a new, brightly colored rug for in front of our kitchen sink. I even had the perfect one already on hand.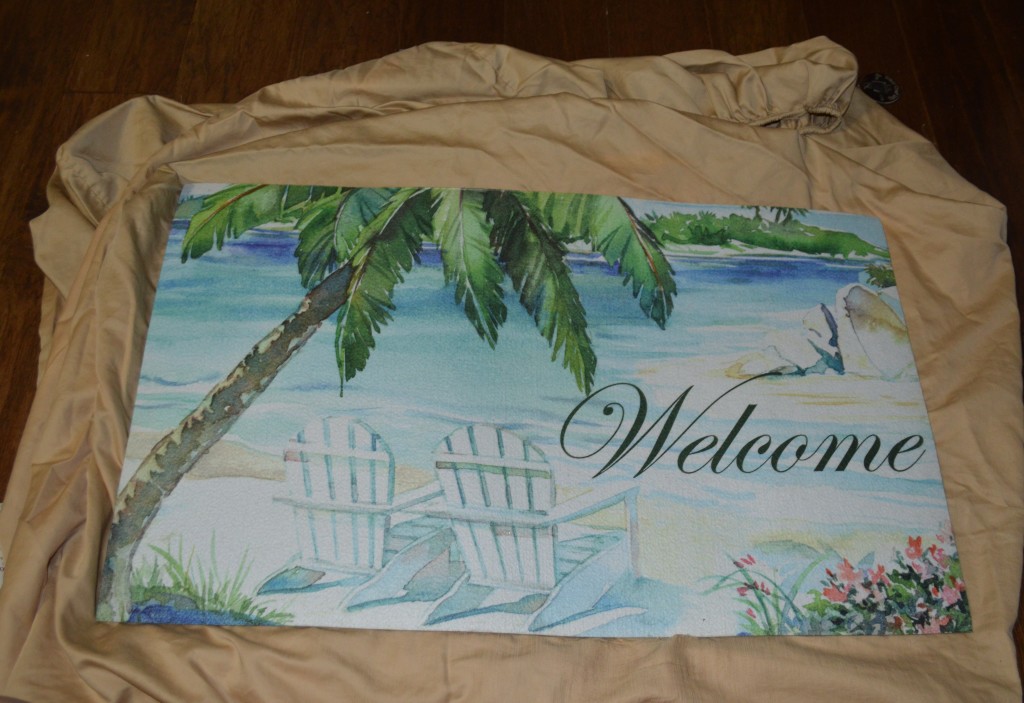 I had gotten this rug a few years ago and it was fine, but I was tired of it and thought it would be perfect to paint yellow or green and have something softer and springy to stand on while doing dishes.
I started by using craft and fabric paint I had on hand. I figured this was the best way to preserve the squishy soft feel of the rug. But after a a few minutes, it became clear it wasn't working at all. I mean, the craft paint was so thin I wasn't covering the design on the rug, just tinting it yellow. At this rate, I would run out of paint before even getting a nice base coat on the thing!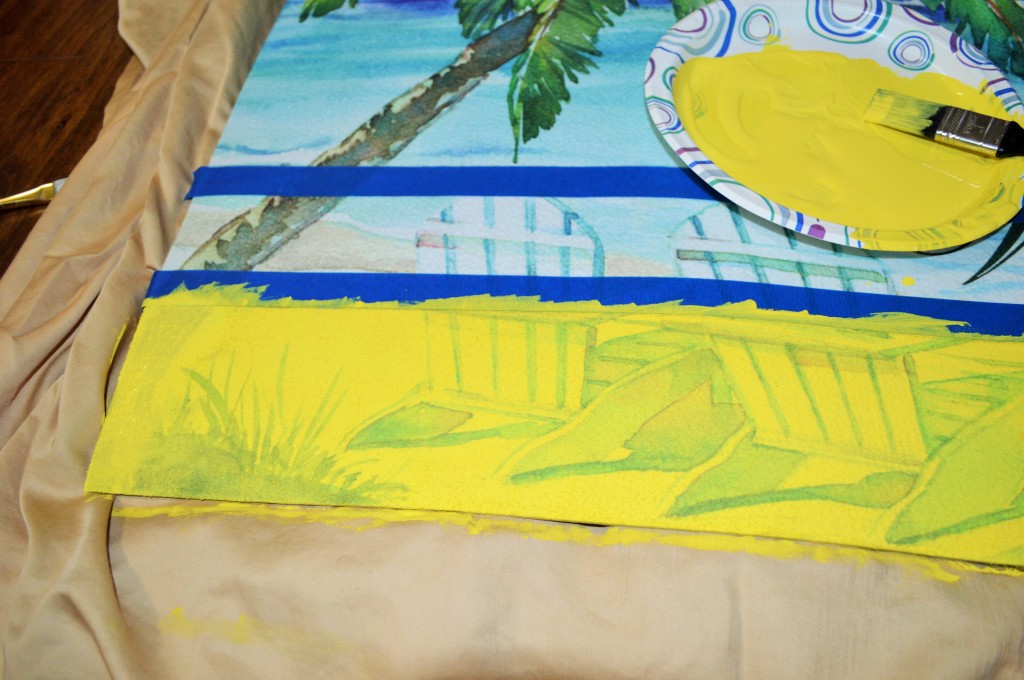 So, I decided I needed a base coat or primer of some sort. I didn't have any craft paint that fit that category, so I just used a test pot of white paint we had gotten for the kitchen remodel at some point. It worked better to cover the design on the rug, but still wasn't thick enough to give me full coverage. Plus, when it dried the next day, I knew I was never going to be able to use this rug in the house. The latex paint dried WAY too rough to walk on with bare feet. It felt a little like concrete with those rough, stiff bumps all over the paint. Not soft and squishy for doing dishes. Boo.
But I wasn't going to give up. I figured I could just use this rug outside as a wipe your shoes before coming in sort of rug. Better than throwing it away right? The whole point of this project was to reuse something old into something new.
I added a second coat of paint the next day, this time using up another remnant of random paint we had in our basement collection. Finally I had enough coverage to start my design.
I knew I wanted something simple but graphic, so I used a ruler and some painters tape to mark out a few stripes.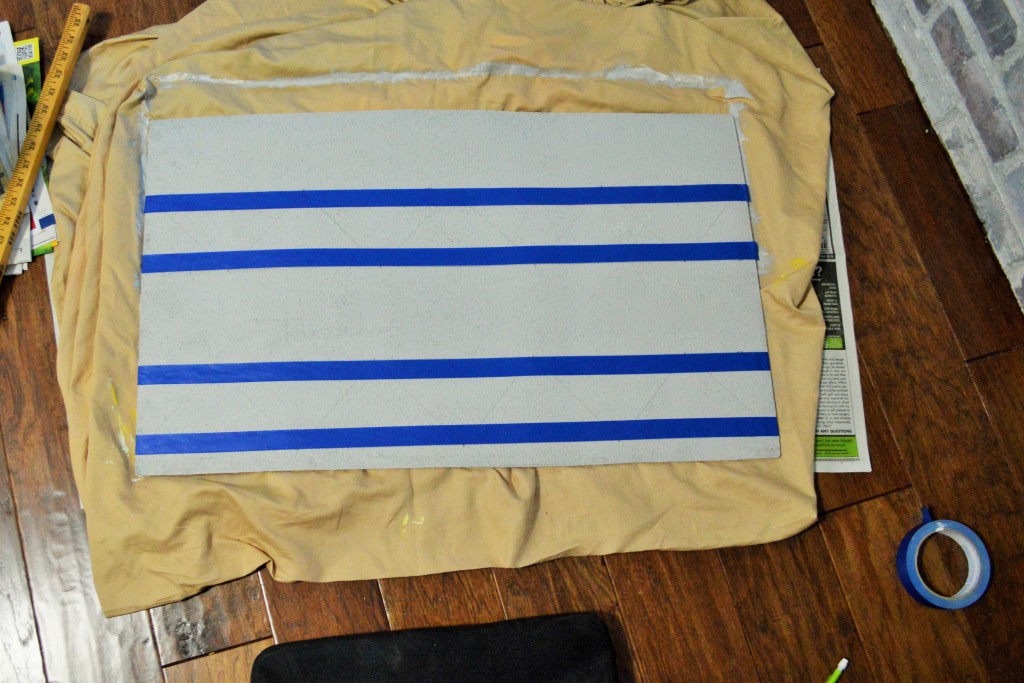 Then, I added some triangles by measuring and marking diagonal lines on two of the stripes.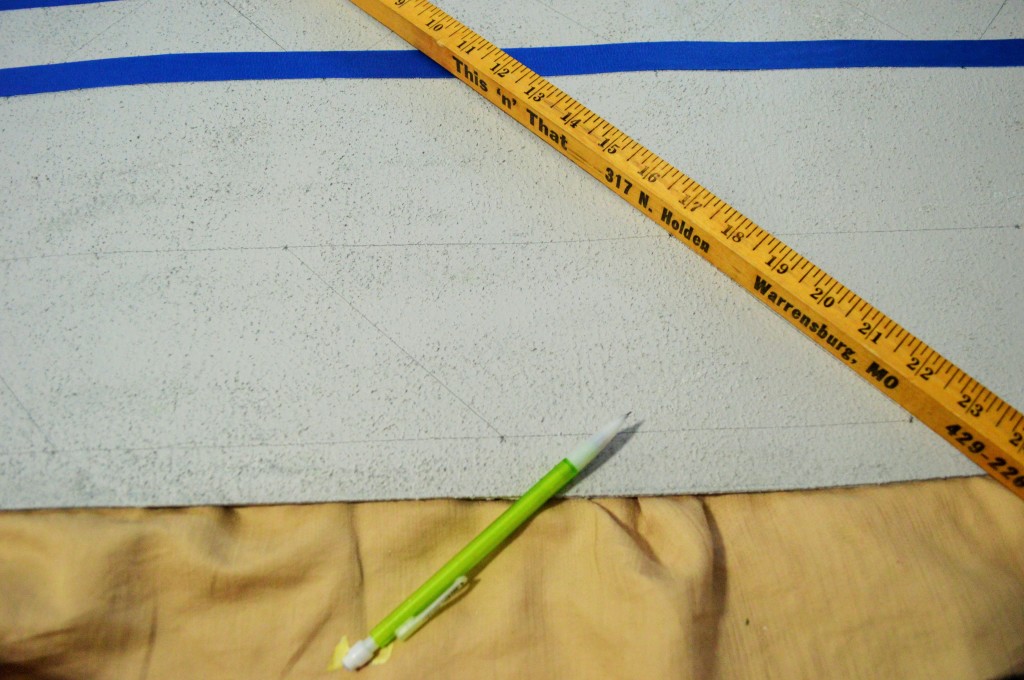 Finally, I was ready to paint the actual bright colors I'd wanted in the beginning of this project. I ended up decided to use latex paint for the whole thing since I had a bunch of bright colors on hand from various test pots and mistints I'd picked up for cheap.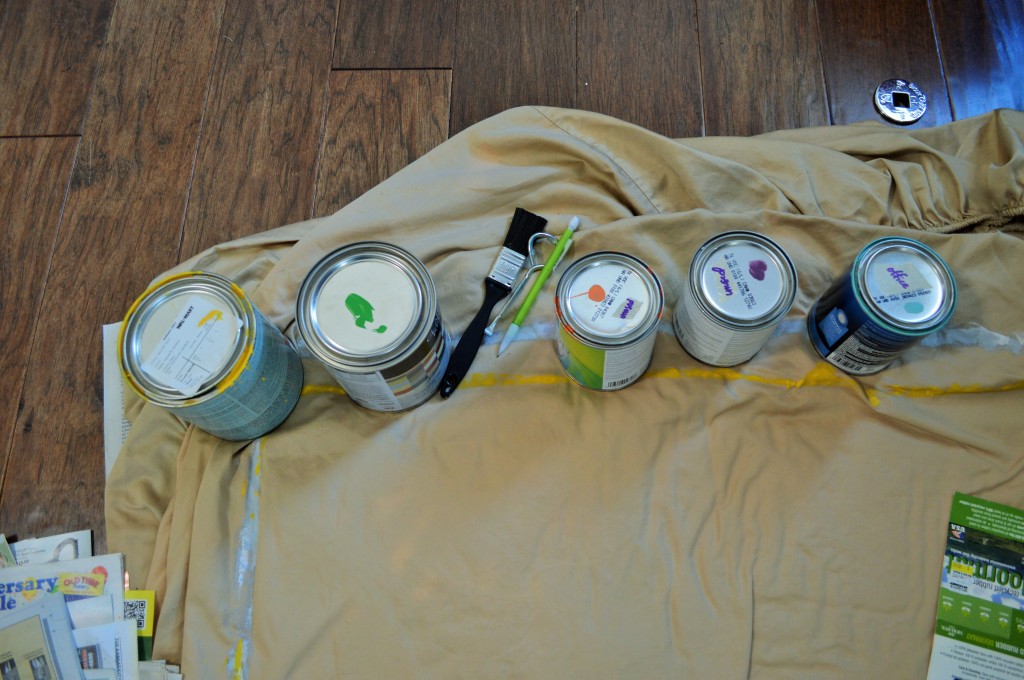 I figured there was no reason to use the expensive craft paint since I knew I wasn't going to ever stand on this rug barefooted at the kitchen sink, right?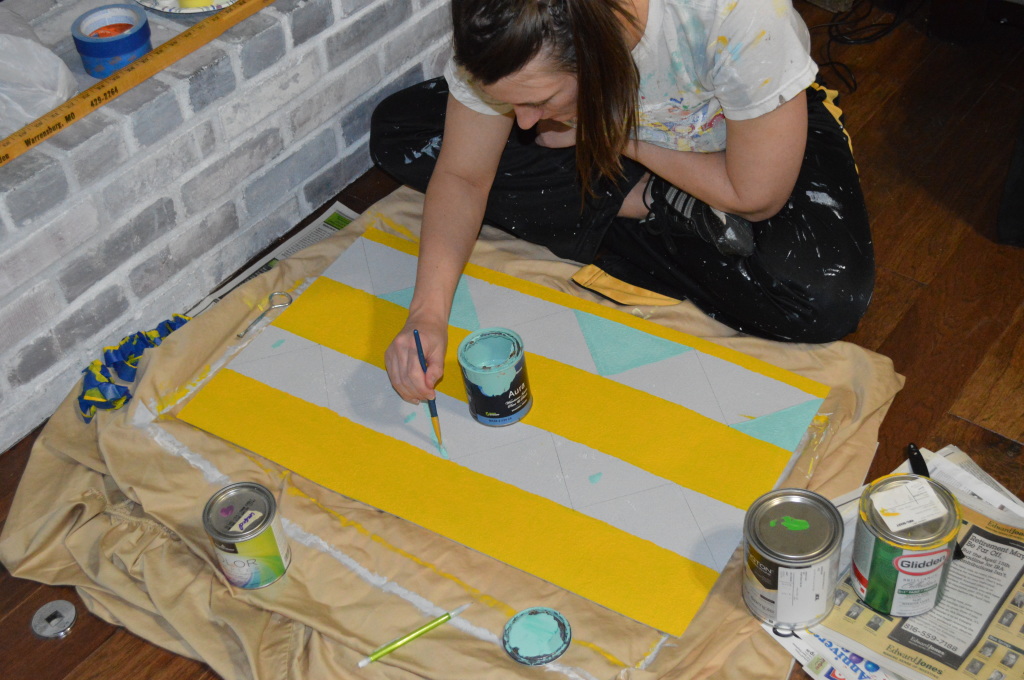 Pretty soon, the rug started to look a lot more modern and fun.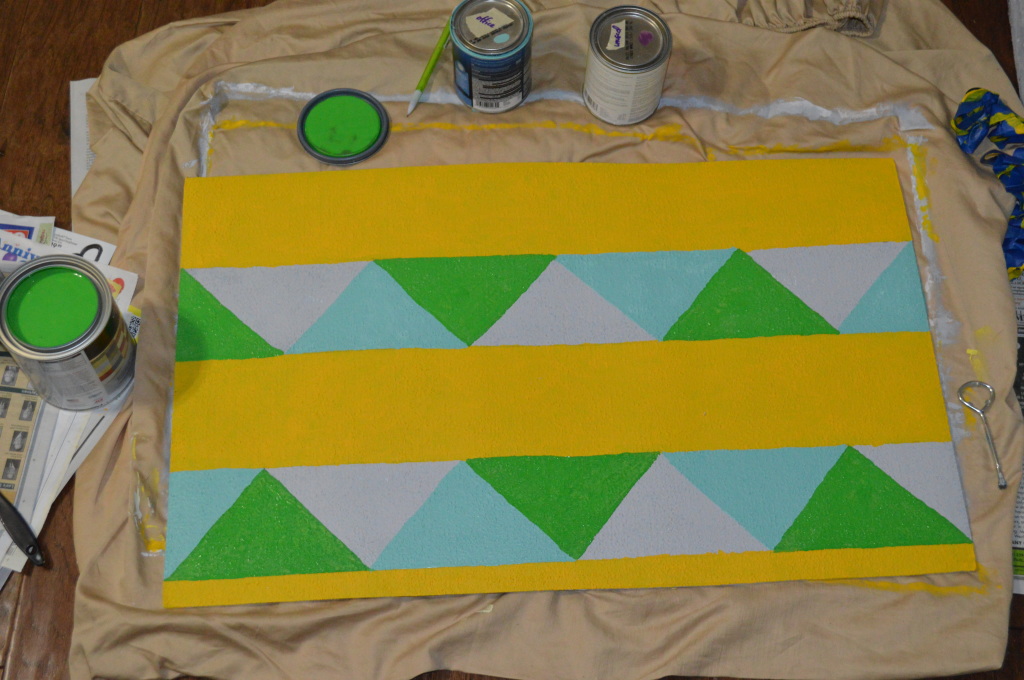 I ended up using a bunch of different colors instead of the one or two I had originally planned. Good thing my supply of paint in the basement is very generous. I told Wyatt it would come in handy for various projects…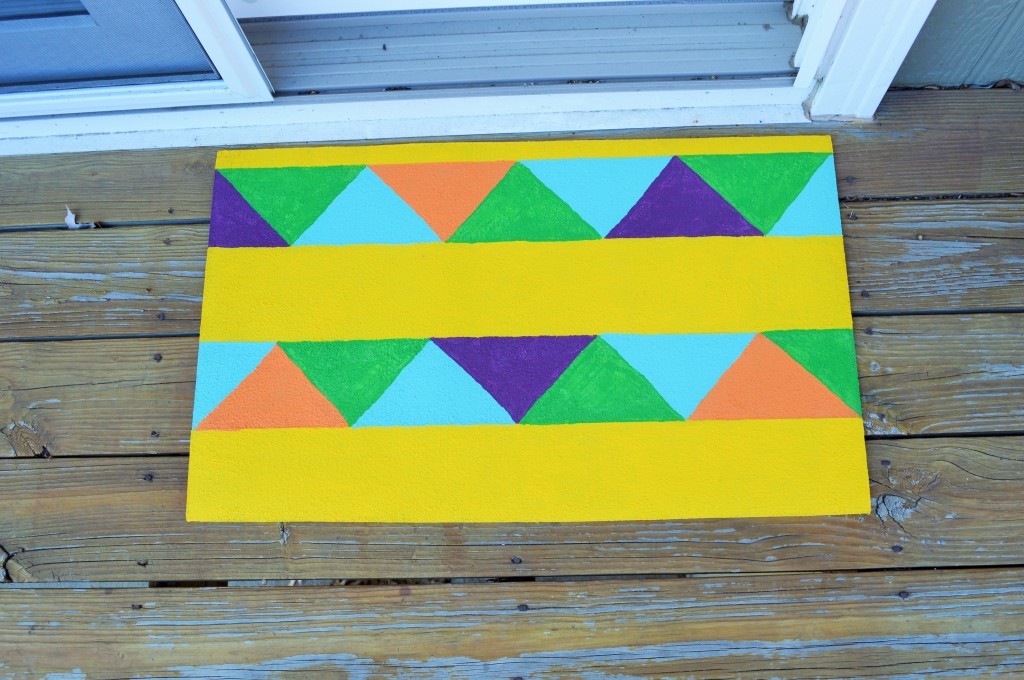 In the end, I think it turned out really well and looks fun on our deck.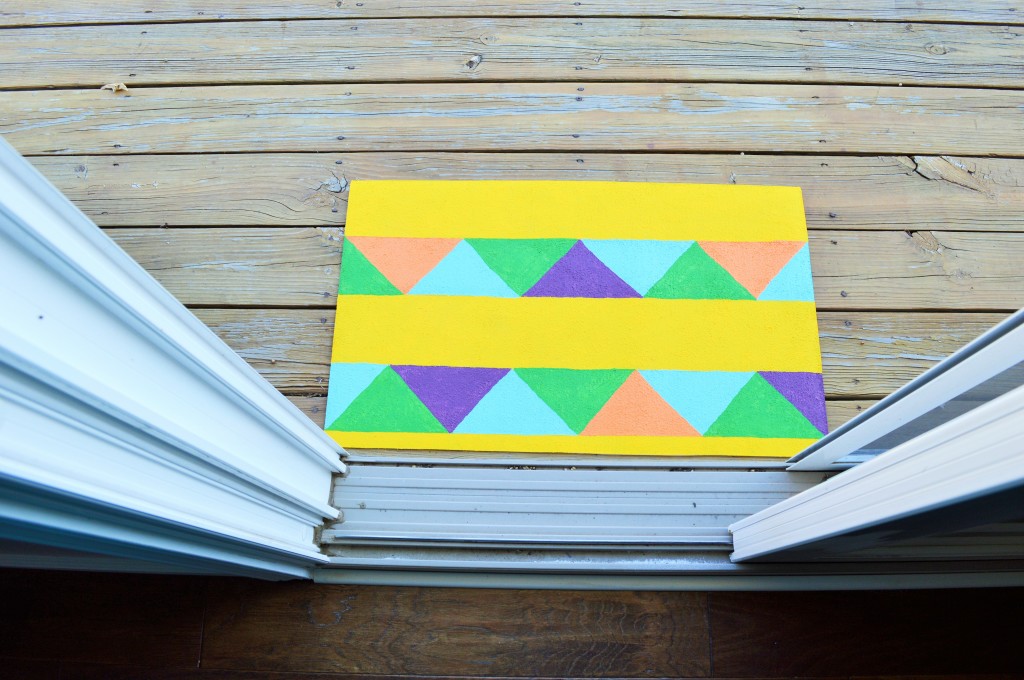 I may move it around and try it in a few places, but I think it was still a success, even if I can't use it inside at the sink. It's not soft, but still cute for spring and summer.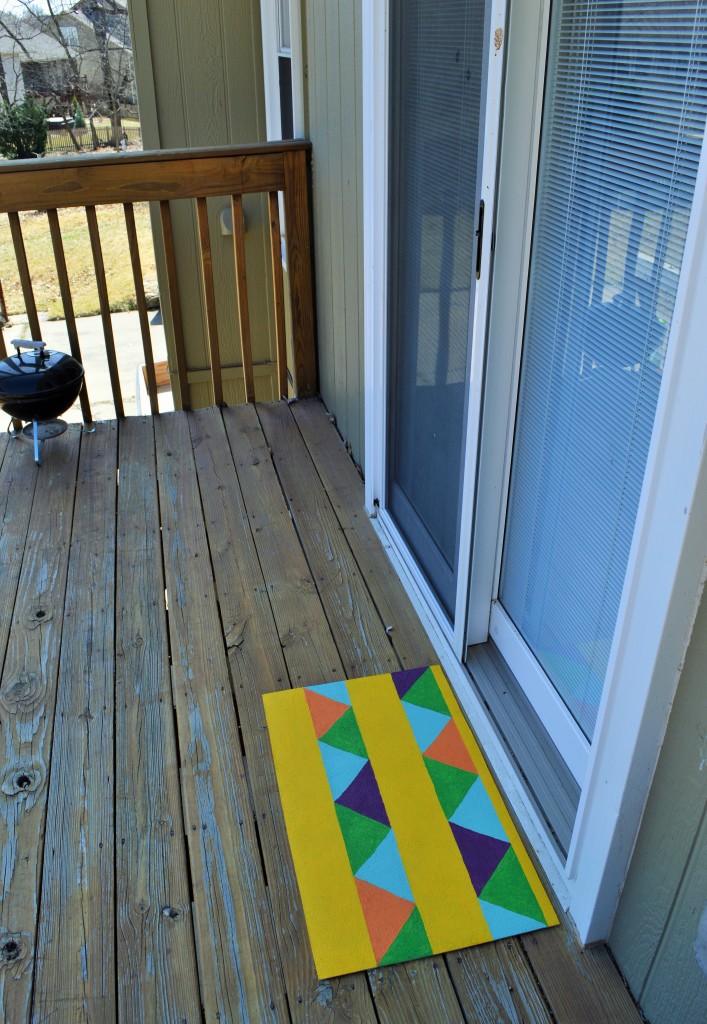 Quite the transformation.

Also, I know today is St. Patrick's Day so I maybe should have been sharing some fun, festive crafts for that, but I just didn't get anything done, mainly because I didn't feel the need this year. With so many other projects going on, it felt forced. Still, if you're celebrating St. Patrick's Day, feel free to download my free Mary Poppins printable, here!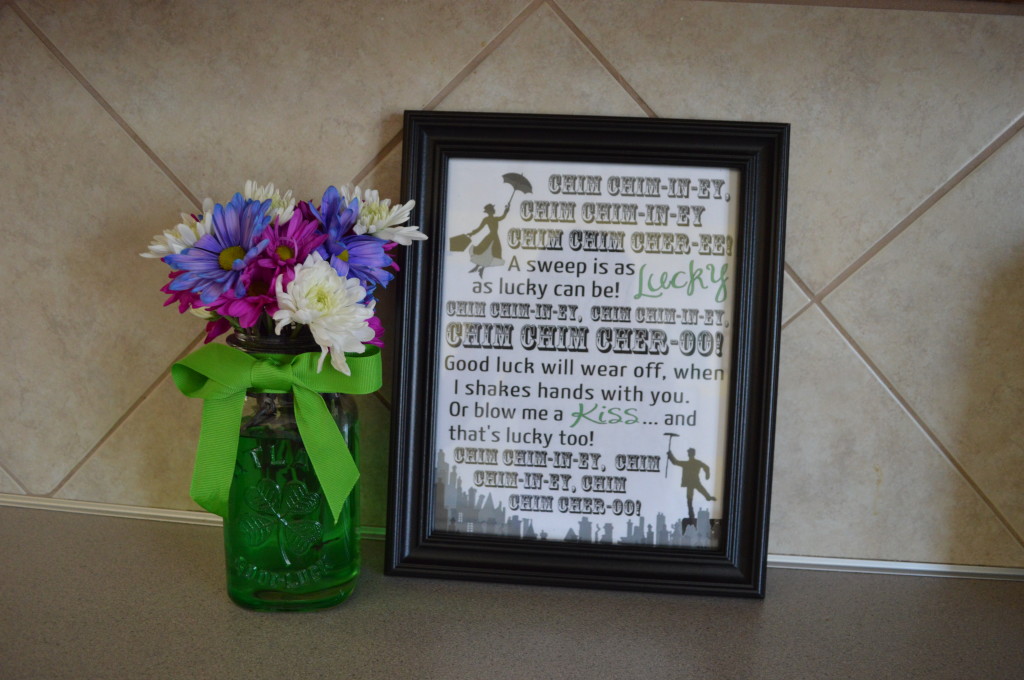 Here's the page to find it: http://lovinghere.com/lucky-you-free-printable/
(There's also a pretty sweet flashback to what our mantle used to look like before we white-washed it. Wowza, what a difference!
Happy St. Patrick's Day, and happy almost spring! Have you been doing any spring crafting? I'd love to see or hear about it!