***Psst! There's a giveaway going on at the bottom of this post! Don't miss your chance for some free glasses! 
*******Also, don't miss the giveaway going on here until Nov. 16,  for $40 in giftcards in honor of our blogiversary!
This post is sponsored by Firmoo Eyewear. I received a free pair of glasses in exchange for my review. All words and opinions are my own. 
Most of you probably don't know that I have glasses, because I really don't ever wear them. I actually don't even know where they are.
It's the same pair I've had for years, and I probably only wear them once a year, if my eyes are feeling especially tired or if I'm starting at a TV screen playing video games for a long time. I really don't need them to see on a daily basis. But since we've gotten married, I've been going to get an eye exam every year. Basically, my eyesight is borderline bad enough for glasses. Our doctor said he probably only prescribes glasses 50% of the time for someone who sees with my quality of vision.
But, I've noticed my eyes feel tired at the end of long days, and they can feel especially tired if I'm driving a long distance and staring into the sun. So, when Firmoo* asked if I'd like to try a pair of glasses, specifically sunglasses, I said sure.
(You'll probably remember Melissa posting her new glasses a few months ago.)
Here's the pair I chose: (They've since discontinued them apparently.)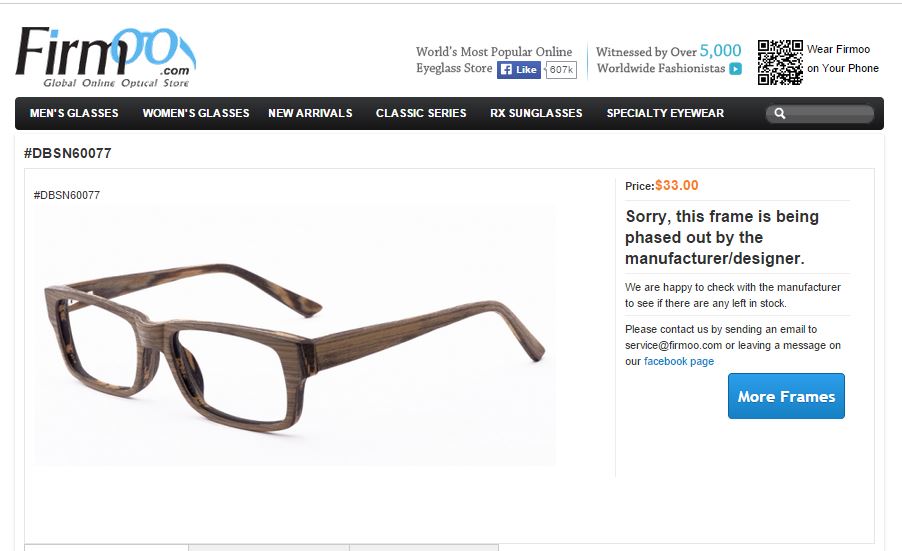 I picked out this pair because I liked the wood look. I've spent some time looking into making a pair of actual wooden glasses, but Melissa would have a fit if I started a project like that before the kitchen is done so I figured this was a good back-up option.
They didn't actually offer any sunglasses with the wooden look frame, but the great part about the online ordering is that you can customize your lenses to be however you'd like. I simply chose a standard prescription frame and manually selected to have them tinted. There's even color choices as to what color tint you'd like, although I'm not sure mine look all that "gray" instead of "brown." But it's an option, either way.
I chose between the few options for wood-look frames by measuring a pair of sunglasses I have and picking the one that was closest to that size.
Earlier this week, they came in the mail. I think they look pretty cool with the wooden design.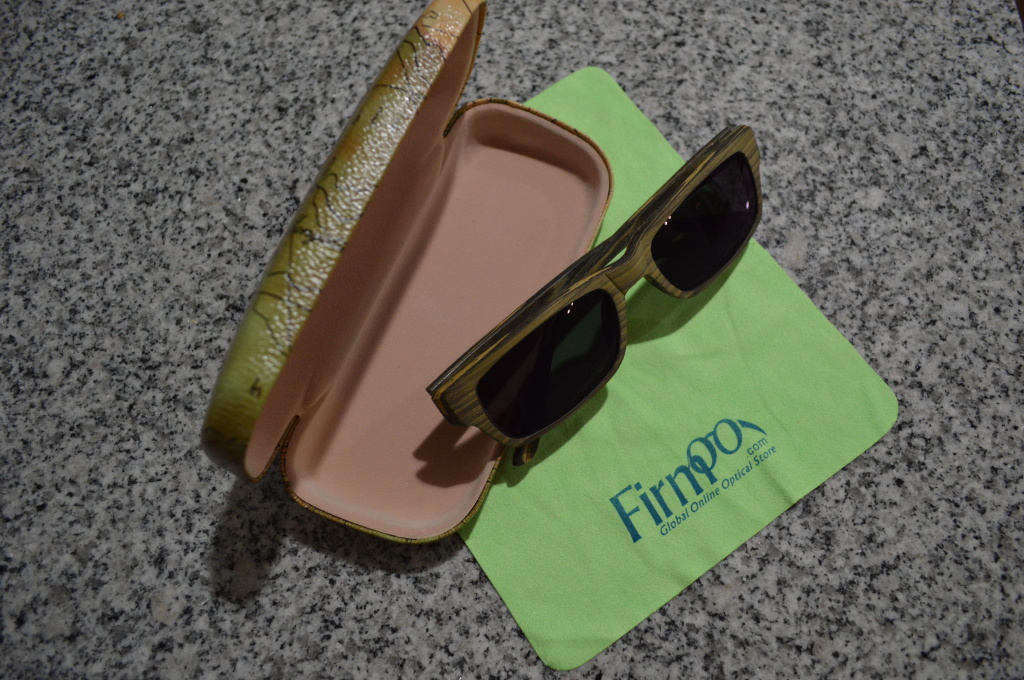 I will admit they feel a little weird to wear, I imagine because I'm not used to wearing prescription glasses. But I think they'll be great for wearing in the car.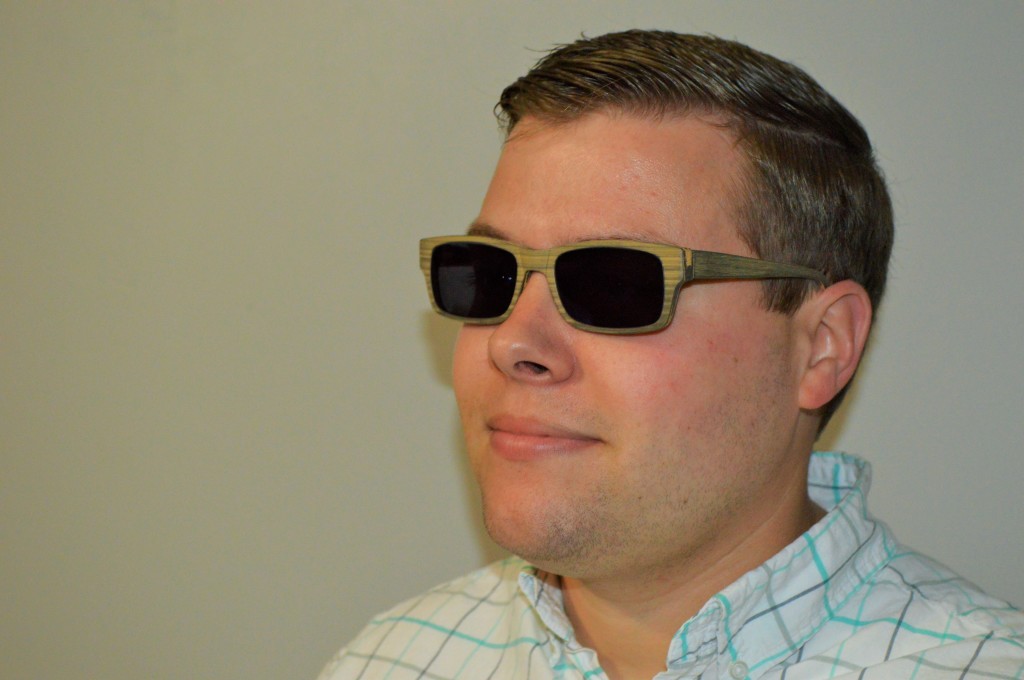 Also, we talked to our local eye doctor about the online ordering and he confirmed what we thought. If you want a pair of glasses to wear all day every day, or if you have a complicated prescription, it's a good idea to order from a professional service that will be able to customize the fit especially for your eyes. But something like Firmoo is GREAT for back-up glasses, like for Melissa, casual glasses wearers, like me, and those of you who just want a little variety in your glasses to switch up your look. And always get a professional eye exam before ordering any prescription glasses, of course.
Now the cool part, Firmoo has agree to give 5 (YES, 5!) of our readers a voucher for $15 off one pair of frames from their classic collection. There's a lot of choices in that line, and some of them are $16, even $8 so you could get one for free! (Most are in the $30-40 range, so half off is still good.)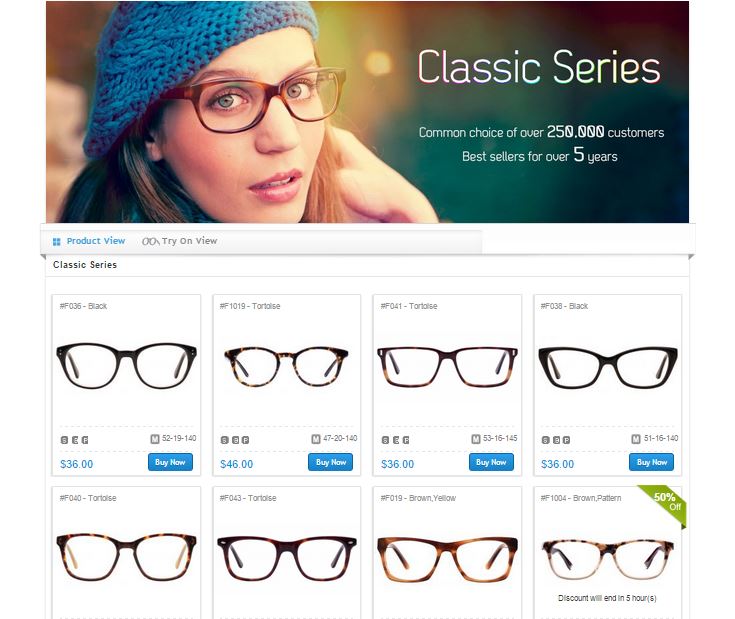 PLUS, the grand prize winner will also receive a free pair if they order before December 1! (It has to be one from this collection, but again, there are lots of choices.) That means you will get a free pair (if you order right away) and $15 off another pair, so you could get sunglasses and regular glasses, or just some "fashion" glasses if you want to switch up your look.
That means 5 of you will be getting some sweet new glasses just in time for the new year. Also, you don't have to have a prescription to wear glasses, you can also order clear lenses and just wear them as an accessory. (Not that I'd know anything about that, but Melissa says it's a thing.)
And if you don't win, they are having a 20% of Thanksgiving sale with code THANKS. Check it out here.*
To enter, leave a comment below saying how bad your eyes are and how often you wear glasses. (Melissa can't hardly tell the eye chart has writing on it without her glasses or contacts in!)
We'll choose 5 winners at random and will notify you by email. Giveaway ends Monday at midnight, so don't miss out!
Good luck!
Again, This post is sponsored by Firmoo Eyewear. I received a free pair of glasses in exchange for my review. All words and opinions are my own. 
*Affiliate Link