This post is sponsored by Jimmy Dean on behalf of their #JDCrumbles program, but the words and opinions are all our own. 
It's been awhile since we shared a recipe for you all on here. But, since I shared a little bit, here, about the crazy test diet I've been on in an attempt to figure out what's causing my allergies, I've been a lot more creative in the kitchen. It's hard to cook tasty dishes when you have so many foods to avoid at one time!
So, when Jimmy Dean contacted us to see if we'd like to create a recipe featuring their sausage crumbles product, we were really excited to say, "Absolutely!"
I figured now would be a great time to really take the time to create a recipe that could be considered "allergy free," at least in my case, so I dove right into the project and decided to recreate a favorite recipe of ours, but with a healthier, allergy-friendly take—Zucchini Boats with Turkey Sausage! Remember when we made the original version last summer, here? YUM-O!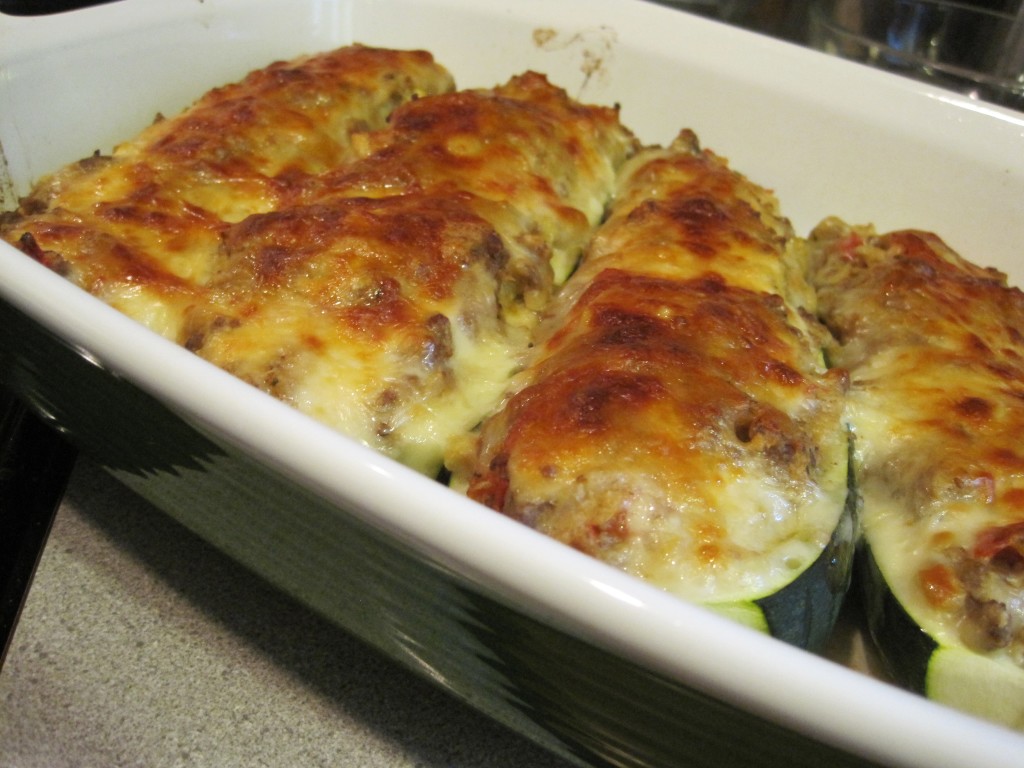 Of course, if you aren't dealing with allergies, I'd say go ahead and make the original recipe but sub out sausage for the ground beef to make this extra special!
I'll be honest and say that we originally wanted to use Jimmy Dean Original Sausage Crumbles for this recipe, but we couldn't find them at our store. So, Hubs picked up two packs of the Jimmy Dean Turkey Sausage Crumbles at Wal-Mart. As it turns out, I'm glad that's what they had, because it was really good!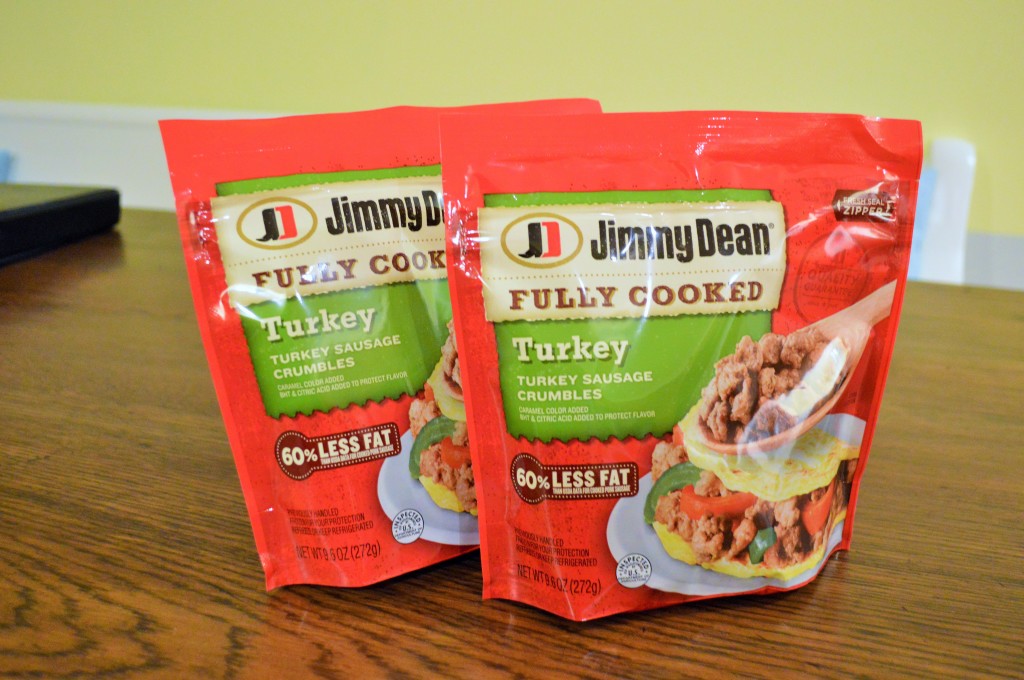 He also picked up a special ingredient for this recipe…veggie cheese!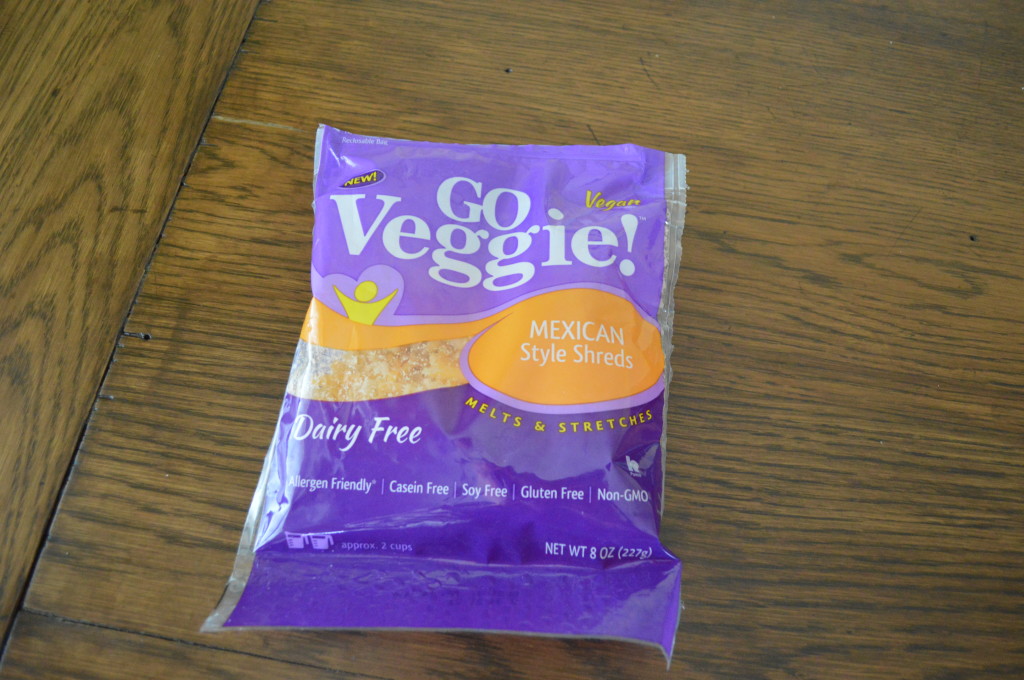 Now, before you start complaining that this recipe is too crazy for you, feel free to use regular cheese (mozzarella and/or parmesean would be my first choice!). In fact, I'd actually recommend you use real cheese for this because I'll admit that Hubs and I really weren't crazy about this "fake" cheese. It turned out fine in the finished dish, but I'm sure it would be even better if you weren't working with any dietary restrictions.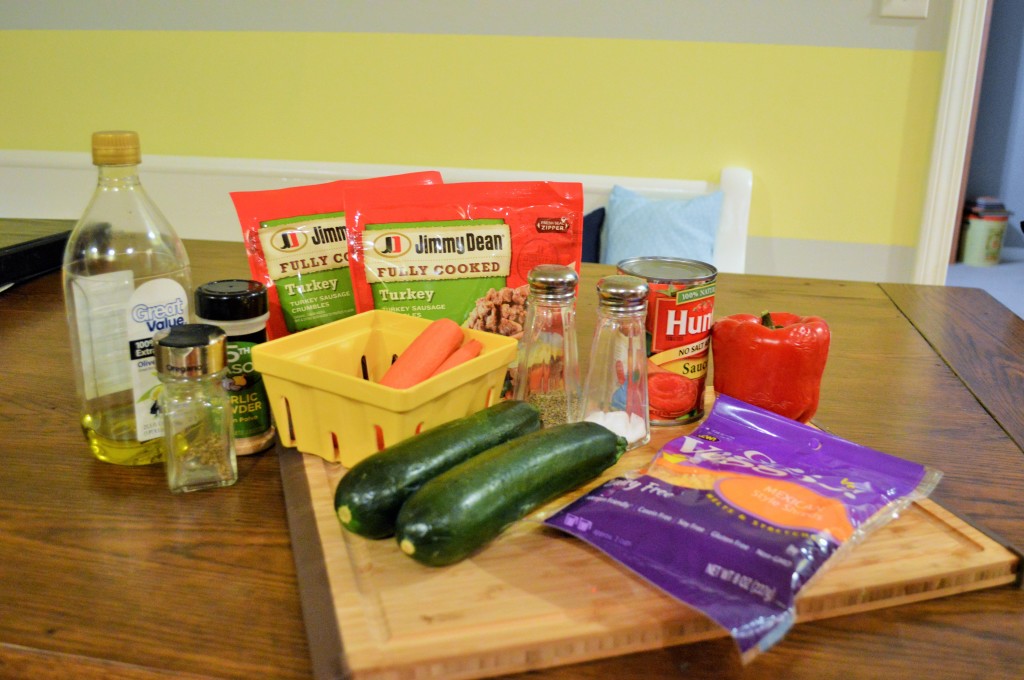 These packs of sausage are fully cooked and only require to be reheated in your recipe, so they make prep work go really fast.  Plus, the turkey worked great in this recipe because it cut out a few extra calories and made this healthy meal even healthier!
So, to start, I scooped out the insides of two medium sized zucchini.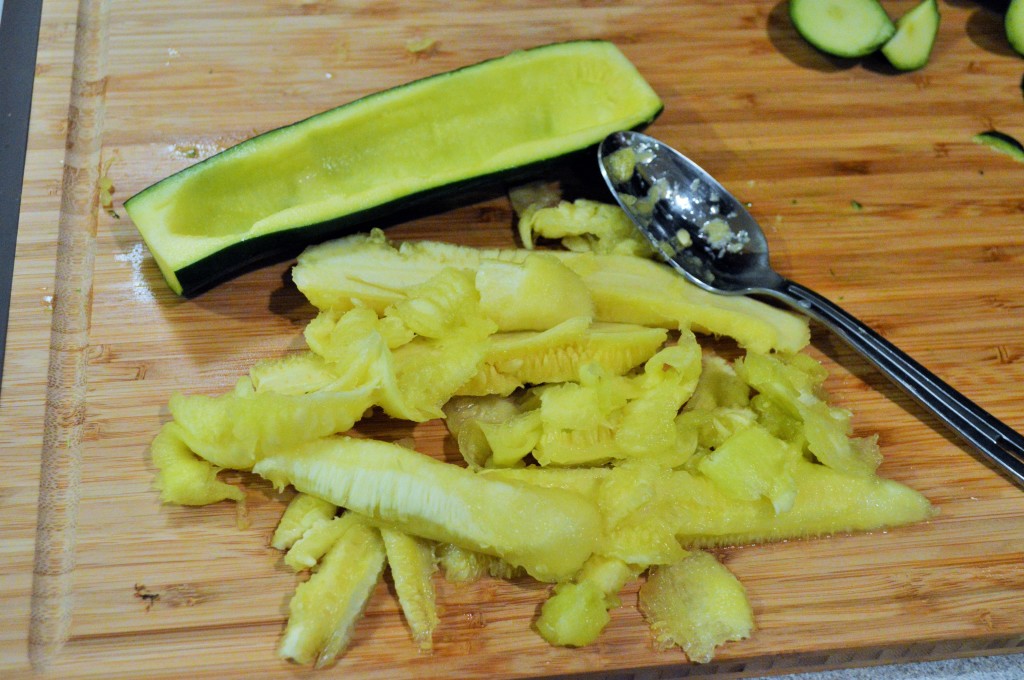 Then, I sprinkled them with a little oil, salt, and pepper, and stuck them under the broiler for about 15 minutes while I prepped the rest of the ingredients.
Next, chop the inside "guts" of your zucchini, and whatever other veggies you want to use in your filling. I used a couple carrots and a red pepper, as well as a handful of leftover cherry tomatoes. Onions, fresh garlic, or whatever you have on hand would also work great. This recipe is great for cleaning out your fridge so just use whatever works. I used some powdered garlic and onions since that's what I had. Also, season with salt and pepper, and a little pinch of oregano.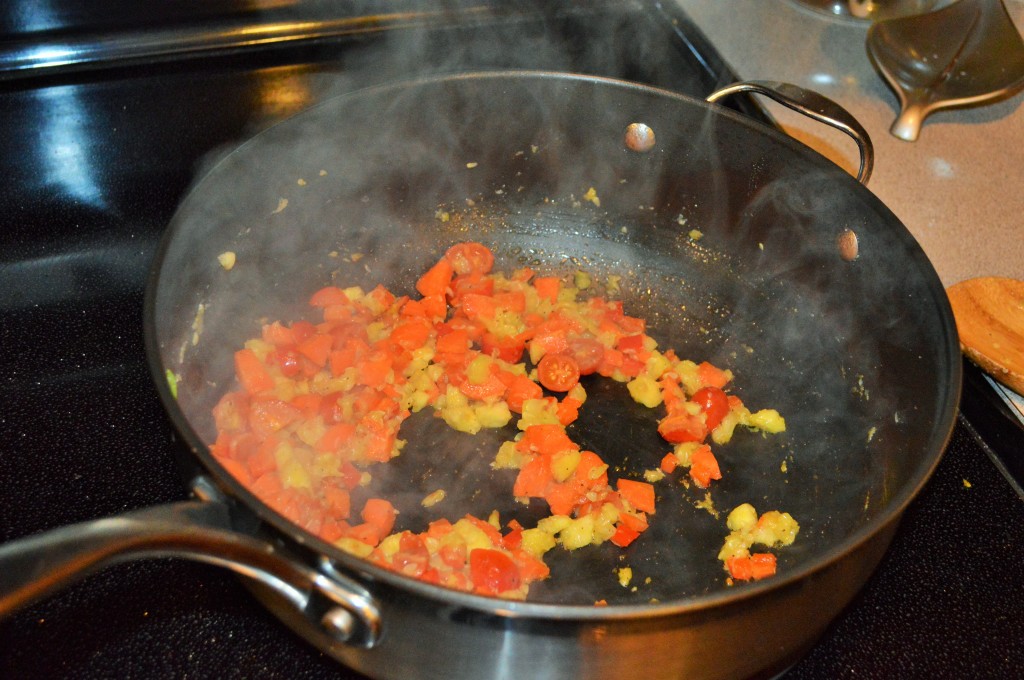 After simmering the carrots and other vegetables in about a tablespoon of olive oil until they were soft, I dumped in the can of tomatoes and the sausage to heat them up. Mmm…plus, since the sausage is already fully cooked, you can sneak a taste at any point!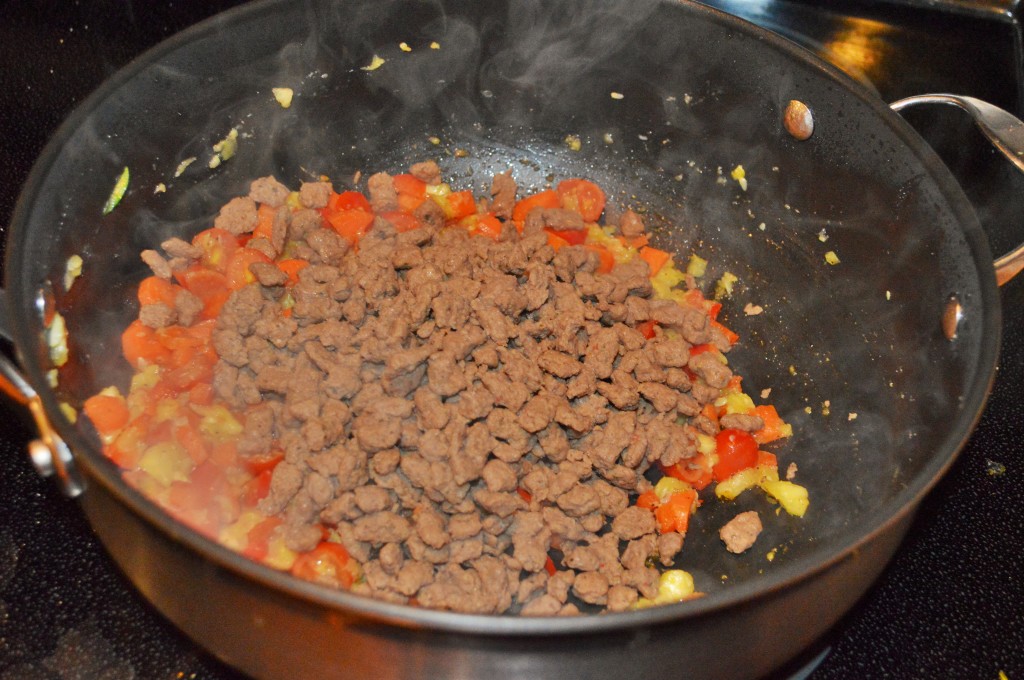 *Just realized I used a can of tomato sauce instead of diced tomatoes in my ingredient photo above…whoops! 
After a few more minutes, it was time to add the cheese. I have to admit I was pretty surprised by how well our veggie cheese melted like real cheese–the flavor just isn't the same though…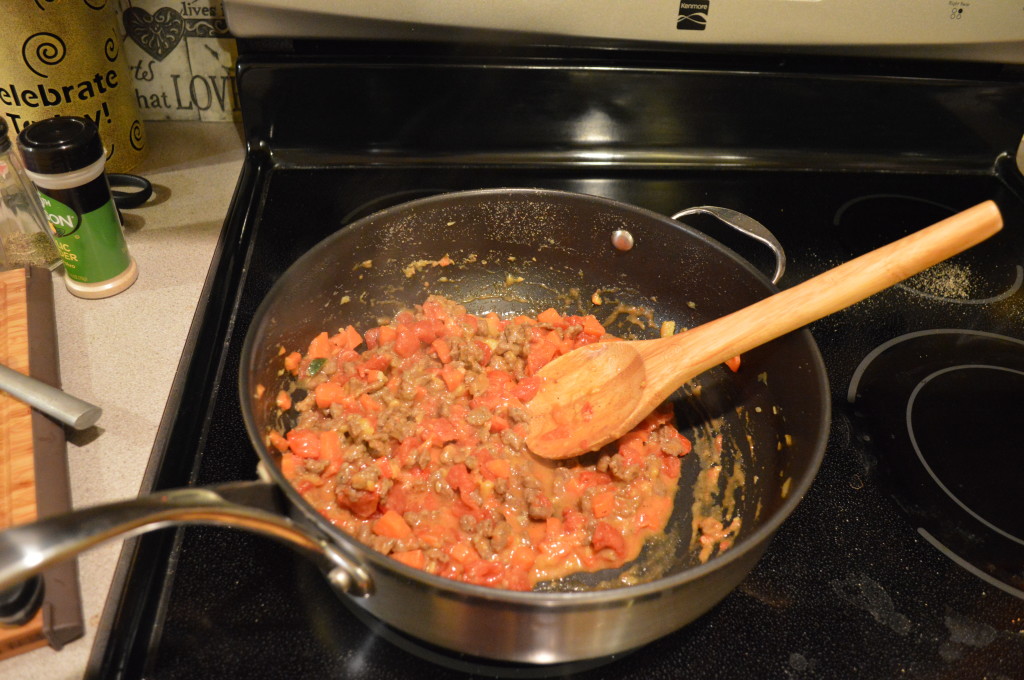 After it was melted, I pulled the pre-cooked zucchini shells out of the oven and filled them with our mixture. (You'll have plenty leftover, so save it to serve with rice or potatoes for lunch the next day!)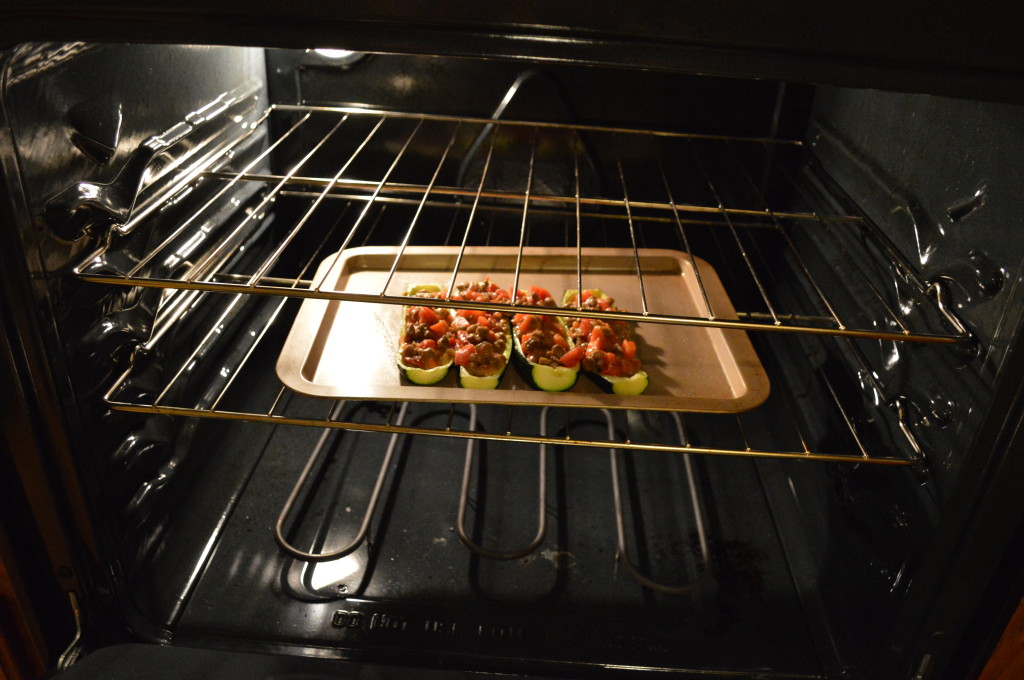 I popped the tray back in the oven at 350 degrees for another 10 minutes until everything was nice and hot. Then, it was time to dig in!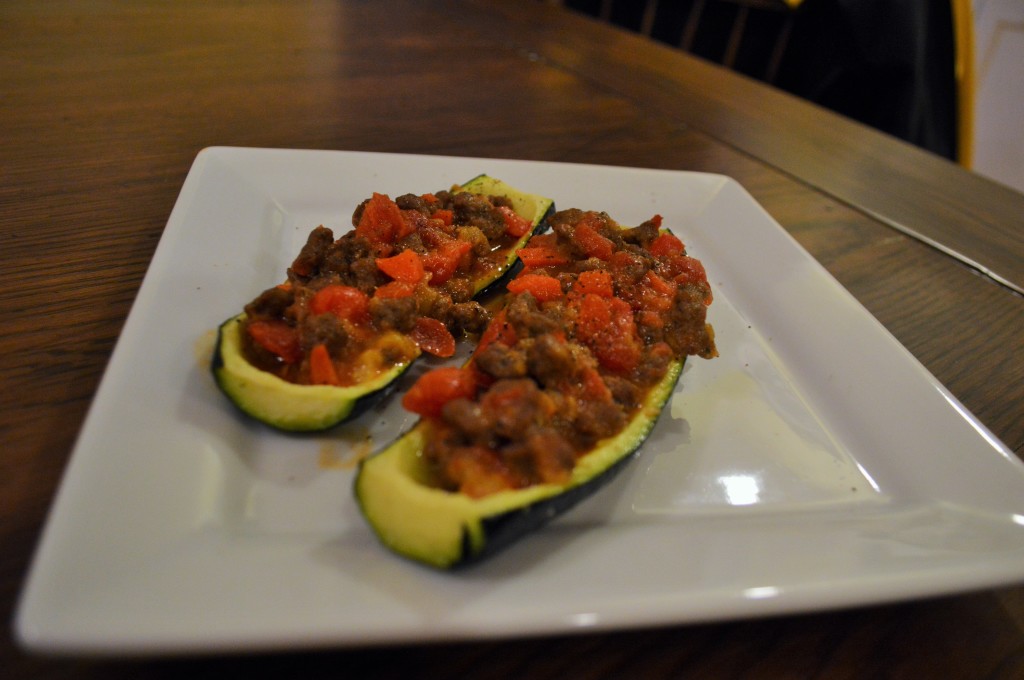 While we weren't sure how this recipe would turn out in comparison with our original recipe, we were both really surprised by how delicious it was! And so healthy!
The entire thing comes in at just under 500 calories a serving, which is two stuffed boats—really filing! Plus, there's no dairy, gluten, eggs, or nuts…all major allergy triggers for some people!
Plus, there's tons of hearty, meaty flavor thanks to the turkey sausage, which, in my opinion tastes just as good as regular suasage but has a lot less fat! Yum!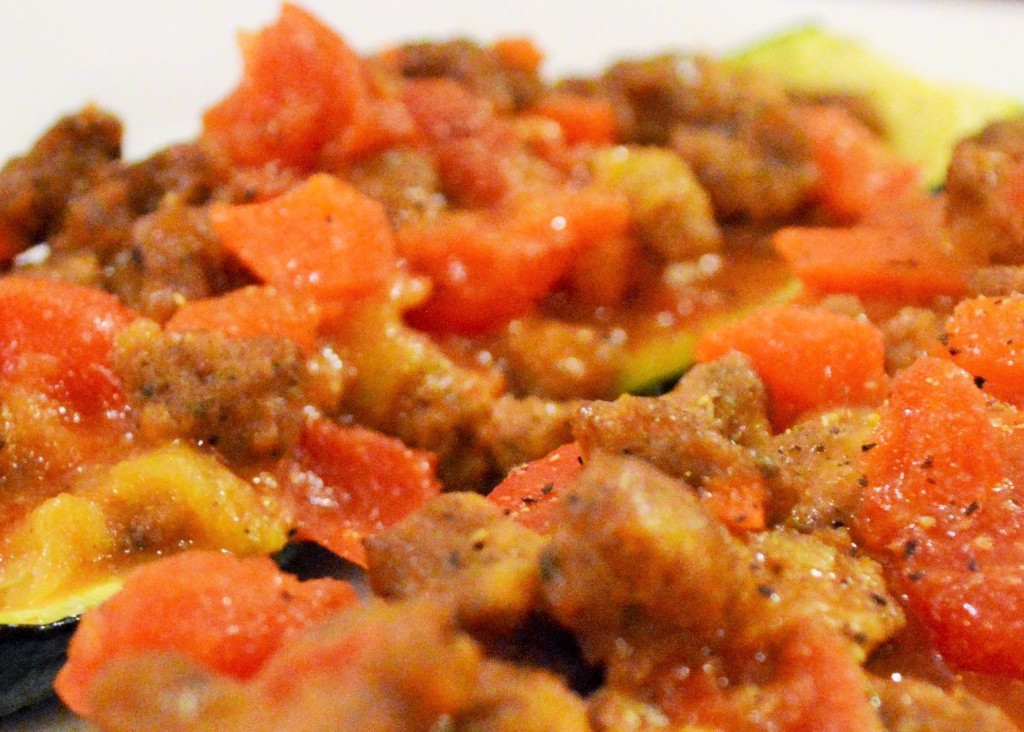 (And when I say it "tastes just the same," rest assured that it tastes way better than turkey bacon, which does NOT  taste "just the same" as regular bacon. No matter what people say!)
Here's the full recipe for ya!
Stuffed Zucchini Boats with Jimmy Dean Turkey Sausage Crumbles

2 medium-sized zucchini
1 red pepper
2 medium-sized carrots (and/or other vegetables you have on hand)
1 can (no salt added) diced tomatoes
1/2 cup Go Veggies shredded "cheese" (or dairy cheese!)
2 tablespoons olive oil
Seasoning (garlic powder, oregano, dried minced onion, salt, pepper, etc.) to taste

Hollow out the zucchini and cook the boats with olive oil and salt under the broiler for about 15 minutes or until soft. Be sure to watch them so they don't burn. 

In the meantime,  saute the insides of the zucchini with carrots, red pepper, or any other vegetables you want to use.

When the vegetables are soft, add the Jimmy Dean turkey sausage crumbles, canned tomatoes, and "cheese."

After everything is heated through and the cheese is melted, fill the zucchini boats with the vegetable mixture. Feel free to add more cheese to the top of each boat if desired.

Bake 10 minutes in a 350 degree oven or until everything is nice and hot. Then, serve it up to your friends and family!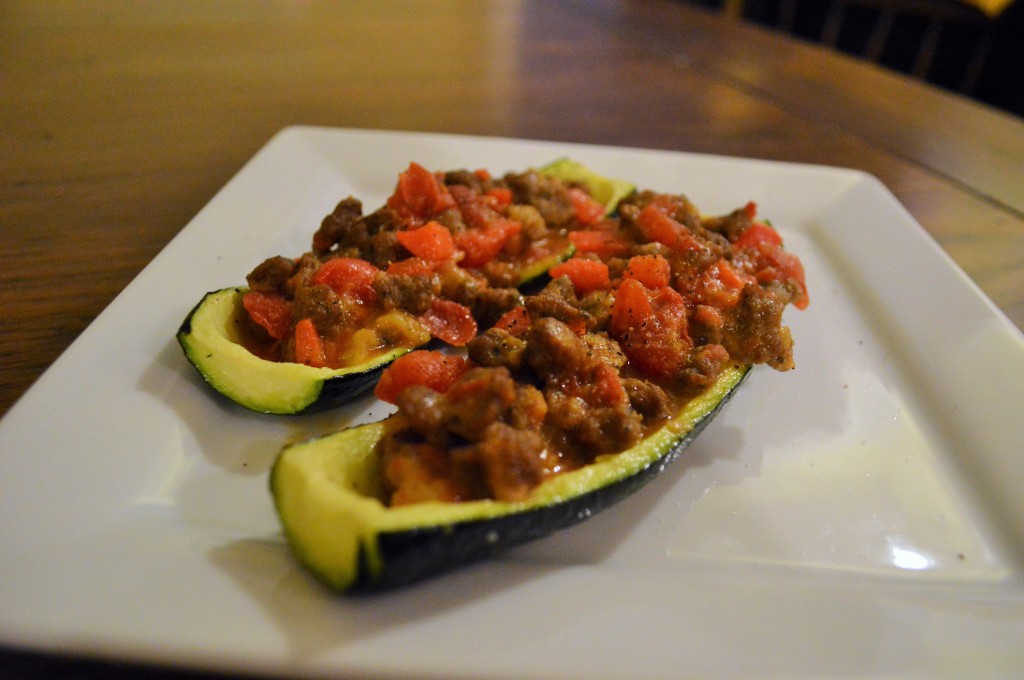 This recipe was so easy and quick, perfect for a busy weeknight. But, it still felt a little fancy since it's something we don't make all the time. I'd love if you tried it and let us know how you liked it! Or, perhaps you have ideas for how to make this recipe even better! Feel free to share!
Now, it's your turn to play along. Leave a comment about this recipe, the original recipe, sausage, diets, allergies, or just about anything you've been cooking lately!
****Jimmy Dean has offered to give a year's supply of sausage to one blogger in this program (there are several) and one reader. All we have to do to win is have the most engagement on this post! —So, share this post with your friends and family and get everyone to leave comments, and we might win free sausage for a whole year!****
#spon: I'm required to disclose a relationship between our site and Jimmy Dean. This could include Jimmy Dean providing us w/content, product, access or other forms of payment.