Now that St. Patrick's Day is almost here, I didn't have time for any over-the-top decorating. And really, I think a few last minute, lazy touches of green is enough festivity right now. We have so much going on with planning our kitchen remodel that we really don't have room for anything big and flashy. And really, I don't have much in the way of St. Patrick's Day decor anyway…
I started with adding an Irish blessing to the chalkboard.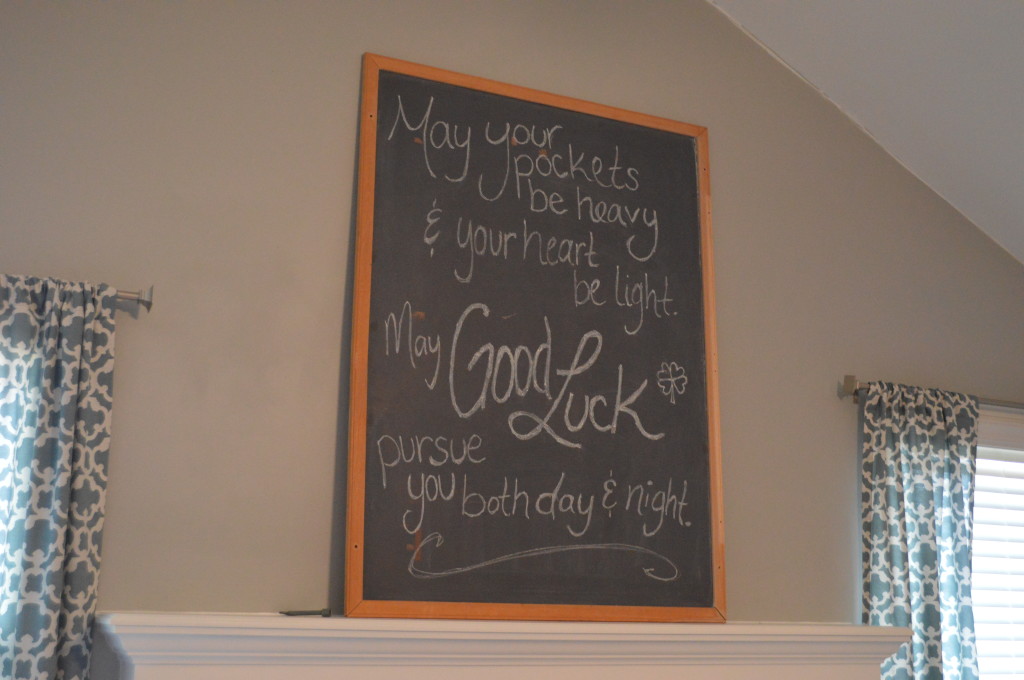 Then, I had the idea to fill the remaining space with all the green wine bottles I've saved over the years. I thought it would look cool to see all the different shades of green up there, glowing in the light.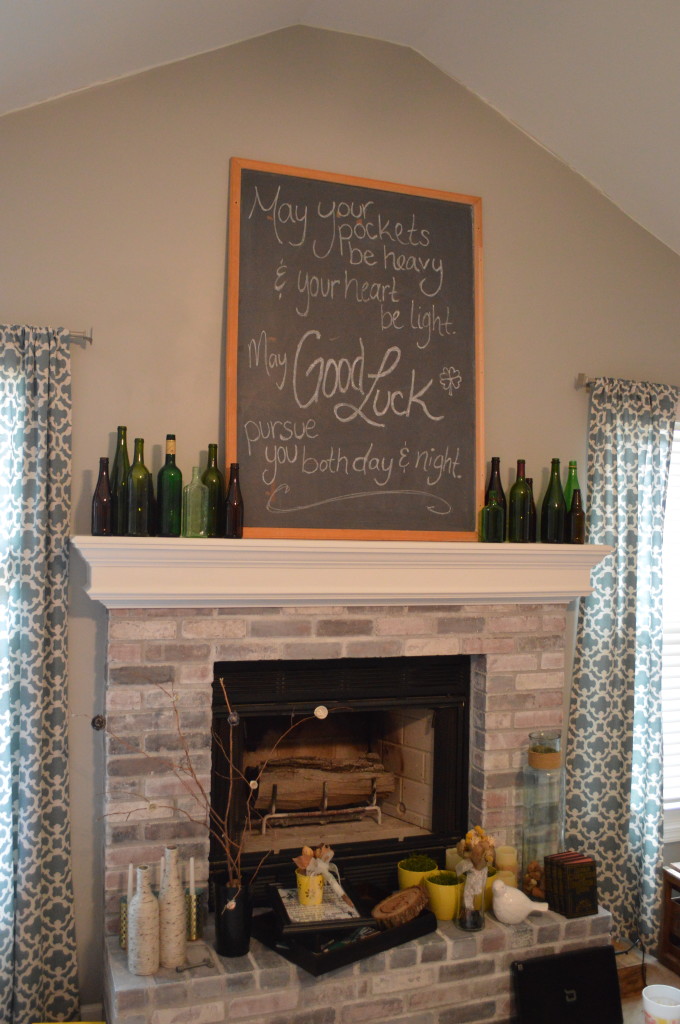 But, it ended up just looking like we had a big party the night before and drank a whole bunch, leaving the empty bottles all around. Not exactly a classy look, although it does possibly fit into the whole modern St. Patrick's Day theme…
Anyway, I thinned out the stash of bottles to three on each side, and I filled them with fresh flowers.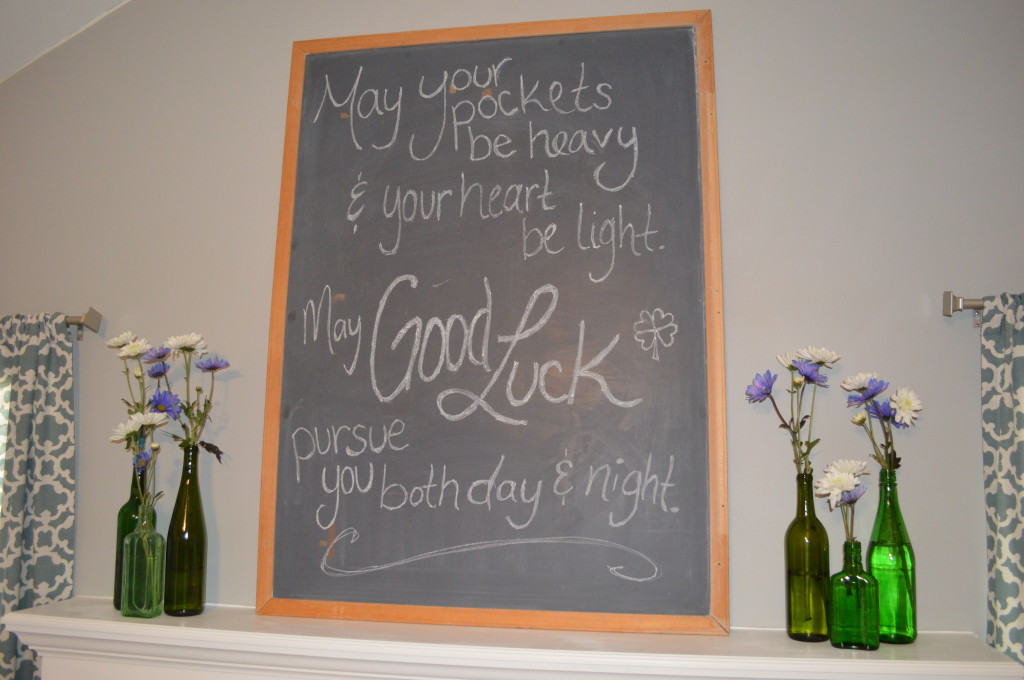 And now, I think they add just the right touch of green glow to the room…without looking like the day after a frat party. I mean, nothing says "NOT A FRAT PARTY!" better than fresh flowers, right? Right.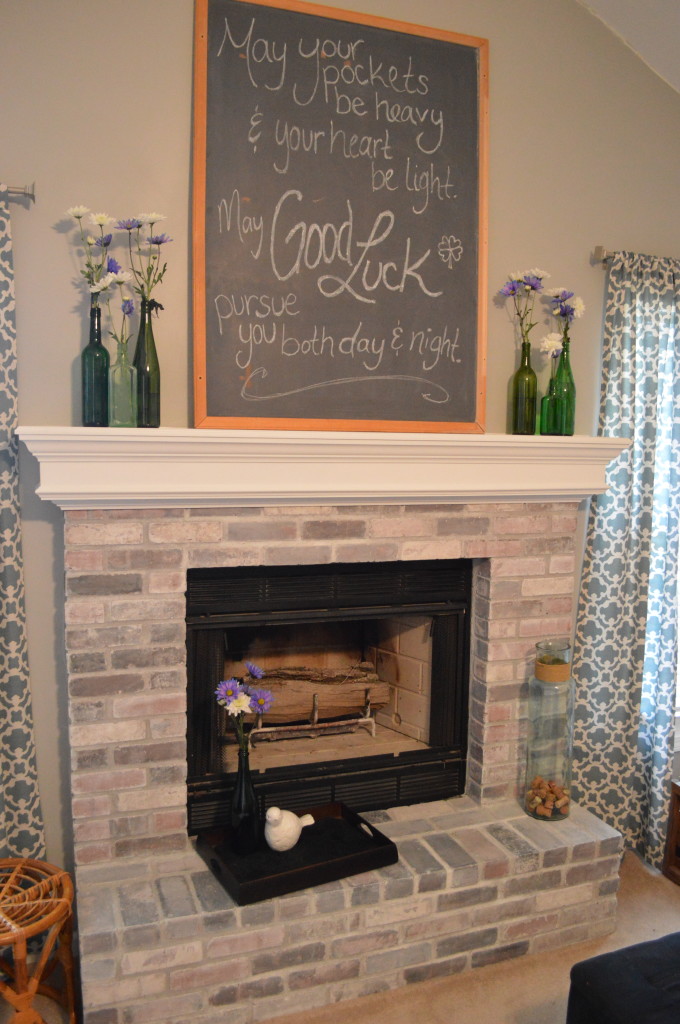 I used the little banner I made last year over the TV, basically because I liked having a garland over there for Christmas and Valentine's Day so I thought I'd just continue the trend.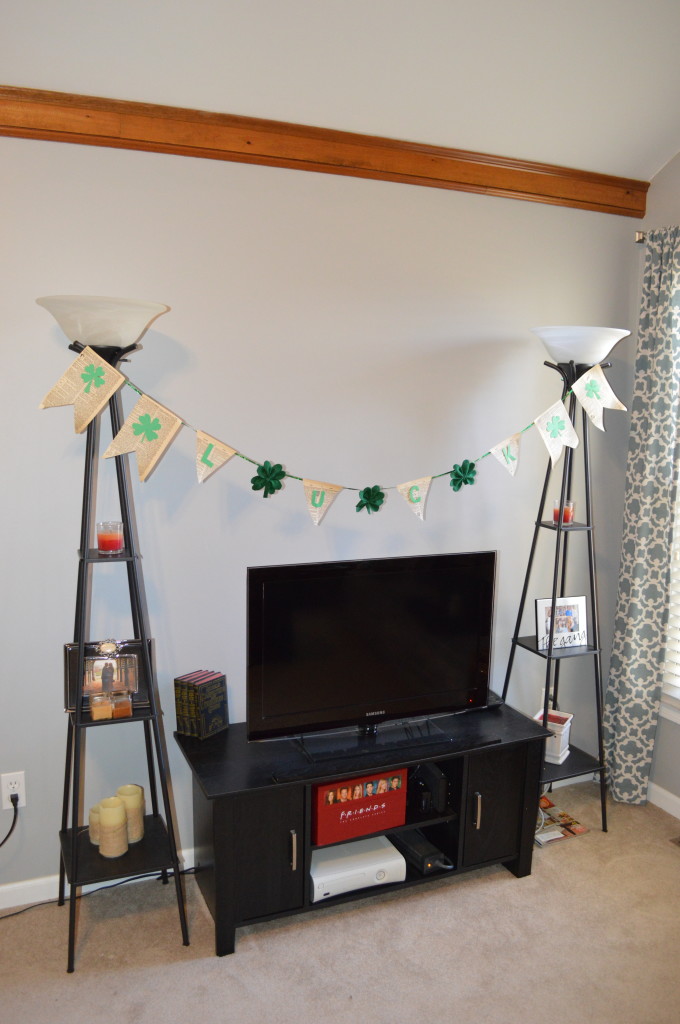 Plus, I thought the mantle really looked classy and elegant all on its own. I made the little banner last year. You can see the details, here. Remember our mantle last year? —I can hardly believe how different it looks now that we whitewashed it.
Anyway, in the kitchen, I spruced up the table by spacing out our newly painted candle holders and our stash of fresh fruit. And really, that's about all I think it needs to look festive and and lovely.
(Can I be allowed to gush about how beautiful the table is forever, or will you all get tired of me saying how much I adore this big piece of salvaged wood in all its refinished glory?)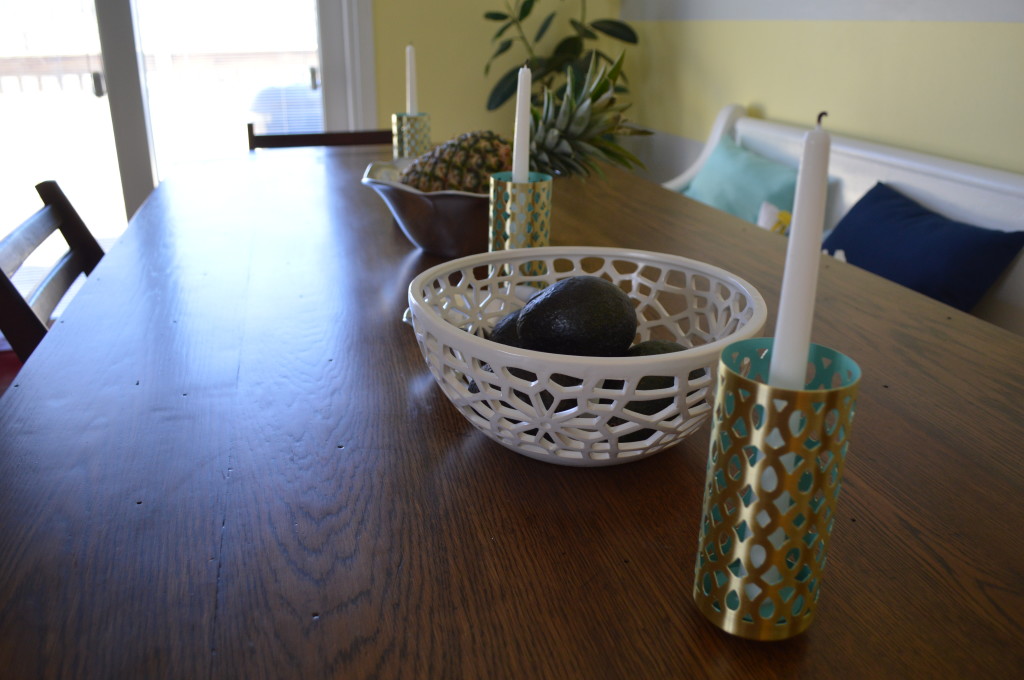 I also stashed our Mary Poppins print on the counter top, right next to a St. Patrick's Day themed jar of flowers. See the little lucky clover on the jar? We found it in Wyatt's parents' basement—and it actually says "Good Luck!" on it.
I'm not sure what it was originally for, but I imagine if it was ever used for canning that it was a little wish of good luck that whatever was supposed to set up or preserve in the jar would actually work. I know I say little good luck prayers every time I can something!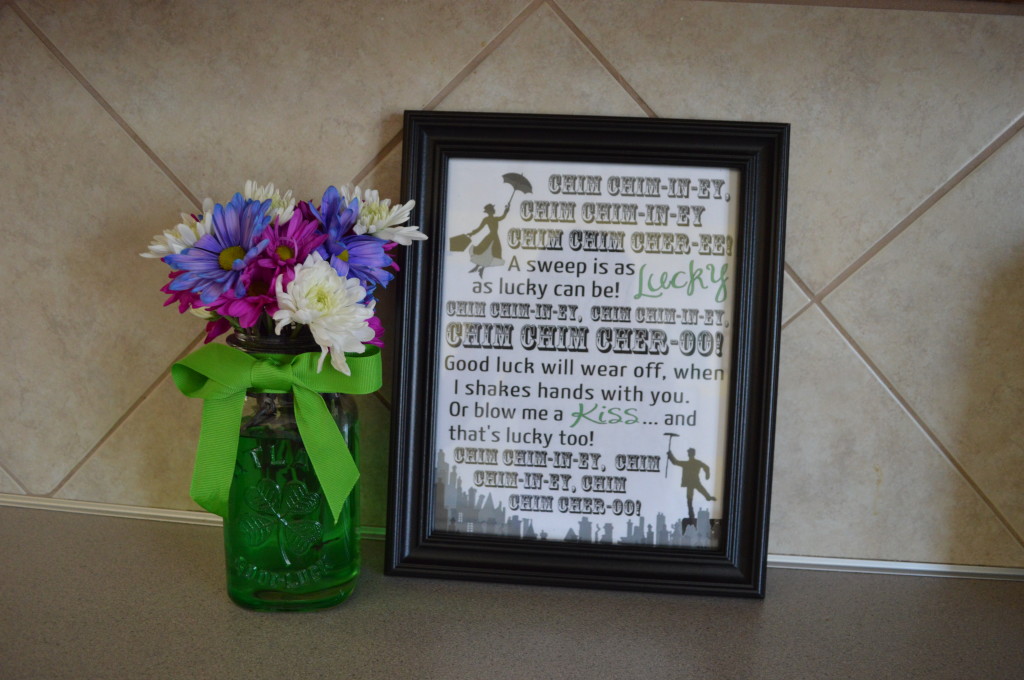 And yes, I tinted the water green and added the bow—because if you can't have fun in the kitchen with your decor, where can you have fun?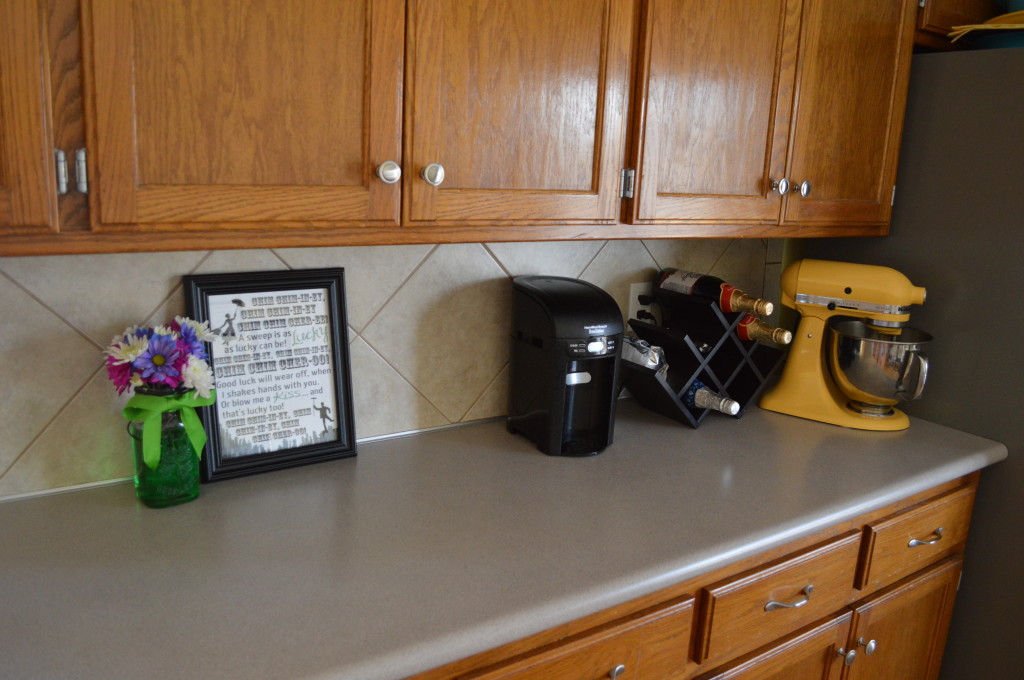 Oh, and for all you Mary Poppins fans out there, I designed that little print last year for St. Patrick's Day. Here's the link to get the free printable for yourself!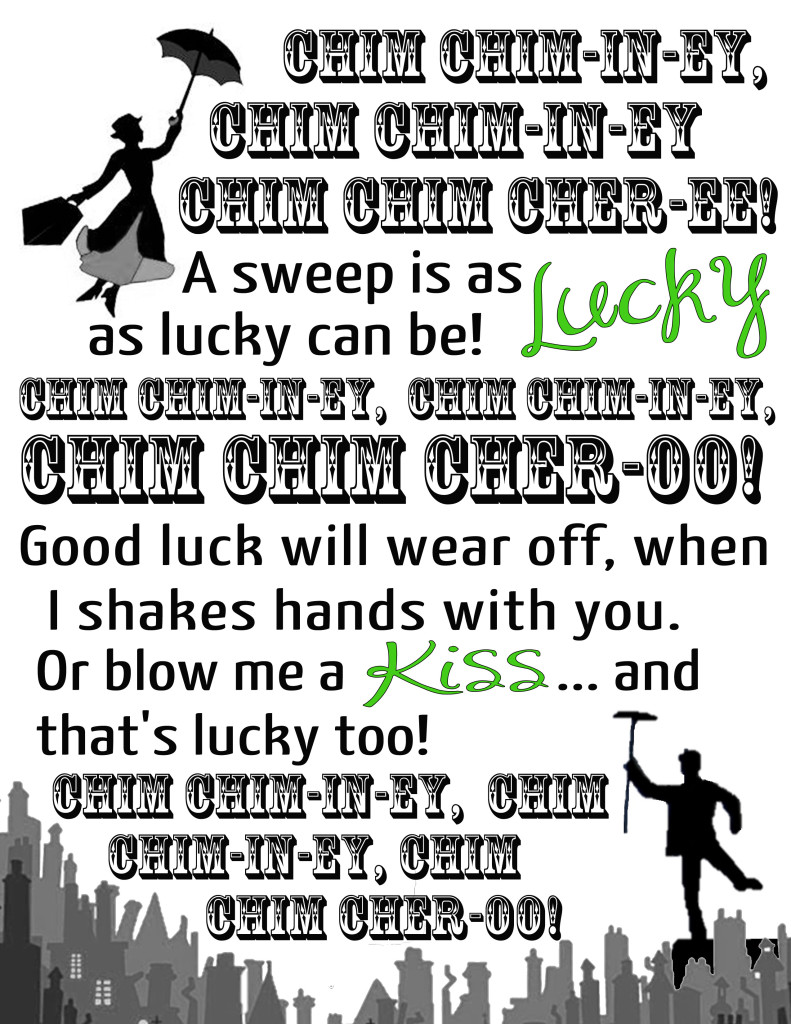 (Also, is anyone else excited about the release of Saving Mr. Banks on DVD next week? Mary Poppins is one of my all-time favorite movies and I can't wait to finally watch this one! Especially after learning a lot about how Mary Poppins was one of Walt's favorite movies because of the music on our behind the scenes Disney tour.)
Anyway, I'm happy with the little touches of green we added to the house.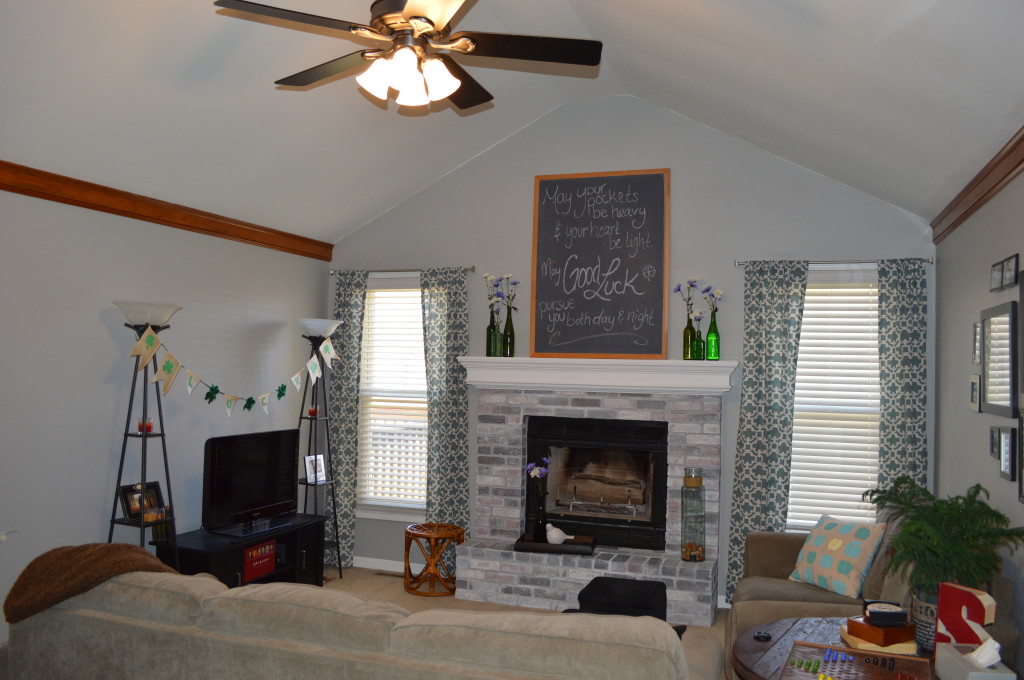 I'm also just happy it is finally feeling warm enough that I felt it was time to remove the red and brown and other wintery colors and dive into springtime hues…like the playful apple pillow I made last year!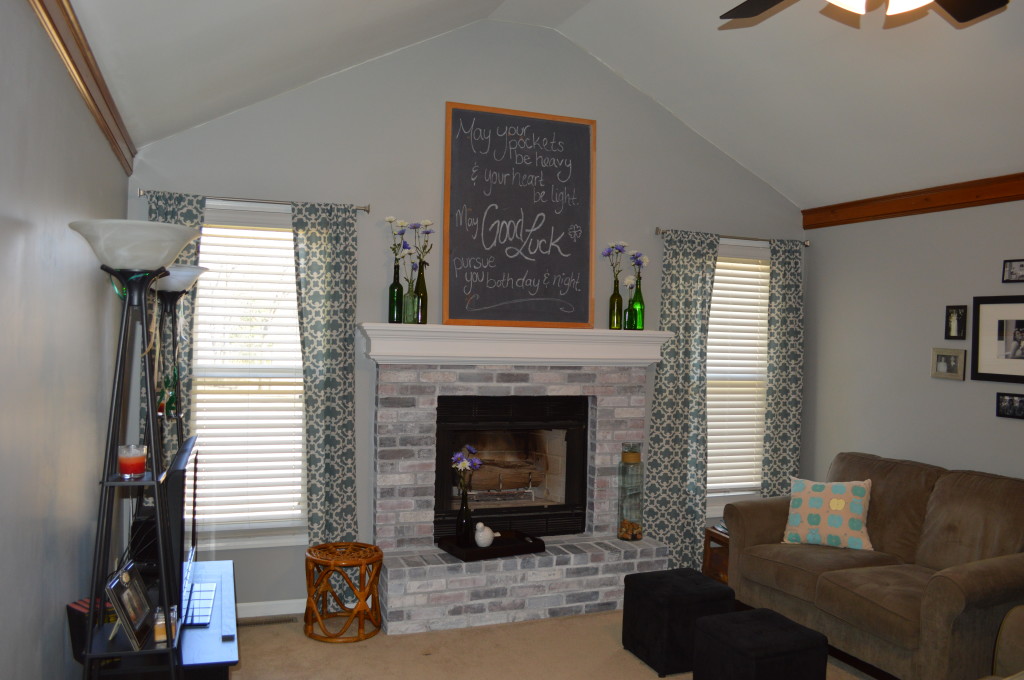 And I have to say that even though it can be expensive, I do love having fresh flowers in the house, even if they die in a week or so. It's just worth it sometimes, you know?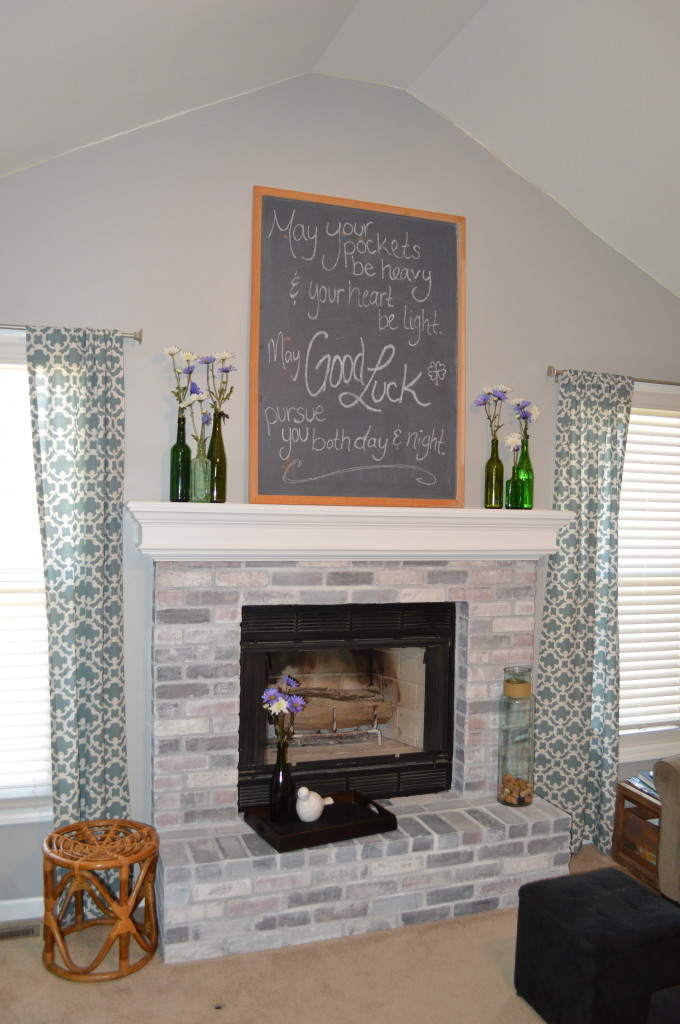 Anyway, happy early St. Patrick's Day, everyone! How are you adding a little green to your life this time of year in honor of this little holiday?