I searched and searched for the perfect side table for the nursery, without much luck. Everything I liked was way too expensive. Everything cheap was way too ugly.
But, Wyatt presented me with the offer of building one using some table legs he found at our local thrift store. I'll admit I wasn't sold when he showed me these legs at the store.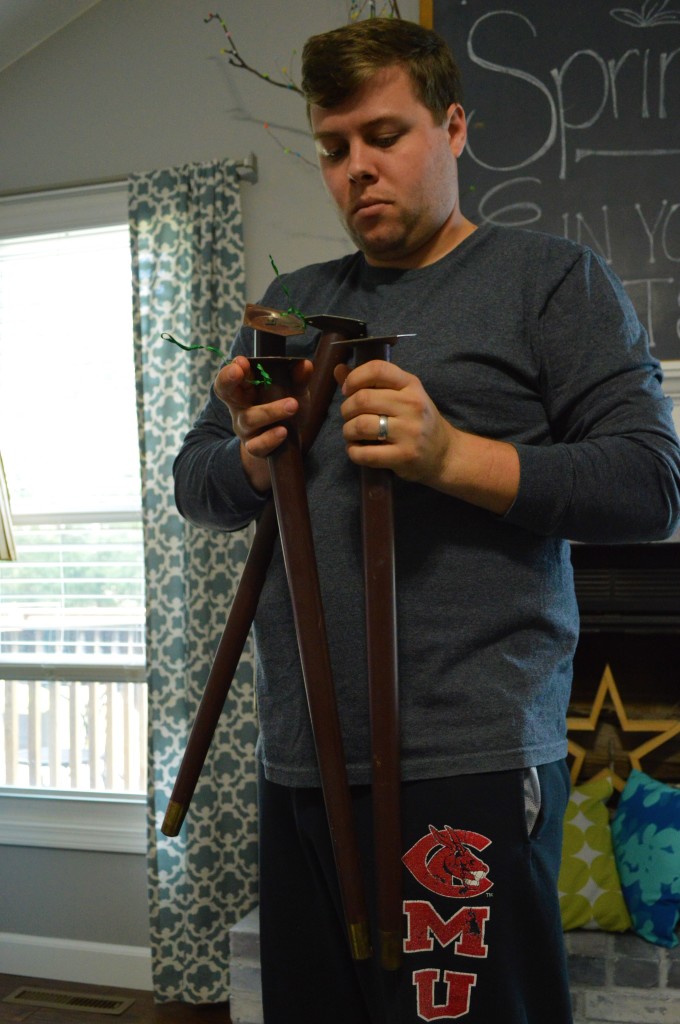 Since they were only $4, I was sure we could do something with them, although I had no idea it would turn out this awesome.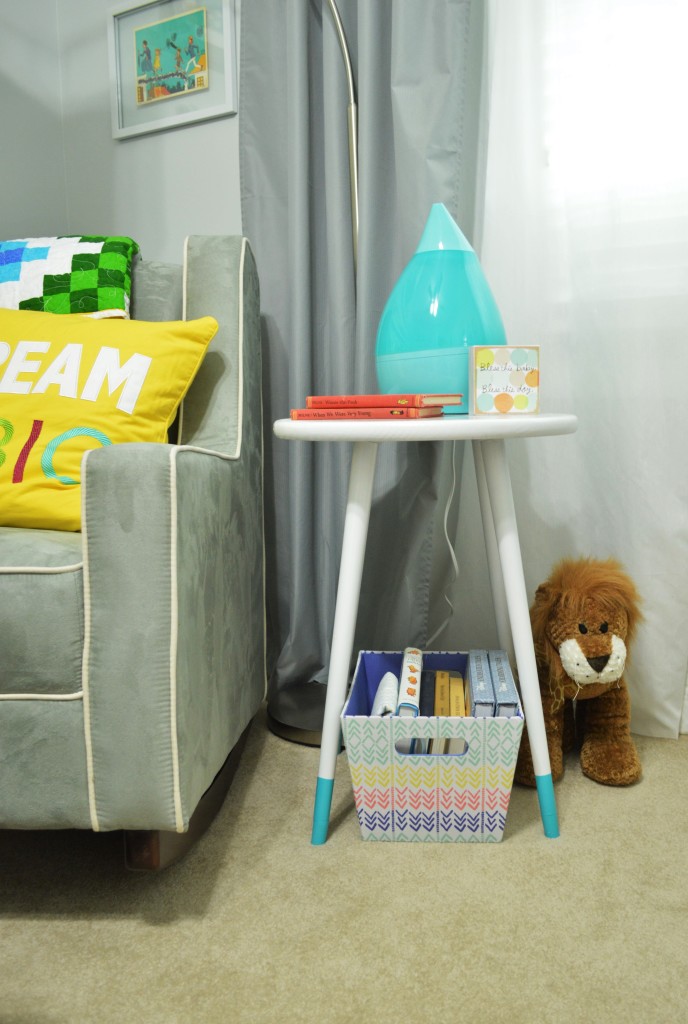 I mean, seriously, how handy is that husband of mine? This whole project was his idea and I'm glad I let him take the design reigns. He did an awesome job!
For the legs, we knew they needed to be painted since they weren't in the greatest shape. No big surprise, but we decided to go with classic white to match the crib. I think you should all know by now how much I like painting things white. It's like the Magic Eraser of spray paint. Everything instantly looks fresher, newer, cleaner, and just…better.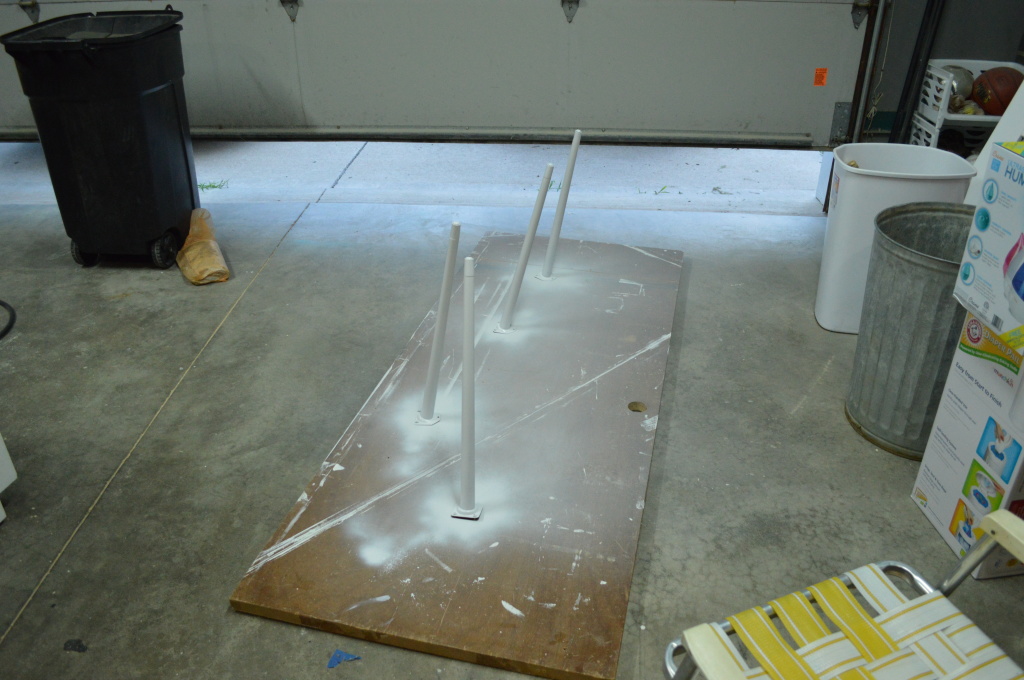 But, we also wanted the fun little touch of a pop of color, so we ended up "dipping" the legs with a touch of bright teal. Even though the metal caps on the legs were only two inches tall, we wanted to make a bigger impact, so we sort of ignored those and just made our own line. I was worried it would look weird to paint over the caps, but in the end, I think it works just fine.
Wyatt taped off the bottoms using a straight edge and some newspaper.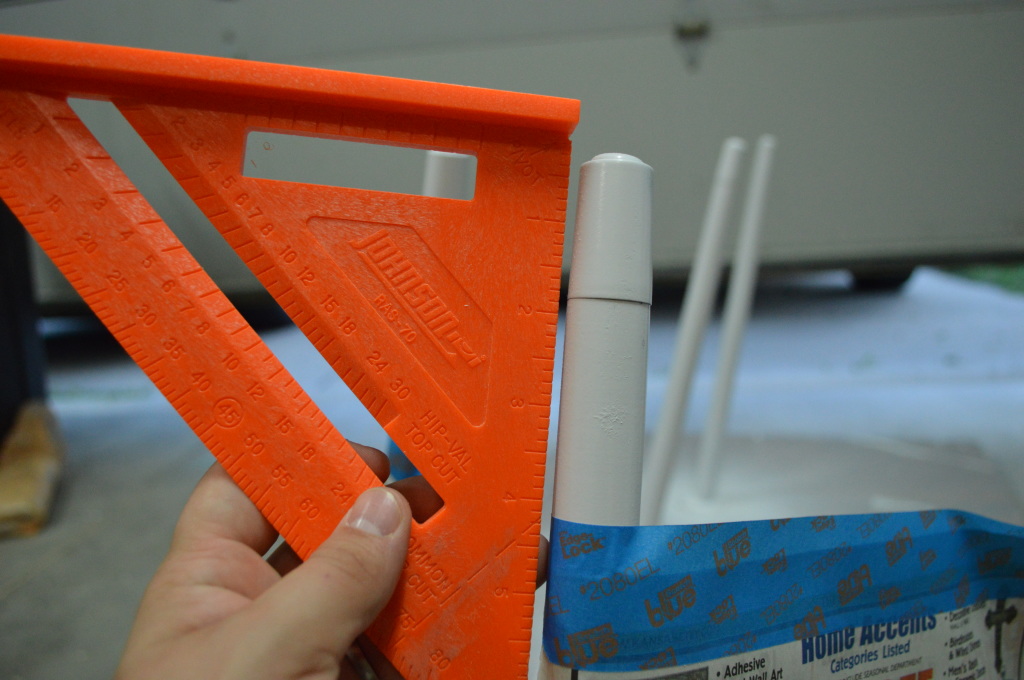 He set up the painting area again, making sure to cover all the white portions of the legs we didn't want blue on.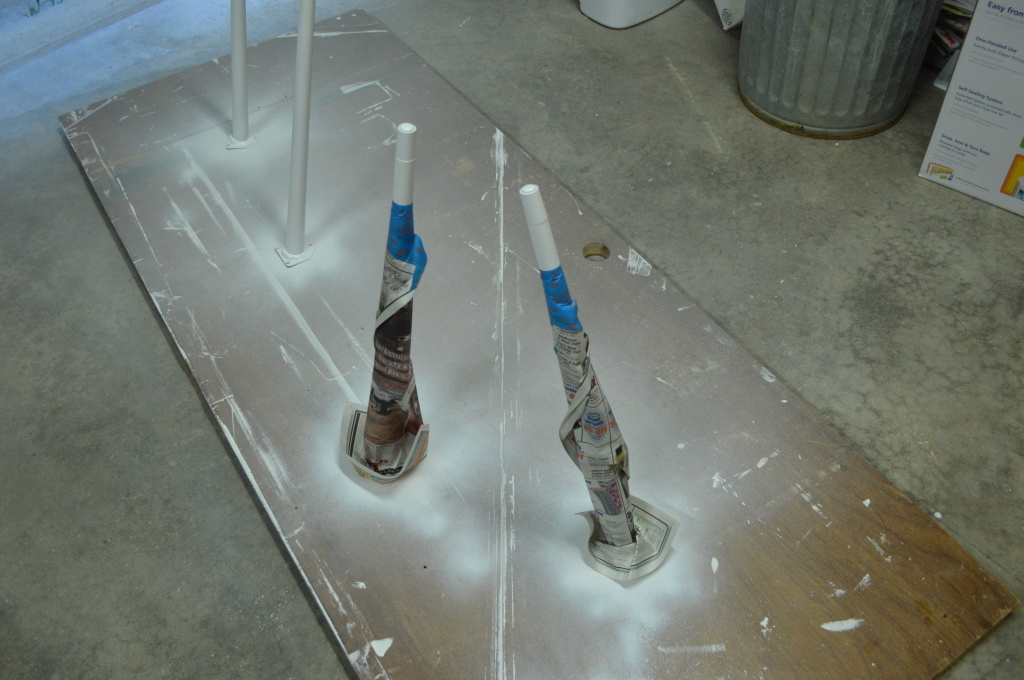 Then, they just got a couple coats of spray paint. (Just as a side note, this method is way easier than actually dipping the legs into a paint can because you don't have to deal with drips and runs as it's drying. It's really hard to get a light coat of "dipped" paint on something like this and we didn't want to be out there with a paint brush fixing drips as the legs drained and dried for an hour or so. I'm telling you…this method is WAY easier.)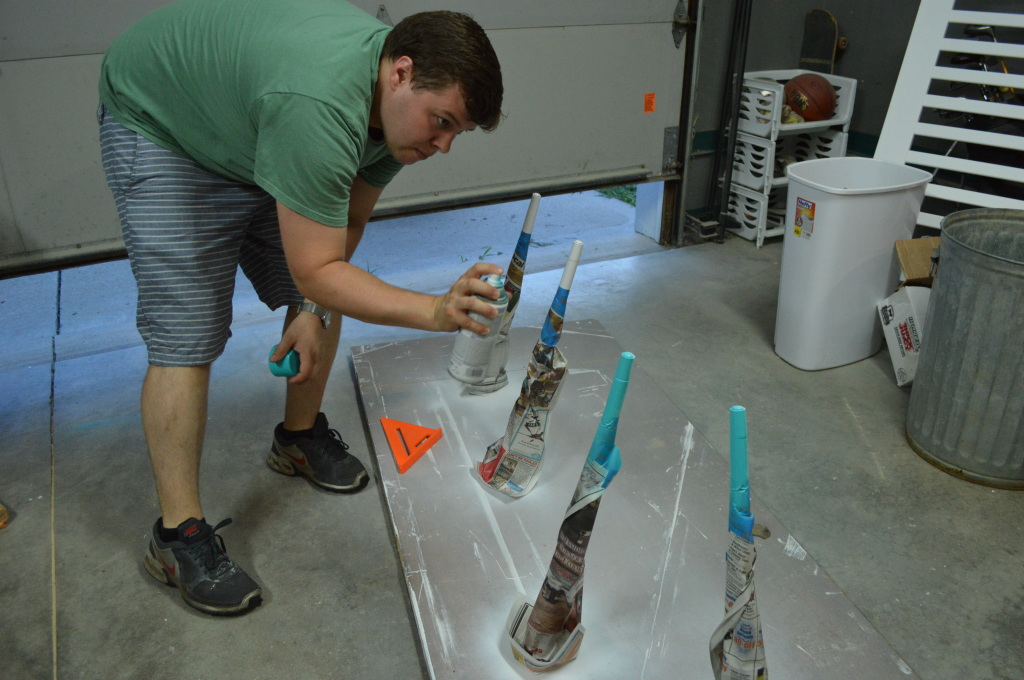 It's also helpful to remove the tape right away so you don't pull off any paint after it all dries.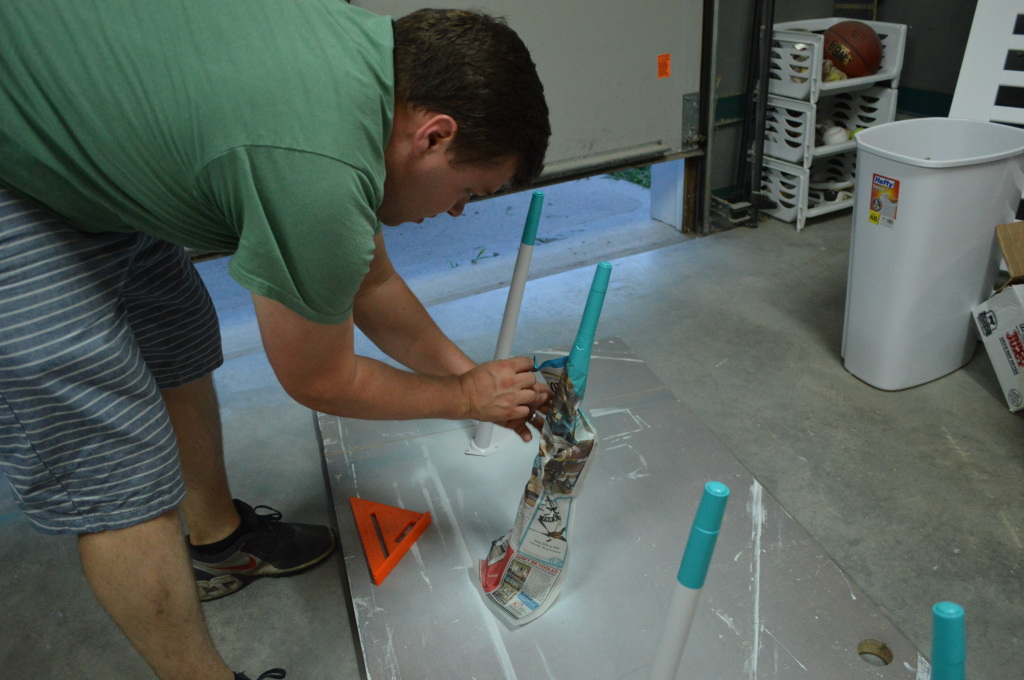 Then, everything had to dry for awhile. Wyatt also gave the legs several coats of clear protective lacquer over the course of a weekend.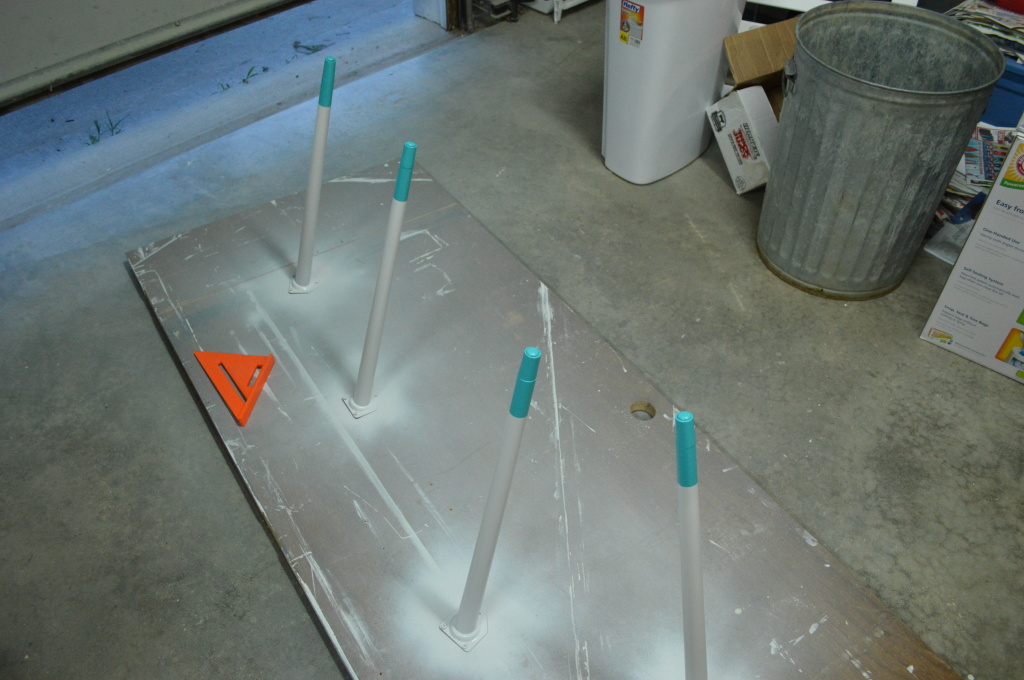 Seriously, the blue dipped legs turned out to be an awesome touch that ads a fun pop of color.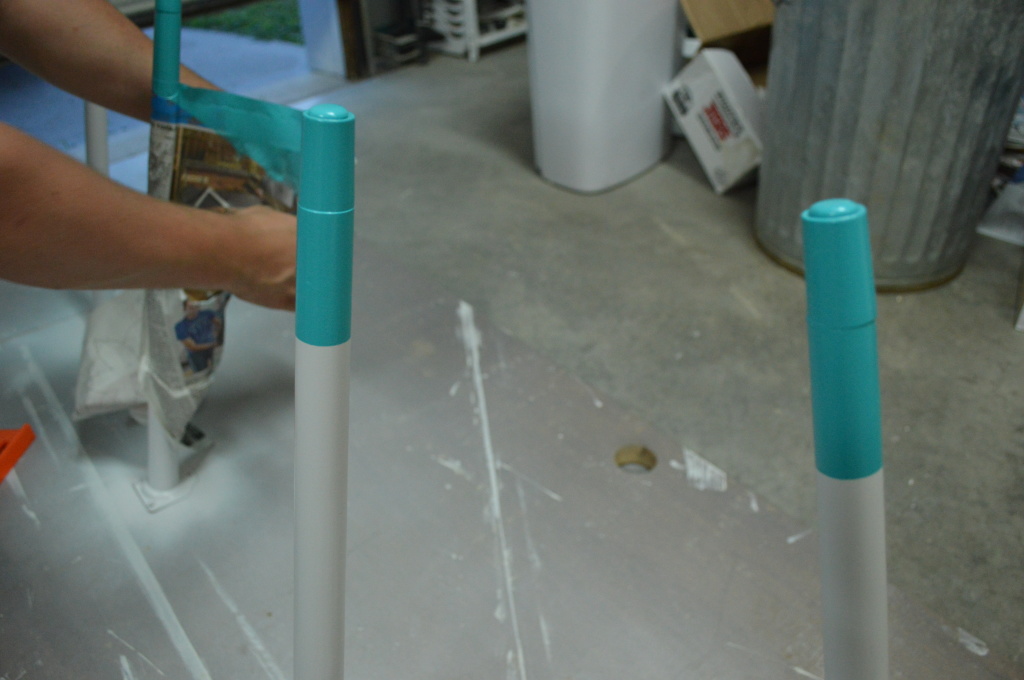 With the legs finished, we were a little stuck on what to do as a top. I wanted round, but Wyatt knew it would be easier and faster for him to make a square one.. He was willing to create something round and awesome (maybe with stacked layers of various hardwoods) but with time running out and our budget in the back of our minds, we were thrilled when we found these round solid wood panels already at Home Depot. For only $7, it was a no brainer. It was even the perfect size for the space.
(For your reference, we found these in the aisle with the trim and wooden brackets and furniture legs.)
Wyatt sanded it smooth. Then, it got several coats of white spray paint, plus some clear coats on both sides to seal everything well.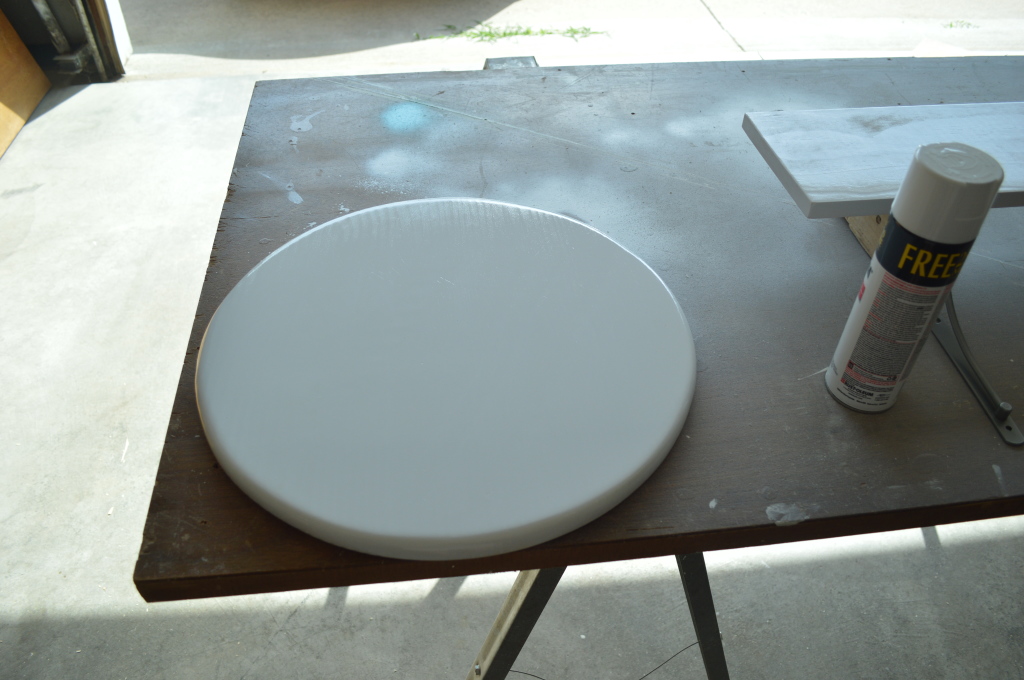 It was pretty easy to attach the legs since they came already designed to attach "on an angle" because of the slanted metal brackets.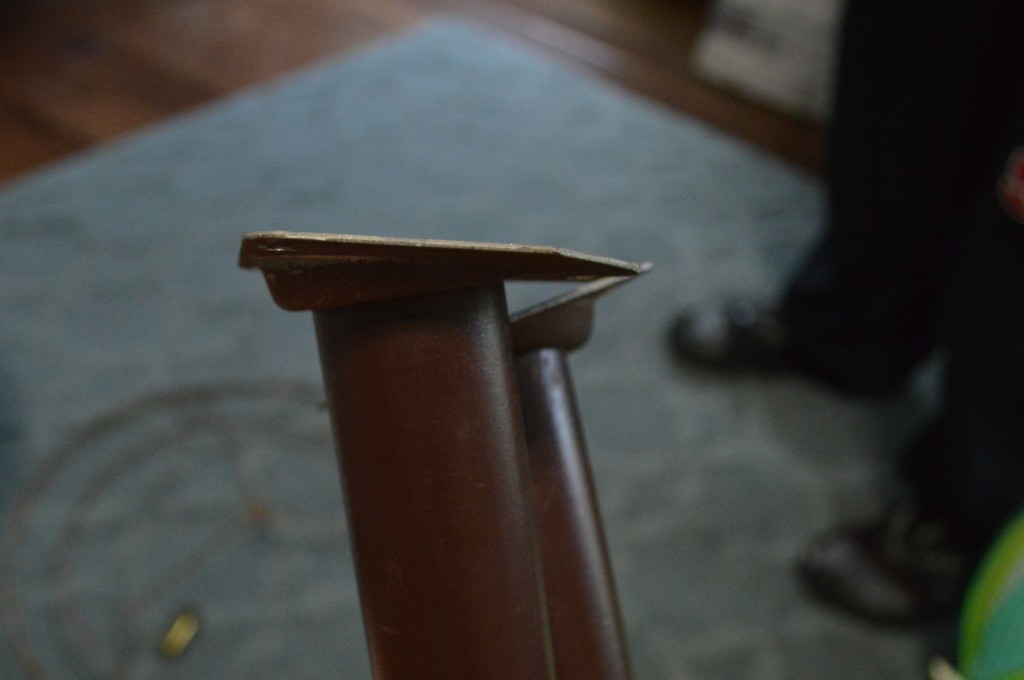 And, since Wyatt screwed them into an old door we use as a painting surface for the garage while spraying the legs white, they were already all painted and ready to go, screws included. He just had to measure the table top and line up the legs to be centered and evenly spaced. I think it took him about 10 minutes, total.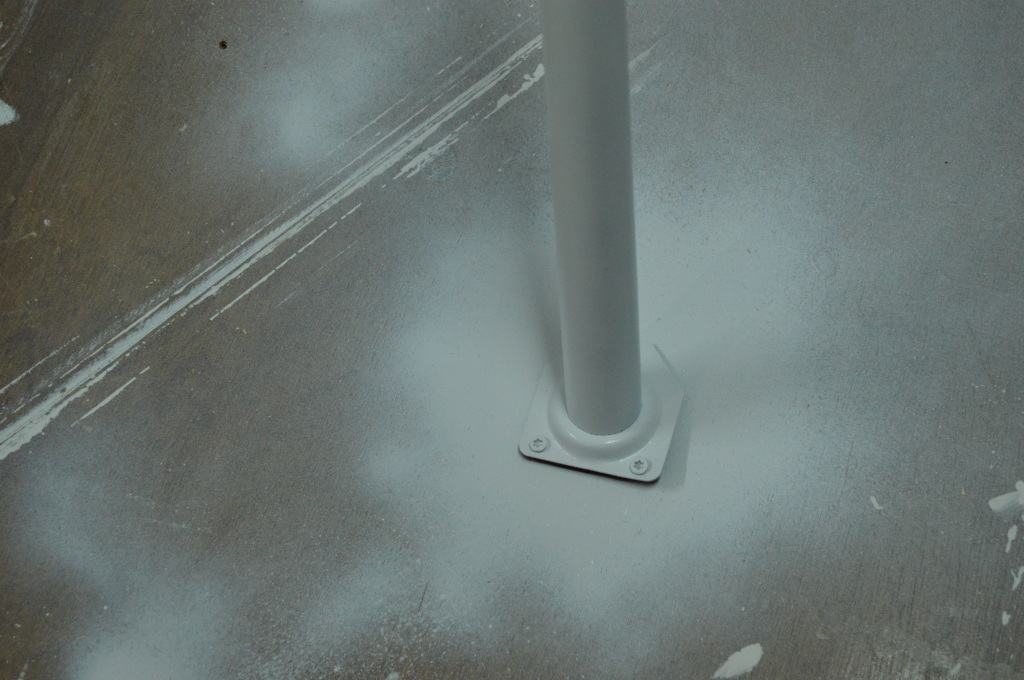 I have to say that I am totally enamored with this adorable little table. It was so fun to walk into the nursery and be surprised by how much it added to the overall room.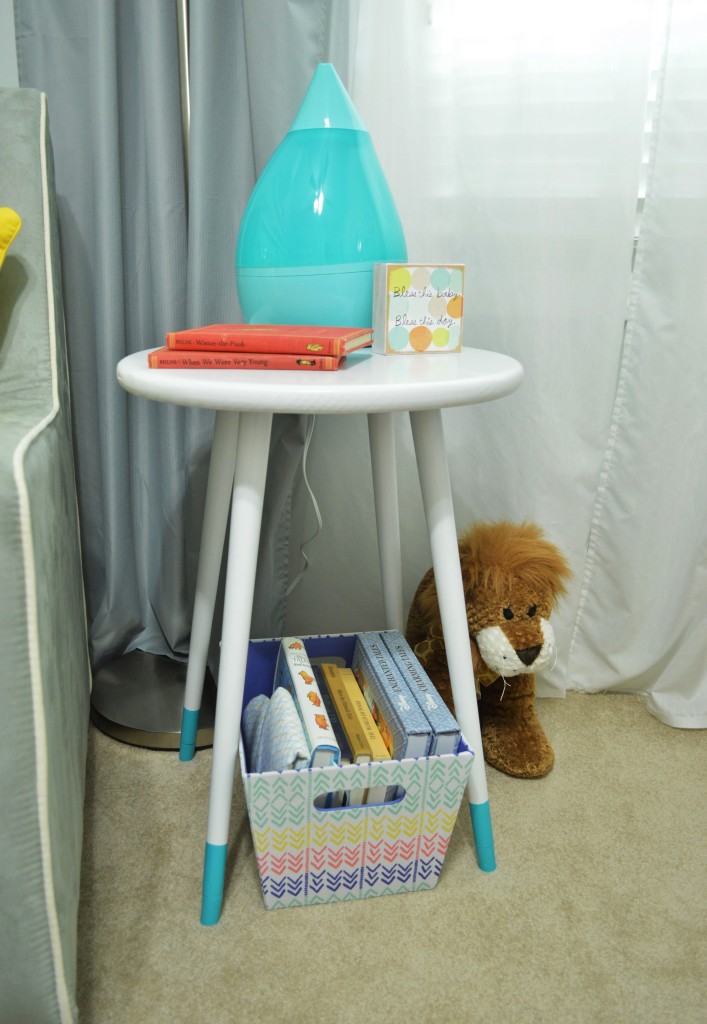 I think it's perfect for the space and it ties the mid-century look of the dresser in with the modern crib by following the mid-century profile (with the skinny legs on an angle) and the white paint on our modern crib.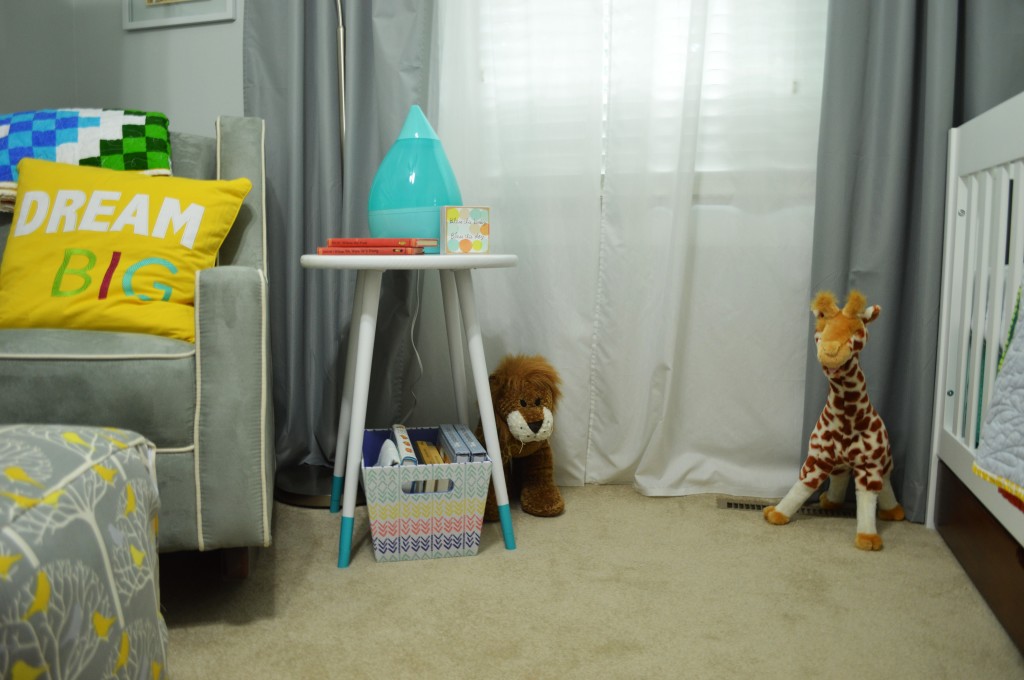 It gives us a great little surface for the humidifier, some decor items (like my vintage A.A. Milne books!) and a coffee cup for those early mornings or late nights. And, there was room to tuck a basket underneath with some more storage. I realize some of the books in this room are likely to get boxed up as our little one grows and gets more toys to his or her own taste, and that's totally fine. For now, this basket is home to the longer chapter books and a couple burp cloths so they are easy to grab while nursing in the rocking chair.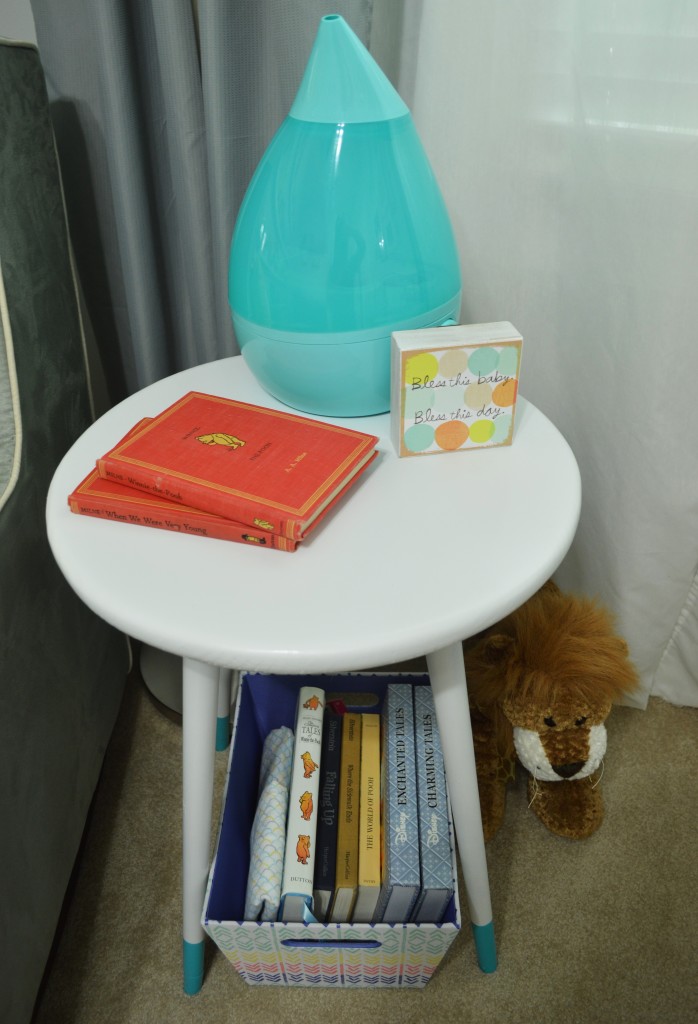 I also really like that Wyatt created this table especially for Beanie. It was his vision from the beginning and he did a great job tackling it at the last minute. What a guy, huh?
It was one of the last projects we did, and I'm so glad we didn't skip it and just grab a cheapo option from Target, Wal-Mart, or Ikea. This one ended up only costing us $11 for all the supplies and materials, and only taking a weekend to put together, so it was way cheaper and way more custom than anything we could have found in a store, and just about as fast. There was minimal effort involved for how awesome it ended up looking.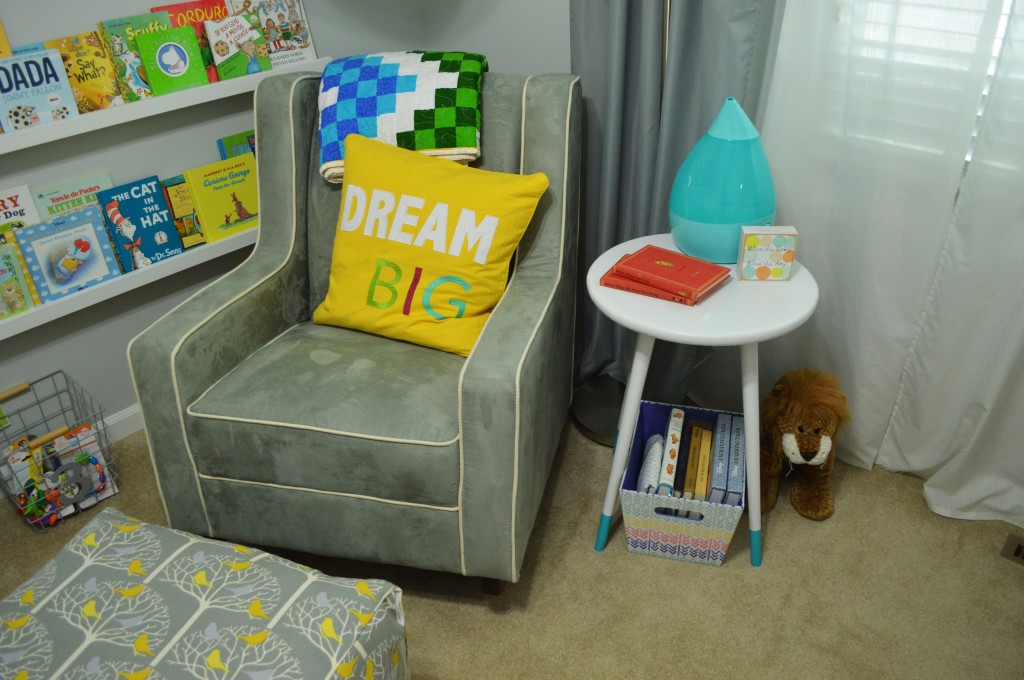 Now that the little reading/rocking/nursing corner is complete, I'm feeling even more ready to start really using this space. It's been such a fun room to design, probably the most fun room in our house.
And, if you're looking to do a similar project, keep in mind that even if you don't see any similar table legs at your thrift store, they sell plain wooden legs are a lot of hardware stores. It's easy to add character and customize if you have the basic pieces in place.
What are some of your favorite features in the room? We'll be back with a couple last-minute projects and our final nursery reveal soon!