Yesterday I shared about the tricky process of reupholstering the backs of our dining room chairs. Today, I'm back with a few additional tricks we learned along the way that I think might be helpful to anyone else tackling this project. We're not professionals at all, so there was a lot of trial and error, (maybe more errors than we'd care to admit…), so here are seven of our best tips.
1. Protect the fabric!
We had a few areas where the metal of the tack strip pushed through the fabric layers and made a tiny hole in the finished cushion. Oops. It's not that noticeable but without protecting the fabric from ripping more, I'd be afraid of it turning into a big hole.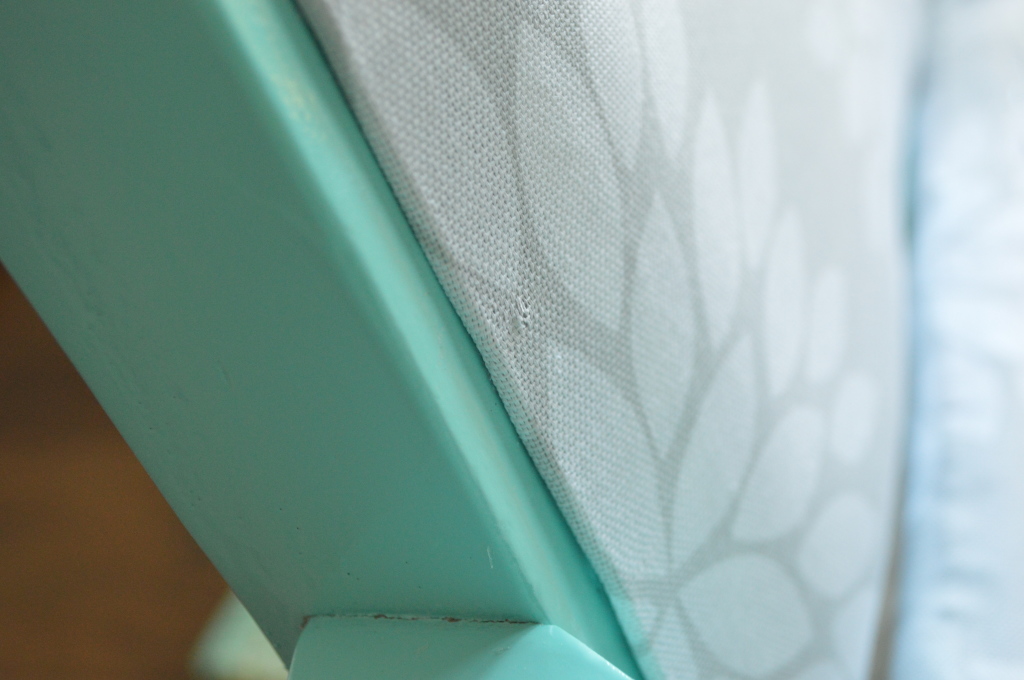 One specific tip is to wrap the hammer in some fabric scraps when you're hammering in the tack strips. I'd recommend several layers of this if possible.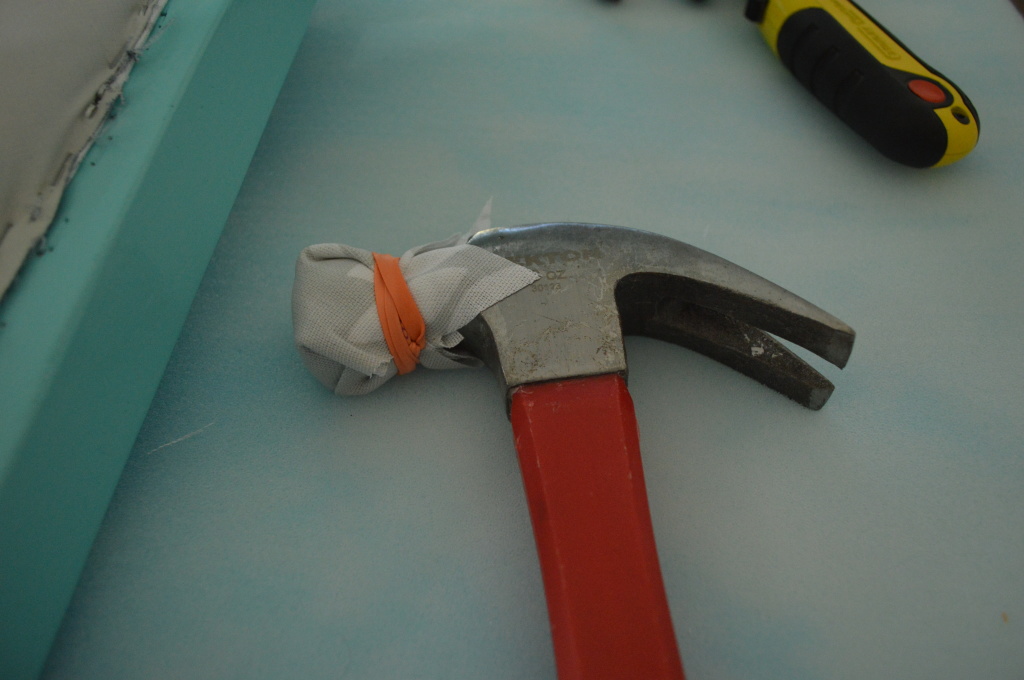 You can also add some extra protection by just laying a scrap of fabric on top of the cushion before hammering.
By the end, we were smart enough to use spray adhesive to attach a layer of fabric to the tack strip itself so we had even more cushion. Of course, it you choose a sturdier fabric (like vinyl) this likely won't be an issue.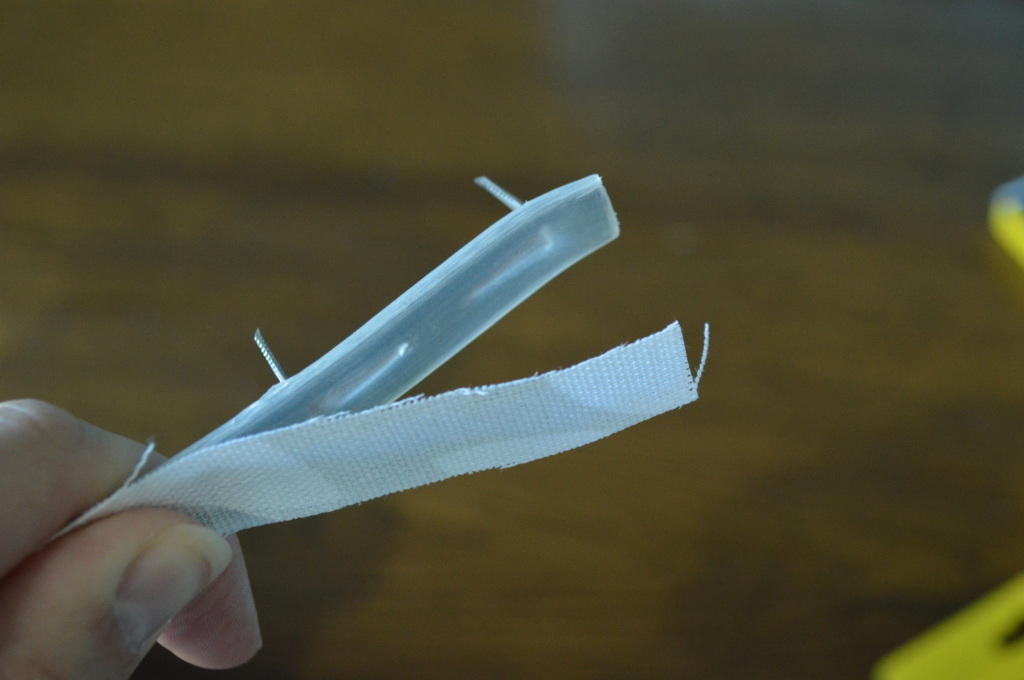 2. Use clamps.
This is really helpful when doing the tack strips along the sides because it keeps the fabric stretched tightly in one direction (toward the base of the cushion) while you can pull it the other direction (to the left and right of the cushion) with your hands.
Again, I'd recommend using some fabric scraps to protect the surface of your cushion.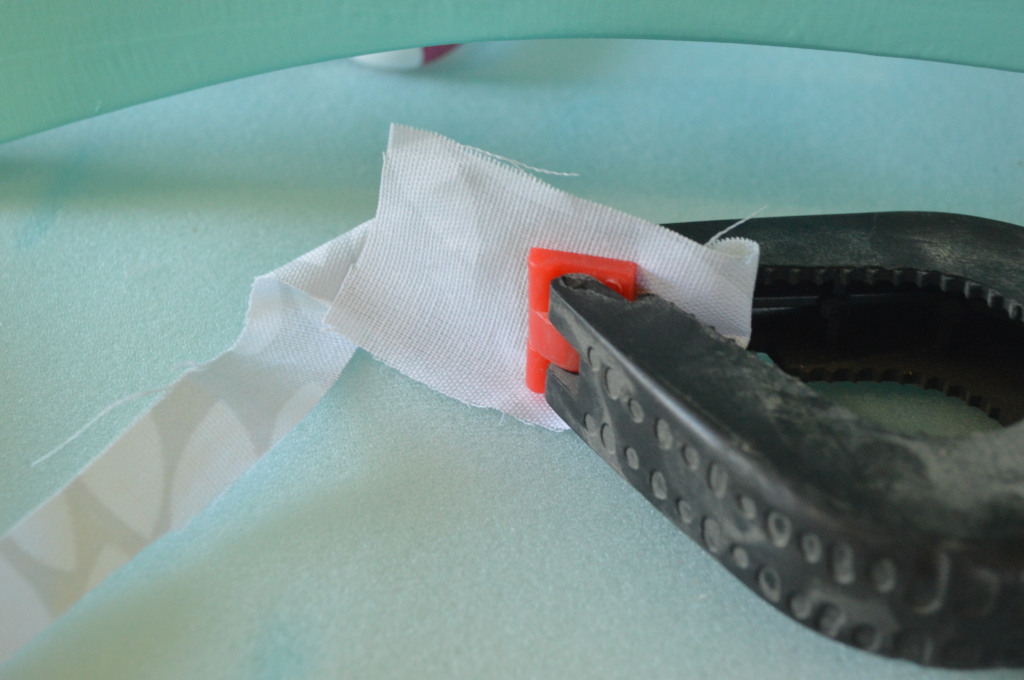 3. Wash your hands.
I don't even have to tell you how we learned this trick. Let's just say I'm vigilant about making sure our hands are clean when we're working with dirty tools and clean, new fabric.
4. Use fabric protection.
Speaking of cleaning fabric, I'd recommend a product like Scotch Gard, especially because these are kitchen chairs and our family has some notoriously messy eaters, Wyatt included. We're hopeful this will help prevent our nice, newly redone chairs from getting stained super early on.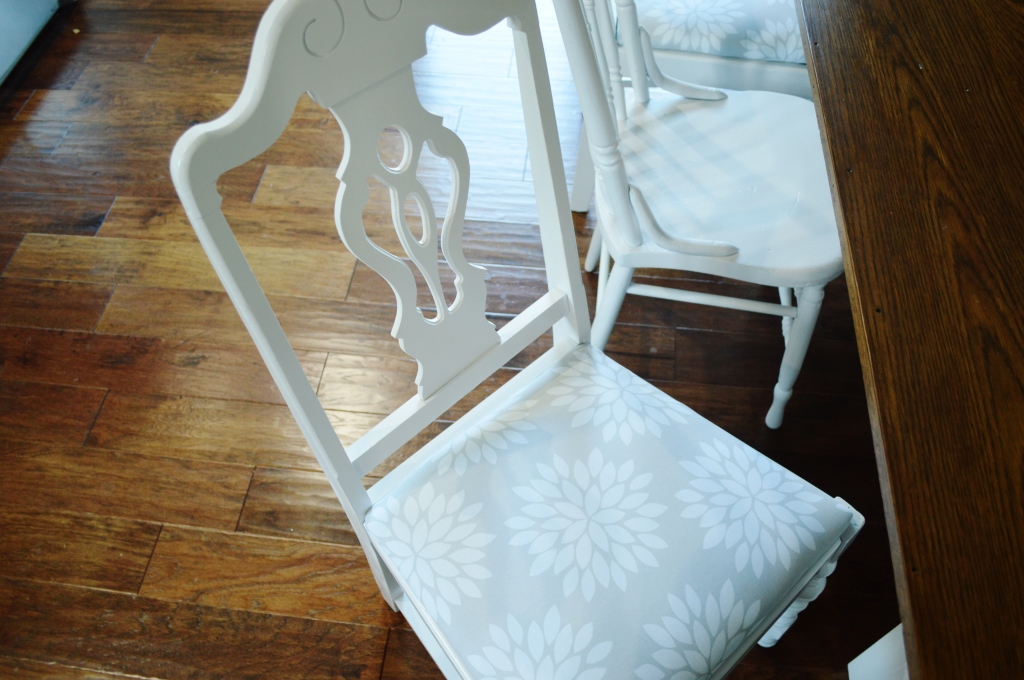 5. Keep all the parts and pieces.
We ended up using the old pieces of netting and fabric to add support to our chair back because our fabric was less structured than the vinyl that was on the chair previously. It helped save us the extra money to buy new pieces and we already had the exact size and shape pieces we needed.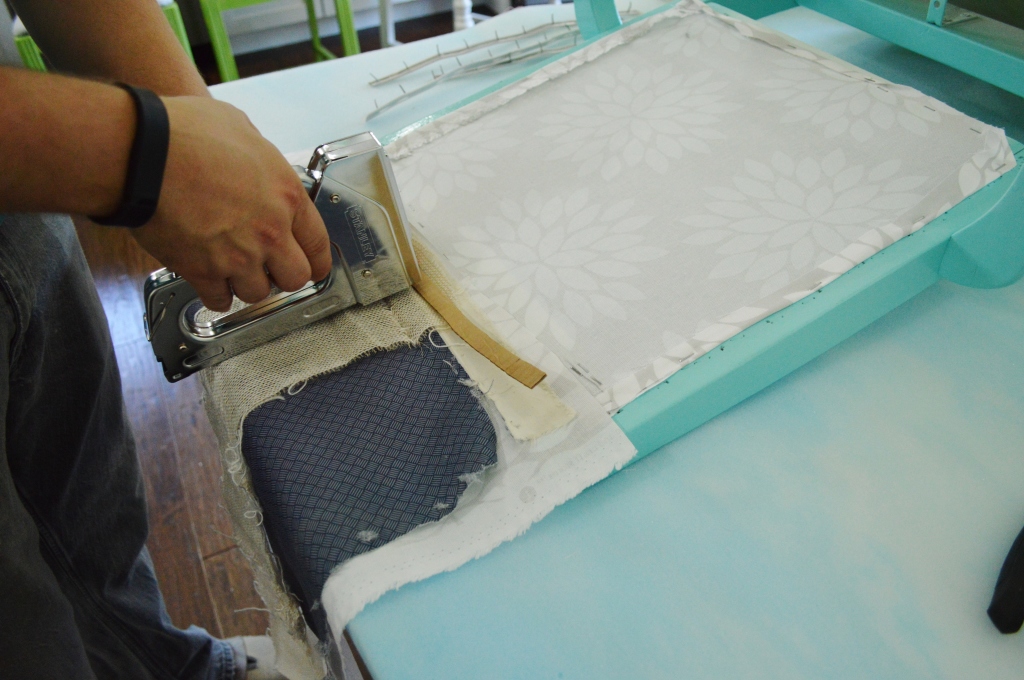 We were also able to reuse the tack strips, which was convenient, although I did cut new cardboard spacers (shown above.) Still, it was nice to have the old cardboard pieces to make sure I got it the exact right size and shape.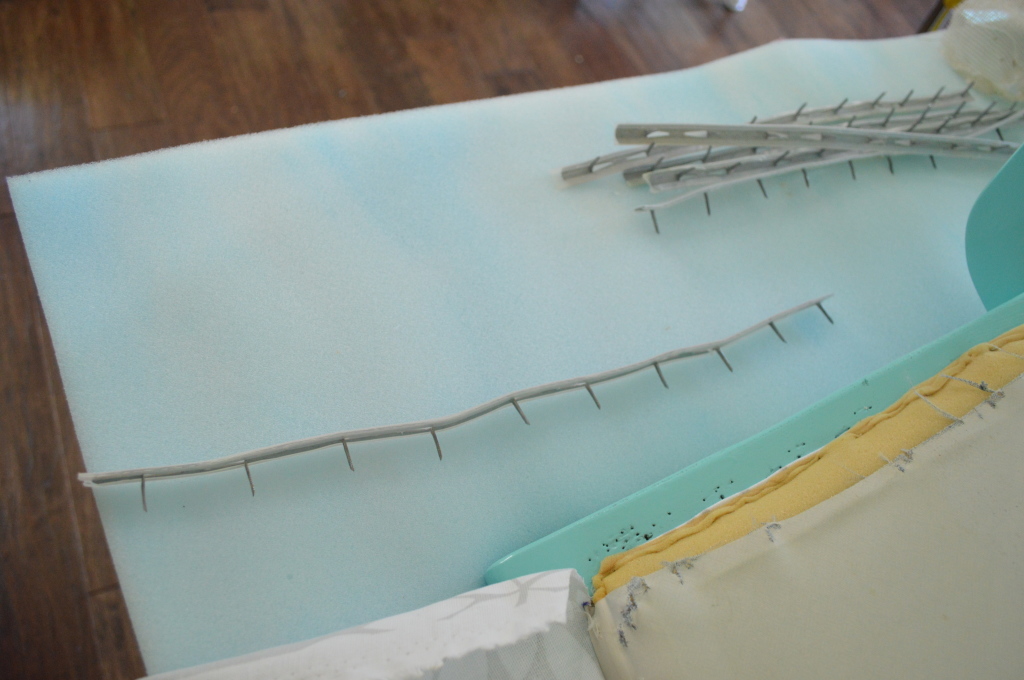 6. Take notes when you're taking chairs apart. 
I understand that not everyone takes over a year to finish projects, and that you could probably remember how everything goes together if you only had to remember for a couple of days. Still, I wish I would have paid more attention to how the backs of these chairs were put together because we ended up forgetting how it had been done and we had to spend time figuring out how to get everything back to the way it was. Even then, we ended not doing it exactly the same because we ended up with two extra tack strips… Ah well!
7. Be mindful of wrinkles.
When you're attaching your tack strips, make sure to push the tacks through the fabric at the angle you want the final fabric to be stretched. That's hard to explain with words, but basically, if you push the tacks through the fabric without planning ahead, you'll likely end up with bunched or pulled fabric between each tack when it's time to nail it in. We found have two people for this part made it easier to help hold everything perfectly straight.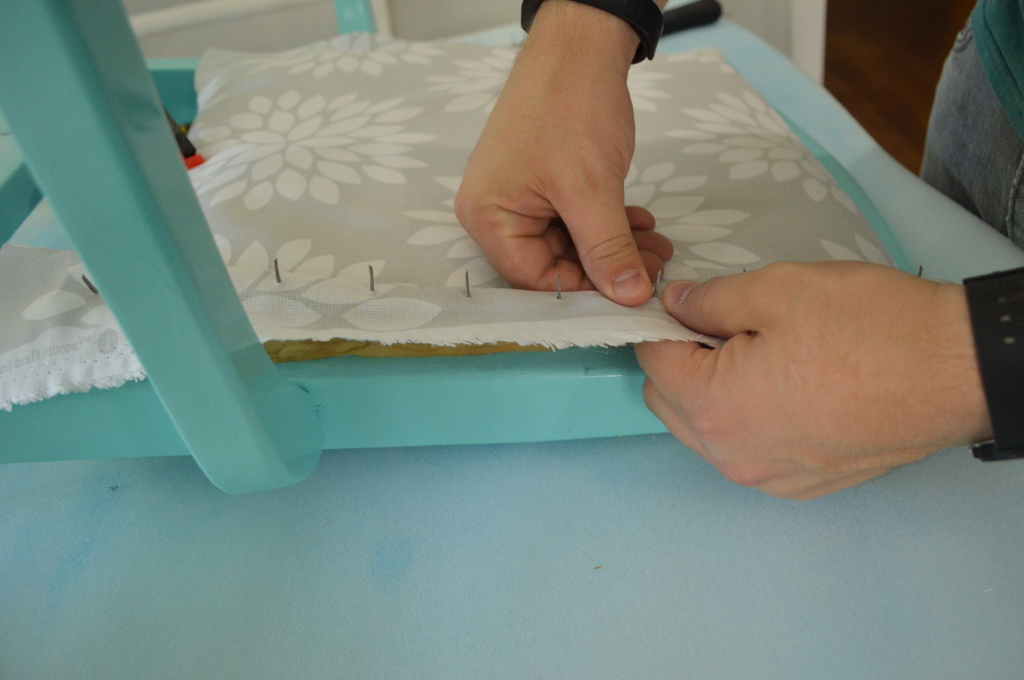 So, there are our top seven tips. I'm sure there are plenty other things that would be important to keep in mind, but we learned. Be sure to check out our tutorial for the reupholstery itself, here.
Did we miss any tips and tricks? I know several of you have tackled projects like this yourself so it would be awesome to share any of your best tips, too!