You guys, we have a rocking chair for the nursery now. It's starting to feel like a room that we could actually use.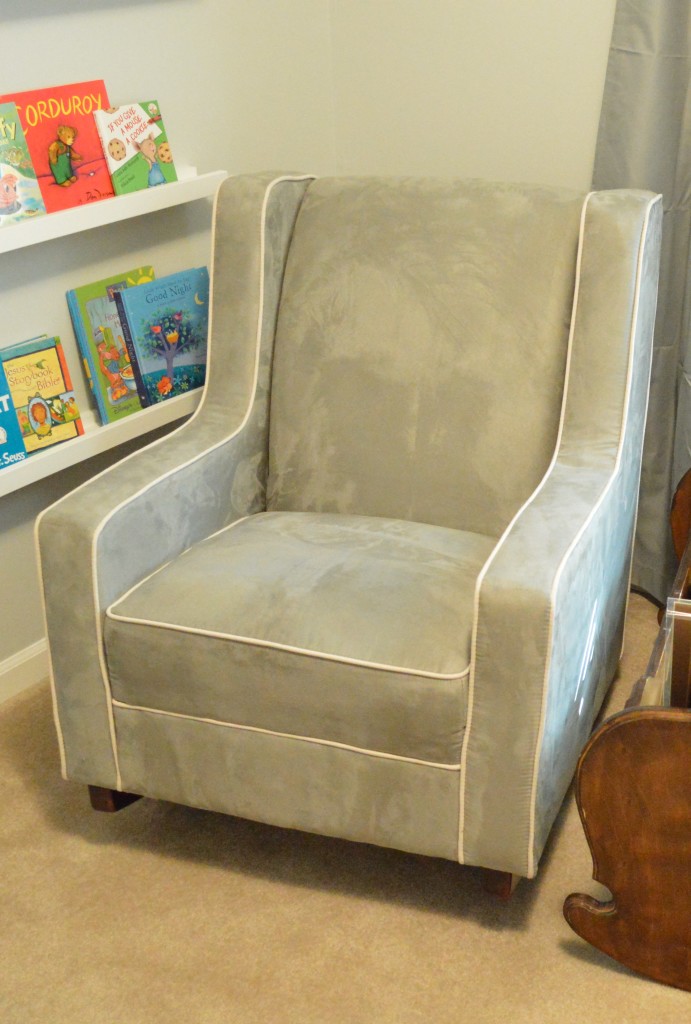 To back up a bit, I have been shopping for a rocking chair for awhile now. I think I started seriously looking when I was about 10 weeks pregnant, pinning possibilities to a Pinterest board of gray nursery rocking chairs here:
Follow Melissa's board Rock-a-bye Baby on Pinterest.
Of course, I wasn't ready to buy one at that point, but it was helpful to refer back to when I was considering making the big purchase. I say "big" purchase because even though we wanted to keep out budget as low as possible, it was still going to be a couple hundred dollars.
Basically, I had three must haves on my list:
Had to be gray. Gender neutral and would match our nursery. Preferably the wood tones, if there were any, would also match the dresser and crib (medium wood with reddish undertones)
Clean lines to match our modern crib and mid-century dresser. Nothing too traditional.
Had to be less than $300, if at all possible.

I also preferred a rocker over a glider, but was open to either depending on price and style.
I knew that would be hard to find, but ended up seeing a whole bunch of decent options when I started looking at placed like Target and Wal-Mart. Of course, I was hesitant to actually order a chair from there because you can't sit in it to try it out. Which is a big deal when buying furniture I plan to spend many hours, at all hours, rocking a crying child back and forth in.
But in the end, we just didn't find any local stores with options we liked in our budget. Buy Buy Baby had a few rockers, but mostly gliders, and the only one I liked was over $600. Yikes. I asked around in a mom's group I belong to online and found that a lot of people had good luck with this price point of chair from Wal-Mart or Target, saying they held up really well, even compared to more expensive ones purchased from Nebraska Furniture Mart. That helped ease my fears a little, although I'm sure by the time we're done with this, there likely won't be much life left in it.
We ordered this one from Wal-Mart. (The "getting place also came through with our crib, which you can read about here. ) It was originally my favorite but the gray color was out of stock when I first selected it as an option. Bummer.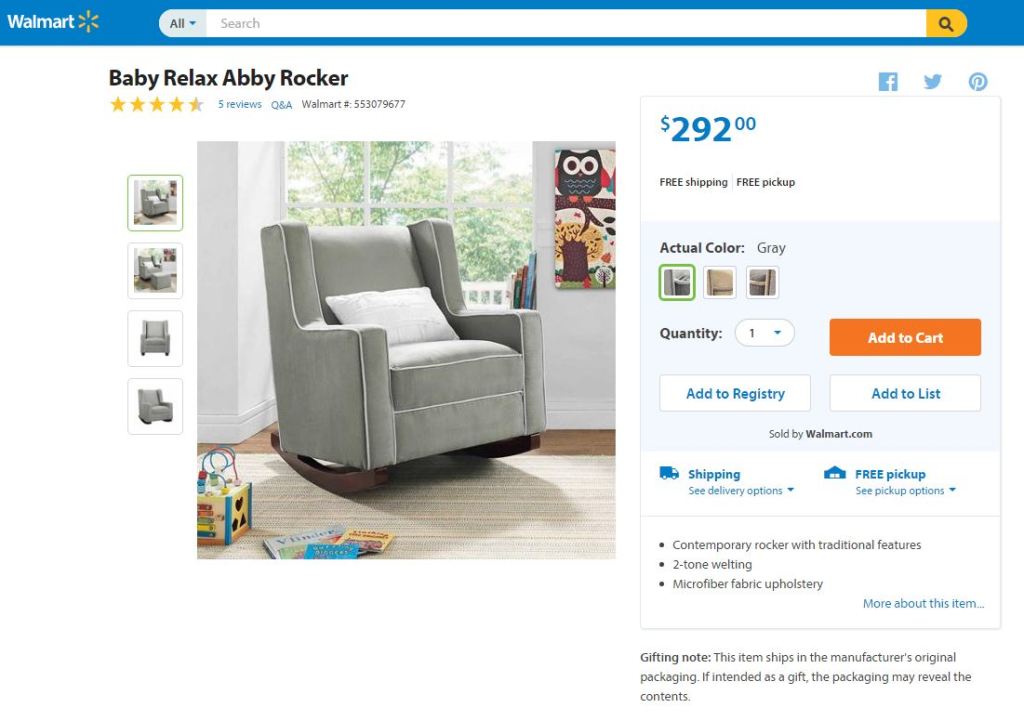 We had a hard time narrowing down the choices because they were all so similar, in price, style, and customer reviews. In the end, an interesting turn of developments led to this one coming back in stock and my other main choice running out of stock in the gray color I wanted. That made the choice a little easier.  🙂
I just crossed my fingers and hoped they would be comfortable. The chair was delivered yesterday (after about a week, which was fast for free shipping!) and I was impressed it even came in a chair-shaped box.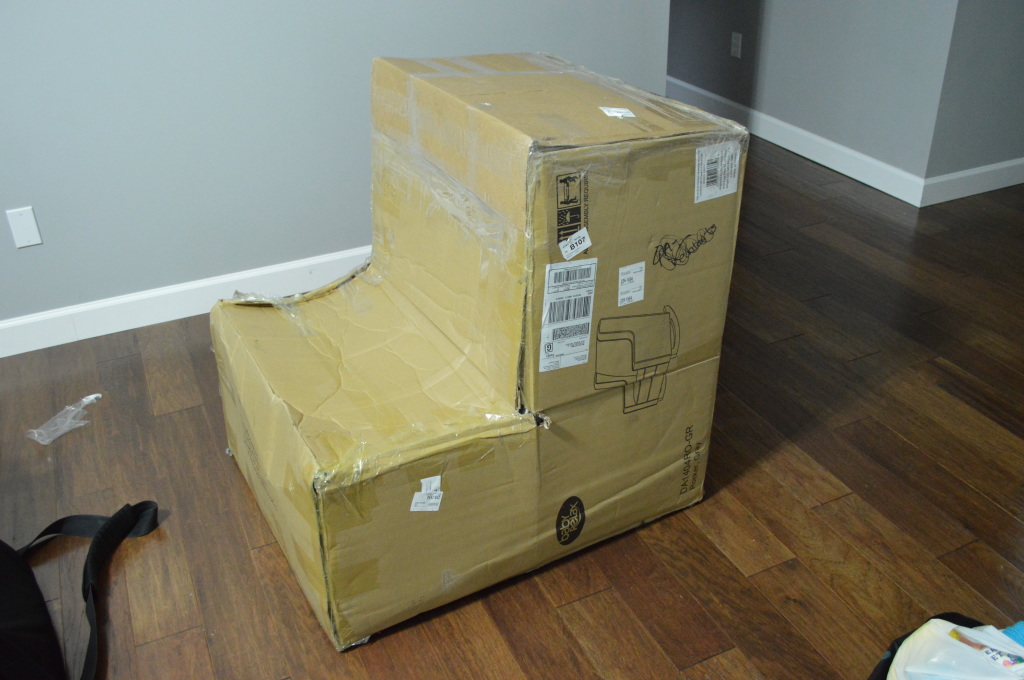 (Sort of like the chair-shaped cows that made the ultimate sacrifice for Joey and Chandler's barcaloungers…)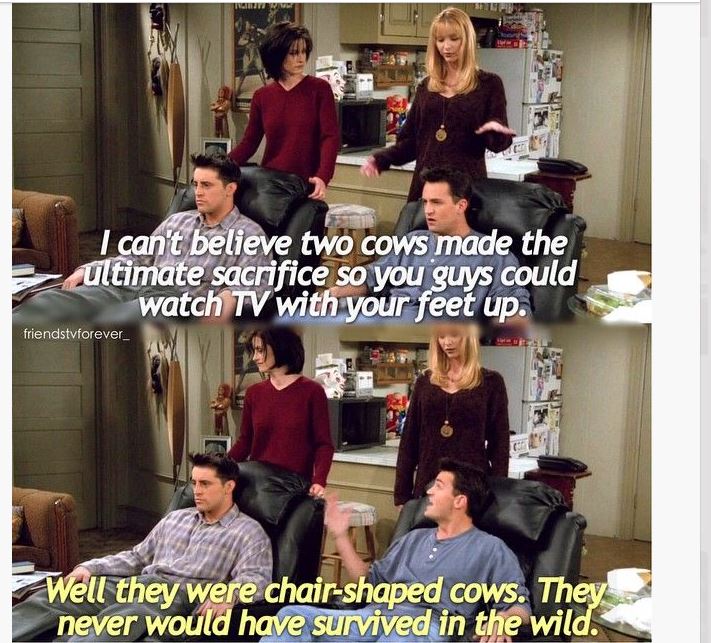 Anyway, back to the chair. Wyatt got it all assembled in five minutes, seriously, although he had a little more trouble getting it into the room. He ended up having to take the door off to fit it around the tight corner.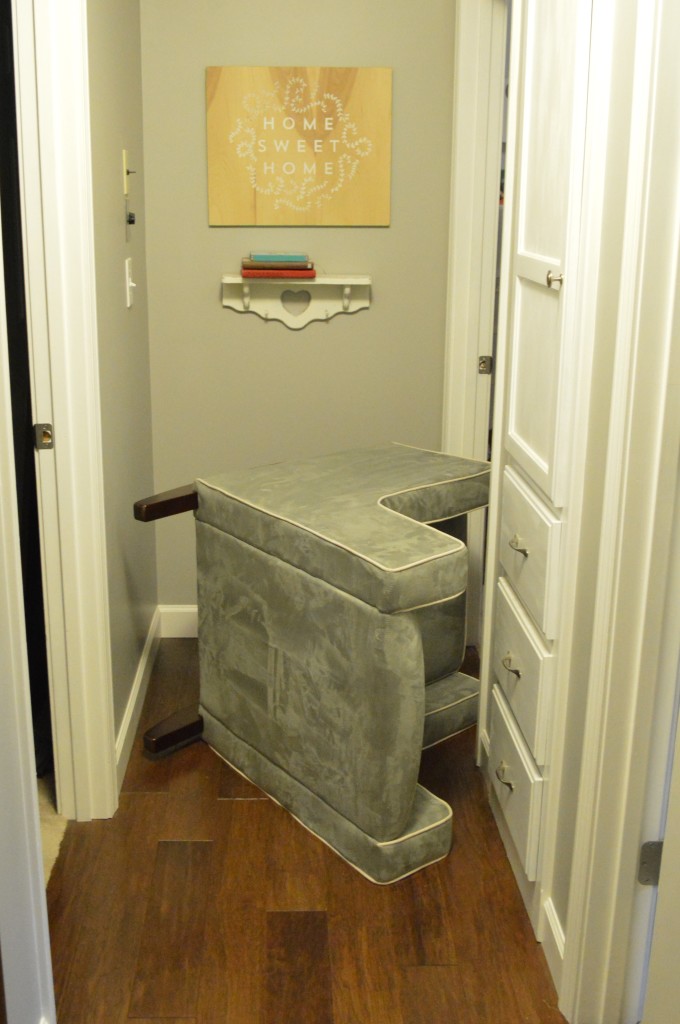 Then, I just had to try it out and decide if I liked it. Overall, my review would be 4 stars out of 5, and we are keeping it.
Why? Well, there was a teeny tiny snag in the fabric on the top of the chair, but it's barely noticeable and won't ever show.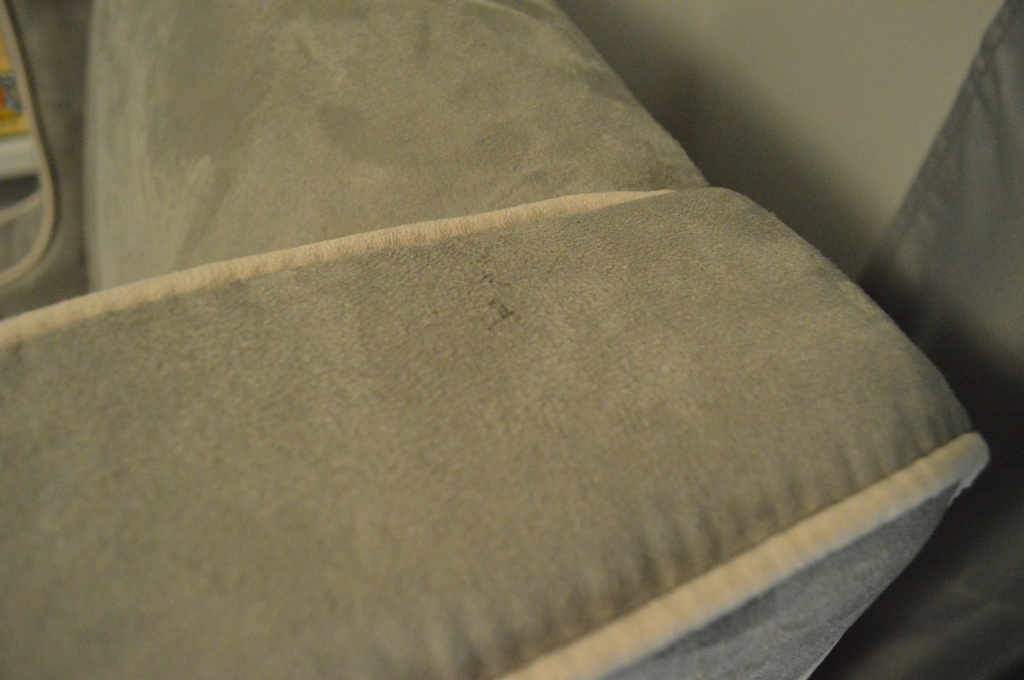 Also, it doesn't rock all that well on the carpet. It works great on the hardwood…and we're considering a rug or a mat under it to see if that helps but I don't mind the more subtle movement. It keeps me from getting carried away, right? But, it's comfortable, and I like that it's soft, but not too squishy. The arms are a little low for nursing, but I have a nursing pillow that will make it the perfect height I think.
Overall, I liked it a lot. I just don't like-like it, for those that know what that means in middle school girl language. But, I think it's highly unlikely I'll find a chair I like more than this one at this price point because they are all constructed so similarly. Of course, a glider would work better on the carpet, but I like the motion of a rocker better, which is why we went with that in the first place. And, to be fair, we don't expect miracles from this chair because we're firm believers that with furniture, you get what you pay for. Wyatt learned that in his years of furniture assembly. But in this case, we didn't have a lot to spend, nor do we expect to use this for more than a couple of years. If we can use it for future kids, that's a great bonus, but it just needs to work for now.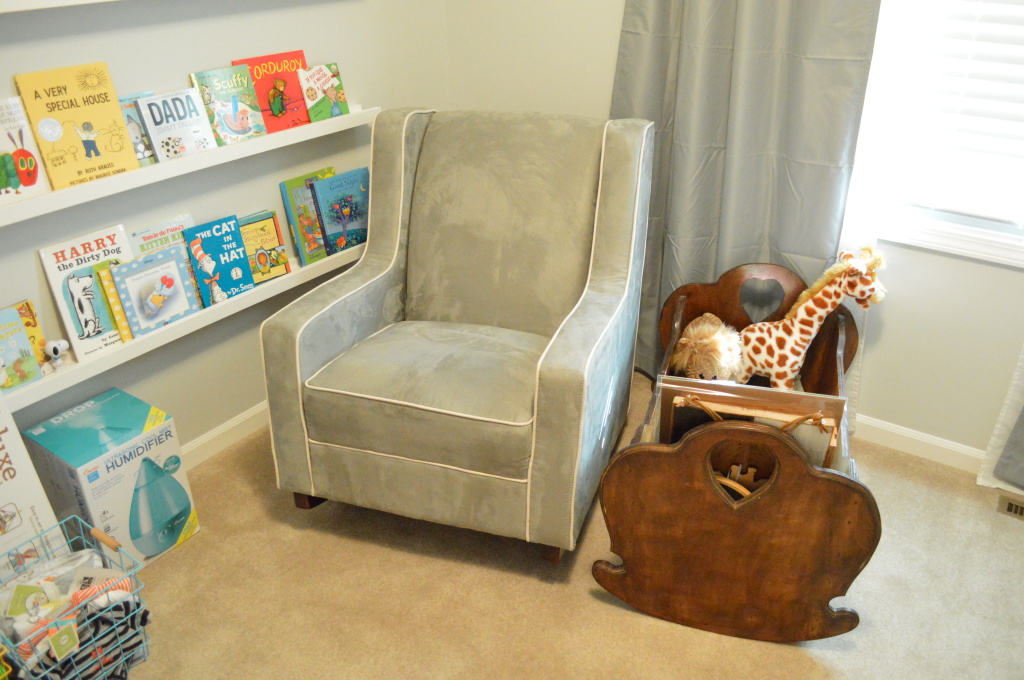 I should also mention we had a lovely wooden rocking chair gifted to us from my aunt and uncle. I'm planning to use that in addition to this one, just as an alternative place to sit and nurse. It was a little large for the room, and not as plush as I wanted for middle-of-the-night feeding sessions, but I think it will be great as a different option to have in the daytime when I need a break from being inside the nursery but still want to rock our little one.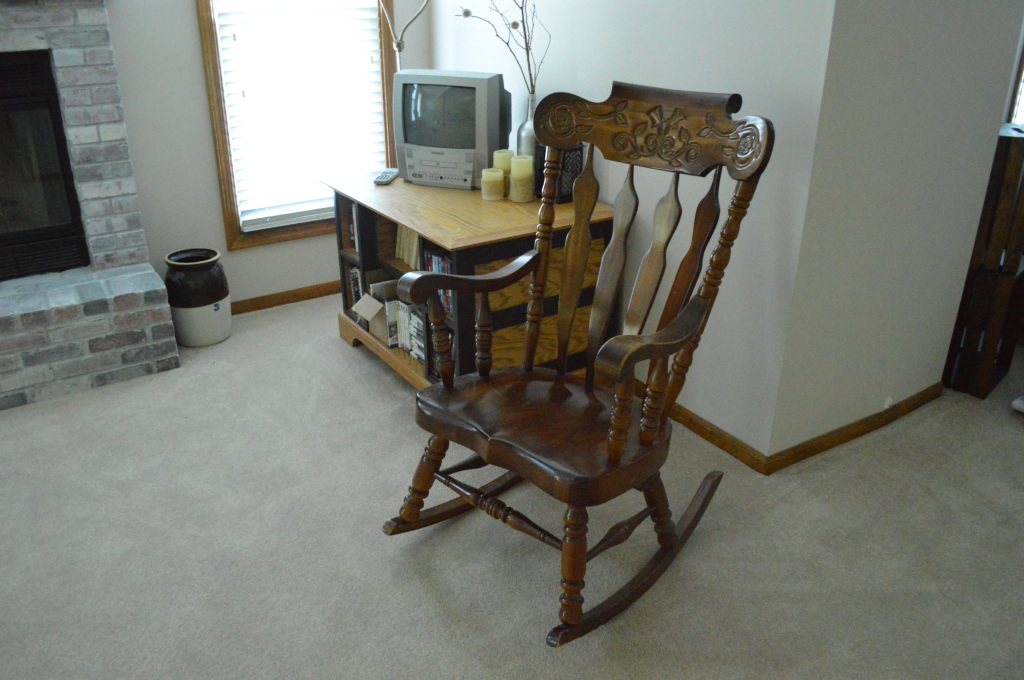 All in all, I'm feeling pretty good about how the nursery is shaping up. To refresh, here's where we started with our inspiration board: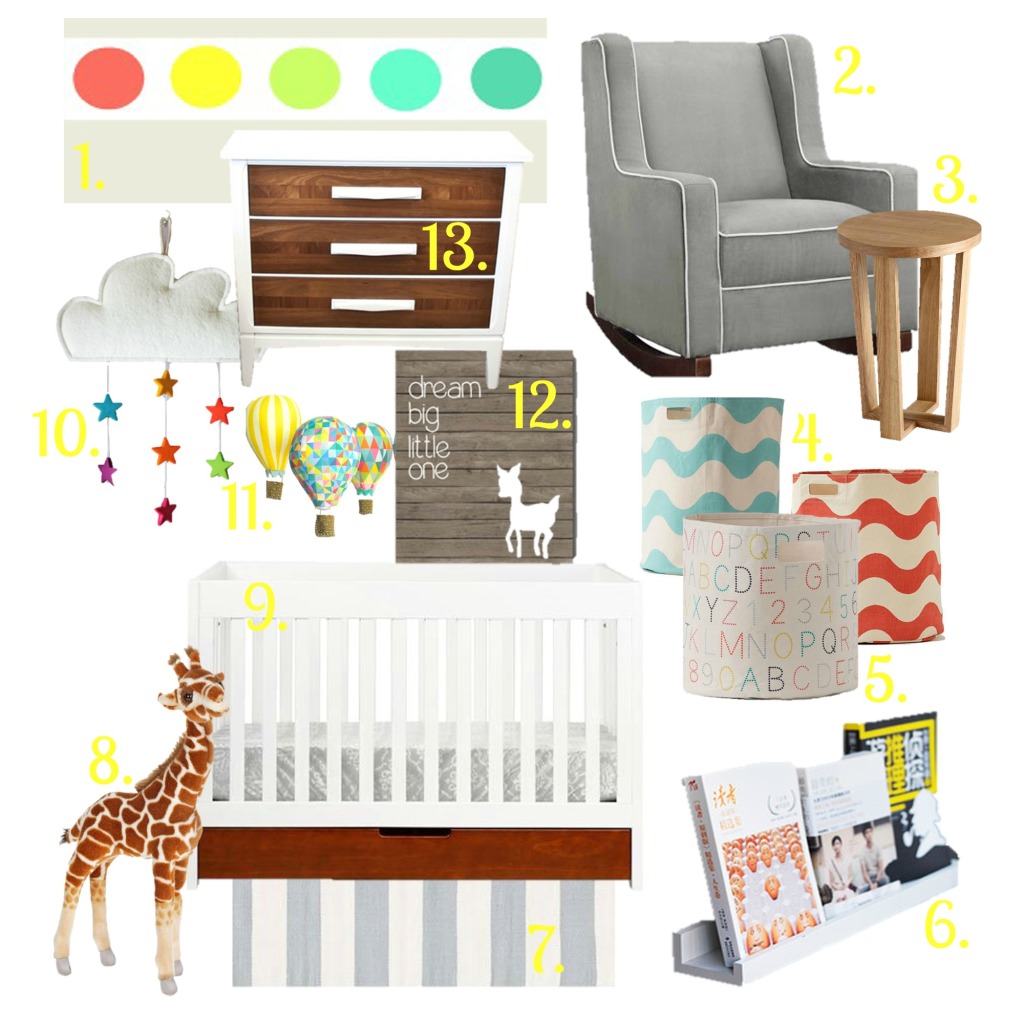 It's interesting to me that I ended up choosing both the rocker and the crib I placed on our original mood board, even though those were mostly just examples and wish lists (since both were out of stock at that time). Funny how some things work out, huh?
What are your thoughts on rocking chairs or buying furniture off the internet? I'd still rather have sat in it first, but am pleasantly surprised with the experience.