This post is sponsored by Target, but the opinions are all our own. 
Today is an exciting day because we finally made more progress on our master bedroom!
Target reached out to Hubs and I to talk a little bit about their #TargetWedding Registry program this year. The theme is Be Yourself, Together, which I think is pretty awesome considering that a huge part of marriage is figuring out how to combine two different personalities, lifestyles, and design preferences into one home! That's especially important in a bedroom where we spend so much time together.
*Content and/or other value provided by our partner, Target.
(*The asterisk means the photo/link/etc is from Target. But you probably understood that you weren't looking at a photo of Hubs and I already, right?)
As part of the program, we selected one of their suggested registry items, then spent awhile wandering the store to choose a second item.
Ok, that's a lie. We went straight to an end cap in the home decor area where Hubs had spotted a lamp several weeks prior but didn't buy. Since there was only one light there the last time, I didn't at all expect to see it still there…but it was! So, we snatched it up and headed on out to finish shopping. And then we headed home with our treasures!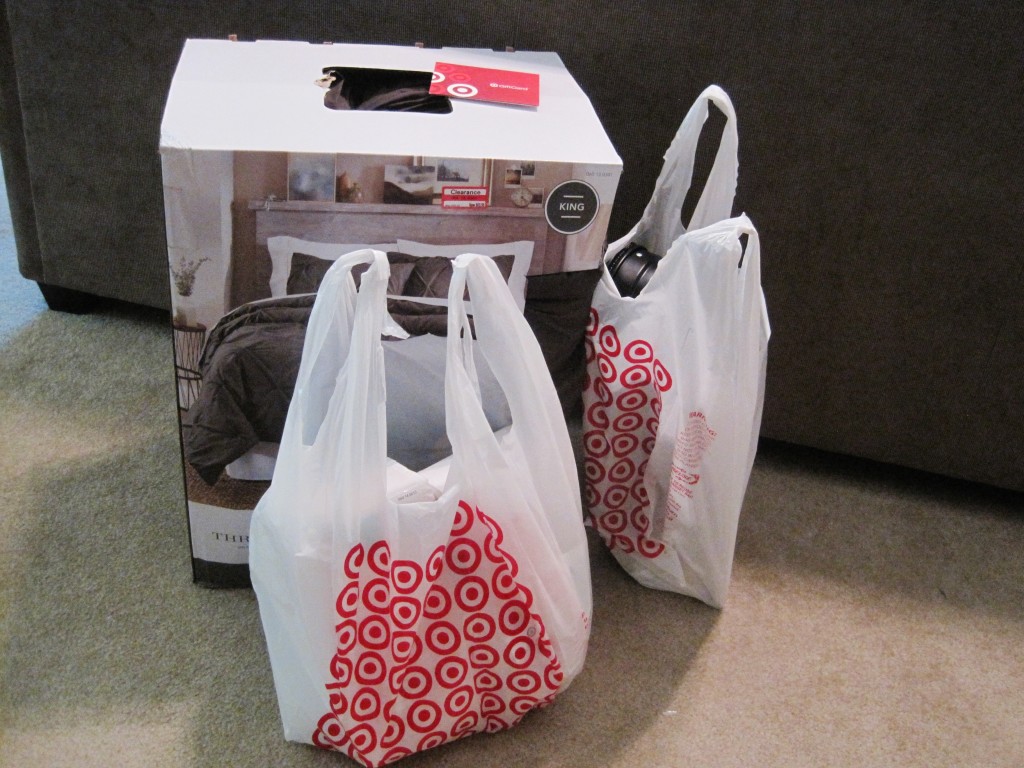 For our first item, the item from their registry suggestion list, we chose this beautiful bedding: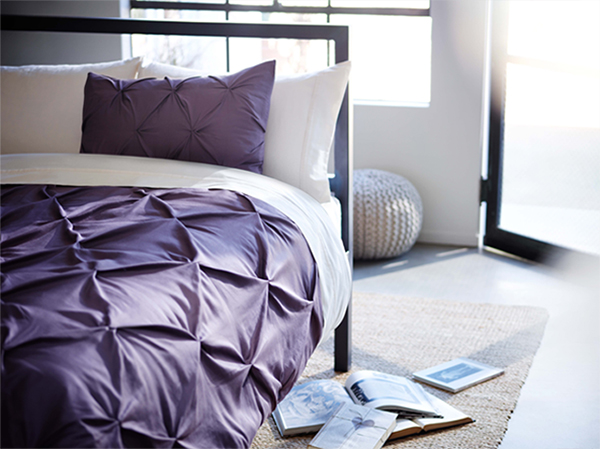 *Content and/or other value provided by our partner, Target.
We chose the "hot coffee" color. Yum. And we plan to use it with the future upholstered bed we want to make…which was pretty cool when we saw it like that on this in-store sign–I guess that means we have good taste!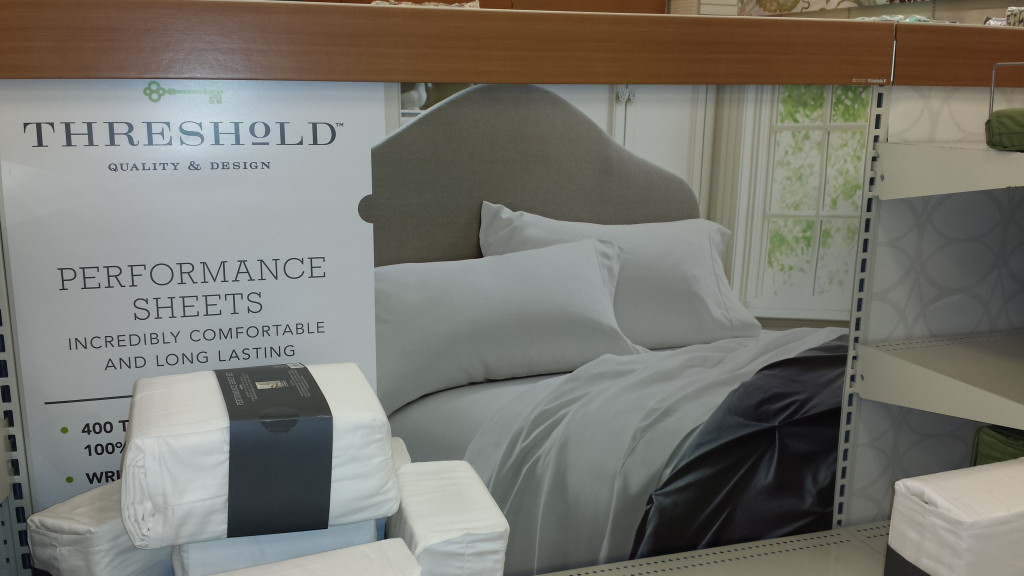 I love that the bedding is soft and luxurious and almost hotel-like with its pillow-y feel, which is what we were going for. Plus, the gatherings make it feel feminine and even a bit fancy. A very classic, cozy, functional piece of elegance. In other words, it's my taste. 🙂
Here are our two purchases together at home, and happy. Just like us. 🙂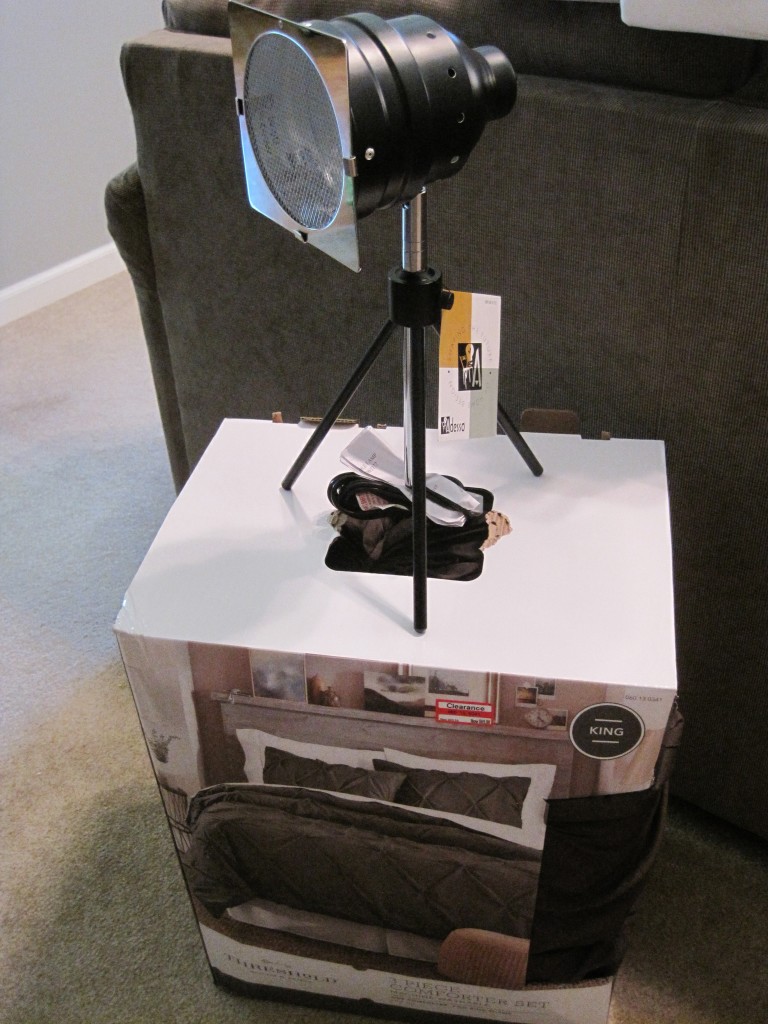 Sneak peek: Here's how it looks with the bed all made up and lovely: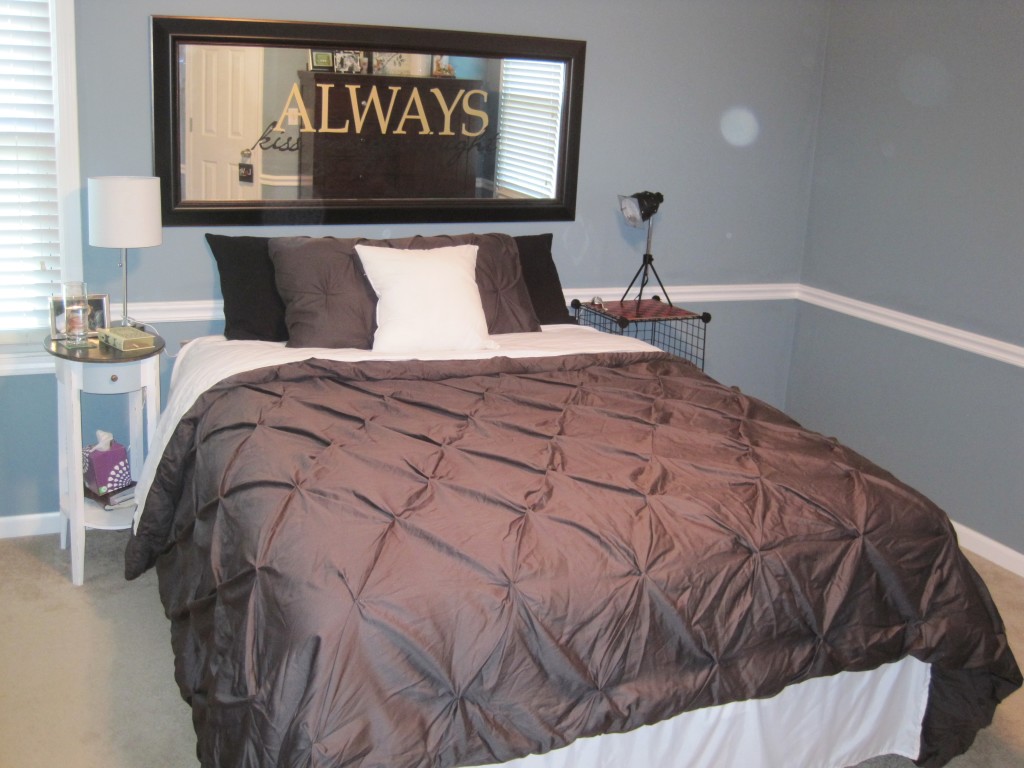 Super luxurious right? Except Hubs isn't really into the whole "comfortable elegance" theme, because let's face it, he's a little funky and a little modern…and a male.
So, we compromised and each chose a few elements for the room. Which is why I love this "Be yourself, together" theme! We're all about mixing styles and textures and themes…and price ranges.
So you won't be surprised to know that we specifically picked this color (I'd originally wanted white bedding) because it was on clearance at our Target. And because it was more practical–it's likely the white would get dirty/ruined a lot faster.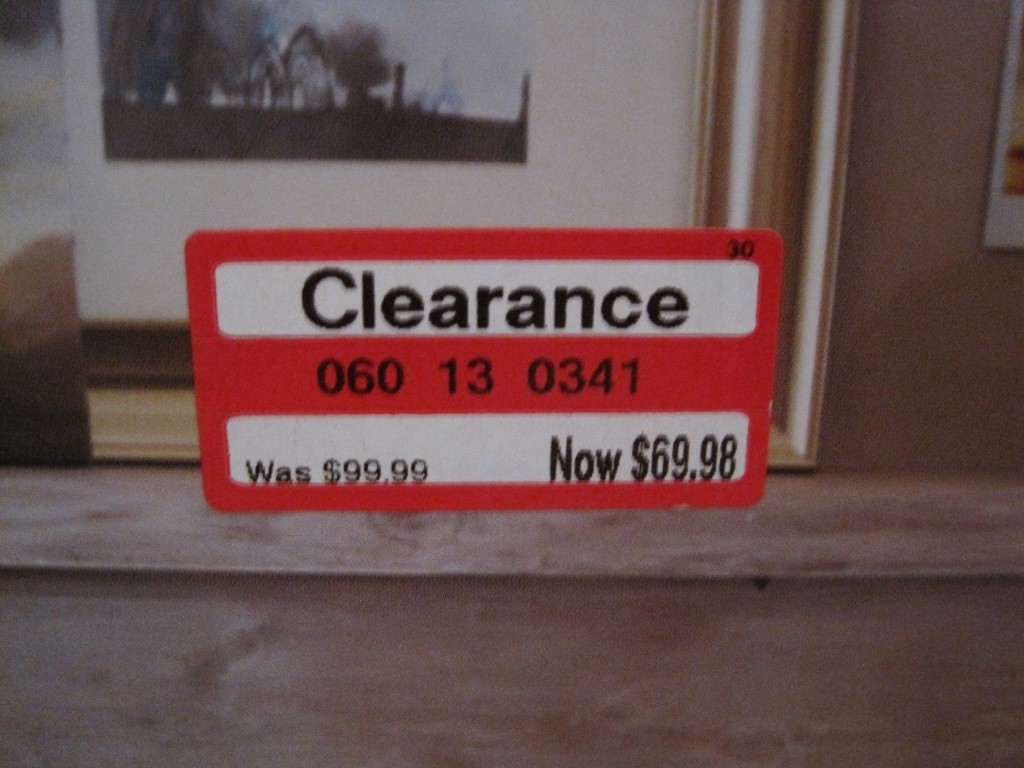 And, because the bedding was on sale, and because we used a Target mobile coupon (you can find out more about that here), it was an extra special deal! Which means we didn't feel bad about paying full price for the lamp or picking up a few other extra accessories to make it really pop.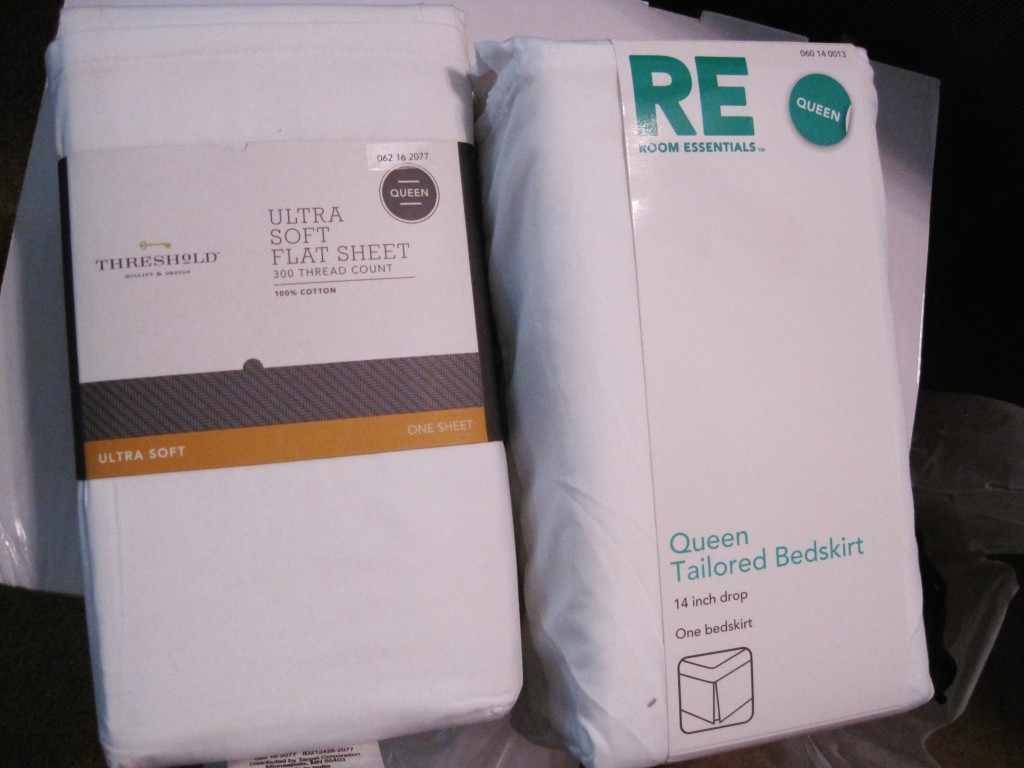 We also picked up a really nice white sheet and a white bed skirt to help bring the white into the room a little more…since we didn't get the white bedding. And we checked out twice so we could both use the target mobile coupon—we love the way Target is so friendly with helping customers get a good value!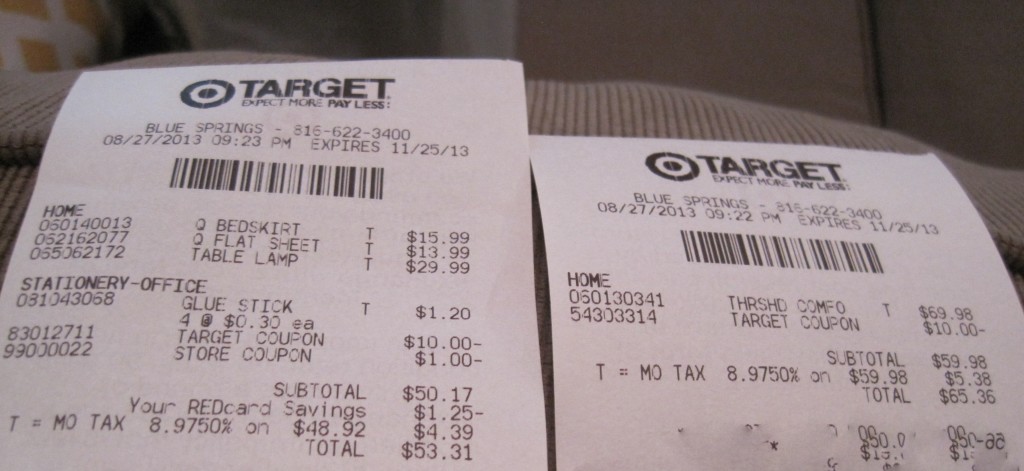 You know how we love a good deal, right? So we're especially happy to have had such good luck. You know how we feel about Target though–you can check this post if you'd like a refresher.
His side of the bed is all funky and masculine and modern.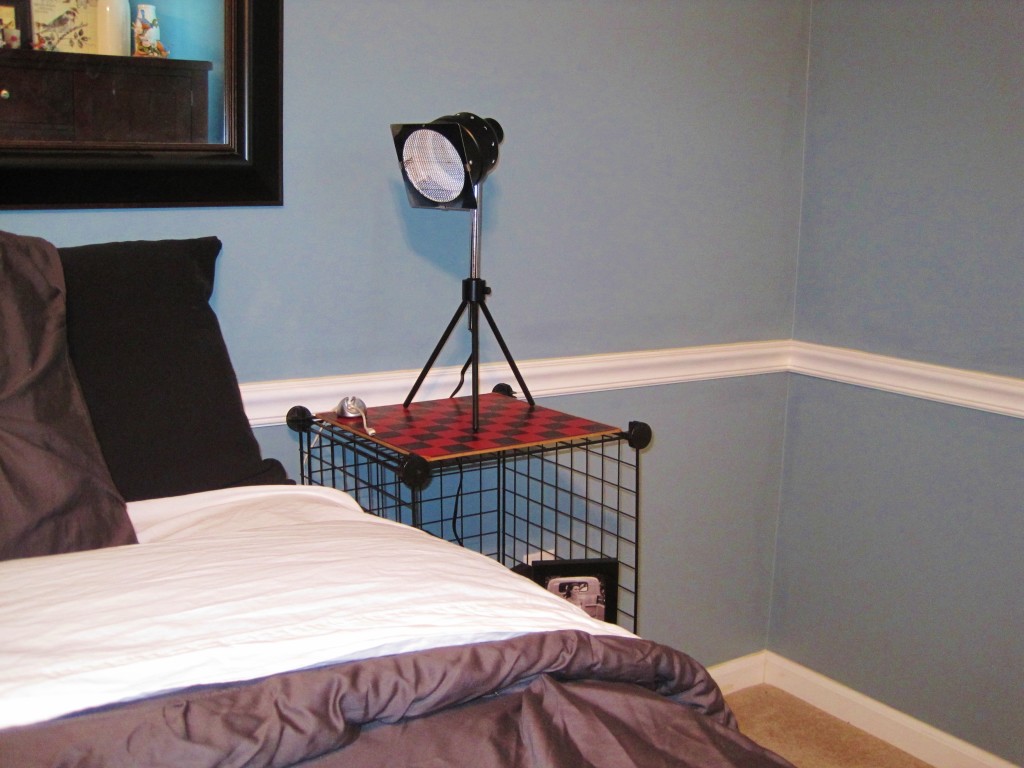 My side of the bed is a lot more classic and feminine.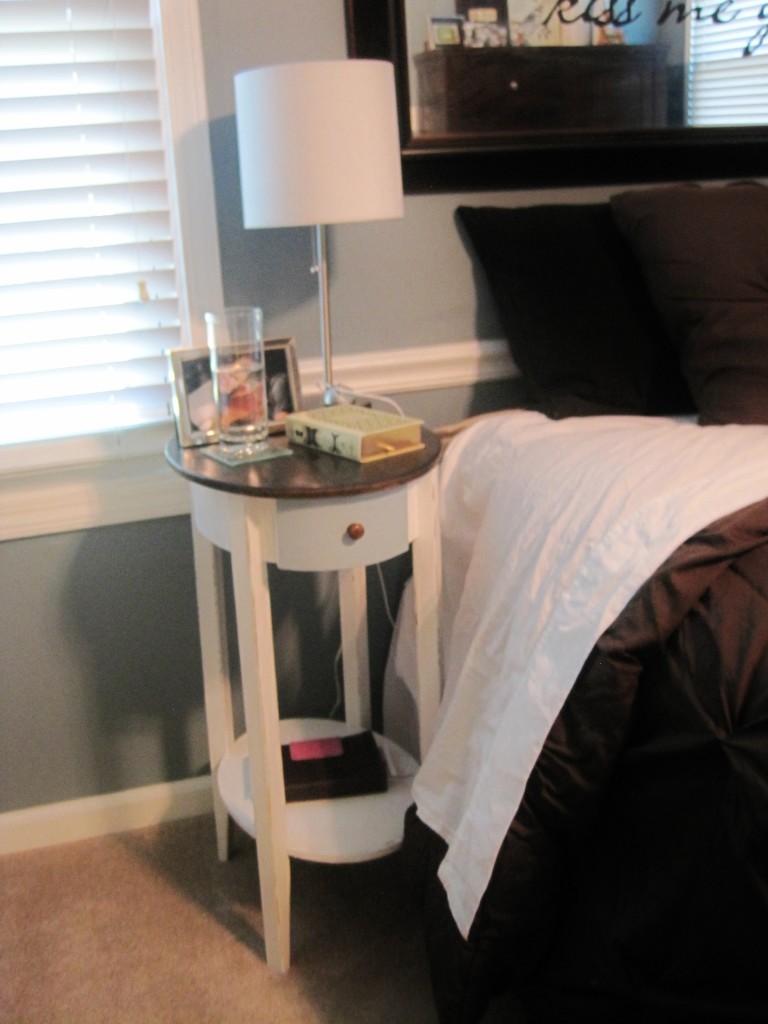 You've already read all about my nightstand, but here's that post for a refresher if you'd like.
And here's the deets on Wyatt's side:
We upped his nightstand from this cheapo black one…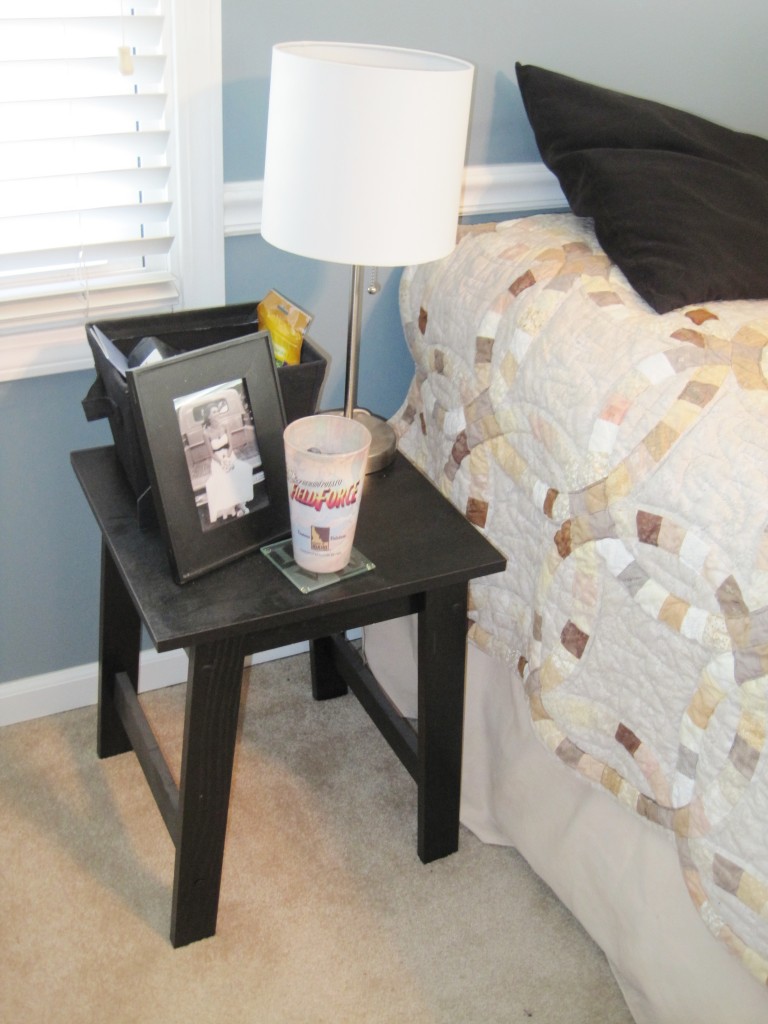 …to these metal shelves he had in college.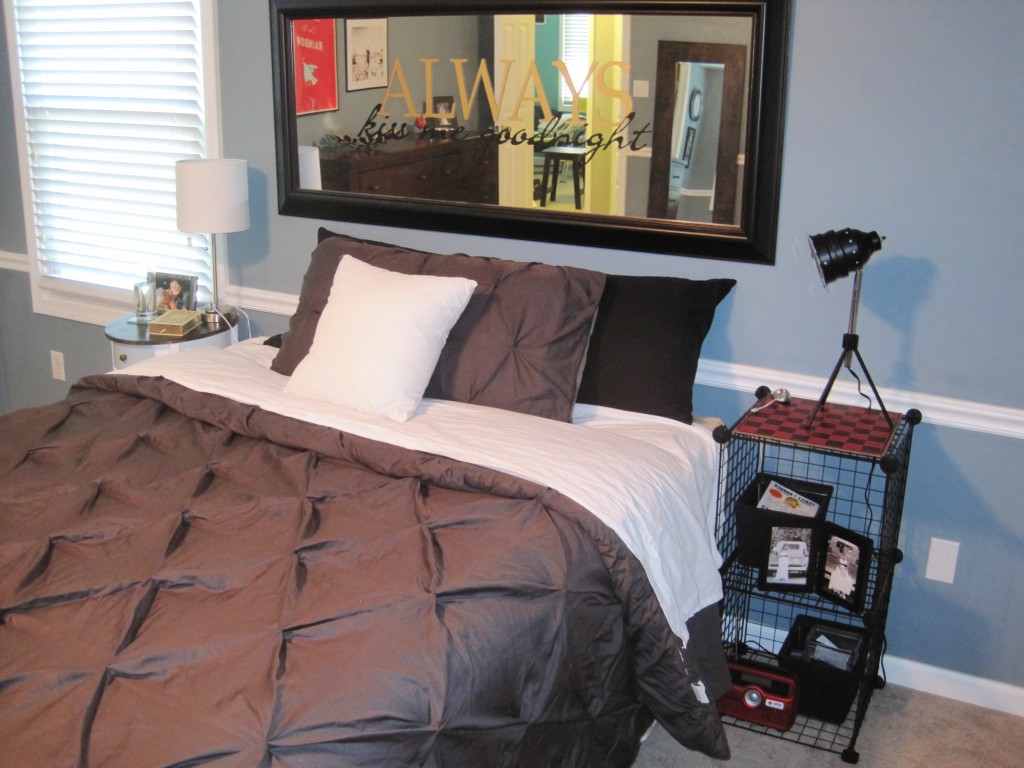 It seemed like a bit of a step backwards at first…but when I added the checkerboard top (from a garage sale), it seemed a bit more like what I had in mind for him.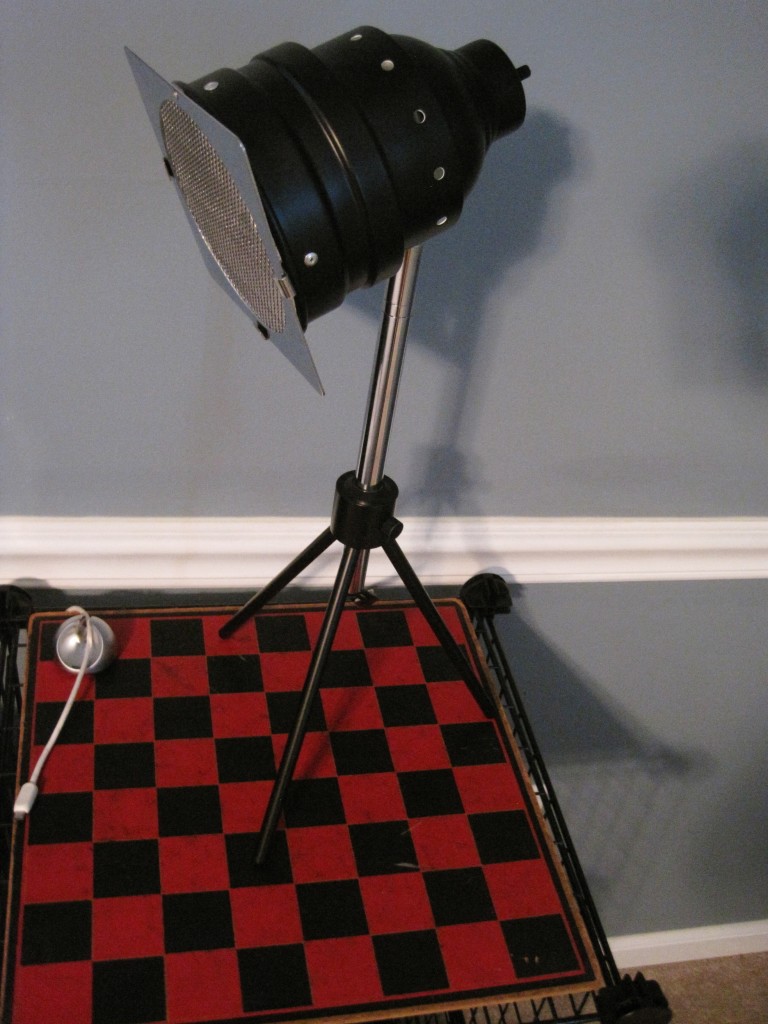 We're still looking for something more permanent, but for now, this is pretty good.
The bedding in itself, though it is more "my taste," really isn't too feminine for Wyatt. In fact, he really likes it. And the darker color (as opposed to white) is a bit more masculine in itself.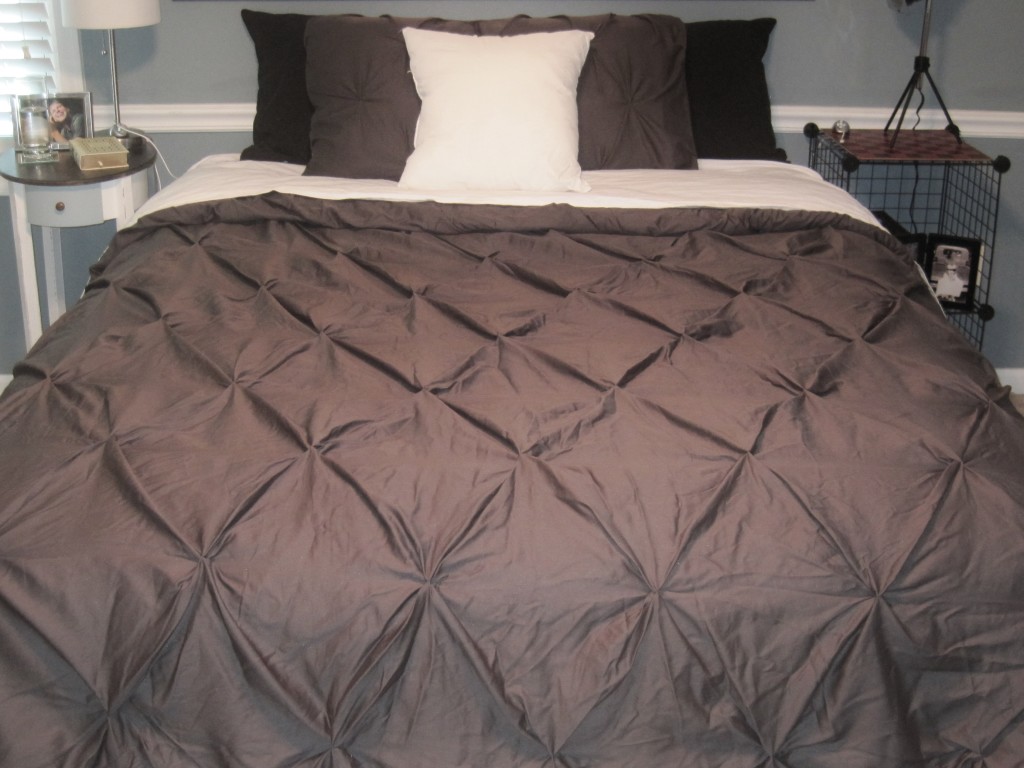 And the light, even though it's more masculine and industrial and modern, is just funky enough to make me love it in my eclectic way.
All in all, we're pretty happy with how the room is shaping up. We still need art on the walls, and our new bed, and curtains…but it feels more like a room that we planned for, instead of a room we simply fell into. And it's inviting and fancy…while still being comfortable and casual.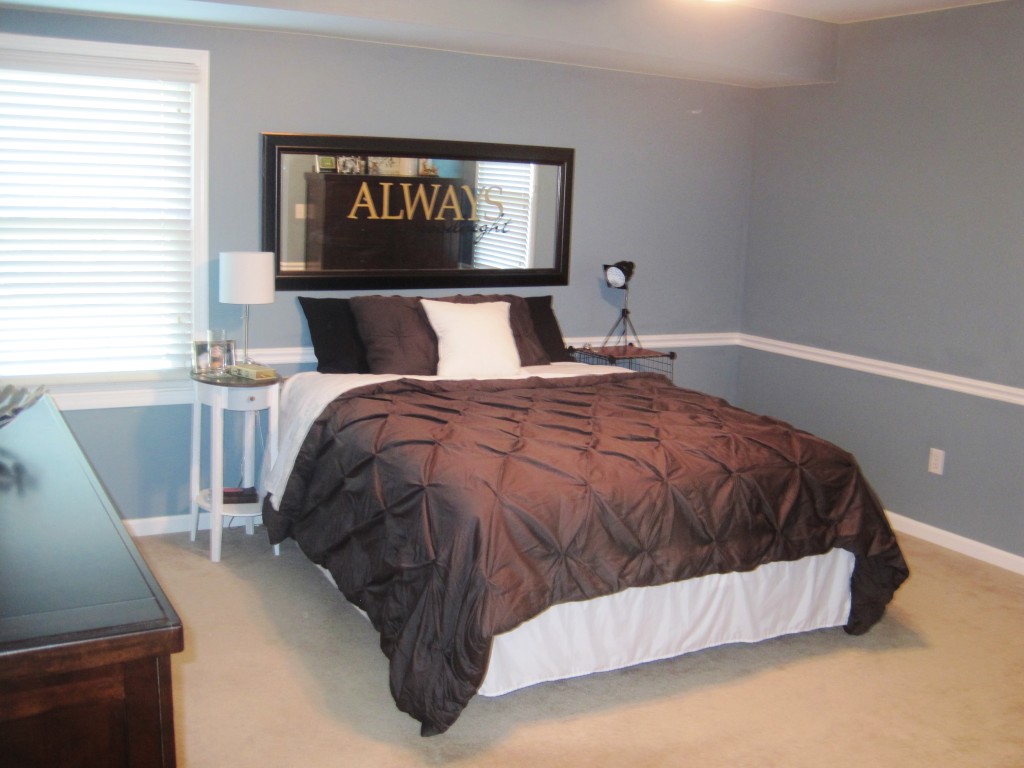 Tell us how you mix styles to make your house a home that's perfect for you and your family! We'd love to know how you "Be yourself…together!" 
Again, this is a sponsored post for Target's wedding registry program, but the opinions are all our own. We received a gift card to cover the cost of our second item in exchange for sharing our thoughts with you all. Questions? Feel free to send us an email or leave a comment! If you liked what you saw here, check out their registry catalog here.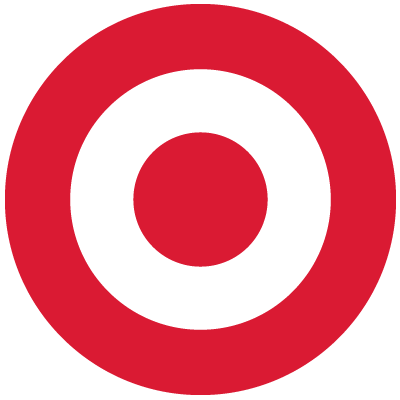 *Content and/or other value provided by our partner, Target.