You guys, it's November, and that means we only have a few weeks left to accomplish our entire list of 2014 goals and resolutions.
To refresh yourself on our progress over the year, you can read our original resolution post, here, and our first update, here, and where we were at the halfway point, here. 
This kitchen project has taken so much longer than I ever thought that I'm scared to go down through this list and take inventory of what all we have left to accomplish…but there's not time like the present for a little reality check, right?
So, here we go:
1. The kitchen/flooring/stairway project. We're close to being done. But there's still a lot of work to do. I'd like to say we'll be able to cross this off, but I've learned things take longer than I plan for them to, so we'll see. Still, we've made MAJOR progress, here. I have to admit.
From here: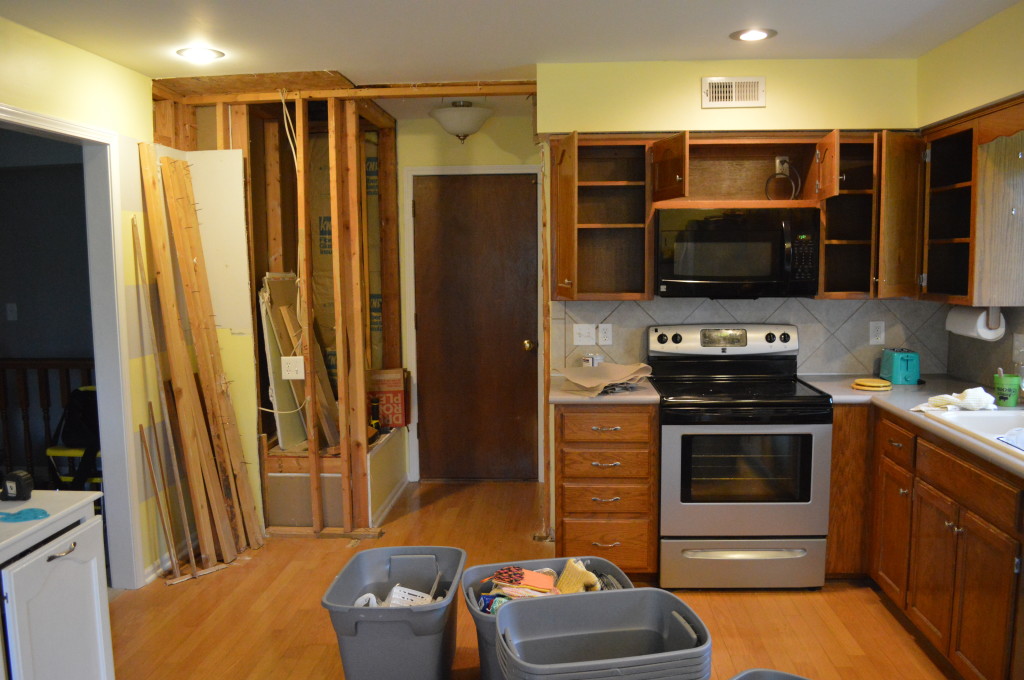 To here: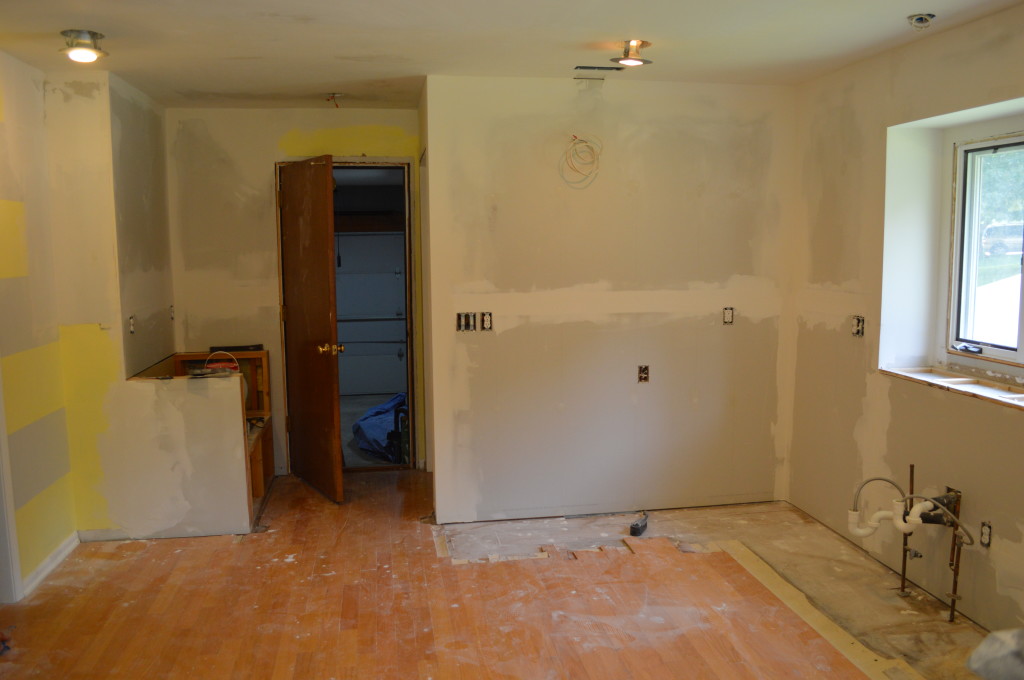 To here: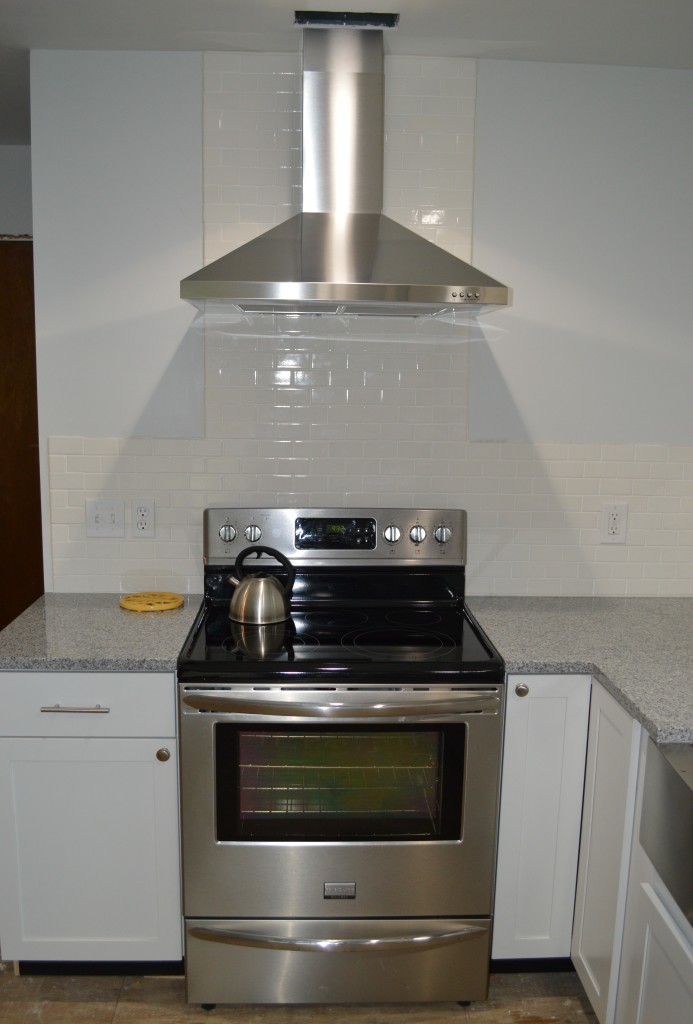 We have gotten a lot done, just the 2 of us, really. Working 0-5ish hours a day of this. So, even if we don't get it 100% finished this year, I'll be proud. And pleased.*
*But I want to get it done. Please, please, please, let us get it done.
2. Finish refinishing the chairs. These are currently buried in the garage. I'm doubtful we'll get to them. Good grief. I'm pretty sure we also had this on last year's list…
3. Replace the kitchen light fixtures. I can't pick out a light I like. It's terrible. I know. But this will get done. (If I force myself to just pick one even if I don't like it, that's okay, right?)
It will be great to have light again in the kitchen though. I'm tired of this: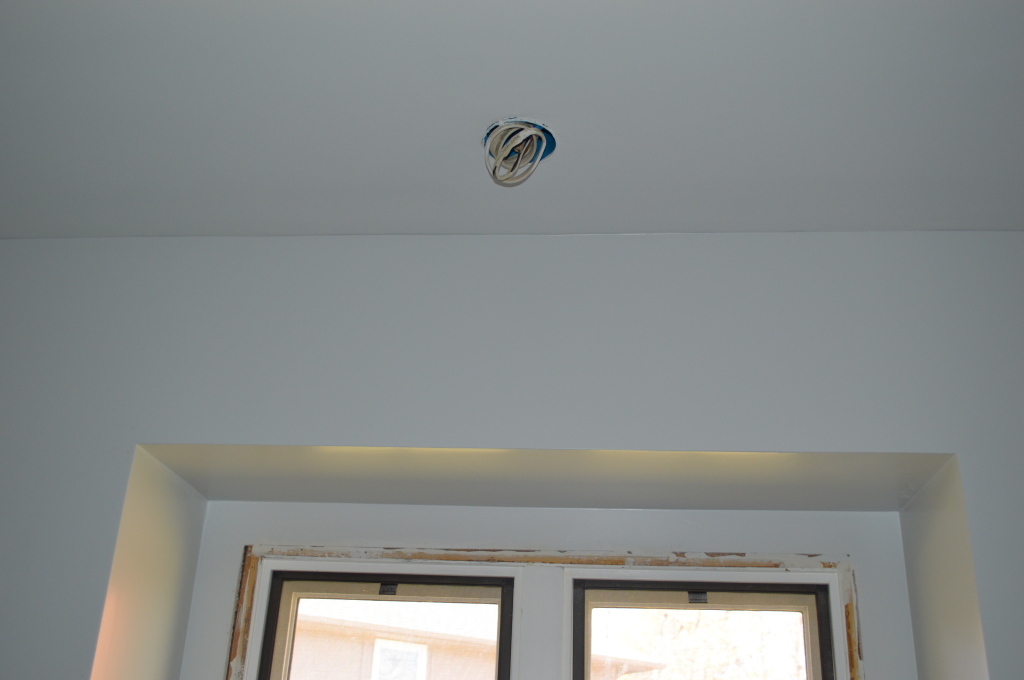 And we already made a little progress on this goal…just need to make some purchases.
4. Family recipe Fridays. I'm a little behind, still, but doing pretty well for not having a kitchen. I may make it to 12 things before the end of the year. Maybe. So far, I have made:
Pumpkin Roll
Broccoli rice casserole
Deviled eggs
Strawberry Shortcake
Canned tomato juice
Homemade Potato Soup
Italian egg and zucchini bake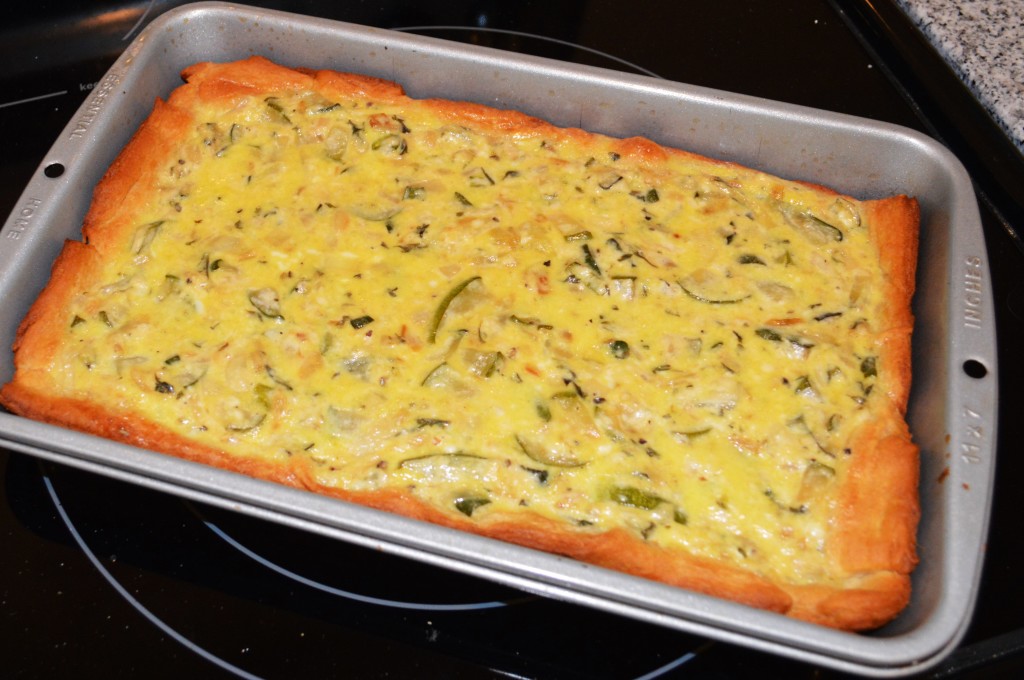 5. Expand the garden and preserve more of our own produce. You guys, I rocked this one this year. I'm so proud of our canned goodness. If only the pantry was organized with a place to put it all! This photo doesn't even show everything!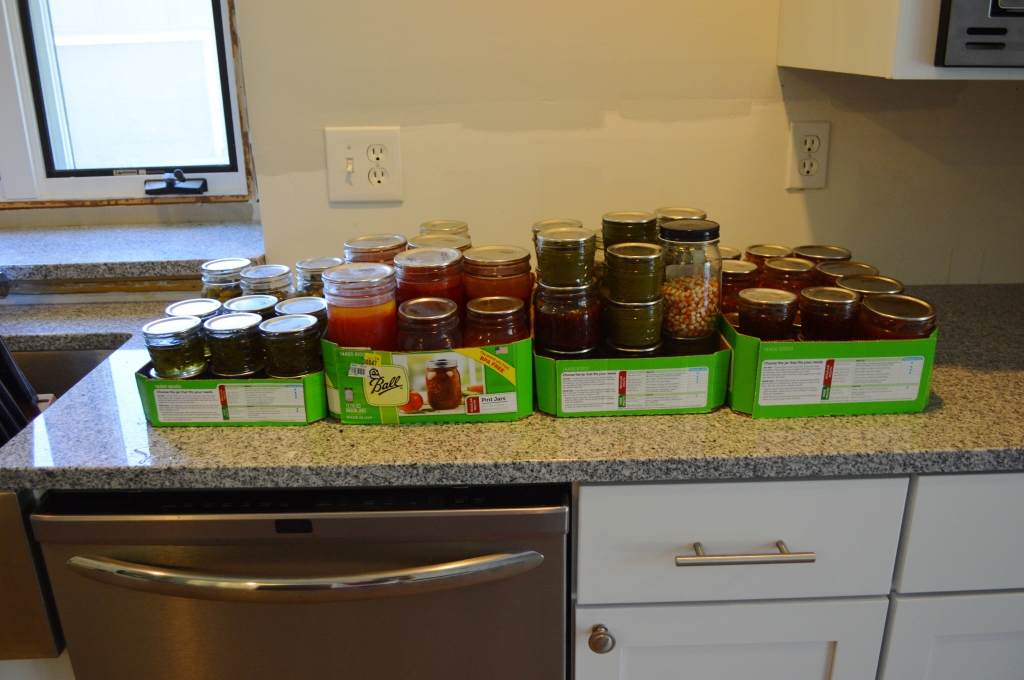 6. Kansas City appreciation date nights.
Doing pretty well at this so far!
January: Saints  Pub and Patio (Eh…)
February: KCI (on our way to Florida)
March: Sporting KC game. (We'd done this before, but still, a very KC night.)
April: We officially declared ourselves loyal to a new local Mexican restaurant. YUM.
May: Cool Crest Mini-Golf
June: TBones Game and Royals Game
July: Shakespeare in the Park with friends. Fun! And a delicious anniversary and birthday dinner out at KC restaurants.
August: Royals game, Hall of Fame museum, and stadium tour (This was actually Sept. 2, but close enough to count for August I think.)
September: Drive in Movie for an IKEA event + Power & Light District for a free concert. Double the KC fun!
October: Powell Garden Pumpkin Festival & Royals World Series Watch Parties with friends!
November –nothing yet, but I'm sure we'll find something good!
December:
7. Write five things that are not work or blog related. …..
8. Turn the basement into usable living space. We did actually buy some furniture for down here in hopes of having a holiday party. And we used the basement as a guest room. So, sorta…but mostly, the basement is for storage right now. Which is an attempt to make the upper level livable space during this renovation. So, I'm calling this a sacrifice win, so far.
9. Read/listen to 15 books, at least half of which were already on the bookshelf. I believe I'm now at 6 so far.
Mary Poppins – Pl.L. Travers
The Prince and the Pauper -Twain
Pudd'nhead Wilson – Twain
A Connecticut Yankee in King Arthur's Court – Twain
The Cat Who Ate Danish Modern – Lilian Jackson Braun
Jane Austen's Little Advice Book – Cathryn Michon and Pamela Norris
The Cat Who Came to Breakfast – Lilian Jackson Braun
Five others in progress (yes, I read multiple books at once.)
10. Buy/Make/Refinish a new TV stand/dresser/shelving unit. Honestly, I keep forgetting about this. I'm not even sure why it's on here. Currently, the TV stand is in my office, though, so maybe now is a good time…?
11. Host a holiday dinner or event at our house. Thanksgiving and Christmas and New Years Eve are all on the table. We'll see.
12. Maintain the habit of always going to bed with a clean(er) kitchen. Well, do tools on the counter tops count? This was a silly goal for the year of our kitchen renovation. Oops.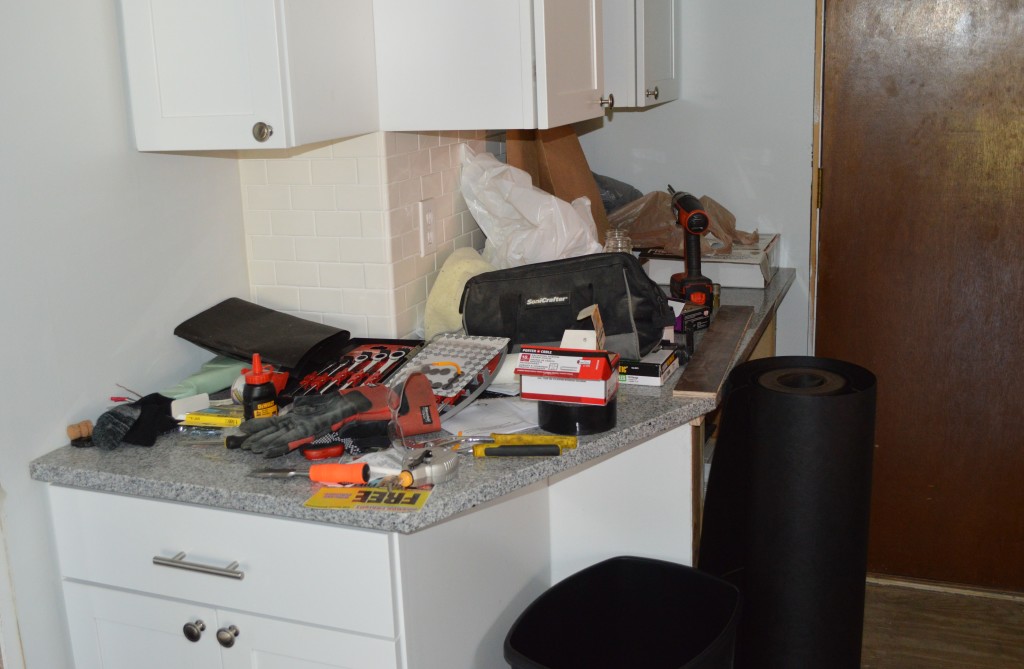 13. Vacuum/Sweep/Mop at least one room at least once a week. We've been doing a lot of sweeping, but it's mostly remodeling-related. Not sure if that counts?
14. Make some wall art. I hung up some artwork we got from a friend that she painted. Does that count? I did make 2 new wreaths though, and doors are kind of like walls, right?
15. Take advantage of our awesome outdoor space. We've grilled a lot. And we've done some landscaping stuff. And garden work. Still no fabulous garden party or anything. Darn. And now it's snowy and cold. Still, I'm sort of counting this as a win…even though it wasn't anything big.
Well, guys…it's not looking great. Fingers crossed we'll make major progress in the next 2 months. Wish us luck…and maybe come help us? Ha!
Now, tell me how you're doing on your goals for the year. Let's hear it!