Well friends, we have been WAY TOO LAX in posting updates for you all. Between late work nights for both of us, a huge garage sale, a mini camping trip, and more, we've just been behind on blogging. But we have made some progress on a few things, so I'm hopeful we'll have a few blog posts to share this week and next week.
All that apology/excuses stuff behind me, I'm excited to share something I have been working on, slowly, behind the scenes. The mood board for our basement family room!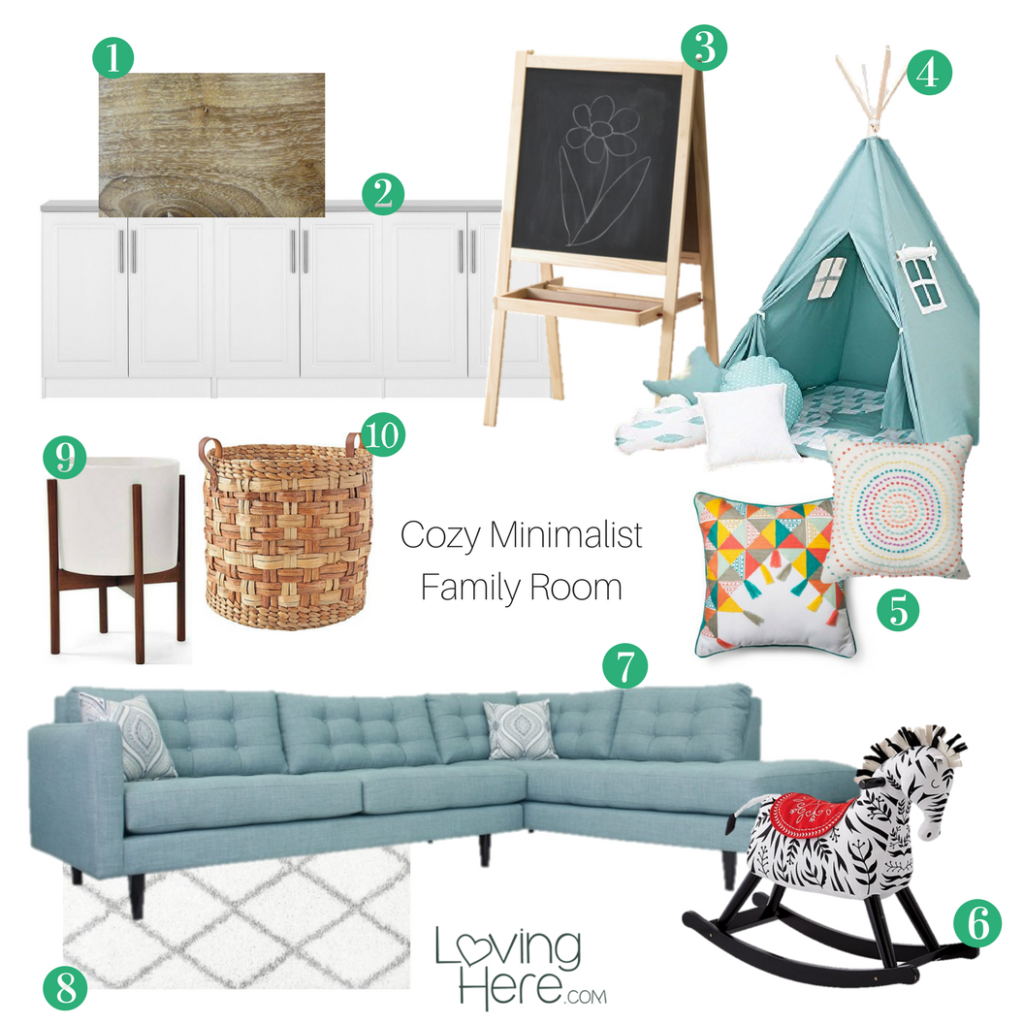 1. Walnut Counters    |   2. Ikea Cabinets    |   3. Wooden Craft Easel $20   |   4. Play Tent $250   |   5. Colorful Pillows $12   |   6. Zebra Rocker $149   |  7. Similar Mid-Century Sectional $1700  |  8. Similar 8 x 10 Shag Rug $342   |   9. Planter Stand $150   |   10. Baskets $39
One of the main goals for this space is that it will be truly "family friendly." Not just "kid friendly" but a place where adults can hang out and feel comfortable and not overwhelmed with toys, too. Which is why we have an entire wall of built in toy storage…to contain the clutter!
While working through the plan for this room, I kept asking myself how we'll be using this space and the answer always comes back to "family room." The truth is that we aren't ever going to be formal living room and separate family type people. But, our current living room is small and there isn't a lot of great storage opportunities for toys so they end up spilling out all over the room, even when picked up and tidy. Plus, it would be great to have a "clean area" upstairs so if guests do come over unexpectedly, they aren't tripping on the 25 balls (literally) that Will dumps out onto the floor every. single. day.
But, I was determined this wasn't just going to be an empty "playroom" because it felt like a waste for us in this phase of life. Yes…kids get older and eventually need less and less supervision, but we're a long way from being able to just put a basement full of kids in our basement and ignore them for an hour or two while they play safely and happily on their own. Plus, I need to fit in a working/relaxing/crafting space for me in this big room, too. So, I wanted a space that adults could be comfortable in, too.
But, we are taking a lot of "kid-proof" precautions as well, in thinking through furniture choices and other finishes. Rounded edges where possible, comfy soft rugs for sitting on the floor, tamper-resistant outlets, and the TV will be mounted to the wall above the cabinets where it will be safe, or safer, from any toys being knocked into it, and out of reach for fingerprints…which is a current issue we have in the living room.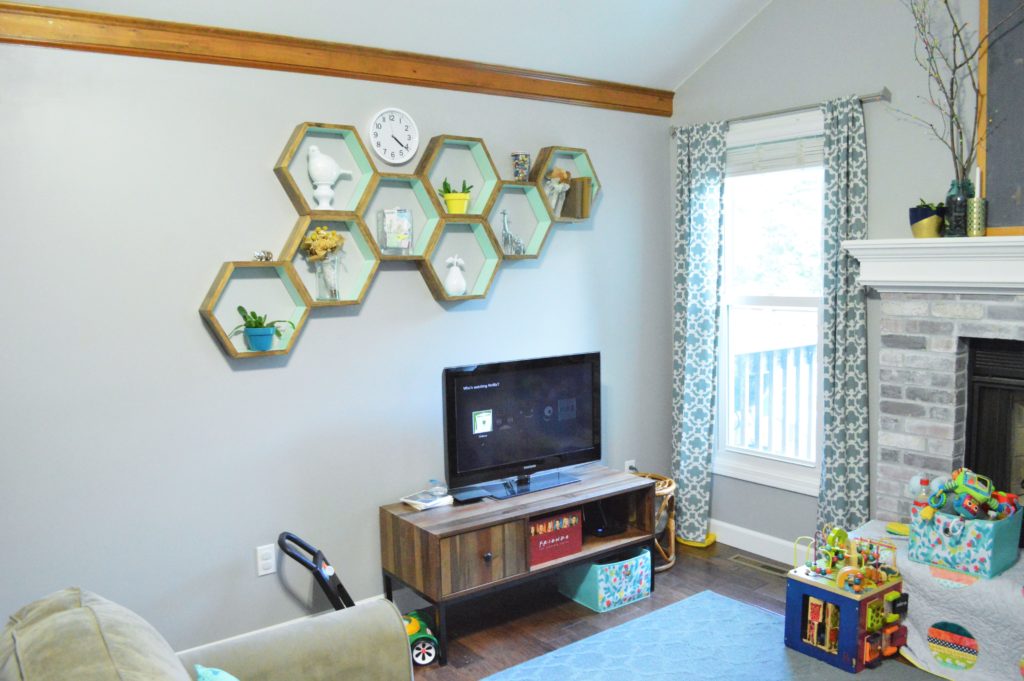 We have plans for a little baby safe cushion for the hearth down there as well, but it might not happen until the next baby starts crawling.
One note I will throw out there…even though I'm a big fan of the way the white walls look in this space, I'm already a bit worried about how "kid-proof" they are since we've already scuffed them in a few places just during the construction phase. Of course, there is the opposite side of that where we might find that it will be easy to just touch it up or wipe with a magic eraser…so we'll see.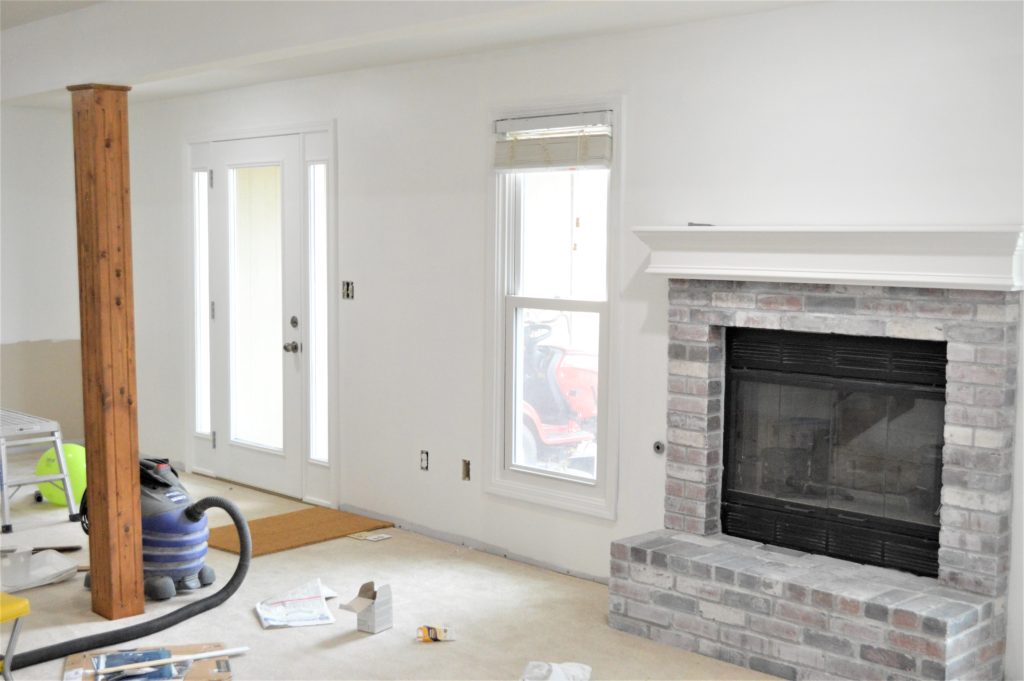 So, there's the plan for the basement. Finally. Now I just need a little free time, and a healthy husband so we can get it completed!
What are your thoughts on family-friendly design? What's a must-do or a don't do?