I have to just stop and tell you how much I'm enjoying having running water and counter tops in our kitchen. I can cook again! Recently, I was invited to a fun brunch with friends and I had the idea to make a summary salsa recipe using pineapple and peaches, because, why not?
I also decided to be super fancy and serve the salsa in a dish made from the pineapple. (Actually, to be fair, I got the idea for the entire dish here.)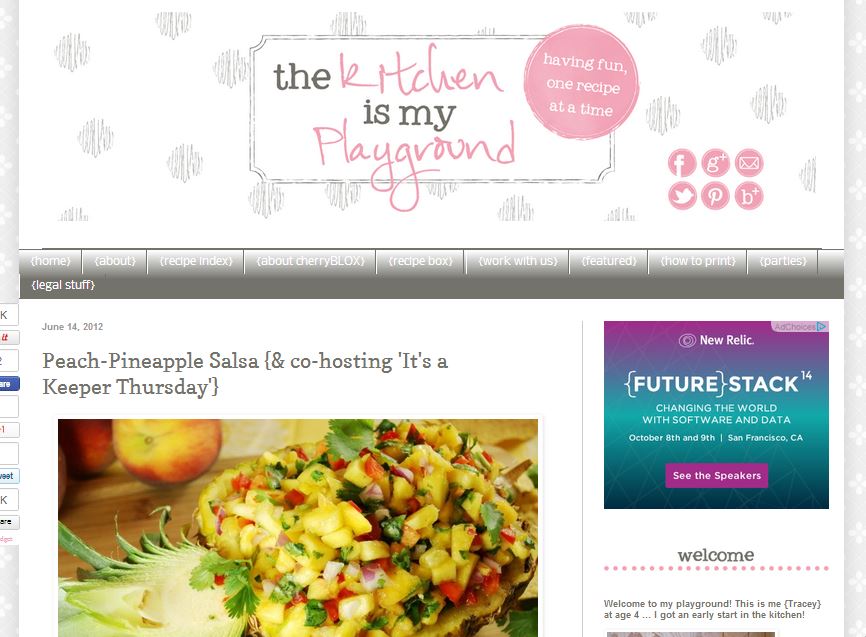 Since I didn't follow the above-linked recipe exactly, and because I got several requests for the recipe (Wyatt also took the leftovers to a tailgate he went to later that day and said it went over well. Then, we finished it off with his parents the following afternoon when they came to visit), I'm sharing the steps I took with you guys here. And, I made it for another party the following weekend.
First of all, I set to work creating my pineapple bowl. This step is totally optional, but I think it was fun. Make one cut lengthwise through your pineapple. I went slightly above center for mine to make my bowl a little bit deeper. You'll need a sharp knife and some pressure to cut through the core.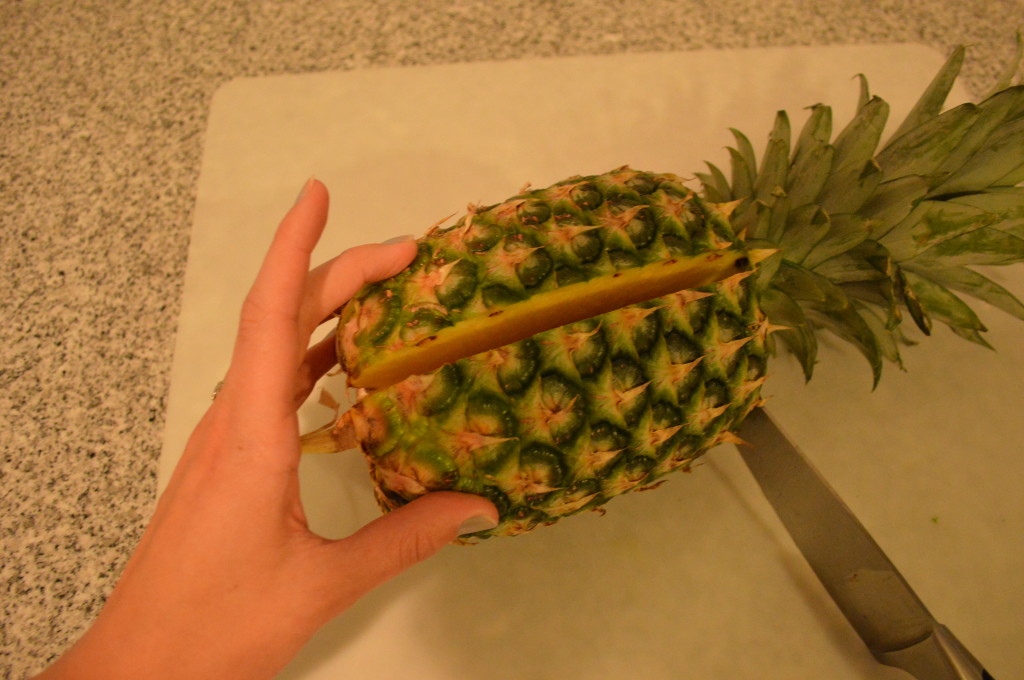 Then, make a cut right under where the green, bushy part attaches to the top of the pineapple.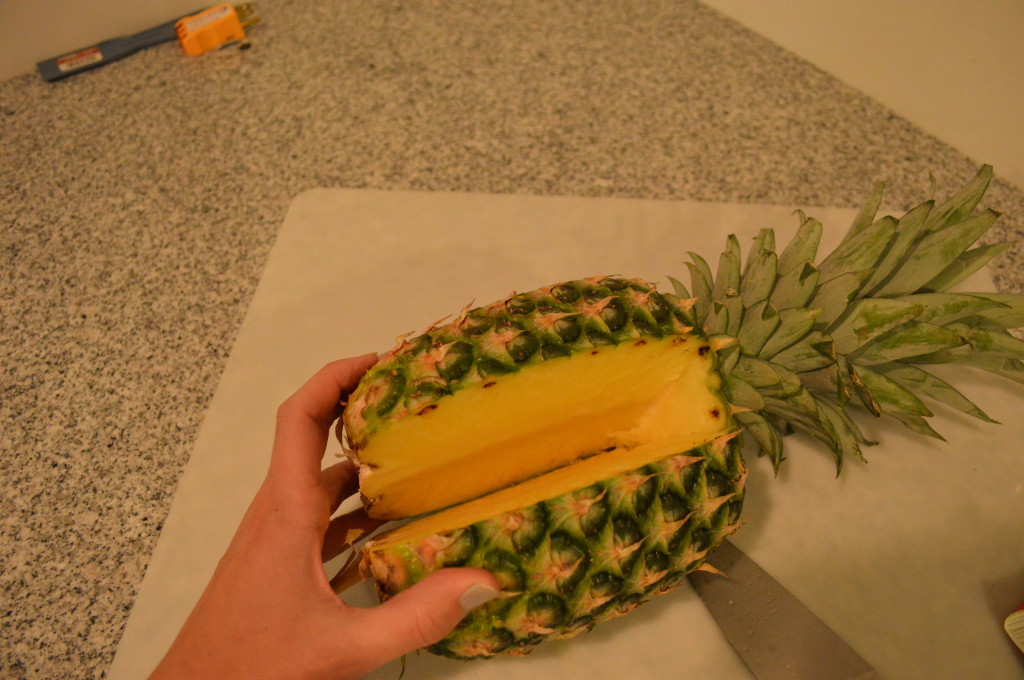 Fold open your pineapple and then you'll be good to go!
Use a knife to slice and remove all the meat and core (separating those) from both sides of your pineapple bowl. If you wanted, you could save the top part and make two bowls, but one was enough for me.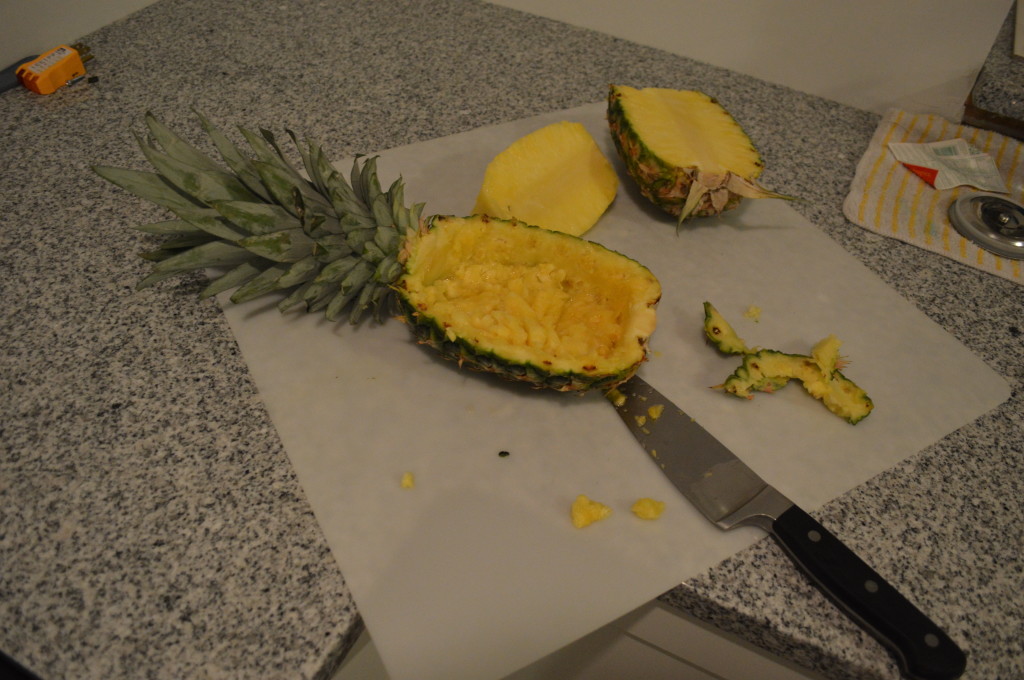 It doesn't have to be perfect, but you don't want to waste any pineapple by leaving it behind.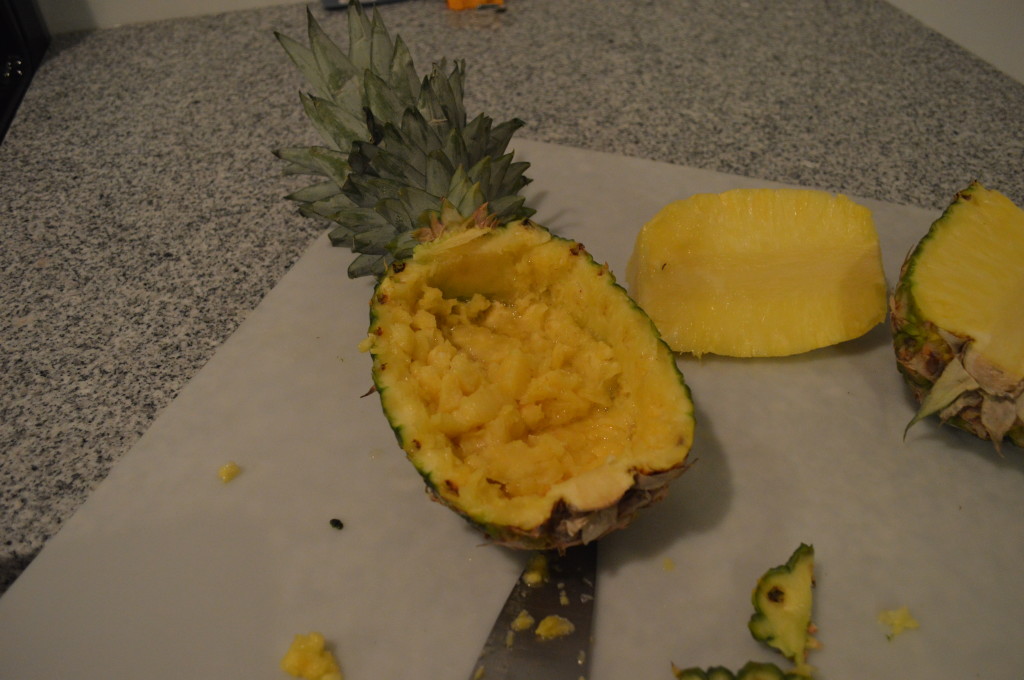 Then, I chunked up the pineapple and peeled and chopped the peaches and added them to my mixing bowl.
Technically they were nectarines, but it could have been a peach, right? 😉
Then, I chopped up a couple sweet banana peppers from our garden and one jalapeno and added them to the bowl. I also diced some cherry tomatoes. Finally, I added my seasonings.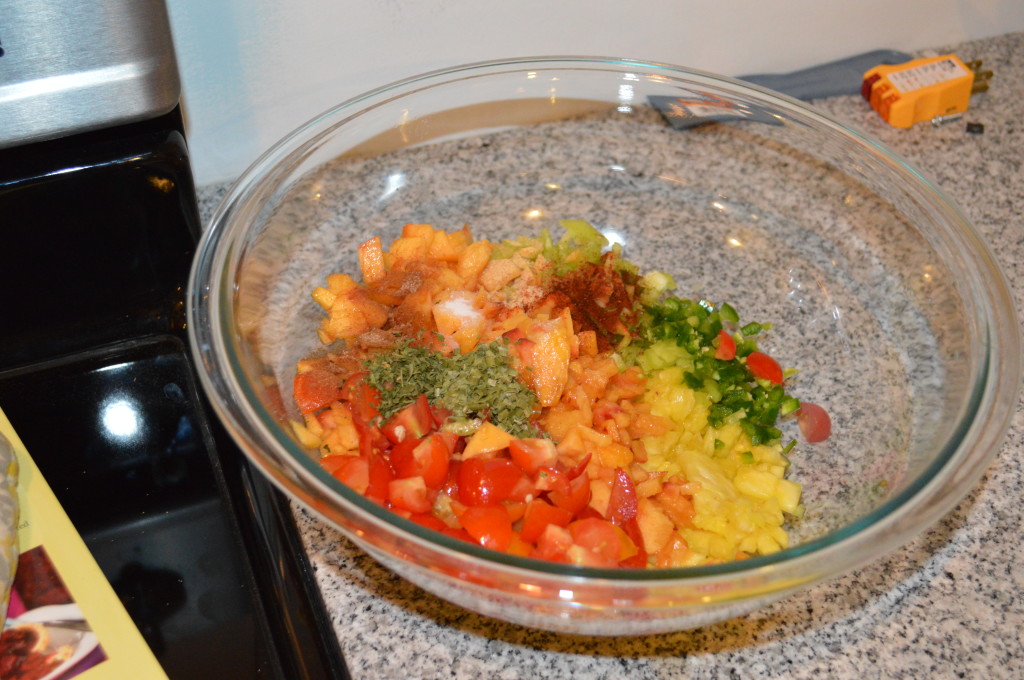 I used quite a selection. I'm guessing these are about the measurements I used:
2 Tbsp lime juice
1 tsp garlic powder
1 tsp chili powder
1 dash cayenne
1 dash cinnamon
1 Tbsp herbs (I used dried chives and parsley, but I'd say fresh cilantro would be ideal, I just didn't have any)
salt and pepper to taste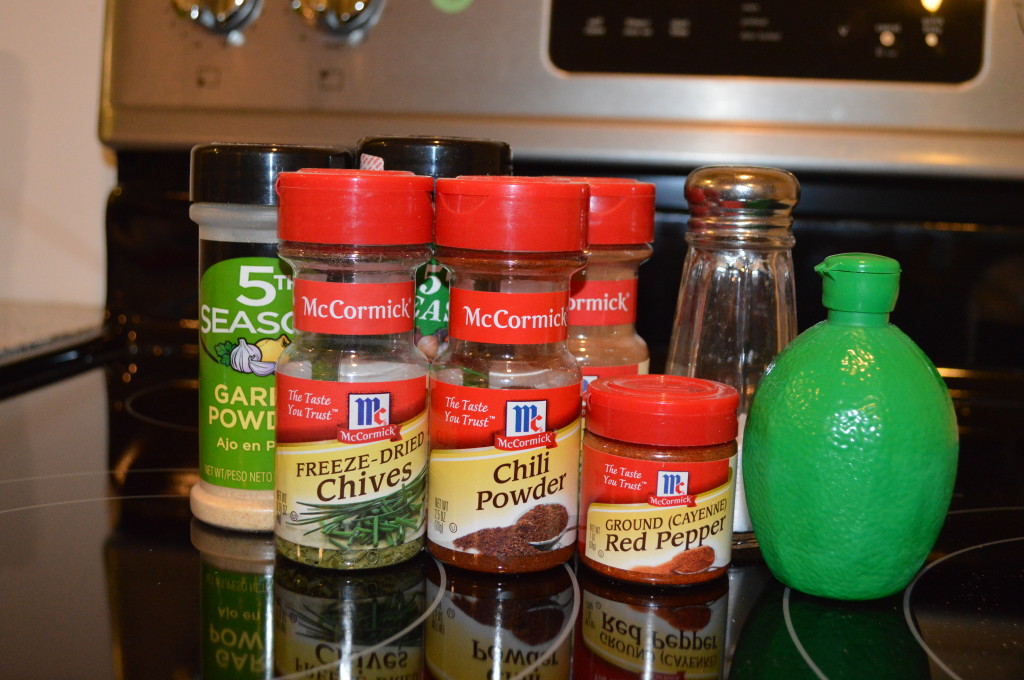 Then I stirred it up and remembered I wanted to use a cucumber, so I added it in.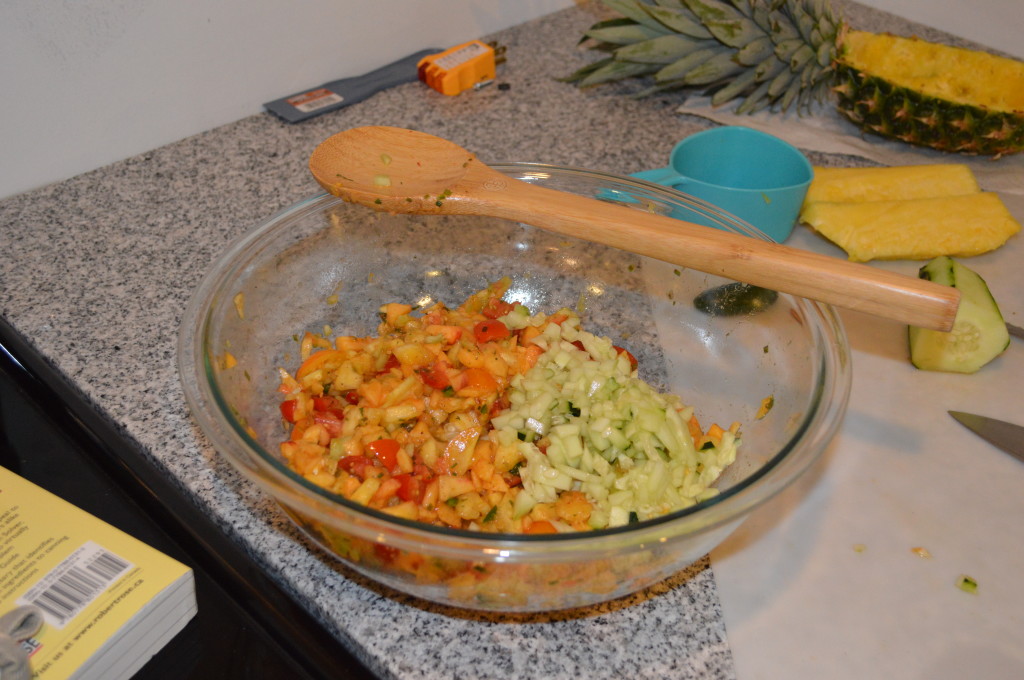 Finally, I packaged it up and took it to brunch with some good friends.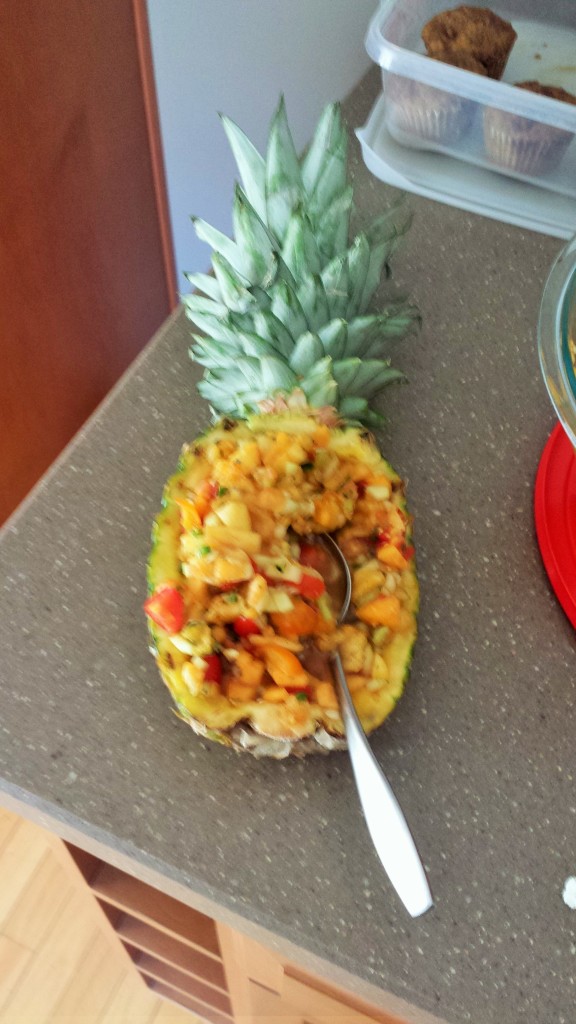 Sadly, I didn't get a good photo because I was too busy shoving my face with all the delicious food. Just know it looked even prettier than this.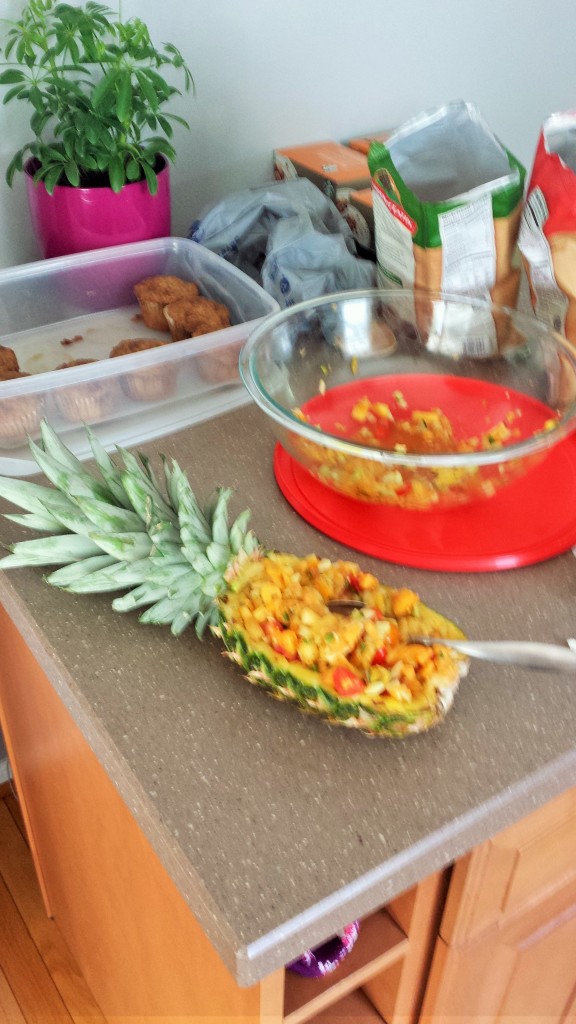 Enjoy!
Ever made a fruity salsa before? I think they are super fun to bring to parties because really, who doesn't enjoy a sweet, salty, spicy dip, right? Yum!
P.S. I also have a strawberry salsa recipe I adore ("borrowed" from a friend, which you can find here.