I don't have any exciting "after" photos yet, but we do have a few little updates on our basement renovation from this weekend. First of all, the white paint is finished and it's looking so fresh and bright down there!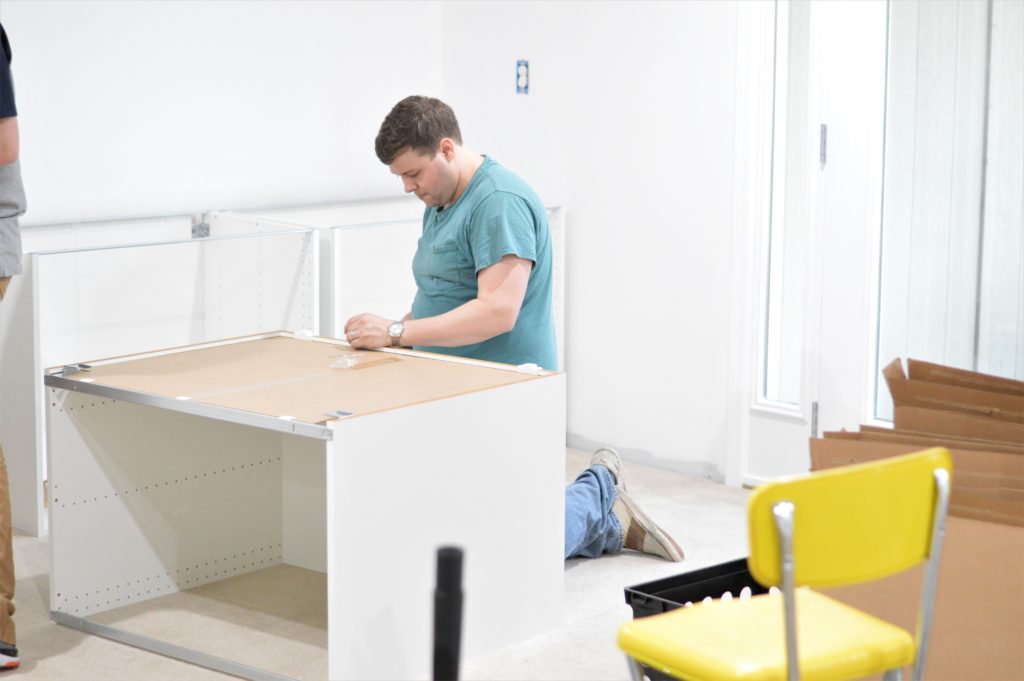 Of course, we still have some ceiling paint touch ups, the gray wall that leads upstairs to repaint, the closet, and probably a few other things I'm forgetting, but the bulk of the work is done. Thank goodness. Our families came up this weekend and gave us a boost to knock out the final coat. Otherwise, it was taking us like an entire evening for one wall. There is a ton of cutting in that has to be done because of the ceiling beams and duct work. So, thanks, family!
Also thanks to my two brothers-in-law, we got the cabinet boxes built and the rail installed on the wall. Exciting!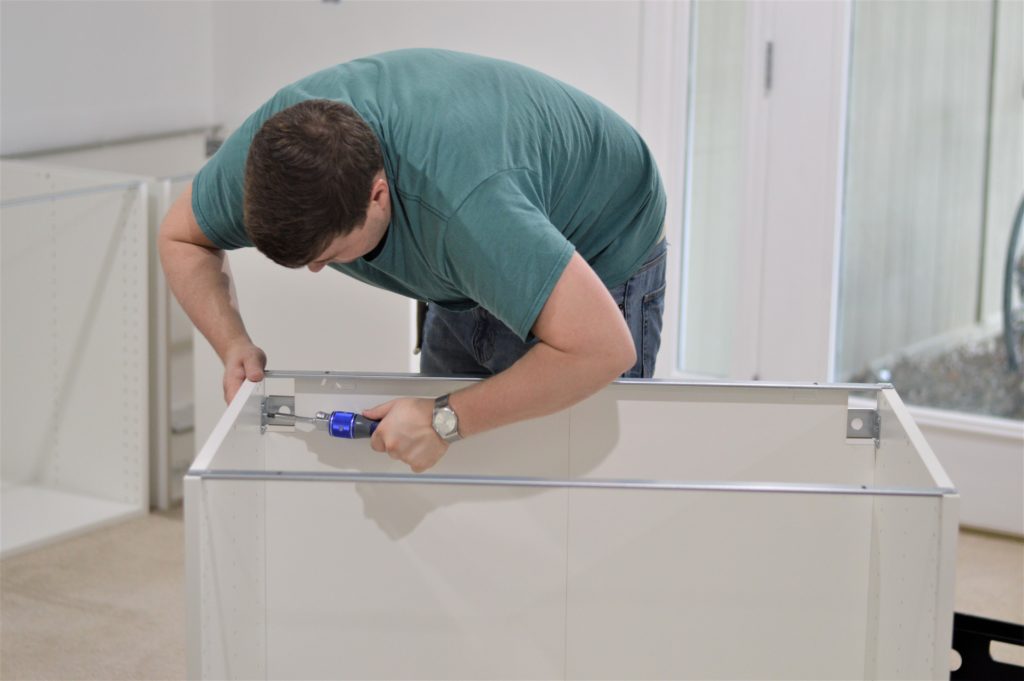 I realize we haven't really talked about any other plans for the room but we are doing a full wall of cabinets along the wall at the base of the stairs. We were excited to try Ikea cabinets and so far, we've been pretty pleased with them, but I'll share a little more about those later.
We need to get them mounted to the rail, and the doors put on of course, but then, we'll be ready for counter tops. And organizing and filling these with all our junk.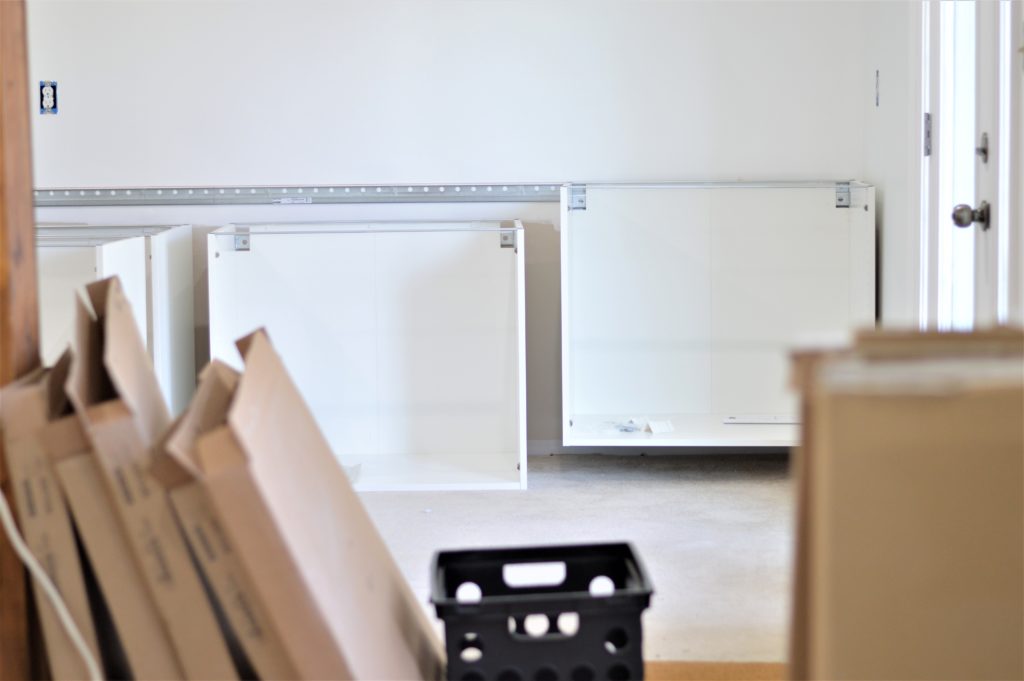 Just kidding. The goal is really to get rid of the junk and only move good stuff in these cabinets. Right?
I was worried about the white paint at first, but basically, I'm now a big fan. I can't wait to start choosing furnishings! I should probably create a mood board to save ideas so I end up somewhere more cohesive than just pieces I pick up randomly, huh?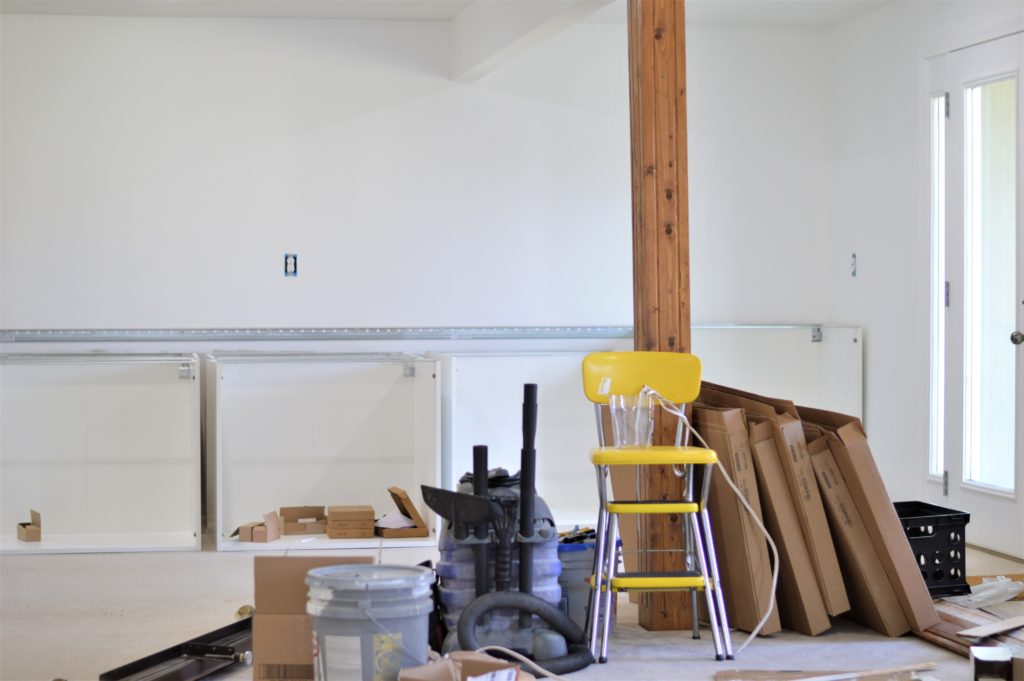 If I've learned anything in our nearly five years of experience in "DIY design work," it's that it' better to have a plan at the beginning and stick with it, for the most point. Otherwise, you can choose a bunch of awesome pieces that don't really end up working together all that well.
Anyway, there's a little basement update for you all. I'm hopeful we'll get a lot more progress done this weekend and be able to share some better photos next week.
In the meantime, give me your best suggestions or discussions on furnishing this now-all-white family room. I want to keep it simple, but add some fun pieces, too.