If you missed it, I shared the full reveal of our nursery, here. Now it's time to share our cost details!
One thing that's always important to us when redoing a room is to focus on keeping costs as low as possible. This time, we were just finishing a huge kitchen renovation, trying to build our savings account back up, AND anticipating the expenses that come with a new baby, so it was especially important to keep costs as low as possible, all while creating a comfortable, cozy, cute space for our little one.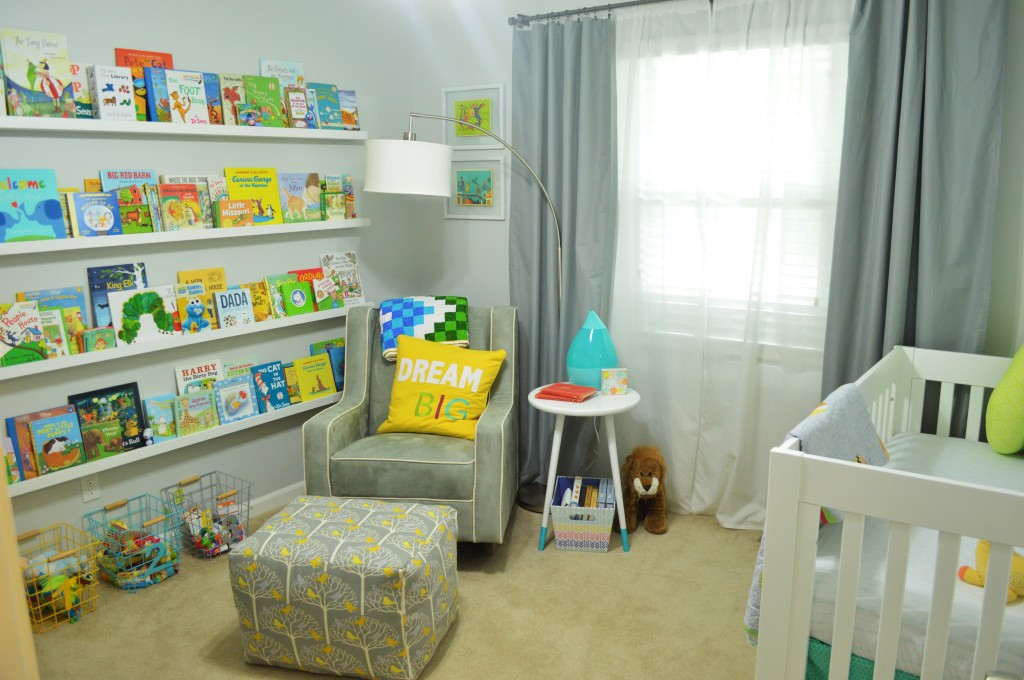 We were lucky that several of these projects could be completed with supplies we already had on hand from previous projects, like scraping and repainting the ceilings.
That helped keep our costs much lower than they might have otherwise been. So, we were able to spend money on some of the more exciting parts of the nursery, like the chair and the crib. Of course, we were still thrifty when possible, scoring our dresser secondhand and making as much of the decor ourselves as we could, like our DIY book ledges.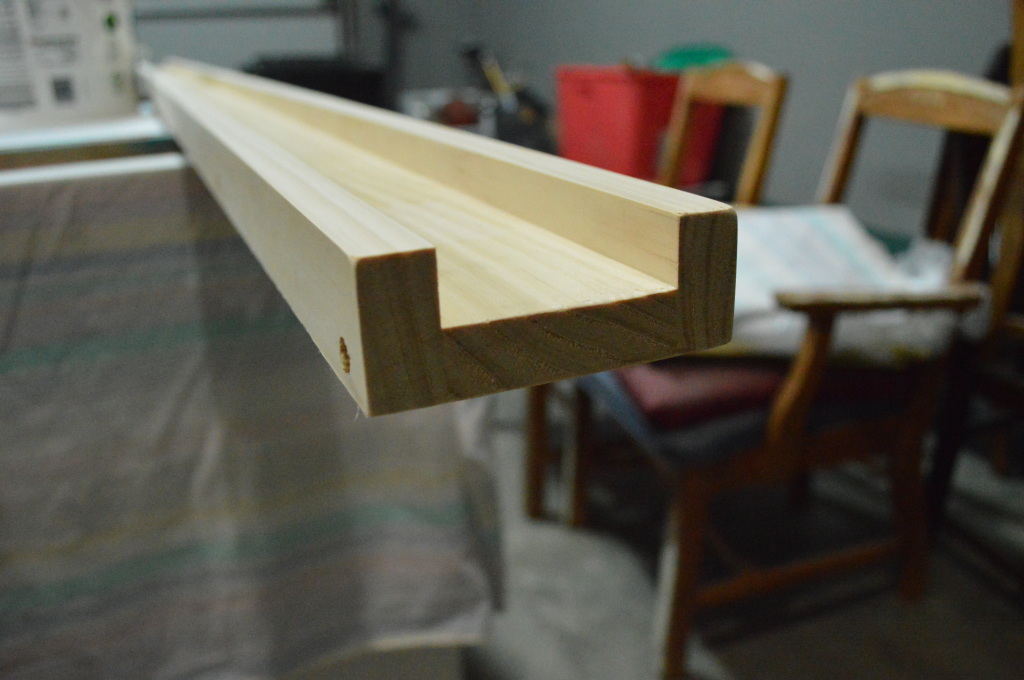 So, without further ado, here's our total room makeover cost breakdown, both for your benefit and mine, because I was curious how much this project would total up to be. I've tried to link to various posts as applicable if you'd like any more information about any of these topics.
Scraping popcorn – $0
Re-mudding ceiling – $0
Repainting ceiling – $0
Other supplies (breathing masks) -$5
Primer – $0
Supplies (rollers, paint trays, etc.) – $3
Paint – $16
Closet paint
Curtain hooks
Curtains
Curtain rod
Wood – $46
Primer – $0
Paint – $0
Accessories:
Closet cabinet with fabric bins – $21

Already owned cabinet, several bins given as shower gift

Hamper – $4
Books and toys

I've been collecting children's books from garage sales for several years. Others were shower gifts. I think I've only bought four things so far – $12

Wall decor – $65
Wall shelves

Baskets, purchased from Wal-Mart and spray-painted – $23
Shelf and brackets, purchased/DIYed from Home Depot – $12

Ceiling fan, purchased with a discount at Home Depot – $65
Accent Pillow, from Target – $21
DIY crib skirt – $9
Furniture:
Crib

Purchased new from Wal-Mart – $128
We used gift cards saved from our Wedding (yes, four years ago!) to bring the price down.

Rocking Chair

Purchased new from Wal-Mart – $315

Ottoman

DIYed a year ago for my office and moved in here – $0

Dresser

Purchased second hand for $35
Cleaned, upgraded with contact paper – $5

Side table

Thrifted legs – $4
Top from Home Depot and painted – $7

Lamp, purchased with registry discount at Target – $68
Total cost – $909
It's a little hard for me to believe we were able to accomplish so much in this space for a relatively little amount of money. All in, furniture and everything, for just barely over $900. I think that's awesome considering we had to buy all new furniture and decor, including a chair, side table, dresser and crib…all big ticket items.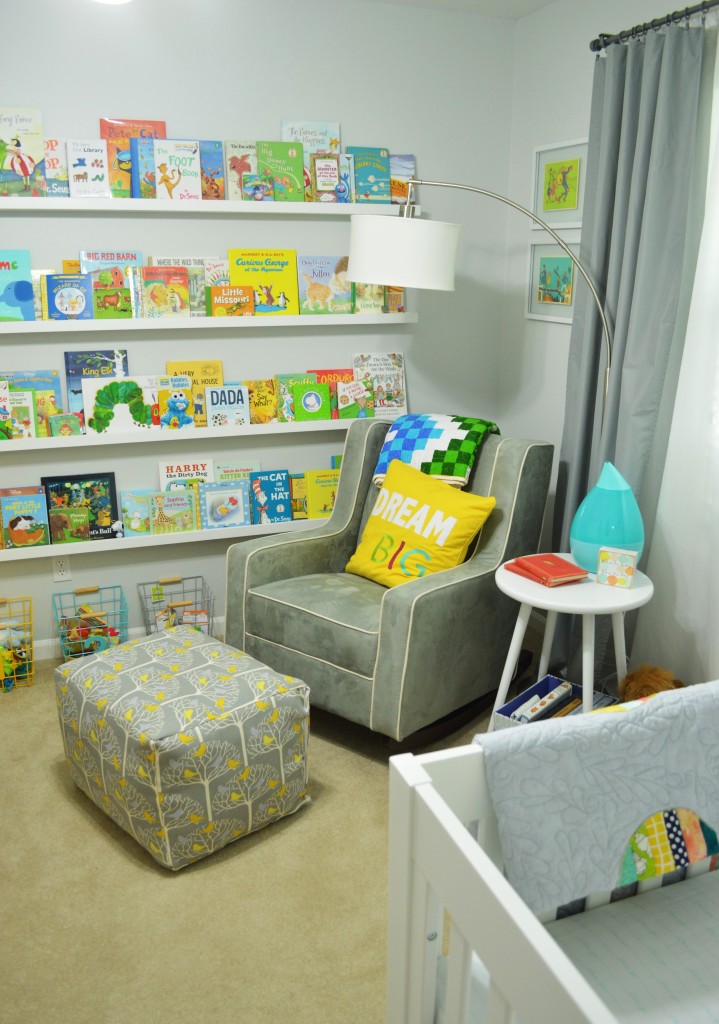 In fact, there's not a single thing in that room that hasn't been changed, from the ceiling and light fixtures to the hamper for dirty clothes. Of course, we could have done it cheaper if we had chosen a less expensive rocker and crib (our two biggest expenses), but I think these pieces will last us for any future babies we might have, so I'm hoping they were a good investment.
Of course, we had a lot of the materials and supplies needed on hand. We usually buy a big bucket of primer (usually between 2 or 5 gallons at a time) to have on hand for all our painting projects. It saves time and money to buy in bulk and store it with our other paint and supplies. Same goes for brushes and rollers and face masks. I did add in the items we purchased for this project that we didn't have on hand, though. If you were starting from scratch (no tools and no on-hand supplies), you'd have to adjust your project budget to accommodate.
We also had a lot of help from our wonderful friends and family who have blessed us with wonderful gifts  for our little one. Seriously, this nursery is a huge testament to how loved Beanie is already. Just look at that lovely library!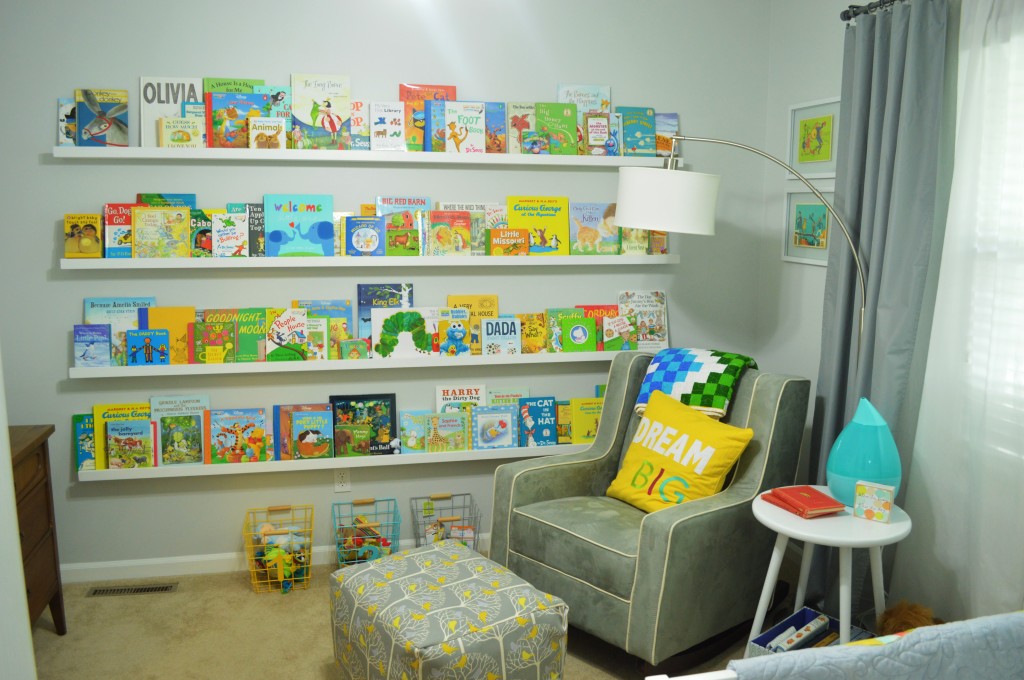 So, a big thank you to everyone who has given us a wonderful head start to this parenting gig through your generous gifts. Anyone spot their gifts in the photos above? I see a couple cute things we're especially thankful for, like our quilts, and the baskets of toys below the shelves… not to mention the great deal of a dresser from my friend, Liz and her mom over a year ago! We were also thankful to have gift cards that covered a lot of those expenses and made our total out of pocket costs even lower and more manageable (the lamps and other Target items were all bought with gift cards!)
I agree it's a lot of money when you think about the fact it was $1000…but everytime I walk into this room, I feel such peace and joy at the new journey ahead of us and the wonderful new room we have to kickstart our journey. I already spent a LOT of time in this room nursing, rocking, and changing diapers. I'm so excited to add playtime to that list, too!
What are your thoughts on the budget? We've never designed a nursery before (or bought cribs, rocking chairs, etc.) so I wasn't sure what to expect. Think we did okay or is this still more than you would have spent for a nursery?