---
---
Now that the kitchen has been done for awhile, I figure we should do a final recap post. So, get ready for a bunch of photos. I've also inserted links where I could, to round up all our project posts.
Thanks for sticking with us through this super long process. It's been a frustrating process, but also super rewarding. I can barely remember what it looked like before, so to get us started, how about a few photos to remind us.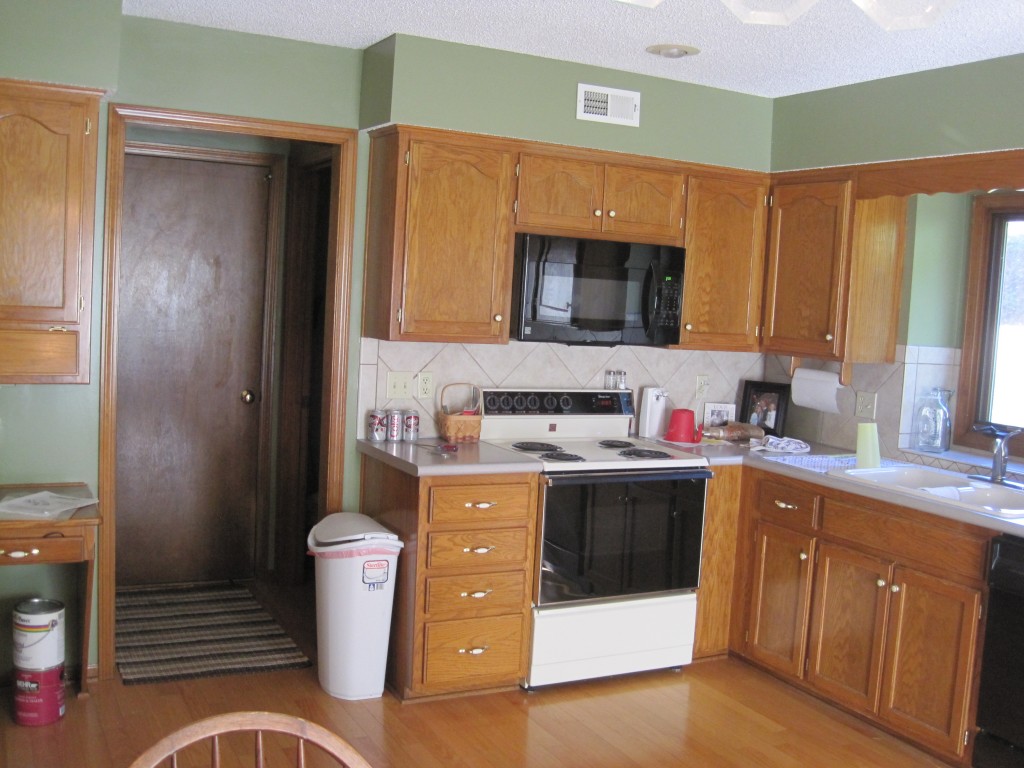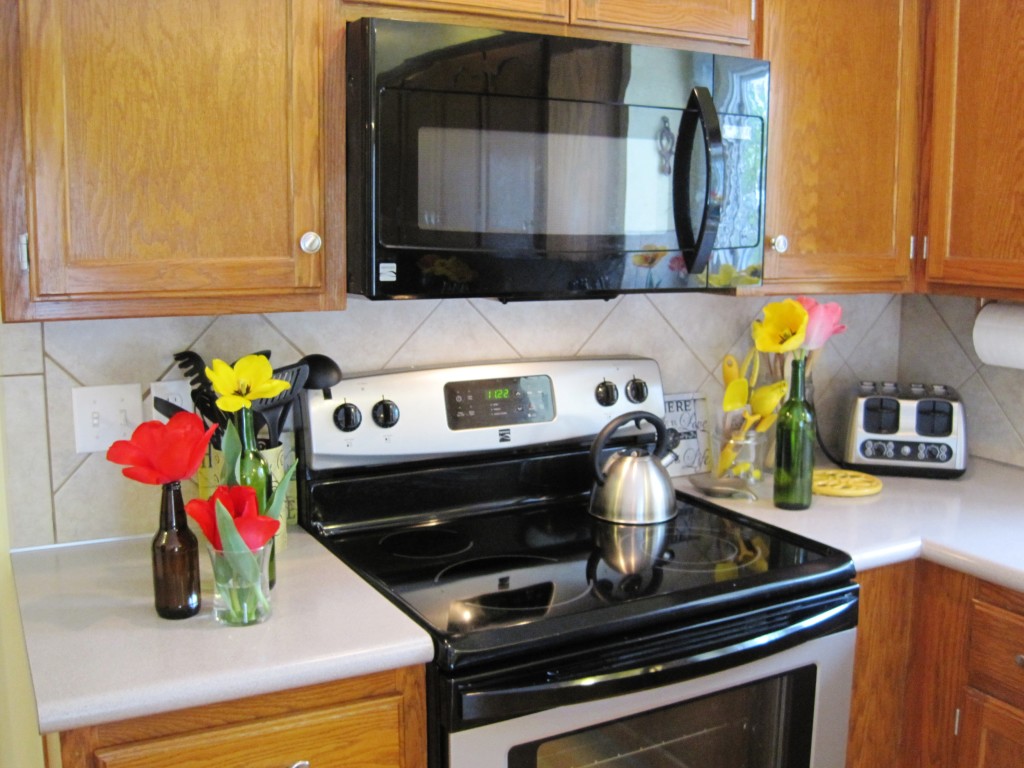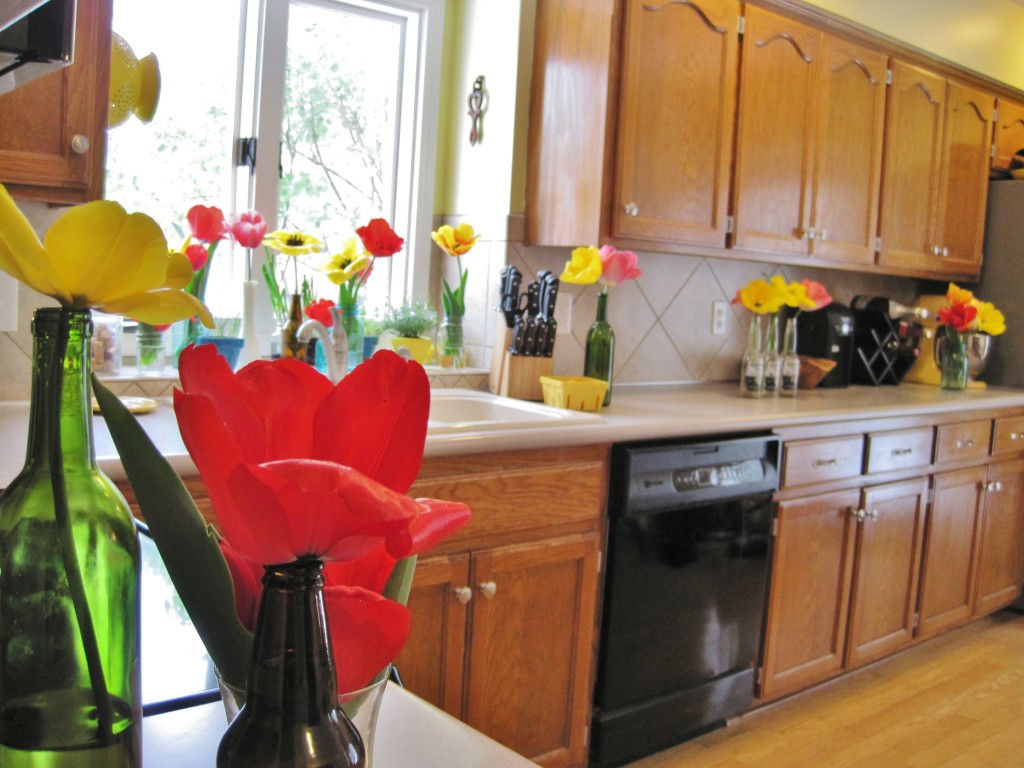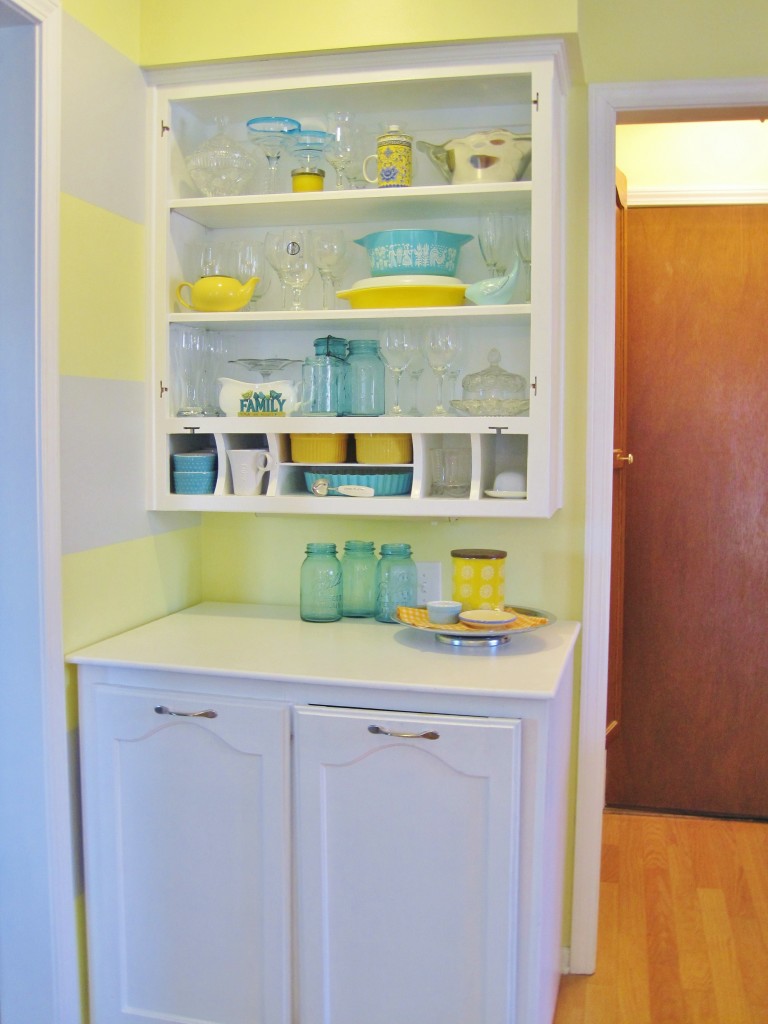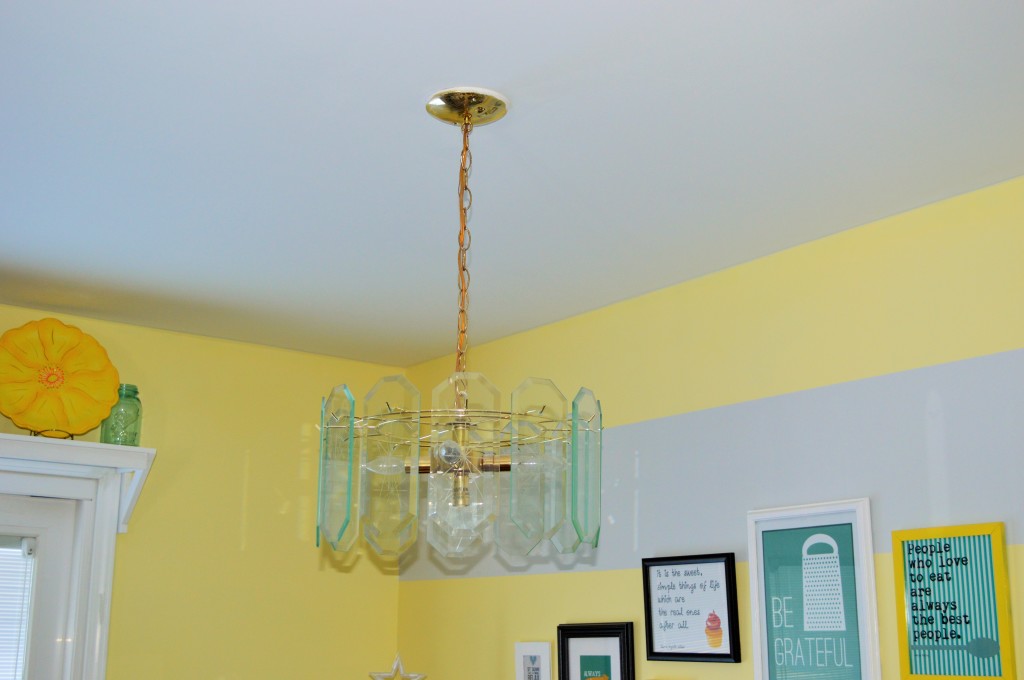 The first step was to remove the soffit and the wall where the old pantry was. We also removed the door and added bracing in the attic, just in case.  We consulted a professional friend of ours to give us some engineering insight.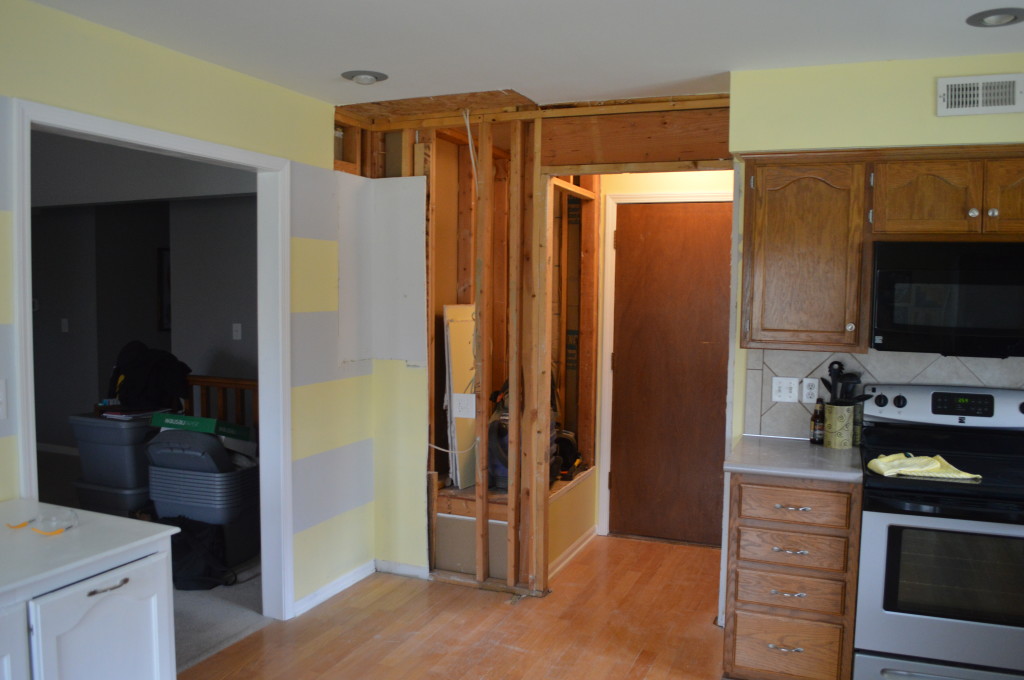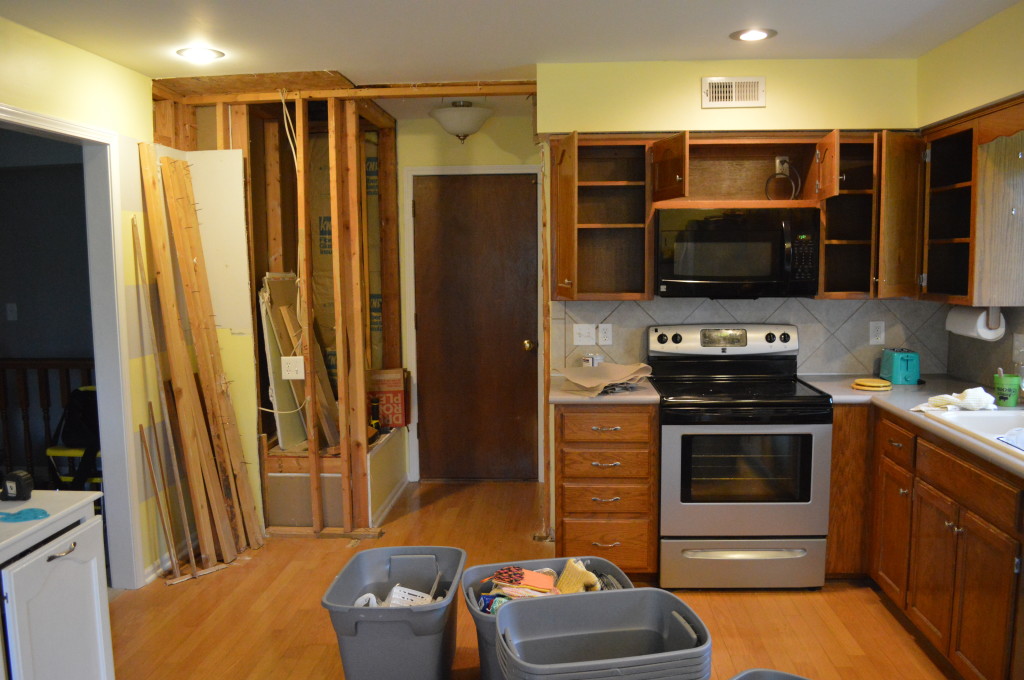 I had a little trouble visualizing how this corner was going to look so I had to set up some cabinets with cardboard and blankets. It stayed like that for longer than I'd care to admit.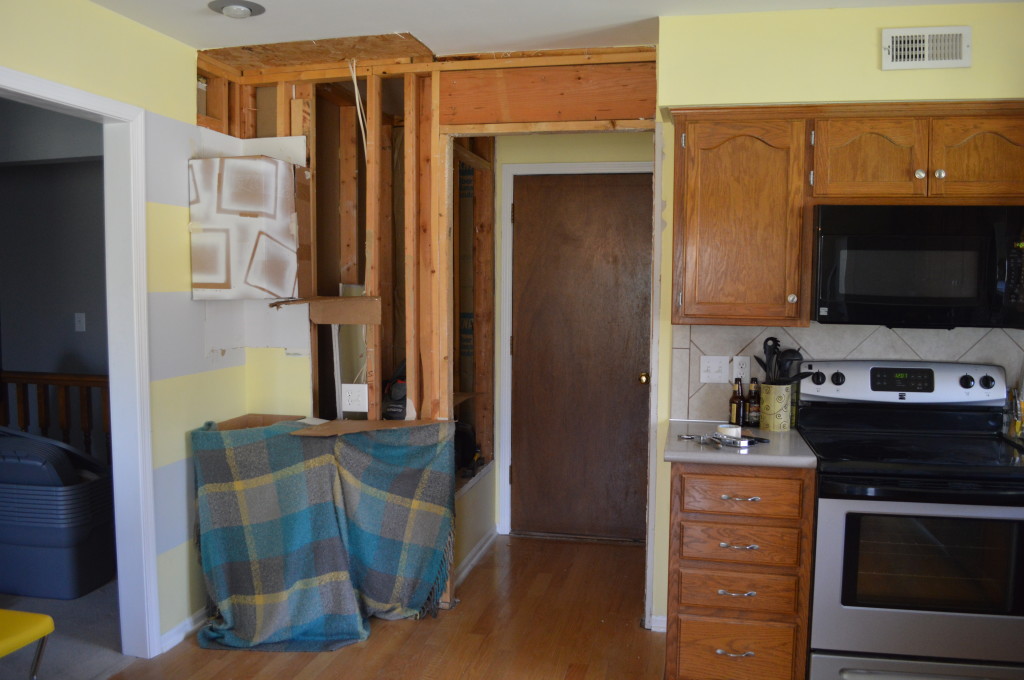 Meanwhile, we ordered our cabinets and all our pantry and kitchen stuff was shoved in the corner. Fun times.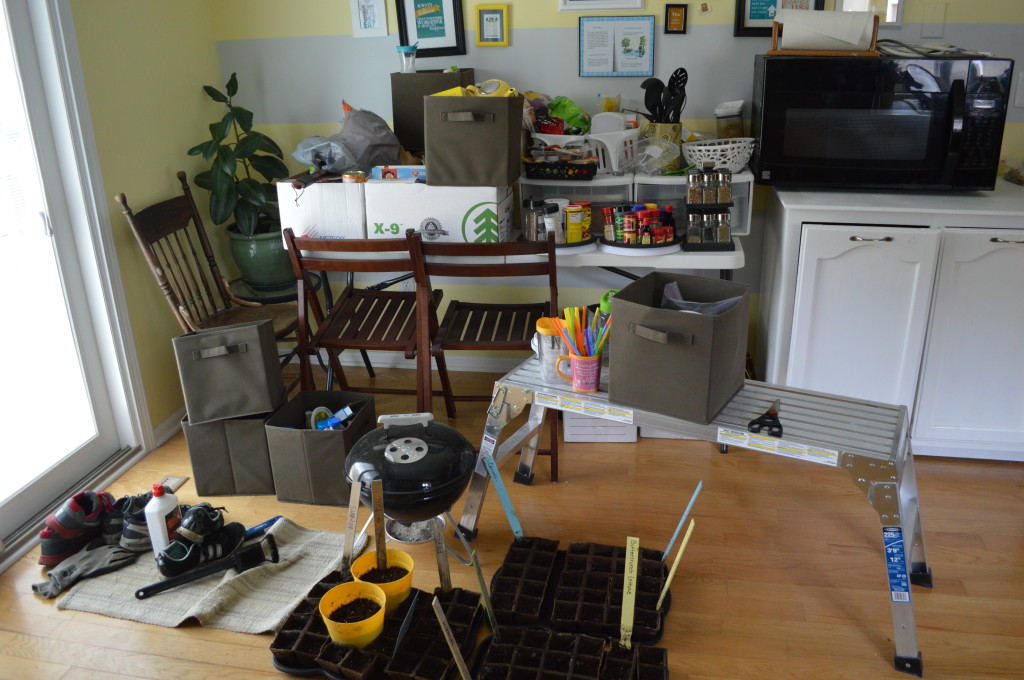 Then, we removed the upper cabinets.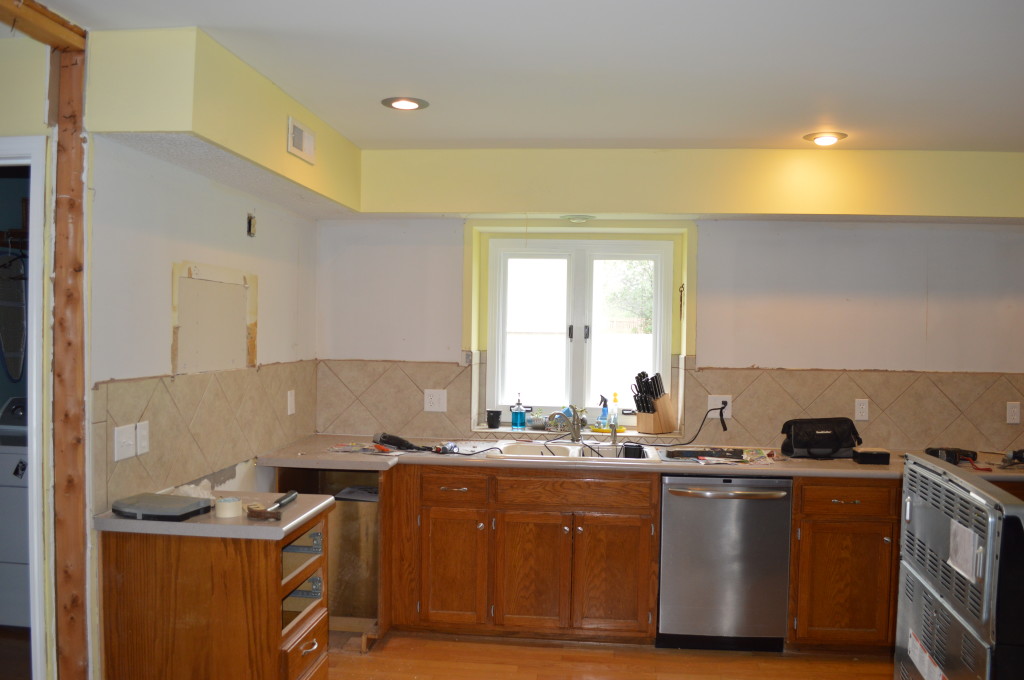 Then, at the last possible moment, the lower cabinets went away, which meant we also lost the sink. We moved some electrical boxes and plumbing vents. And, we rerouted some duct work and vented the duct for the new range hood out to through the attic.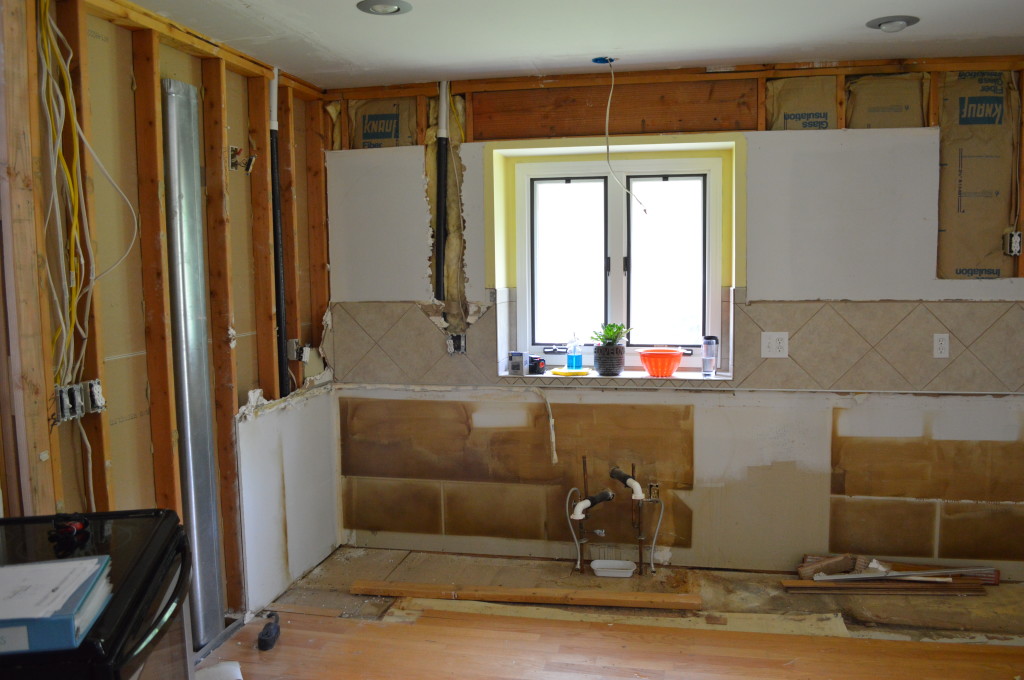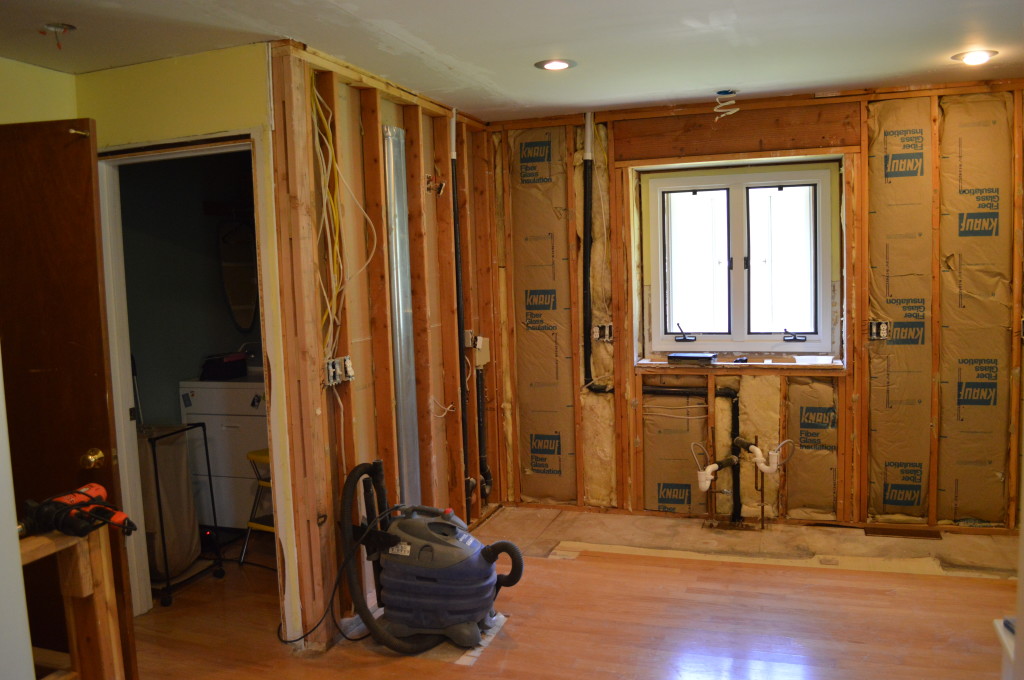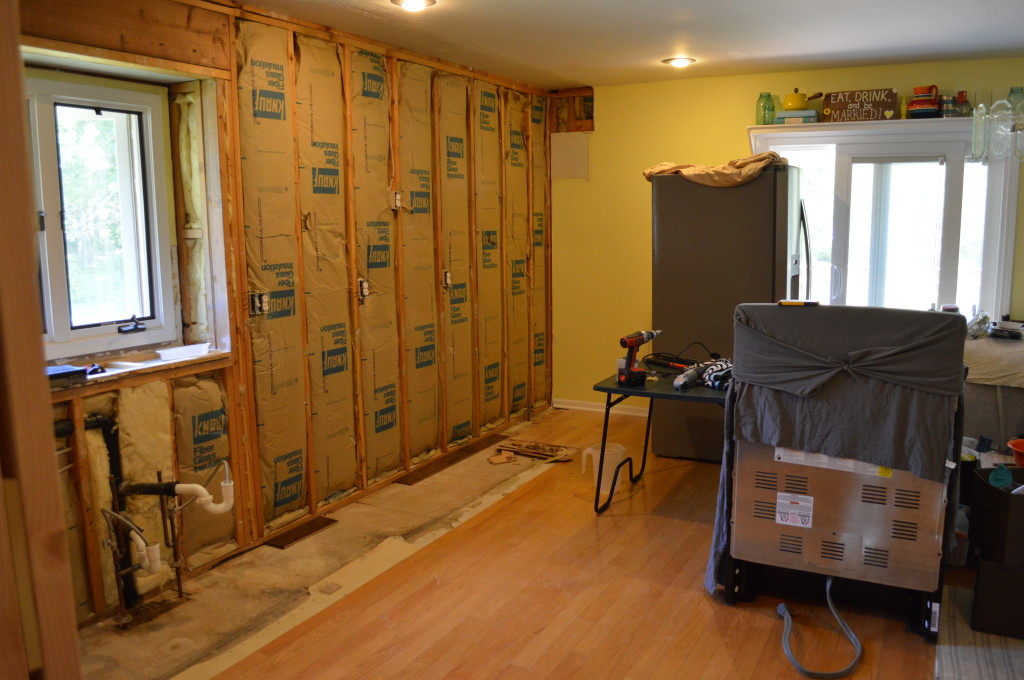 Then, it was time to start rebuilding.
In the nook, we had to build a frame for the countertop to sit on. And for the big drawer to fit into. Here's more on why we did it this way.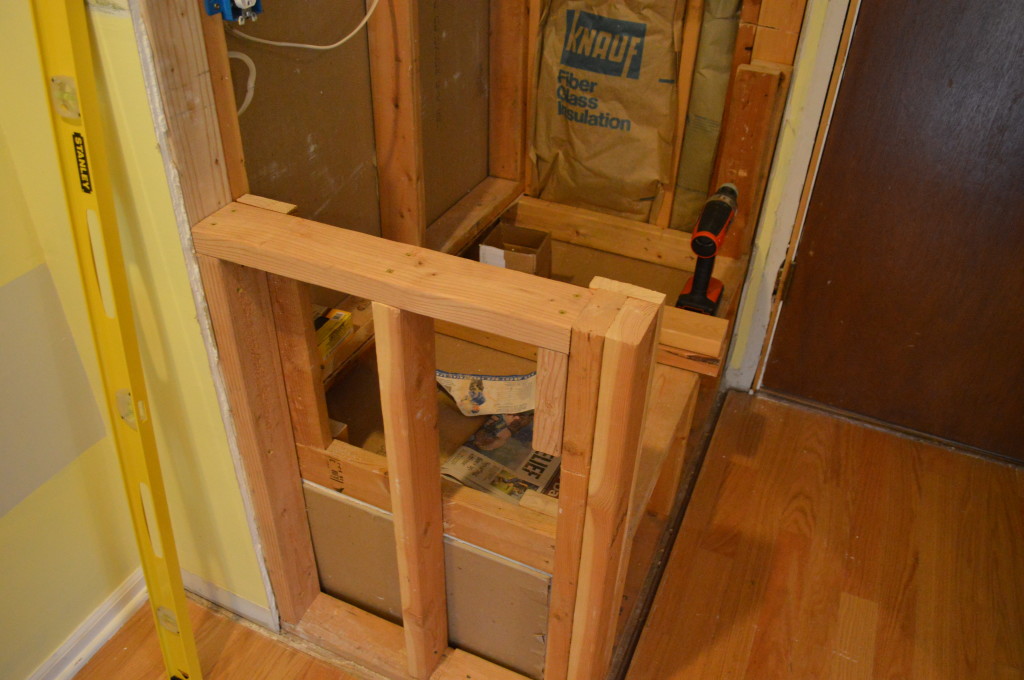 And, we hung drywall. That was one of the worst parts of the projects.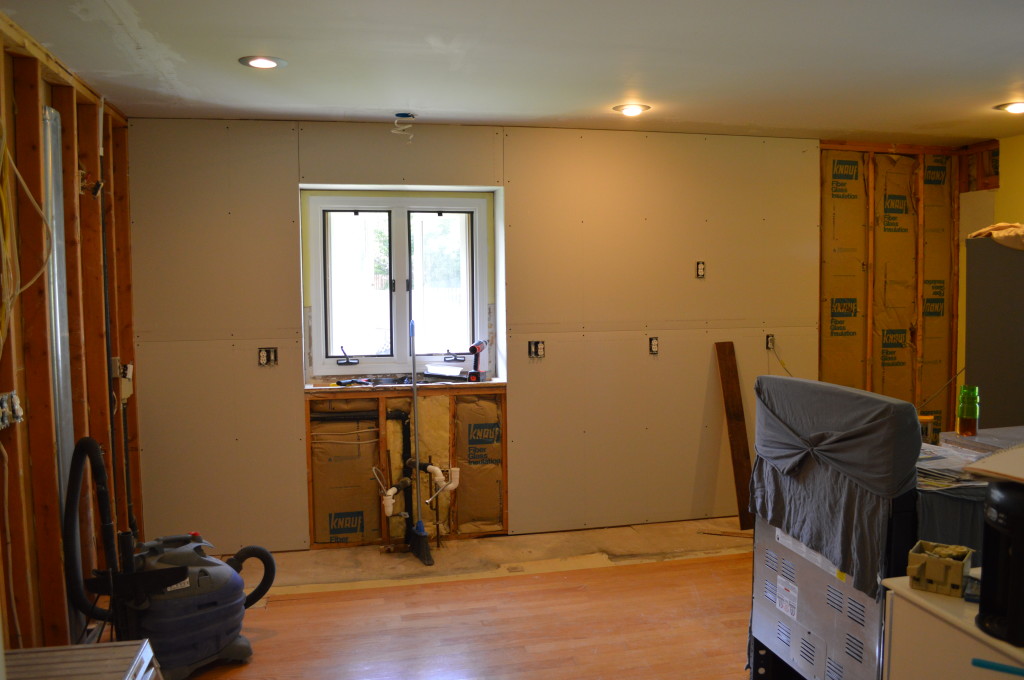 Or rather, mudding and sanding was the worst part.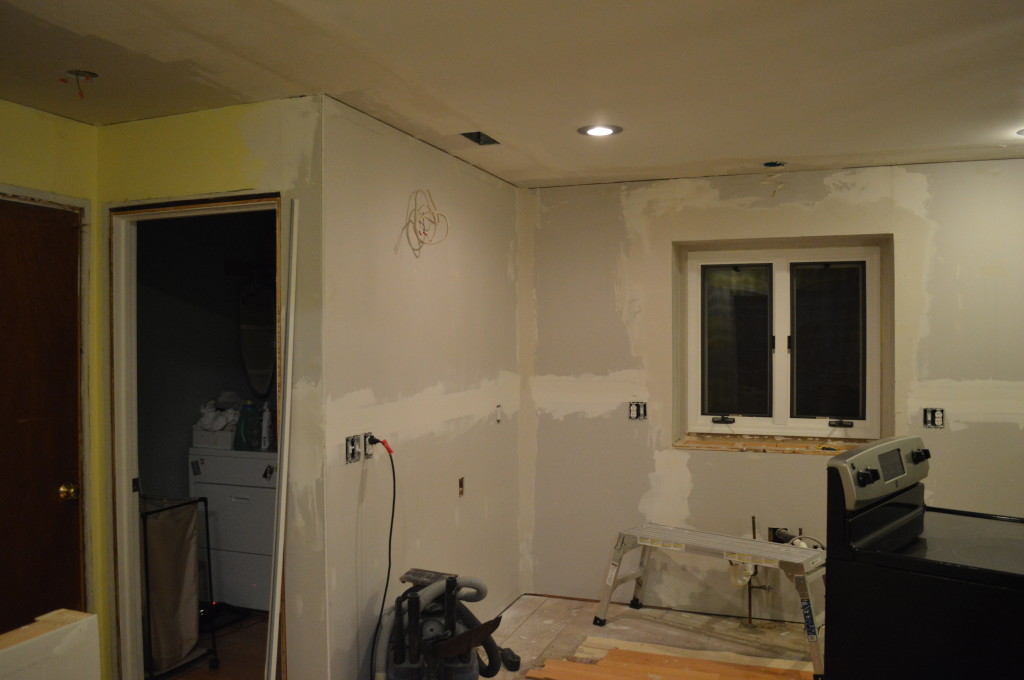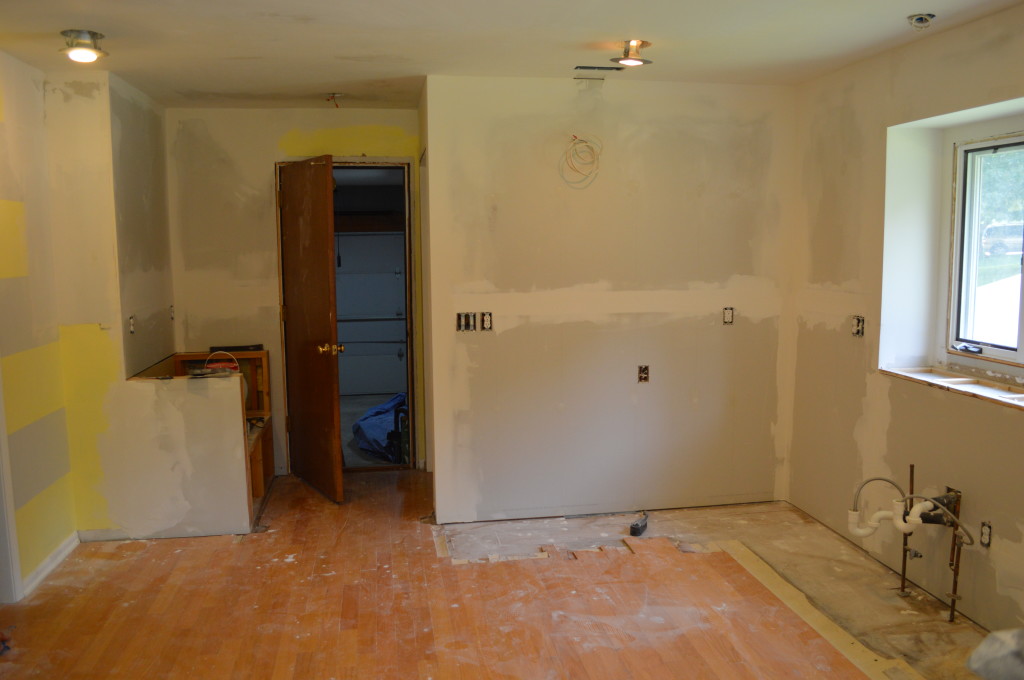 To be specific, remudding the ceiling was the worst part of the entire kitchen.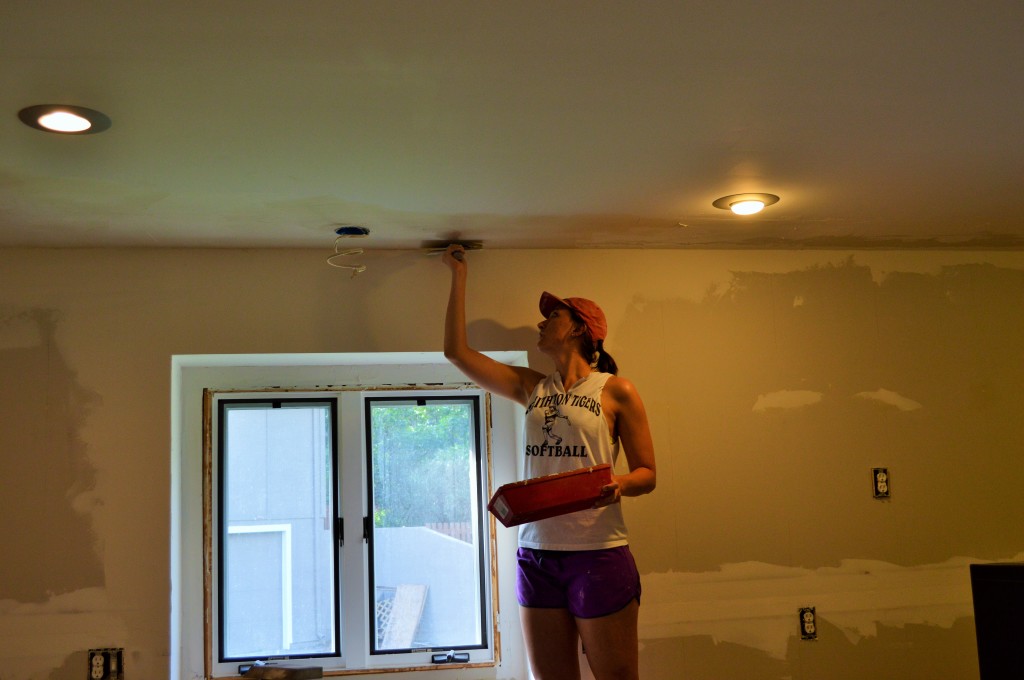 But, when it was all done, we got it painted and the room started to look a lot better and brighter.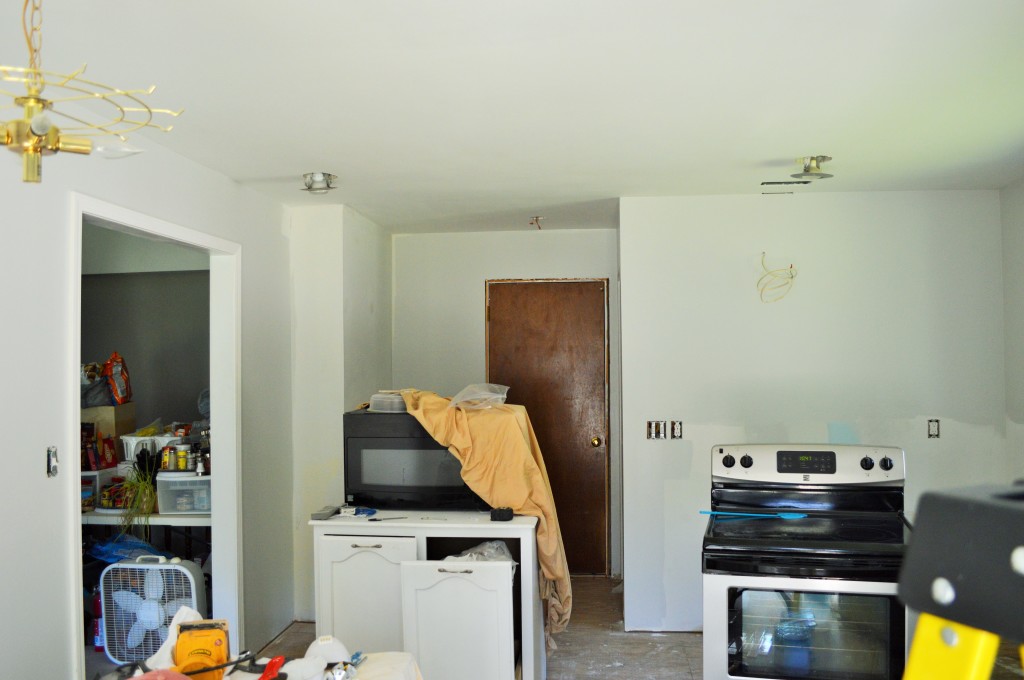 We also removed the old wood flooring at this point so we could start installing the new cabinets.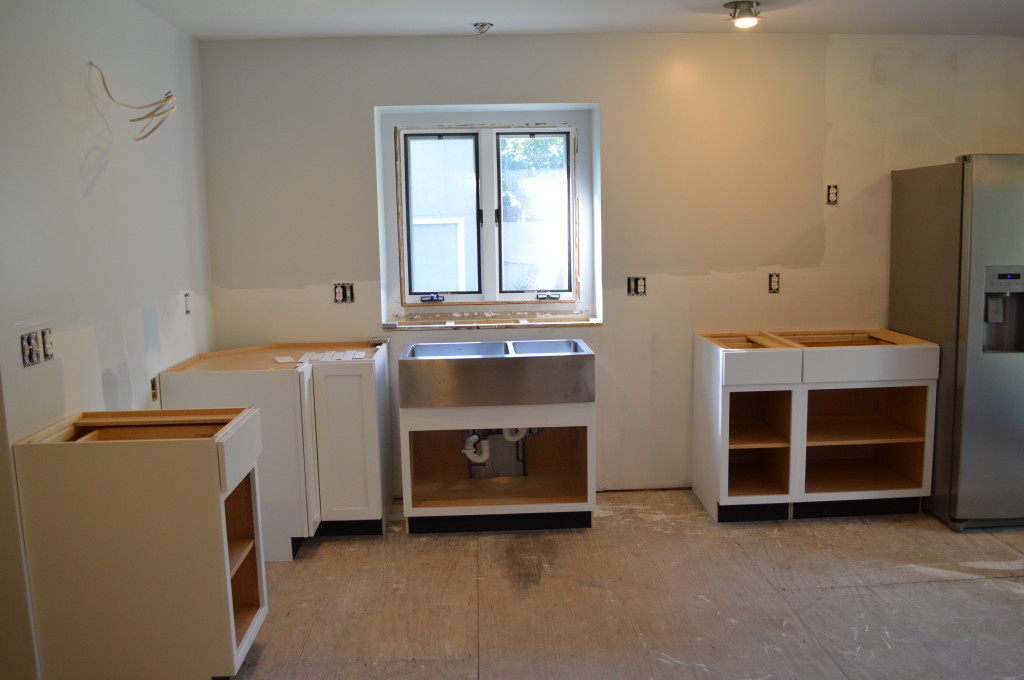 And then, our glorious countertops finally arrived so we could install the farmhouse sink and stop having to wash dishes in the bathtub.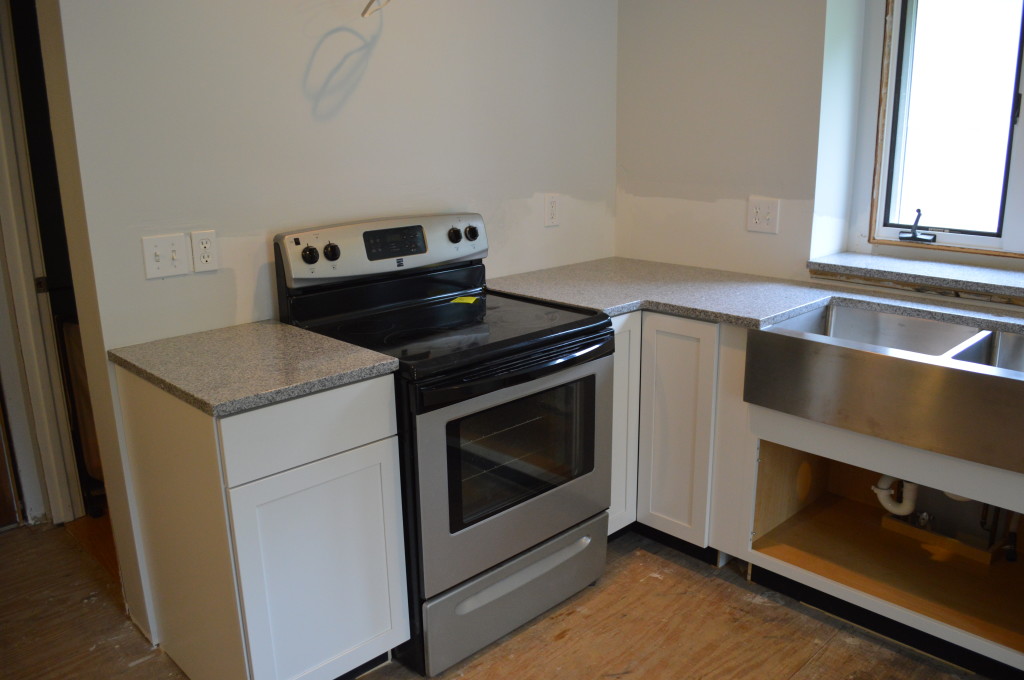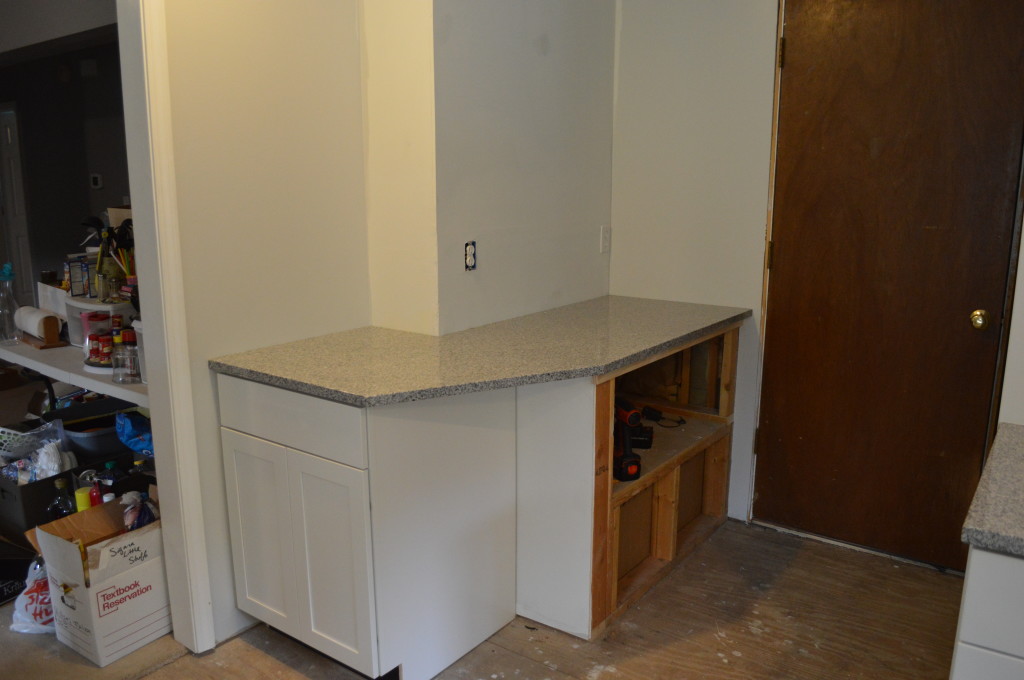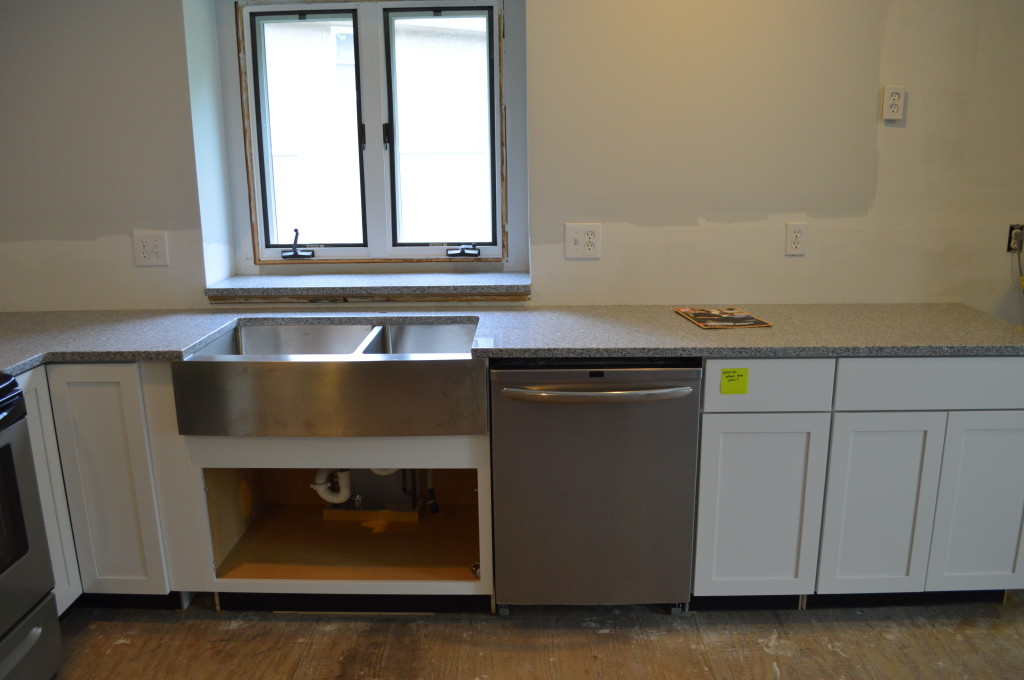 Wyatt built a custom pantry cabinet and roll out drawers and a fridge enclosure. And, Wyatt customized the microwave cabinet to fit our new microwave. This is when things started to feel really real. It was finally coming together.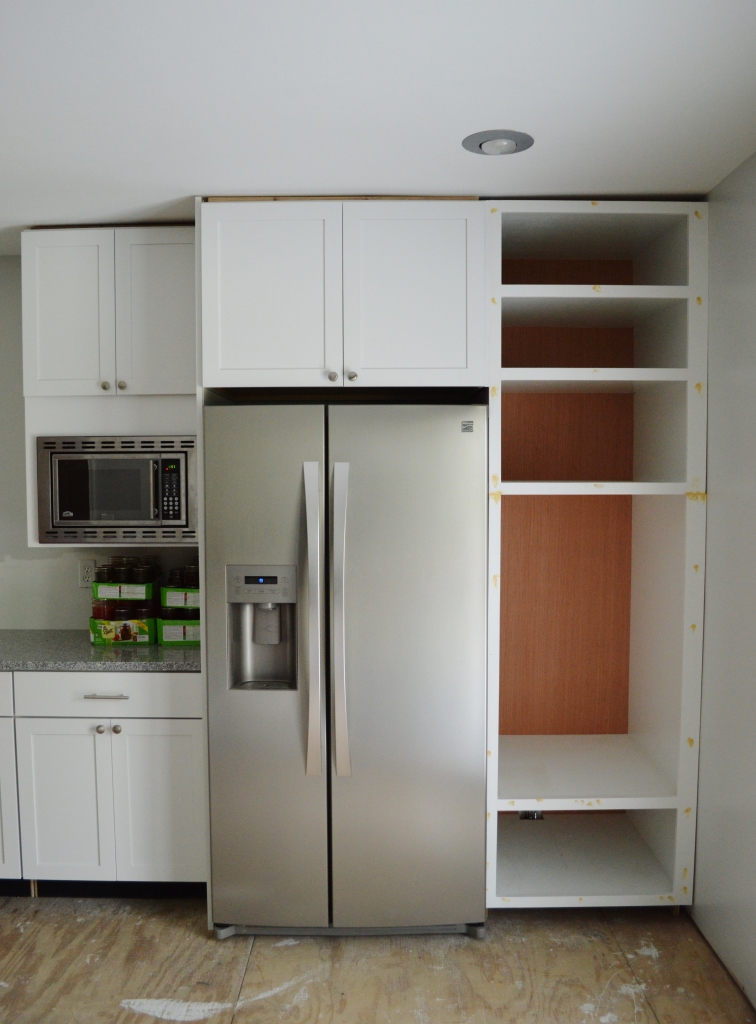 Then we added a subway tile backsplash. It was our first time tiling and we learned several tips and tricks. Wyatt also learned how to use the tile saw. That was fun.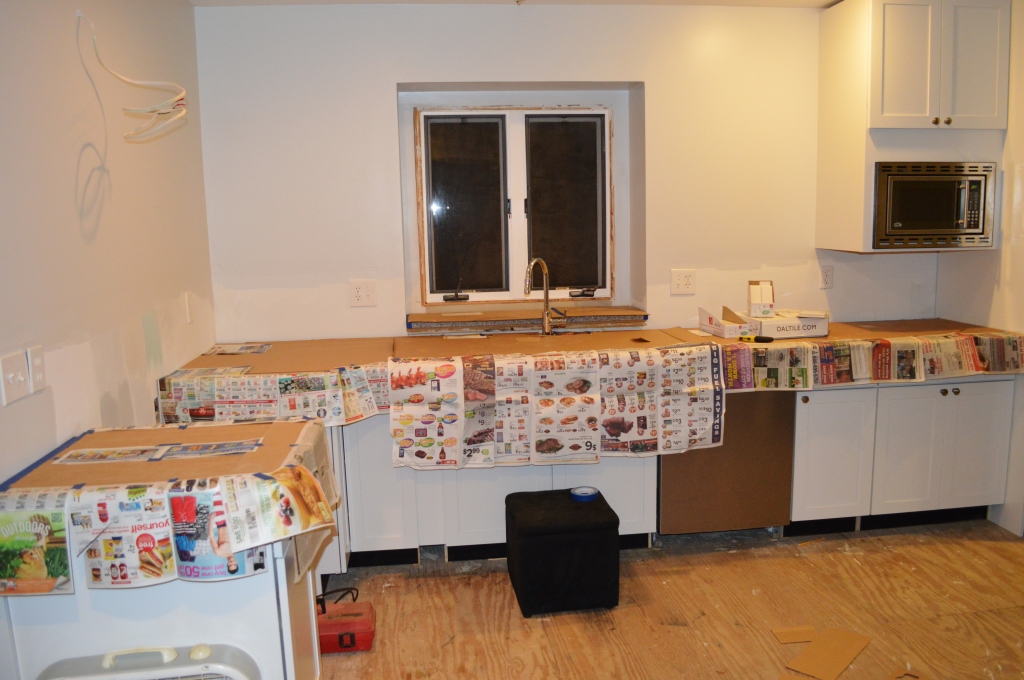 It was a lot of effort, but we really like the tile. It adds something, for sure.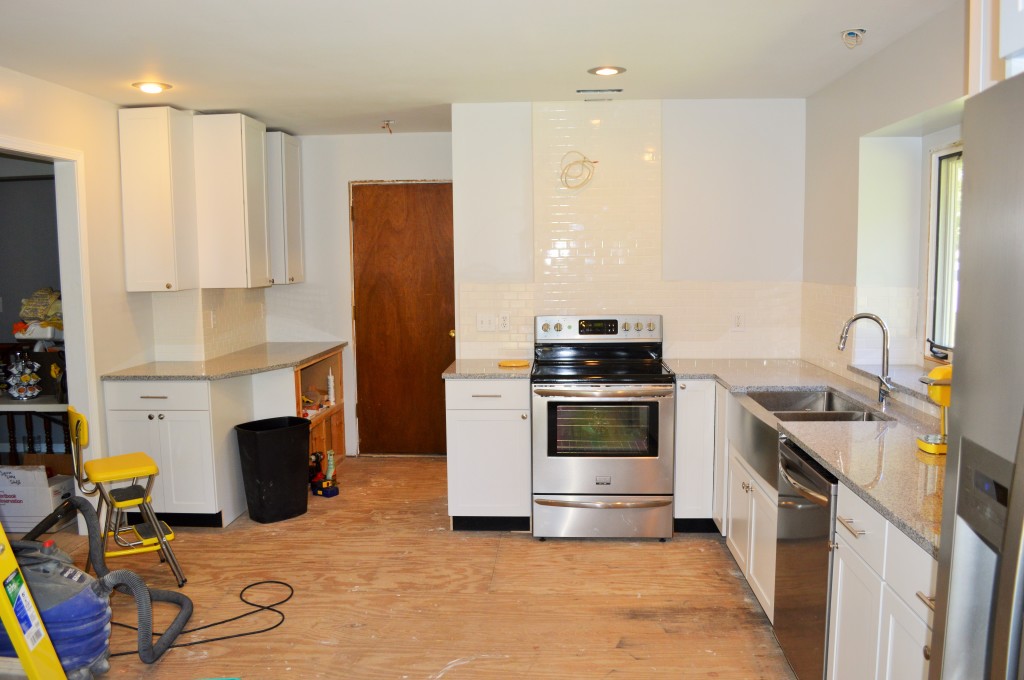 We got the doors put on the pantry (we ordered those to match our cabinets), and added cabinet hardware.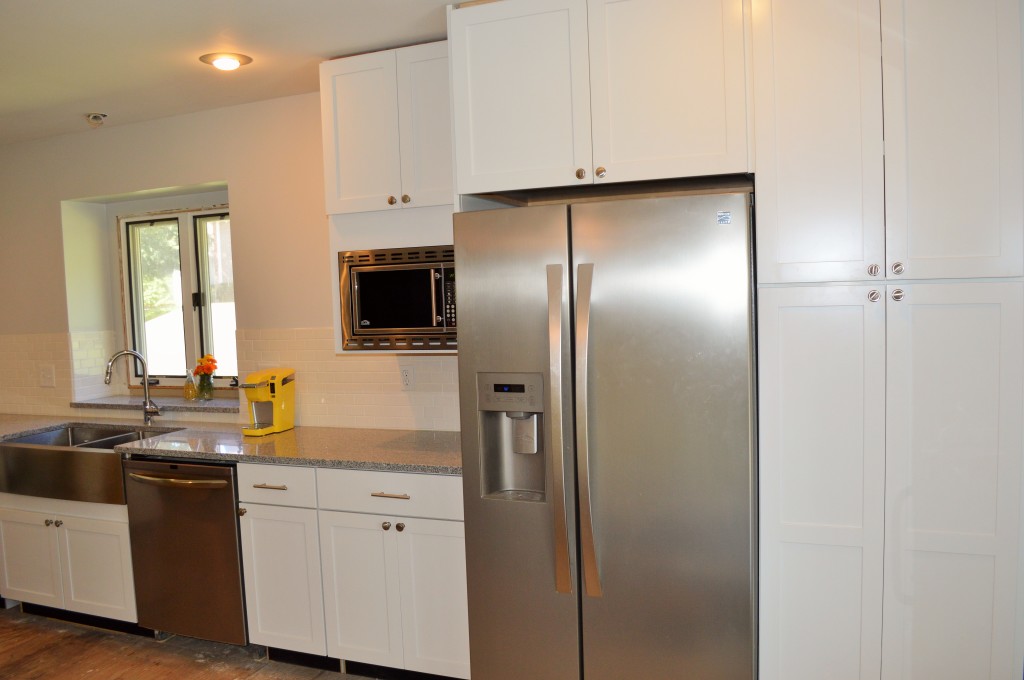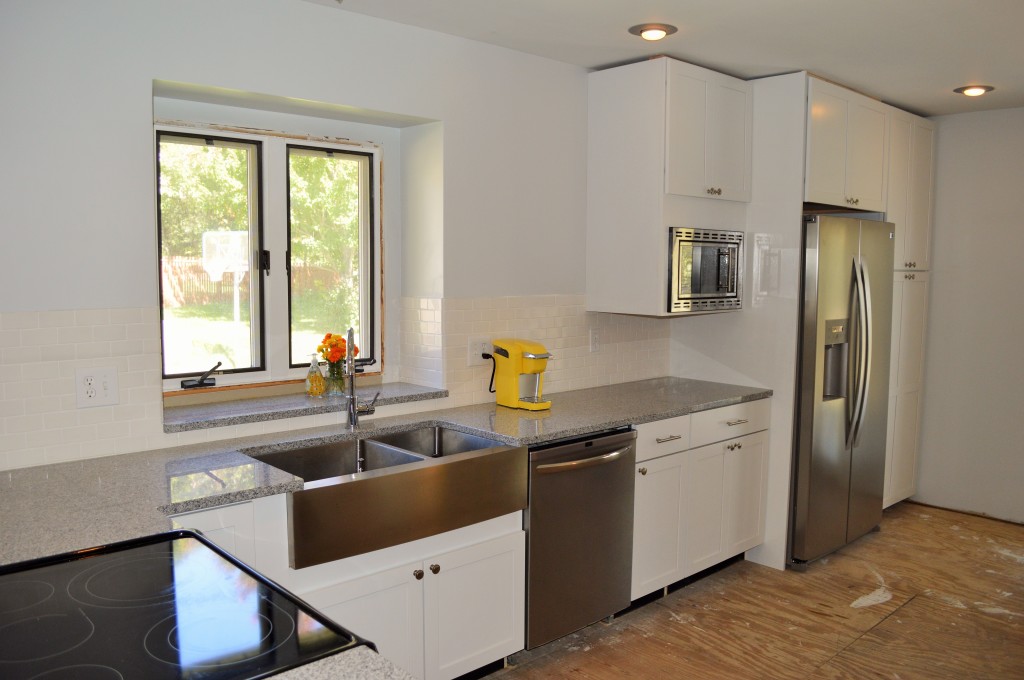 We hung the range hood, which was a splurge, but so worth it!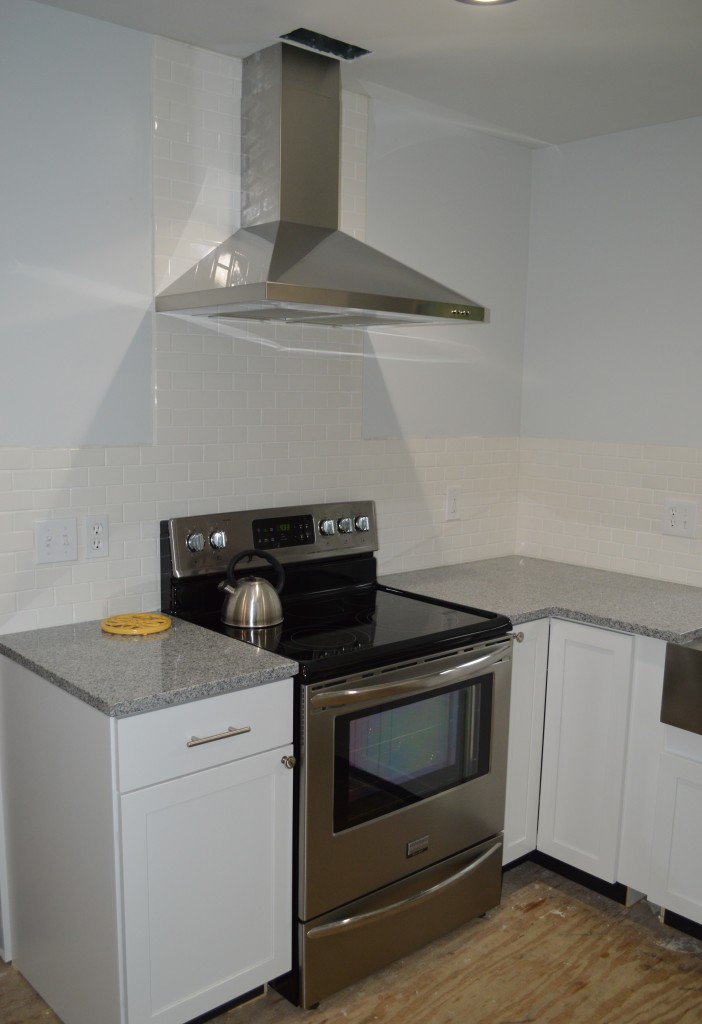 Then, it was time to install the new flooring.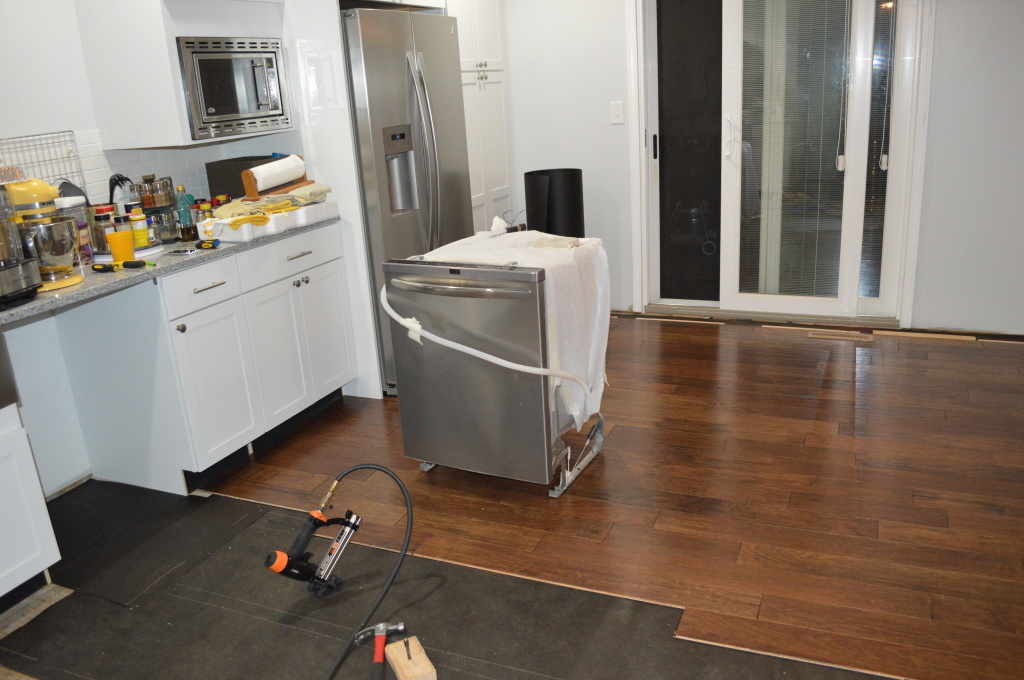 Finally, we built the custom open shelves. And painted them white to match our cabinets and hung them (into studs) using brackets.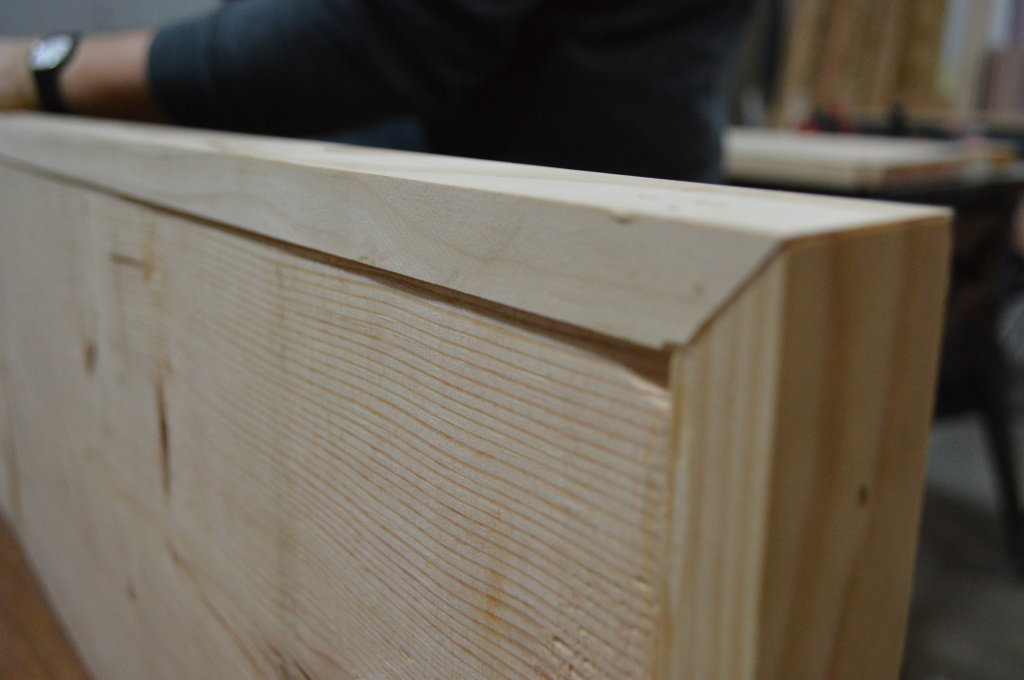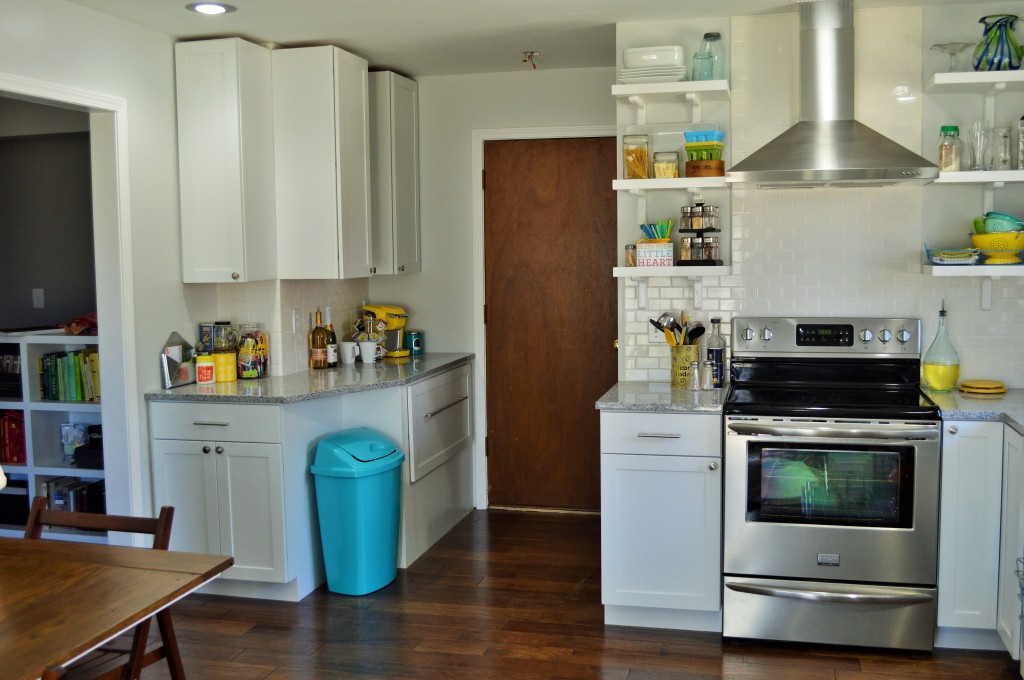 Finally, we got the nook drawer all finished. Here's a recap of that entire project.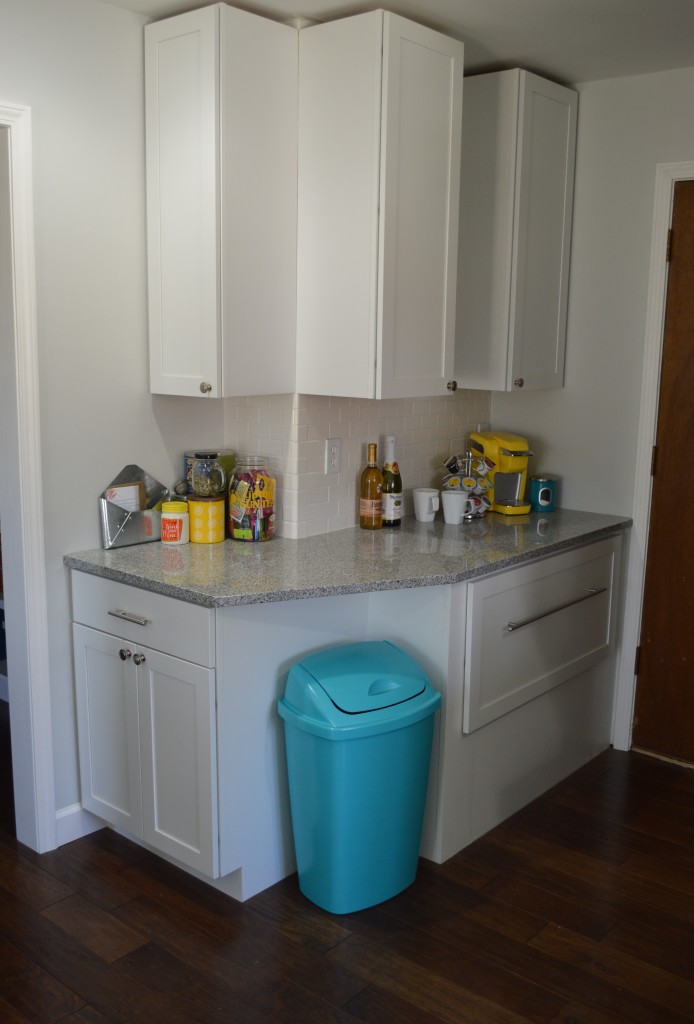 Then, we built some custom shelves in the nook area.
Then, we put the trim up at the ceiling. It was especially tricky in the nook, which we detailed, here. It was a small detail but it made everything feel so much more finished.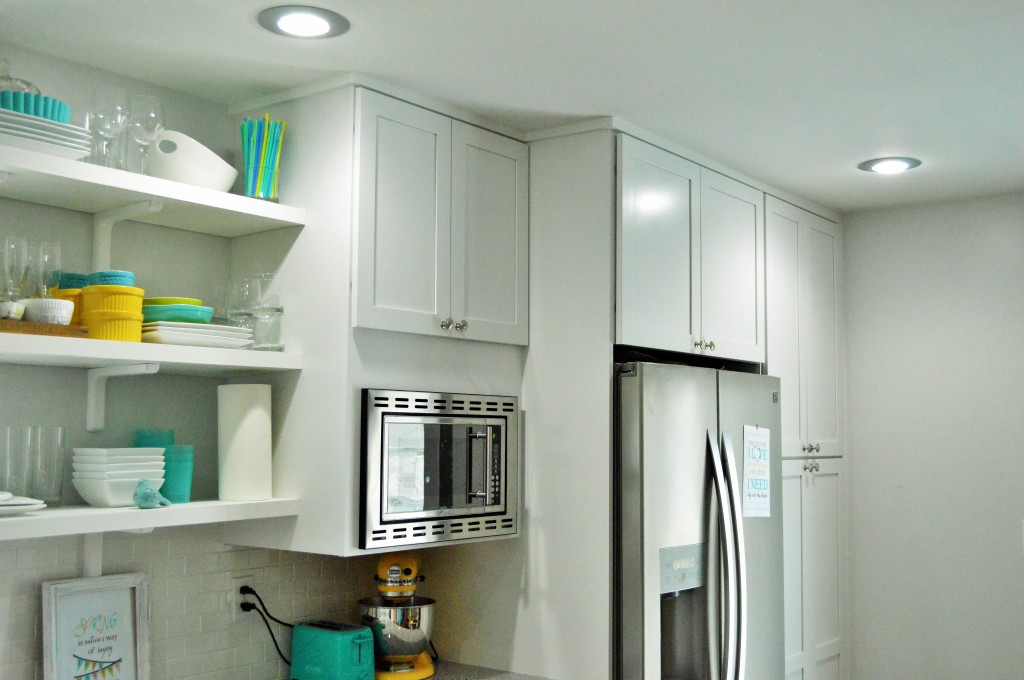 We also hung the shelf above the door that Wyatt built for me when we first moved to this house.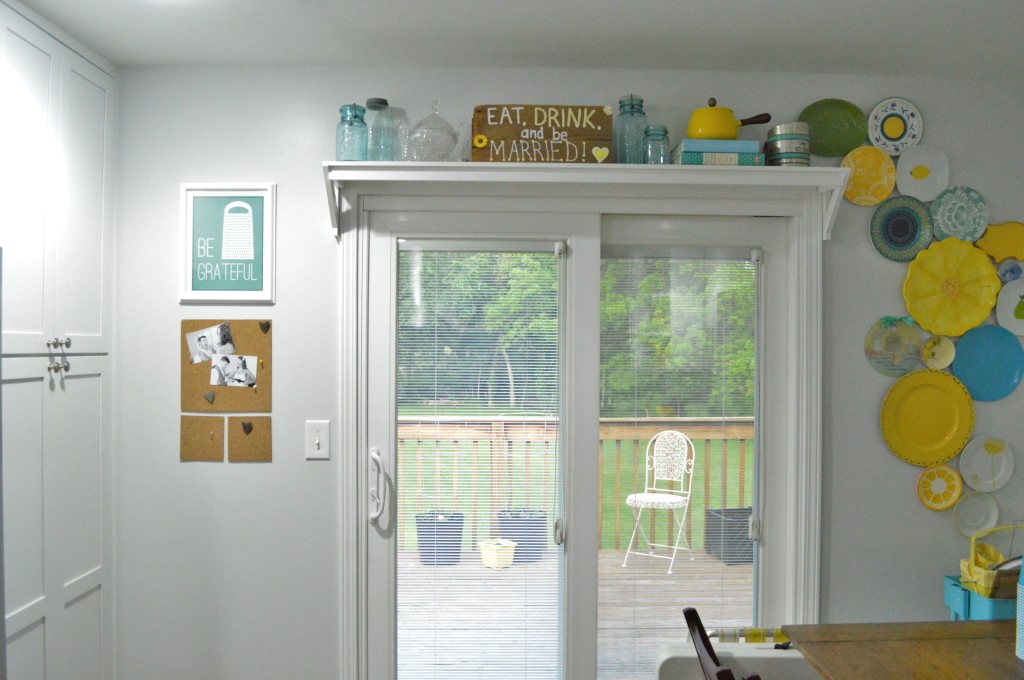 And, we finally got the new pendant lights installed over the sink and then, several months later, got the matching lights installed in the dining area over the farmhouse table.
To back up a bit, we also moved a couple of the can lights.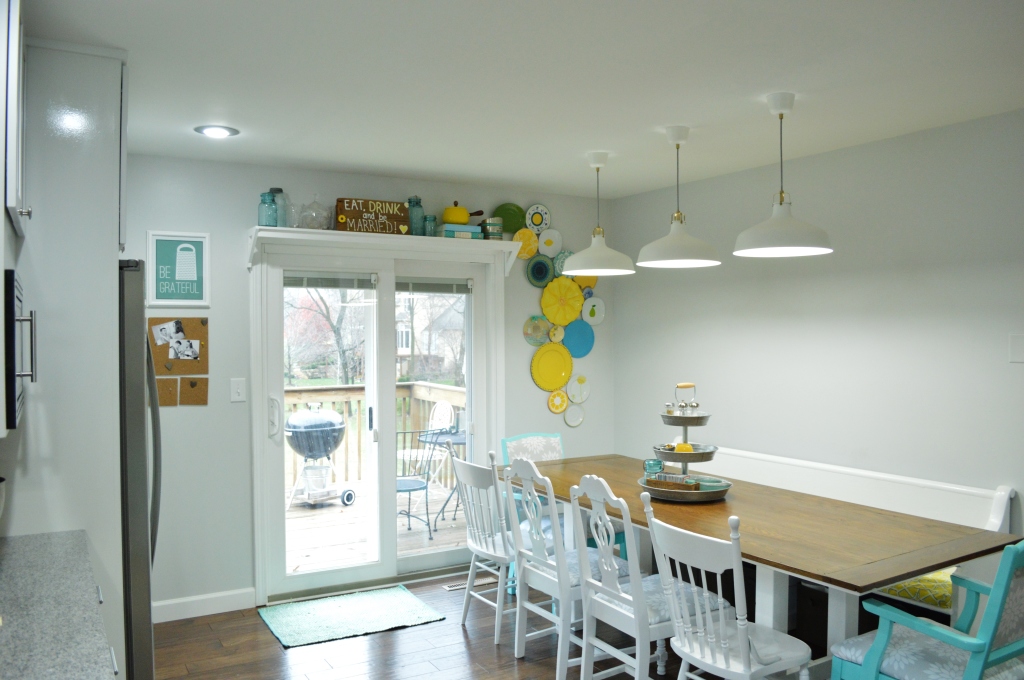 And other than a few other details I've almost certainly missed in this recap, we officially had a finished kitchen on our hands! It only took us months and months and months. About 18 to be exact.
In all seriousness, we started the very first bit of demo at the end of March 2014 but we'd been planning long before that. We had all the big stuff done by the end of 2014, but just hung the last lights over the table in November of 2015…
So, now I get to share the pretty after photos!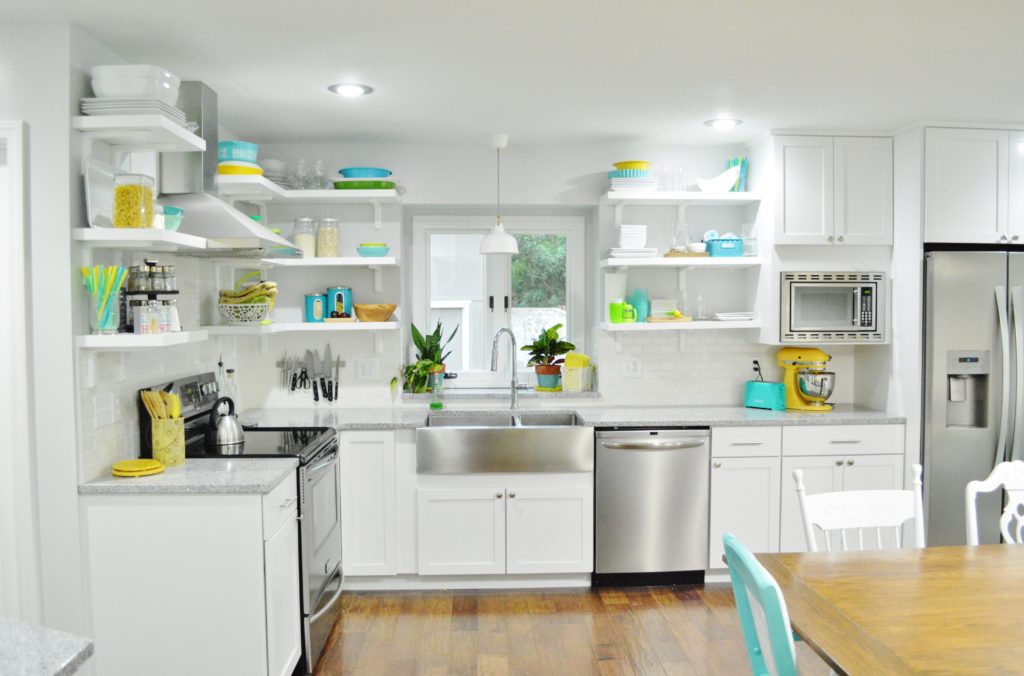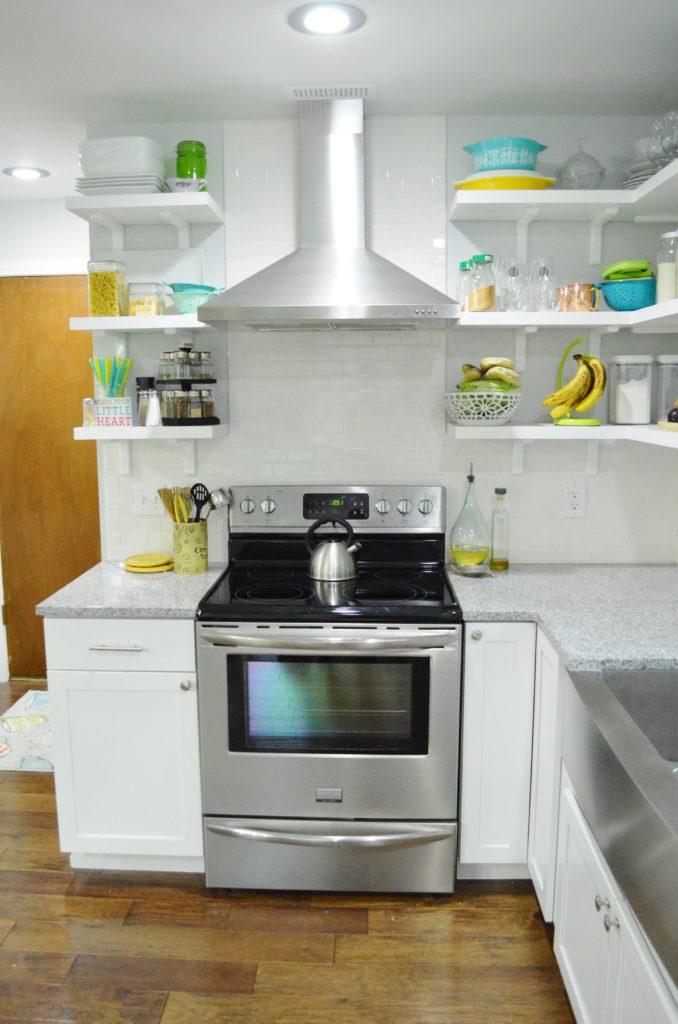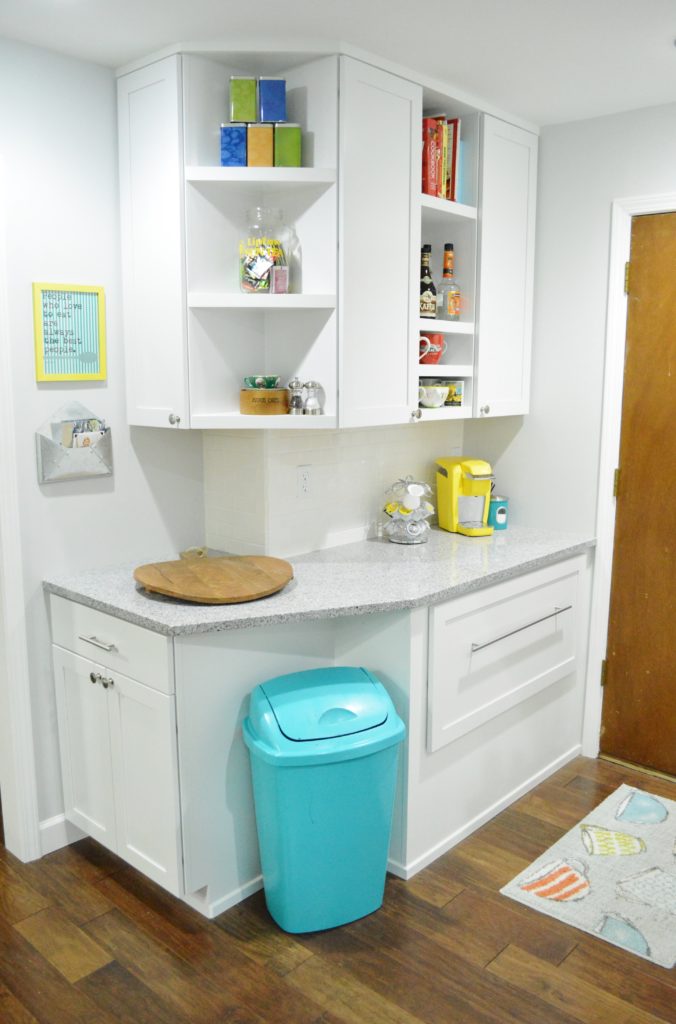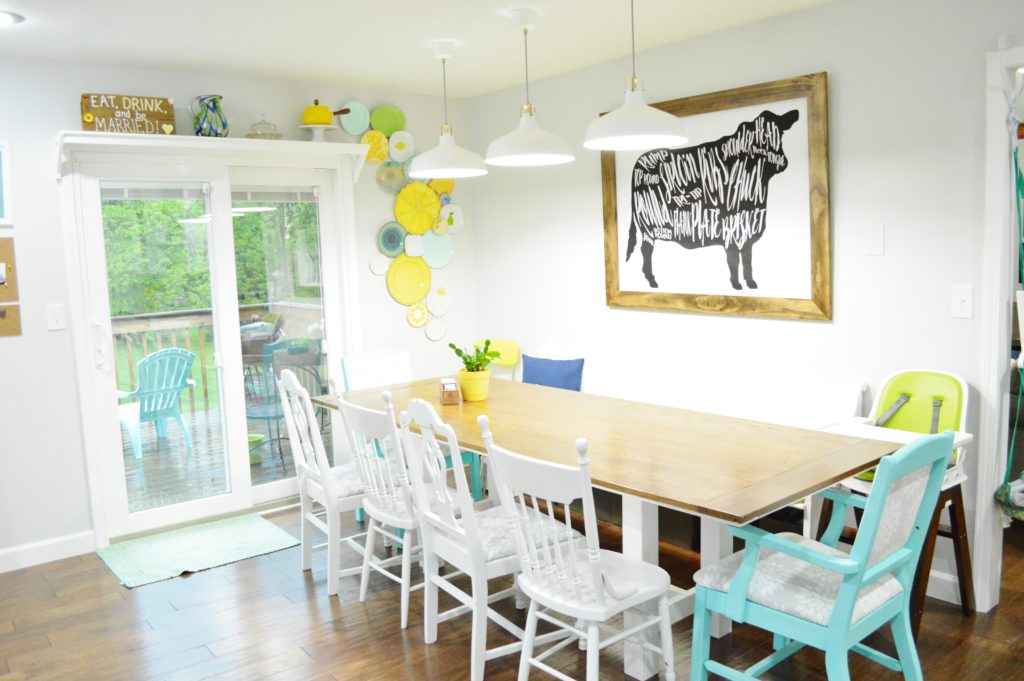 I think one of the most amazing parts is just how custom everything is. We had to work around a lot of issues and we're so proud we took the time to do it correctly and completely. From rerouting the duct work out of the soffit and into the attic to building the giant appliance drawer in the nook and the giant custom pantry, this kitchen is exactly what we needed.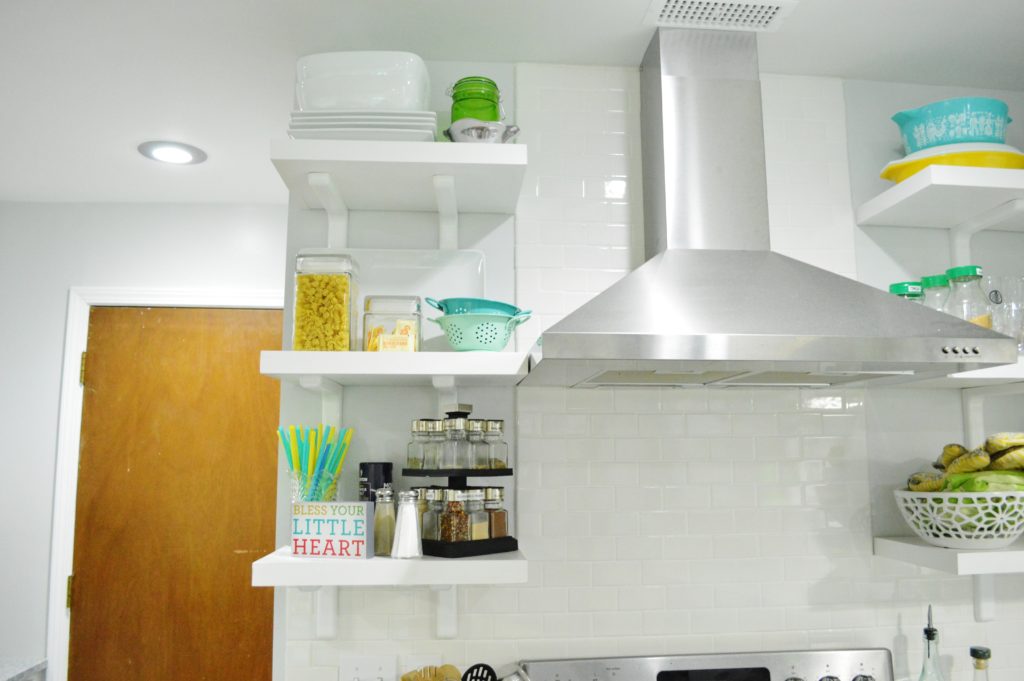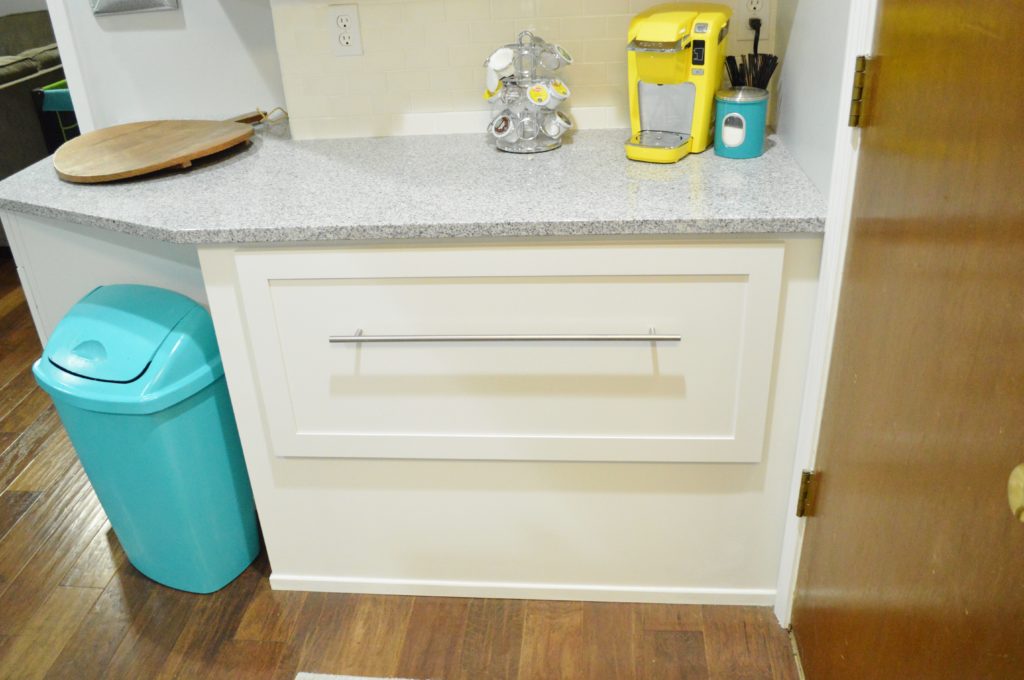 Plus, we saved a lot of money by doing it ourselves. Building the pantry cabinet saved us over $1000, just for that one project. Not to mention, we reused a lot of our existing items and appliances, from big stuff like the fridge to small stuff like the mixer and decor.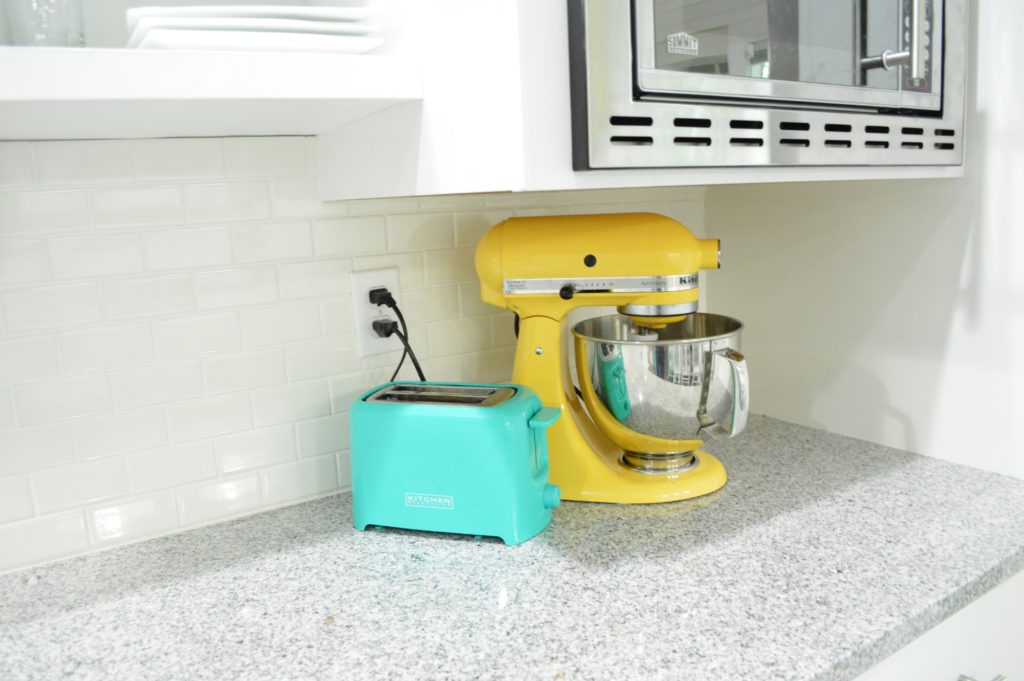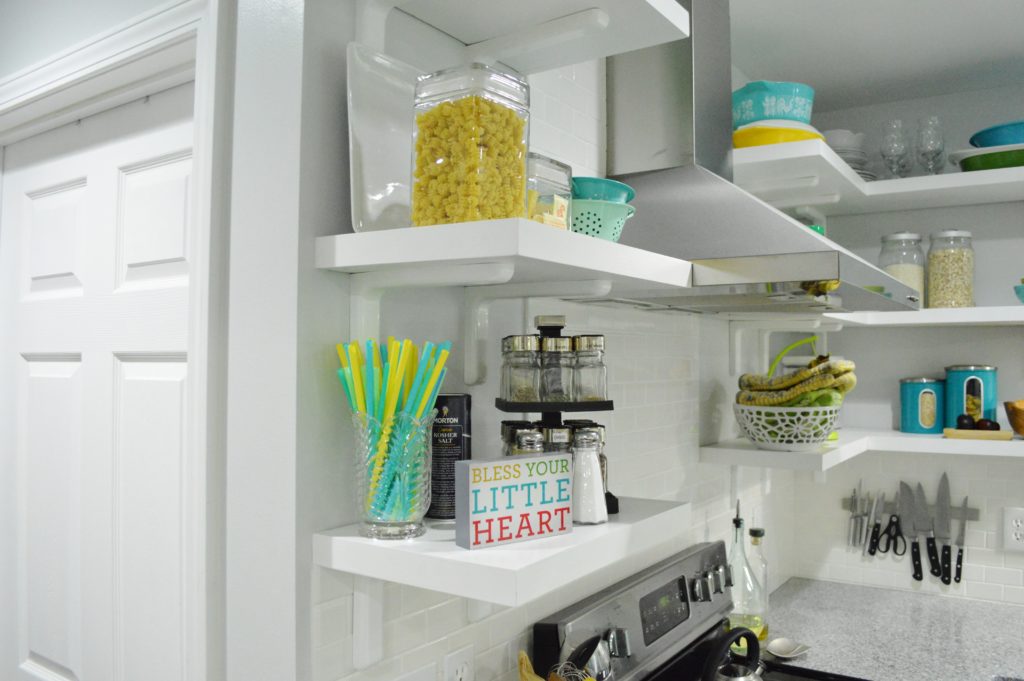 But, we did buy some new things, like our farmhouse sink and the range hood.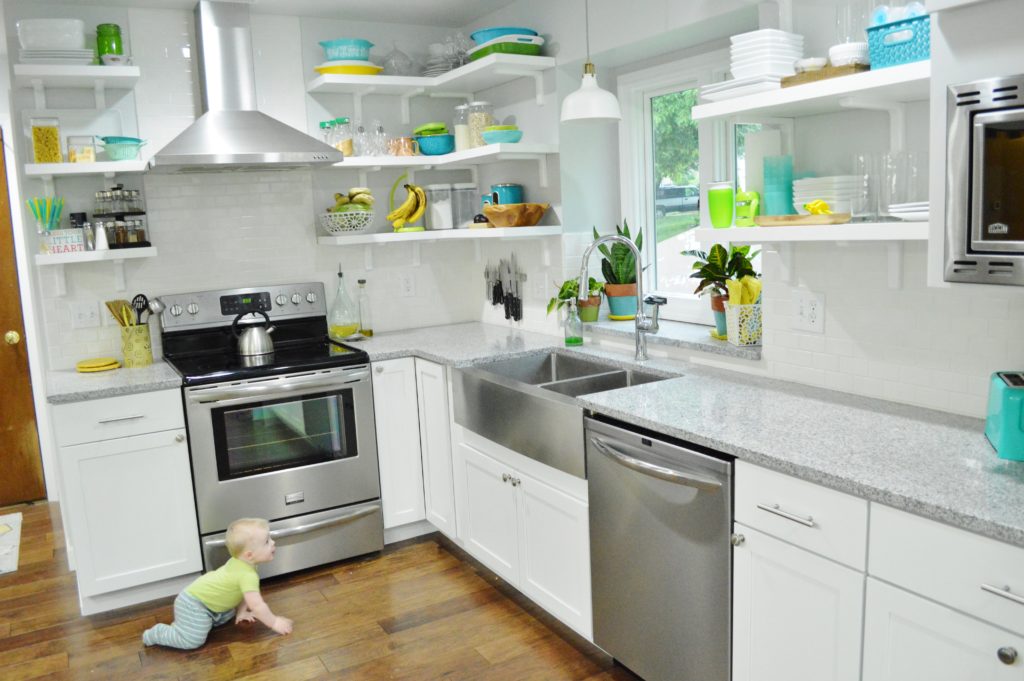 Of course, the table is one of my favorite parts of the room. I love that we designed and built it together after salvaging the wood from a place we both have a lot of memories.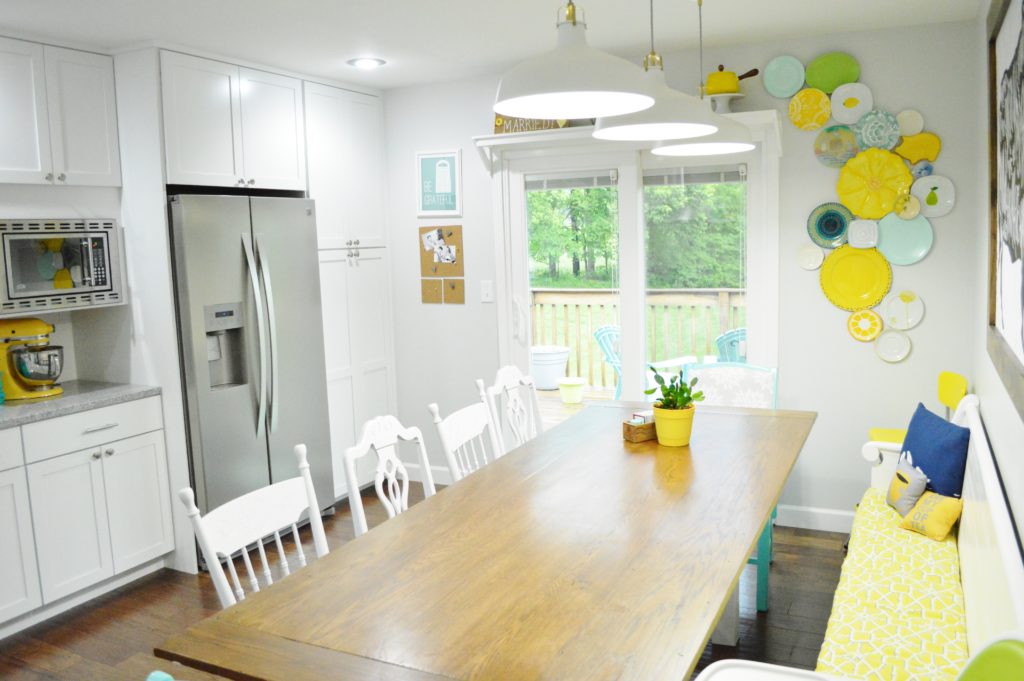 The open shelves work really well for us, even if it's a little odd that we have champagne glasses right next to the baby bottles. We also have a mixture of every day dishes, food, spices, and dishes we rarely use, all coexisting together, out in the open. It helps me find things quickly, and I like seeing what we have so I'm not tempted to keep things we don't need.
(I actually need to cull a few more things to make room for Will's stuff. Sippy cups and cheerios may take over for awhile.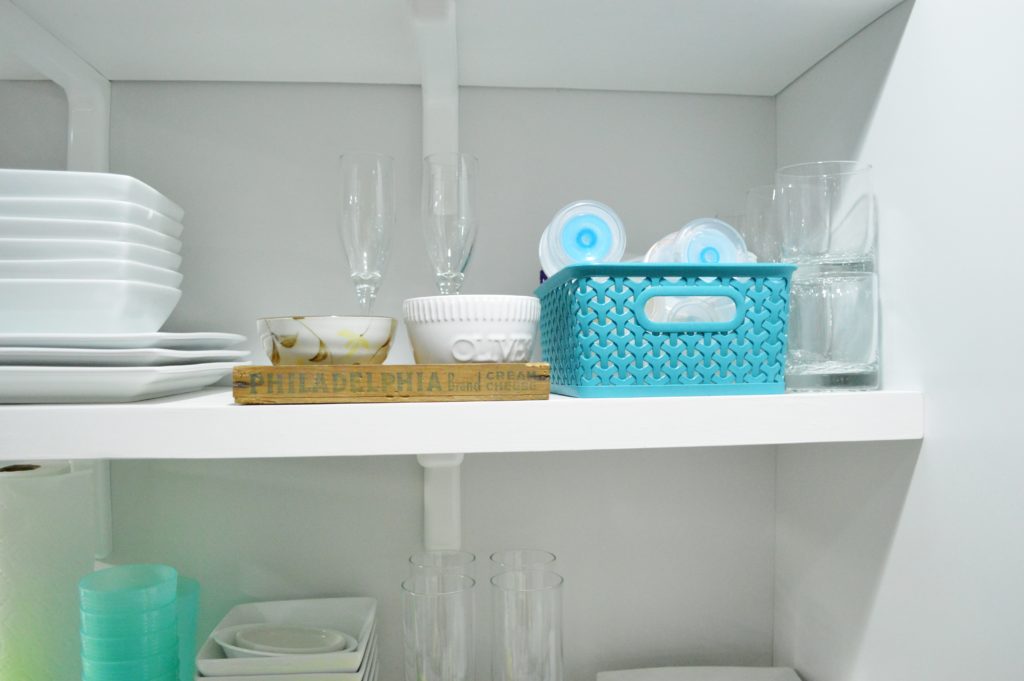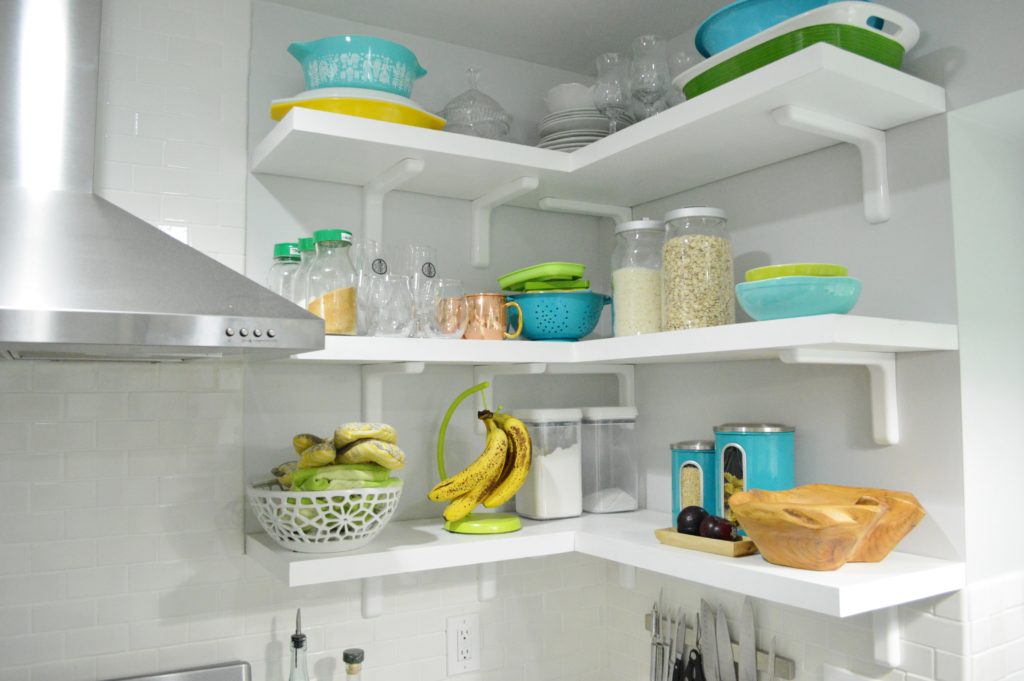 The nook shelves hold cookbooks, coffee mugs, tea, and wine. Or tequila. Whatever we happen to have on hand.
I still need to organize the cabinets, and these are the worst if you could see behind the closed doors, but for now, this is working well for us.
The nook really turned out well considering if was all custom built and designed to fit around a few weird angles and boxes we couldn't change. Although replacing that old garage door is on the list for this year. Ick.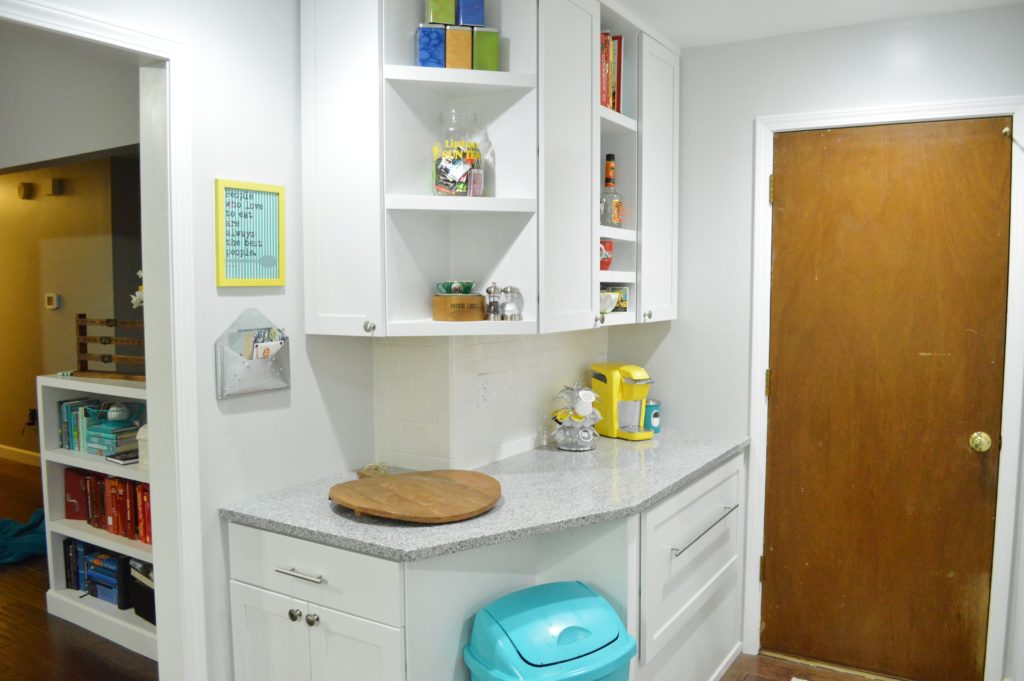 I'm just to pleased we went through the trouble to open this side of the room up. It was just a tiny wall that we took out, but it made such a huge difference in the space. That little hallway was so dark and closed off. The whole room feels bigger and brighter and more open.
Just to compare our progress one more time: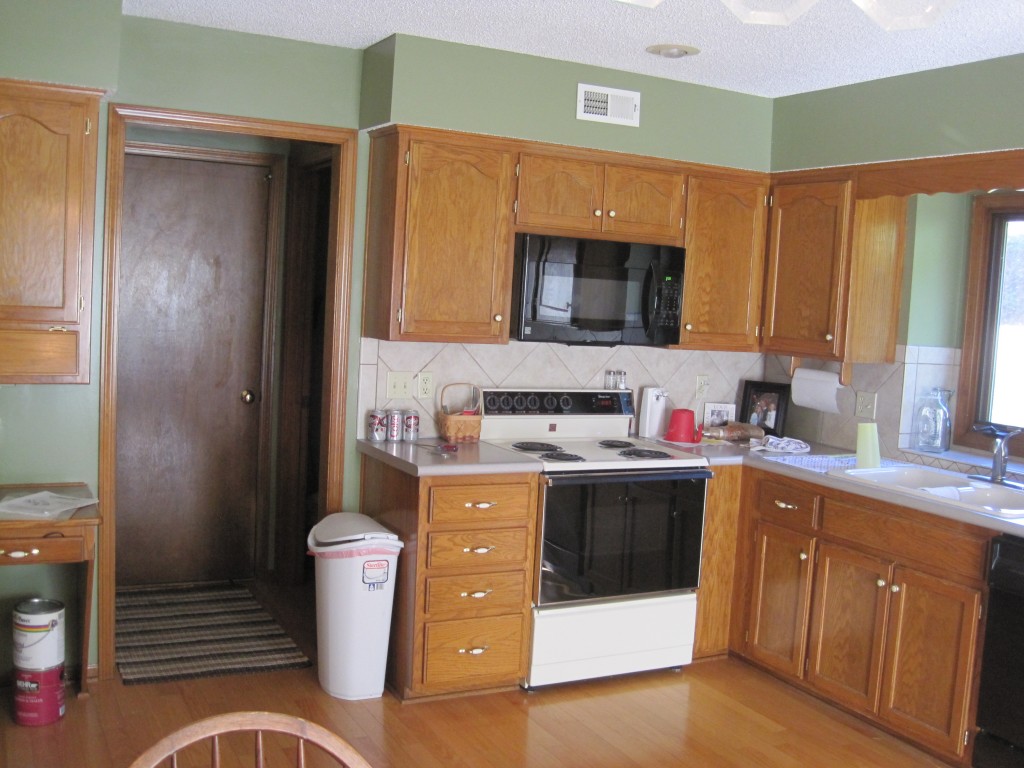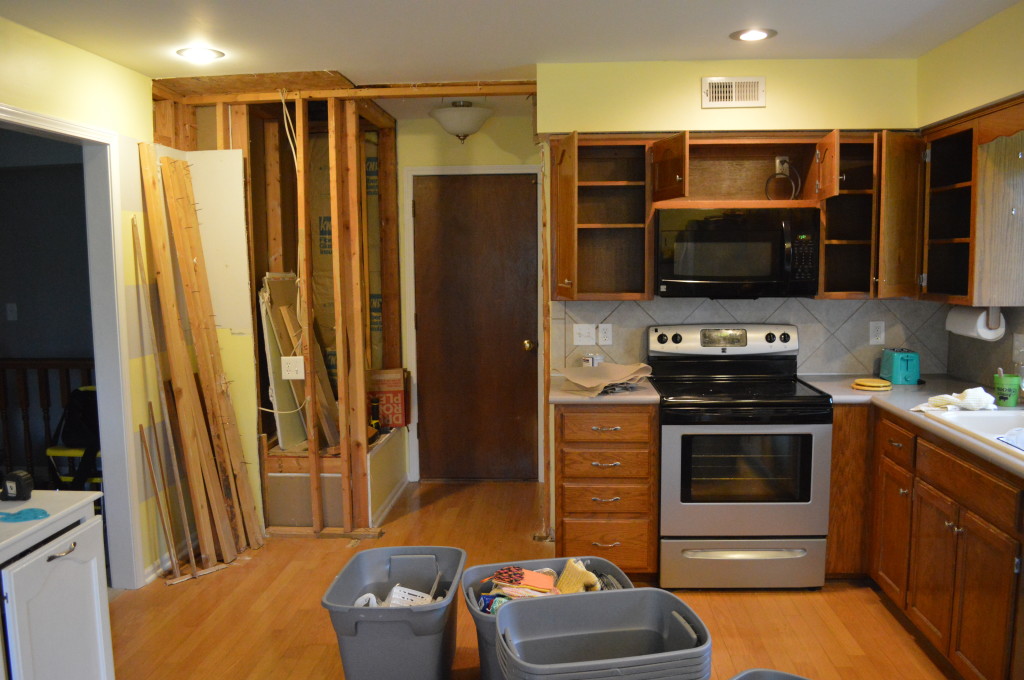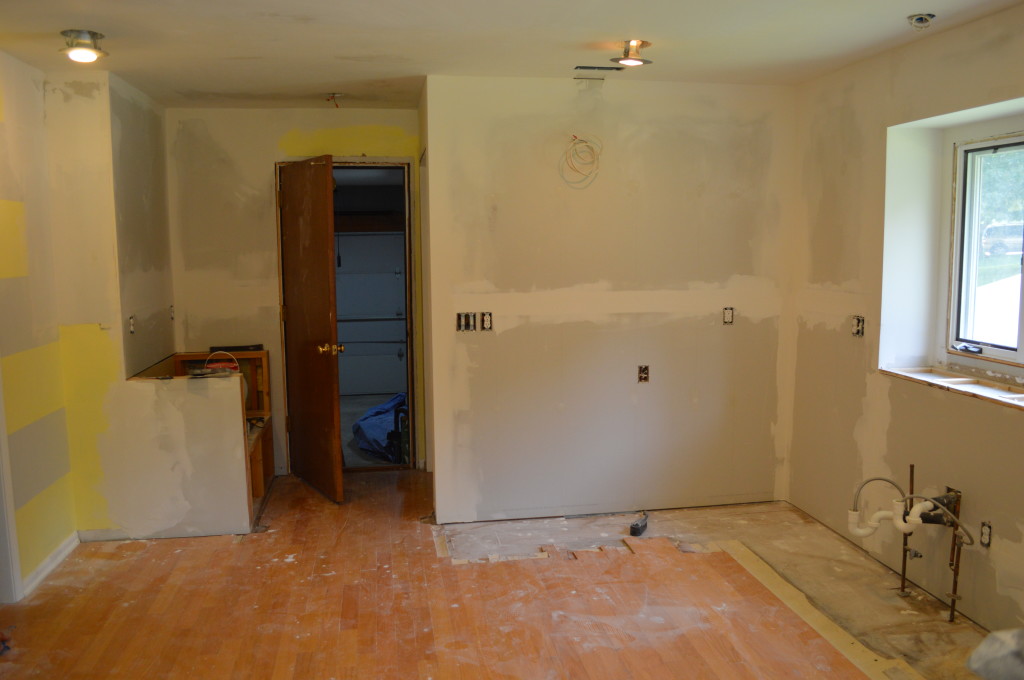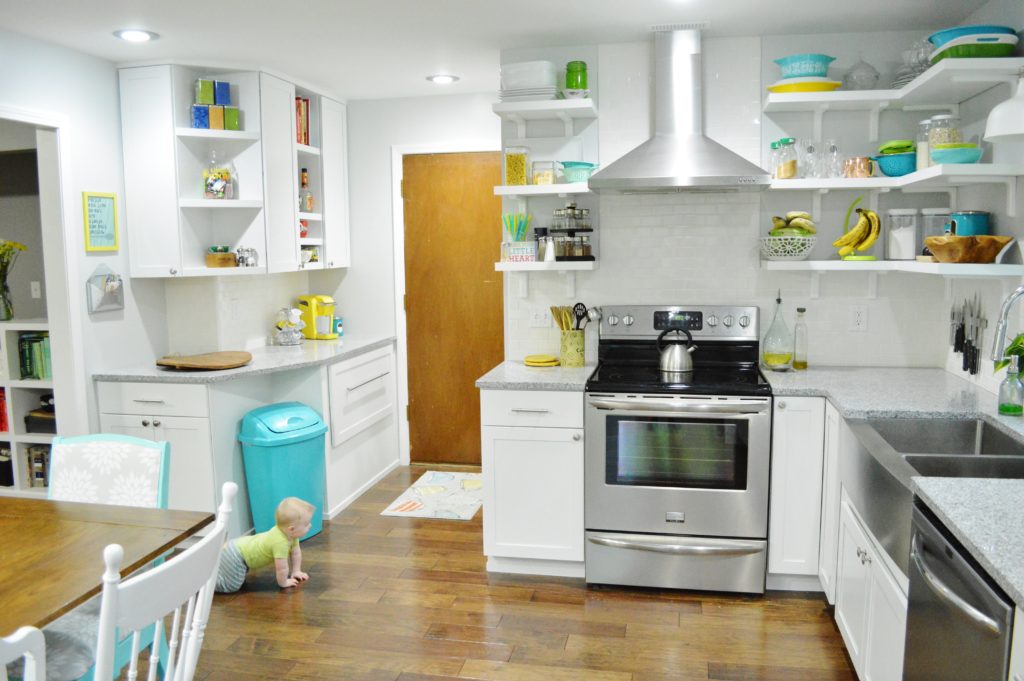 I sometimes walk into this room and just want to sing. Seriously, I like it that much.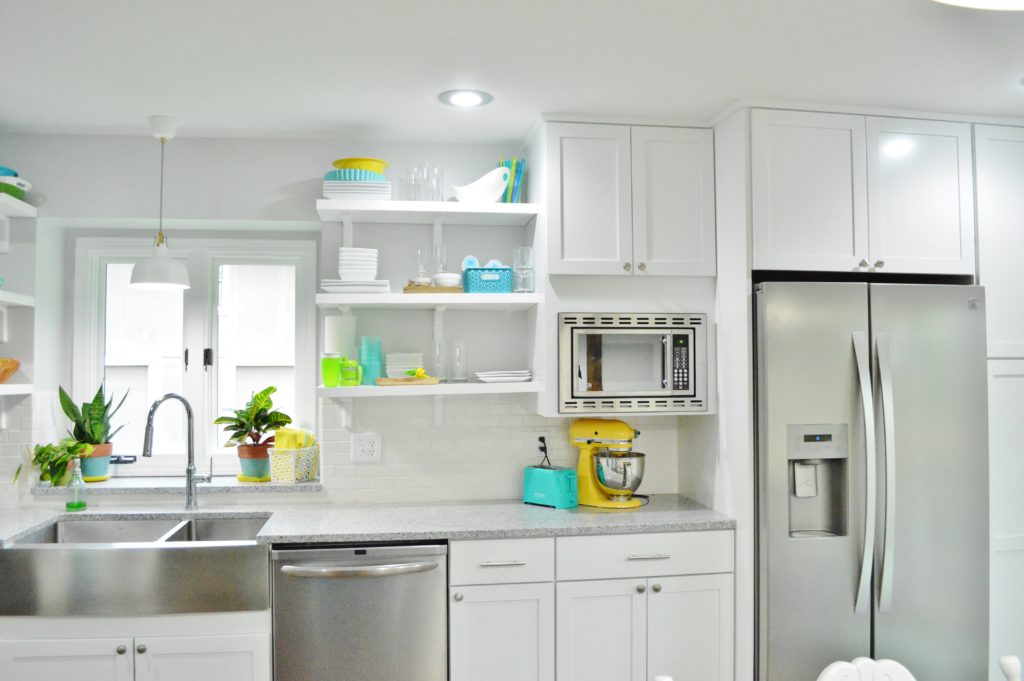 Totally worth the 18+ months we worked on this room.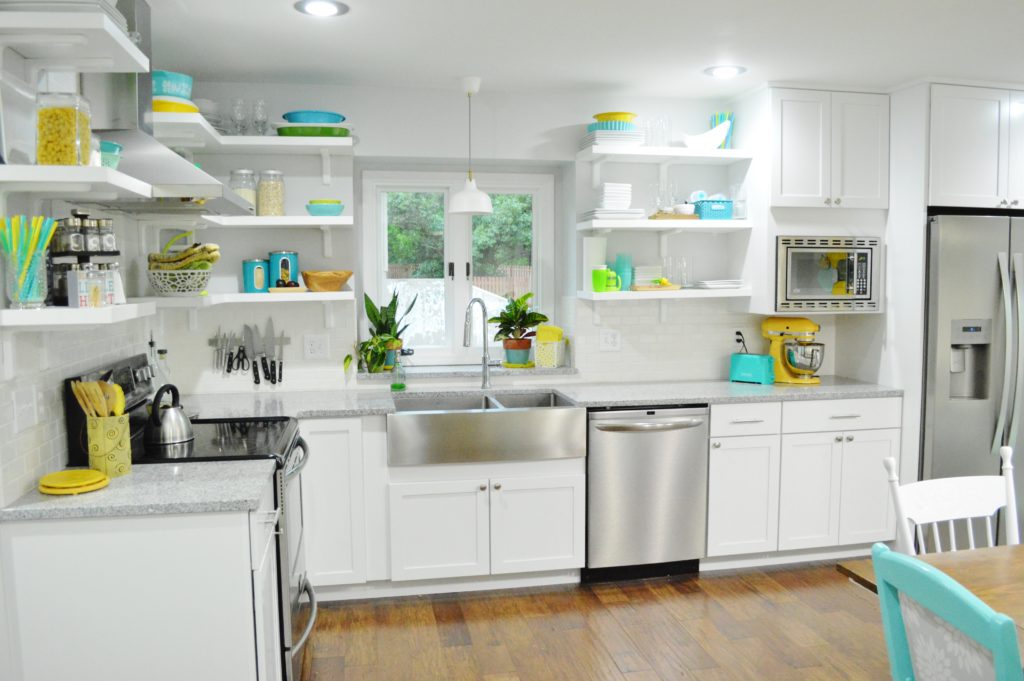 Feel free to ask any sourcing or DIY questions in a comment below and we'll do our best to help.  And be sure to click through the links above for more details on each step of this process.
And if you don't have a questions, feel free to tell us the longest it's taken you to complete a project, or even your favorite part of the kitchen now that we're no longer talking about it all the time.
Or, just join my in a song of appreciation for how awesome Wyatt is for sticking with me and being the master craftsman and contractor on this job. Three cheers to my handy husband for making my dreams a reality!
And thank you, readers, for sticking around to follow along. We may not be the fastest workers or the best or the brightest, but we're very grateful to share our adventures with all of you!
---
To see every kitchen-related post we have on the site, click here. 
To see other projects we've tackled, organized by room, type, or popularity, click here.