---
Now that we're (finally) considering our kitchen done, I wanted to share a cost run-down with you guys because even though I wouldn't call this a "bargain" upgrade, we tried really hard to always keep a tight budget in mind when making decisions and I think it's important to share how we've splurged and saved on this project.
For the full recap and reveal post, click here.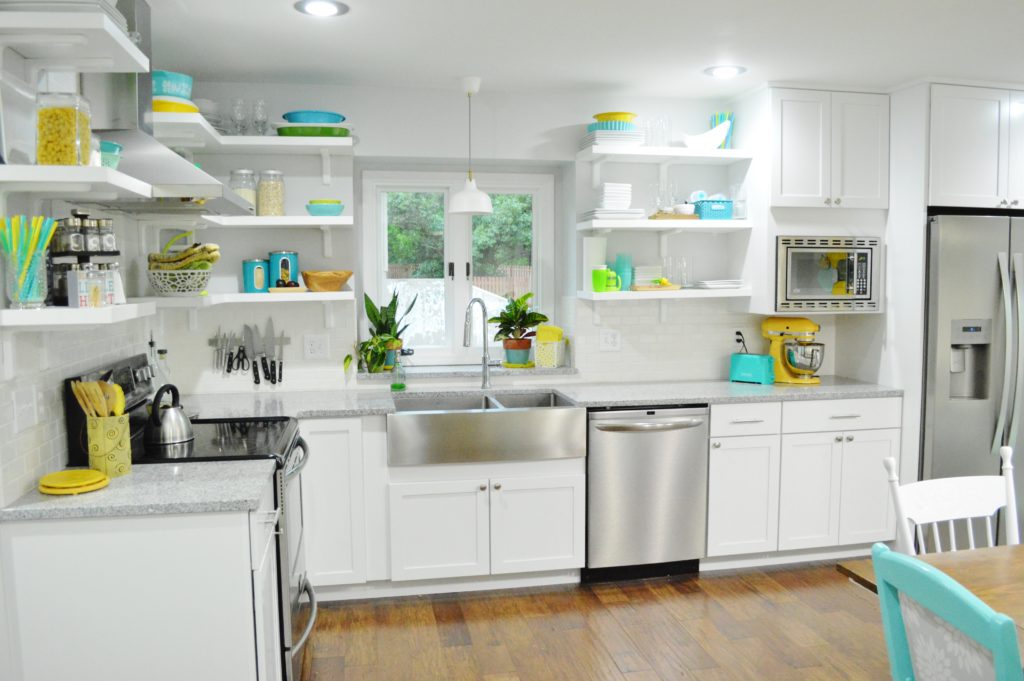 Please keep in mind that even when we've splurged, we've tried to limit spending as much as possible. And when we've saved, it hasn't meant that we didn't feel those purchases deep in our piggy banks. We're simply trying to be honest about how we prioritized items in this kitchen renovation to get what we feel was the very best value for our hard-earned and long-saved money.
Also, we completed the kitchen in a couple of phases, replacing the cabinet hardware when we first moved in as part of phase one because it helped the kitchen feel slightly upgraded when we first moved in. Then, we could reuse those already-upgraded handles and knobs when we did the full remodel, which saved us money when we tackled the whole room.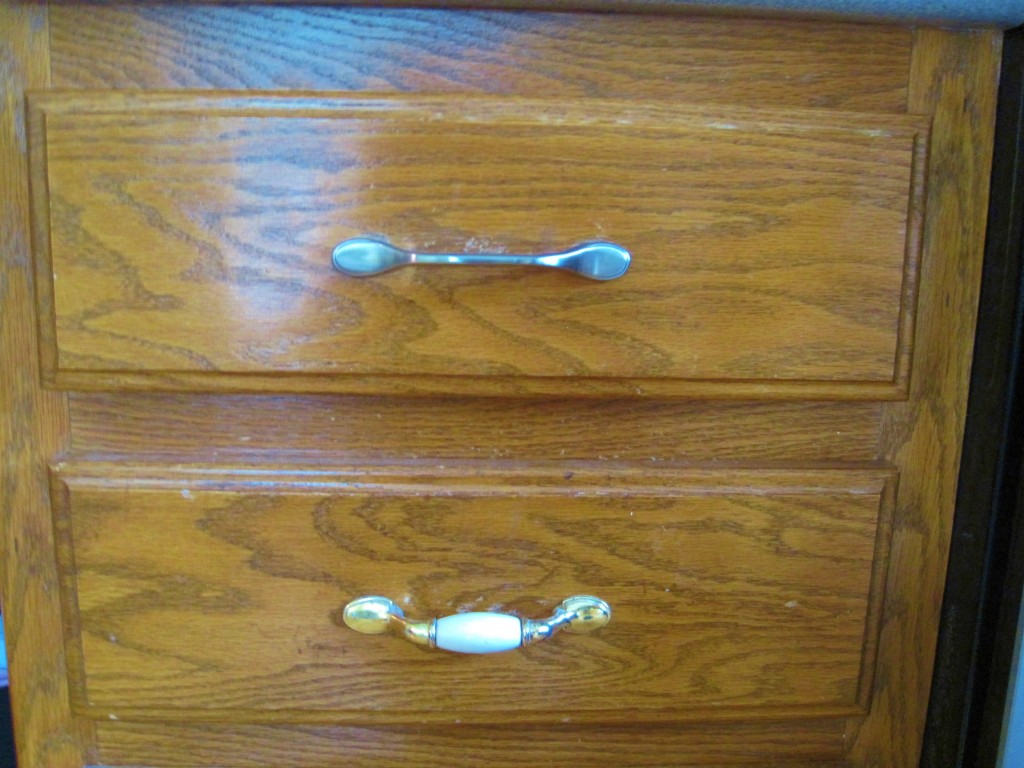 Also, in case anyone is wondering, we are still feeling the effects of this project in our savings account, and we had a baby…so we've taken a break from projects this big remodeling to focus on parenthood sleep and saving. But, I am hopeful we'll be able to tackle a few things throughout the rest of this year. In the meantime, I'll just bask in the glory of a finished kitchen.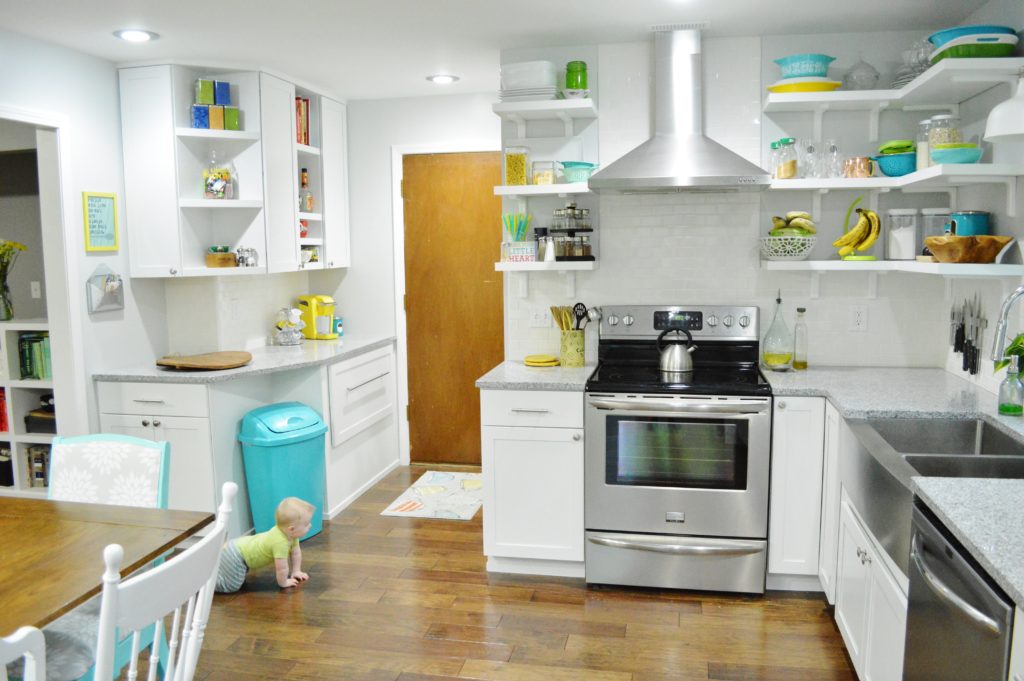 Anyway, here's the rundown of our complete kitchen remodel.
Dishwasher: (Ours caught on fire so we had to replace.)
Paint:
Misc. Supplies/Tools/Etc.:
New Kitchen Cabinets
Built-in Microwave Cabinet Upgrade:
Additional Hardware:

Spent: $25 
SAVED: $50 (Reused the existing ones.)

Granite Counter Tops
Stainless Steel Apron Front Sink:
Stainless Steel Range Hood:
Stainless Steel Built-in Microwave:
Subway Tile:
Garbage Disposal:
Engineered Hardwood Flooring for entire first floor living area:

Spent: $2,500
SAVED: $2000 (Buying engineered instead of "real" hardwood and shopping around to find the best price.)

Flooring underlayment:

Spent: $30
SAVED: $320 (With advice from a professional installers, we used a basic option.)

Open Shelving Instead of Upper Cabinets:

Spent: $300 (Brackets: $95 + Wood: $205. Comparable upper cabinets would have been at least $2,100)
SAVED: $1,800

Wyatt's Custom Pa

ntry Cabinet: 

Spent: $250

 (Comparable units through Kraftmaid were smaller and more than $1200. Wyatt built ours for much less.)
SAVED $1000

Tile Installation:

Spent: 175
SAVED $225 (Based on installation estimate.)

Lighting:

Spent: $145
SAVED: $150 (Ikea fixtures were half the price of others we liked. And, we reused a can light.)
---
We also sold a few things to offset the cost. This was just the large items. We also sold smaller things at a garage sale and reused some items elsewhere in our home.
Selling Old Cabinets/Counters/Sink/etc.:
Selling Old Appliances (Microwave and Range):
Total Earned: $975
---
So, all in all, if you followed that list at all, we spent a total of $12,930 and saved a total of $5545 by making smart decisions and cutting costs where possible.  That's NOT including saving more than $5000 in installation or professional labor costs by DIYing.
When we subtract the money we earned by reselling a few items, it brings our Total Cost to $11,955. (Although it could have been over $20,000 had we not saved where we could and done almost everything by ourselves.)
Not bad for a complete kitchen remodel in which we totally gutted the room, took out a small wall, and replaced the flooring and trim in all of our main living areas. Really, we changed the look of our entire first floor.
Remember, we started with this: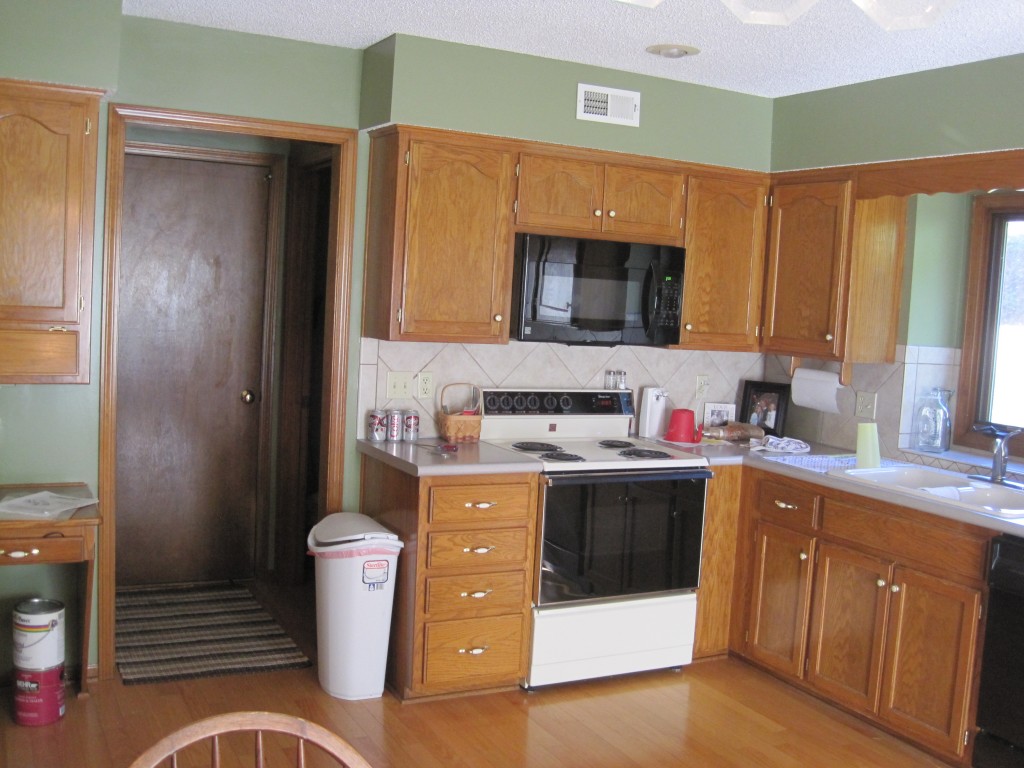 And finally, we had this to show for it: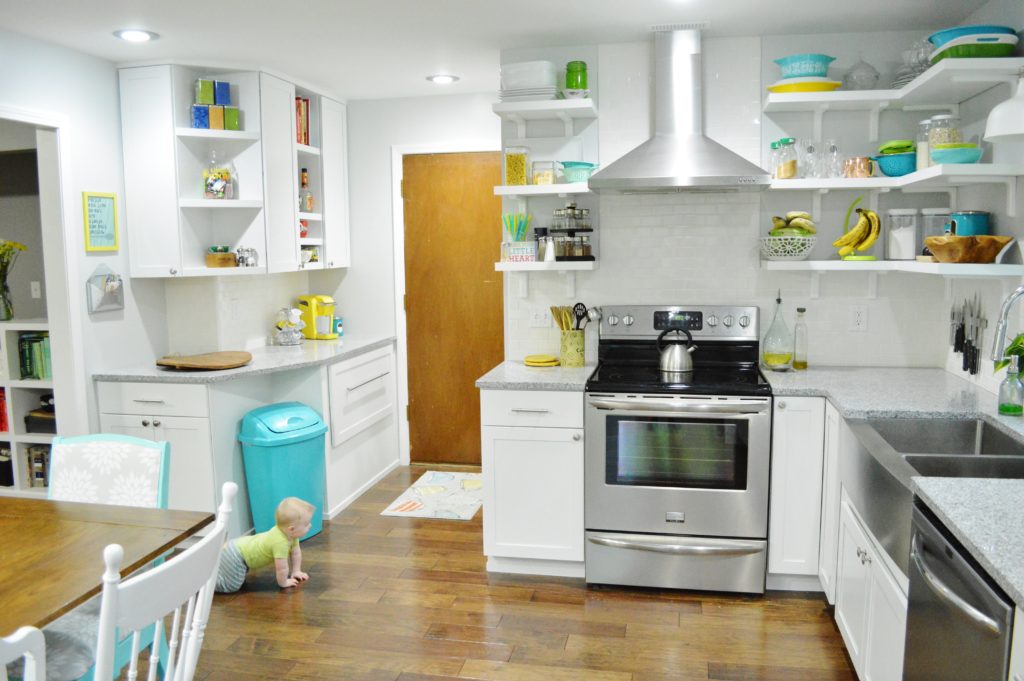 So much more open and functional. Not to mention light and bright. I have to admit, it's more than I would like to spend on any room, but for a kitchen that really works for us, I think it was money well spent.
As a reminder, for the full recap and reveal post, click here. 
What are some of your favorite ways to save money when fixing up things around the house? Share the thrifty love!