Ok, we've been teasing long enough, it's time to show you our handiwork in transforming our guest room from something that was basically just a storage area for hand-me-down furniture, to a room I considered sleeping in myself the first night it was finished.
For a refresher on how we built and upholstered the headboard for less than $25, read this post. For the steps Wyatt used to hang it securely on the wall, read this post.
To back up just a bit, here's a reminder of what the room looked like before we started this makeover: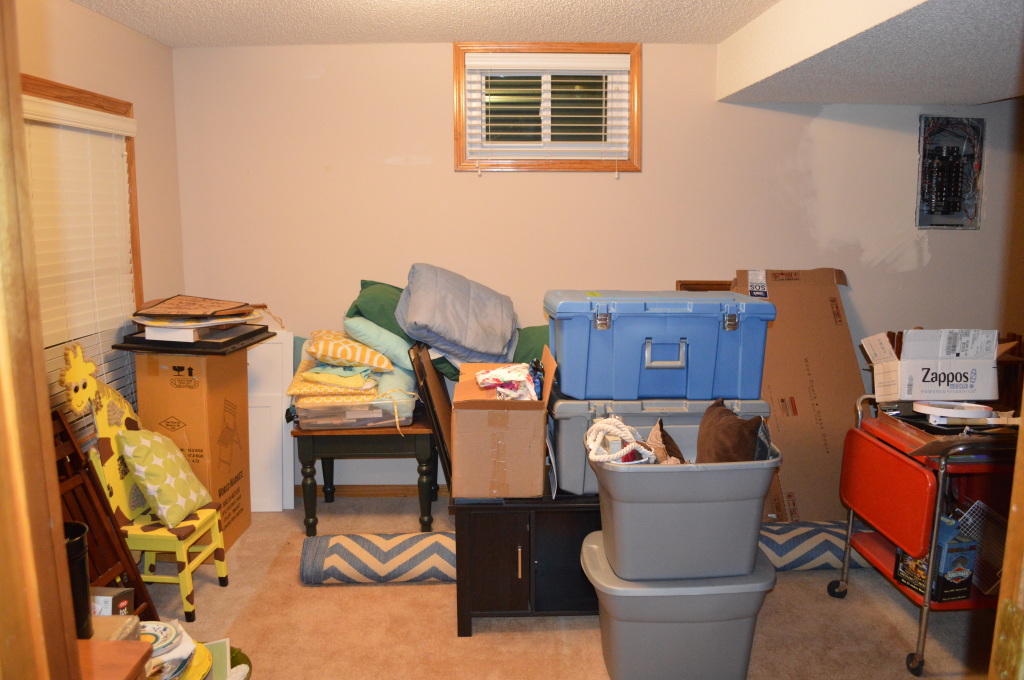 And to back up even more, here's what the previous upstairs guest room looked like: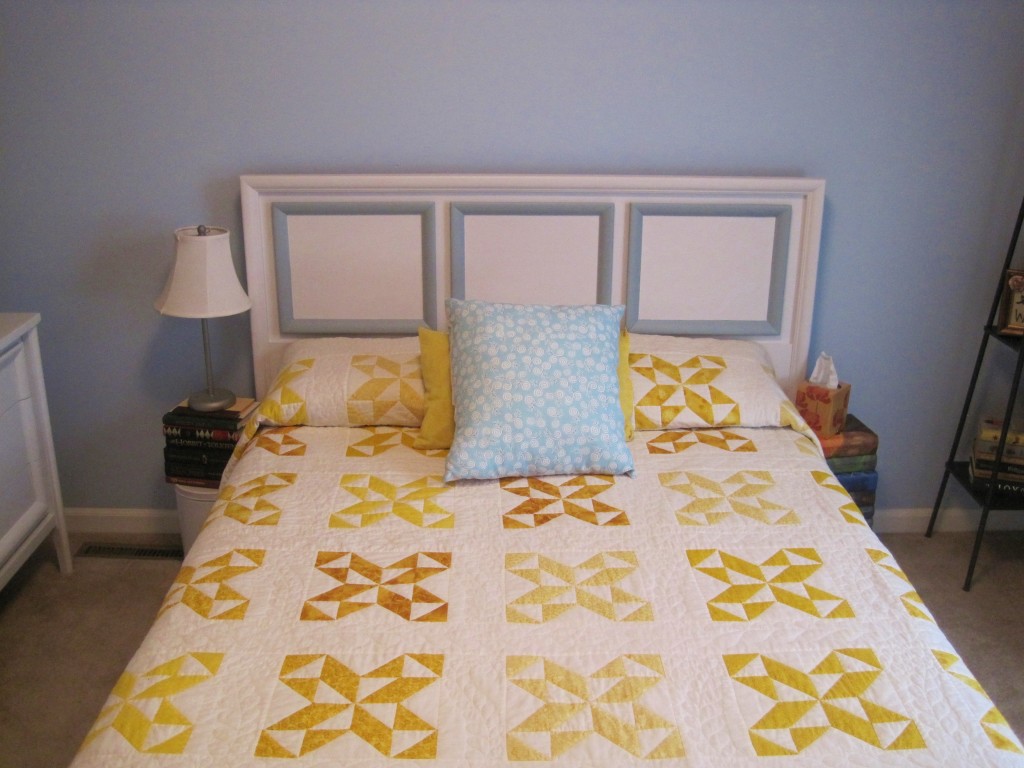 And here's how it looks now: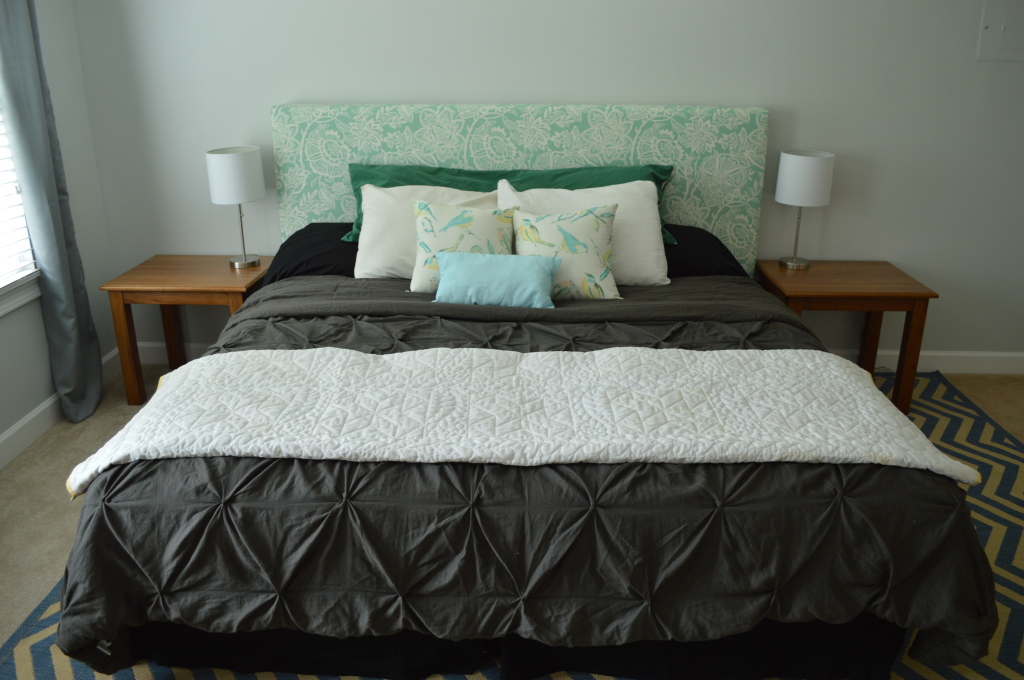 I think we've made quite the improvement for anyone who wants to come stay with us. For one thing, we upgraded from a full bed to a king size. Wowza.
Not to mention the difference it makes to have plush bedding with lots of comfy, inviting pillows. Wyatt doesn't like throw pillows, but I think they make any bed look more fancy, like you're staying in a nice hotel. Except you know these pillows and blankets are 100% clean. (I promise!)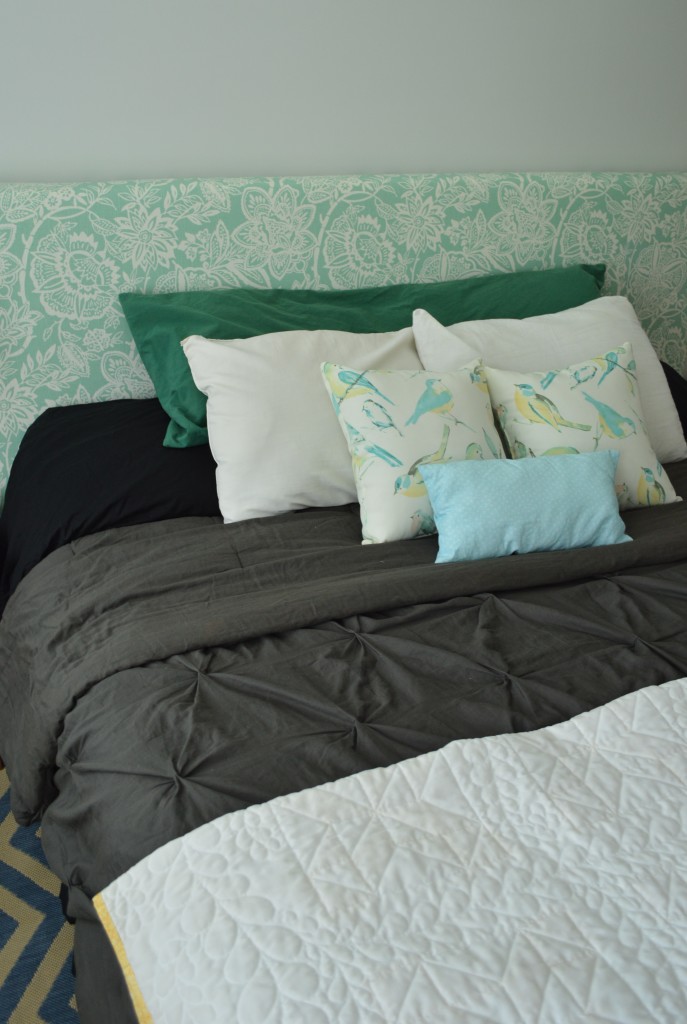 I picked the green and blue bird pillows up from Joann's. They were 50% off and I had a 20% off coupon so they came to less than $20 for both of them. I didn't need them considering how many extra throw pillows I have around here, but they perfectly matched my plan for the room: light, bright, soft green, with a little whimsy. And you guys know I have a hard time resisting birds…
All the other bedding we already had on hand or came with the beds from my parents. So I didn't feel too bad about my little splurge.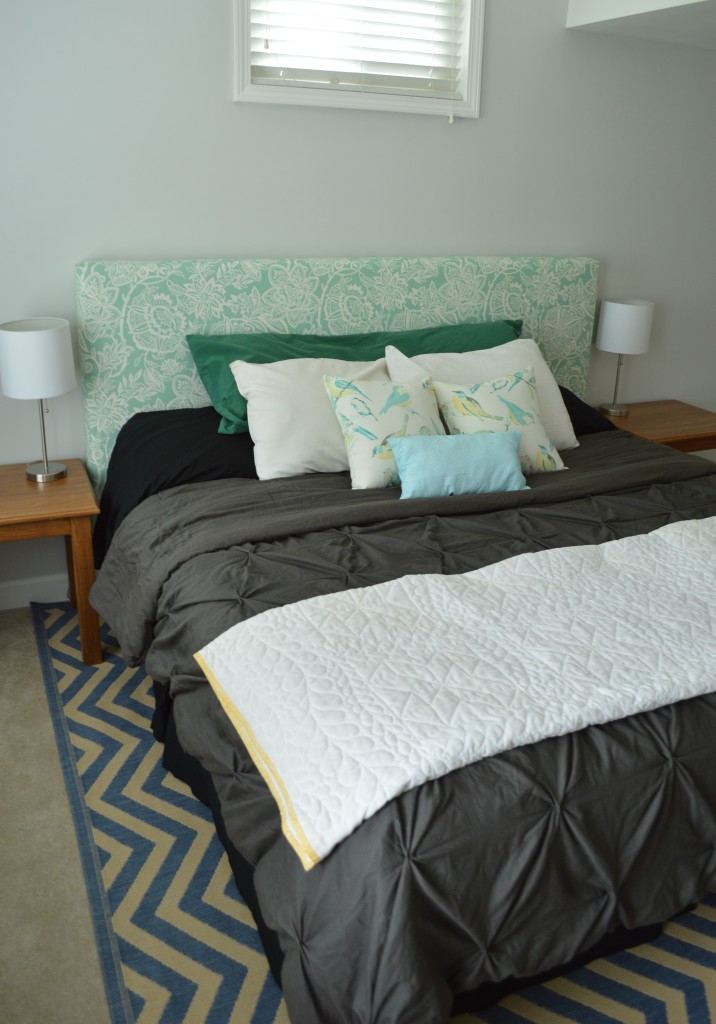 You'll notice we also added night stands and matching lamps to each side of the bed.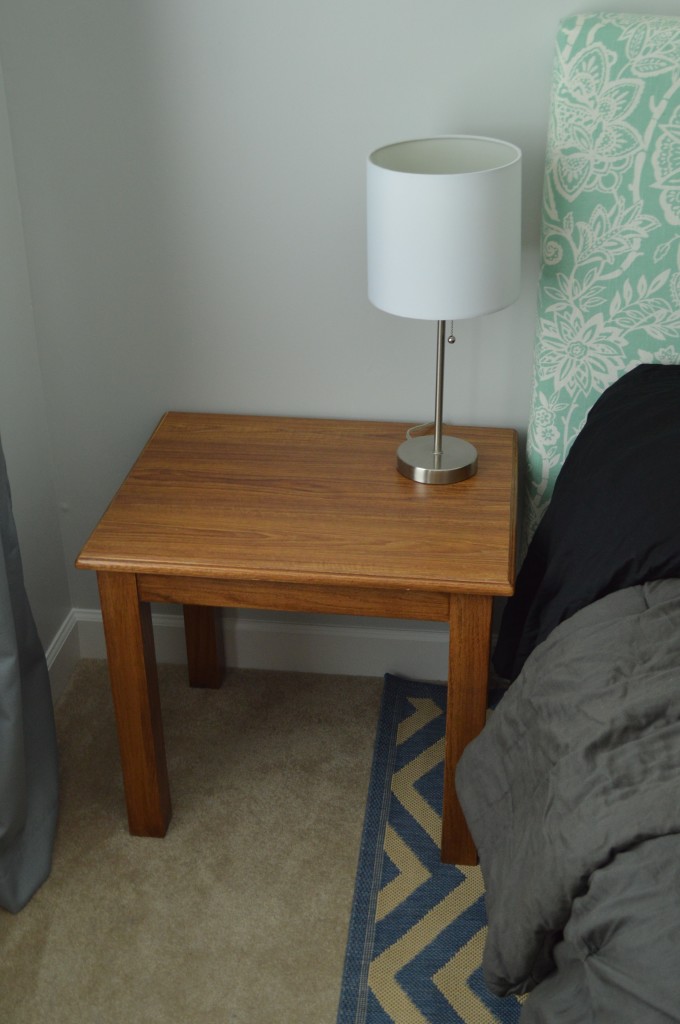 We had all of those on hand, too, leftovers from other random rooms we've gradually worked on upgrading.
I also talked about the curtain project, here.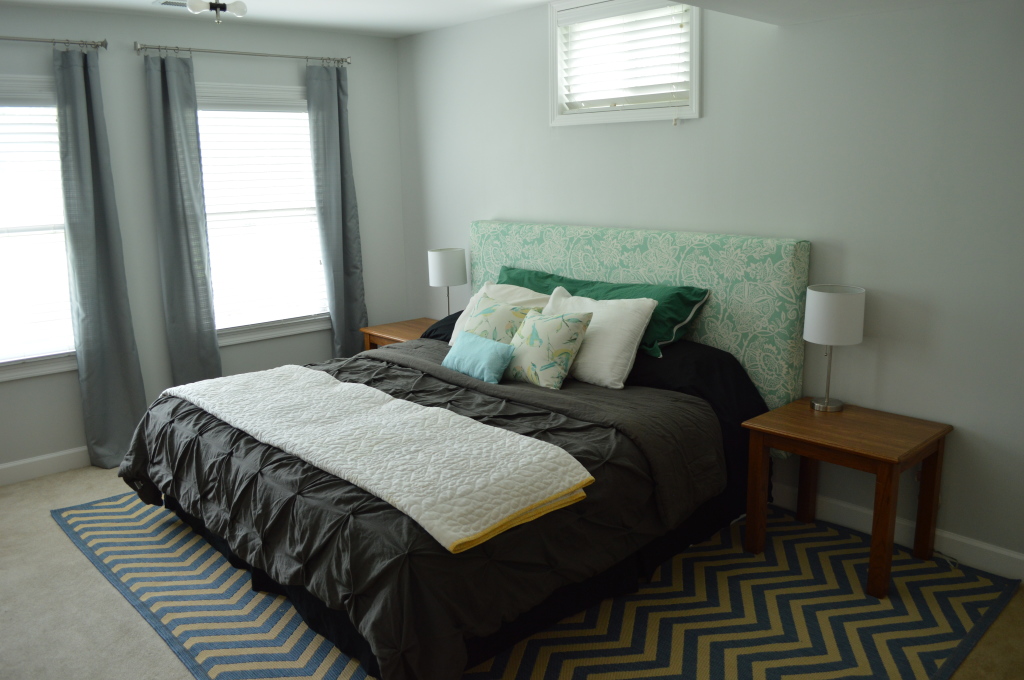 Oh, and yes, we added the rug to the floor to help cover the carpet stains left from the previous owners giant rubber gym mats. We are going to replace the carpets eventually, but it wasn't in the budget to do this year. In the meantime, the rug helps, even if it isn't centered under the bed. It's also not my first choice of a rug for this room considering the pattern is a little busy.
But, you'll remember back when we got it second hand for the living room and then ended up not liking it for that room, so it just made sense to use here.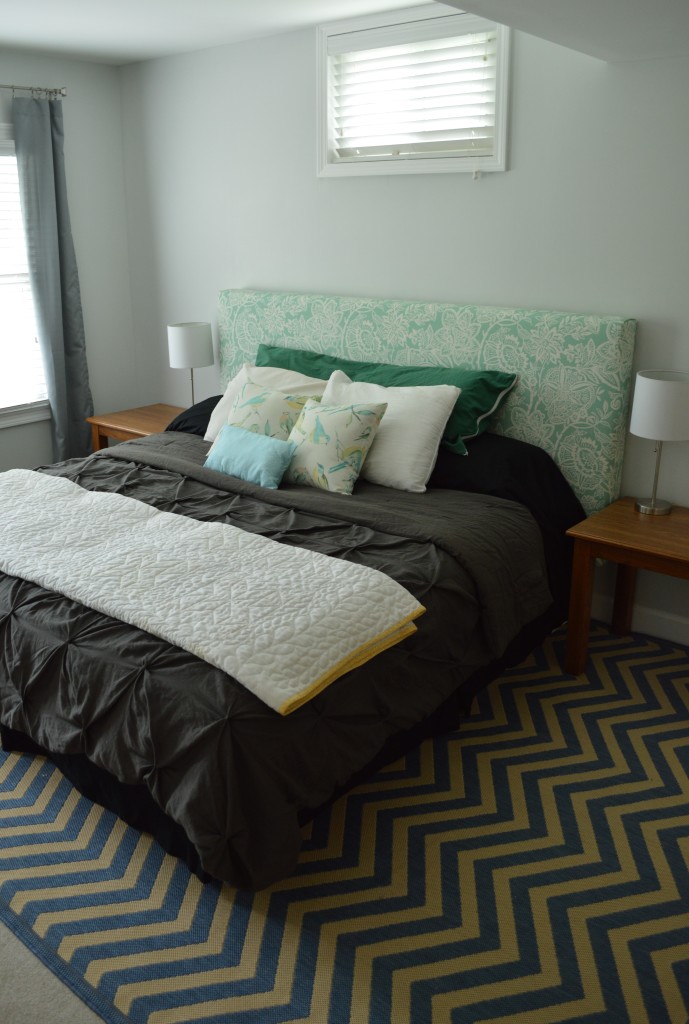 At least we were able to center the bed under the window, which, I have to say, looks about a million times better with white woodwork. It's still a shock to see the transition from this: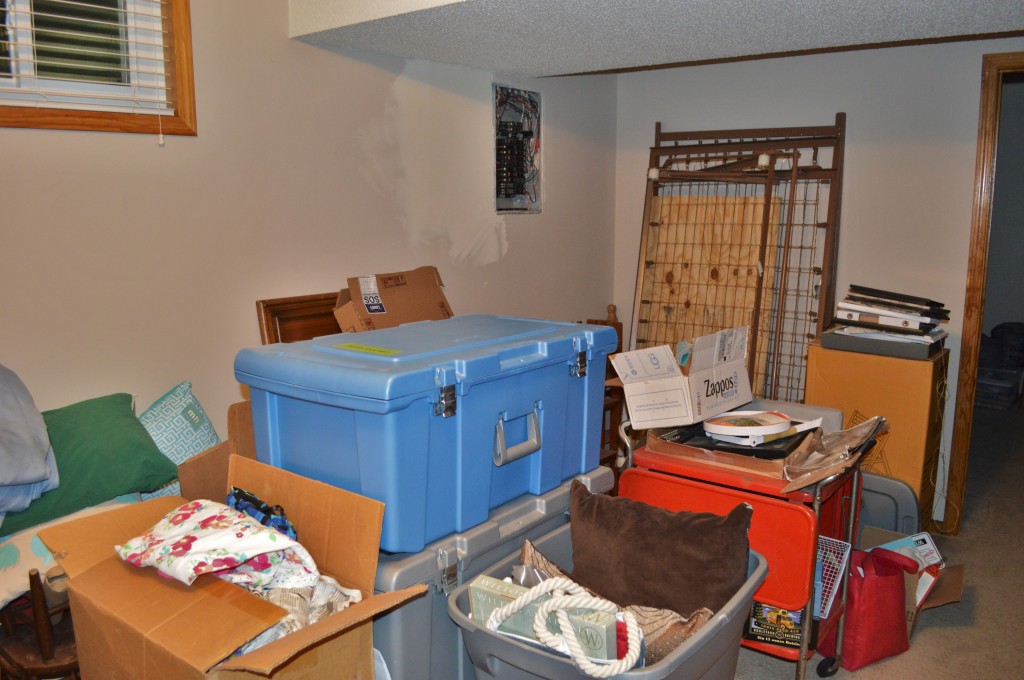 …to this: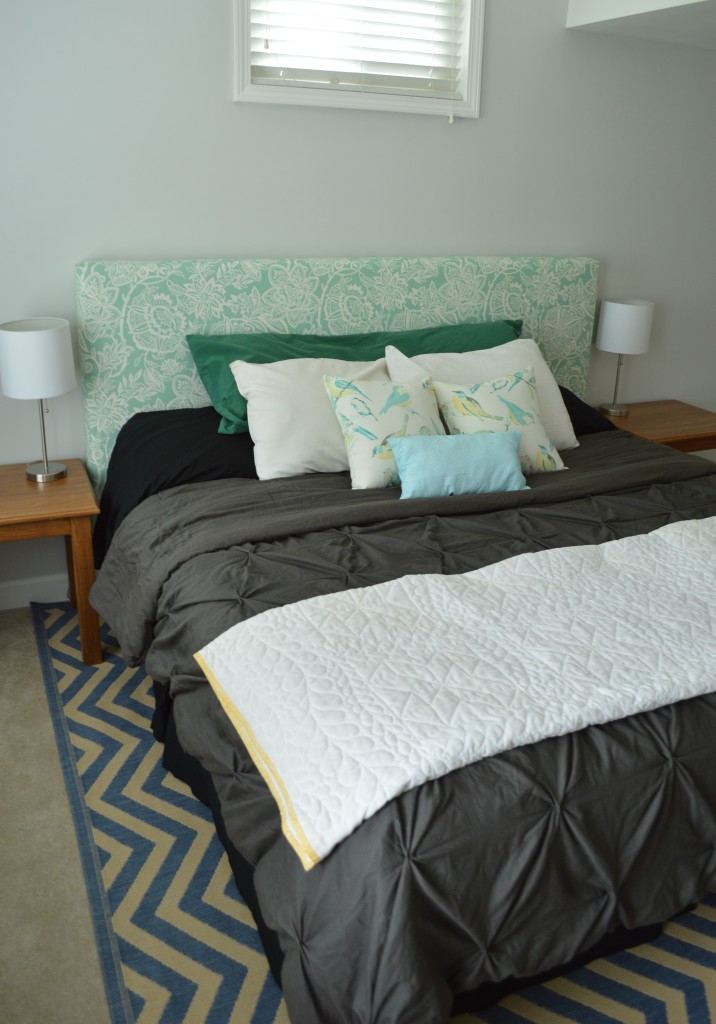 Even looking into the room from across the basement is quite different!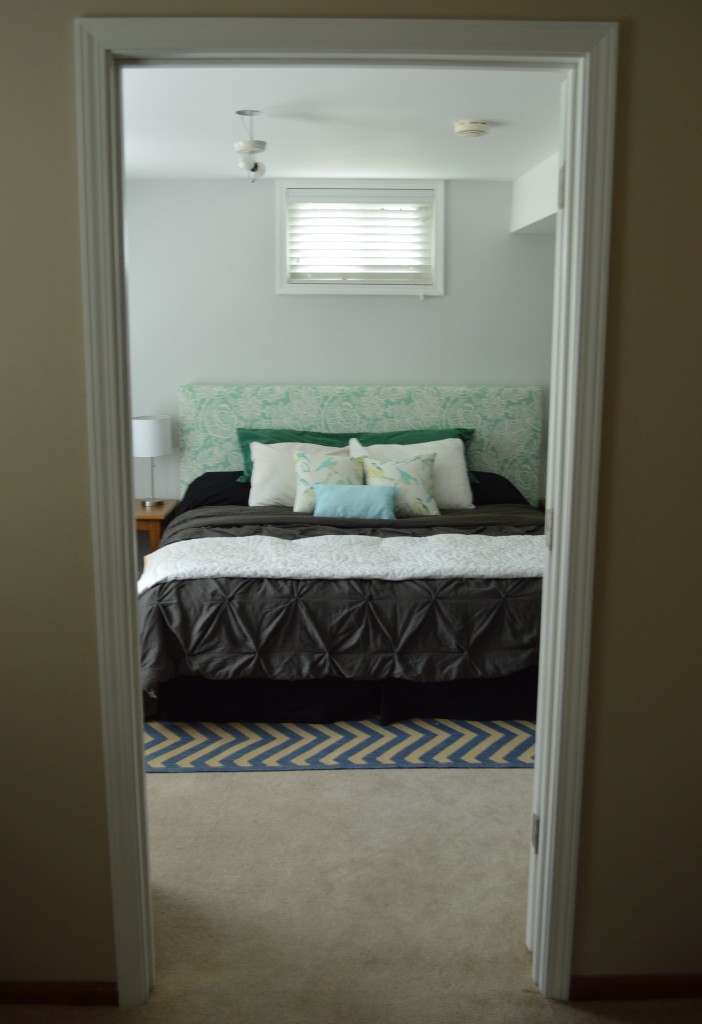 We still have to fix the light fixtures (currently hanging from the ceiling) and move in some more furniture, like the dresser, and maybe a chair or some other decor pieces, as well as get some art on the walls, but this room is really close to being done…just in time for us to hit the "One Month To Go" mark before Beanie's scheduled arrival.
I have to say that I'm pleased this guest room makeover is going so well. I think it has turned out a lot like I imagined it should, light and bright with a little whimsy, which is a little amazing since I didn't create a mood board or any big official plans to follow and I tend to lose track of design goals along the way sometimes.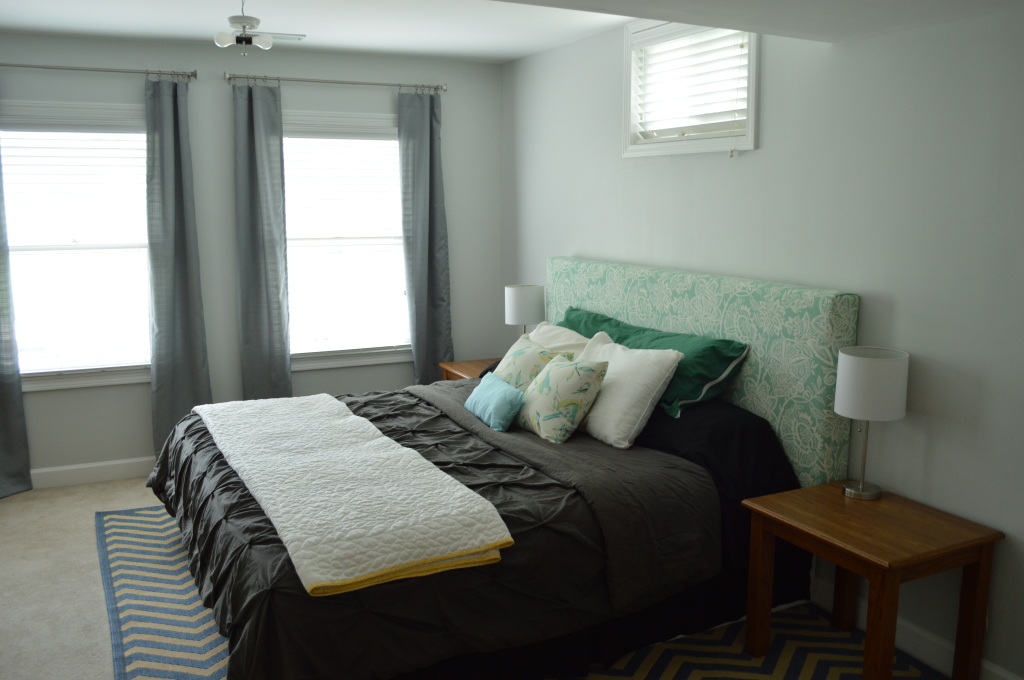 What are some of your favorite ways to make a room feel fancy? Are you on "Team Throw Pillow" like me, or against them like Wyatt? Thoughts on our new DIY headboard?