---
Today is Will's first birthday and while I'm working on a recap post with details from his super simple but super wonderful party yesterday, I wanted to go ahead and share how I created a cute DIY first birthday shirt onesie for him.
I'll start off by saying that while this project turned out just fine for the one day he wore it, I would totally do it differently next time. But I'll get into that as I go along.
Also, this post does contain affiliate links, which means we will receive a small commission if you make a purchase after clicking on our direct link. It doesn't cost you anything extra but it helps us, so please shop away!
First of all, I knew I wanted the shirt to be on a white onesie and I had one that I'd recently cut the sleeves off of (because it is summer and long sleeves seemed silly for his monthly photos but it's all we had in his size-oops!) so I was good to go there. But, I needed a way to add the letters to the front. Life would have been easy if I had a Cricut or a Silhouette to simply cut out vinyl letters…but, I don't have that option and I was on a budget and a time crunch.
So we stopped at Wal-Mart after our anniversary dinner and I grabbed this package of what I thought was brightly colored iron-on fabric. Turns out it was stick on nylon…as in for tent or raincoat repairs. Oops. And it isn't machine washable and it doesn't stick to cotton all that well…but like I said, I was on a limited time table and since I was already most of the way done with this project by the time I realized this, I decided to just go for it.
The first step was to print out my letter template. I just designed a quick template in Word and printed it out and then carefully cut out the letters, leaving each line slightly attached to hold it together.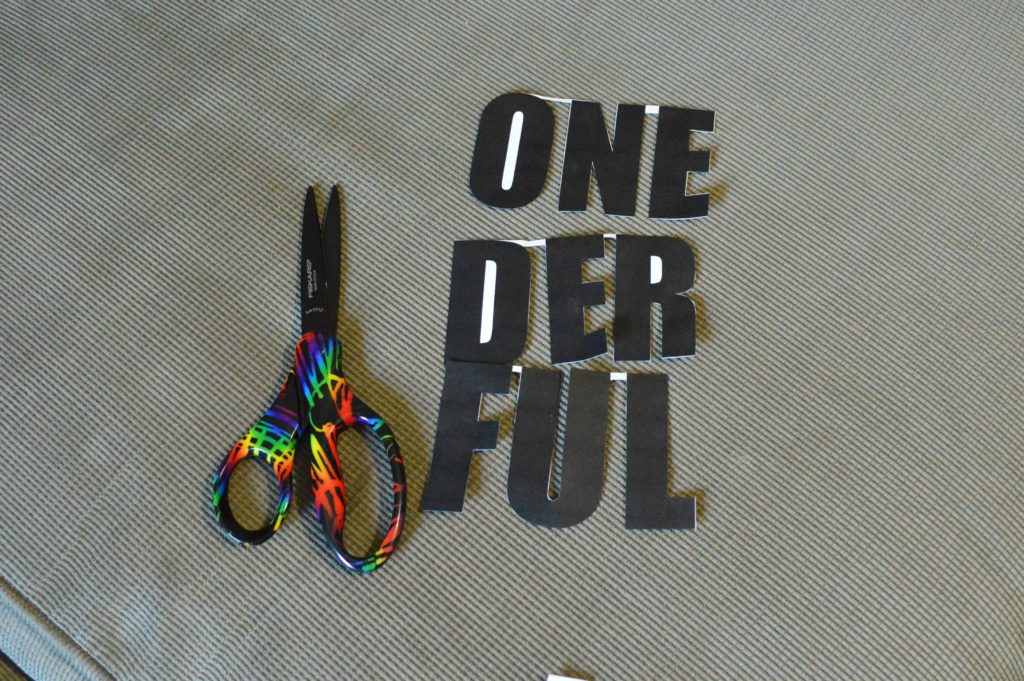 Then, I traced them onto the nylon sheets.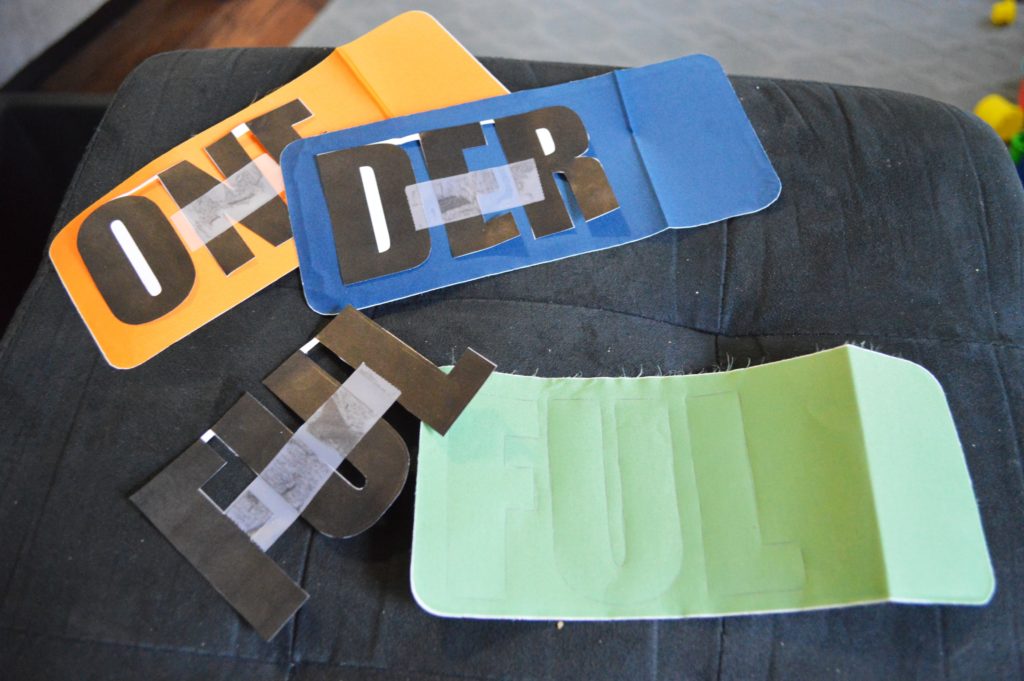 Then, I carefully cut them out again and arranged them on the shirt.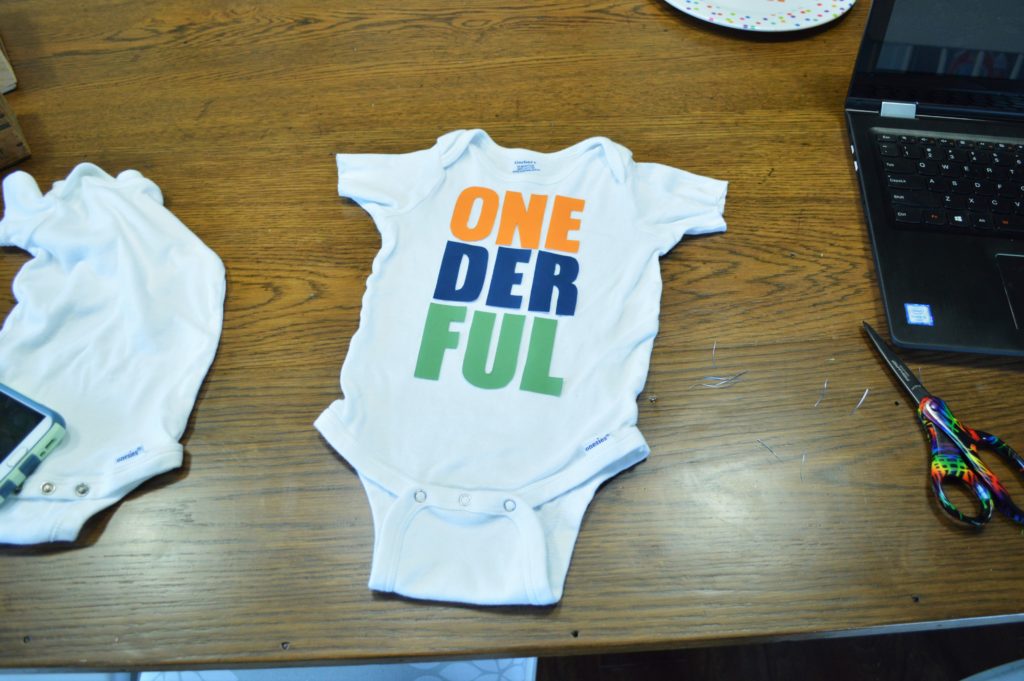 When I was happy with how it all looked, I peeled off the backs and carefully stuck them down to the onesie. Now, again, these aren't really meant to stick permanently on cotton, but I found if I pressed them down firmly, they attached really well. And I don't think they looked like stickers. I actually think they looked like vinyl letters I might have gotten had I gone the more expensive Cricut or Silhouette route…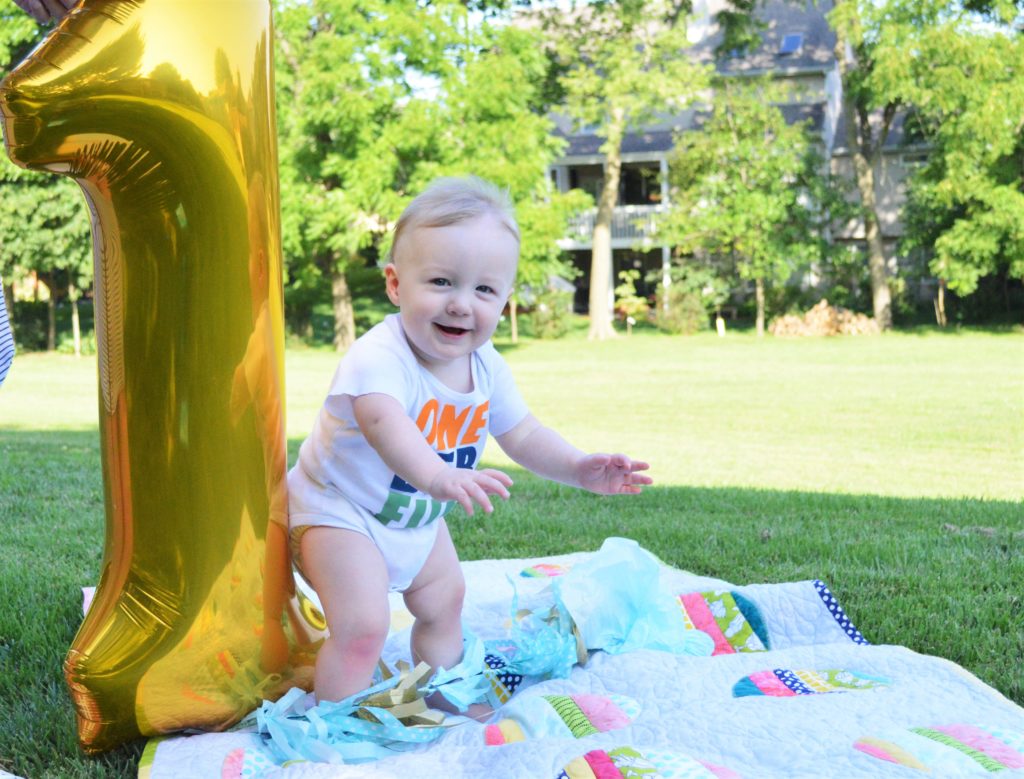 And even though the shirt isn't machine washable, they stayed on just fine for his "cake smash" despite some frosting smears and the subsequent wiping that occurred. They also lasted through a fairly sweaty hardcore playtime with dad.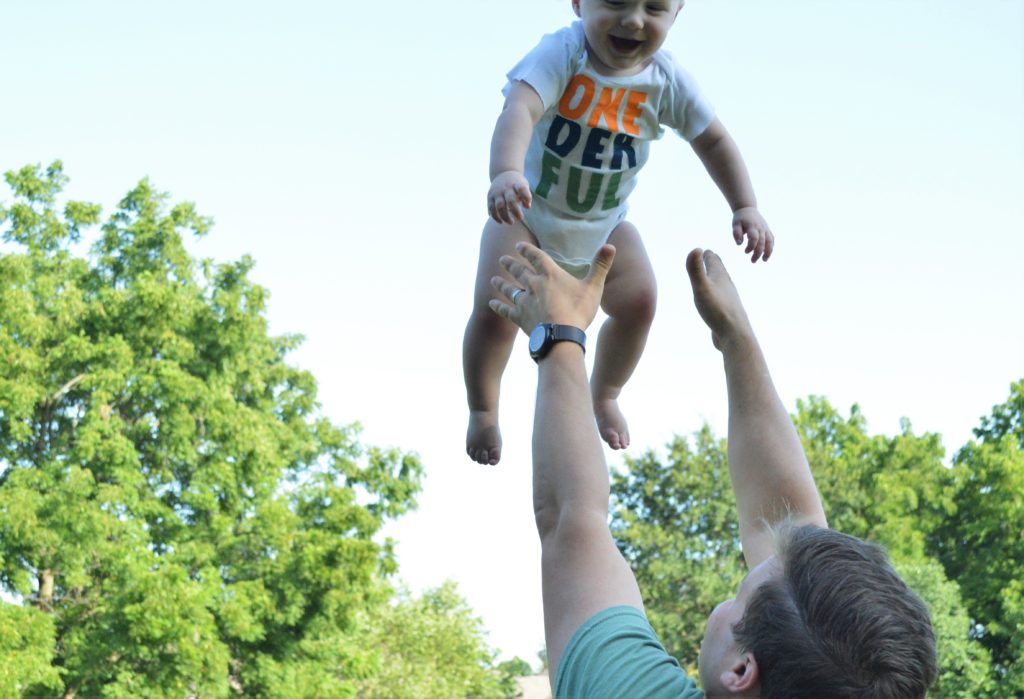 Anyway, even though I would have done this product differently given the chance, I'm still so happy with how it turned out.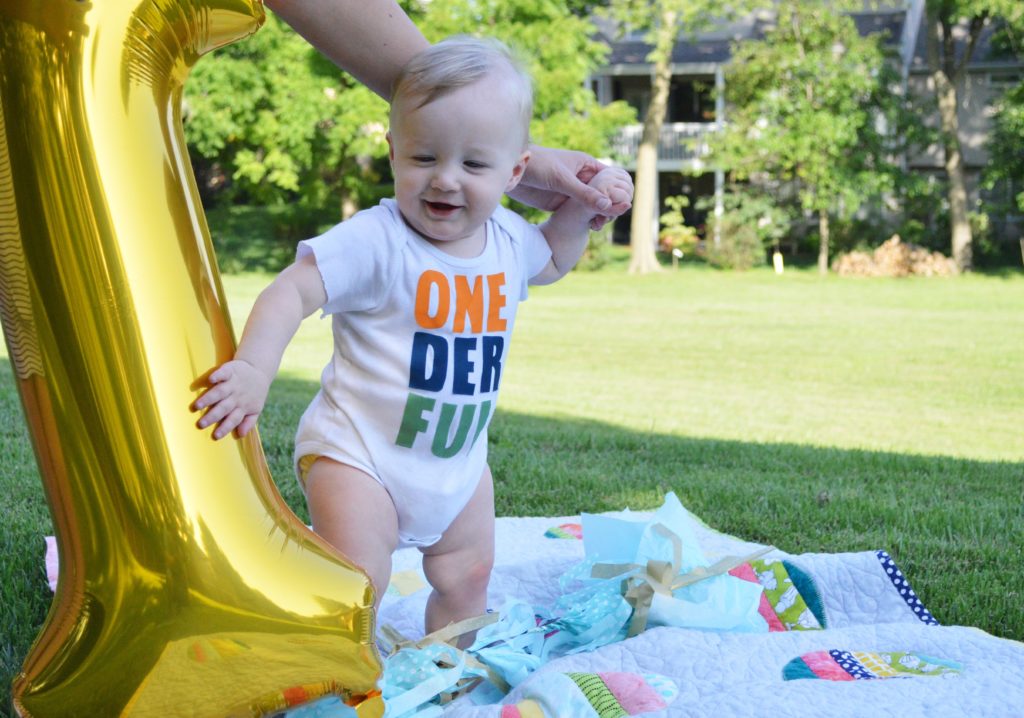 So cute.
The onesie, and the baby. (Or not-so-baby.)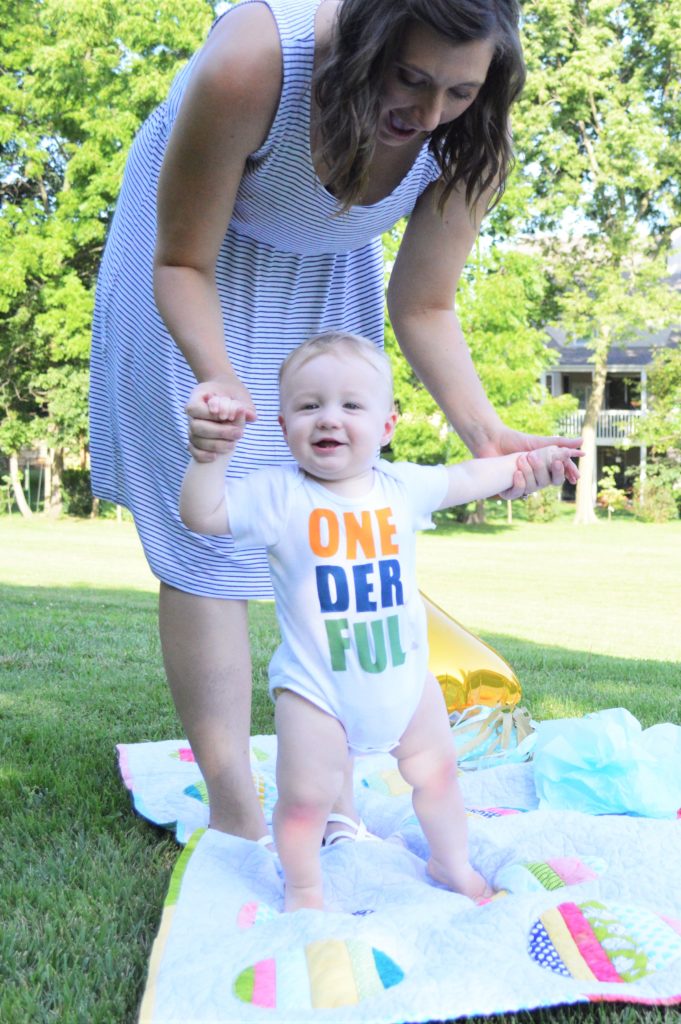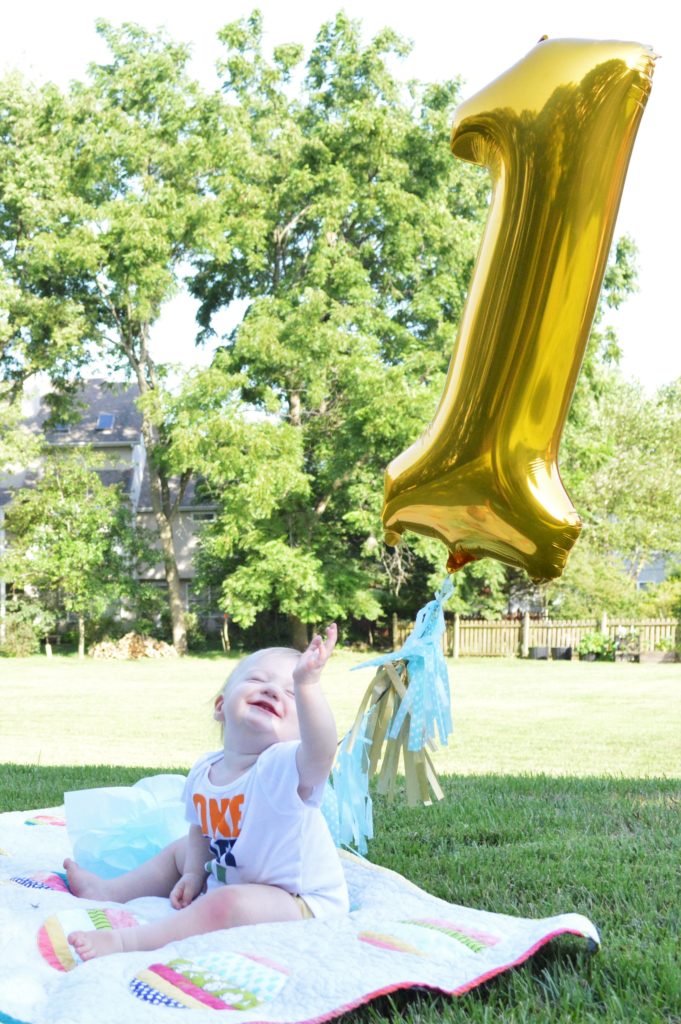 And honestly, I sort of like that I can just carefully peel off the nylon letters and reuse the onesie as a plain white shirt again. I mean, I probably wasn't going to dress him in his birthday shirt on many days other than his birthday, so this worked out well. Plus, it was super cheap.
If you're interested in the nylon product I used, here's an affiliate link for you. It's even on sale right now so you can do this project for even less cash!
But, if you wanted a more permanent, washable option, this is a great option from Wal-Mart. It's basically the same product, but it's twill instead of nylon. And slightly different colors.
Of course, if you don't want to do the work of cutting out the letters yourself, you could try these. I think they are cute without looking too "baseball tee-ish" which is what I told Wyatt most of the letter choices looked like.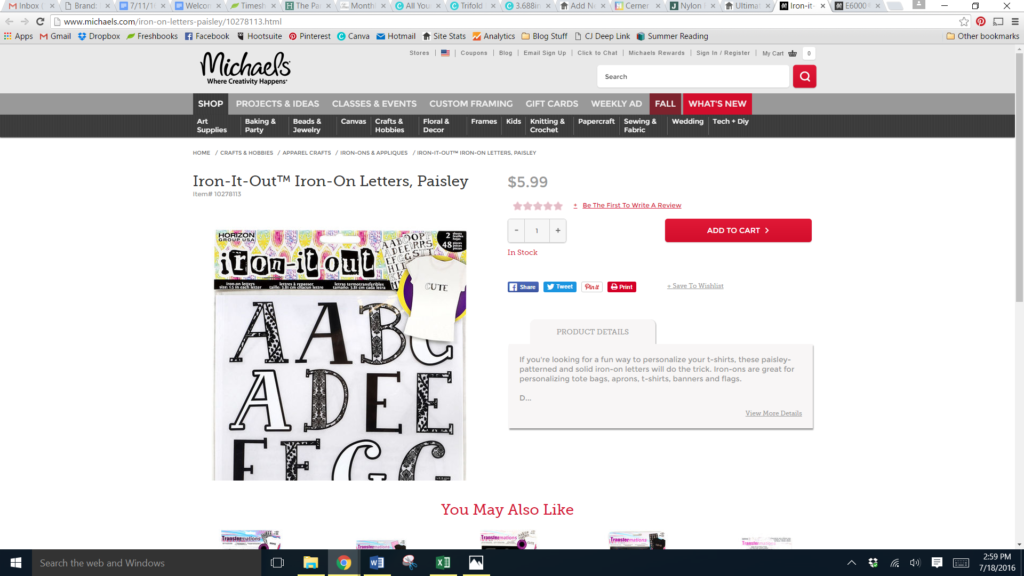 Or, you could get this glue-like product to make whatever kind of fabric you happen to have on hand iron-on friendly.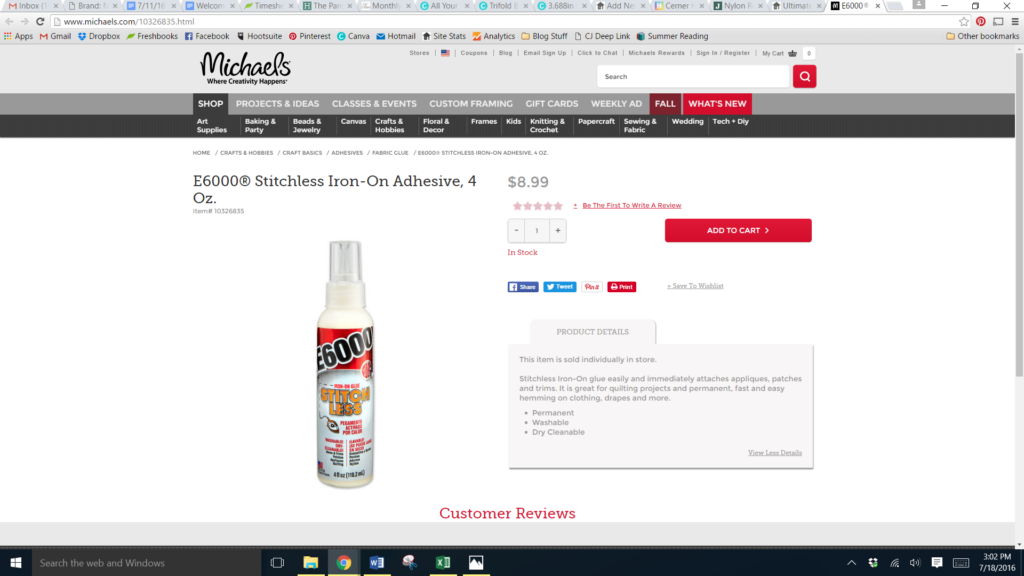 No matter what product you choose, I'd totally recommend this project. It was an easy, affordable project and such a cute addition to our celebration. Totally worth the couple of bucks and couple of hours I spent while watching TV.
I mean, I'll treasure these photos forever!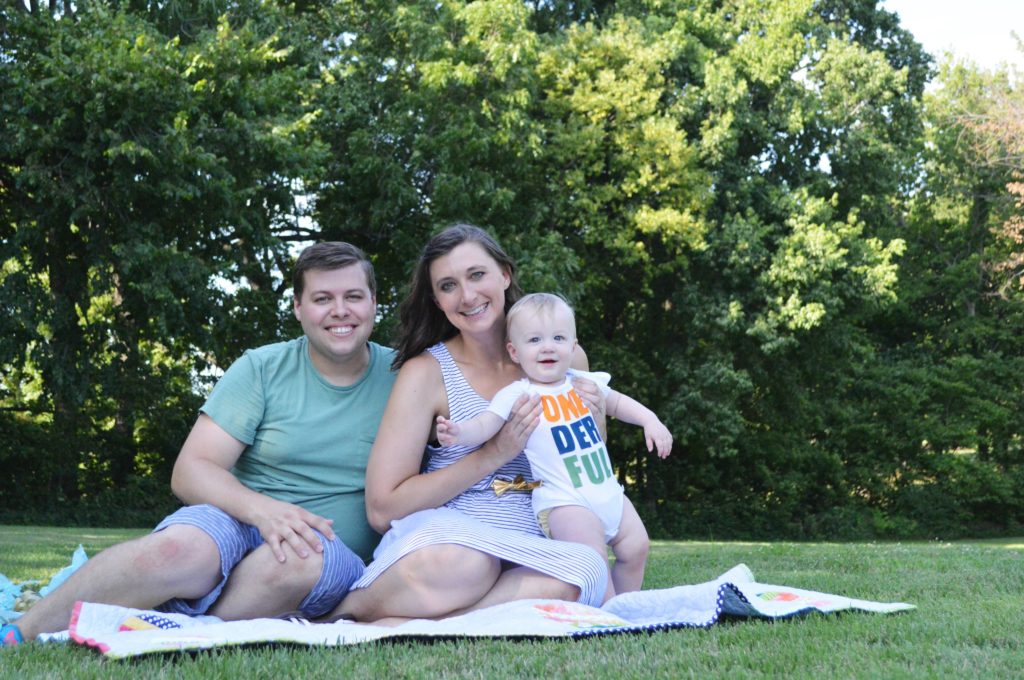 I'm excited to share the rest of the details from his celebration this weekend, and now that I finally posted (after more than a week–the shame!), tell me what's up in your world? Ever made a custom t-shirt for your little ones?
---
---
~ This post contains affiliate links and we will receive a small commission if you make a purchase after clicking on our direct link. It doesn't cost you anything extra but it helps us! Please reach out if you have any questions. Thank you for supporting LovingHere! ~