I know I've been griping and complaining about how slow progress has been for the nursery, but the truth is that we ARE chipping away at it. It's just a slow progress. Still, I should give a little update of where we are so far and what projects we've managed to complete. You know, considering we're like a week away from my due date now. Ha!
1.Scraping and painting the ceiling.
This room still had popcorn ceilings which means they needed to be scraped and repainted. Not a fun process, but it's so worth it to have it done, and in a small room, at least it doesn't take too long. We knocked the scraping out on a Sunday afternoon while my parents played outside with Will and the painted was finished in the evenings that week.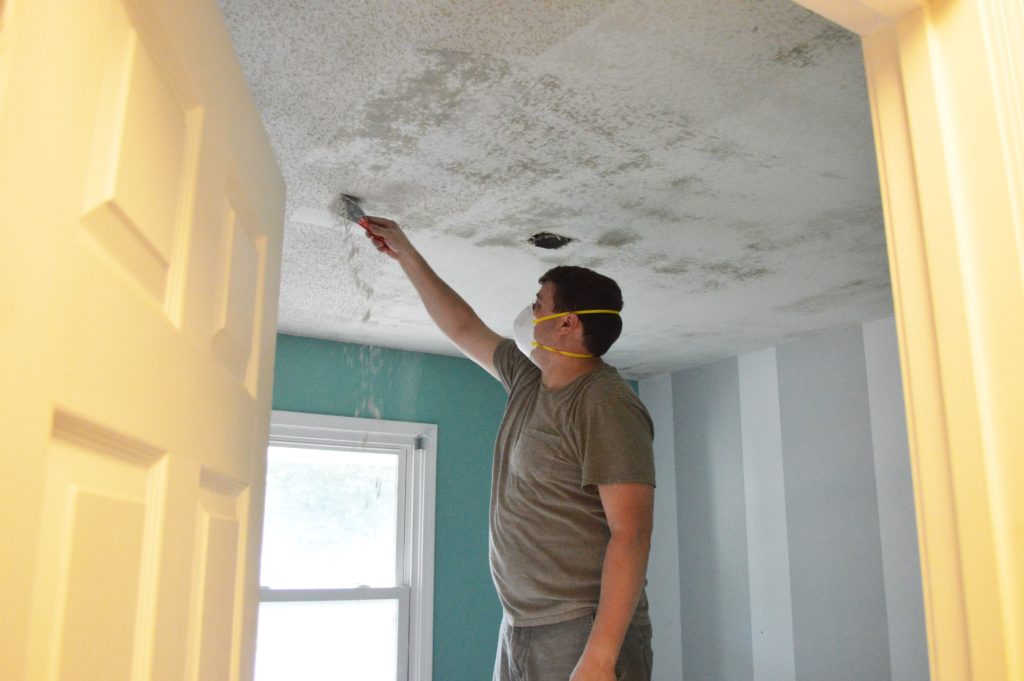 For all our tips on removing popcorn ceiling, including what you need to know about possible asbestos risks, CLICK HERE.
We also had to patch the ceiling around the light fixture. If you remember way back in 2013 when we were replacing the light fixture in my office, Wyatt got a little messy when cutting the hole for the junction box in the ceiling and we used a medallion to cover the rough edges of the hole.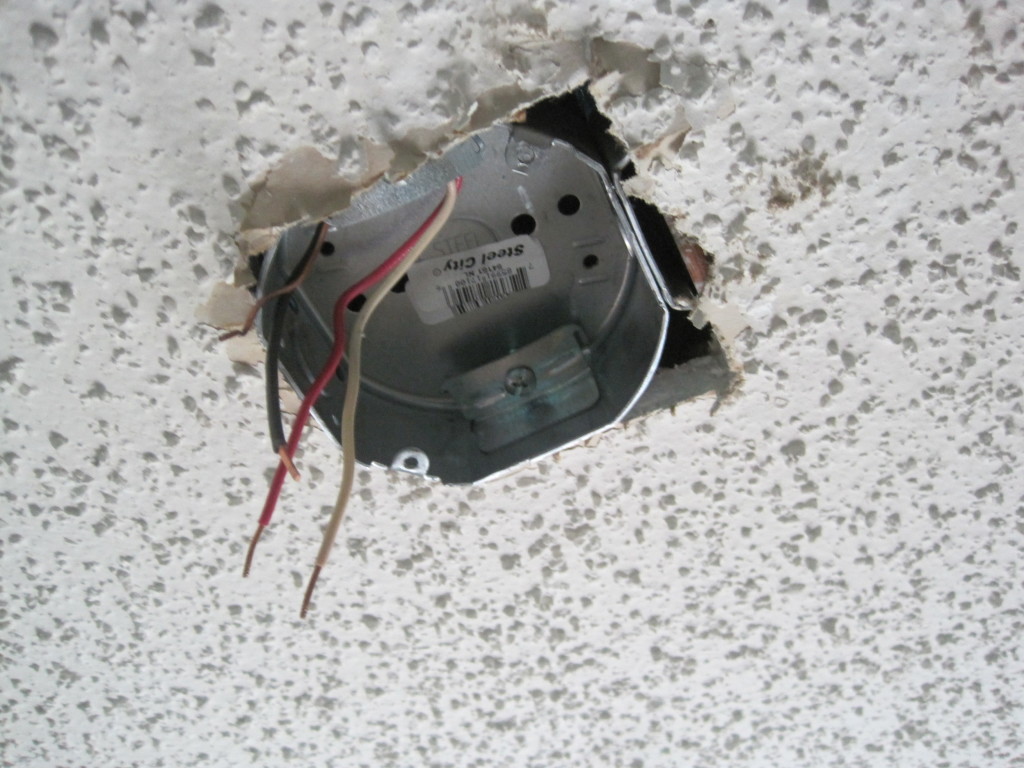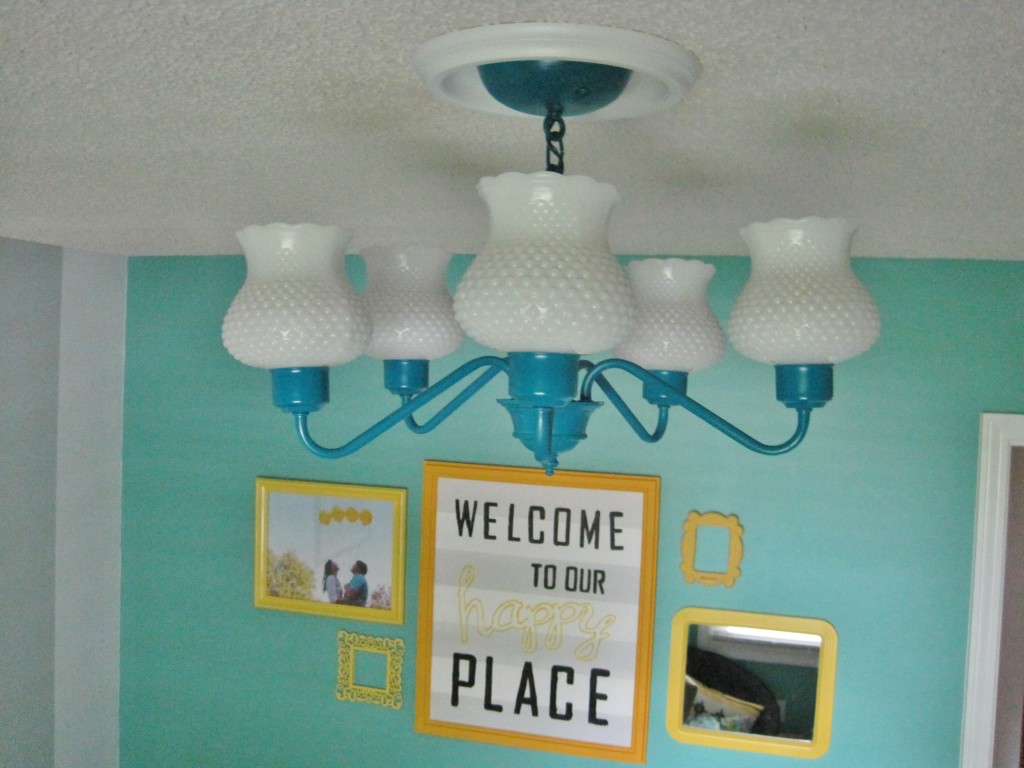 But, we wanted to fix that this time, so we grabbed a drywall patch from Home Depot.
Here's the one we picked up. It's less than $5 and worth every penny because it's much, much faster than patching with actual drywall: 8 in. x 8 in. Drywall Repair Self Adhesive Wall Patch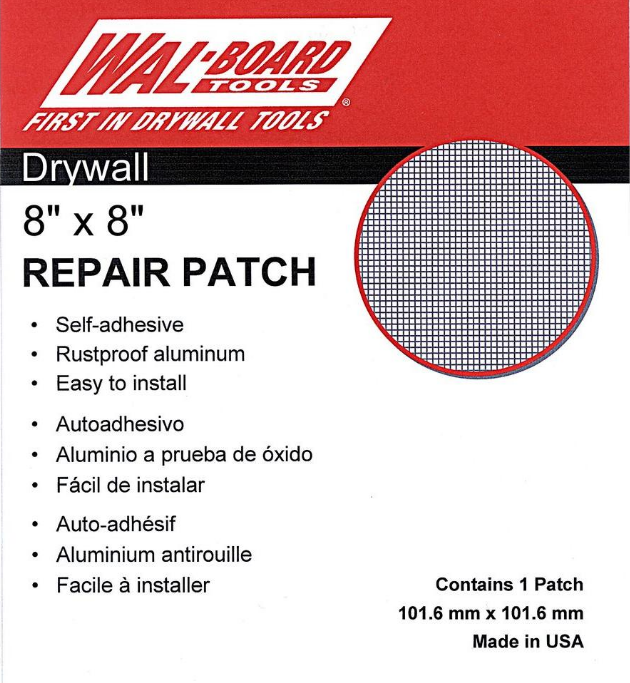 It's adhesive and we were able to cut the exact size hole we needed to fit it over the junction box. Wyatt tried to use a marker to trace along the edges, but in the end, we used a different trick…lipstick.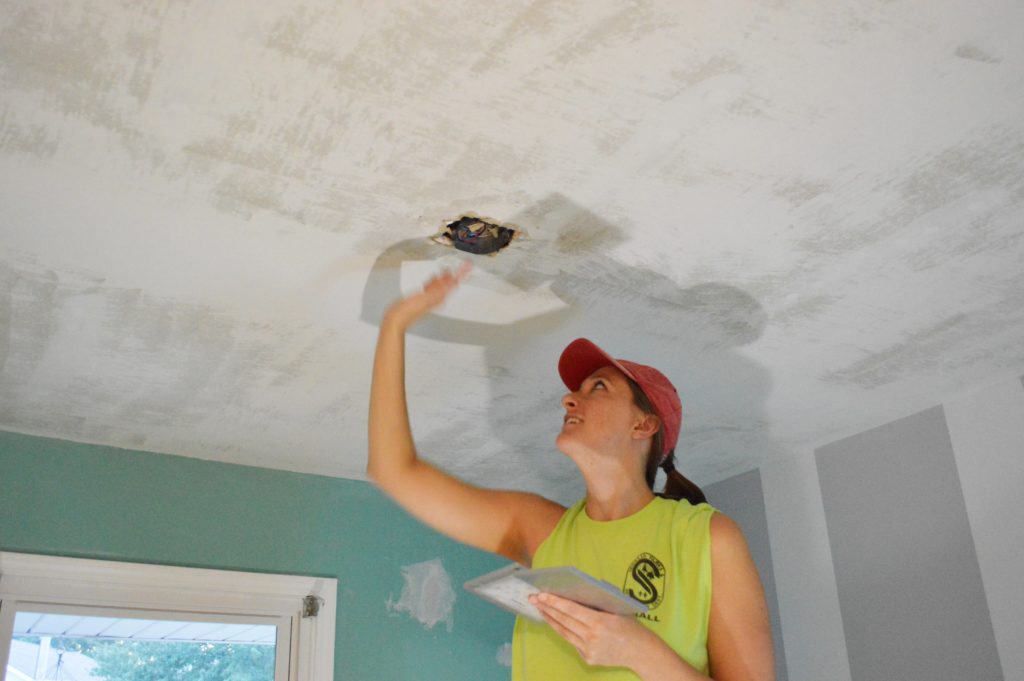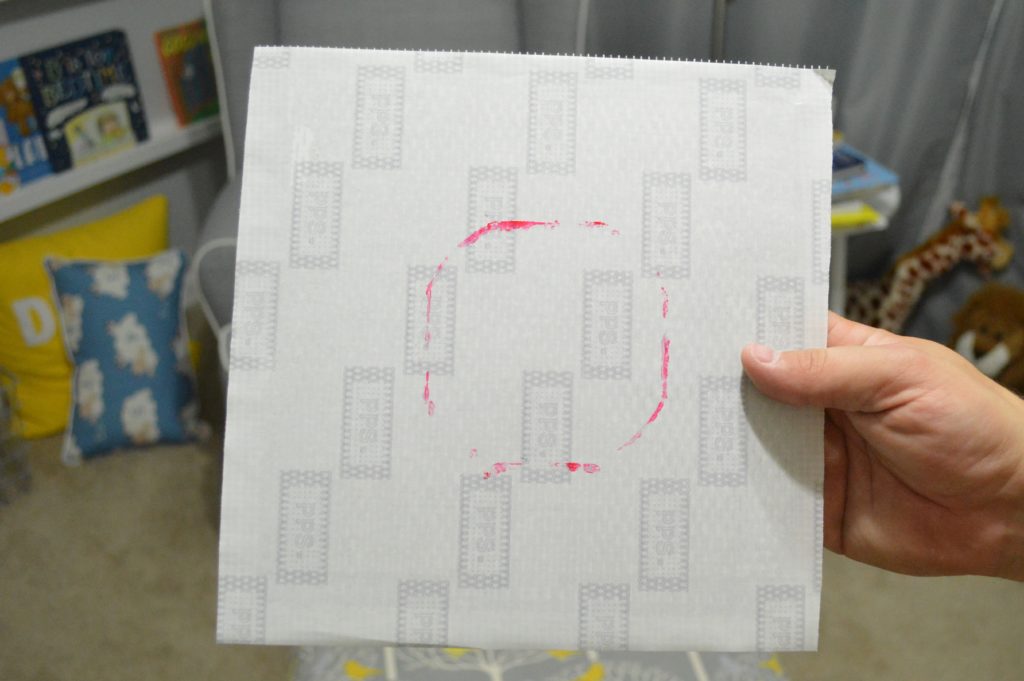 Which let us get the perfect patch and a really smooth ceiling. At last!
2. Painting the walls and trim.
Next, we primed, painted, and repainted the room and the closet. We were painting over stripes, and a bright teal color…with white. So, it took like 100 coats. Ok, just kidding. It was only 3 and a half coats of paint…but, still. It took a long time.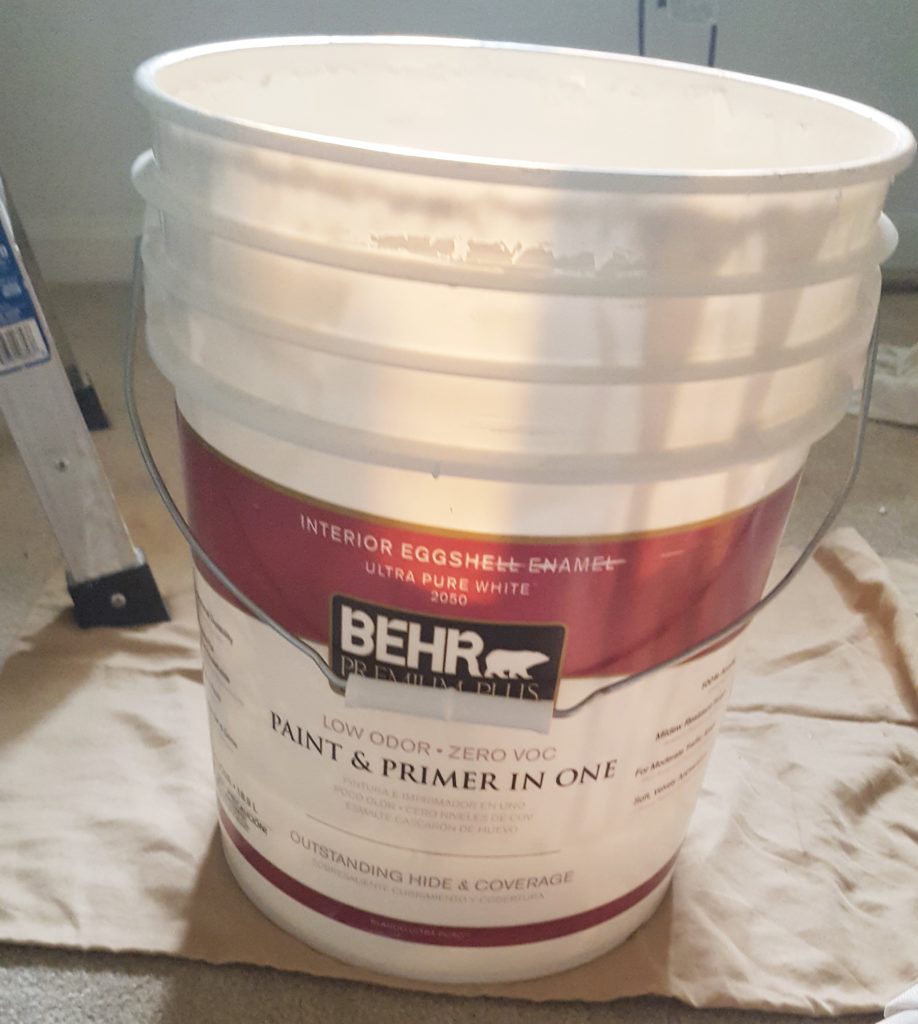 It did end up very clean and bright, though, which was the goal.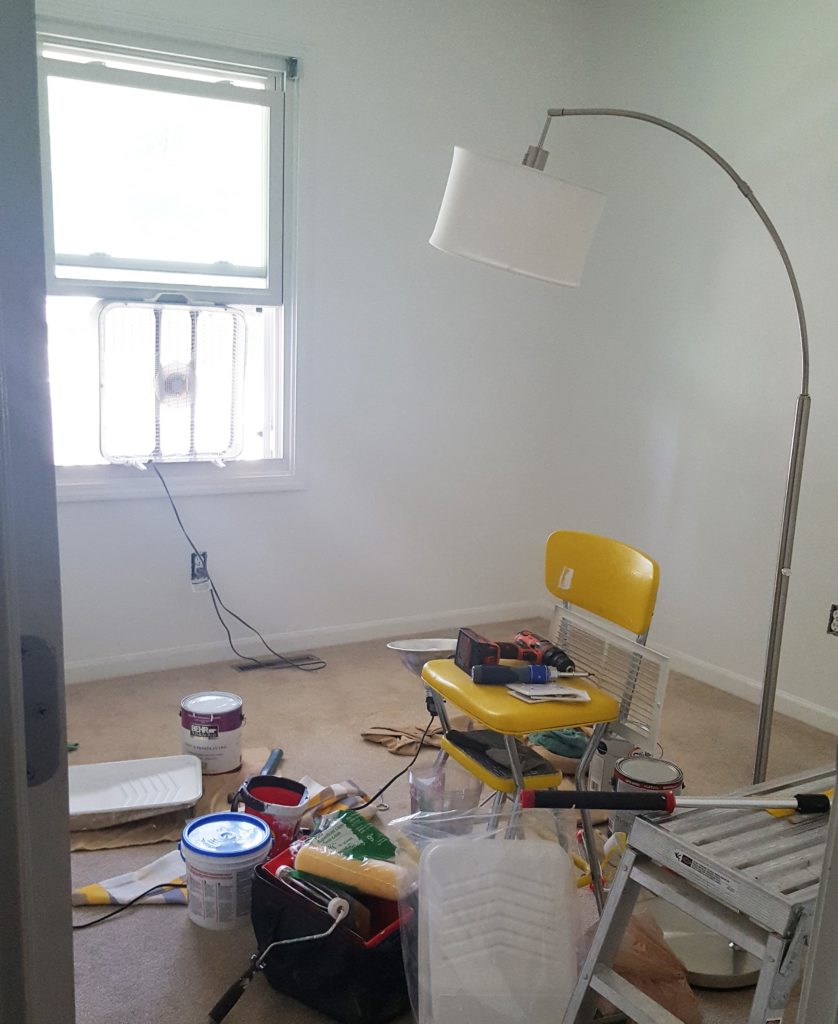 3. Adding a ceiling fan
Finally, we chose and added a ceiling fan for air circulation. Air circulation in a nursery is very important for reducing SIDS risk levels, and for us, it's more practical than a fan on a table, so we knew we wanted a ceiling fan, even though they aren't always the most trendy lighting choices. It's the perfect battle of form versus function. And in the end, function wins out for us in our family-friendly home, just for the safety of not needing a fan within toddler-reach.
So, we try to find the prettiest fans we can…and I spend hours searching and end up feeling overwhelmed and confused every time I have to pick one out. This time, though, Wyatt wanted a more modern design for the light, which narrowed it down. We considered going with a black fan to play off the black and white theme, but in the end, went with white to help it just blend in to the ceiling.
Here's the one we chose: Modern Matte White Ceiling Fan (It also comes in fun colors like green and blue and orange and red if you're looking for a theme room or something fun like that!)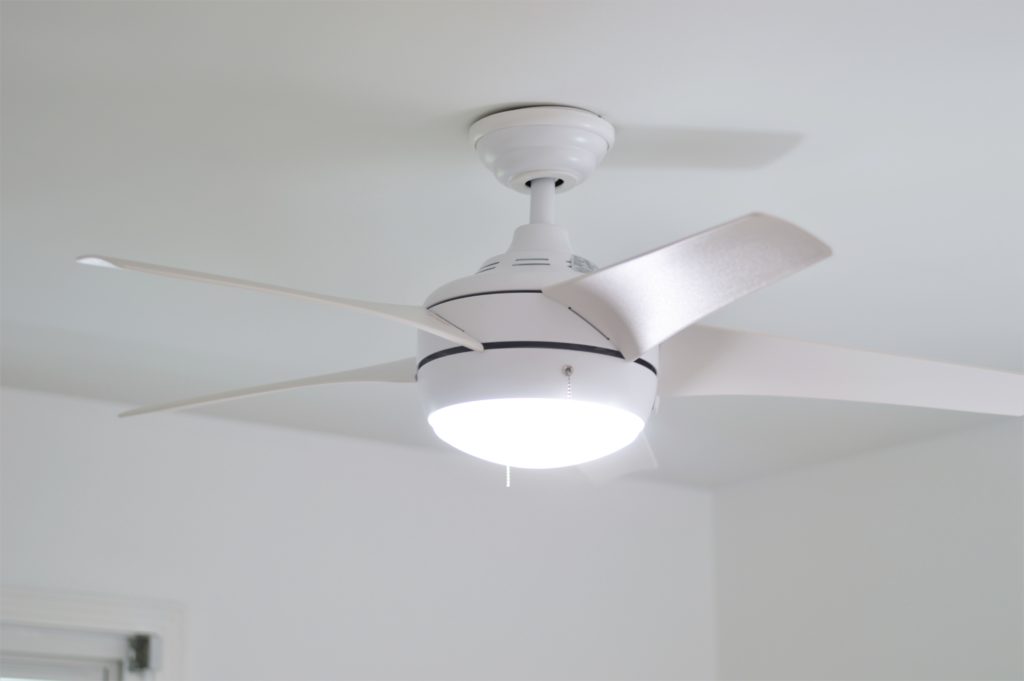 I don't love that it only has two bulbs, instead of three like the fan in Will's room. But, I think with a lamp in the corner, it will be bright enough for us, even on the darkest of nights. Plus, this room gets a lot of afternoon sunlight, and the white walls make it feel brighter, too.
Also, for our tips on installing a ceiling fan, CLICK HERE.
Other updates to the room include adding the dresser, chair, and crib to the room, and a bunch of other random things we need to get hung up, put away, or sorted out. It's been a very, very busy summer with Wyatt working extra long hours and me trying to work as much as possible with a toddler in the mix, but the room is slowly, slowly coming together.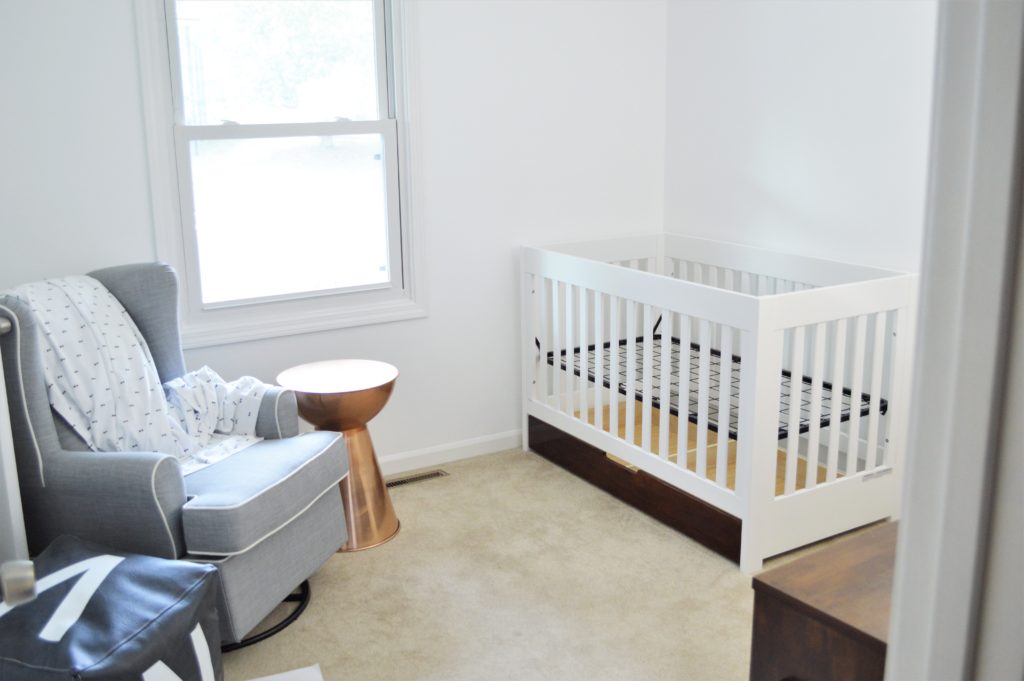 So, there's a little nursery update for you. We'll be back with more soon! In the meantime, are you team ceiling fan (function) or team pretty light fixtures (form)? I struggle so much with that balance!