***Pssst! Because you're awesome for stopping by our site, you can get some awesome freebies (like a customized version of this printable, custom photo Christmas cards, and awesome party invitations!). See this post for more info!)***
Well, all the expert sources, blogs, books, and advice from well-meaning family members agree–you should start packing your hospital bag around the 34-36 week mark. I didn't pack mine until 40 weeks+. Oops.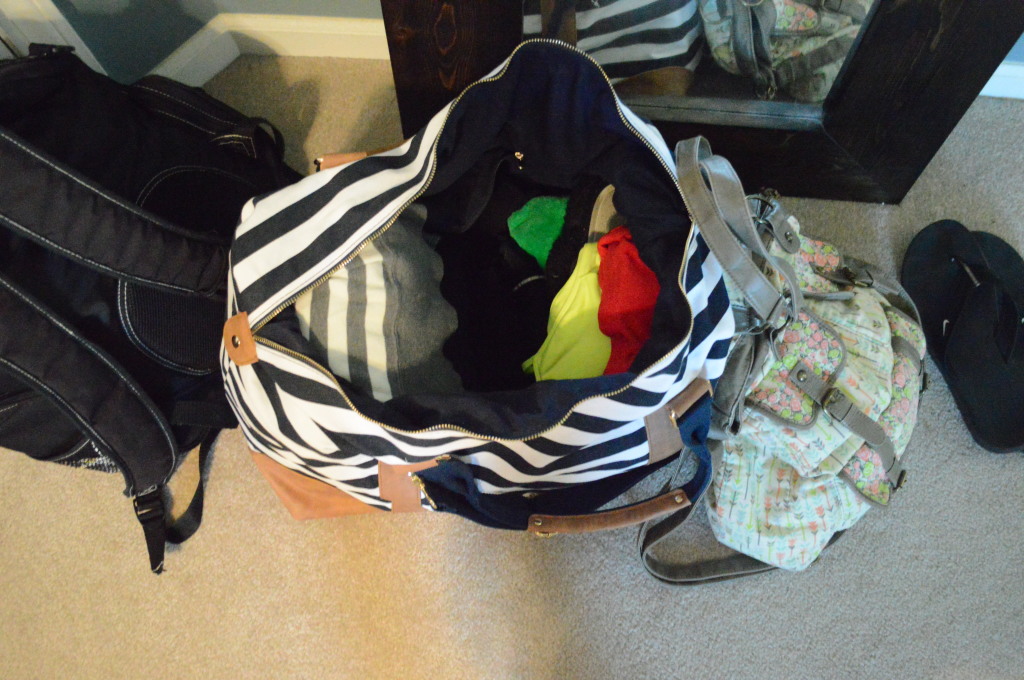 I'm not sure why, but for some reason, I struggled with this step, maybe because it was like admitting to myself the pregnancy was almost over…. which was both wonderful (we'll get to meat Beanie!) and sad for me. Because of the miracle of this pregnancy (I shared about that, here) and just because I'm not sure what God has in store for Wyatt and I in the future (more kids/ adoption/??), I don't know if I'll be doing this again. I hope to, but I also know it's not entirely up to me. 🙂
So, as we wound down the last little bits of this miraculous, wonderful time, I found my emotions to be a bit all over place, and packing my hospital bag just wasn't really at the top of my list.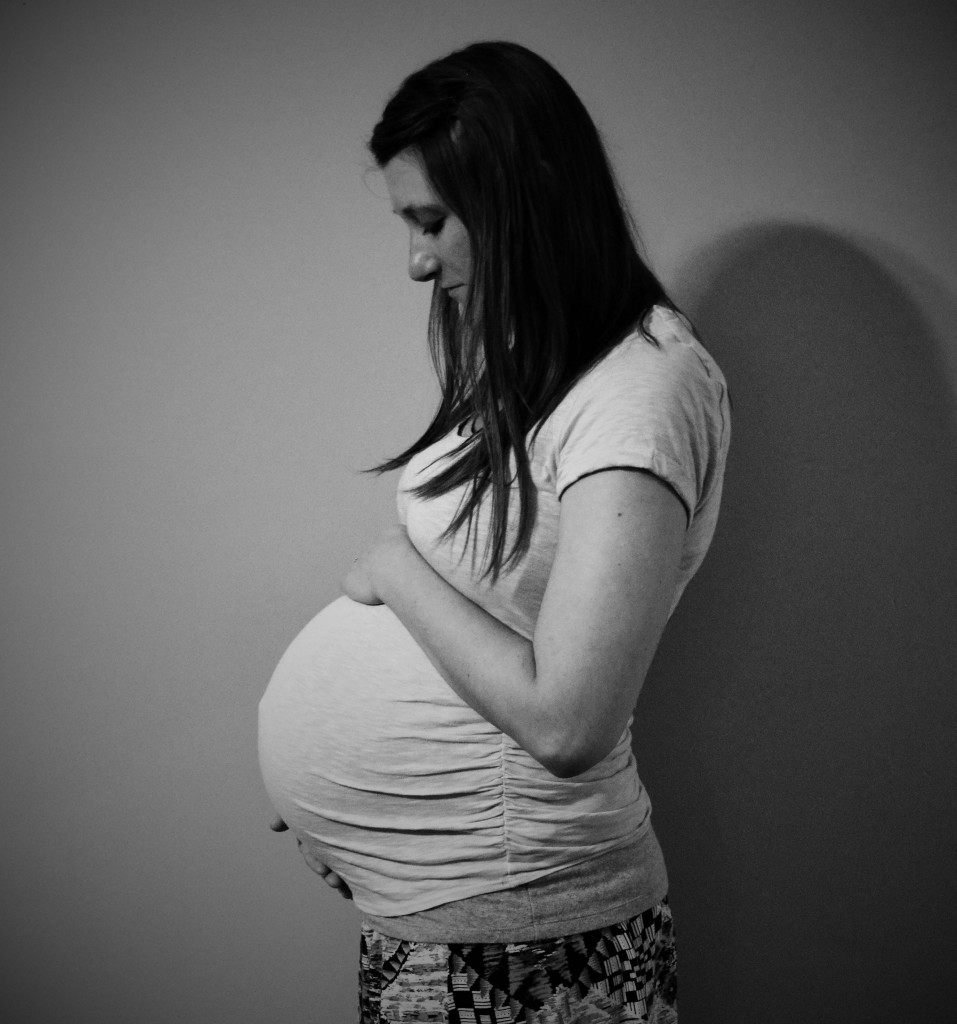 I know I'm no expert because I haven't done this before, but I still wanted to share what I packed in my bag in case it's helpful to anyone. Plus, I made a cute printable you can download and use for free if you'd like! In fact, I made three versions because it was fun and another way to procrastinate actually putting the items in my bag. Scroll down to save and print for your own use.
Oh, and about my bag, I grabbed this one on sale from Target several weeks ago. It's not on sale anymore, but still a pretty good price, I think. It's a nice size and I plan to use it again in the coming years for weekend trips or outings.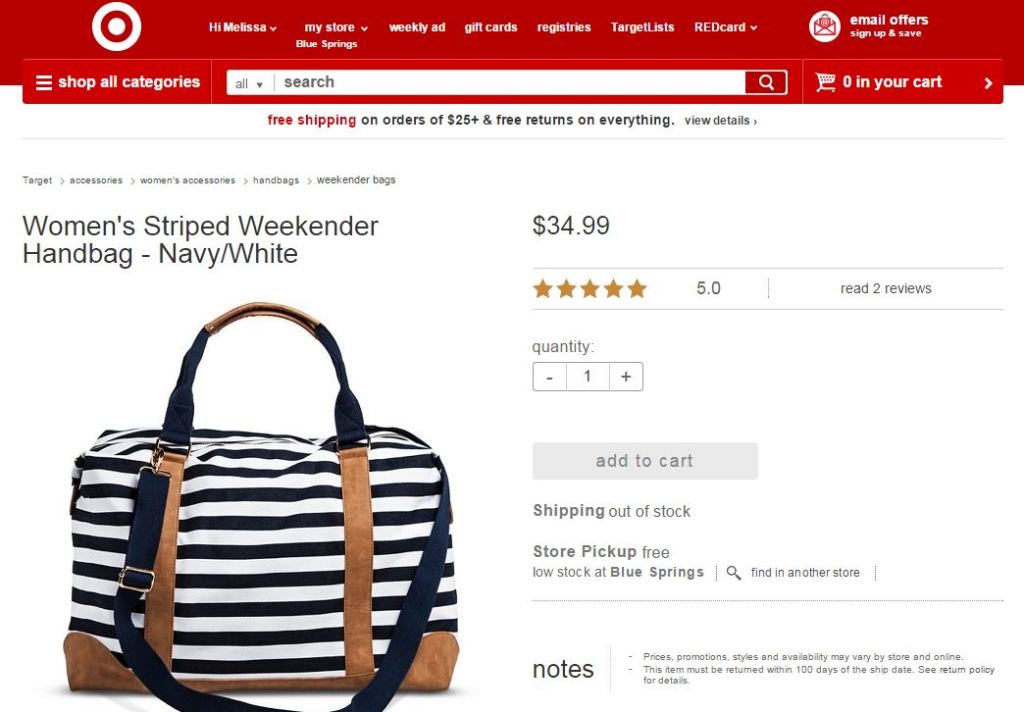 For a little explanation of why I chose the items I did, let me first say that I know this is highly subjective and I may have chosen items you would never want to bring, or may have left off items that you couldn't live without. This was just the most basic list I could come up with after advice from friends and online resources, not to mention asking a few questions during our hospital tour. I've included some commentary in the list below, but again, I'm no expert, so take that with a grain of salt.
(Side note: did you know that expression has to do with using salt to help develop antidotes to poison? Weird.)
And, please note that I didn't end up using everything I packed, which may mean I over-packed, but it was really nice to know I had these things in case I did want them.
For Mom:
ROBE/ PJS I know not everyone would want this, but I'm not one to be comfortable in "not my own clothes" so after labor, I changed into something comfy and soft as soon as I was feeling more recovered and less messy, which didn't happen until the second day, but it was still a good thing. 
SOCKS/ SLIPPERS/ SANDALS I brought an old pair of slippers/sandals that I would have been fine with throwing away after this hospital stay, even though I ended up just washing them. Something to wear on the cold floors to keep my toes warmer. 
OLD UNDERWEAR Need I say more? I know our hospital provides the disposable kind, but the nurse recommended bringing your own in case those are uncomfortable. I didn't wear these as I was just fine with the mesh kind they provided, but again, good to know I had my own just in case.
NURSING BRAS/ TANKS  These didn't take up much room in my bag so I didn't mind that I ended up not using them. We were blessed to have a lot of quiet time in our room with few visitors and lots of time to snuggle skin-to-skin with baby on my chest.
CLOTHES TO WEAR HOME 
BOOK/ MAGAZINES/ ETC. I brought one book in case I has trouble sleeping because that's the best way for me to relax without staring at my phone screen, and a magazine or two because I find them comforting when I'm trying to pass time without focusing on something too much. You might not want these, but I do. As it turns out, labor wasn't long enough to need these in my case!
MUSIC/ SHOWS/ MOVIES  Again, didn't need these because labor was so fast and intense, but it was nice to know I could watch FRIENDS if I needed something familiar and fun to keep my mind off labor for awhile. We had them ready to go on the tablet we got from Wyatt's mom. (Thanks!)
PILLOW I know the hospital has these, but I know I slept way better with a soft pillow case that I know was clean…and mine. I'm picky about that. 
NOTEBOOK OR JOURNAL I wanted to remember the experience and wanted to have Wyatt take notes as we go along. Plus, we could write down any questions we had or gifts we received to send thank-you notes. I'm a writer. This was important for me. It might not be for you. 
TOILETRIES The hospital would have provided a lot of this stuff, but it was nice to have something a little more familiar and it all fit well in my overnight travel kit anyway.

HAIR TIES/ HEADBAND/ BOBBY PINS (I can be picky about pony tails and headbands when I'm not feeling well, better to have a few options)
FACE/ LIPS/ TEETH/ EYE CARE ITEMS (glasses and spare contacts were a must!)
SHOWER STUFF/ DEODORANT
VITAMINS/ LOTION/ OTHER
For Dad:
COMFORTABLE CLOTHES He brought sweatpants, shorts, and some t-shirts, The sweatpants were great because it was cold in our room and he didn't have a very cozy place to sleep.
PILLOW Wyatt isn't a wonderful sleeper when it comes to not being in his own bed, so I knew this would be comforting to him. 
CLOTHES TO WEAR HOME
BOOK/ MAGAZINES/ ETC.  He didn't pack much in this category, but I included it just in case he wanted to.
TOILETRIES He handled his own sub-list here, but didn't need much as he isn't picky about things like shampoo. His own toothbrush was nice, though.
SNACKS/ GUM I know you can buy these, and some were free from the hospital, but I'm cheap and picky so we packed a few things from home to have on hand in the room for Wyatt, and myself, after labor of course. We ate and drank a lot of what we brought, too. Thankful to have this!
For Baby:
HATS/ BOOTIES/ MITTENS 

I mainly wanted some little hats because babies can have some funny shaped heads after birth and I didn't want to be distracted by that when admiring our little one. Plus, hats or bows are adorable on babies and since we didn't know if we were having a boy or a girl, it was nice to feel prepared.

PHOTO OUTFIT Just something sweet to wear for a few photos other than those blankets, although the blankets are pretty cute, too. 
GOING HOME OUTFIT I read to pack two of these, in case of messes, but I wasn't super concerned about the perfect outfit since it's only 10 minutes to our house and I knew I could hold off for any major photos that long if something happened. 
CAR SEAT (INSTALLED) Of course. 
BABY BOOK Good to have for the footprints or writing memories directly in some sort of book, but I was a slacker and didn't buy one ahead of time. Oops. 
Important Stuff:
ID/ INSURANCE/ PURSE I grabbed my wallet and purse, but just in case, included this on the checklist because we really needed this stuff!
HOSPITAL FORMS/ ETC. We pre-registered online so I didn't have anything to actually pack except the confirmation email stored on my phone.
BIRTH PLAN INFO I didn't have a specific birth plan, but I had a general list of thoughts on things I would prefer. I didn't plan on using this unless I was feeling scattered and overwhelmed in the moment and needing some reassurance but it would also have been helpful in case Wyatt had to make any important decisions on his own. I also brought the materials we had from our birth classes, with various yoga stretches to help me get through as natural of a birth as possible.
MEDICAL INFO/ FOLDER FOR NEW DOCUMENTS We didn't have much in this category. The folder was helpful to keep important stuff contained and not damaged or bent in the bag.
PEDIATRICIAN INFO 

For us, that meant the name of our preferred doctor. The practice already makes rounds at our hospital so we didn't need the phone number or anything else.

 
Other:
VENDING MACHINE CASH Wyatt usually doesn't have cash, and I rarely have small bills or much change, so this was handy to remember so we don't have to beg, borrow, or run to an ATM if we got a middle-of-the-night need for Oreos or Wyatt wanted another soda.
CAMERA/ CHARGER Duh.
PHONE/ CHARGERS/ EAR BUDS 
LAPTOP/ TABLET/ CHARGERS We didn't use these but that's okay. If labor was longer or my recovery easier, it would have been nice to have them. 
SMALL EXTENSION CORD This isn't necessary, but was nice since outlets aren't always positioned close enough to have a phone near you while charging.
NURSE "THANK-YOUS"/ CARDS
BAG FOR GIFTS/ FREEBIES Good to have for diapers, supplies, etc. we got before leaving the hospital so I didn't have to cram them in my own bag. 
I also packed a few things that aren't on the list, namely a small travel-sized essential oil diffuser to use during labor. It's battery powered and helped to make the hospital feel a little less "sterile" and a little more homey and relaxing. It was recommended in our natural labor class and I think it was great to have.
And, there are some items we couldn't pack ahead of time because we were still using them, although I did go ahead and transition to using all my daily cosmetics and such out of my travel bag, though, so it was fast to grab and go.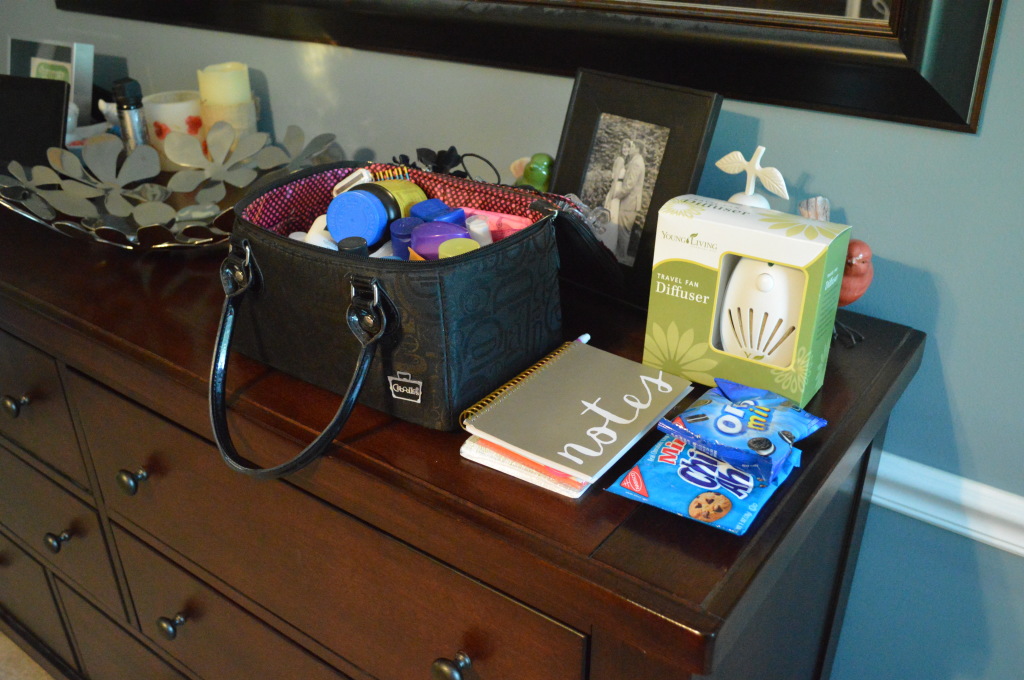 I also left room to quickly grab our electronics and chargers and shove them in Wyatt's bag.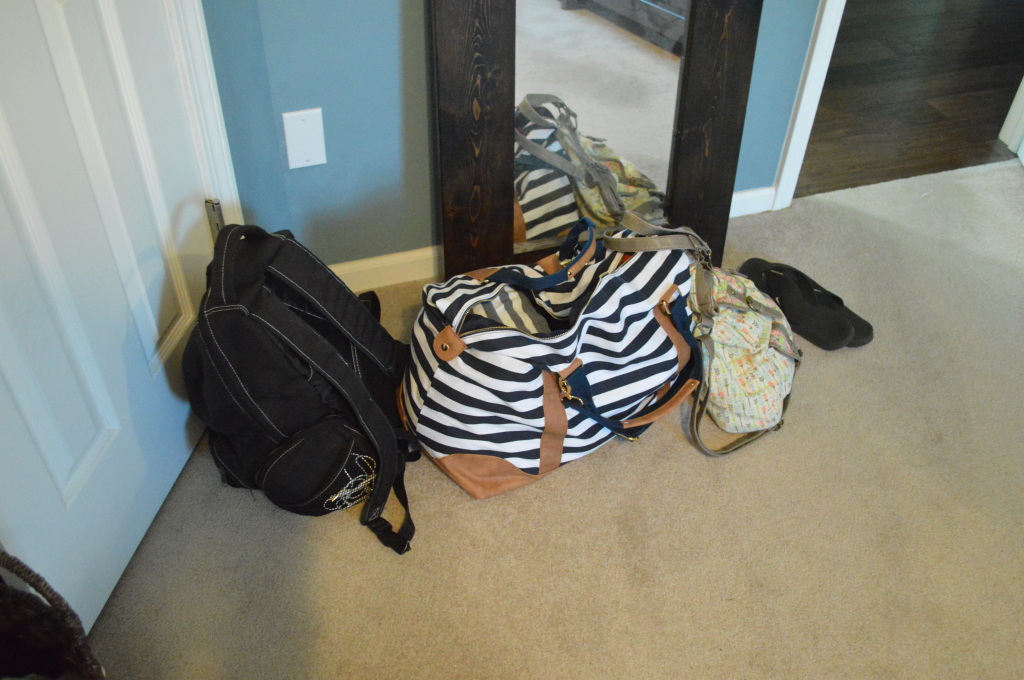 I also had a bag ready to shove our pillows into as we got ready to head out the door. The reading material, cell phones, and chargers got shoved into my (large) purse.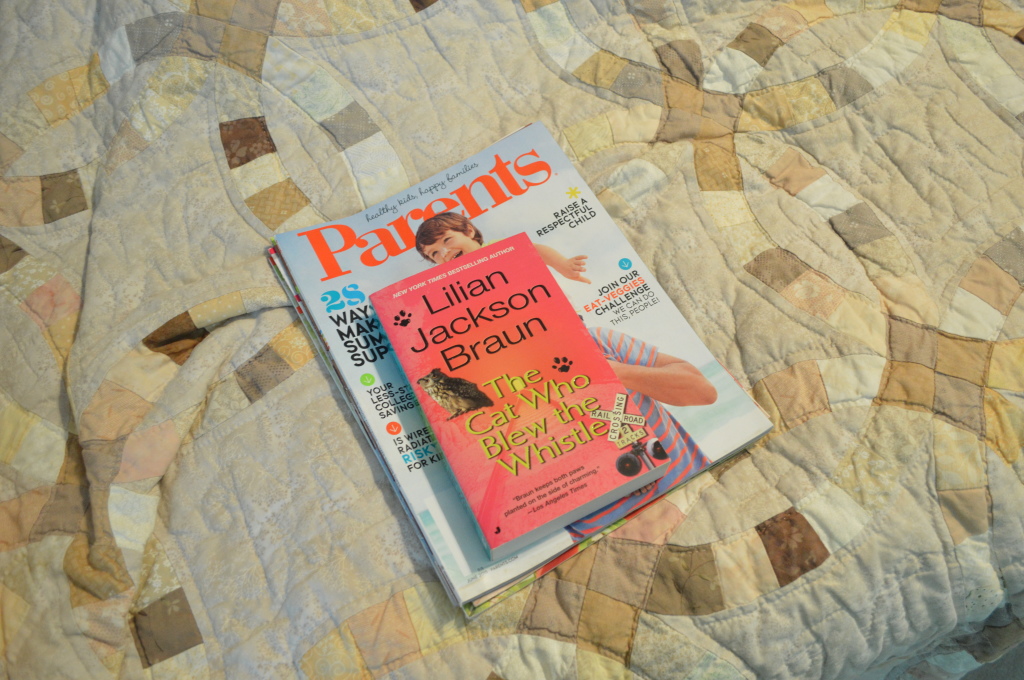 So, there's my list, as a few thoughts on why we chose the items we did. I'd be really interested to hear what you found helpful or not helpful for the hospital.
Feel free to download any of the following prints for your personal use. Just right click on the image and select "save image as" to save and then print at your own leisure (as long as you don't sell it to others!)
I started with a blue flower design.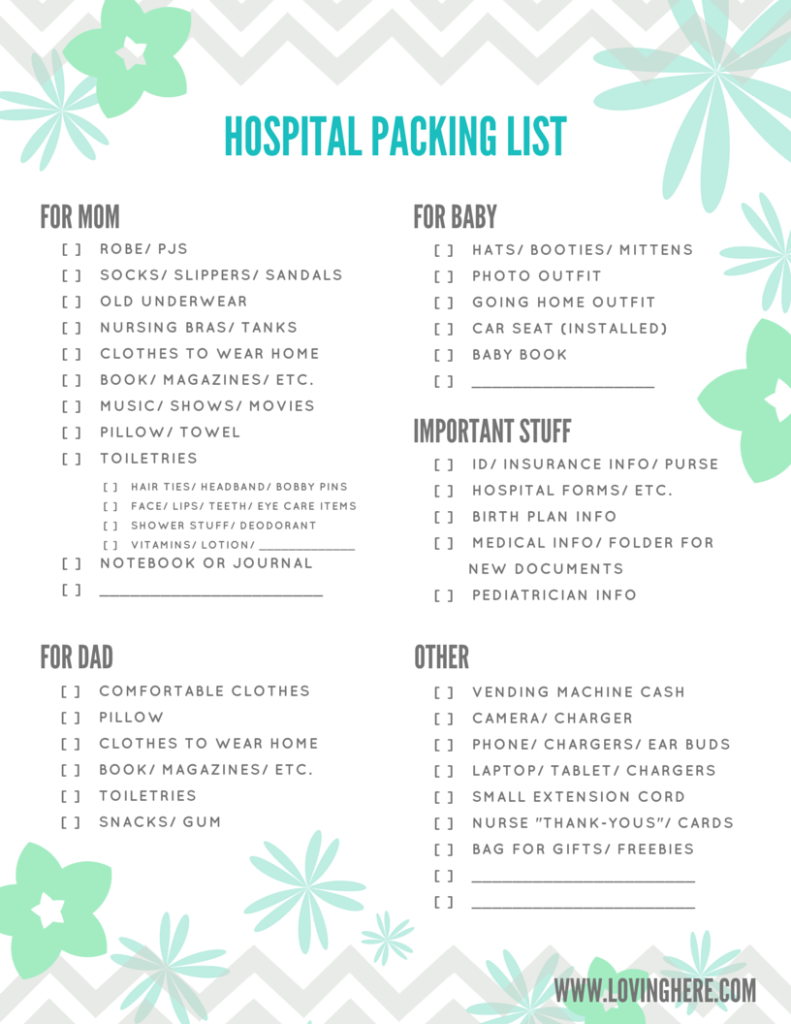 Wyatt encouraged me to make one a little more"baby themed. I do like the duck "splashing" through the bottom on the list.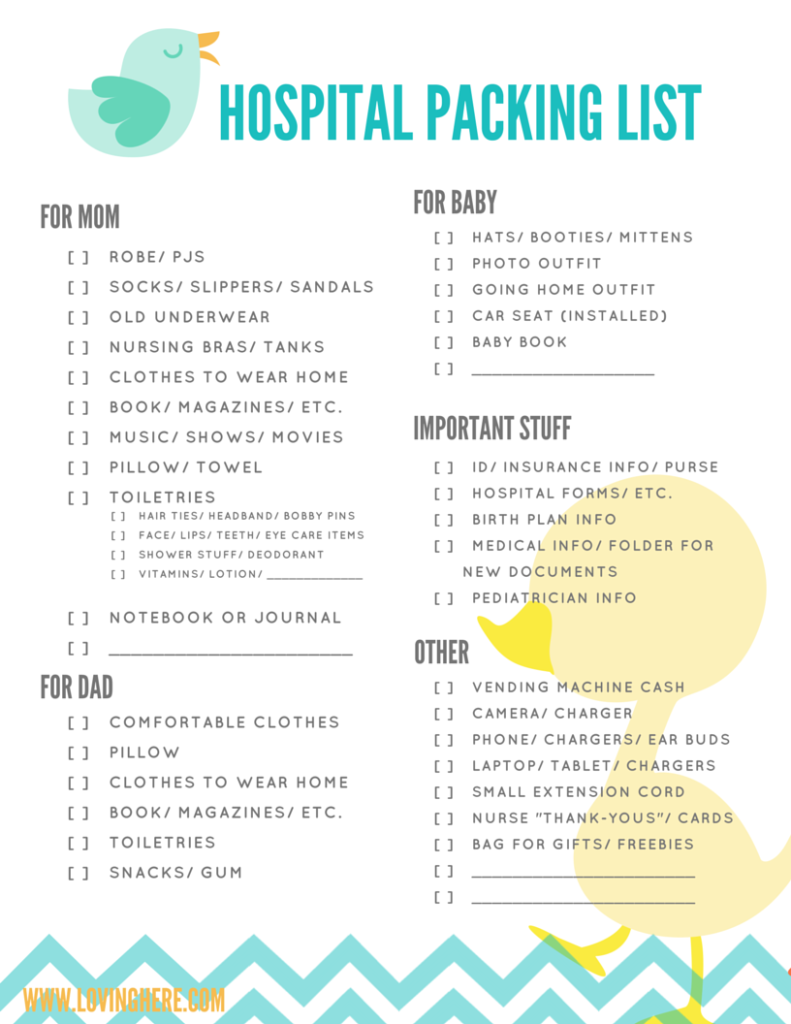 And the one I liked best, with the "list" graphics.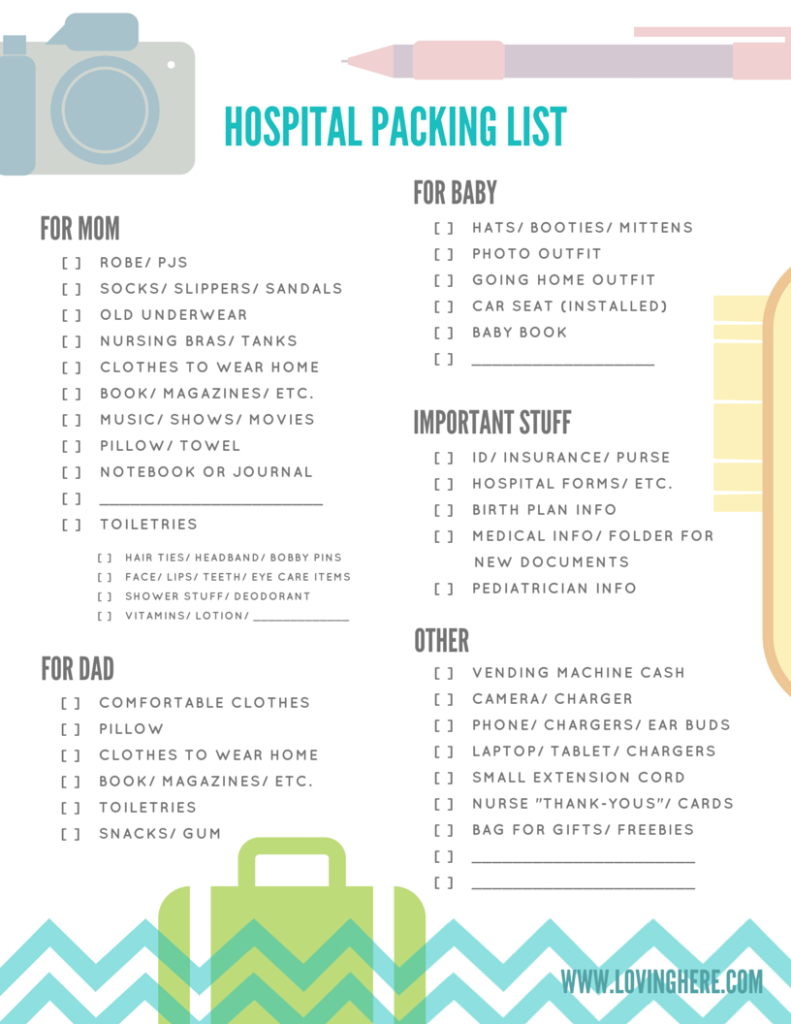 Or, if you'd like, I'd be happy to create a custom list for you for $5 for one round of simple edits. Just send me an email at melissa (at) lovinghere.com if you're interested.
Right now, you can get this customized for FREE! (Details here—USE CODE LOVINGHERE2015)
Now, tell me your packing suggestions. What did I miss on these lists? Or maybe this is way more than you'd pack? I know some people would say we don't need to bring snacks or pillows or toiletries…
*Remember, this free printable is available for personal use only. Selling this design as your own isn't allowed. It's also not nice. Thanks!