Hey! Want more kitchen-mini-makeover madness? Read this post!
When we moved into our house and started to plan what projects were "must do right now" on the list, the lights in the kitchen seemed pretty high up on the list. In fact, replacing the counters and painting the kitchen cabinets was also pretty high on the list. Of course, the kitchen project also included painting the walls (we did that for EVERY room), new appliances (everything but the microwave which was already new) and redoing the floors (already hardwood, but very scuffed and scratched).
So, when we started in on the house with our biggest and messiest project first (the popcorn ceilings), we soon got a rude awakening. Not only was all this going to be messy and time-consuming, it was going to cost money.
We had already planned out our budget for this first round of renovations but we hadn't really priced any of the things we wanted to do. Fortunately, we were young and energetic and excited so we were happy to do the work ourselves, which saved a lot. Unfortunately, we had no supplies to work from.
Projects that might have been free to people like my parents (who seem to have every tool or supply ever needed) became quite pricey. For the ceiling, which should have been really cheap or even free, we found ourselves running to the store to buy plastic drop cloths, a big tarp, tape, paint, primer, brushes, rollers….the works.
Of course, we borrowed lots of things like ladders and tools and a shop vac, which helped a lot, but still, all those little things added up to take a bigger chunk out of the budget each time we tackled a new project. Yikes.
Anyway, after diving headfirst into several projects at once and quickly realizing how far "not far" our money was going to go, we started making cuts to our list of "must do right now" projects.
Unfortunately, that meant we were no longer planning to replace the kitchen counter tops. Plus, after moving all our stuff into the cabinets and realizing we'd rather just replace them entirely since they were not as functional as we'd like, not to mention tweak the layout of the room a bit, we realized it would be a waste of time and resources to paint the cabinets now and then just tear them out in a few years.
So, we narrowed down the kitchen list to include only a few simple changes: Lights, knobs, hutch, and appliances.
The appliances were already planned to take up a large portion of our total renovation budget (half!) and we had to buy a fridge (didn't come with the house) and oven (I hated the one that was here (it was smaller and older than what had been in our apartment–yikes!) so that expense wasn't a surprise.
As for the overhead pot lights, they were super icky.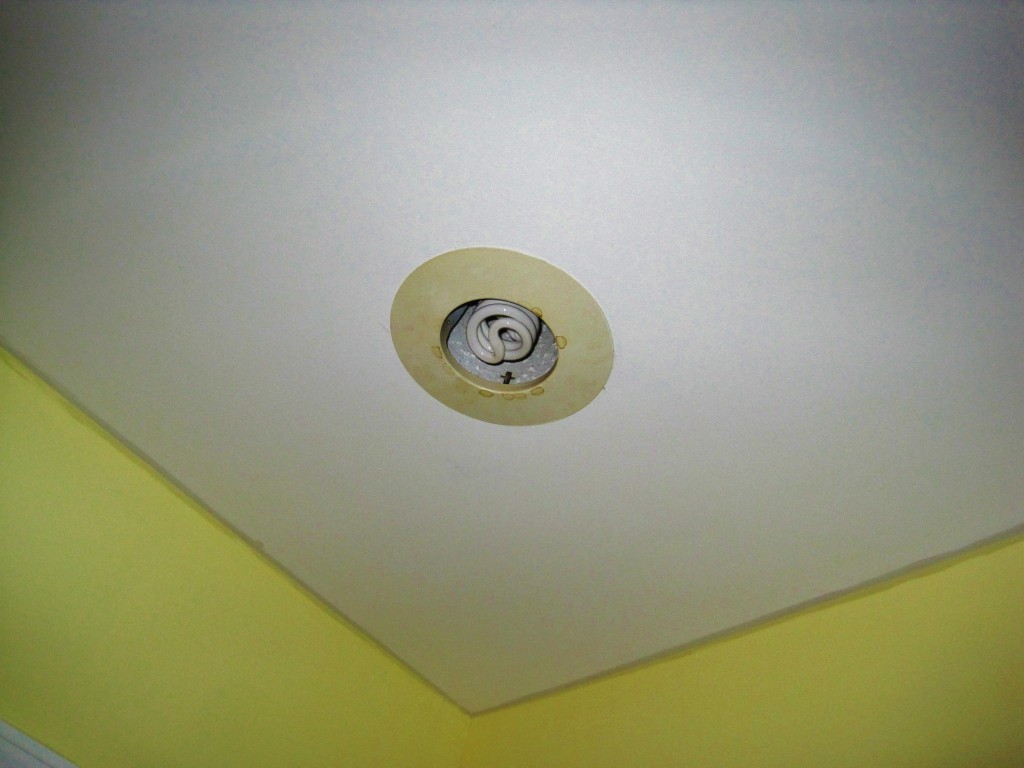 Yellowed and stained. Ick. We had planned to just replace them with something similar from the hardware store. However, the cost of that, while doable, was still more than I really wanted to spend, especially if we were just going to change it in a few years when we do the bigger remodel of the entire room.
So, Hubs came up with a plan: spray paint.
But not just any spray paint: high heat, BBQ grill spray paint.
See, those pot lights produce a lot of heat when they're on, and while we thought we'd be fine with regular spray paint, I wasn't sure so we decided on this product to be safe. Since the globes were, for the most part, in okay condition (we had one missing so we stole one from the basement), I agreed and we gave it a shot.
We used Rust-oleum Specialty High Heat Enamel in silver.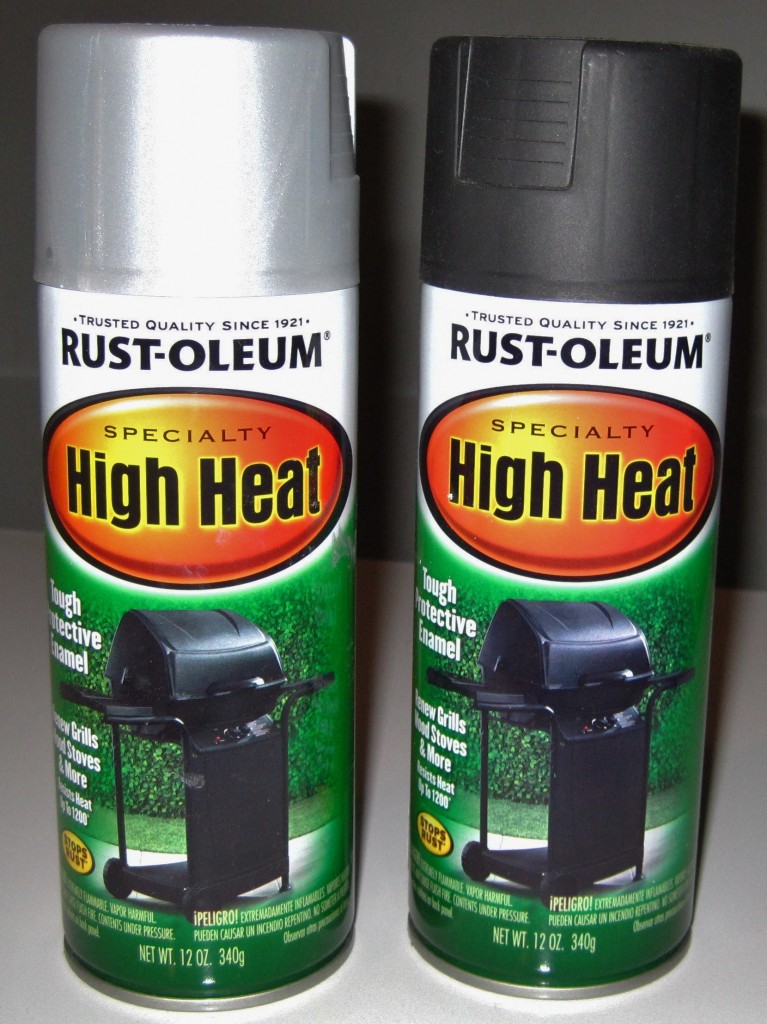 We'd already used this type of paint to update the fireplace in our living room and paint the tarnished shiny brass accents on the glass doors a nice flat black color. It's heat safe up to 1200 degrees Fahrenheit so we knew we'd be fine with the lights. (If they got even close to that hot, we'd be in much bigger trouble than melting the paint!)
For the pot lights, I had originally wanted white frames around the lights because that's what was there (before they got gross and yellowed), but the heat-safe paint didn't come in that color so Hubs suggested the silver. At first, I was unsure, but I relented and will admit that I absolutely love how they turned out.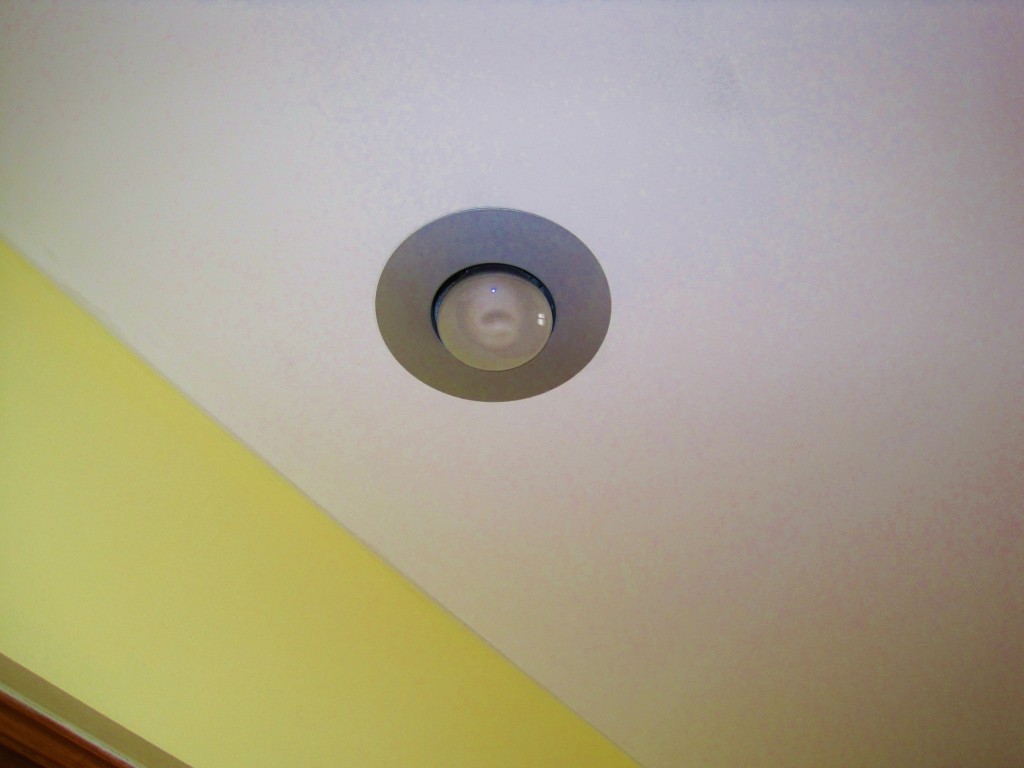 Instead of competing with the white color of the ceiling to be the "whitest white" (making one of them look yellowed), the silver stands out and makes a modern statement. Plus, it matched the stainless-look appliances we picked out. Perfect!
As with any spray-painting project, make sure to use lots of thin coats until you get the coverage you need. These slick metal frames made it really easy to see drips or other imperfections, so just take your time–it will be worth it, I promise. And make sure to be careful when removing them and re-installing them in the ceiling. No shocks please!
All in all, it was a super easy, fast, and cheap way to clean up the eyesore they were before. It cost us less than $5 for the can of paint. Plus, I love them so much, I'm not even sure I want to change them when we redo the kitchen later!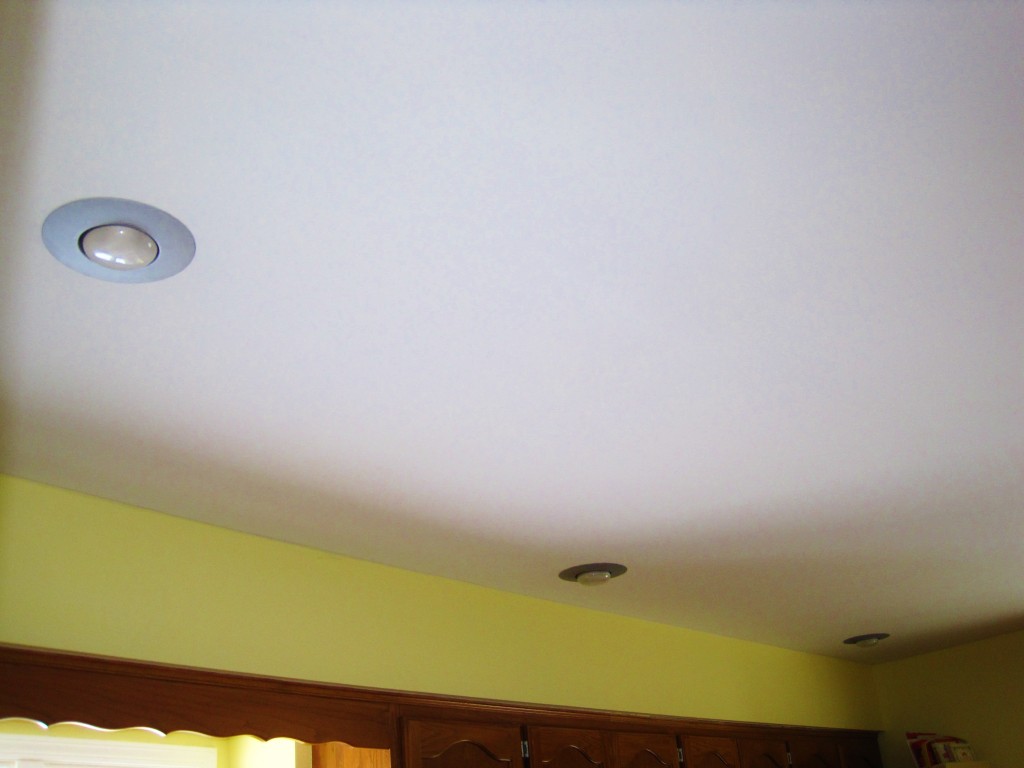 To read about other light fixtures we've updated for CHEAP with spray paint, check out my lamp transformation here.
Stay tuned for more in the mini-makeover kitchen series. And for other mini-makeovers in other rooms! You can check out our Master List here.
Have any of you changed your mind on some must-do projects and gone with a mini-makeover instead? I'd love to hear what made your list!