Ever have intentions for a project and then forget about it…for a year or more? How about for almost three years? Because this little metal rolling cart makeover has been in the works since March 2014.
Yep, total project procrastination fail, right? I mean, goodness, we stored a rusty, gross-looking cart in our basement for a REALLY long time, guys. Yikes.
But, it's done now and I'm going to stop embarrassing myself and just tell you about it. Here's a little sneak peek to hold you over until the end of the post if you are the sort of person who actual reads posts and doesn't just scan really fast and look at the pictures.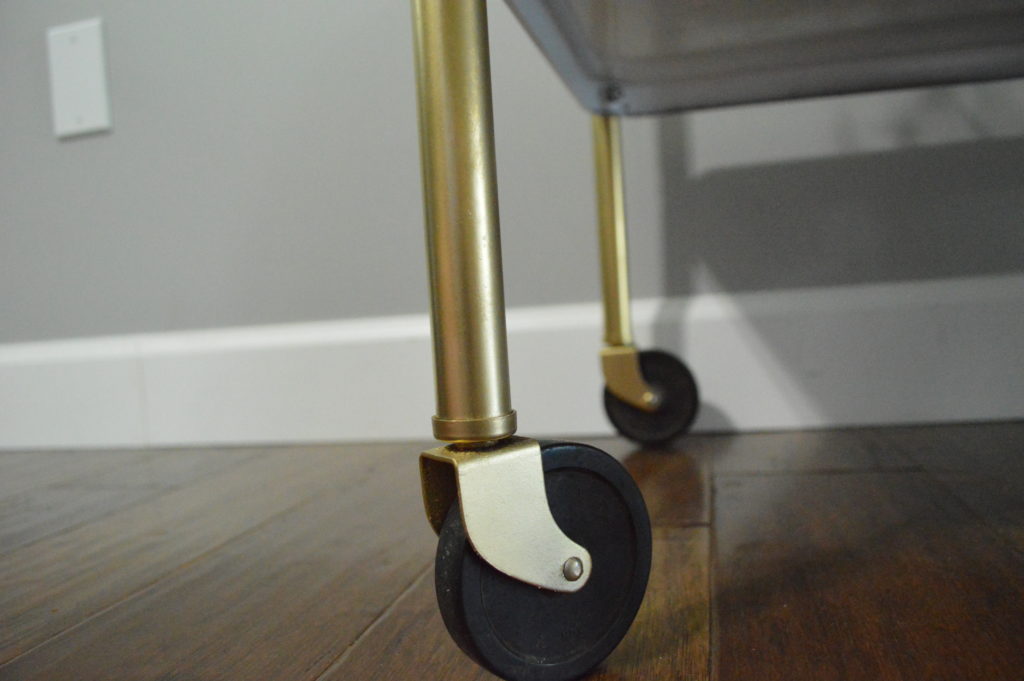 The first step was to get it cleaned up. There was rust everywhere.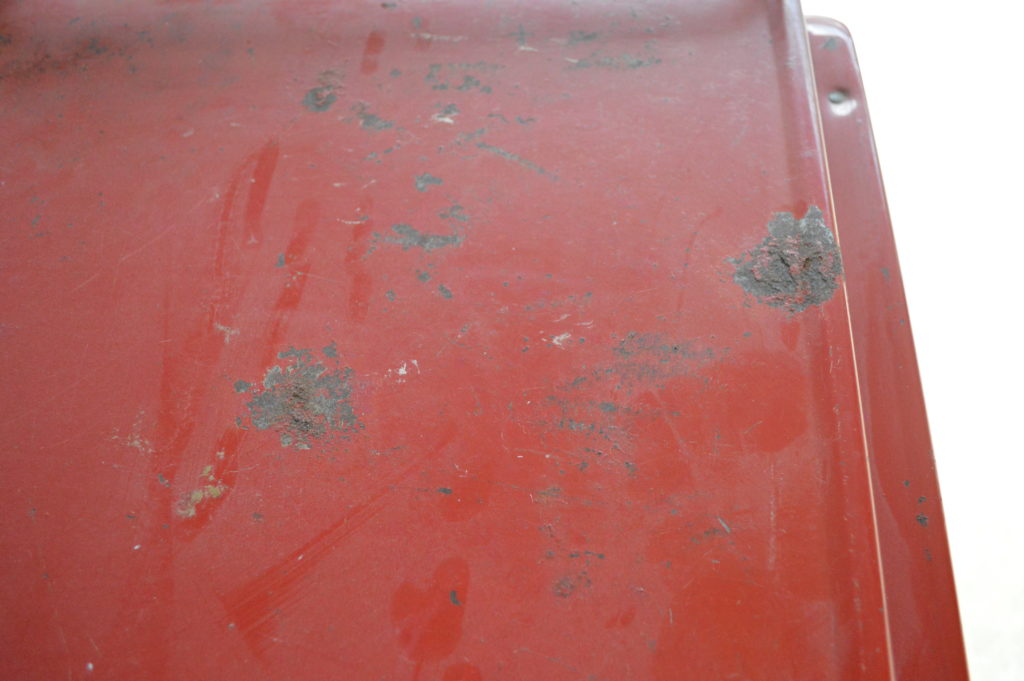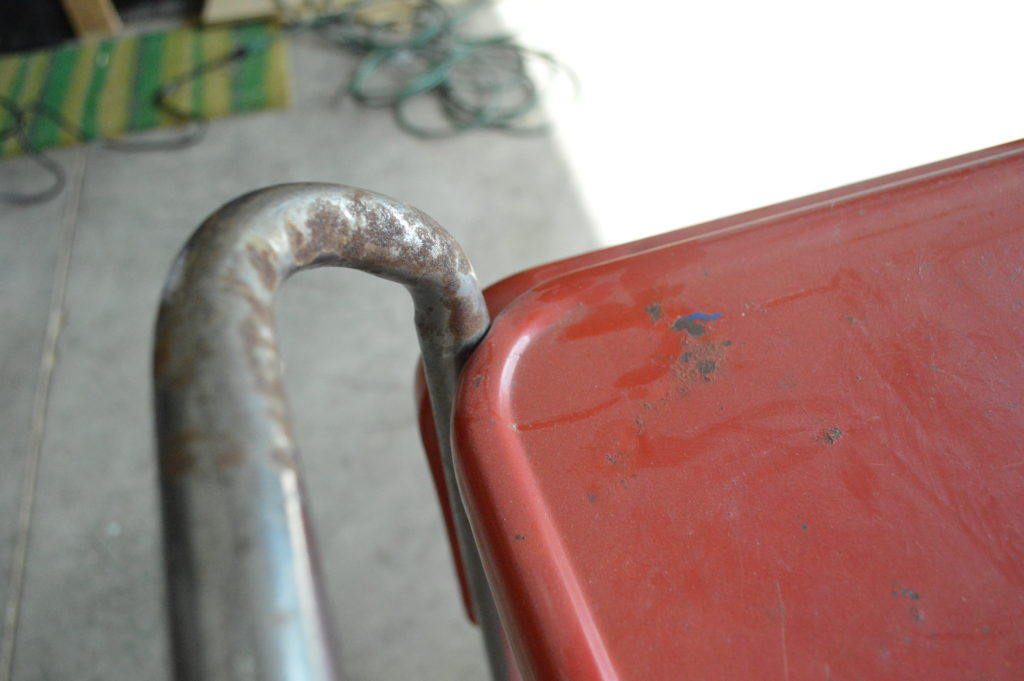 We started by taking it all apart. There were four bolts holding each shelf in place. They were pretty rusted, so Wyatt had to help (use his brute strength) and spray them down with some WD-40.
Then, we used a grinder to remove the rust and chipped paint from the shelves and the frame.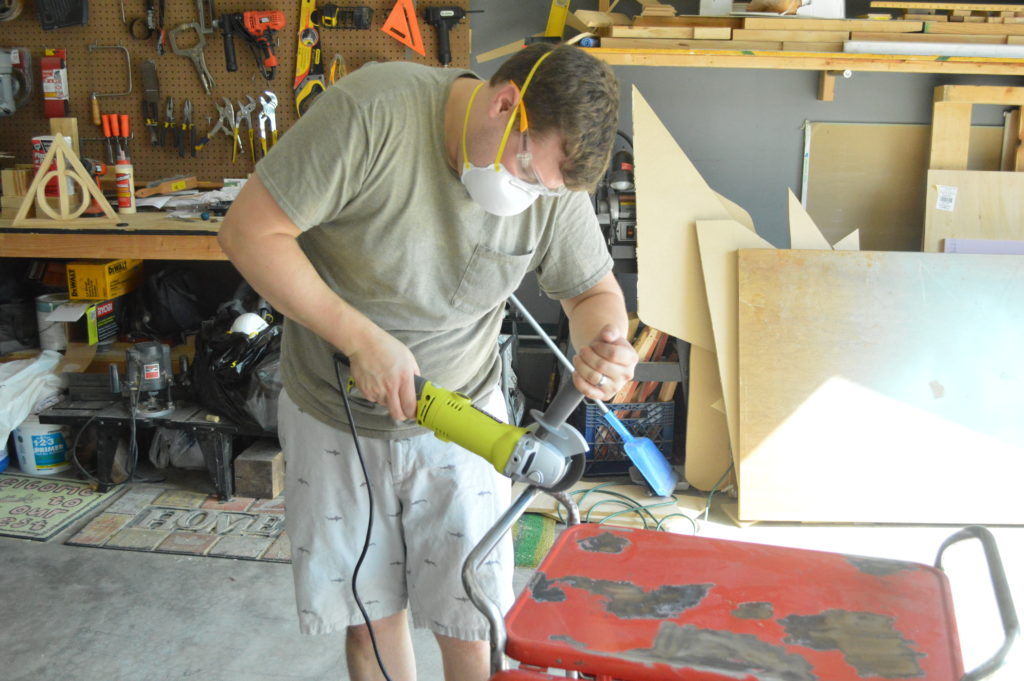 That was a loud, sweaty process–both things I'm not a fan of! There isn't a photo of me doing this, but I did, I promise. Wyatt switched to using the bench grinder for the frame and I used the angle grinder for the shelves.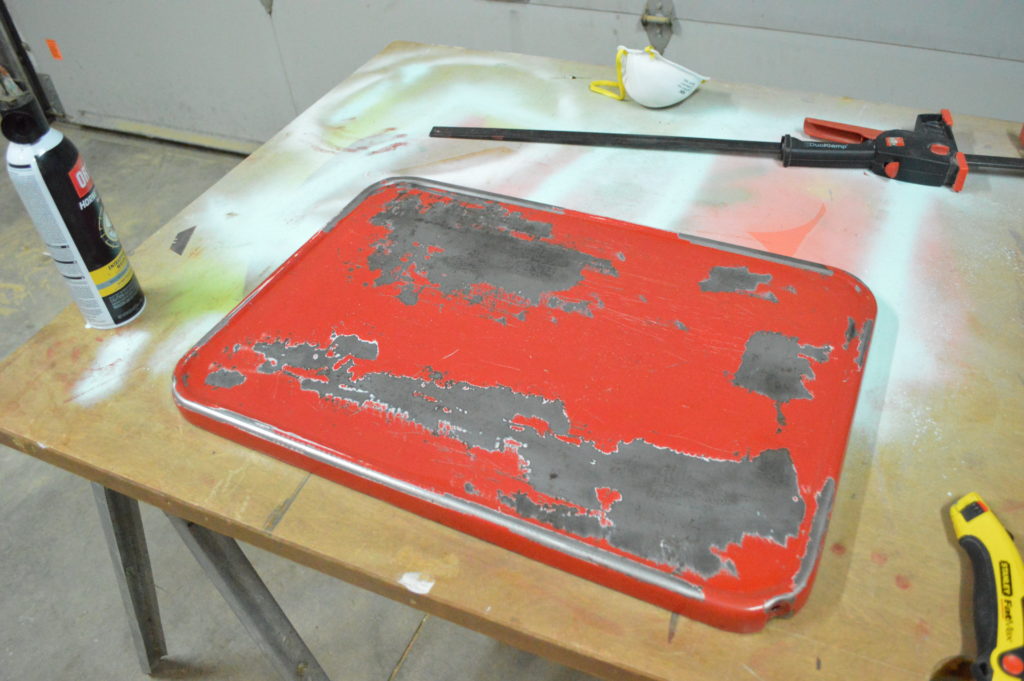 Then, we cleaned it off with a rag and some all-purpose dusting spray to ensure it was ready for paint.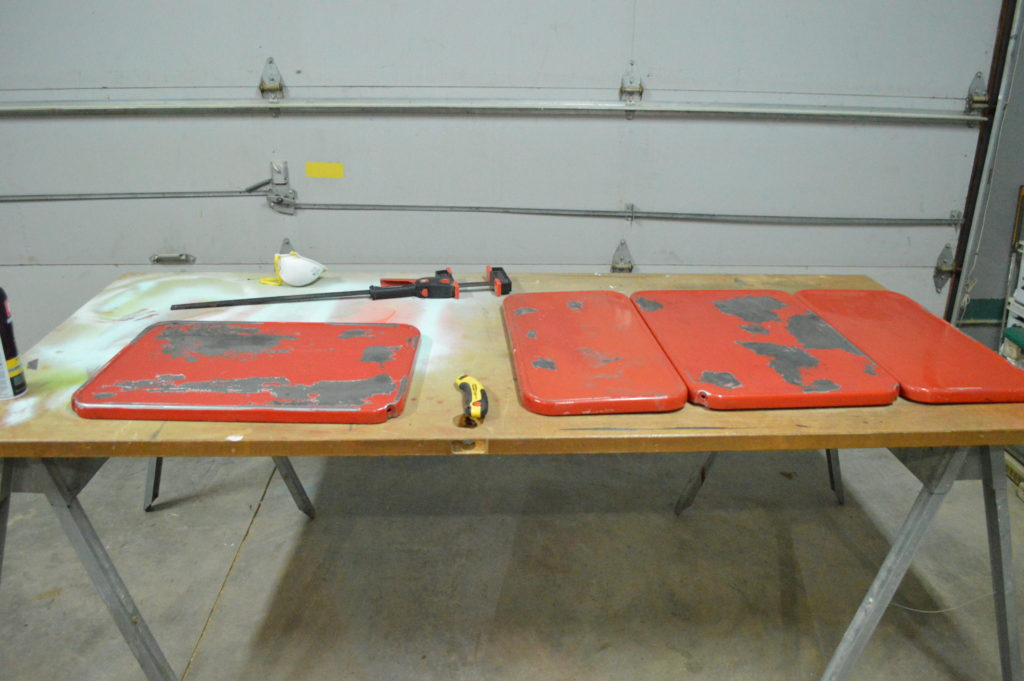 I also cleaned the wheels and sprayed them with some more WD-40. And, then we taped them off so they wouldn't get paint on them. That was a funny process that involved a bit of an accidental personality test for Wyatt and I and a race to see whose technique was faster.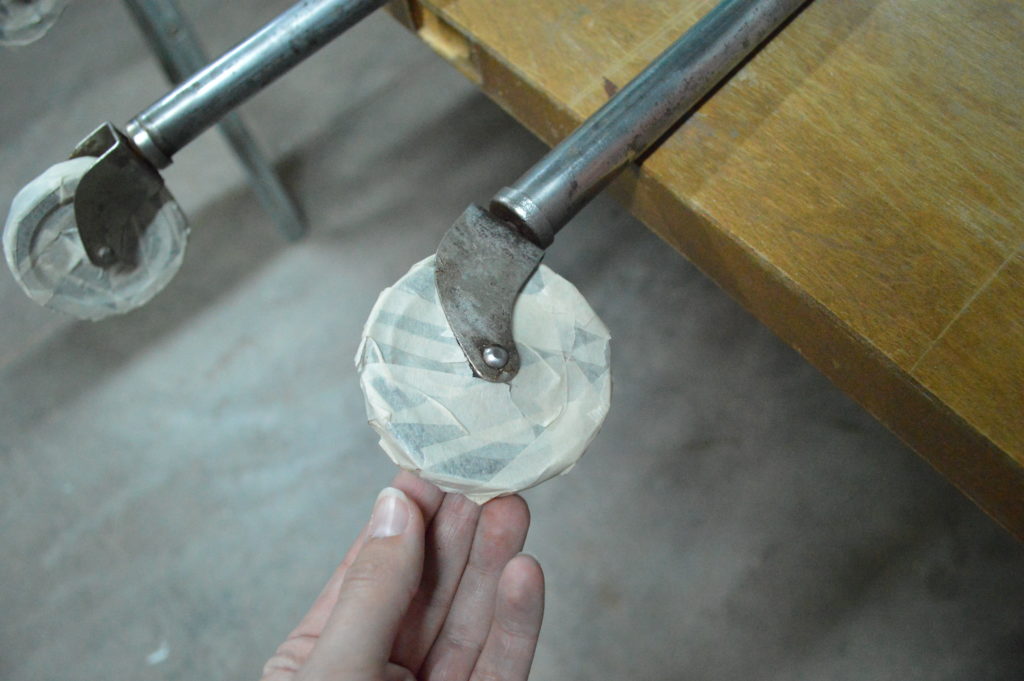 As a sidenote, Wyatt also built a pretty cool little spray paint booth out of our old hollow core doors for us to use in the garage. This was totally worth the time to set it up. It helped so much and really contained the mess.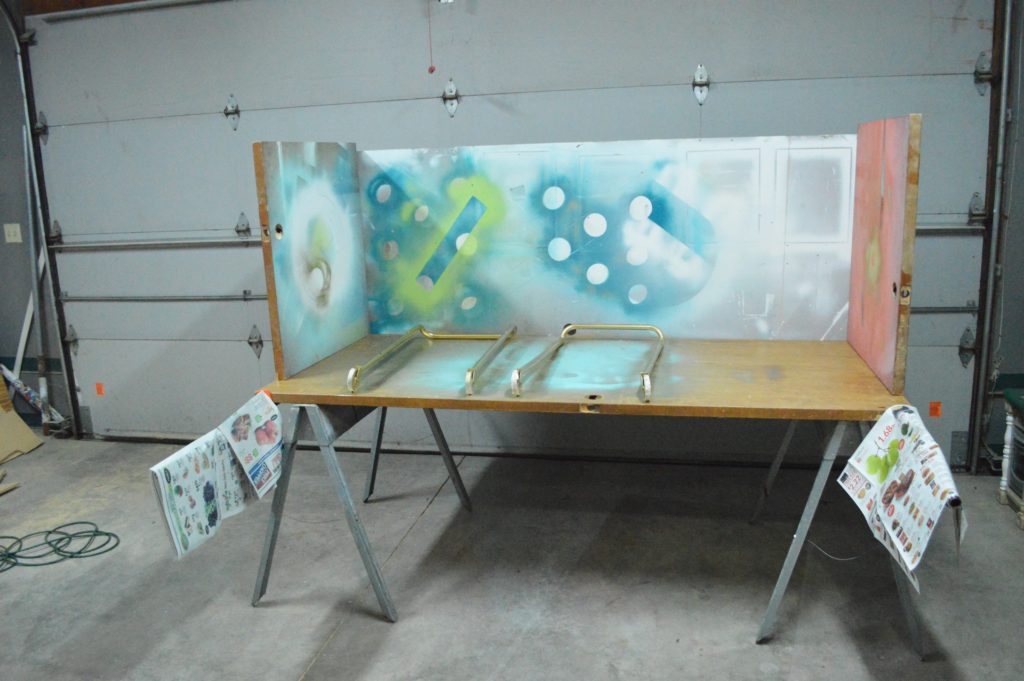 Originally, I wanted to go with a turquoise or something bright. I actually bought this off Craigslist for maybe $10–(I can't even remember, it's been so long!) after seeing THIS PIN. But when we finally got ready to paint, I was leaning more toward light and bright. Go figure, right? That's the entire motivation for most of my home design decisions these days.
So, I decided to go with white shelves and gold frame, because why not? (I'm all about the gold lately, if you recall, HERE and HERE.)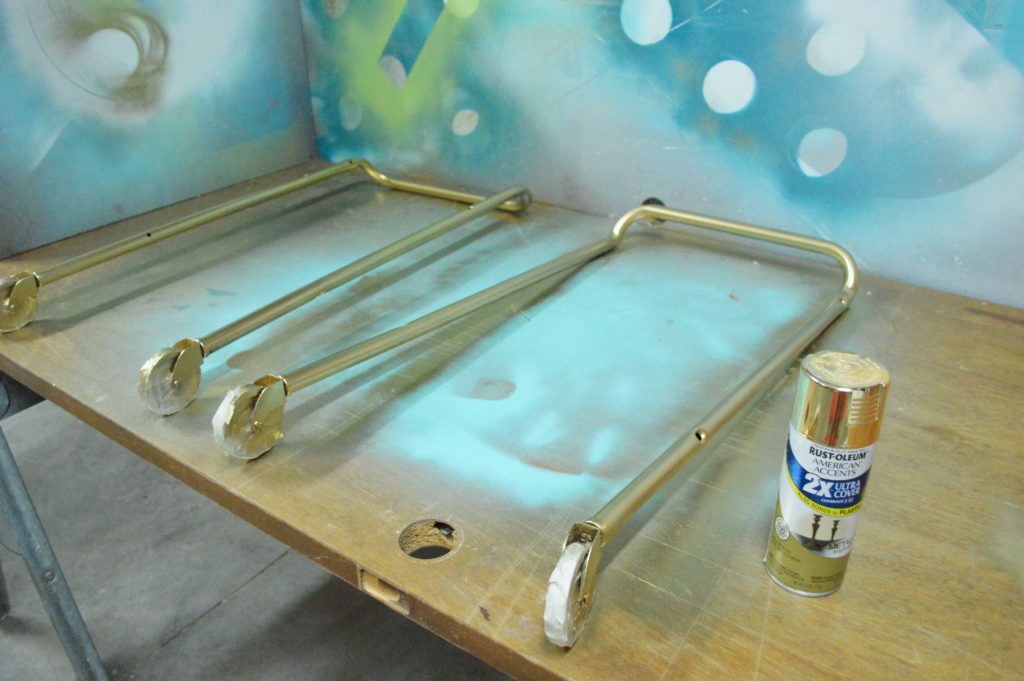 We gave each shelf and the frame several thin coats. We always use the Rust-Oleum 2x coverage brand, but the metallic gold paint, in particular, is thin and it takes a bit to get good coverage. Be patient. It's not worth the drips to try and hurry it along. Trust me. Oh, and don't forget to paint the bolts! It will be pretty disappointing in your final project to have old, rusty bolts.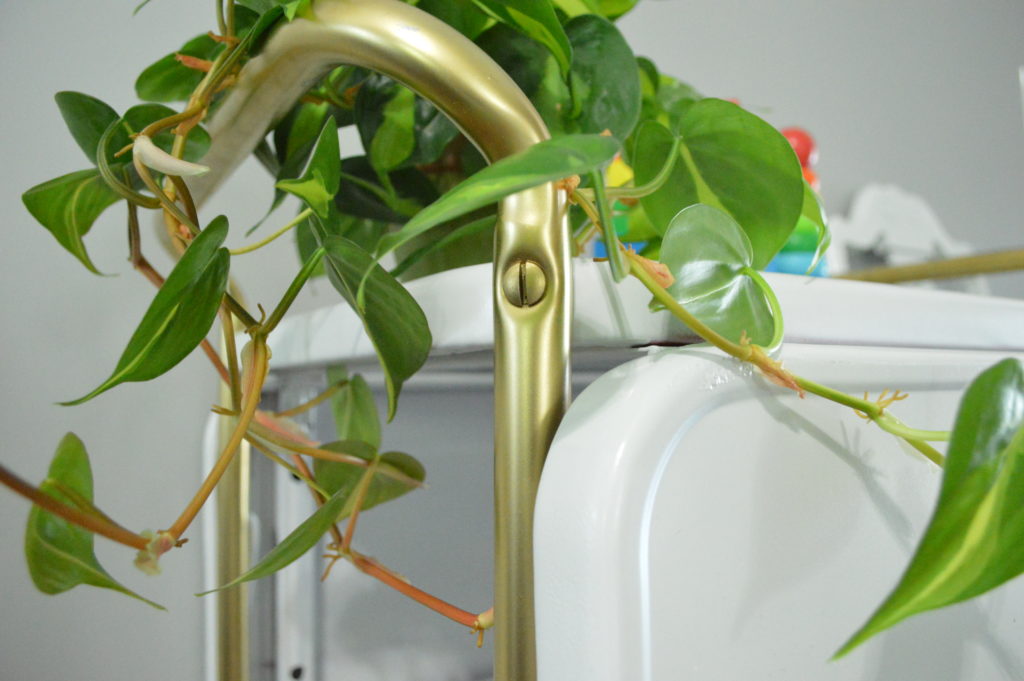 When we were all done painting, we put it all back together and stepped back to breathe a sigh of relief at finally saying this metal rolling cart makeover was complete.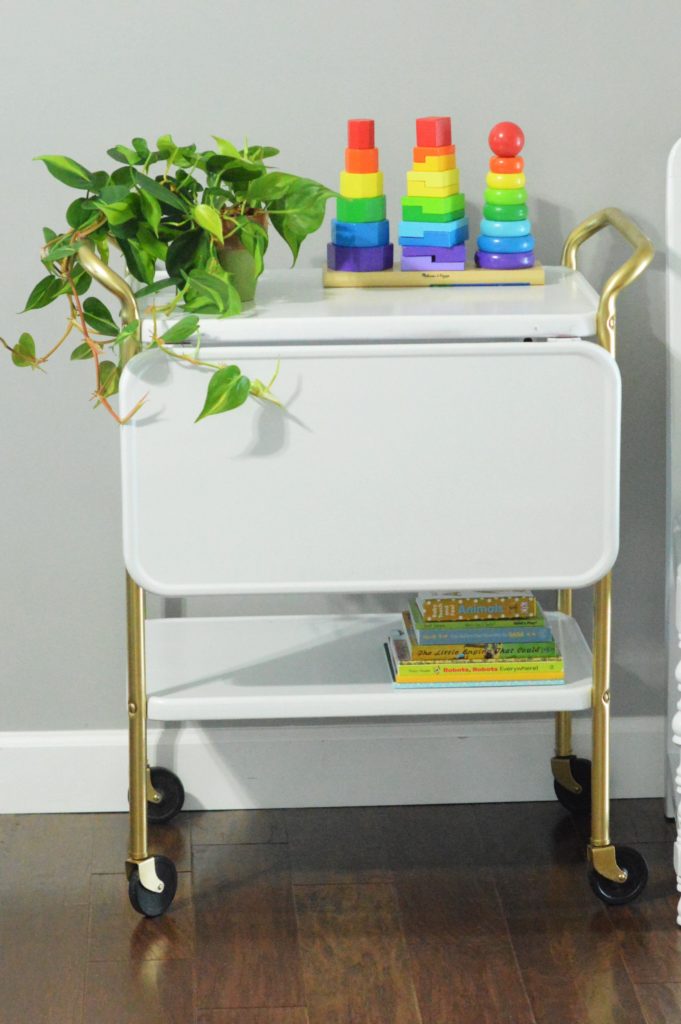 I'll admit that this little cart doesn't really have a home yet. In fact, that's probably one of the reasons we waited so long to tackle the DIY makeover. We just didn't have a specific use for it. I originally wanted to use it in the kitchen as a little coffee bar or something, and that's still technically an option, although not the best use of space. Still, it's cute.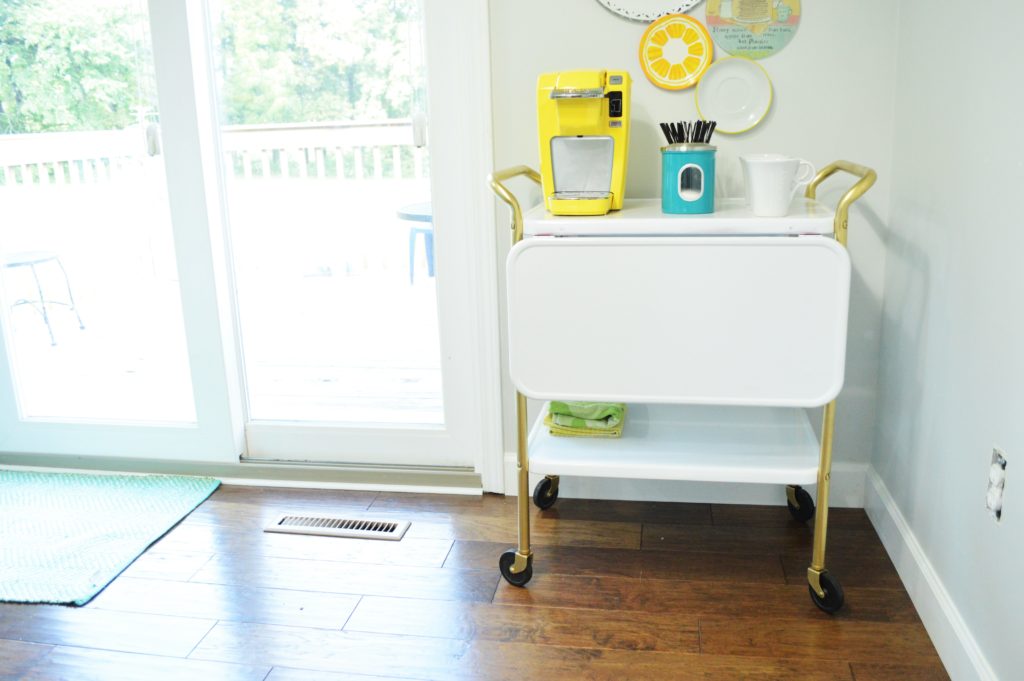 Or, it could be a surface for outdoor drinks and such for parties.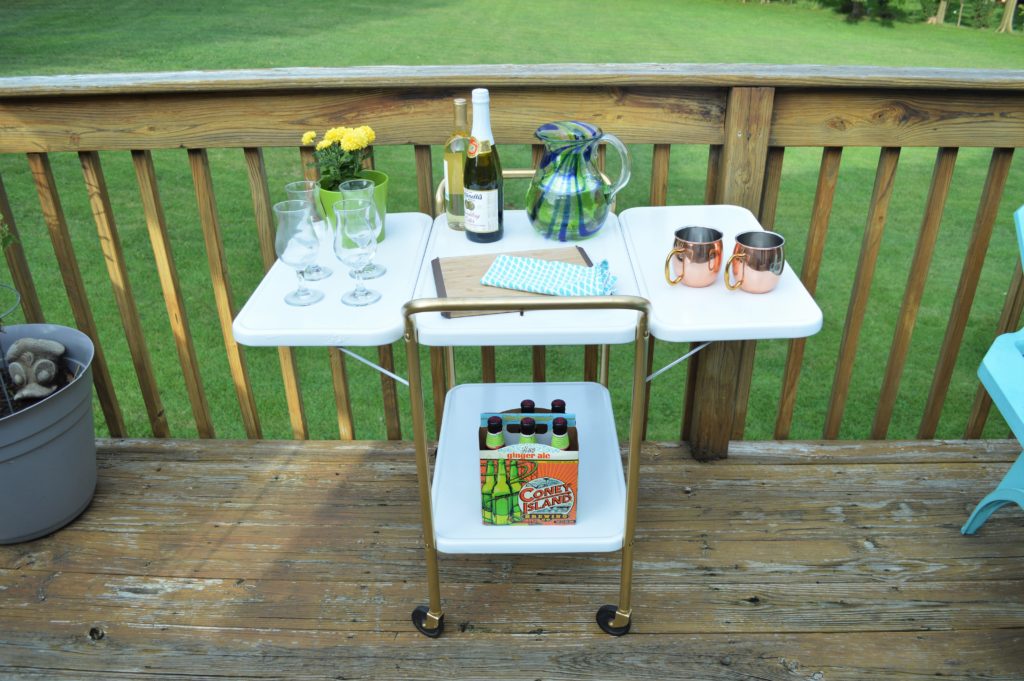 However, we tend to have pretty casual backyard parties with paper plates and plastic cups and giant containers of kid-friendly lemonade.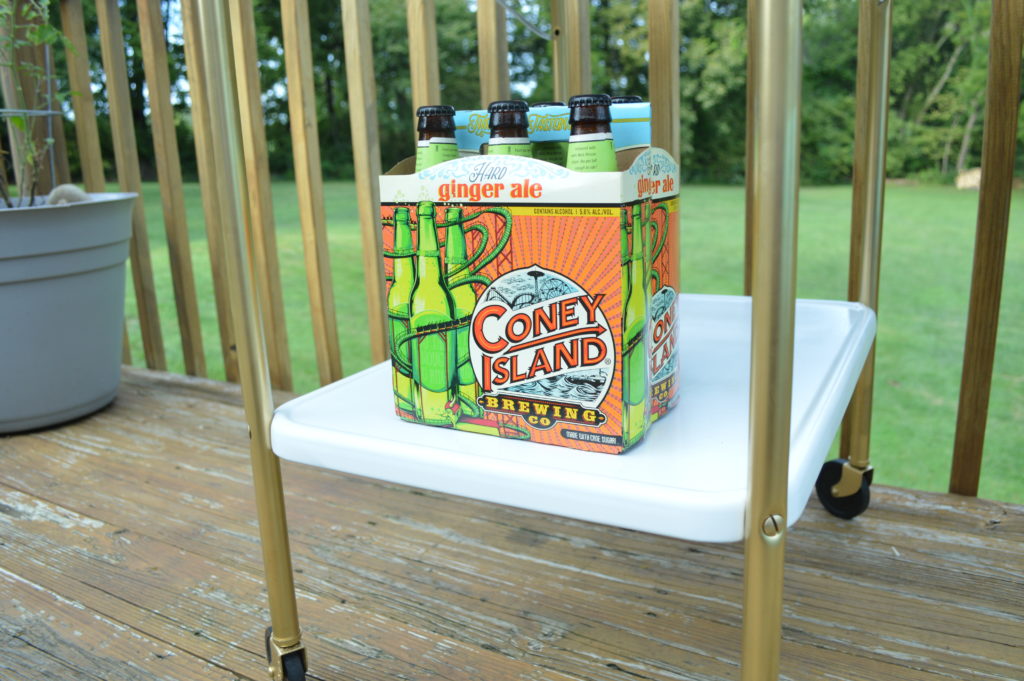 Not that we couldn't host a fancier shindig with actual glasses, but most of our friends just aren't fancy people. And to be honest, we probably aren't either. Still, the cart would be be really cute out there.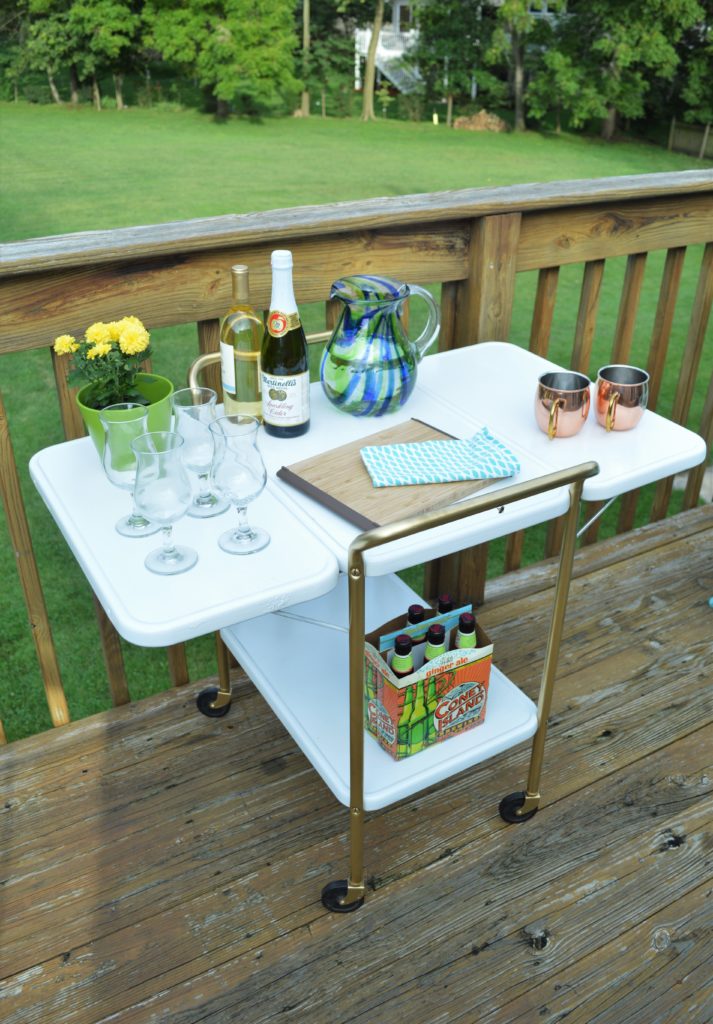 This little guy seemed to like it. He landed there and stayed through the entire process of styling and taking photos. I even had to shoo him away to bring the cart back inside.
I'd also like to mention that Will ate a dead bug he found in the frame of the sliding door leading out to our deck while I was taking these photos. He got a fresh batch of toddler curiosity yesterday I think.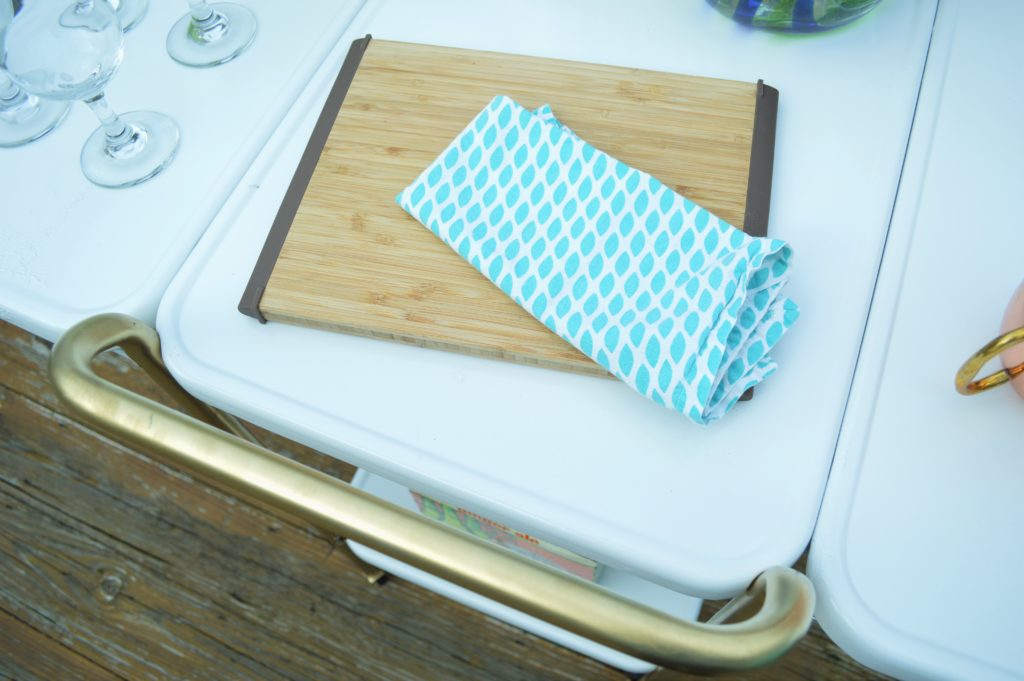 Anyway, so while both of those ideas are nice, right now, this little rolling cart is currently living in the living room, in the "dead space," as I like to call it, and it's pretty darn cute (even if these photos are a little blurry. Oops.)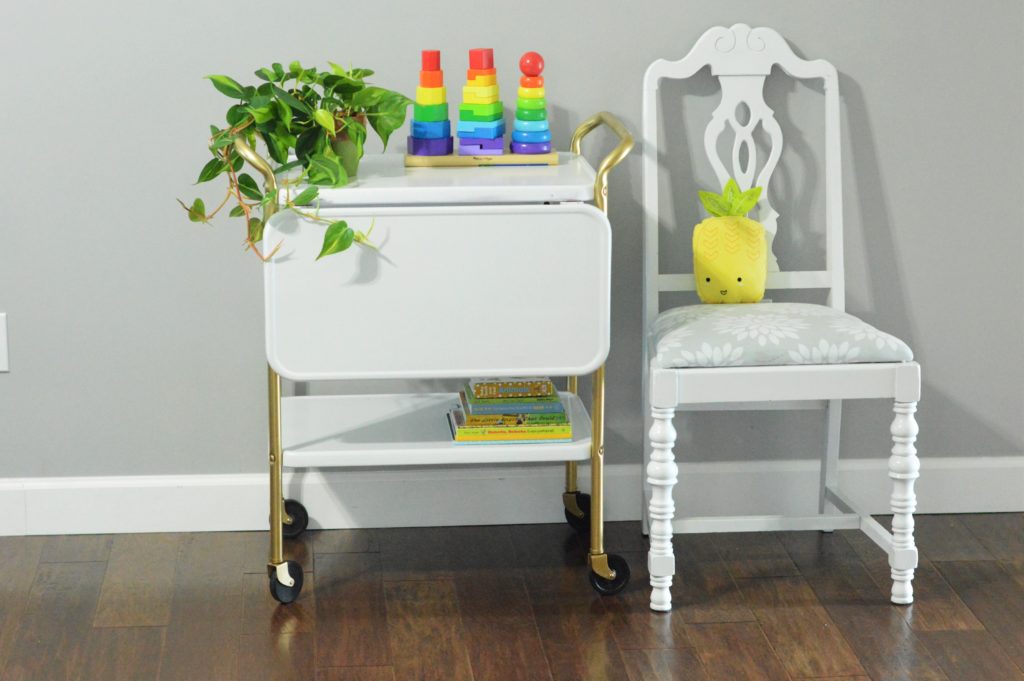 Over the past four years of being in this house, we've had a few furniture pieces in that space, including the big bookshelf our brother-in-law Jeremy made us as a wedding gift. That shelf is currently in our bedroom.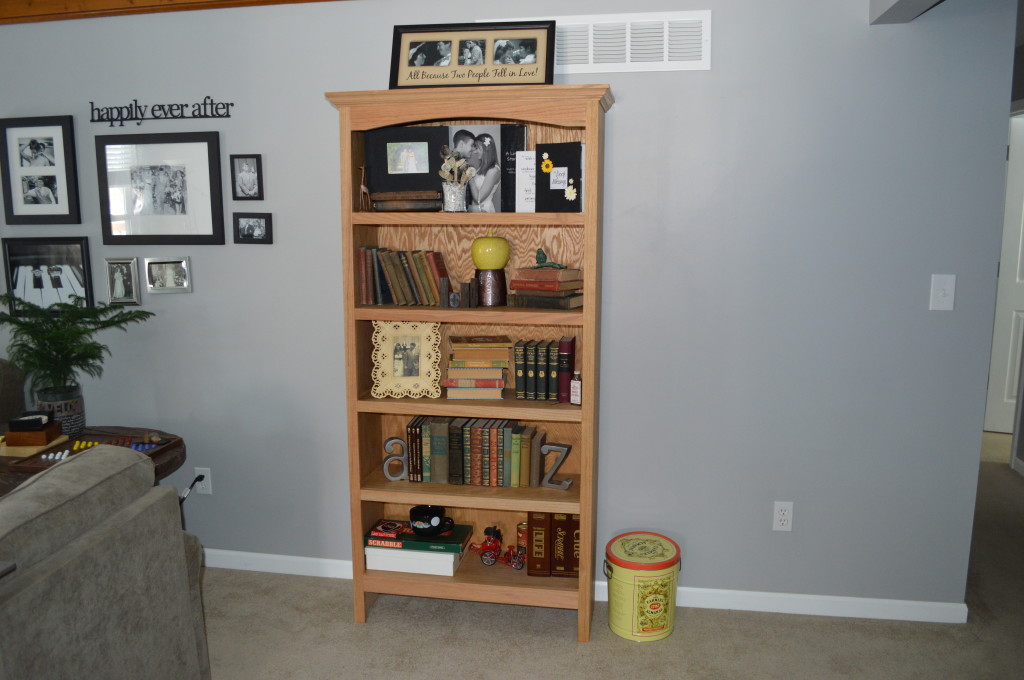 We've also had a cradle full of baby stuff, some mismatched chairs, and most recently, a console table we used as extra space for summer parties. As another sidenote, how amazing would this white and gold cart looked with Will's gold birthday party decor? Missed opportunity there, dangit.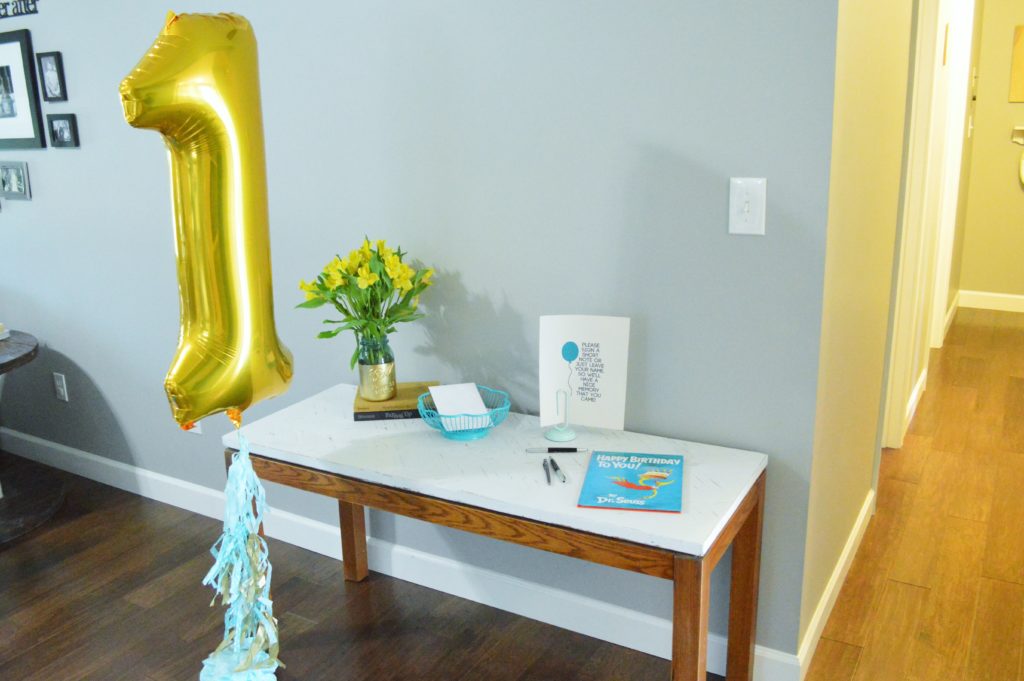 I actually just sold that console table (a free find on Craigslist that I painted) at our garage sale last weekend, so the space was empty and needing something. Enter, our metal rolling cart makeover project…finally!
So far, Will likes playing with the wheels and banging on the shelf like a drum, but I like having one more place to stash toys that are easy for him to reach.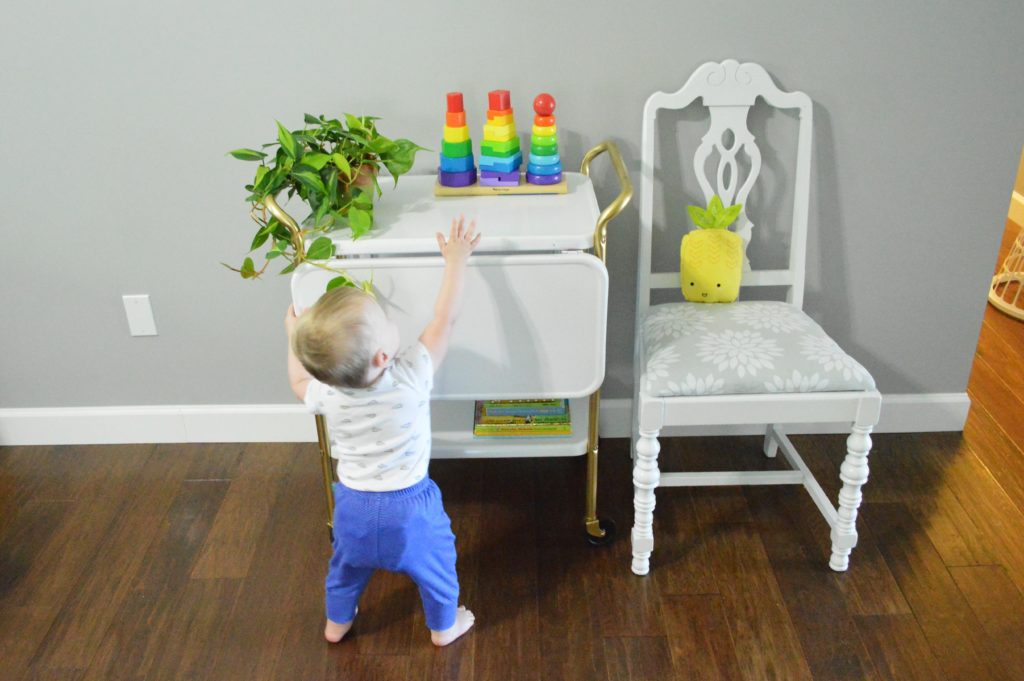 And, it gives me a place to put a plant. Every room needs a little life in it, right?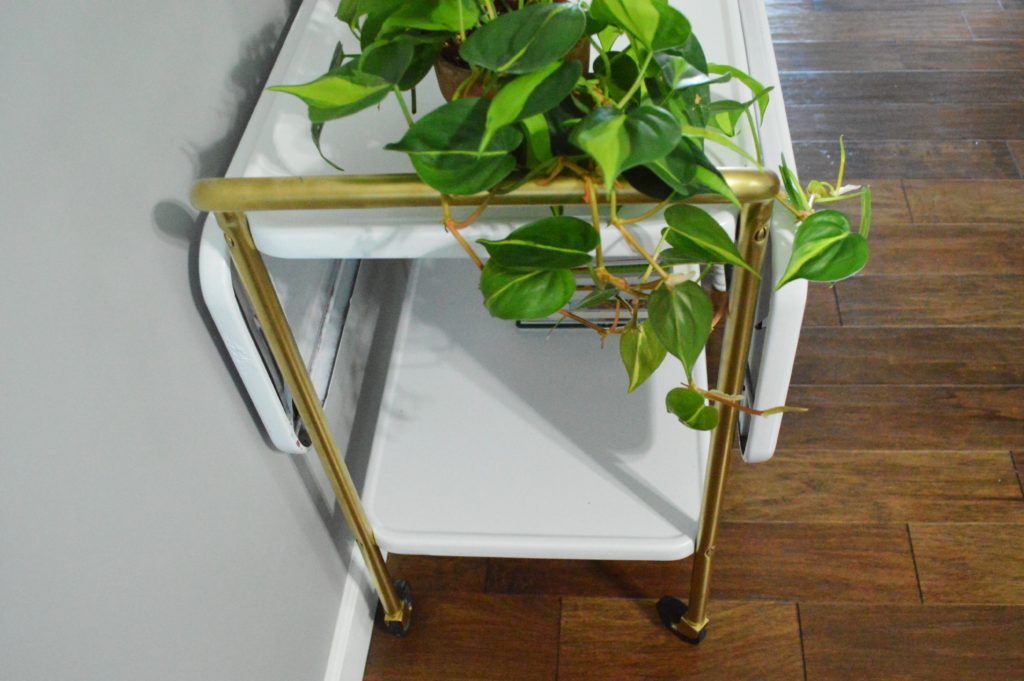 The cart will probably eventually make its way into my office (currently getting a mini makeover) or the basement (currently getting a big makeover) or even our bedroom (in need of a mini makeover). But, for now, it's hanging out here and I'm admiring a project that is FINALLY done.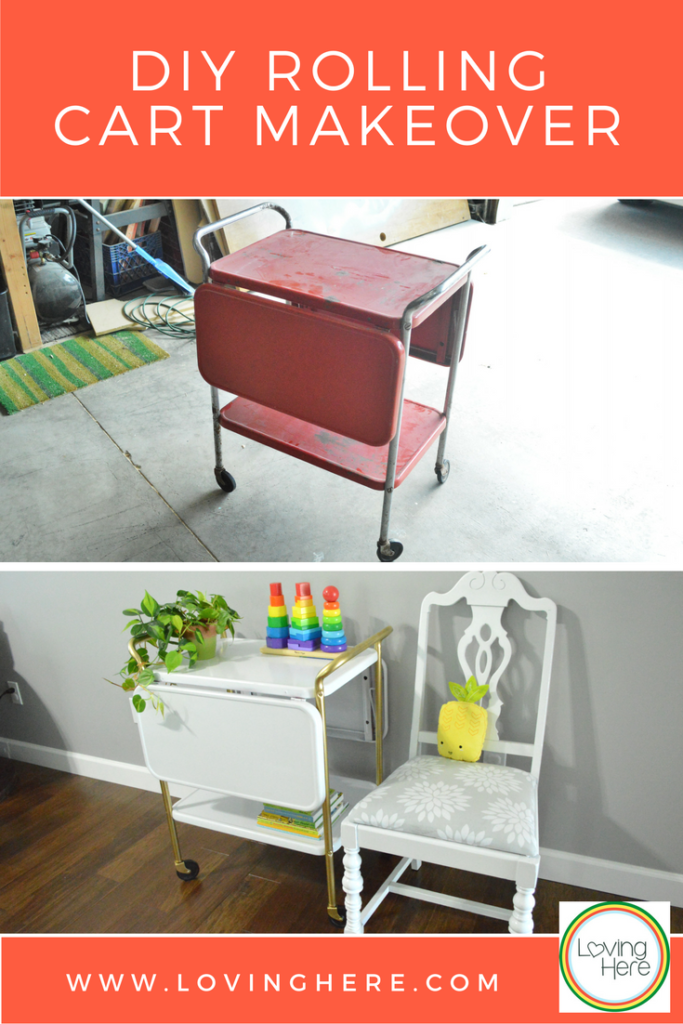 Three cheers!
Now, tell me what project you've taken the longest to complete? I can't be the only one who procrastinates, right?