IT'S FINALLY HERE!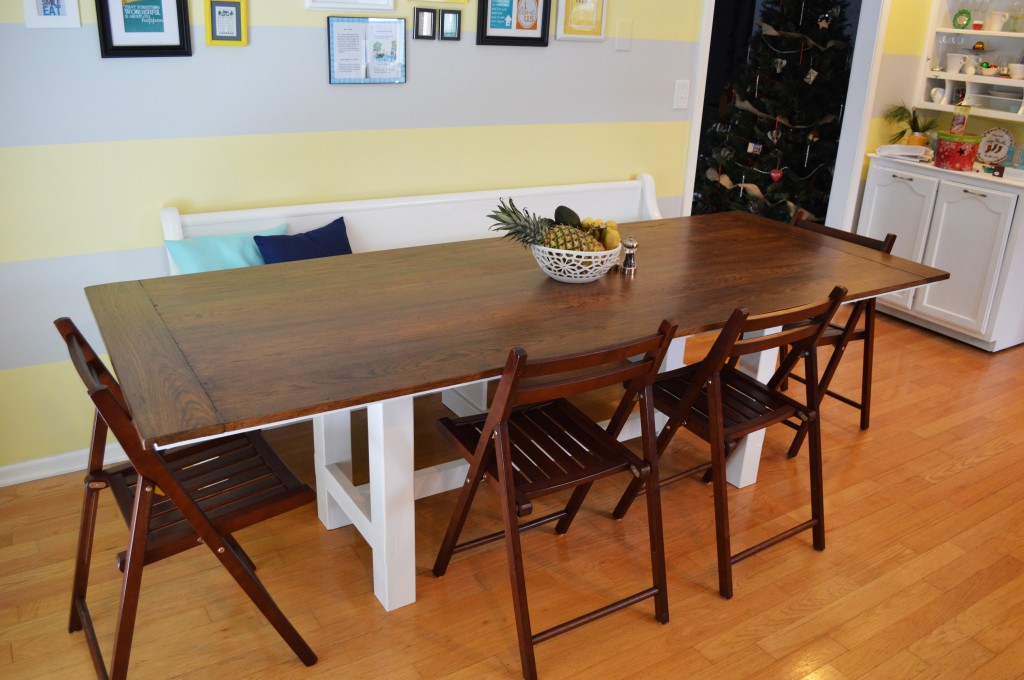 As you may have seen, Melissa posted a teaser picture on Instagram of the finished table. It's been a long project, but here's how we did it:
First comes the planning. We did a lot of research on space and how a table is supposed to fit in a room. Our space would allow for a a 96 inch table. You can read more about our plan and prep steps for the base of the table here.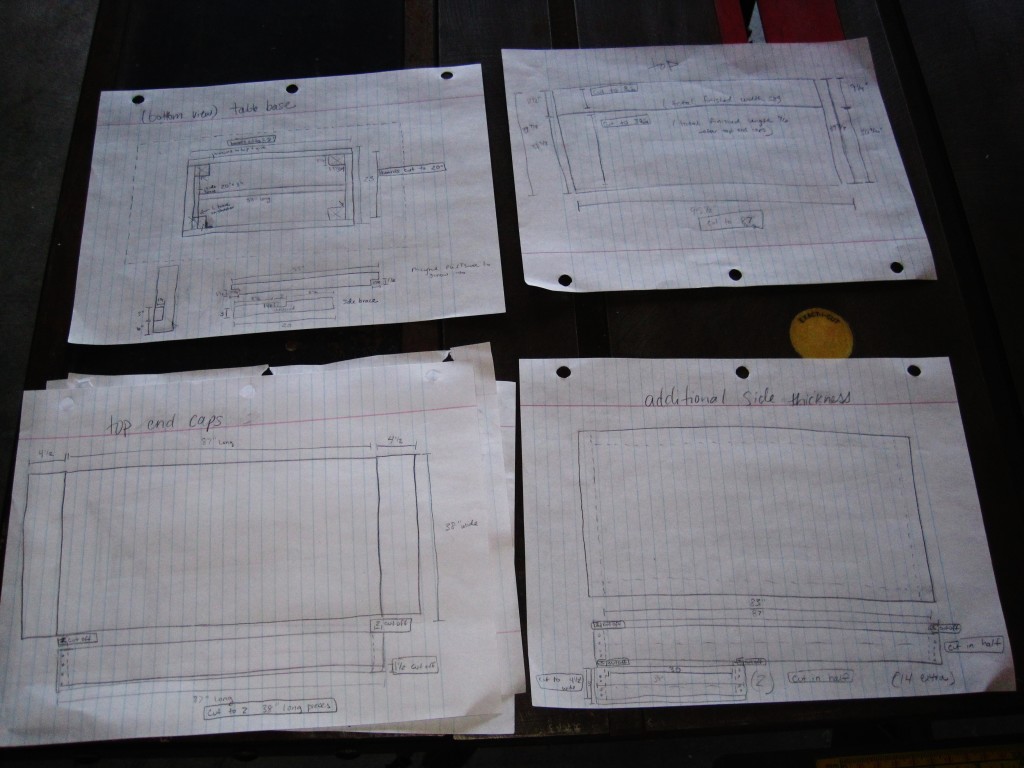 After a lot of cutting, sanding, and adjusting, we ended up with this, which Melissa primed and painted: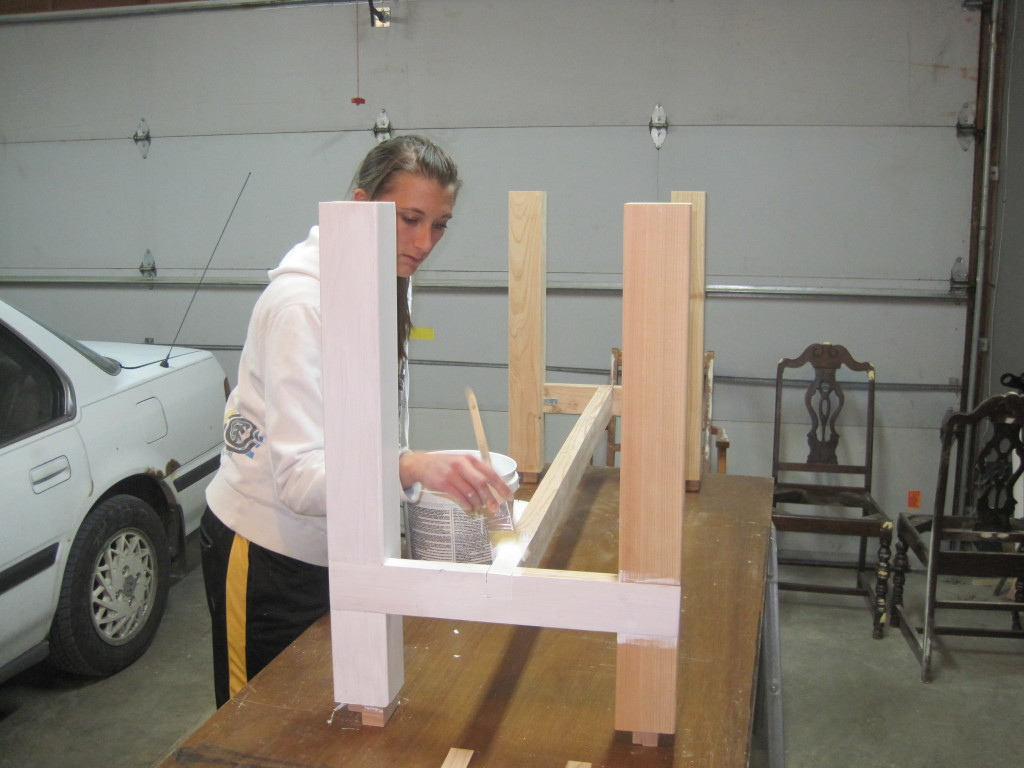 Finally, it was ready to support our table top.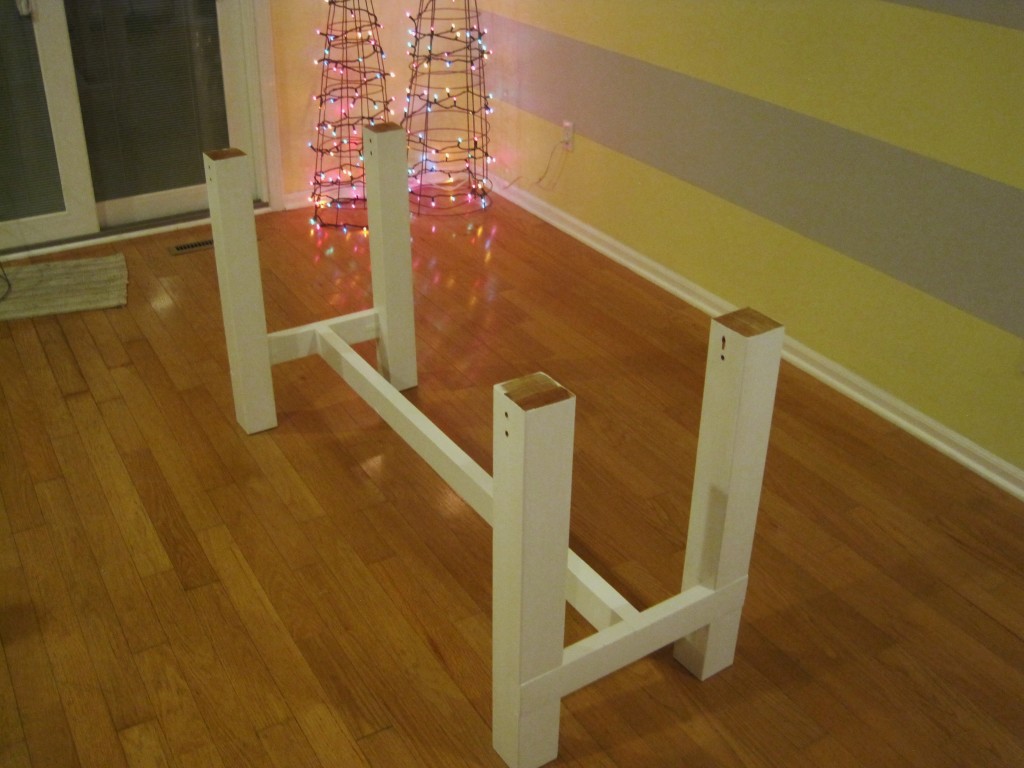 As a refresher, this table project came about because we were blessed with an old wood table that was going to live the remainder of it's life in a junk pile.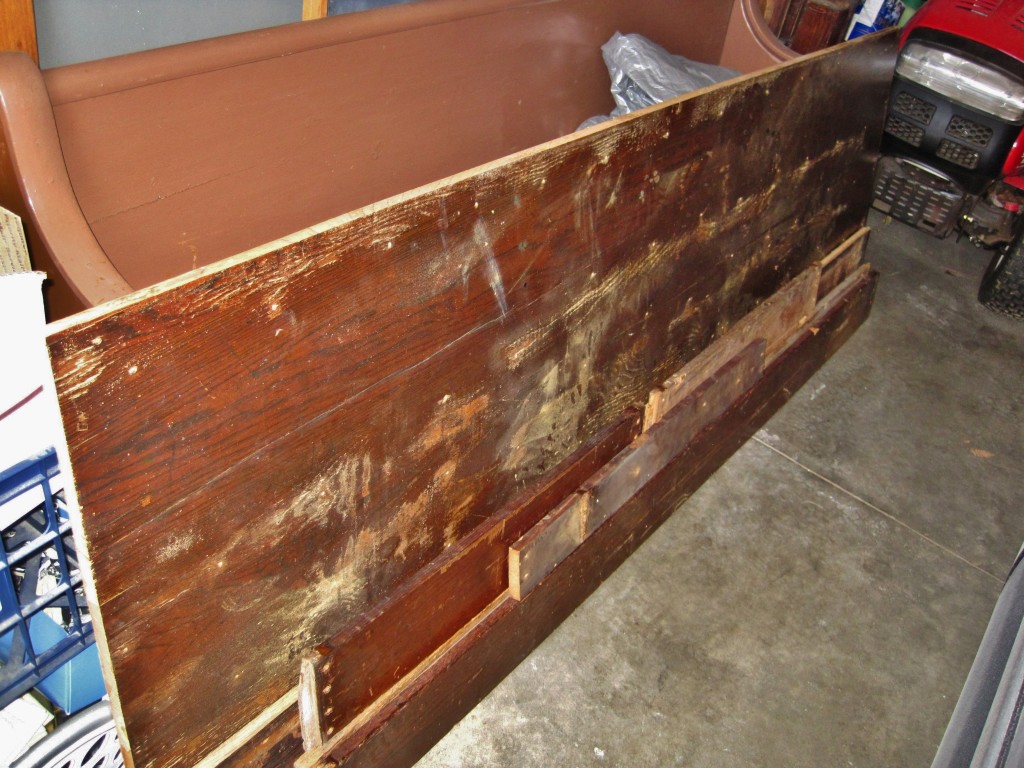 It's a little more work to repurpose used wood, so if you want to save a little time in the preparation stage, use new wood. (And if you want to save yourself headaches and multiple trips to Home Depot to buy can after can of stain, buy every option they have that is 1 or 2 shades on either side of what you think you want, you can always take it back.)
Our table top was solid oak that had been joined together with glue. If you are a loyal reader, or take the time to look back, you know that it was broken into two pieces when we took the whole thing apart.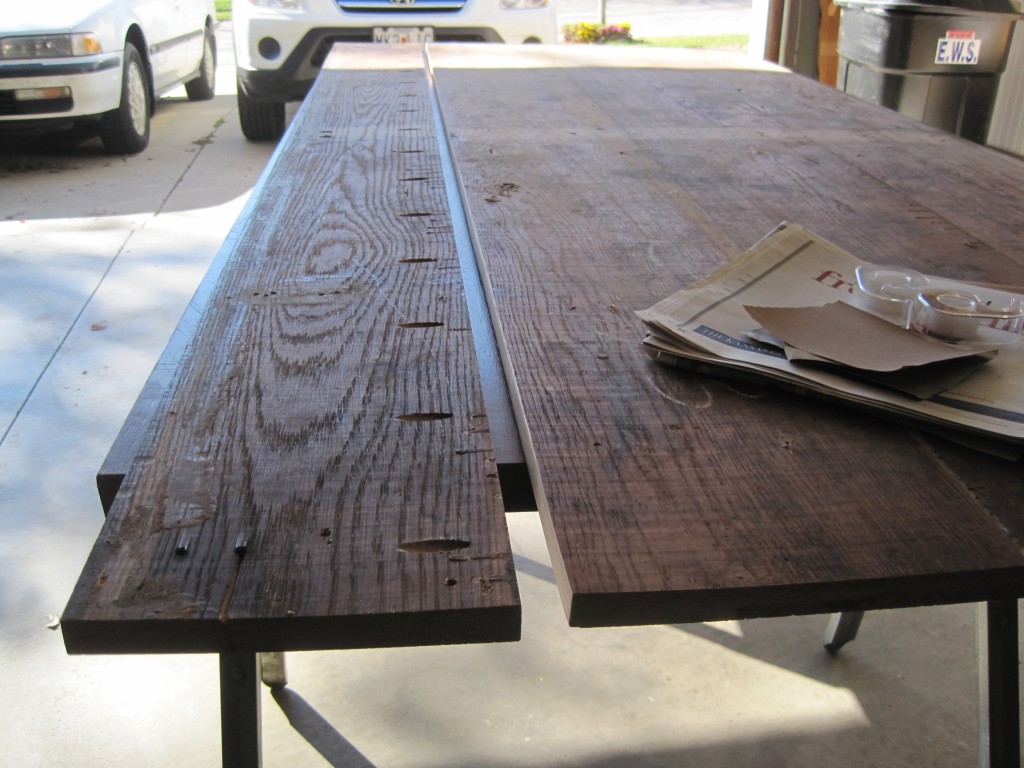 We posted about putting it back together and stripping the existing stain and finish off here.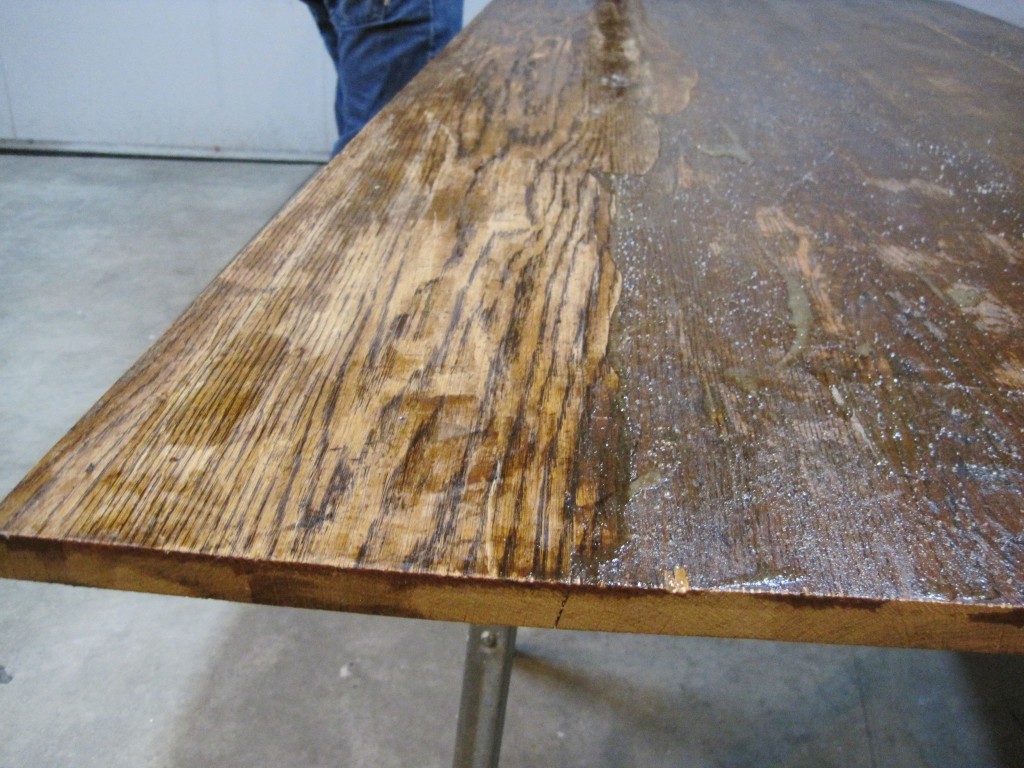 Since we joined the two boards back together, we had to sand them down to make a smooth, even surface. This meant that we lost some additional finish on those pieces, leaving one board a lighter color. We really wanted the final surface to have an even color, so we attempted to darken that board with a coat of walnut stain.
We tried several different stains before settling on the walnut, which was a bit too dark, but a richer color than the lighter, yellower choices we looked at.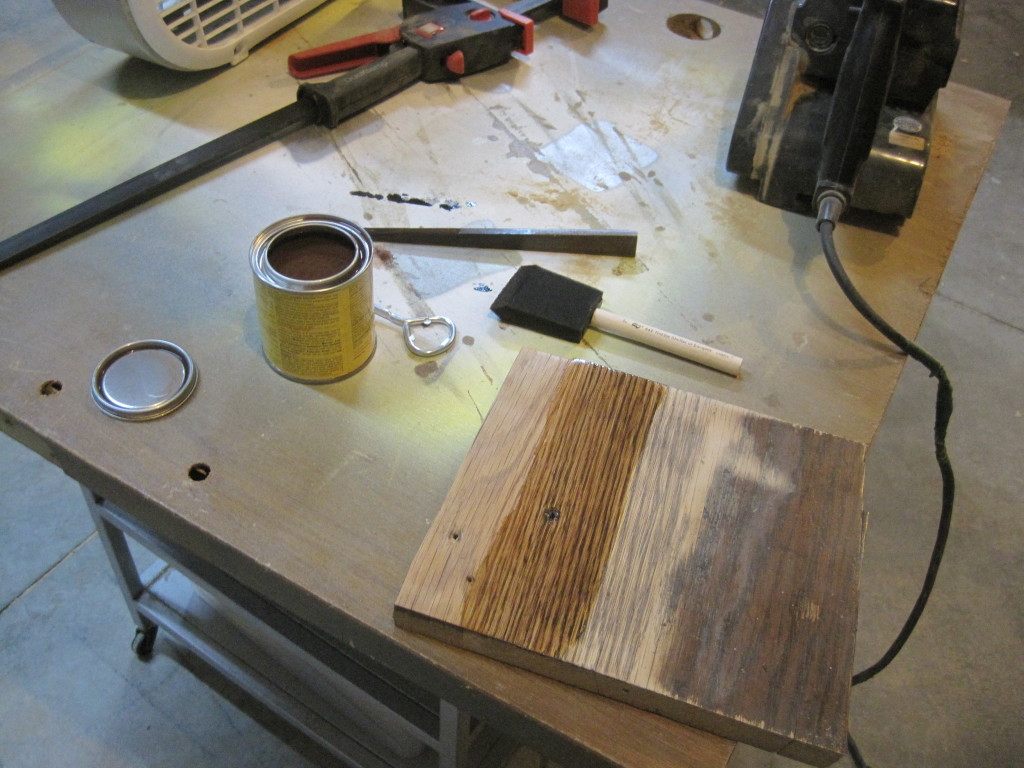 To minimize how dark it went on, we applied using a very fast method, not giving it much time to soak into the wood. That worked, but still actually left the wood too dark…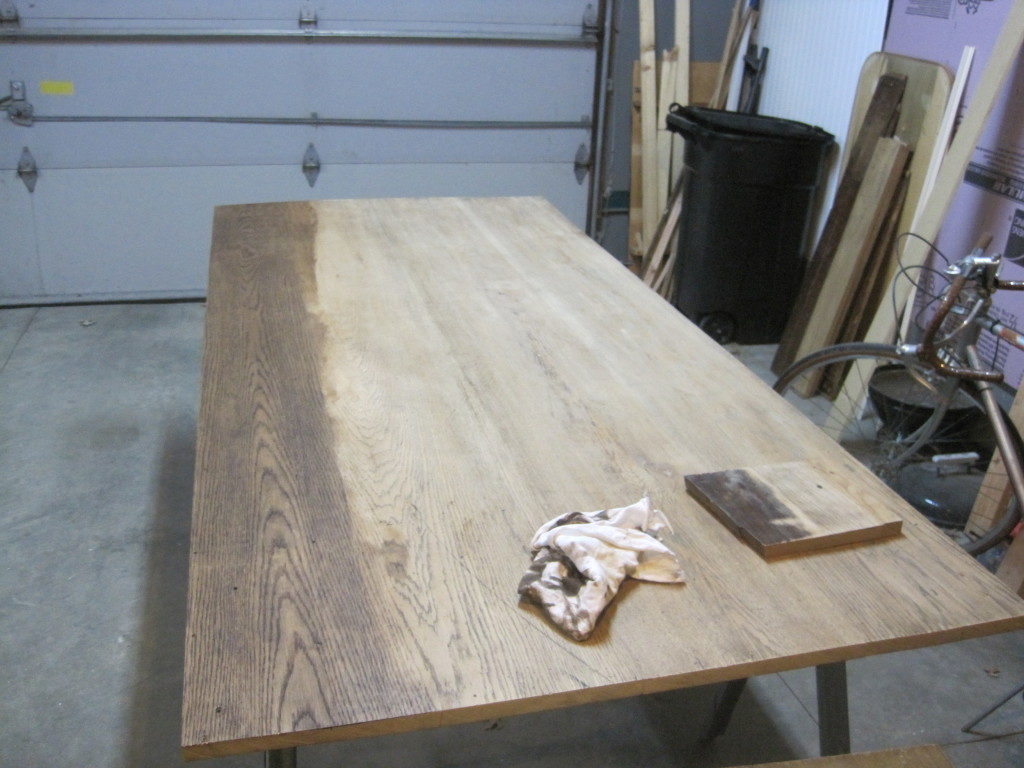 …so then we had to sand it down to match again.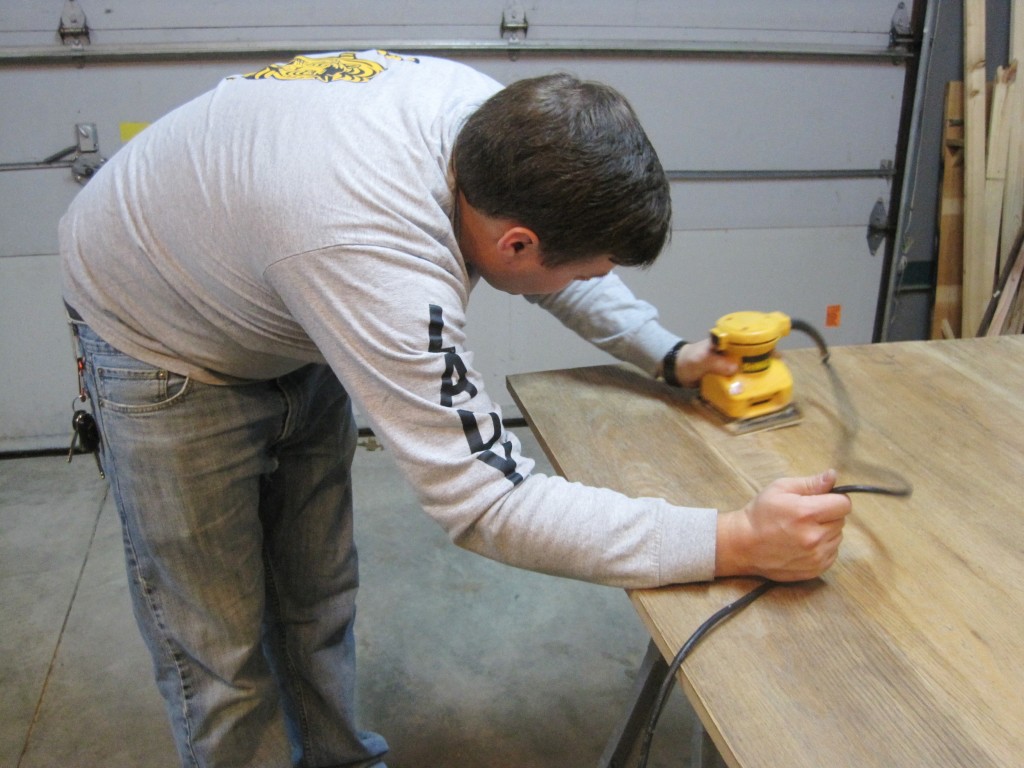 (It was a long process of trial and error to match the 50+ year old finish that we were left with after stripping off the majority of the original stain and varnish. After everything was stripped, I cut down two pieces of the original apron and used them as the new ends of the table. We liked the different wood grain direction of the end pieces. I attached them using the same method that I used to put the two table boards together in the post above.
Finally, we were ready for our final coat of stain.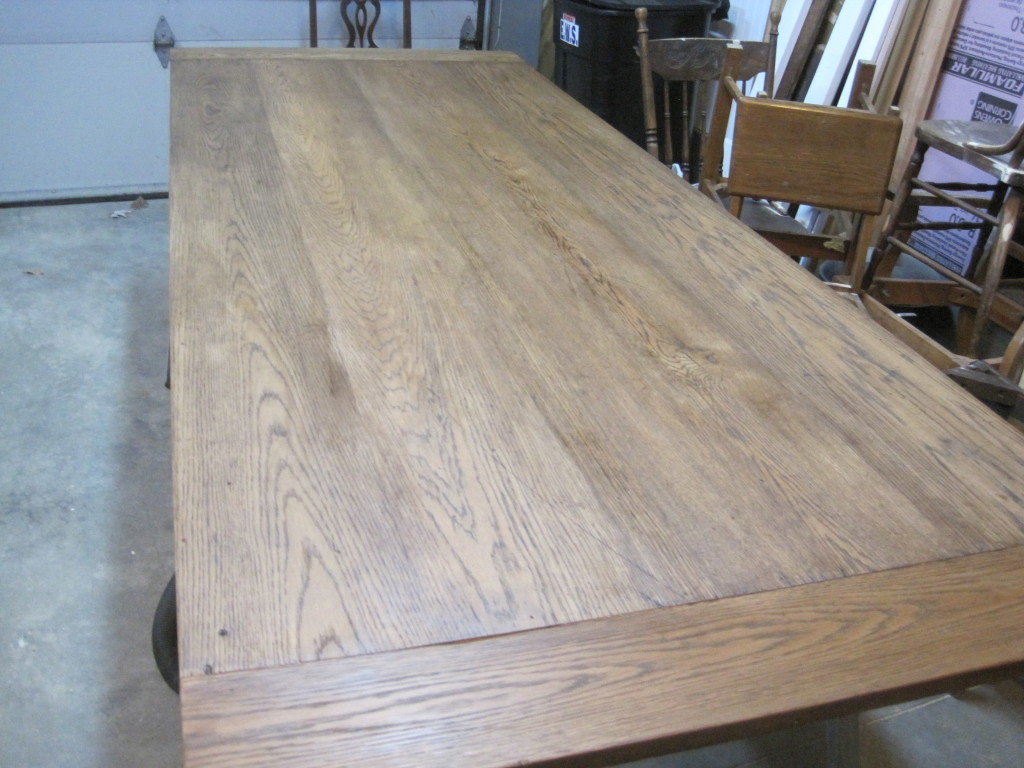 To choose that color, we used a test piece of scrap wood from the original table apron we didn't use. It's important to use the same wood to test that you are using for the final project (new wood looks a lot different than old wood when you're comparing a new finish to a refinished surface.)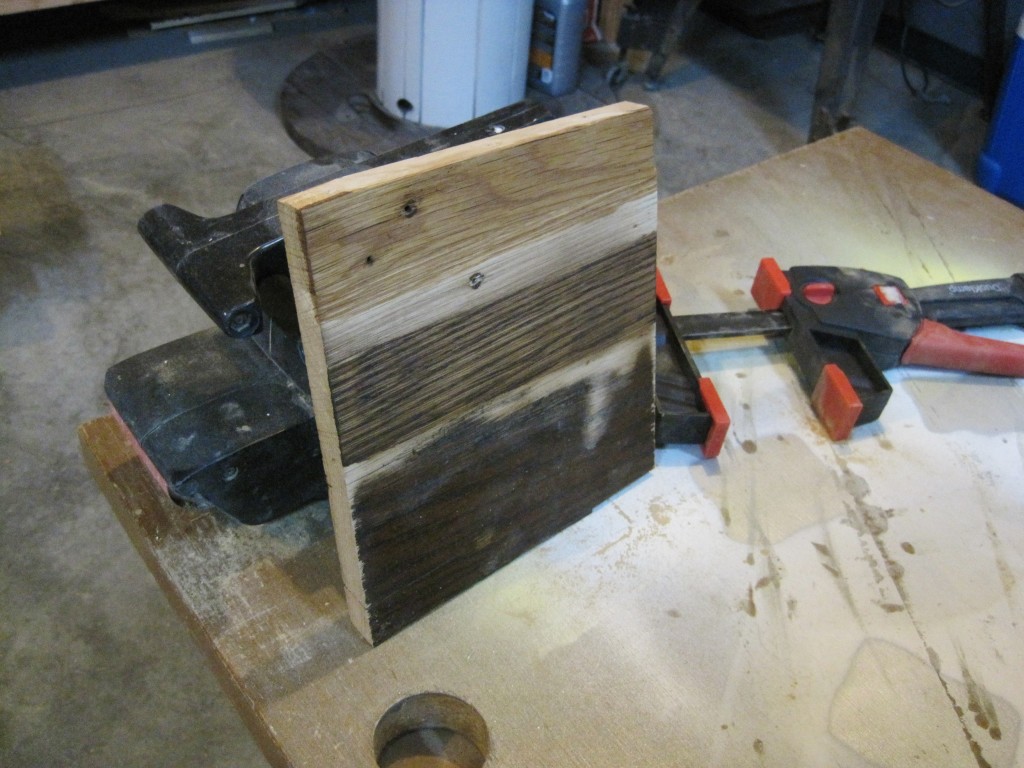 We tested about 7 different options for our final color before choosing our favorite…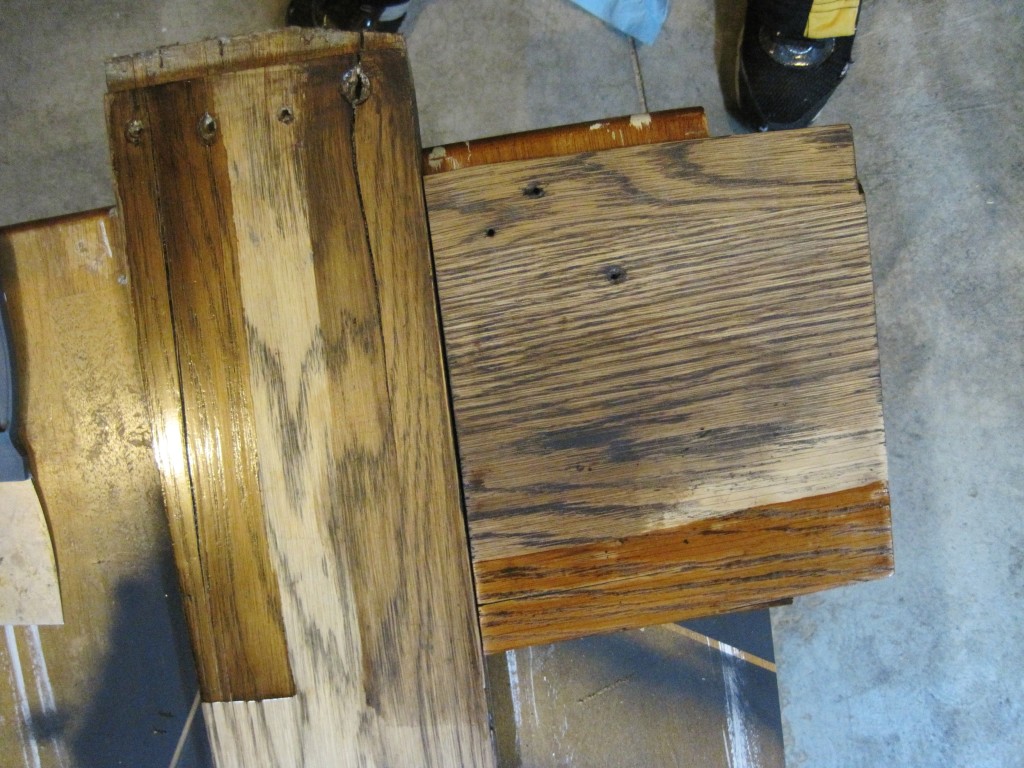 …which was this rub on, water-based stain and finish combo made by Minwax.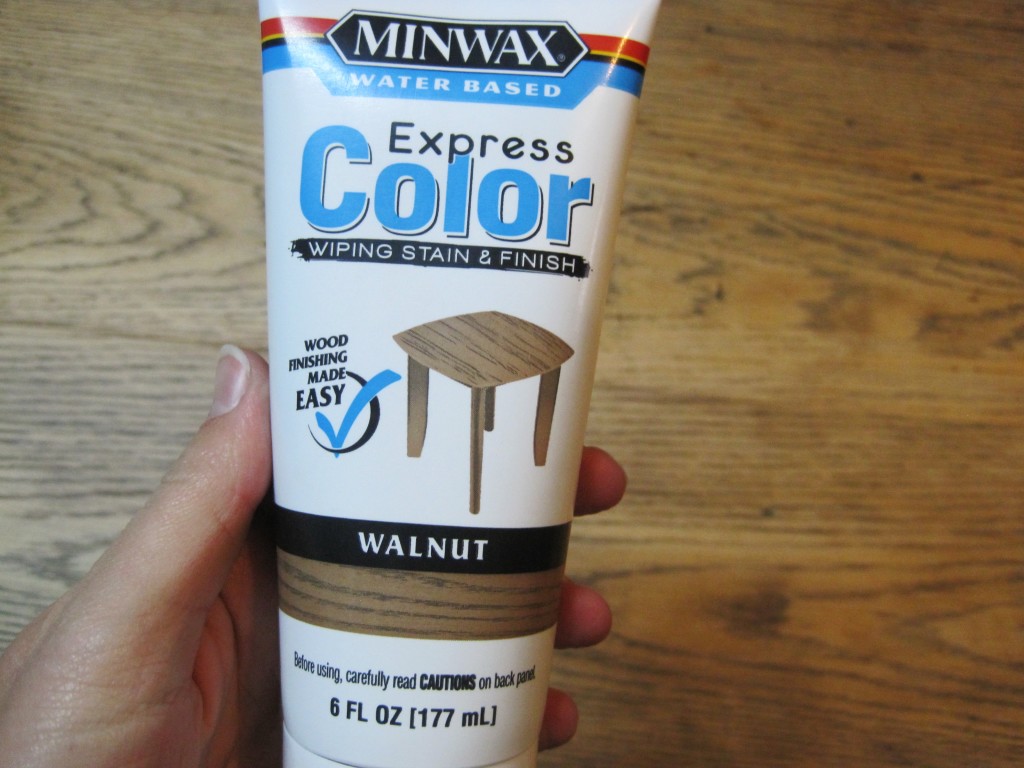 I was skeptical because it seemed a little gimmicky to have stain and sealer in a tube (kind of like those astronaut meals in a tube), but I figured it didn't hurt to try, and it really worked a lot better than the brush on kinds we tried, I think because the brush on varieties weren't able to soak into the wood as well since we were refinishing it. We applied two coats since the first one didn't go on as dark as we wanted. It went on great though, and the color was really exactly what we had wanted.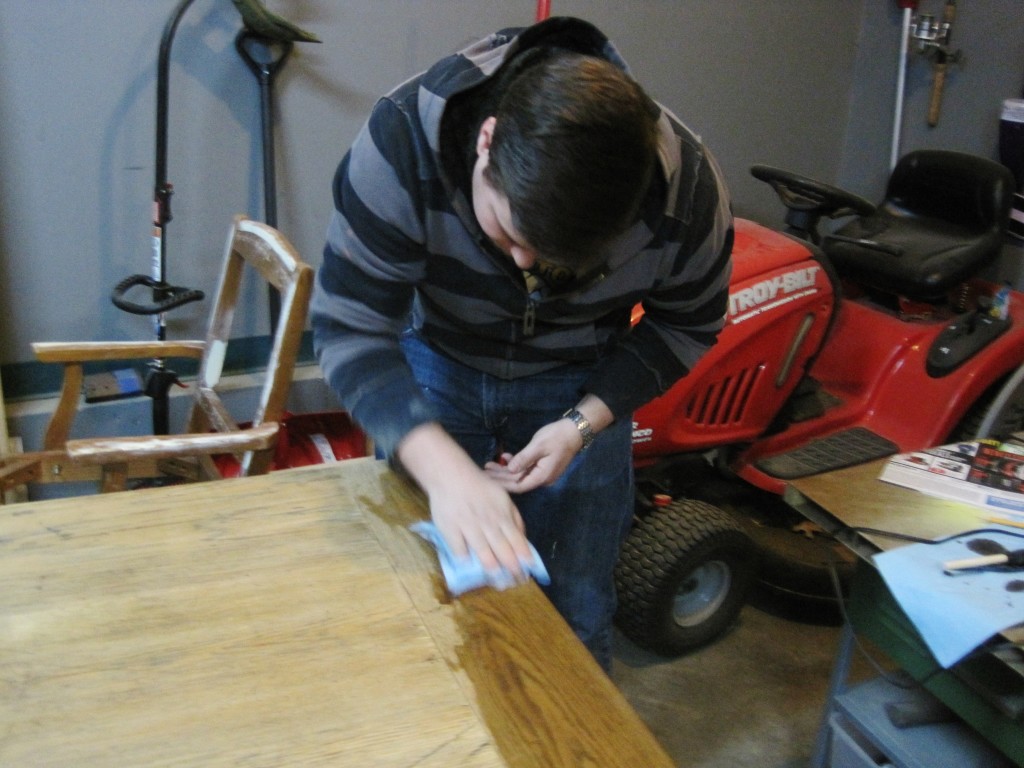 It did end up taking us a little over one tube for both coats, but it wasn't that expensive, although it is more expensive than traditional stain. It was worth having for the final result. Plus, since the stain did have some sealer in it already, we wouldn't have needed a poly coat if this was a dresser or something less likely to ever have spaghetti sauce or red wine spilled on it at some point.
But, since this table will get a lot of wear and tear, and mess, we applied three coats of Minwax Fast-Drying Polyurethane.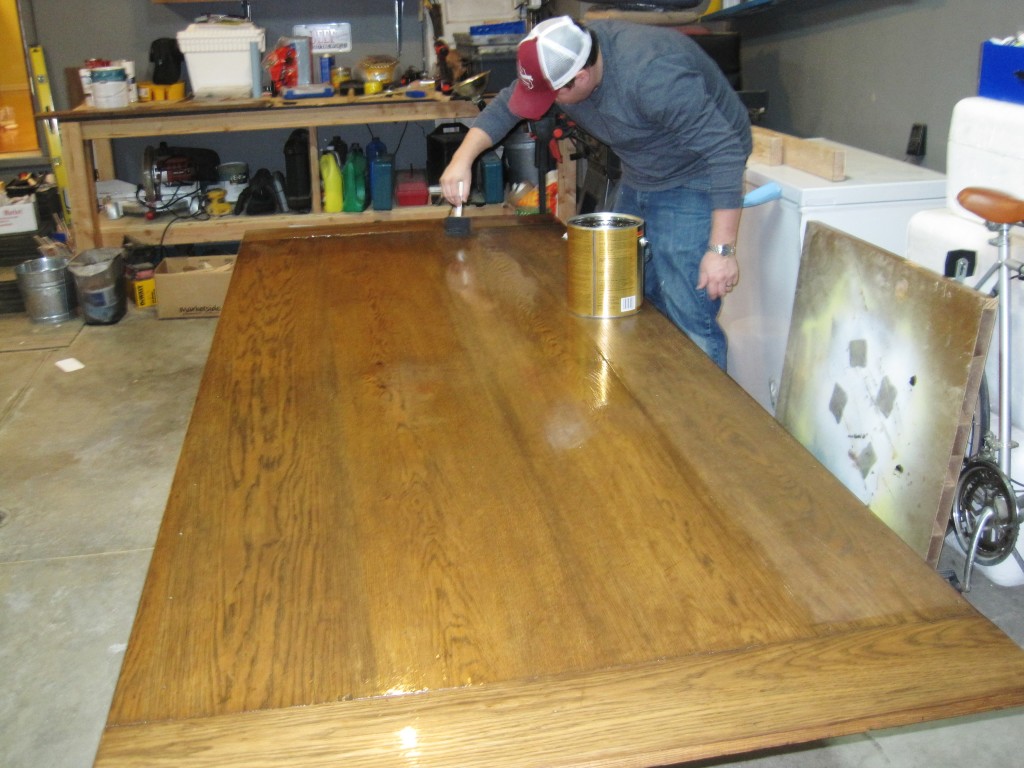 We used a satin finish, instead of a gloss because we didn't want the table to be super shiny. It is salvaged, old wood, after all, so we felt it should have an older, less dramatic finish. And even though this poly went on really glossy, it dried as dull as we were hoping. (Melissa was worried we'd ruined the table at this point, but I ensured her it would dry fine, and it did.)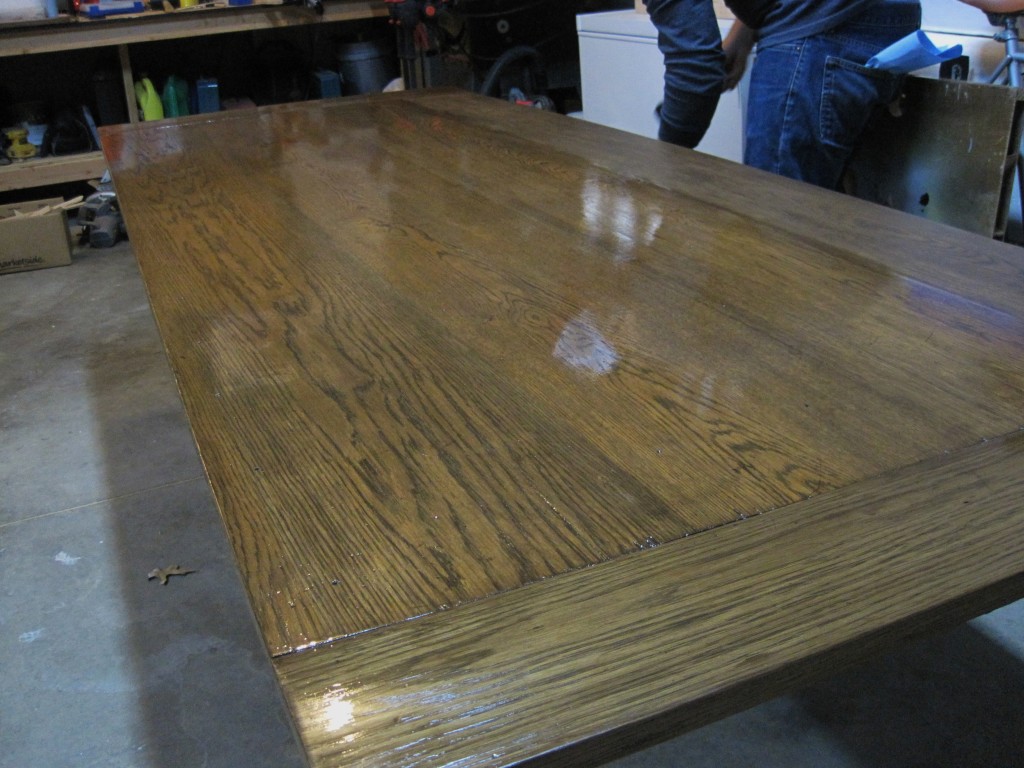 All in all, the table top was the most stressful part of the process since we were trying to transform something old and worn-out to something nice and new, while preserving the character (scratches, stains and holes) from the original piece.
After the staining and 3 coats of polyurethane, this is where we landed!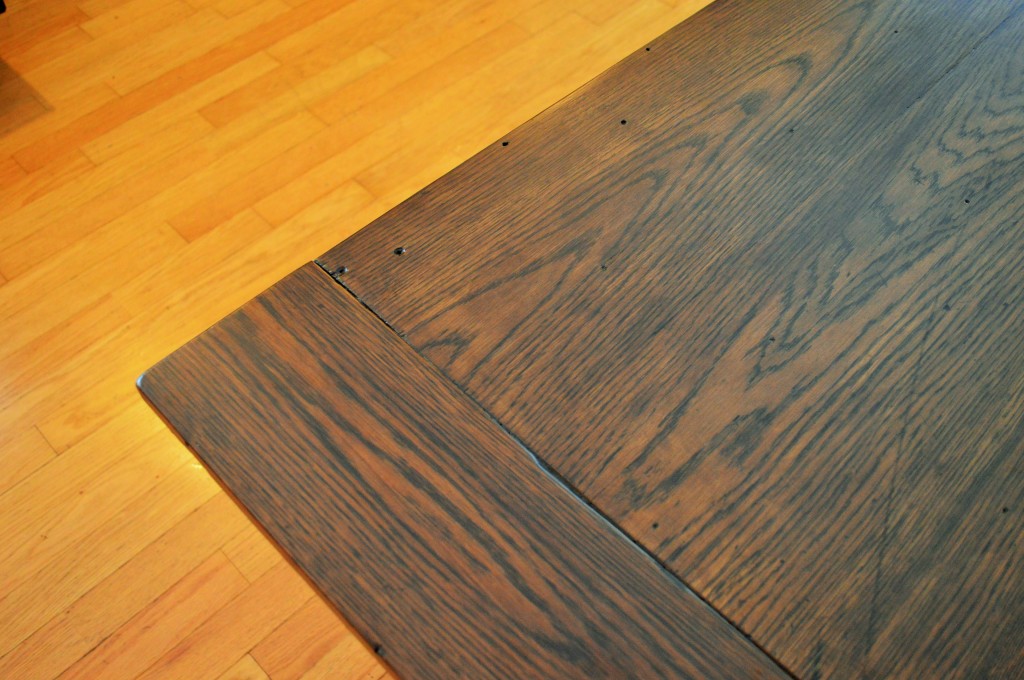 The next thing we did was attach both aprons to the bottom side of the table top.  To refresh, I made a thin decorative apron out of 1″ x 2″ boards. I made it 2 inches shorter than the length and 2 inches shorter than the width so that there would be a 1 inch offset around the whole thing.  I clamped it in place, pre-drilled the holes, and put screws in ever 6 inches to hold it to the top.  It made the top feel more sturdy as well and corrected most of the warping issues we were worried about with the old, semi-twisted wood.  I used my Kreg Pocket Hole Jig to attach the apron to the top that would eventually bolt to the legs. Here is how that turned out.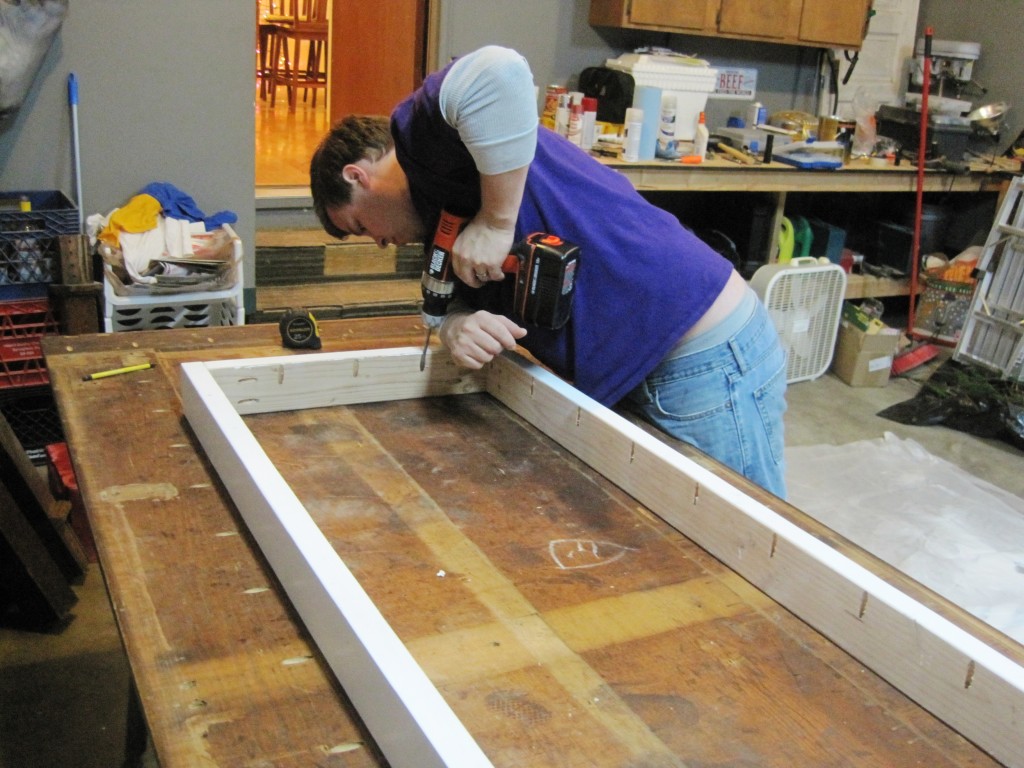 You can see the added thickness from the decorative apron. Painting it white was really the only option (since it would never match the old wood exactly), but I think that it really ties the table top into the painted base as well.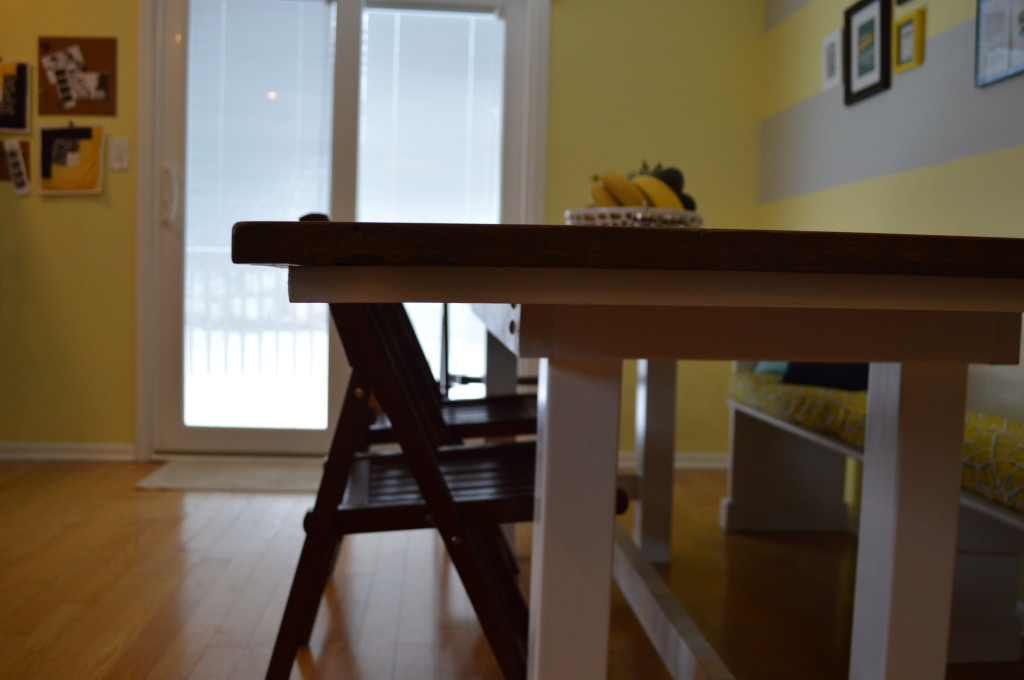 Here's a view of both finished aprons. Underneath, you can also see the old surface, with the writing and scratches and other markings.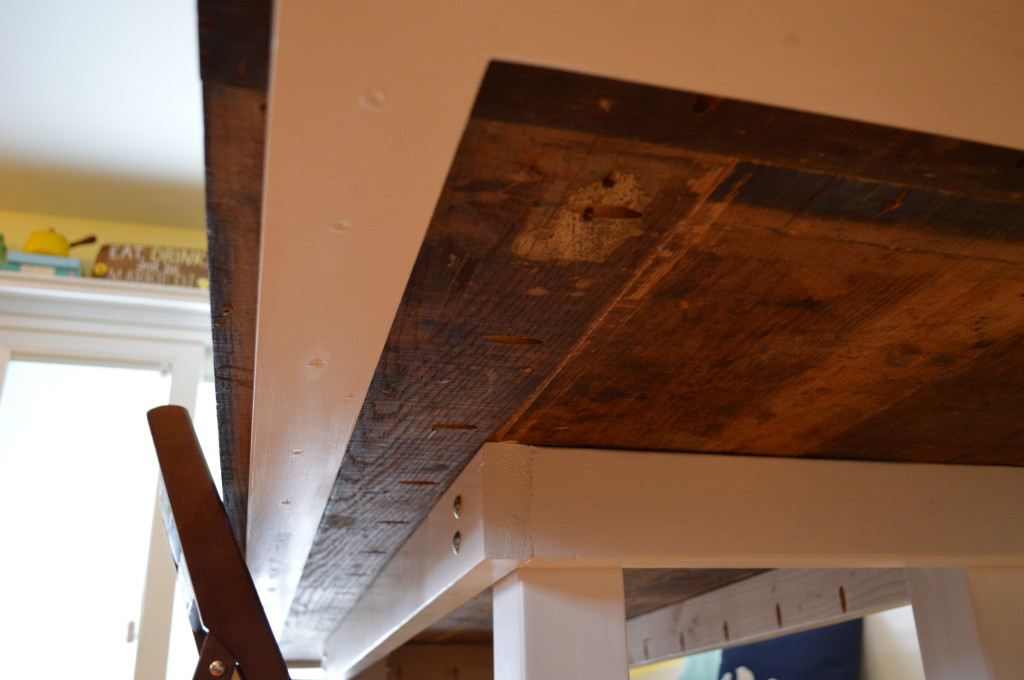 I flipped the base over on to the top and drilled two holes through the apron where each leg attached. Then we were ready to carry it into the kitchen and start assembly.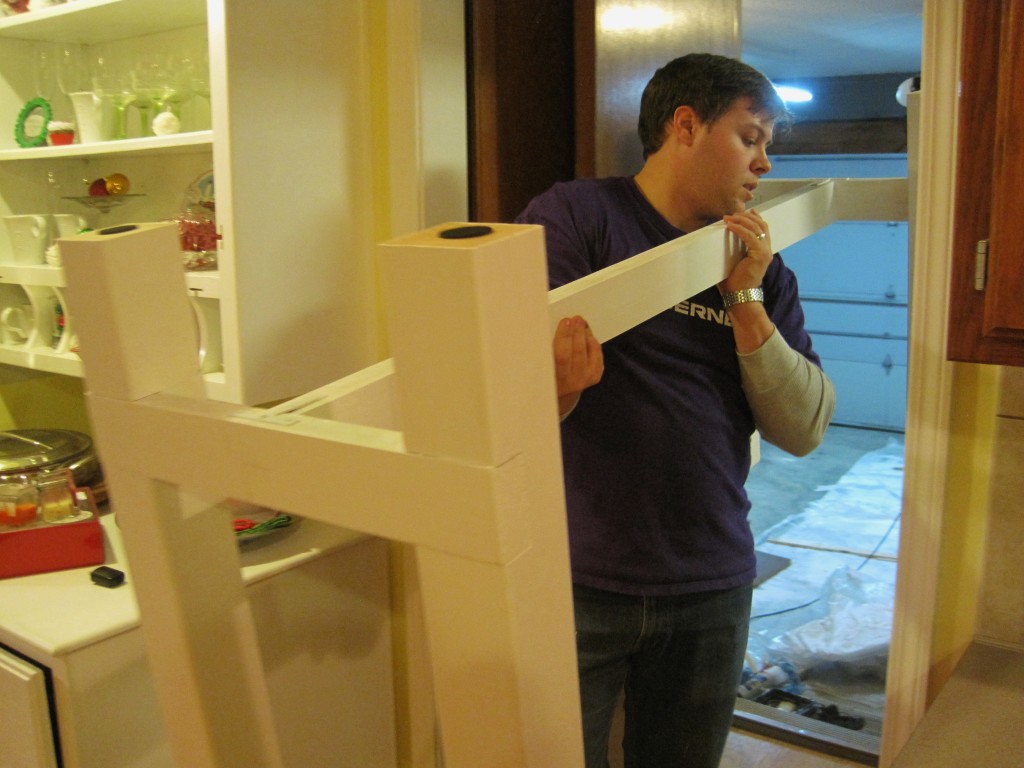 We used carriage bolts to attach the legs.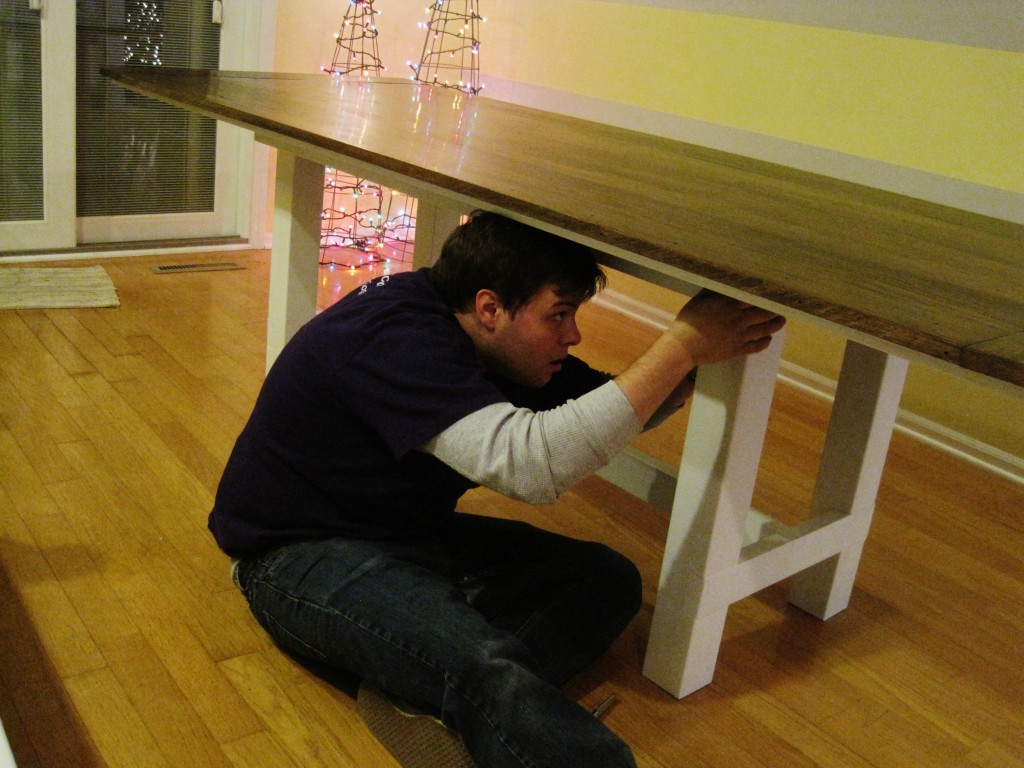 Those bolts have a rounded head that we thought would look better than a hex head bolt or a flat-head/phillips-head bolt. When tightened, like the one on the bottom, the bolts suck down tightly to the wood.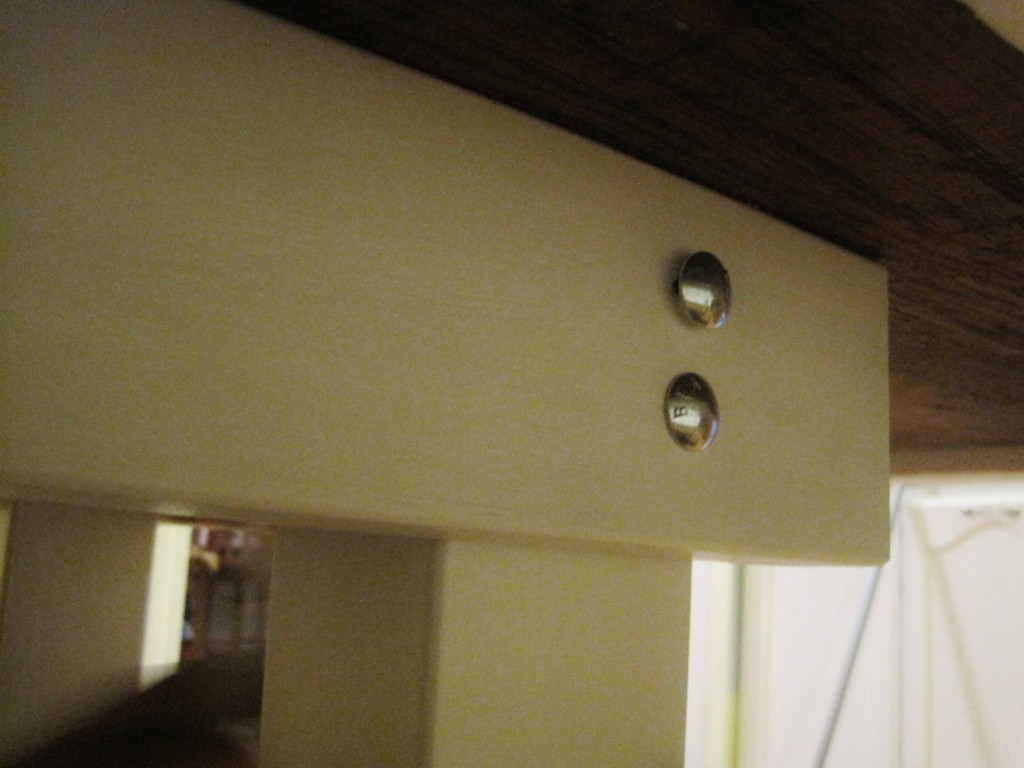 And you know how it all turned out? AMAZING!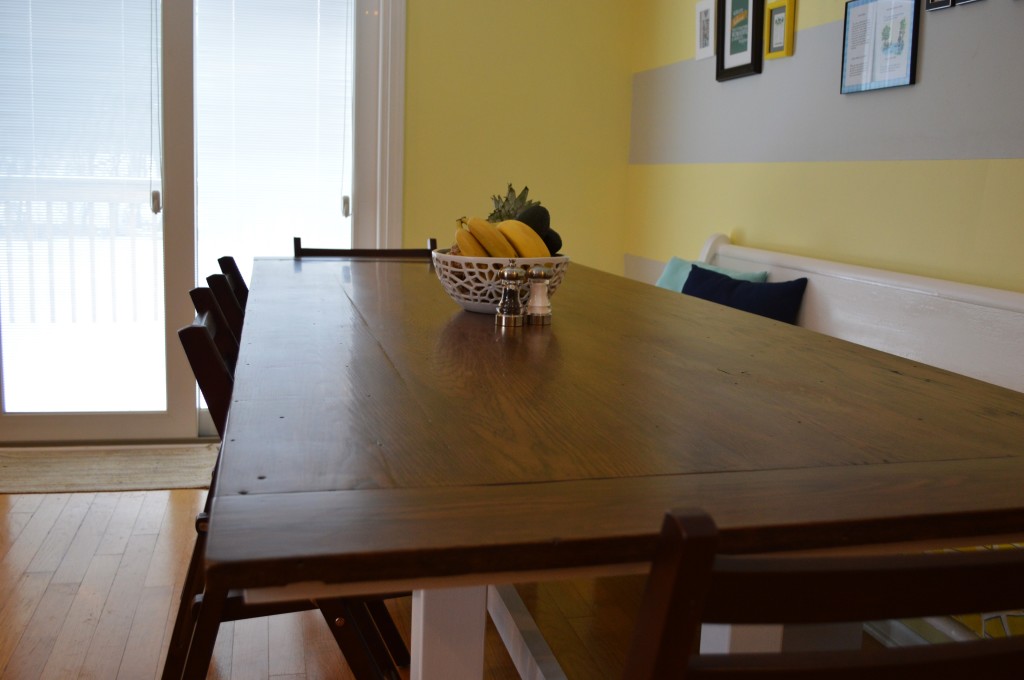 Since this is a reveal post, get ready for a lot more photos. It's safe to say we're pretty satisfied with the finished result.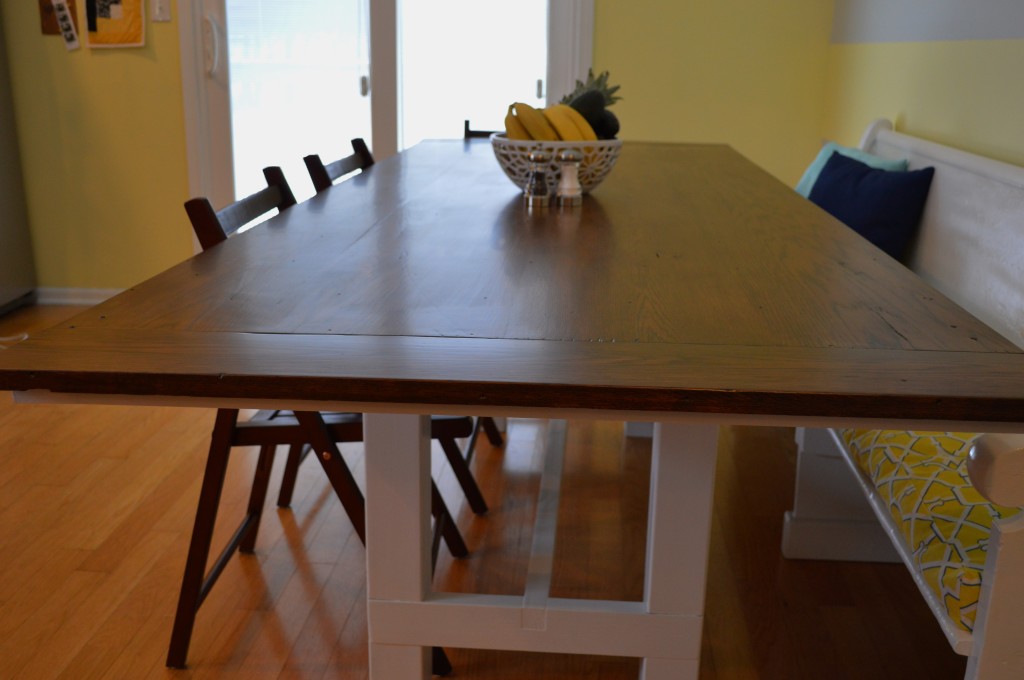 Melissa goes into the kitchen to pet the table several times a day. She was really concerned about the finished surface a few weeks ago, but she really likes it now.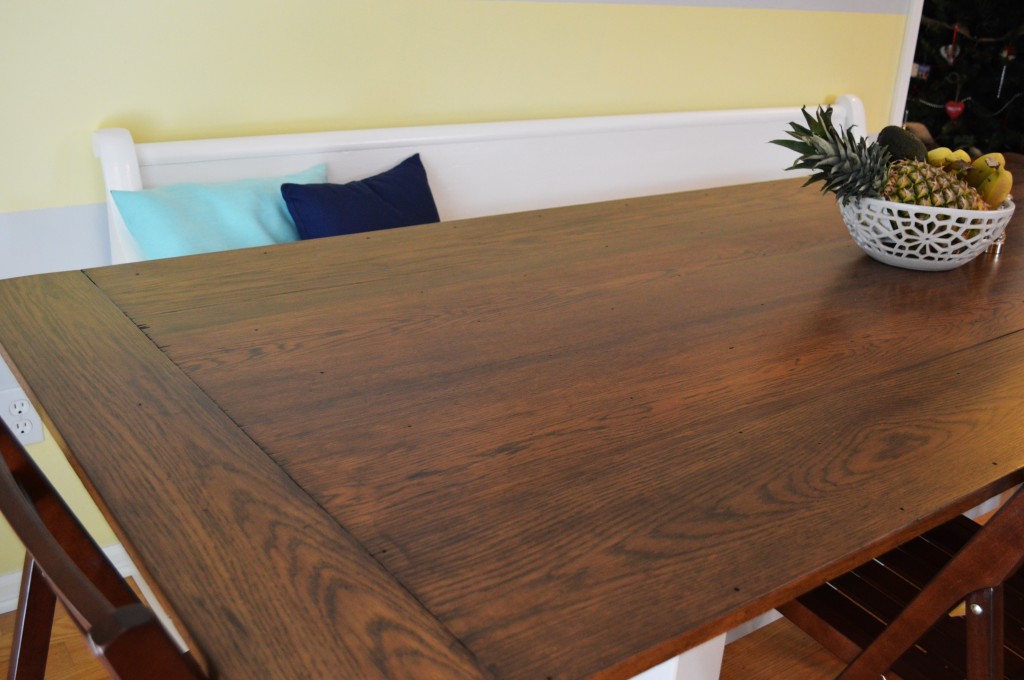 We're both really happy we were able to save an old table and give it new life. The grooves and cuts and scratches in the wood are our favorite part.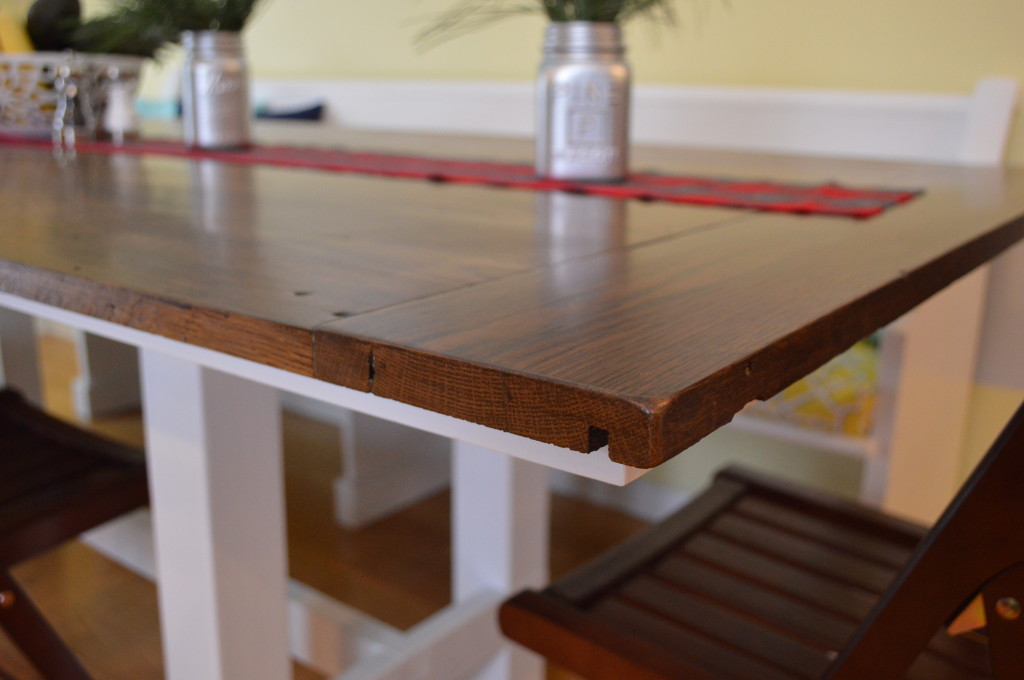 Here's a shot to show a little bit more of how it fits into the room.  When we're not having big dinner parties, we'll keep the table closer to the wall on the left. Here it's pulled out enough to allow someone to walk around the table. (We could never have gotten the entire table in the shot with our old camera.)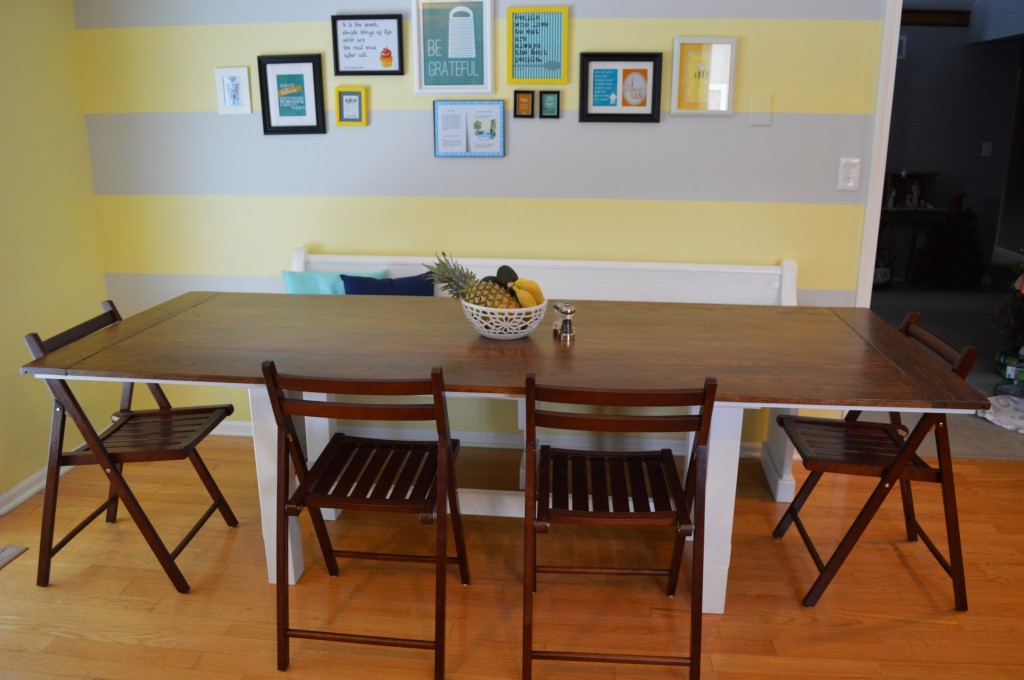 Yes, this is a big table. And we know we don't have that big of a space (it's a kitchen/dining room) but we do know that we can comfortably fit 10 people at the table. So, hopefully, we'll always have a dining room or eating area big enough for this table.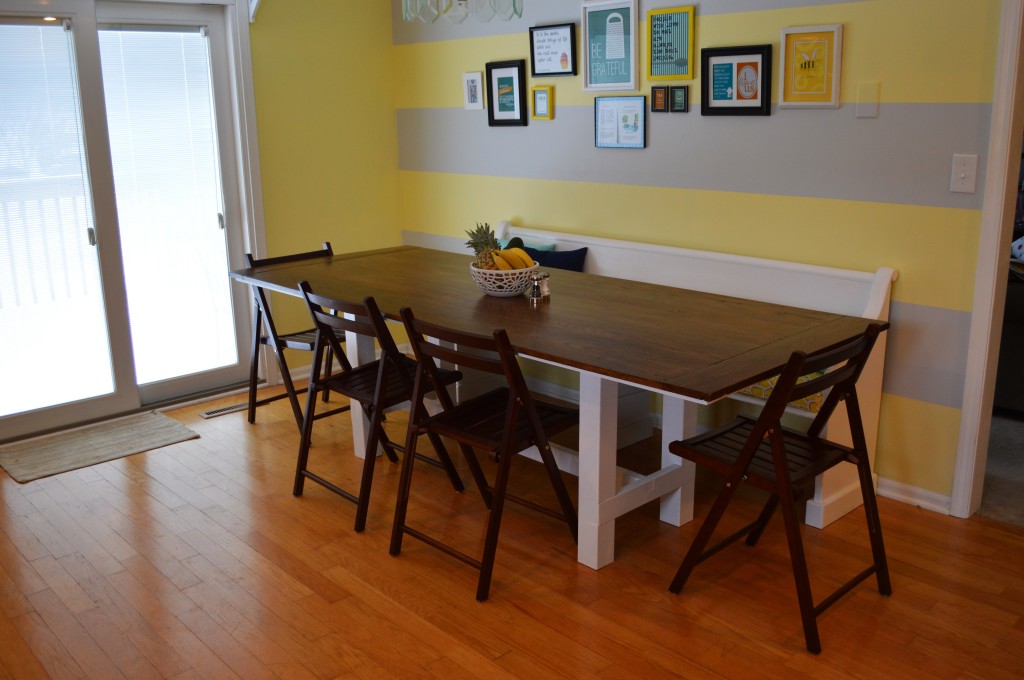 (Note: Melissa says we'll make sure to ALWAYS have room for this table. It's now a part of the family.)
Here's how she dressed it up for Christmas: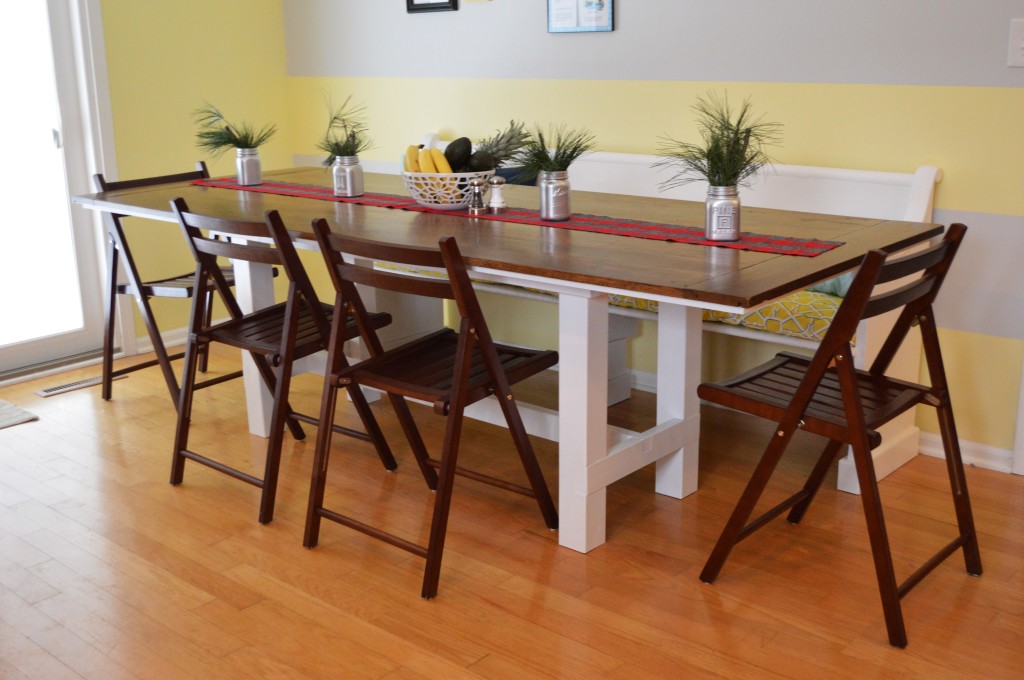 She used a little red flannel and some painted jars with evergreen for "height and contrast".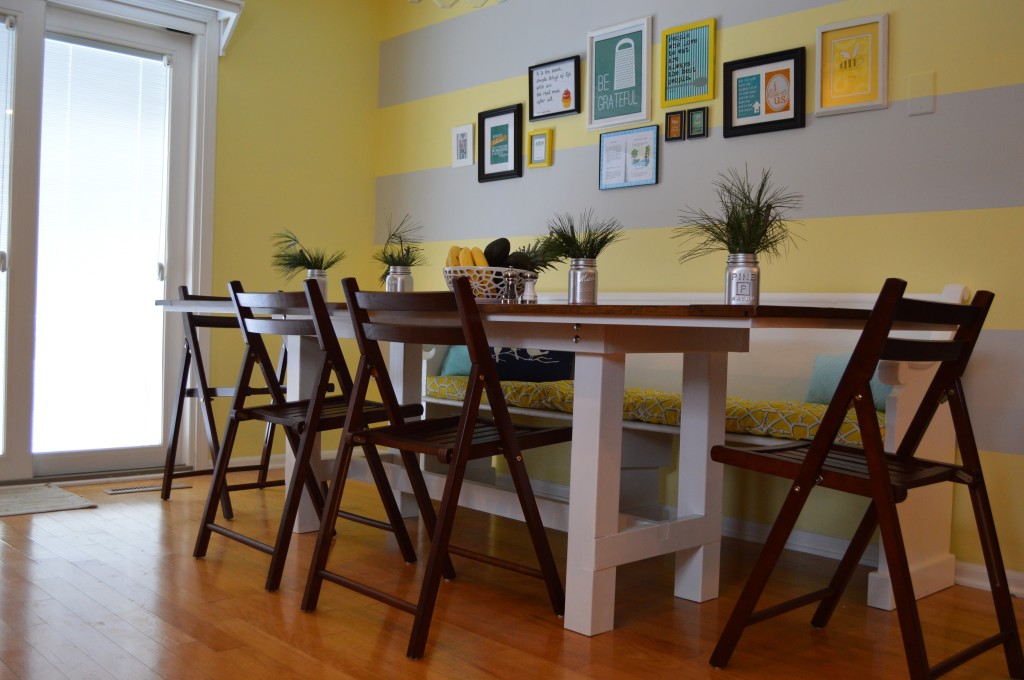 And here's a closer up look at the surface (and Melissa's new fruit bowl). I really like the classic look of the grain.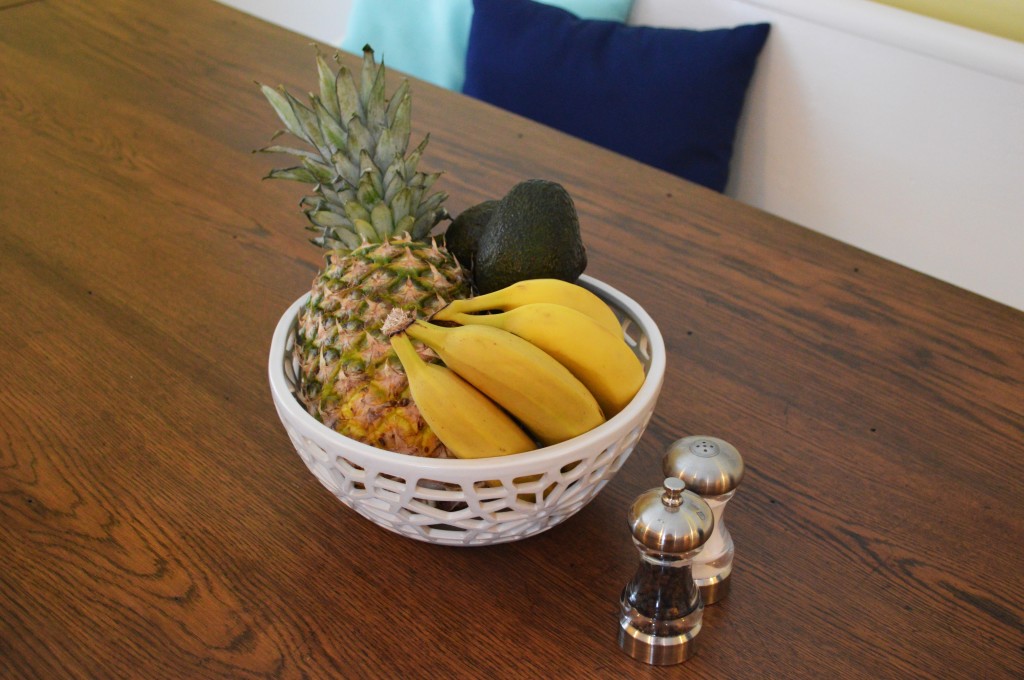 All in all, we're really happy we went through the trouble of saving this table, even if it was a pain.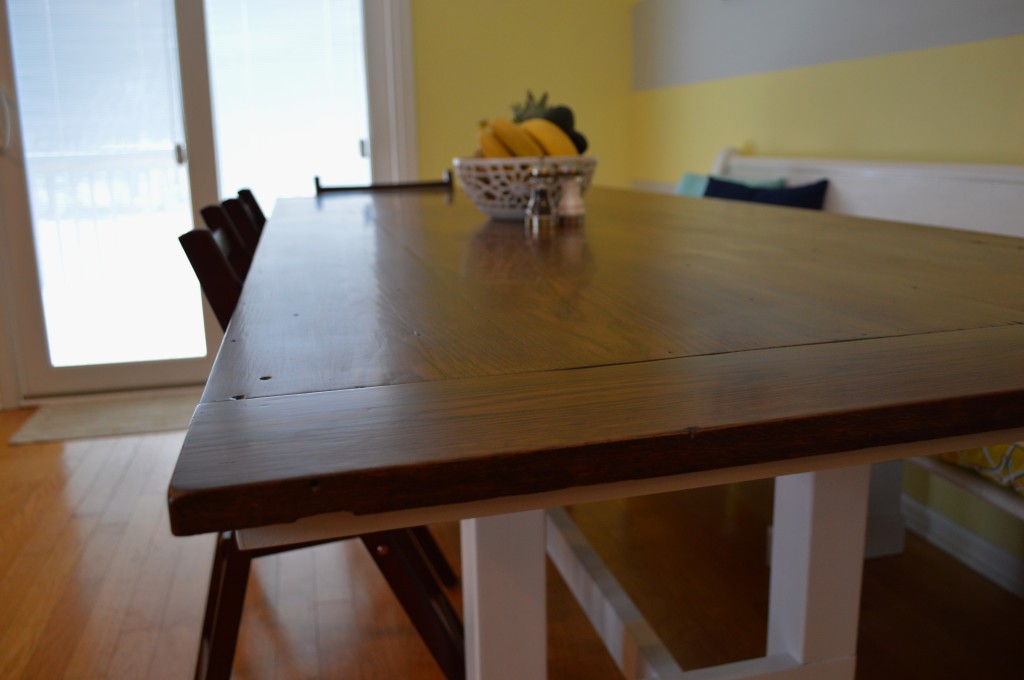 Sorry you all had to wait so long for this reveal. We've been enjoying our table for several weeks already. Here's how it looked after our Christmas party: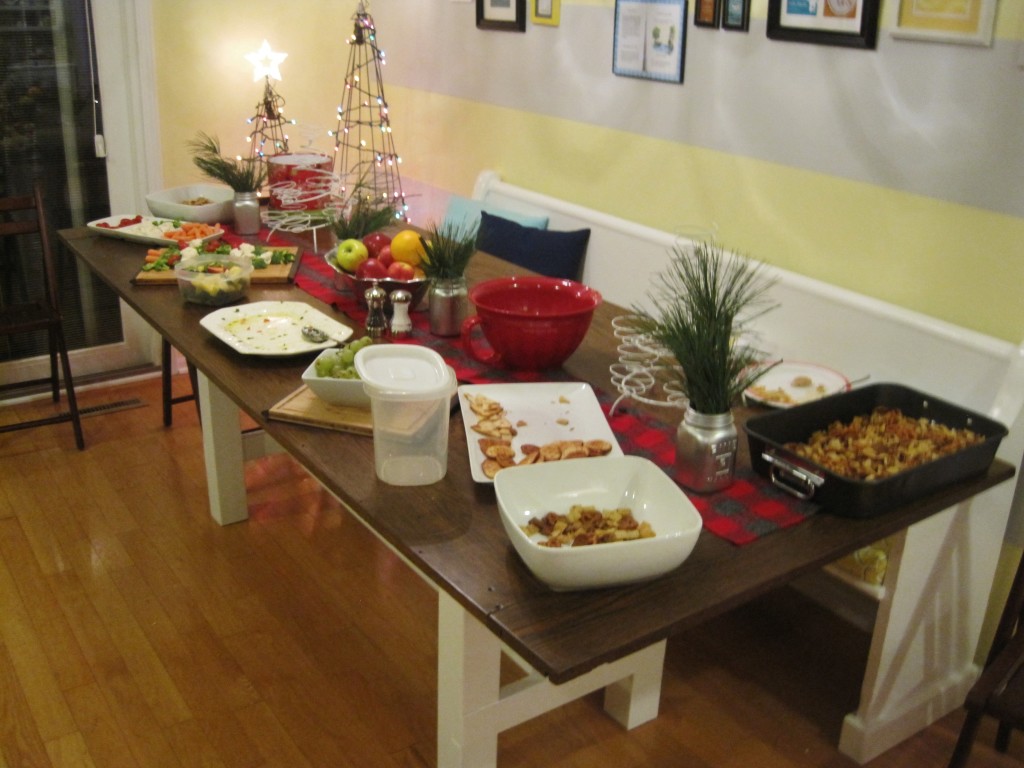 Oh, and just for a fun reminder, here's how far we've come from our initial starting point: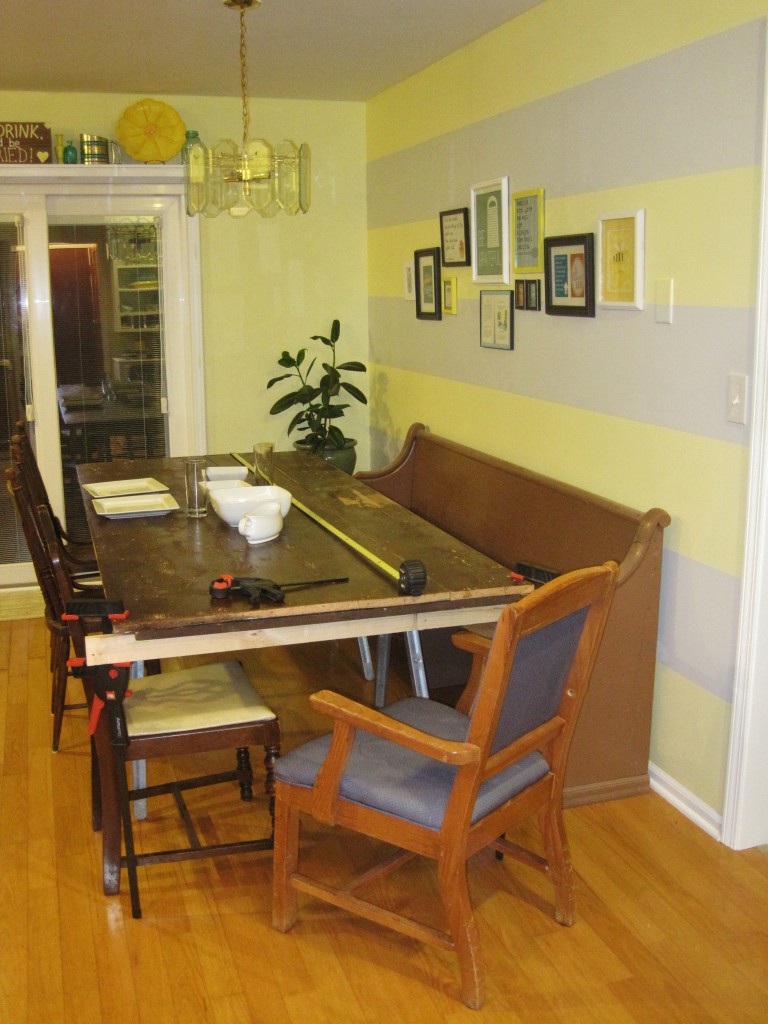 And now the new view: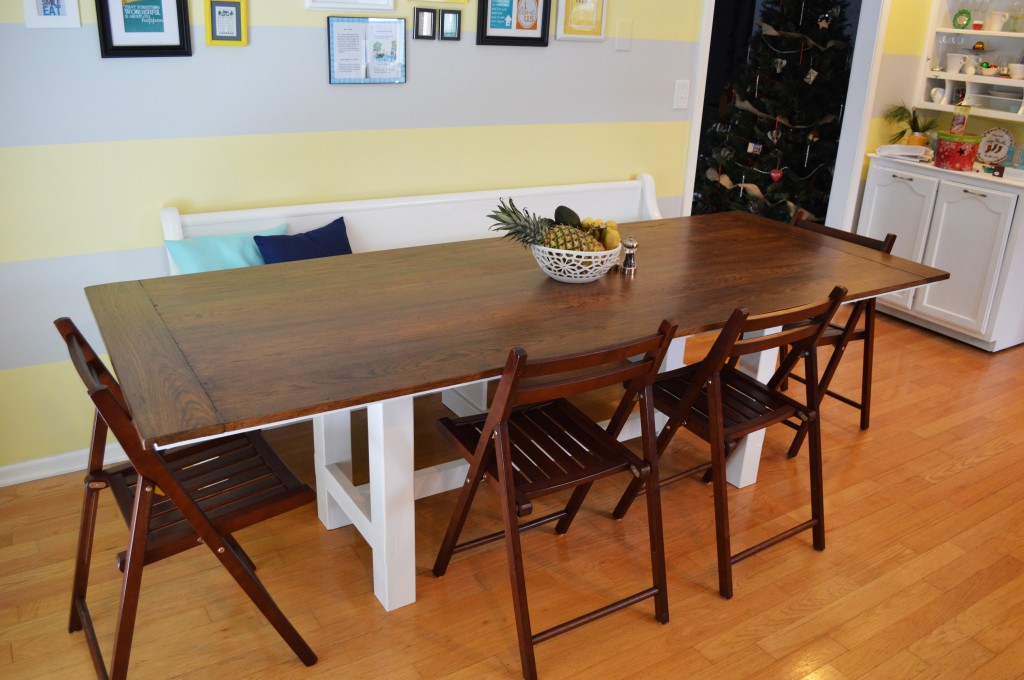 We do still have to finish the chairs, so this isn't really the final reveal. We've been taking a little holiday break though, so we still have a bit of work before we'll have those finished. For now, it's all about the table.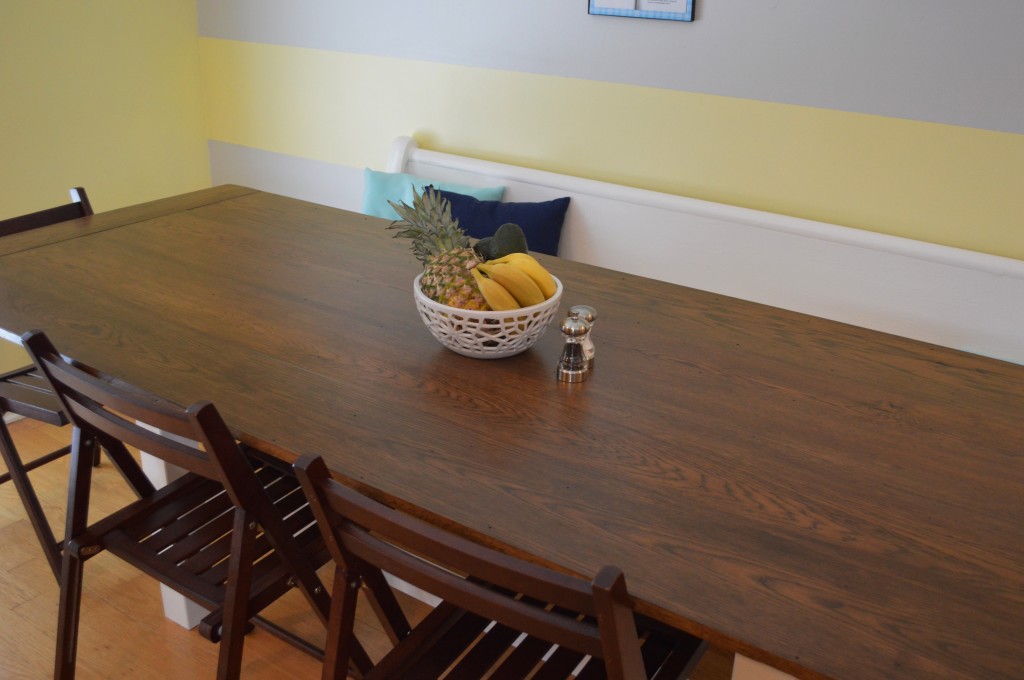 At this point, we're still deciding on white versus a color for the chairs (the walls will be gray in the near future as well). Melissa will tell you more about that later, though.
Now that you've seen the table, what do you think? Worth all the effort? We think so. What projects have you done that took forever but were worth the wait?