This post is sponsored by Minted and contains affiliate links. All opinions are our own and we only share things we really love with you guys. 🙂
---
Today, I'm looking ahead to the holidays…specifically the holiday card situation…which, let's face it. Can be a bit of a nightmare if you are like me and often wait until it's too late…oops.
I've shared about my love for Minted holiday cards on the blog in years past and this year is no exception. One of the cool things about Minted is that they allow artists to submit designs, the community votes on what they like best, and then those designers earn commissions when anyone buys their designs or art prints. It's a way for people like me, who don't have a lot of other easy access to art, to have awesome, unique art in the home… and for things like cards or stationary. In this case, holiday cards.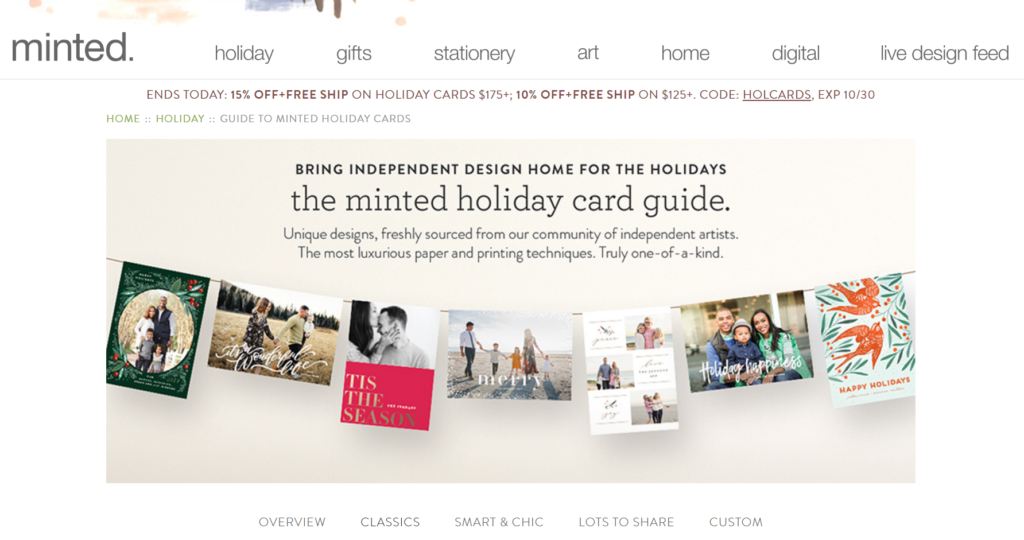 Yes, I know it's still October…but let's face it, if I'm going to get cards mailed before Christmas, now is the time to start preparing. I'm almost always scrounging around for a good photo around the first of December…and then I get them ordered…delivered to me…and then barely addressed and mailed out before the 25th…oops.
I do love to send Christmas cards though, so it's not a tradition I want to cut out. There's just something about packaging up all those lovely envelopes with sweet greetings and photos inside that puts me in the mood for the holidays. Plus, I love getting Christmas cards from friends and family… so, what goes around comes around, right? You have to send some out to get some back. 🙂
So, if I'm not willing to give up the tradition, I need all the help I can get and we've had great luck with Minted cards in the past and will likely use them again and again. This year, with a new babe, I'm especially interested in their new service called "Text Us Your Photo."
You just have to text them your favorite holiday photo, and a Minted stylist will text you back your photo styled in 5 holiday card designs – for FREE – and you can choose your favorite and finish ordering on the website. So cool. Something I can do with one hand while on my phone and nursing the babe at 2 AM? Sign me up please.
They also have a cool feature on their site called "Find It Fast" that saves time by allowing you to see your photo in every holiday card design at once. You just upload your photo and it automatically replaces the stock photos in the display with your photo. Pretty cool. Look–there we are in four different card options below. Fun stuff, I'm telling you.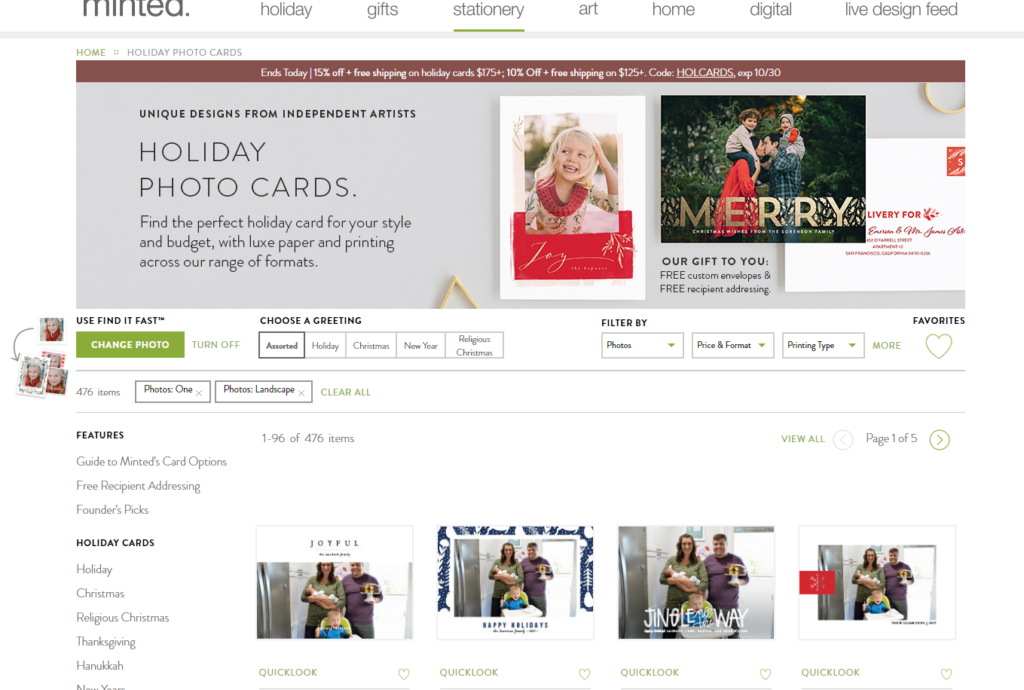 You can also use their "Buy Now Personalize Later" option to take advantage of a promotional offer and buy your holiday cards now but then come back to finish personalizing with photos, text, or addresses at any time. This is great for those of us who *cough cough* never get their photos organized this early in the year to be able to take advantage of the best sales.
And they do have some pretty great sales. Right now, they are offering 15% off + free shipping on holiday cards $175+; 10% off + free shipping on holiday cards $125+ but that promo ends today…and I'm guessing a similar promotion will begin soon. They'll also have some sales around Thanksgiving I'm sure. So, just watch for whatever deal suits your budget the best.
Be sure to check out their top-voted holiday cards
 selection. I love this one with the "merry and bright" script.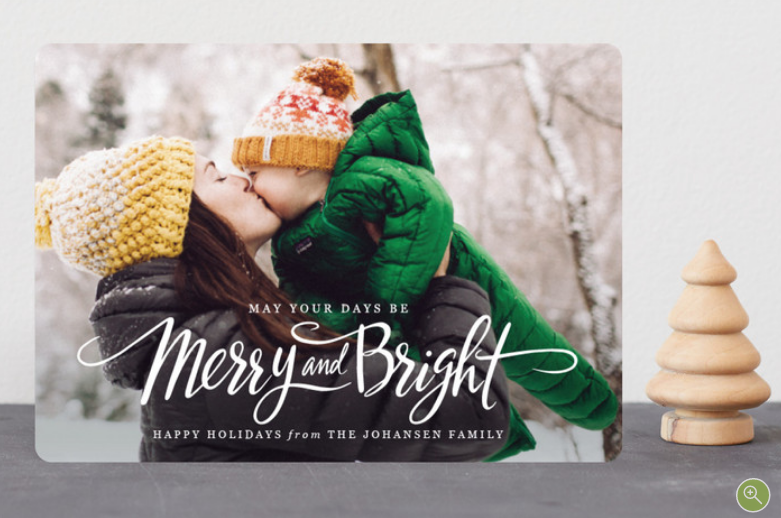 And this one is really fun too with a similar sort of feel but a more modern take on the design with the off-centered lettering and photo.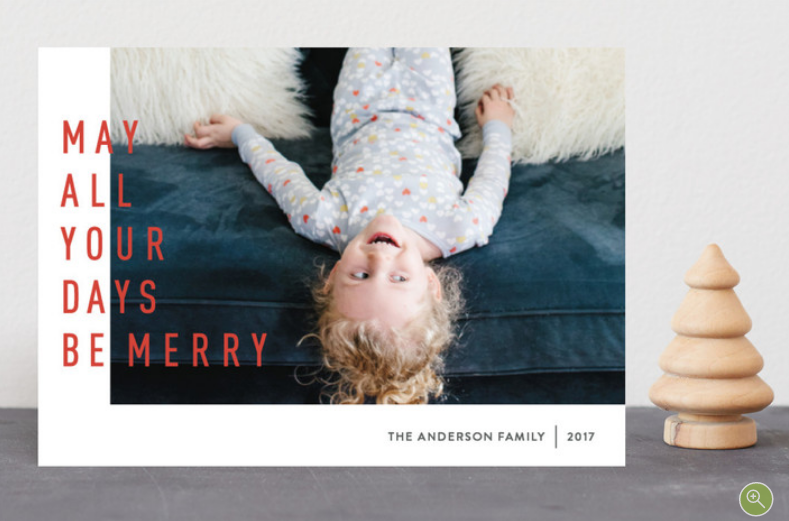 They also have these super cool ornament cards…how fun for creating a keepsake in addition to a card?! I can see grandparents especially loving these! If you did them every year, it would be so fun to have a tree full of these to look back on! There are a bunch of great ornament card design options, too!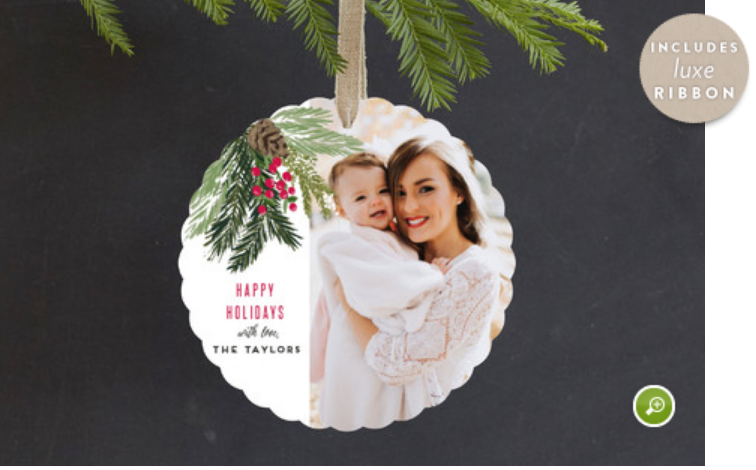 And of course, the option to have cards printed with real metallic foil for some extra sparkle. I do love me some sparkle around the holidays. These are one of my favorite gold foil option, but there are a lot to choose from in that category, too.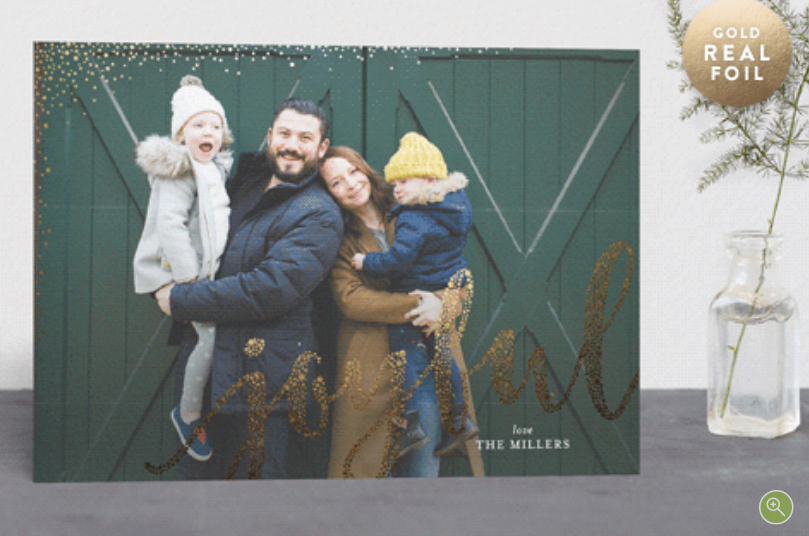 You can see there are a bunch of awesome options to find the perfect holiday card format to suit your style from their original holiday cards to foil-pressed holiday cards to letterpress holiday cards. Plus, the designs can be customized with features like changing out colors, shapes, paper upgrades, backers and interiors.
Plus, they have some super cool extras…like FREE recipient addressing on all cards. Hello, time saver! And again, with a newborn and a toddler and busy lives already…well, I'll take all the time savers I can get.
Another fun extra I love? Custom stamps to match your cards! I mean, I adore cute stamps anyway, but a stamp with my family's faces on it would be too cool, right?
So, be sure to check out Minted's holiday cards
 and let me know what you think!

Ok, so now, tell me how many of you still do holiday cards? Have you done them yet? Let's make a pact to get them ordered before Thanksgiving, okay? And you better hold me to it!