This post contains affiliate links, which means we will receive a small commission if you make a purchase after clicking on a link. It doesn't cost you anything extra but it helps us. Thank you for reading LovingHere!
---
It's been a very hard few weeks with a sick kid and a husband working 14 hour days at work, while being very, very pregnant. But, I managed to be a little productive and finished a little book nook in the basement family room.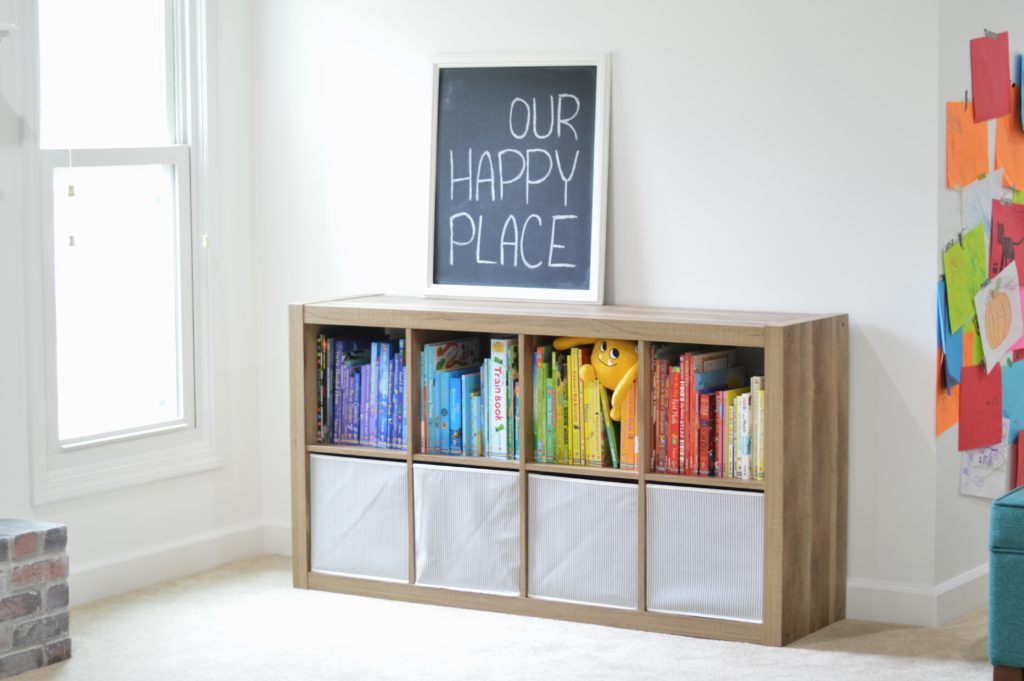 You all know I love books and make it a goal to have pretty bookshelves in as many rooms as possible in our home. Also, look at my tiny boy in this old photo! Oh, goodness, the hormones are strong this week!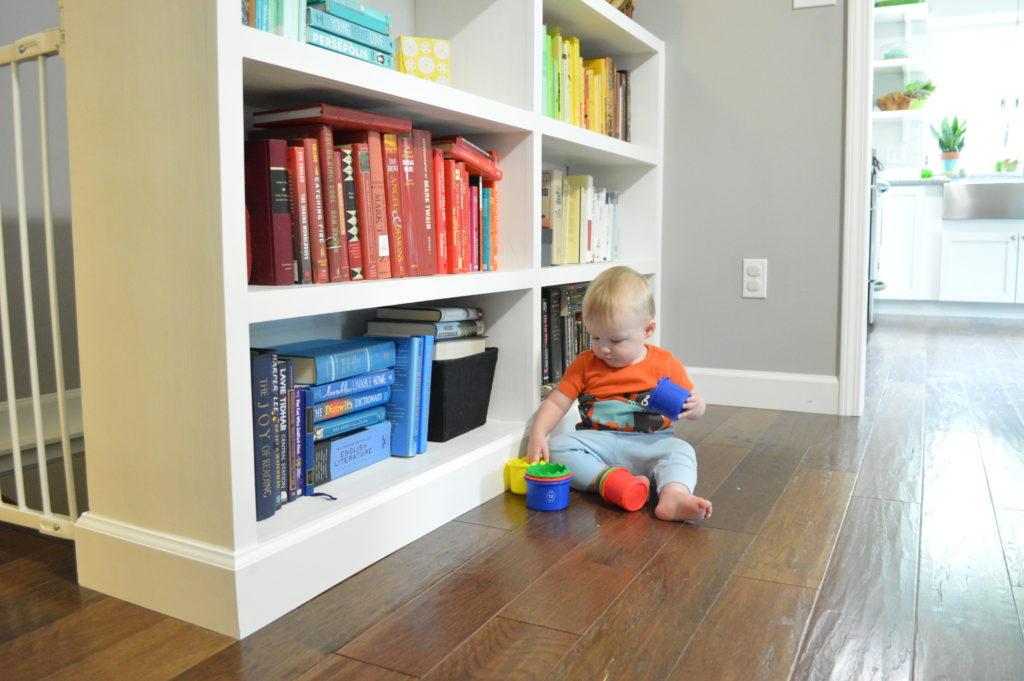 So, about a year ago, I started a book business, where in addition to being a freelance writer, blogger, and designer, I began my journey as an Usborne Books & More rep. My main reason for joining was because I love children's books and wanted to buy them all for Will, but pretty soon, it became clear this was an actual business and I've stuck with it. In addition to the income, which has been wonderful, I have managed to build a pretty amazing library for our kiddos (pretty much all for free!), and I knew that having a special book nook space in the basement family room was a priority. Books can't be read and enjoyed if they are piled away in boxes.
Awhile back, I posted a photo of my office (my old office now) and my growing collection of children's books. Clearly, storage was becoming a problem.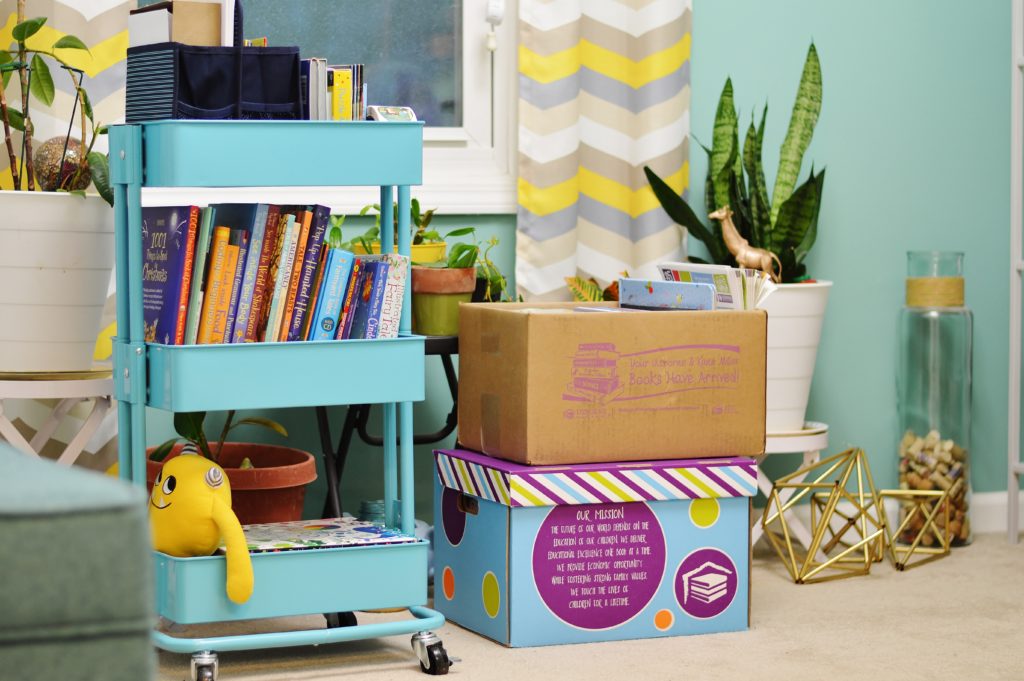 That was just the beginning of the collection of new books. The boxes of free books just kept coming withe every month I earned bonuses. Too many books is never a problem in my opinion, but we needed a better place to store them since Will's room was also already full of books.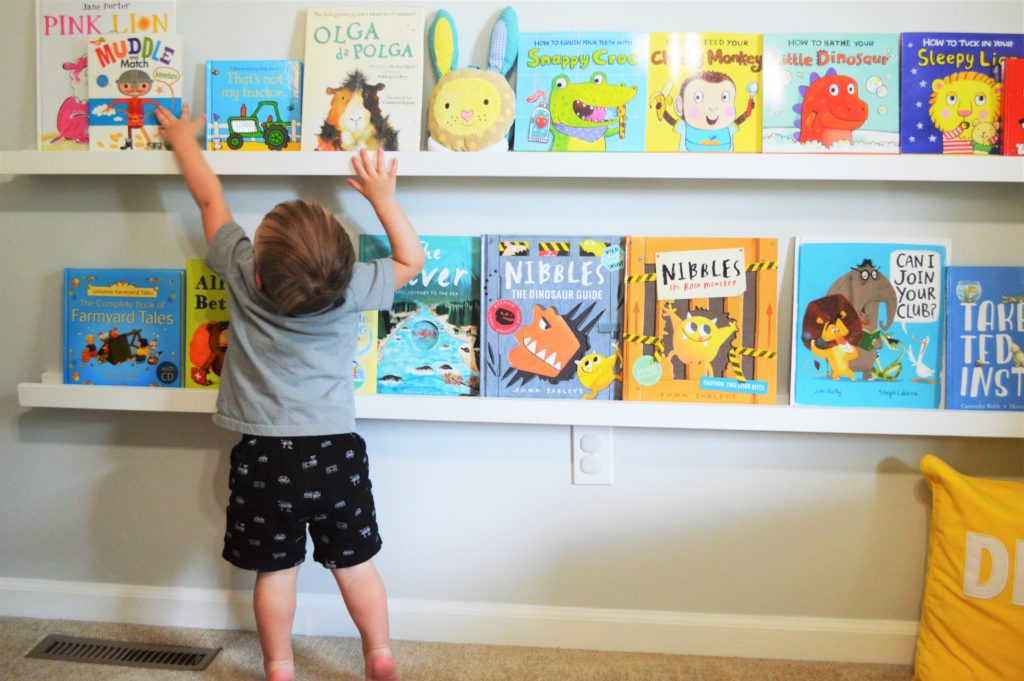 So, we needed another bookshelf just for kids books.
Because we have our awesome Craft-Art countertops, I wanted some shelves that matched fairly well. I also didn't want to have to spend a ton of time and money on them. Mainly because Wyatt hasn't had any free time to build things for the basement or nursery this summer. So, while we'd love to have something custom eventually, we needed something that would work well in the meantime, even if we wanted to replace it later on. So, I was specifically interested in the white-washed-looking Better Homes and Gardens 8-Cube Organizer.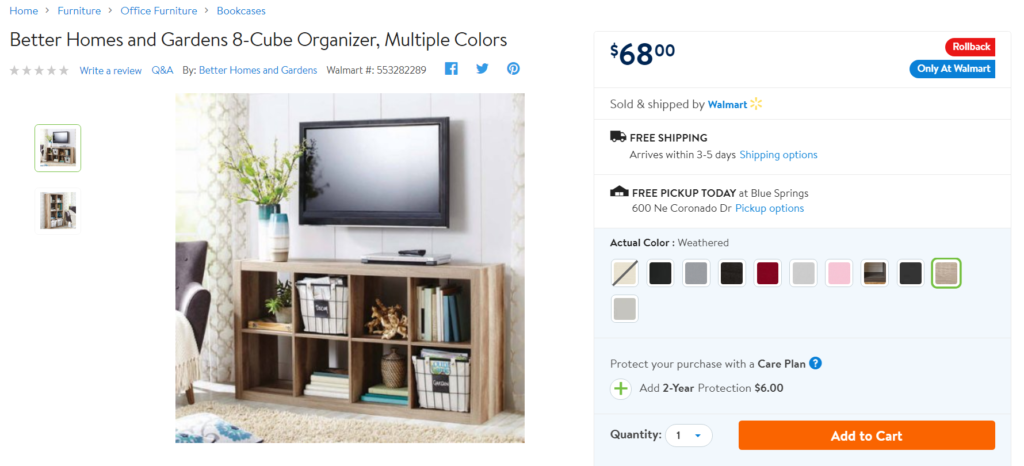 There was a rustic gray finish, too, that I considered. But I'm glad we got the weathered. It matches the whitewashed counters really well even though it isn't solid wood.
I will say that I typically hate faux wood finishes and especially hate the cheap laminate "kit" furniture. While this is certainly not high-quality, it is a step up from the cheaper lines I have more experience with from our college days. You can see the corners are much less noticeably fake-looking.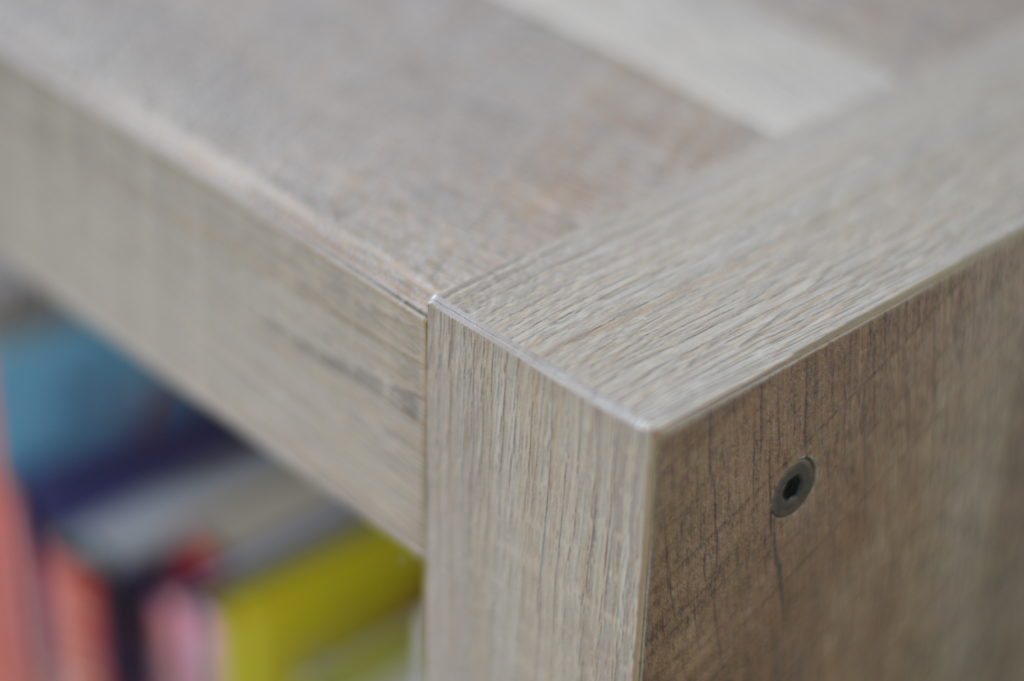 And the thicker panels on the outside give it a better, more substantial look I think.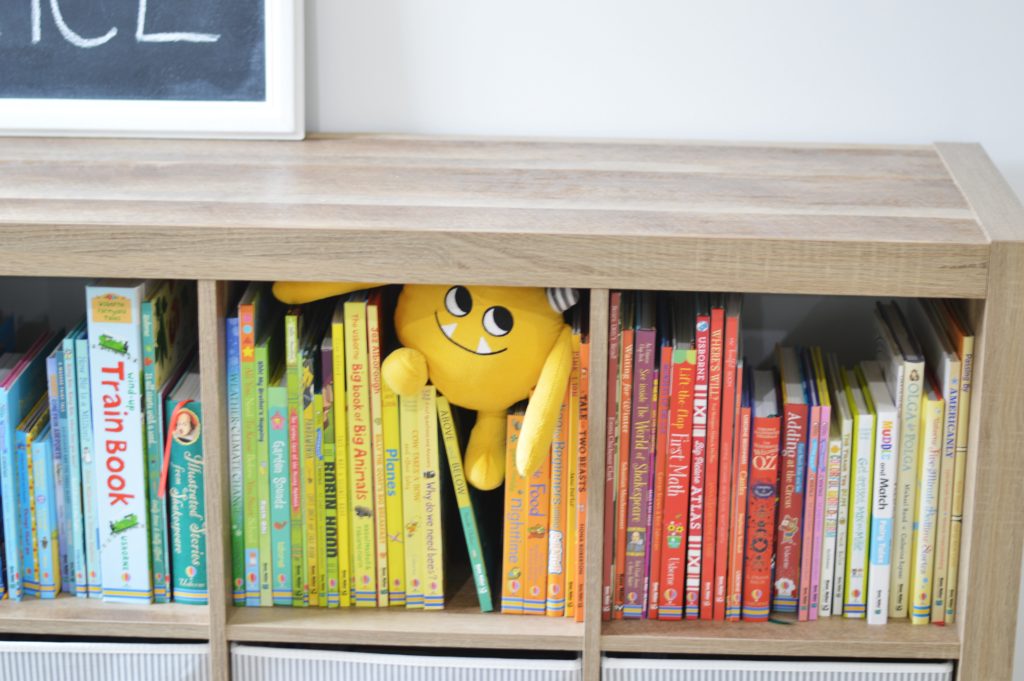 You'll see a little glimpse of how these looked for awhile as I was still moving into them…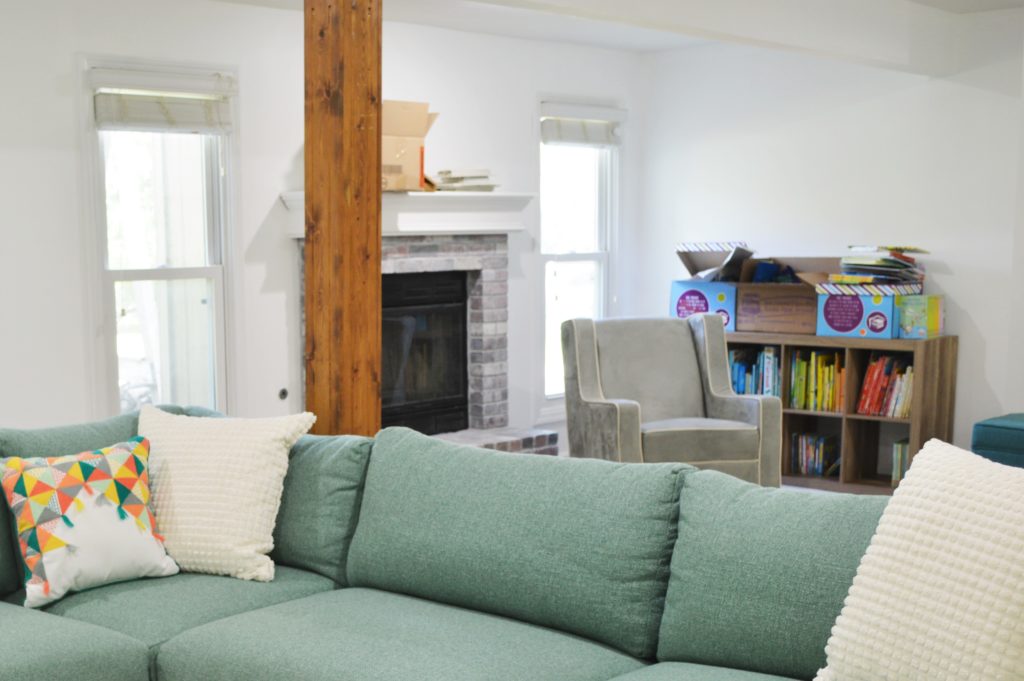 Here's the before and after of the project. The bins are full of my business supplies, prizes, and other odds and ends books that don't fit very well on the shelves.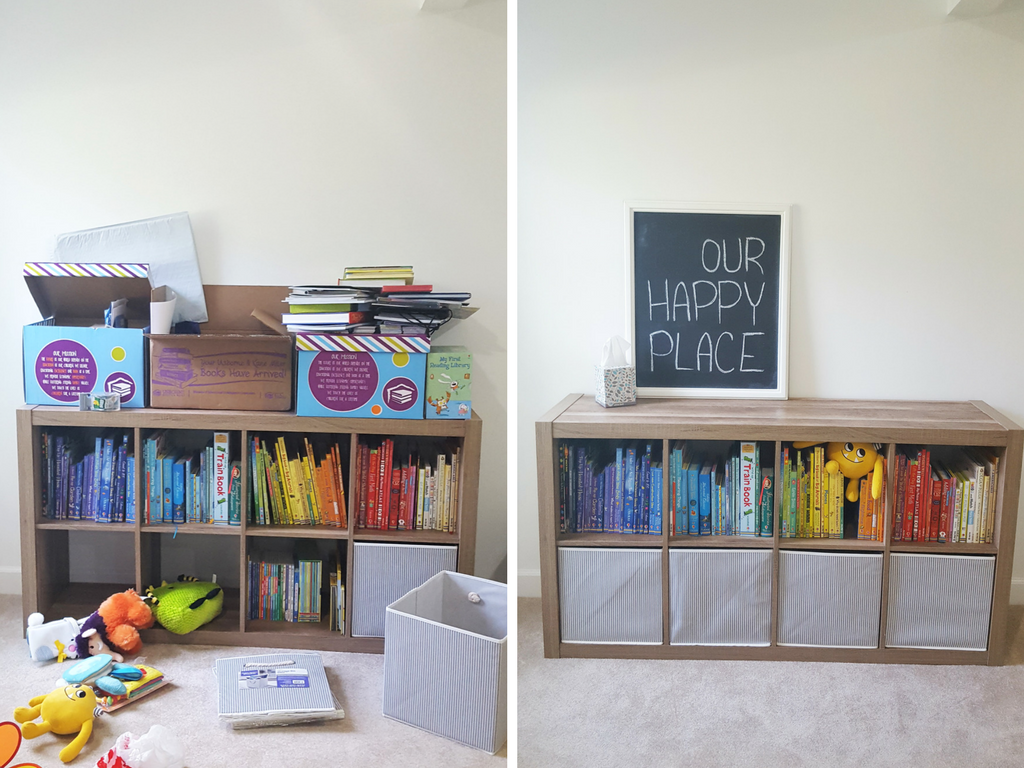 Now that this little book nook reading corner is finally finished, I can't stop grinning when I glance over there. And while I'm sure they will get messy occasionally as Will finds his favorites and struggles to put them back on the shelves, I love this tidy, bright, and fun little corner.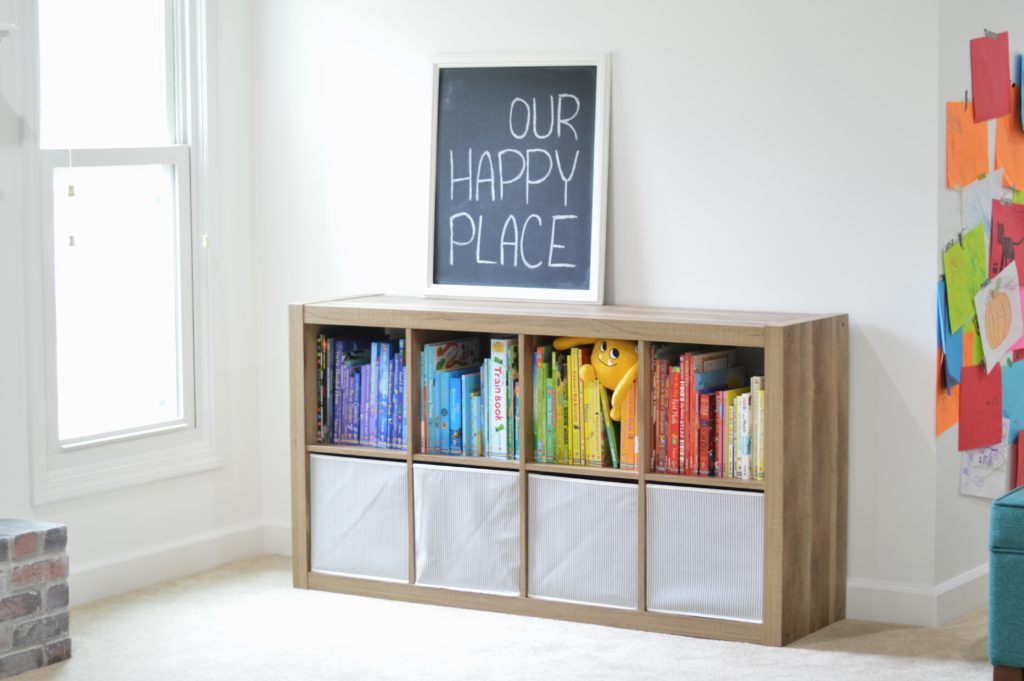 I originally wanted a tent or tee pee or something for cozy reading, and we may still add that eventually, but for now, I think I'm going to just get some cozy floor pillows and a fluffy rug.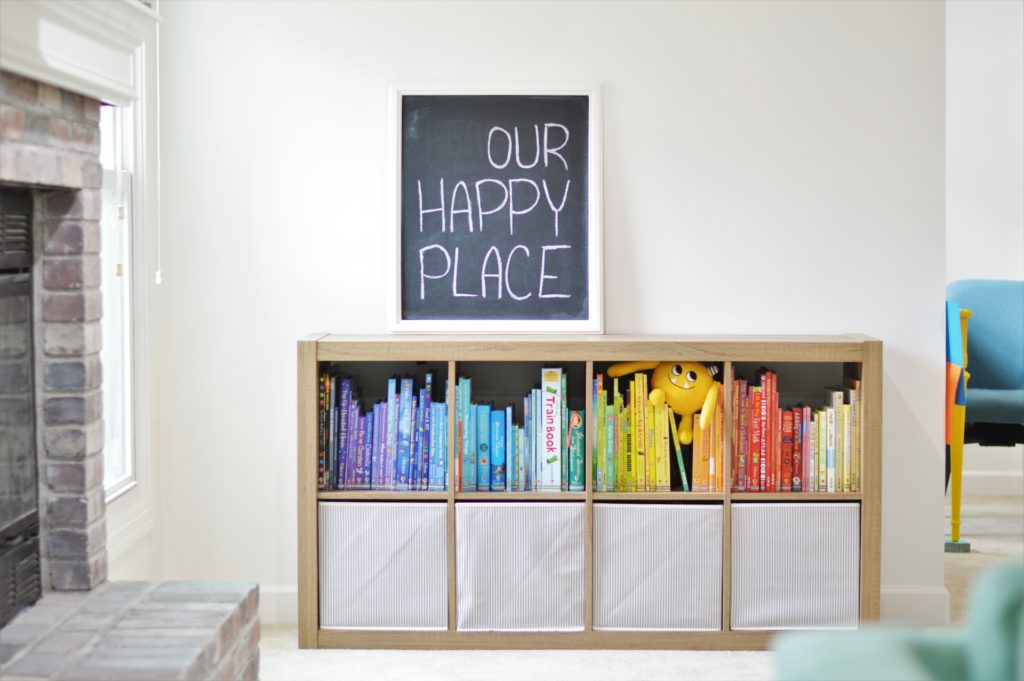 Any suggestions for making a cozy little reading nook? What are some of your favorite book nook inspirations?
Want these shelves for yourself? Grab them here (on sale!):