I hated our front door when we moved in. In fact, I hated all the doors in our house when we moved in.
But alas, doors are changeable, and I didn't let that deter me when we were falling in love with this place we call home.
Still, the front door knob was THE FIRST project we did after we had the keys. We even did if the first day. Out with the old, in with the new, as the expression says.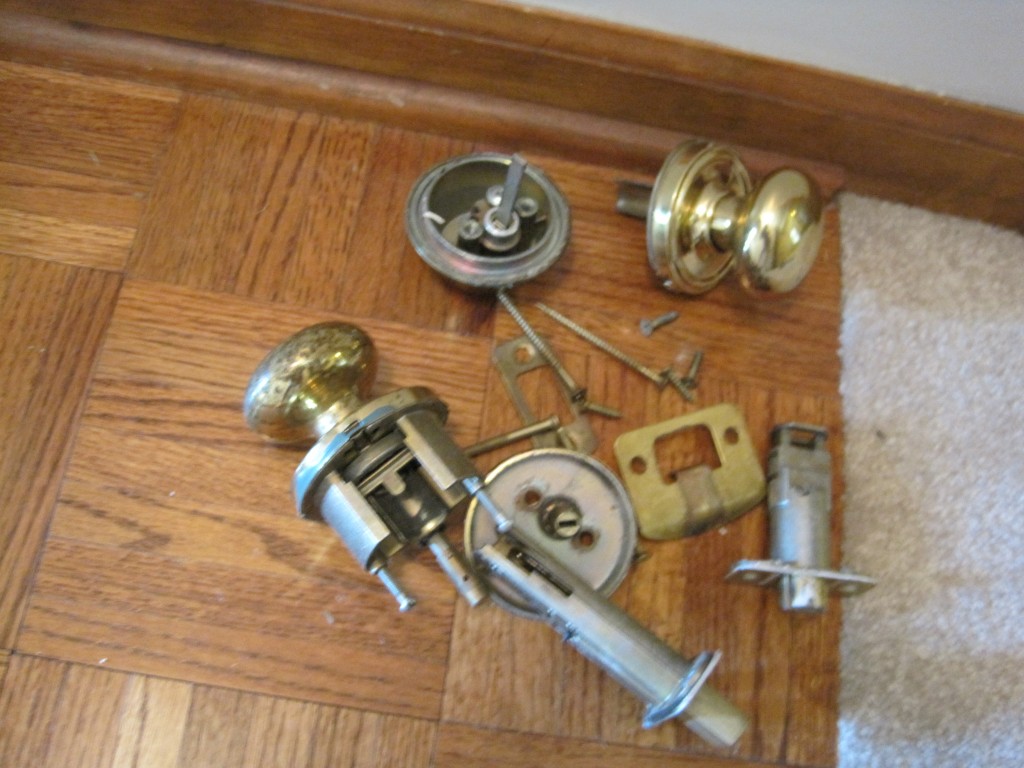 Hubs was thrilled when I started taking pictures right away. It's as if he knew I would be taking pictures of everything we ever do for the rest of our lives. Which, of course, is true.
(But he doesn't mind as much as he puts on. In fact, he's quite supportive of the whole endeavor and even has some blog posts planned to share with you guys pretty soon!)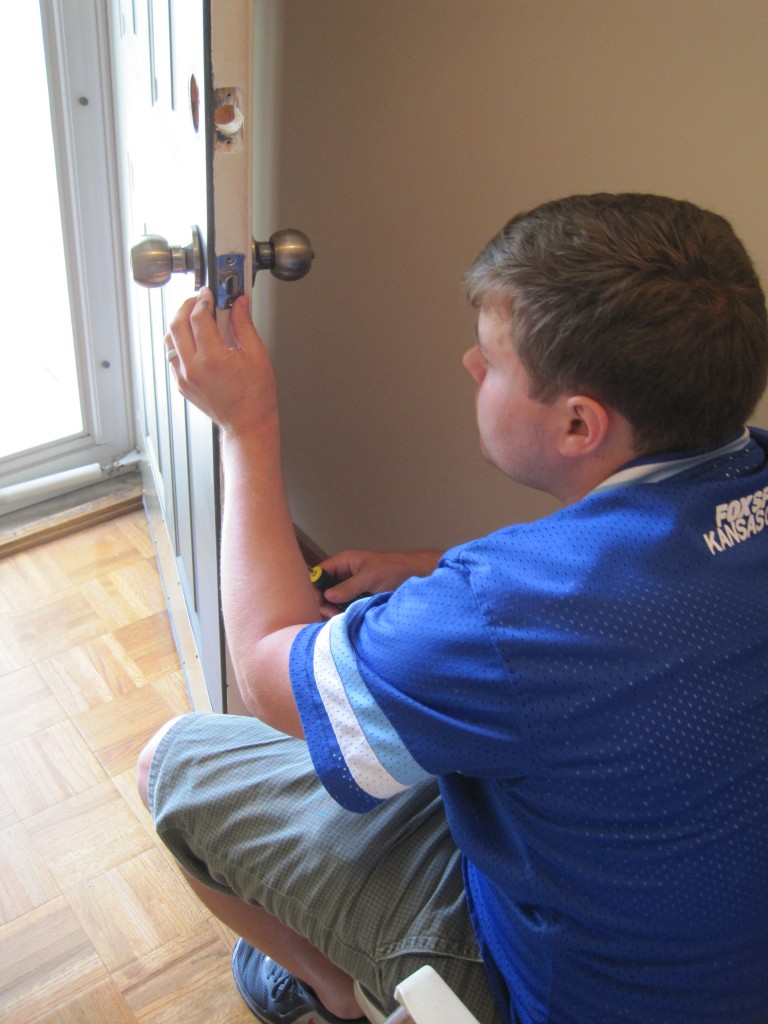 (Of course, this was partly because we wanted to change the locks, but the doorknob had to go, too.)
I mean, how can anyone not see this difference and say it's a huge impact? The old doorknob says, "I'm old and rusty and tired. If you touch me, I might give you some sort of disease." The new doorknob says, "Why yes, I'm smooth and modern and sexy and clean. Won't you feel my nice curves?"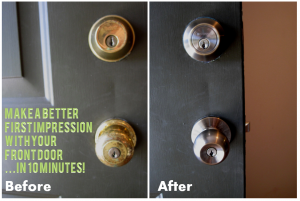 Just getting. I promise my doorknob won't hit on you if you come over. It is pretty snazzy though, huh? It make a way better first impression when you come up to the front door.
And it's only like 20 bucks for a new one at Wal-mart. We actually bought a set of these babies for some other doors and locks we have around here, too, which made it even cheaper. It was the fastest and easiest project we did. Totally worth it. (And it makes you feel safer, too.)
A few months later, though, it was time to take the door remodel to the next level. It was time to paint.
I had a hard time deciding on a color for the door because the outside was already almost black (a very, very dark green that looked black unless you were comparing it to black) and hubs like it that way. I admit, it did look fine because we have other black accents on the outside of out house and this helped tie them all together.
The inside, on the other hand, was this awful pink beige color that almost matched the walls but was a little too dirty/flesh-colored/icky-looking to be anything but just awful.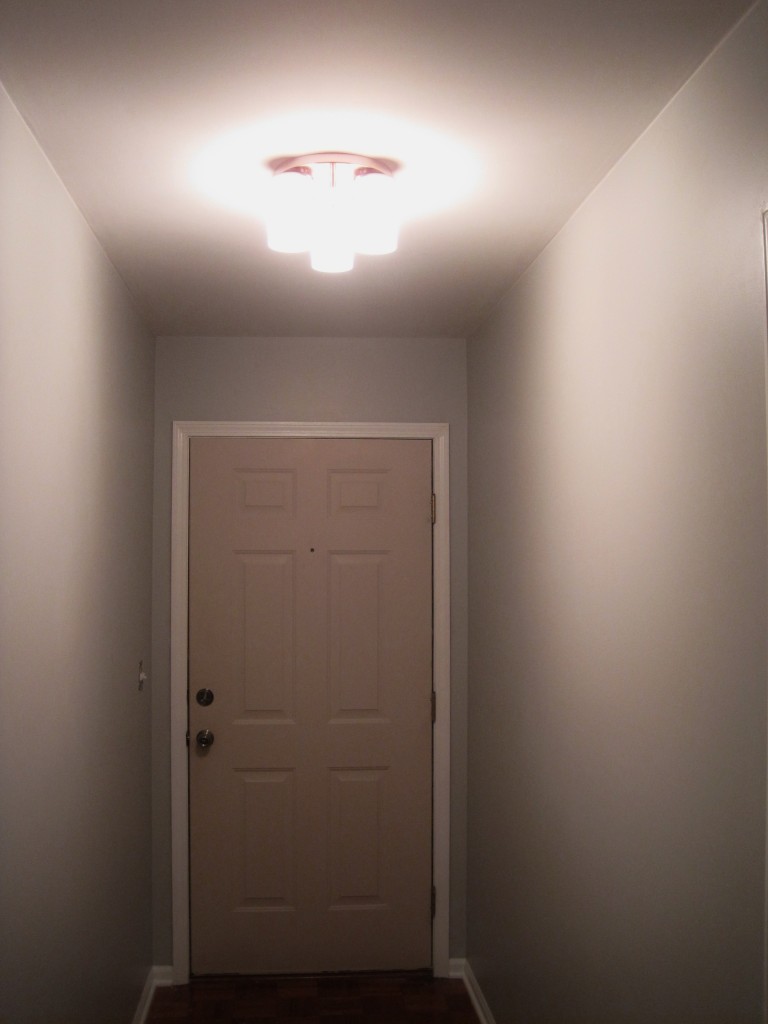 After we painted the pinky-beige walls a nice, calm gray, the door stood out even more.
So, I decided I wanted the inside of the door black, to match the outside. I could always change it again later if I settled on a bolder, brighter color, but for now, I needed a change, and black was a classy way to make that happen.
So, we headed to Home Depot, our favorite trusty paint counter. (We've found they are more helpful than the Lowe's paint people, but that's likely a local thing based on worker personalities.) The guy there suggested we use exterior paint for the inside of the door even though it's not technically outside because it still suffers the effects of outside temperature changes.
We were sold. We choose our paint, Behr Premium Plus Ultra exterior, in Beluga, a rich but cool black color.
I'd never worked with exterior paint before so I was surprised when I opened it to see how thick it was. It practically had soft peaks!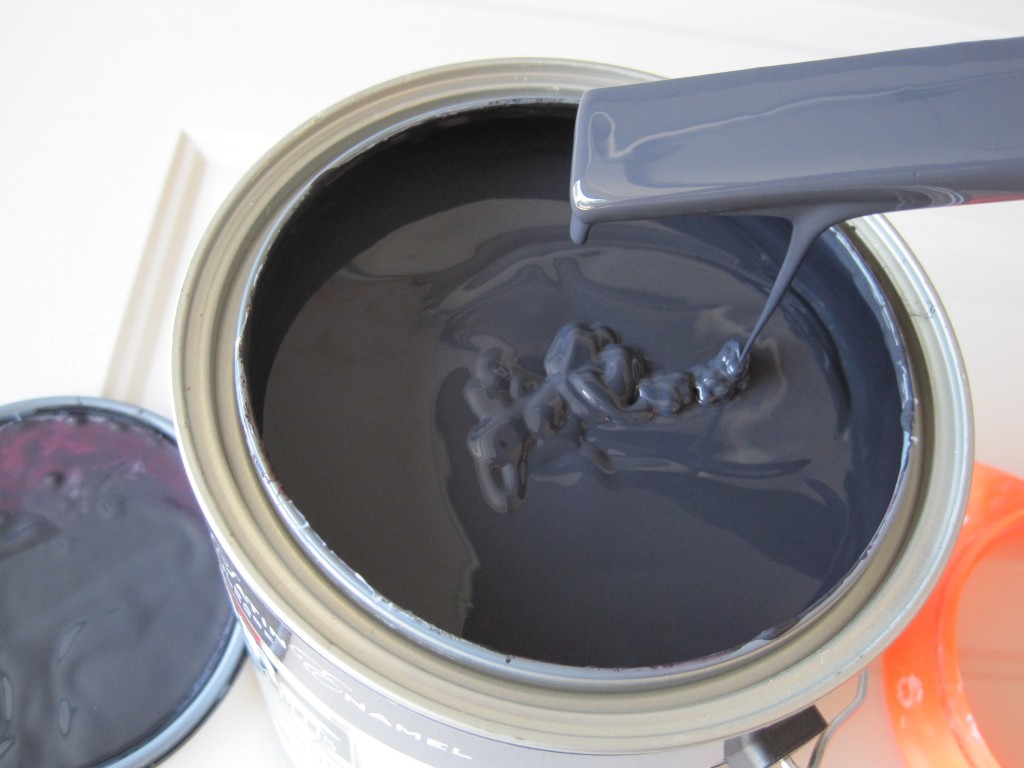 But, I decided to just go with it, and it worked perfectly. Using a brush and a small foam roller, this is the technique I used. Using the following method ensures you finish up painting the areas where you'll be able to use the longest brush strokes. It helps give the door a professional finish to not see random brush marks going every which way.
1. First, lay the door flat if possible. It's just easier to reach everything and to prevent any drips. Work in a well lit, well ventilated area that's not too hot or too cold. Also, I learned, it's good to be somewhere that bugs aren't.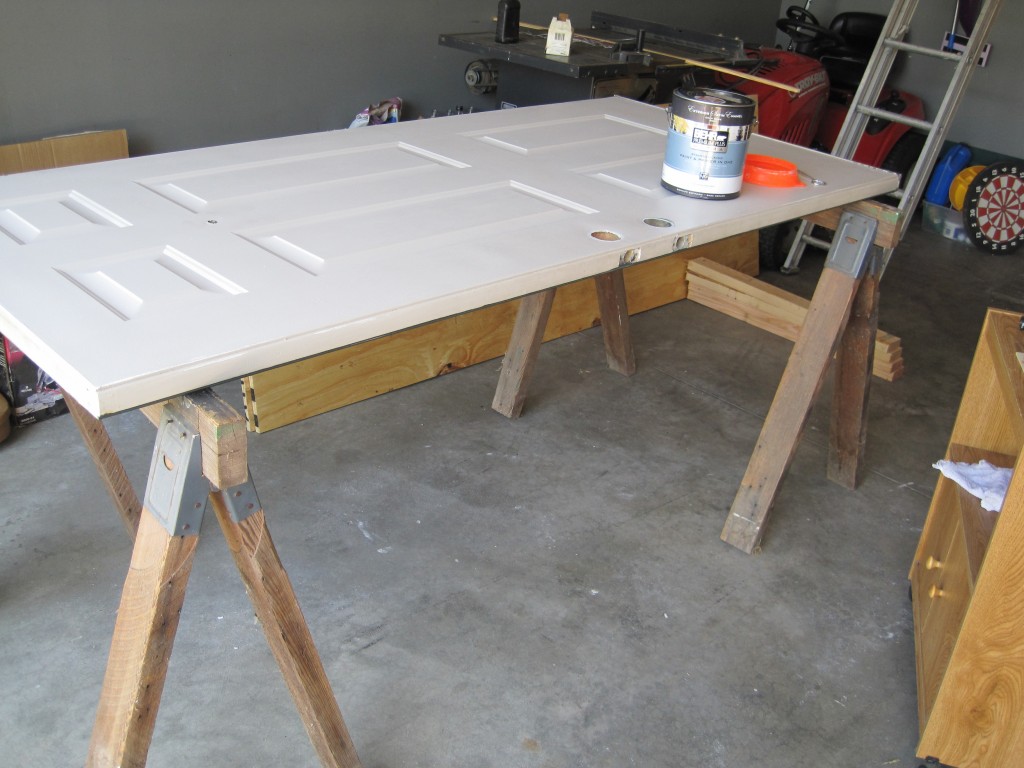 2. Start with the ridges around the panels. Use a good angled brush and make sure to not cake on the paint or it will settle in those ridges and look globbed in there. Make sure you go in the direction of the ridges, use your brush to your advantage.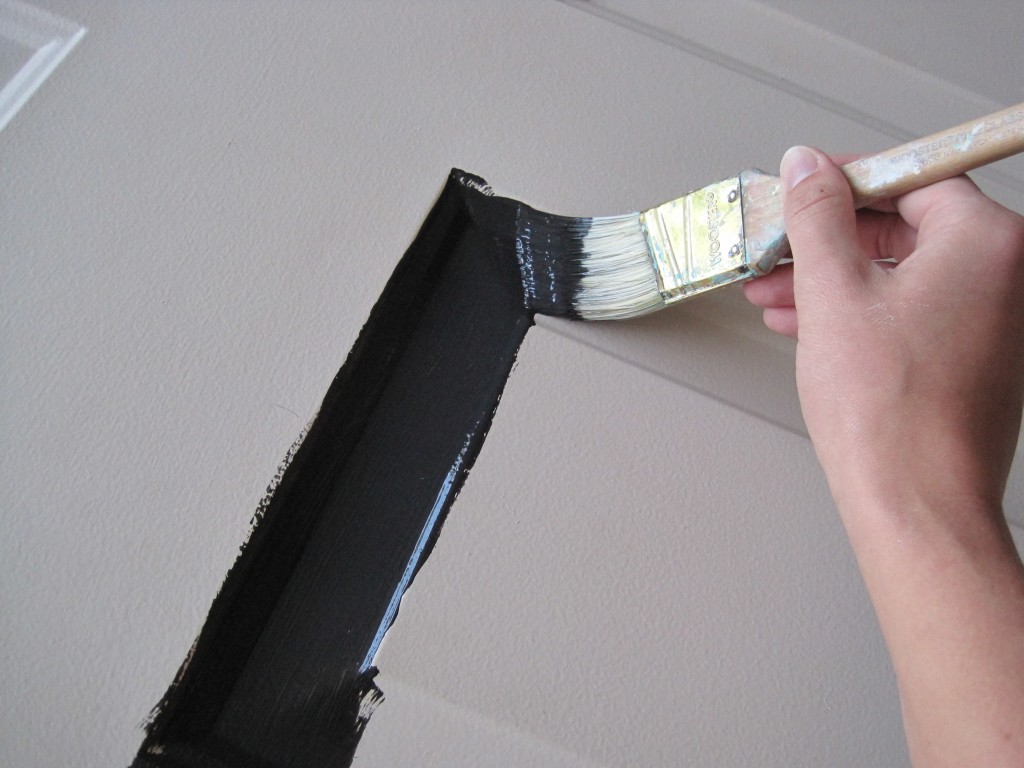 When you're done with this step, the door will look pretty funny. You may be tempted to leave it this way for fun, but don't. Not that I struggled with this or anything…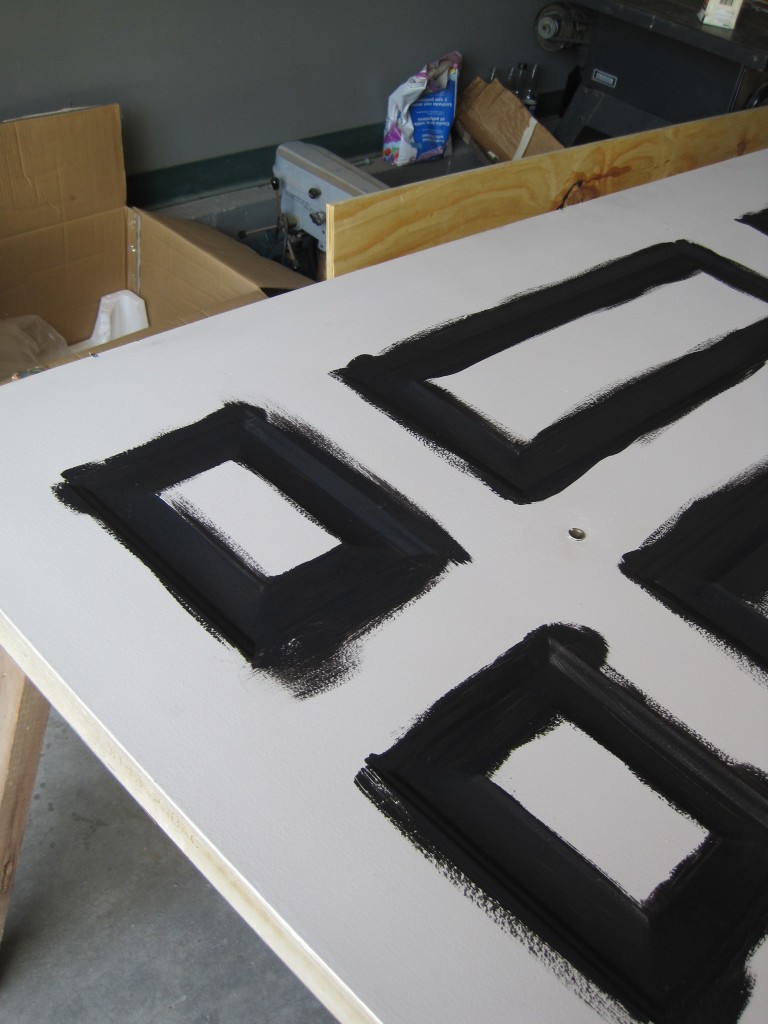 Now is also a good time to do the edges of your door. If you are only painting one side, make sure you think through which edges will be seen with the side you are painting when you open the door. Since I was painting the inside, I needed to paint the edge with the strike plate. I'd also go ahead and paint the top and bottom, just for good measure.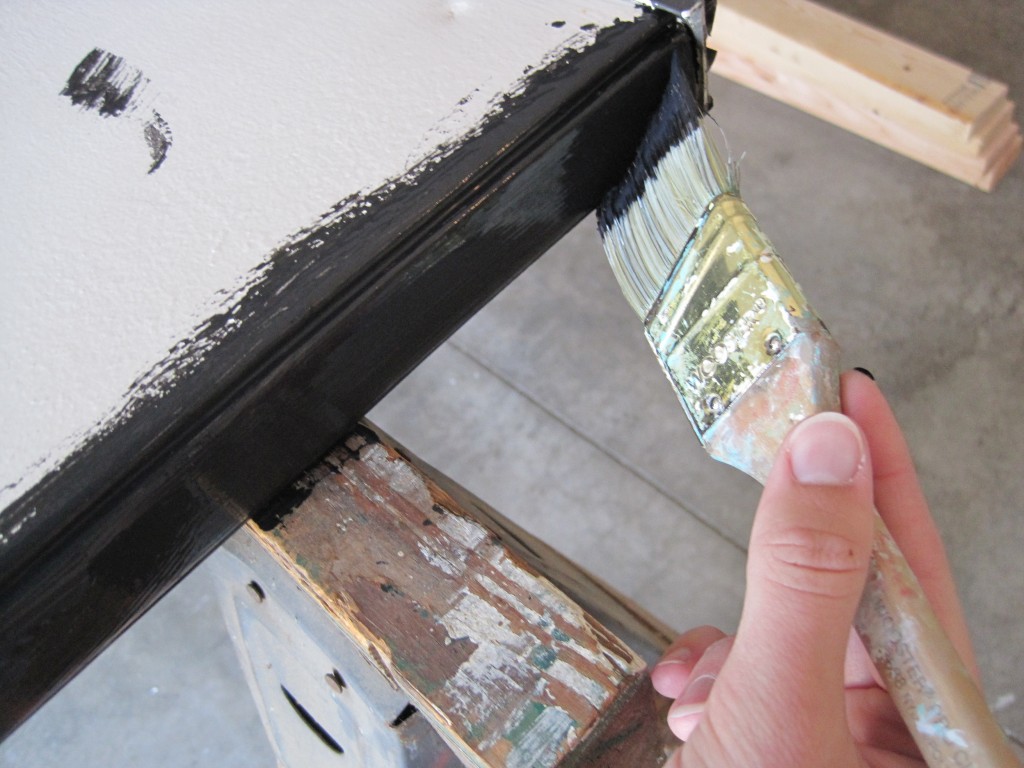 3. Then do the panels.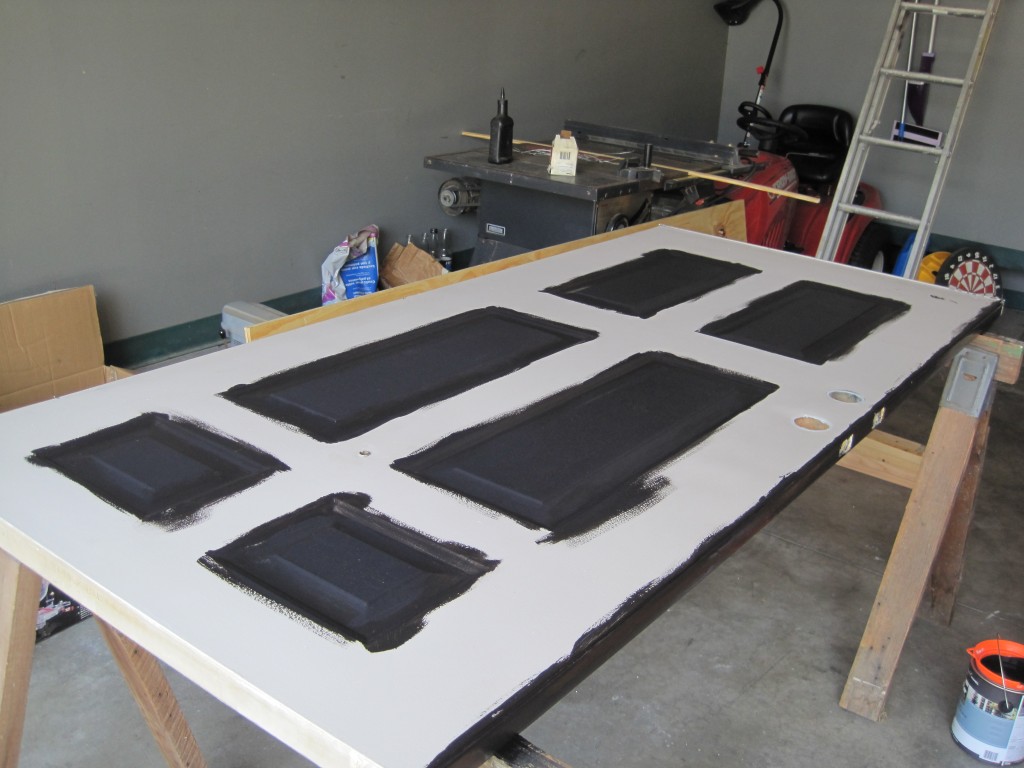 4. Then the inside flat pieces.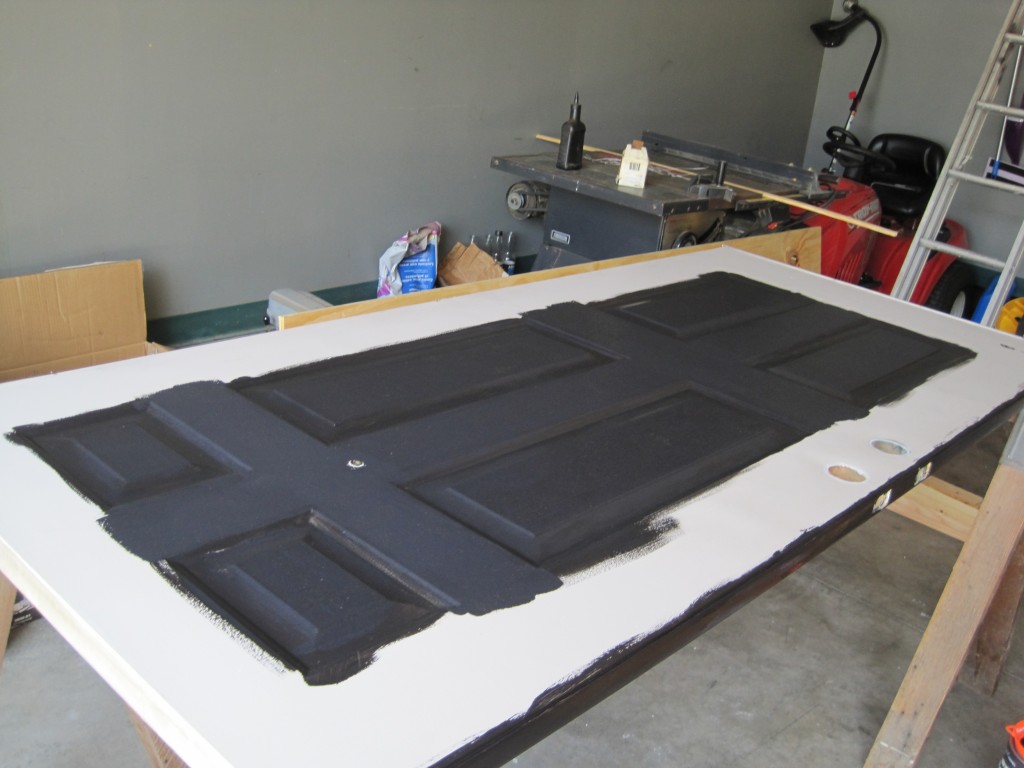 5. And then the outside top and bottom.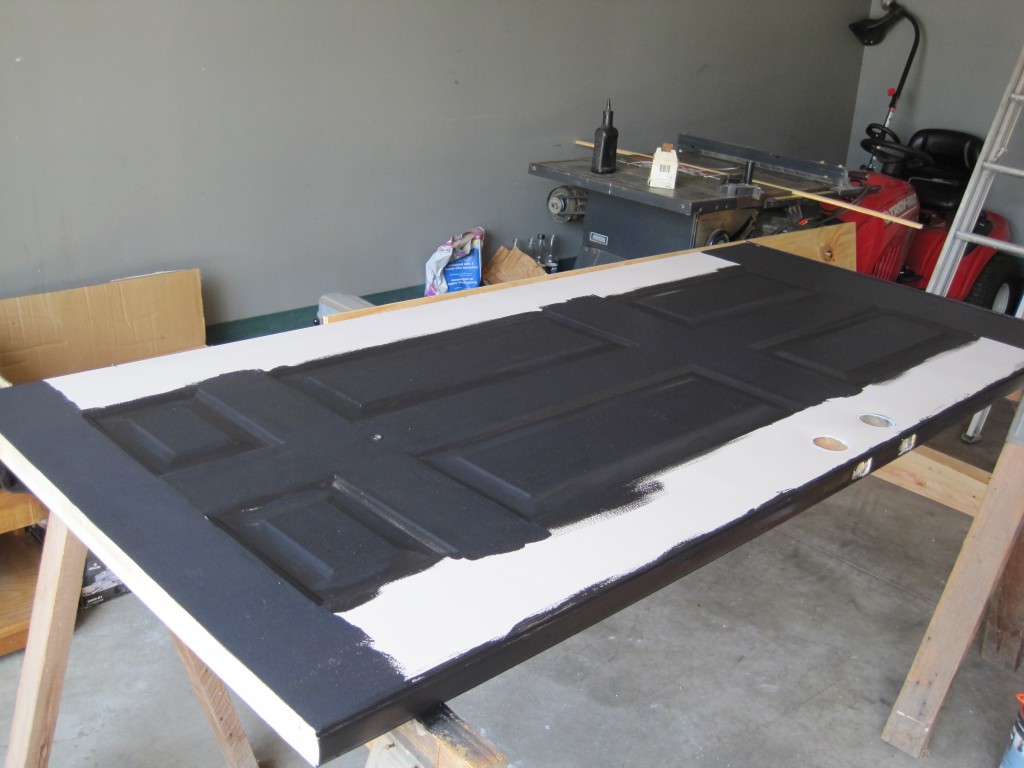 6. Before finishing with the sides.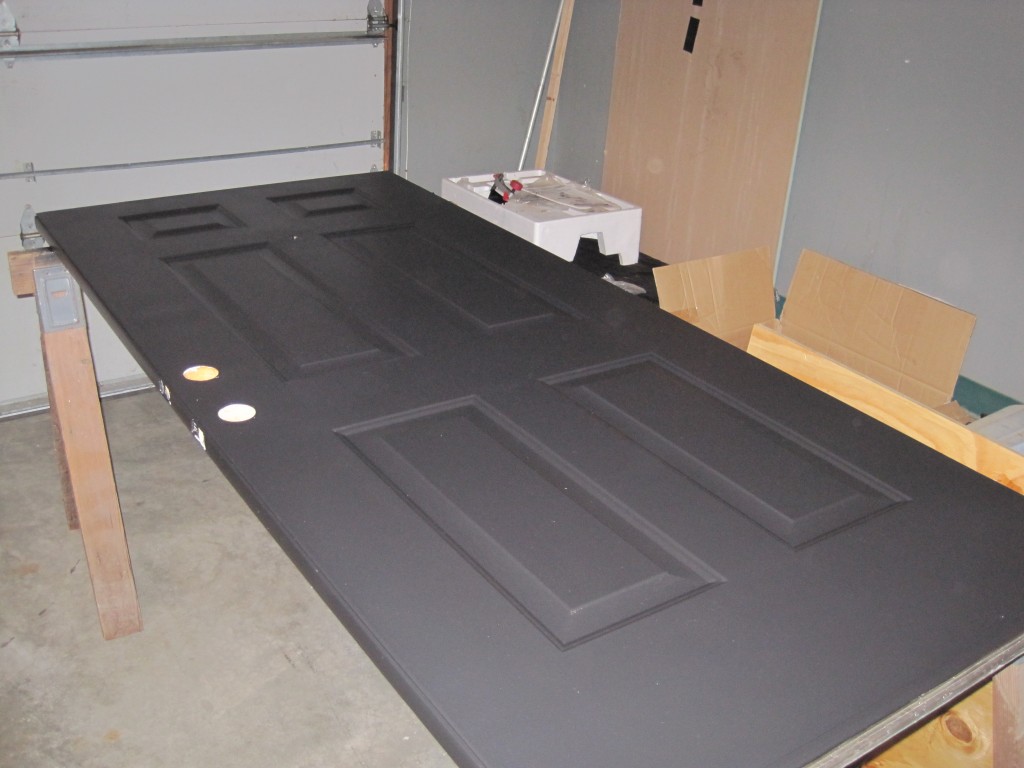 Makes sure you smooth anywhere your strokes change direction. Even though the paint settles into a nice finish, some strokes or roller patterns may be visible if you go crazy with diagonals or messy edges. I'd suggest long, straight passes with the roller as much as possible to avoid any messiness.
Of course, right about this time, an ant somehow blew in the garage and got all stuck and messy in the paint, so I had to get him out of there and touch it up. Grr…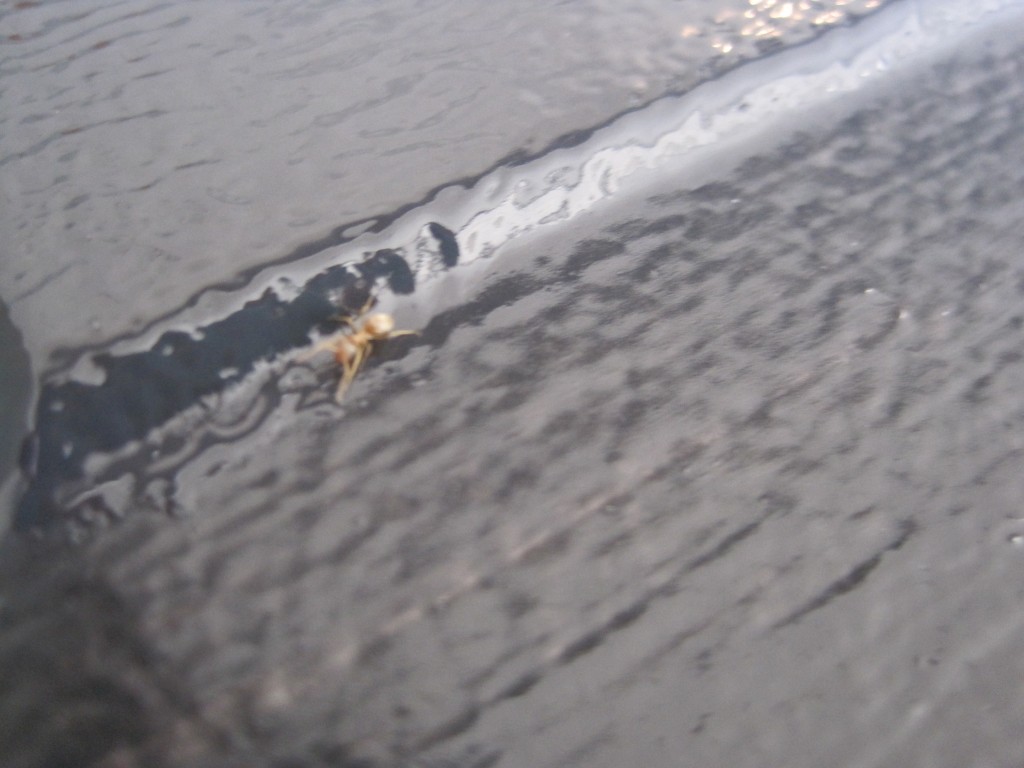 Then, it's time to let it dry. Follow the directions on the can. Ours needed several hours to dry so I went to work on another project (i.e. painting trim). If you're lucky enough to only have one project going on at time, go make some lemonade or coffee or something. Then get lost in a disc of FRIENDS or a Big Bang Theory marathon, or whatever floats your boat.
Then, when it's dry, do the entire process again.
At this point in my process, I decided to paint the other side as well because it was just not-black-enough to look pretty icky with the actual black side. So my one-day project turned into a two-day project. Funny how that happens, huh?
The next time I did this, I actually set it up in the living room because Hubs was doing something in the garage that made a lot of sawdust. Not an option for wet paint.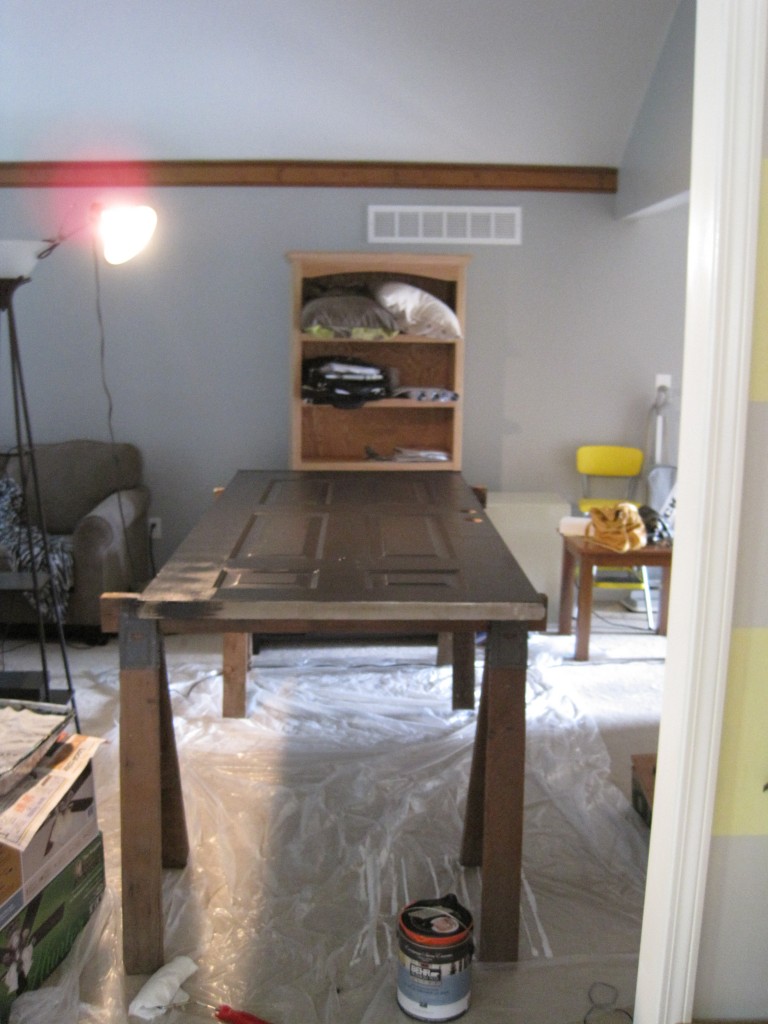 Finally, when it was all finished, we had this to show for it.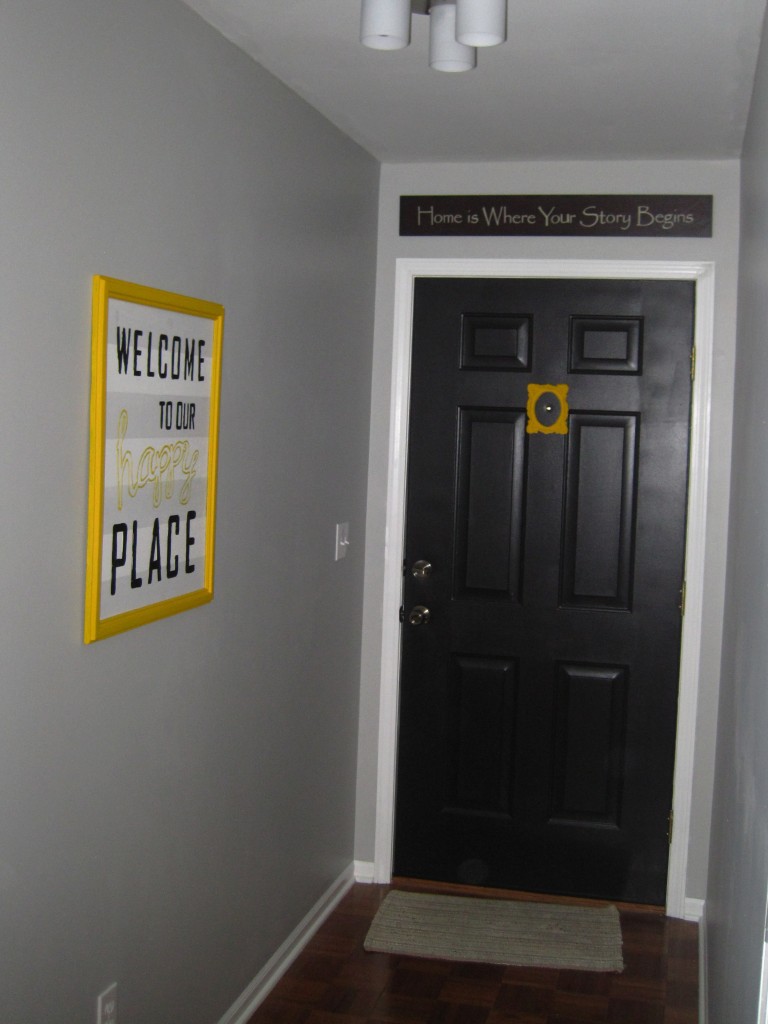 So worth it. Oh, and bonus points for whoever knows what (and why) is my favorite thing about this door!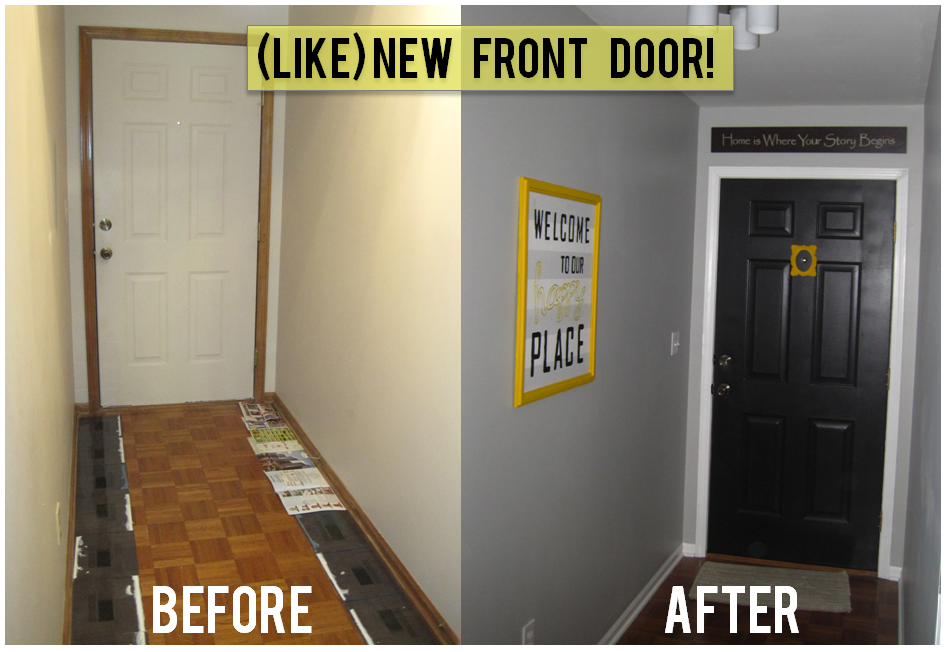 So, what projects have been "so worth it" for you? Have you ever tackled a door? What about painting one? (he!)