This weekend, we tackled another pretty big project in the nursery, switching out the lighting fixtures. If you'll remember, this is what was in there before, the basic builder shade that we had in all the rooms upstairs: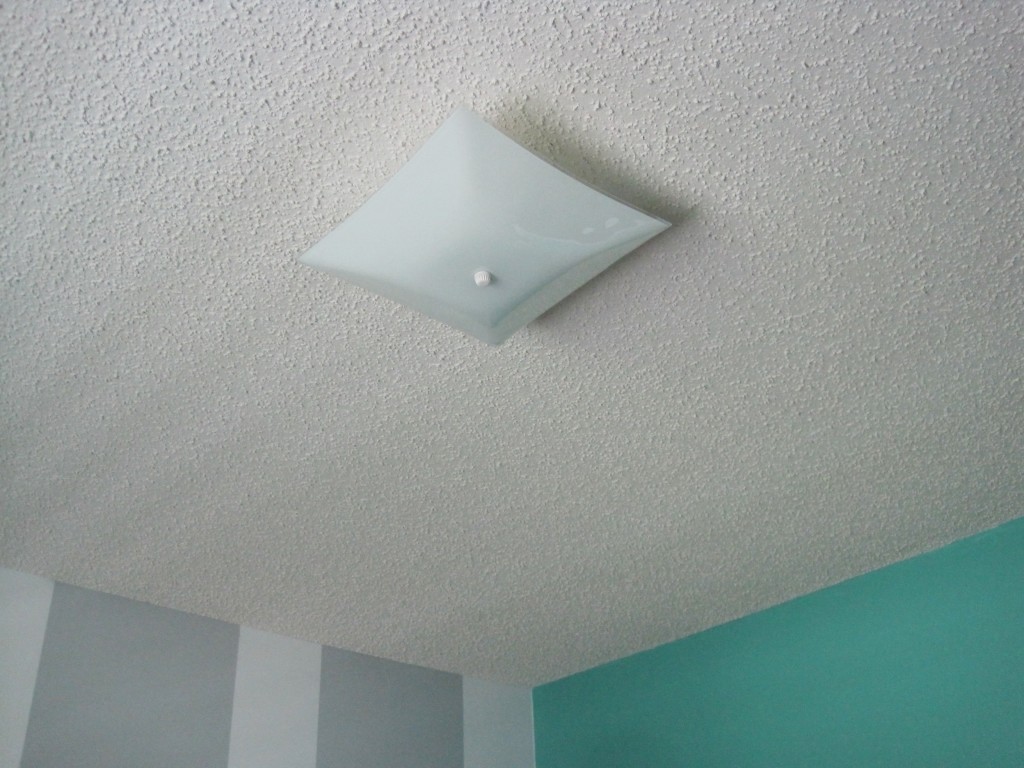 Not so exciting. Or very bright. So, we knew we wanted to switch it out.
One of the biggest decisions was what type of fixture to install as the main light in the room. I originally wanted a nice, modern chandelier, but struggled to find one in the right scale that wasn't too girly in case Beanie is a boy. Plus, those are PRICE-Y.
Wyatt finally suggested we just add a ceiling fan. We were going to buy a little tabletop fan for the room anyway to help with air circulation (reduces SIDS risk) and he brought up the point that the room was already wired for a ceiling fan. It even had a switch on the wall plate (currently unused) to control it separately from the light. It was hard to argue with that logic so I consented, even though ceiling fans really aren't all that fabulous to look at.
They can also be expensive if you get a nice one. So, we figured we should try to limit the budget to less than $80 if possible, although that didn't leave us a ton of options since most of the nicer ceiling fans cost about $100. We knew we wanted something that would provide decent light (as in not just take tiny candelabra bulbs) which made the search a little harder because most smaller, cheaper ceiling fans have pretty basic light kits attached.
Still, after searching online without a lot of luck, we headed to Home Depot, which had several options for small ceiling fans (perfect for our small room), so we set out to choose the best one. Originally, I was thinking white…to blend into the ceiling, but after deciding all the white ones looked a little cheap and plastic-y, we expanded the search a little and ended up choosing this one: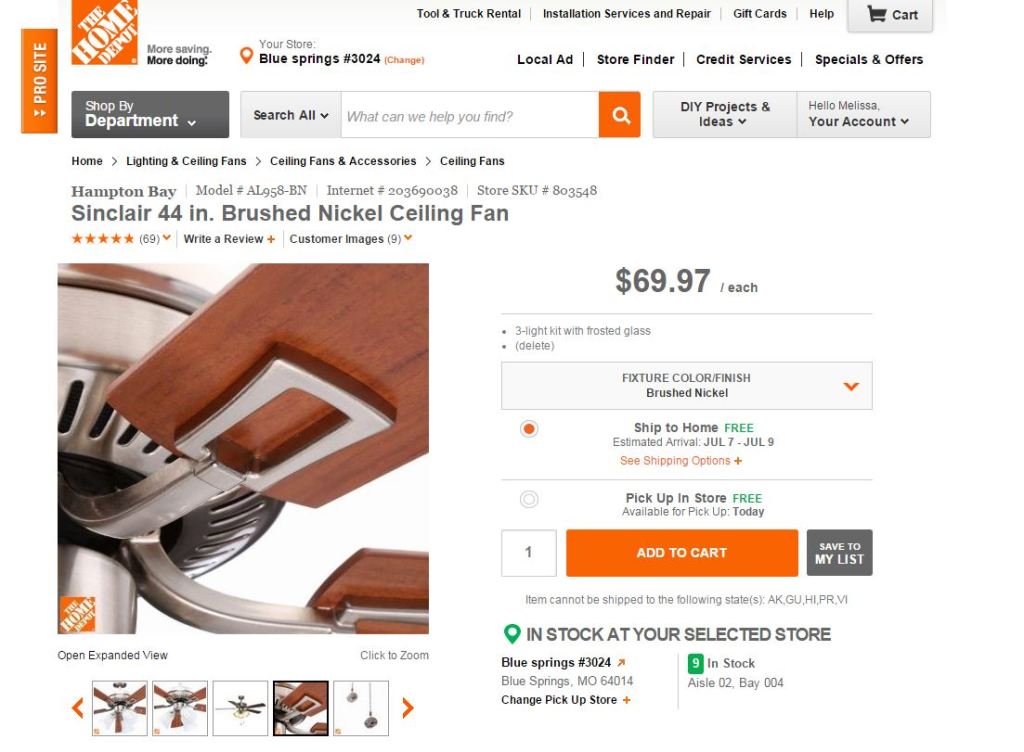 The slight red wood tint of the blades matches the other touches of wood in the room really nicely and it helps draw it all together I think, even though it's hard to capture that in a photo. You'll have to trust me that it really ties in well with the dresser and the wood drawer under the crib.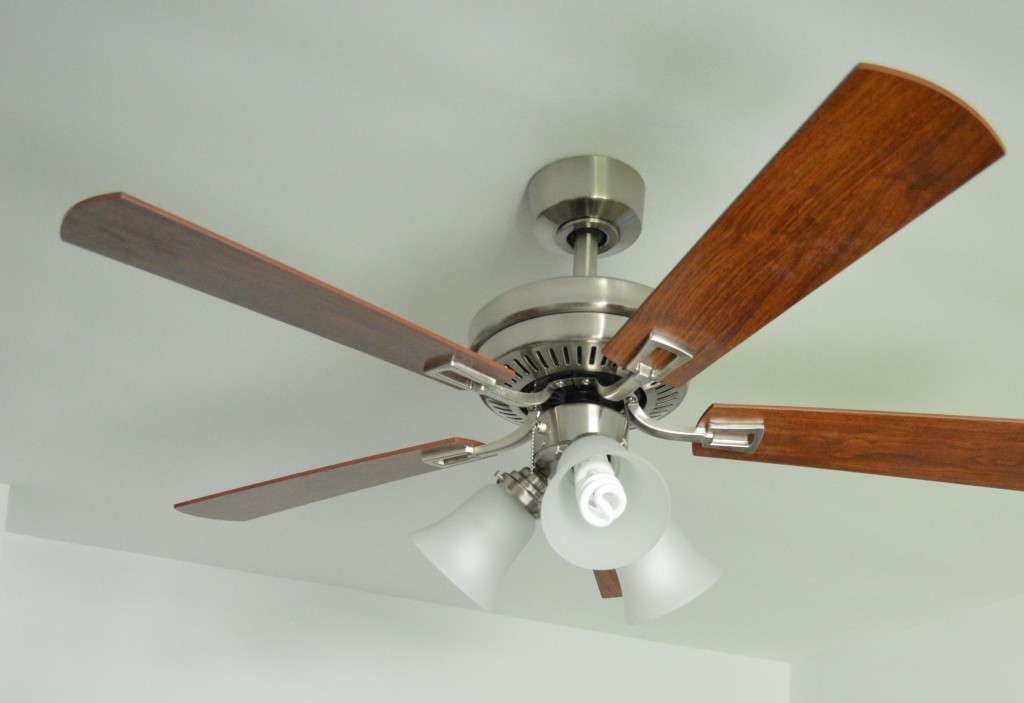 See the way it matches?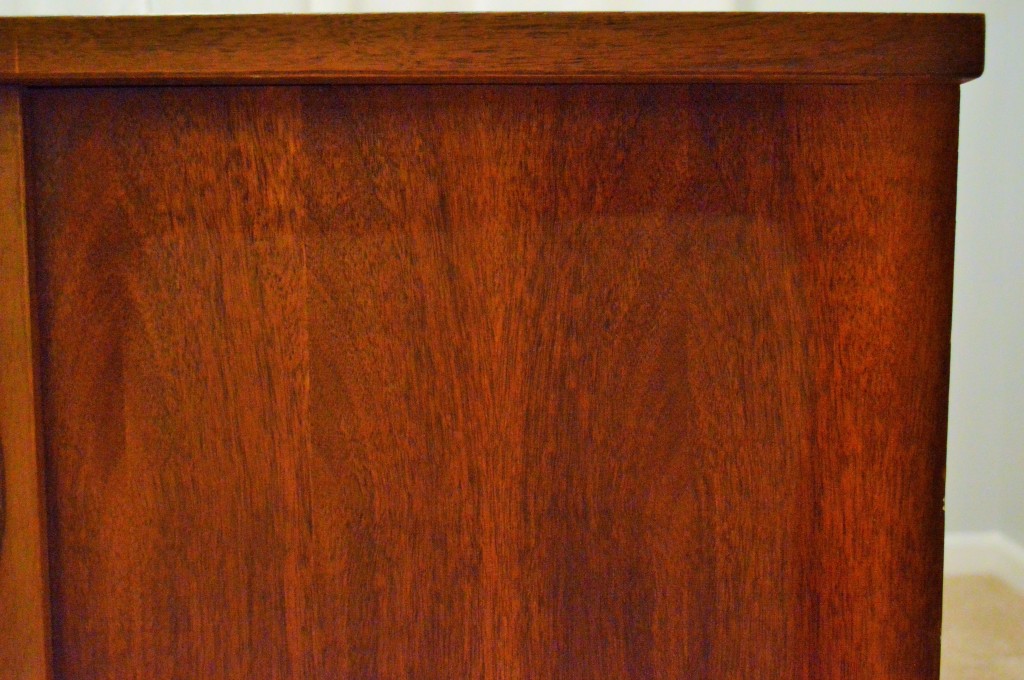 I also like the little touches of metal on the fan, too, instead of the white plastic we would have gotten if we had gone for a slightly less expensive white one. It makes it feel a little less "cheap ceiling fan" and a little more…"you wouldn't know we only spent $65 on this."
Except that I just told you, we only spent $65 on it. (We had a discount from the price of $70.) Oh well.
Of course, the installation process was more involved than it should have had to be because Wyatt had to add an electrical box. For some reason, the builder of our house didn't put any of those in…really frustrating. We've talked about that process in the past, here, if you're interested. You can also see instructions for hanging a ceiling fan, here.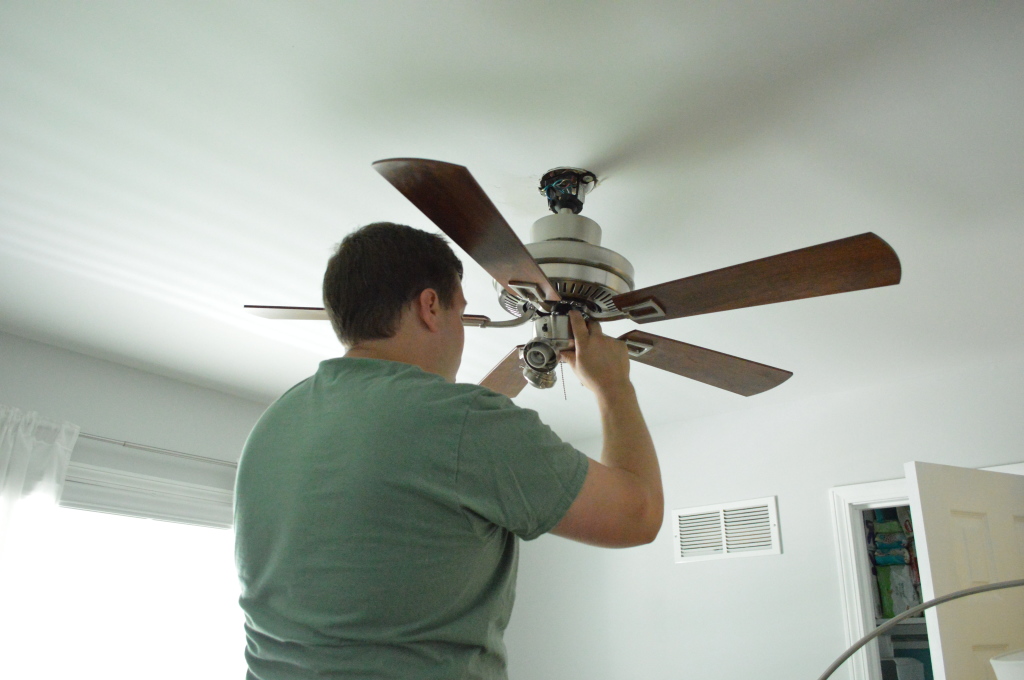 We also added a lamp in the corner by the rocker for reading books or late-night feedings without the bright overhead light on. While Wyatt was working on the ceiling, I got to put this one together.
I have to say that I'm pretty excited about this lamp. I think it's fun and functional since it can sit behind the chair but still hang overhead to provide task light, but it can't be easily knocked over. (It has a super heavy base that keeps it straight up, unlike a lamp that might sit on a little side table next to the chair and get elbowed, kicked, or head-bumped.)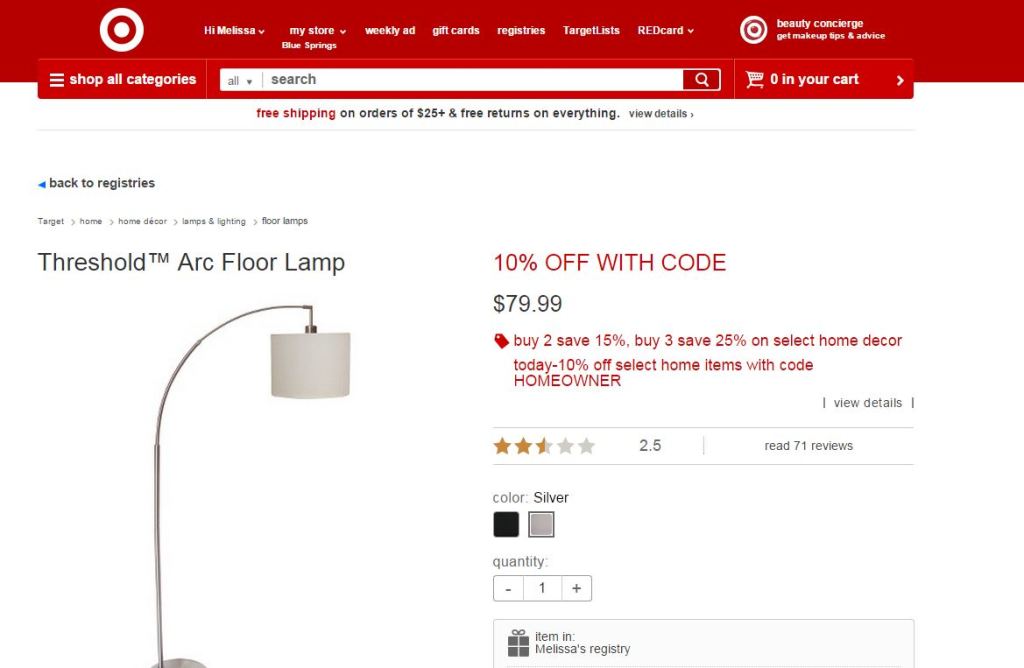 It also has a diffuser so baby won't be blinded as he looks up at me while nursing.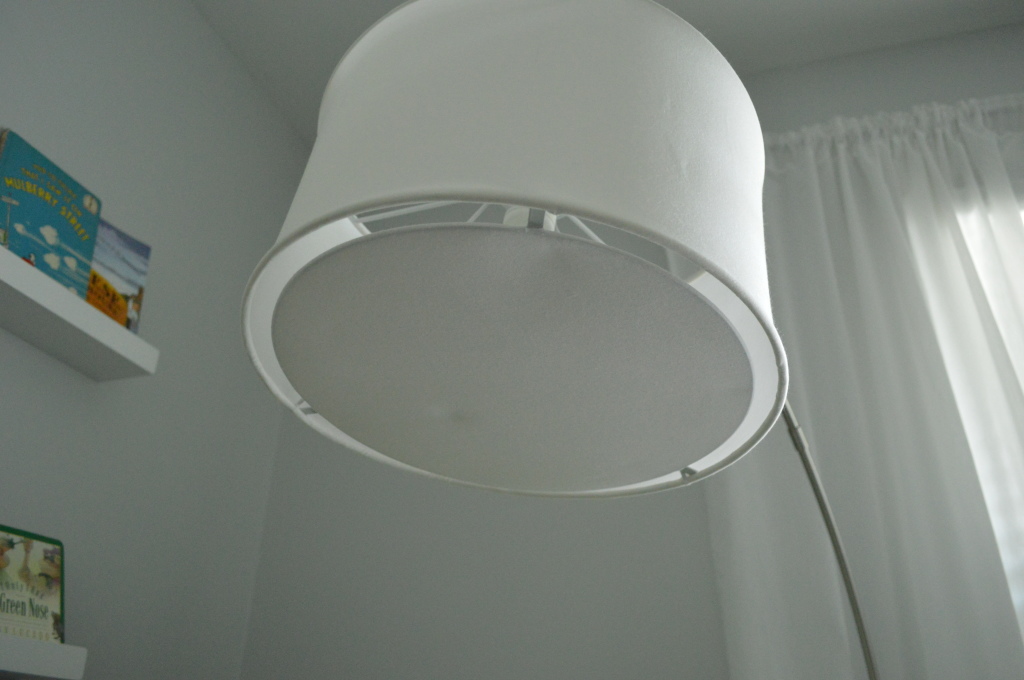 (Can I just say how much I'm longing for those moments? Even though I'm not in a hurry for Beanie to arrive, I know it's going to be so wonderful when the three of us are finally settled in at home.)
It's even dimmable, although we still need to get a dimmable bulb for it.
We found it at Target while randomly browsing and it caught my eye and wouldn't let go. In the end, I had to bring it home. Thanks to adding it to our registry, though, we got it for 15% off, which made the $80 price tag a little more bearable.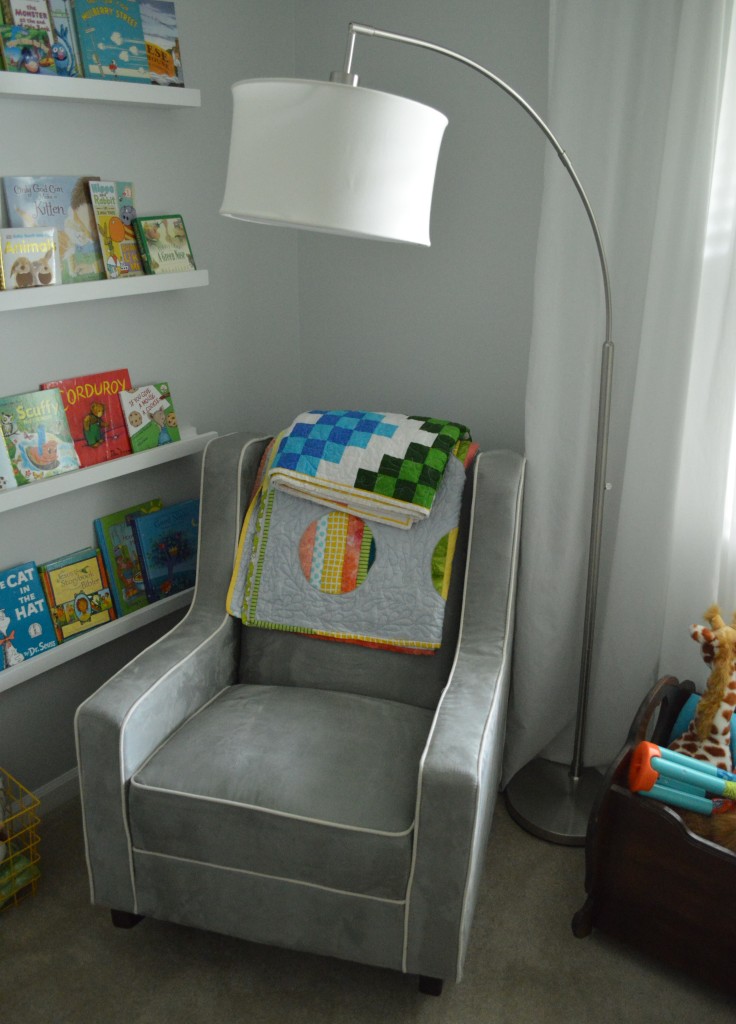 I have to say that even though we went into this nursery with a basic idea of what we wanted, I've been surprised by some of our choices along the way.
So, there is our recent nursery progress. What are your thoughts on ceiling fans and floor lamps for nurseries?