Why are we celebrating you ask? Because THE KITCHEN IS DONE!
Sure, we have some decorating and cabinet organization to do, but after Sunday's light hanging progress, the remodeling is officially D.O.N.E.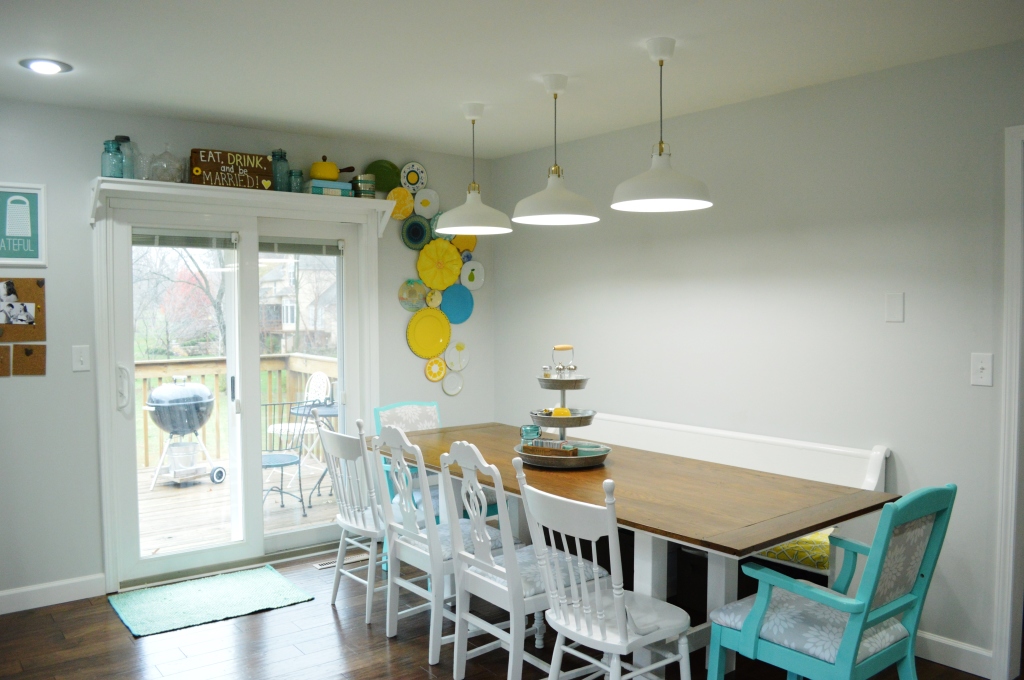 Hallelujah, right? It only took us 18 months, give or take. That's not that long is it? Ha!
It's a lot longer than I was hoping for when we started this project, but to be fair, we've been mostly done since the first of the year…and then even more mostly done since about June…but last night we finished the last "remodeling" project and it feels so good to say we're finally done. And also, it looks amazing.
I mean, seriously, it's so bright in there now, even at night. I took this first shot without adjusting the settings on my camera and was shocked at how over exposed it turned out. Wowza.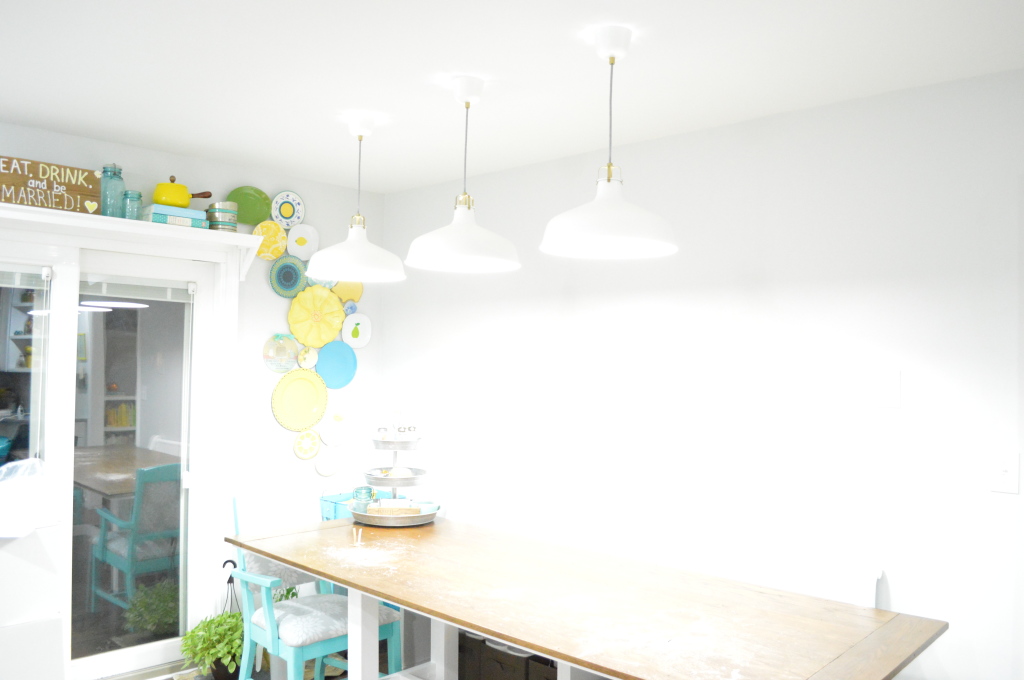 Of course, we weren't going for glowing florescents, and I don't think we're there, especially because we have four different light switches in that room so we can adjust to whatever level of brightness we need. Right now, when I'm still adjusting to the awful "dark-in-the-middle-of-the-afternoon" daylight sayings time, I'm especially thankful to have the extra light.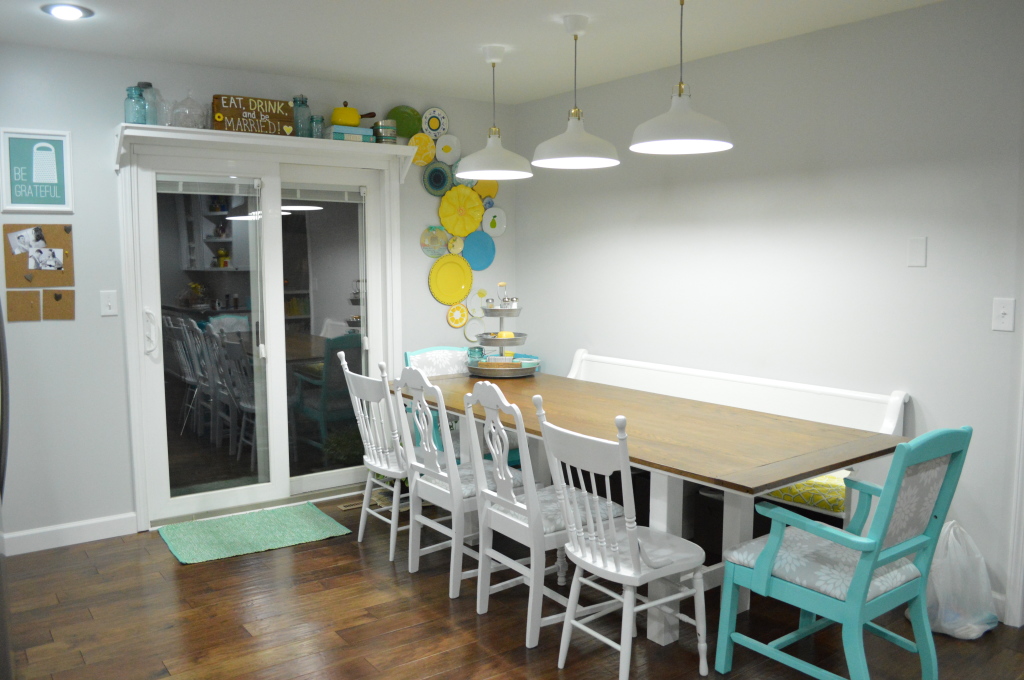 So, to talk a little bit about this project, since that's sort of what this blog is for, we chose to use the Ikea Ranarp pendant lights. We already hung a smaller version of this pendant over the sink.
Since our dining table is so big, we used three of their larger sized pendants in a row instead of one larger chandelier. I talked more about that decision and why we didn't go for one big chandelier,here.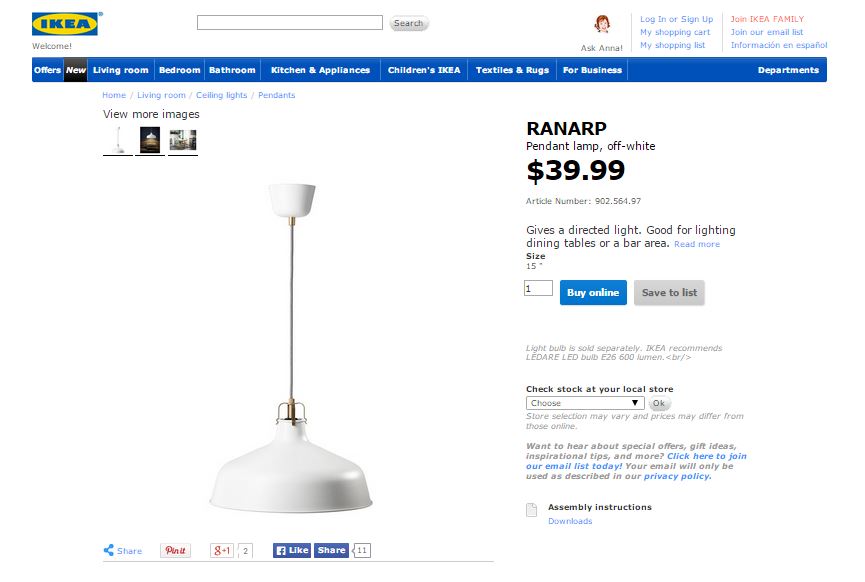 For those of you looking for information on how to hang the actual pendant, here's the post about how we hung the one over the sink, or try this one for a few more details.
Because we were going from a single light over the table to three pendants, the biggest part of this project (and why it took us several months to decide to tackle it) was because Wyatt had to spend a decent amount of time working in the attic to add and replace the junction boxes and light boxes. It's miserable up there in the summer, so waiting until it was cool helped his comfort level, and his allergies, a considerable amount.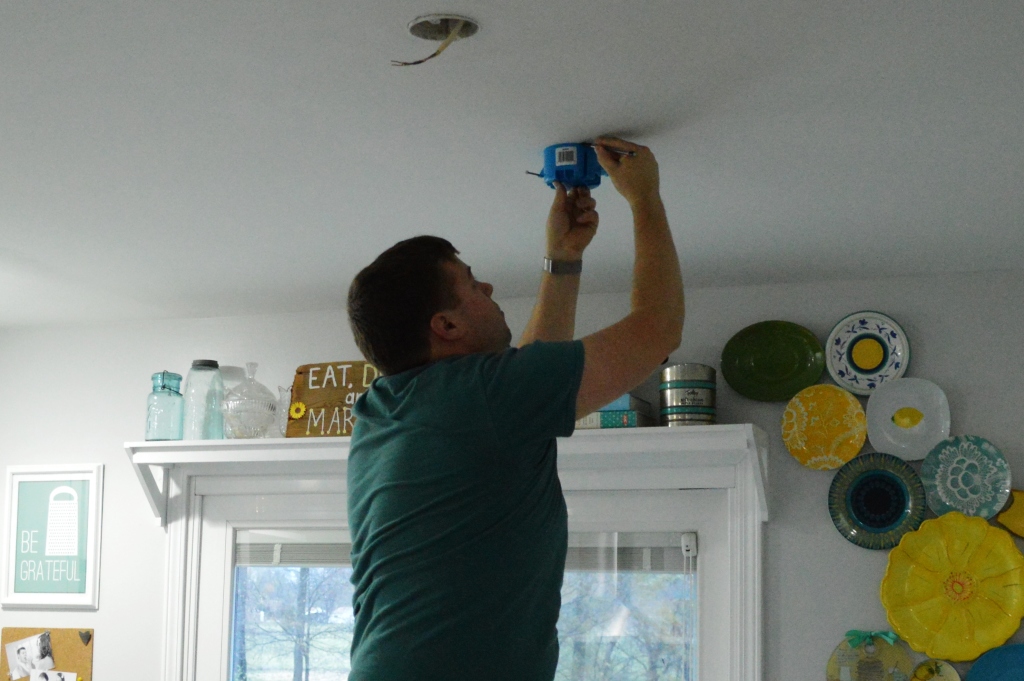 For more info on adding a junction box, we recommend talking to a professional electrician, as you should for any electric project, but here's our post about it, too.
Wyatt also wanted me to share a few tips and tricks. For starters, always check to make sure the cover actually covers the entire junction box and ceiling plate before you assemble the light. We found that out the hard way last time and had to take it all back down and adjust. This time, Wyatt took the ceiling plates out to the garage and used his grinder to make them just slightly smaller so they would fit nicely into the covers.
He also used a lighter and some hot glue to singe the fabric cord covering and glue it to the end of the cord so it would stay in place. Otherwise, it tends to bunch up and fray as you assemble the light. This made it a lot easier to work with.
We did some research and found it is considered standard to hang pendant lights 30 inches above the dining table surface, but that felt way too low for us. I didn't want anyone to ever be able to bump their heads on these while they were getting up from the table, and the higher the pendant, the more the light spreads out, thus giving more light in the whole area. So, we went with just slightly more than 6 feet from the floor, which is above eye level.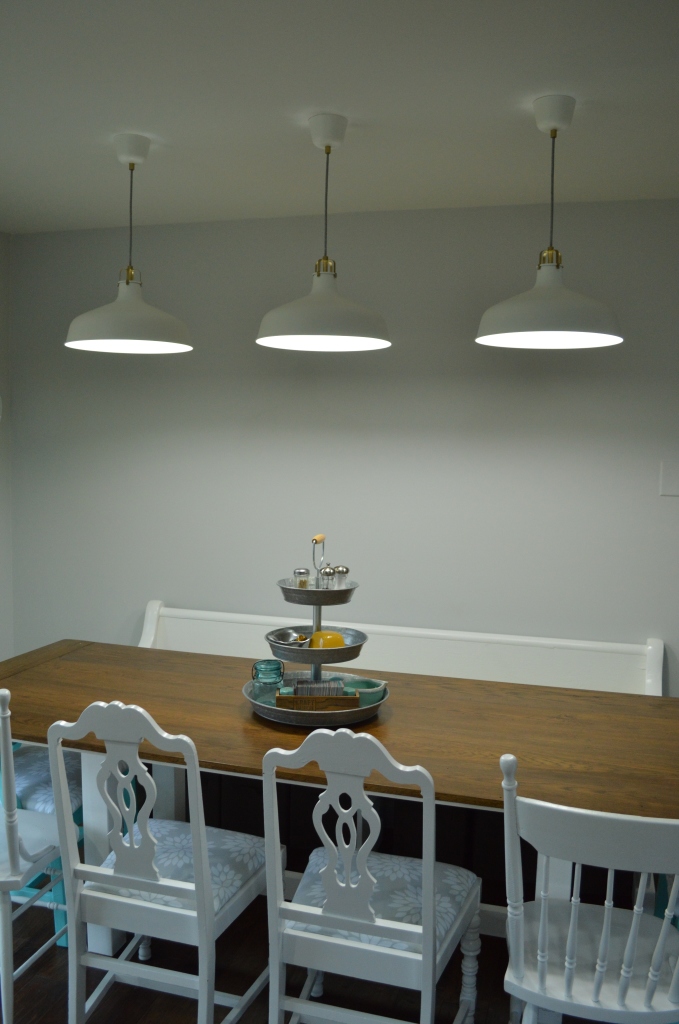 I still really like the subtle vintage details on these pendants (even though they are from Ikea, and thus, not vintage at all) and I'm glad we choose them. I'm also pleased with the amount of light they give over the table.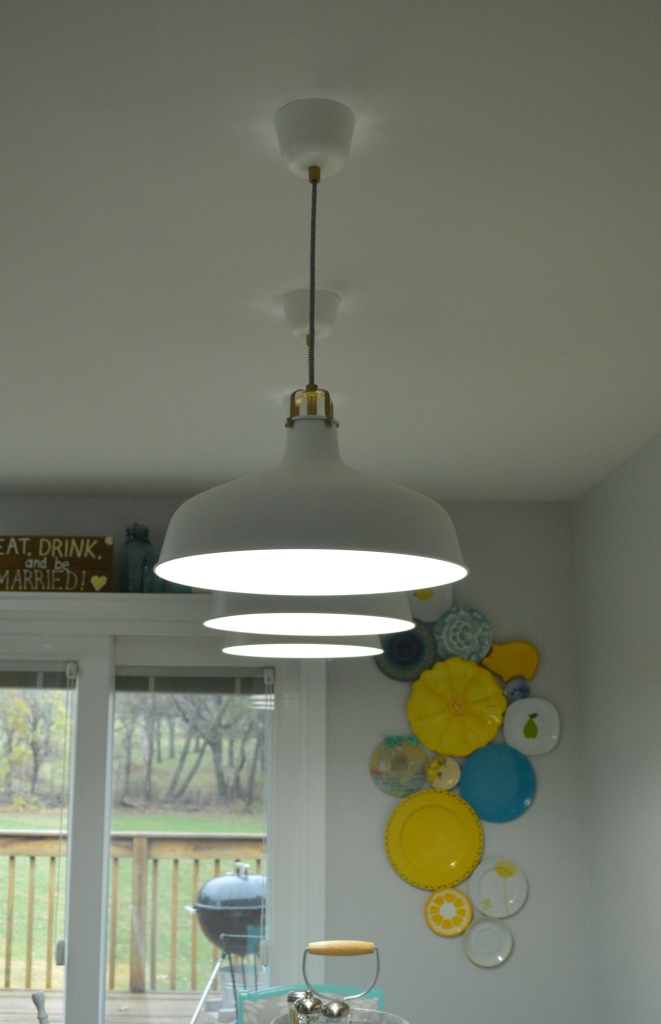 The chandelier we had before, in addition to being super dated, only put out candlelight, and all our meals felt oddly intimate and formal.
Plus, it wasn't our taste–at all.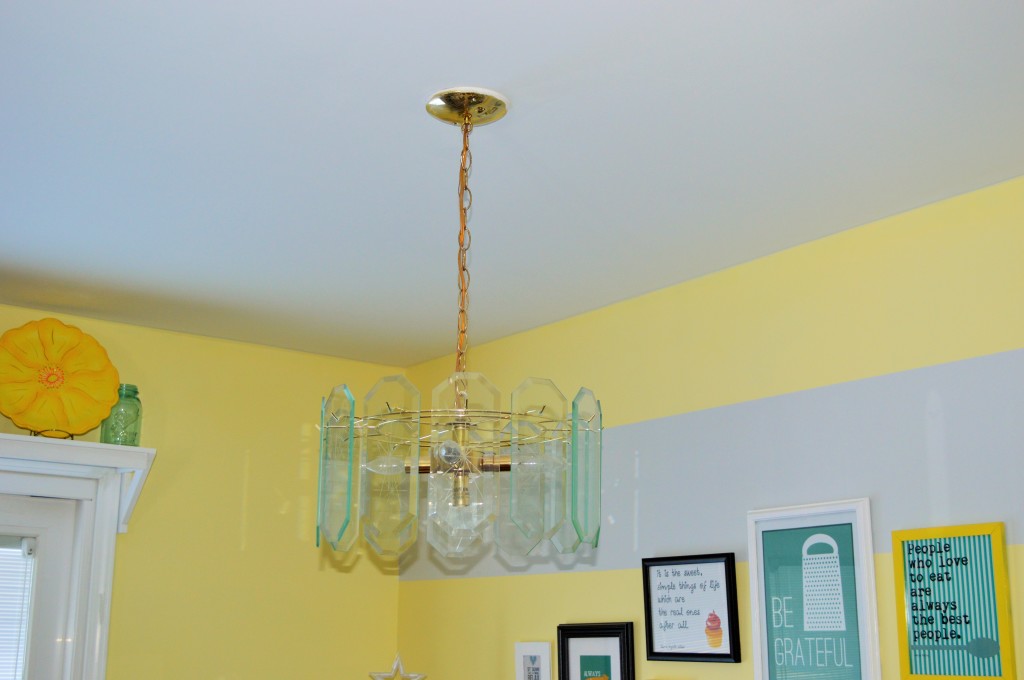 Now, we have a more casual, bright space to eat.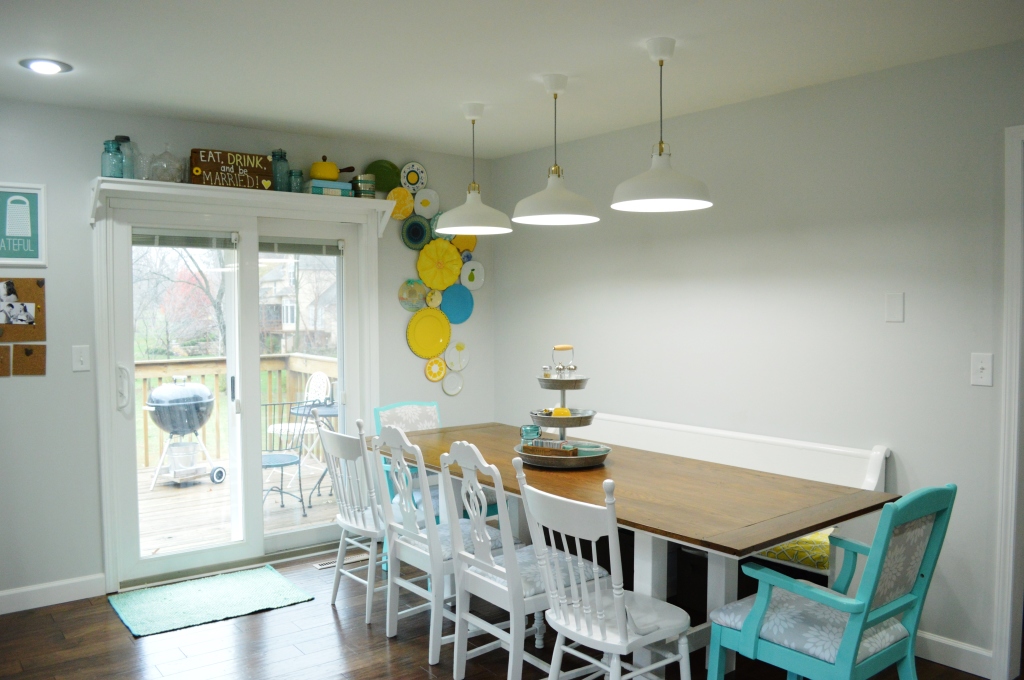 And the lights are sort of vintage/industrial/farmhouse meets classic white. Yes, that's a really big mashup of styles, but I think that's why I like them. They suit both of our tastes.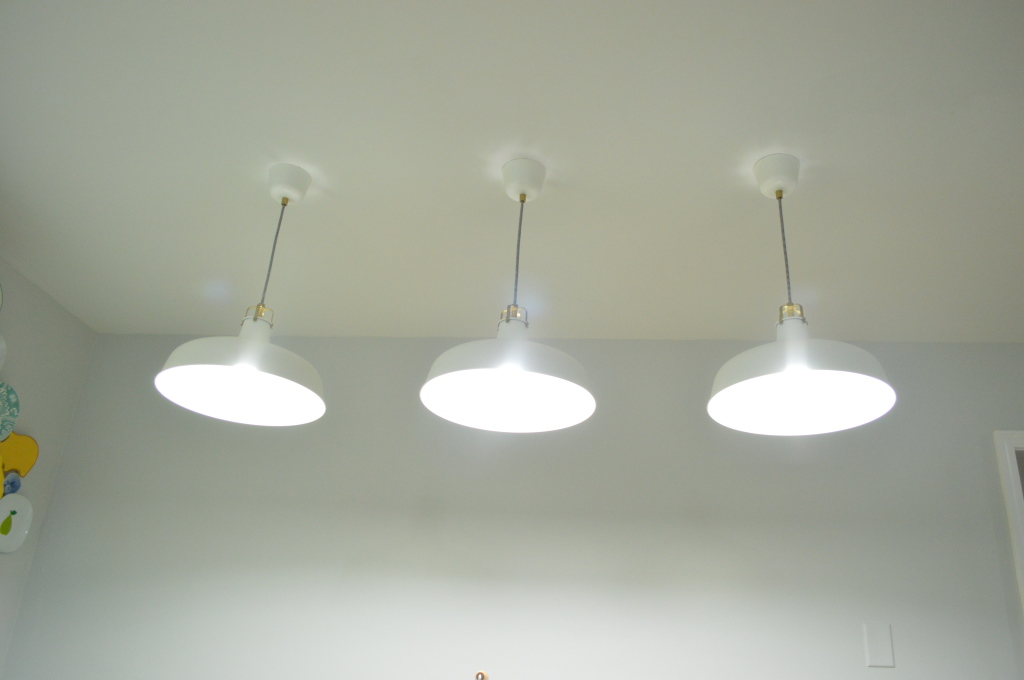 Just for a fun comparison, here's this dining area when we moved in compared to now. It doesn't look too bad before, but I'm glad we ended up where we are now.
The entire kitchen has really come such a long way. I'm planning to do a full reveal post at some point, with lots of before and after shots for comparison. In the meantime, I just keep walking in there to stare at everything in relief.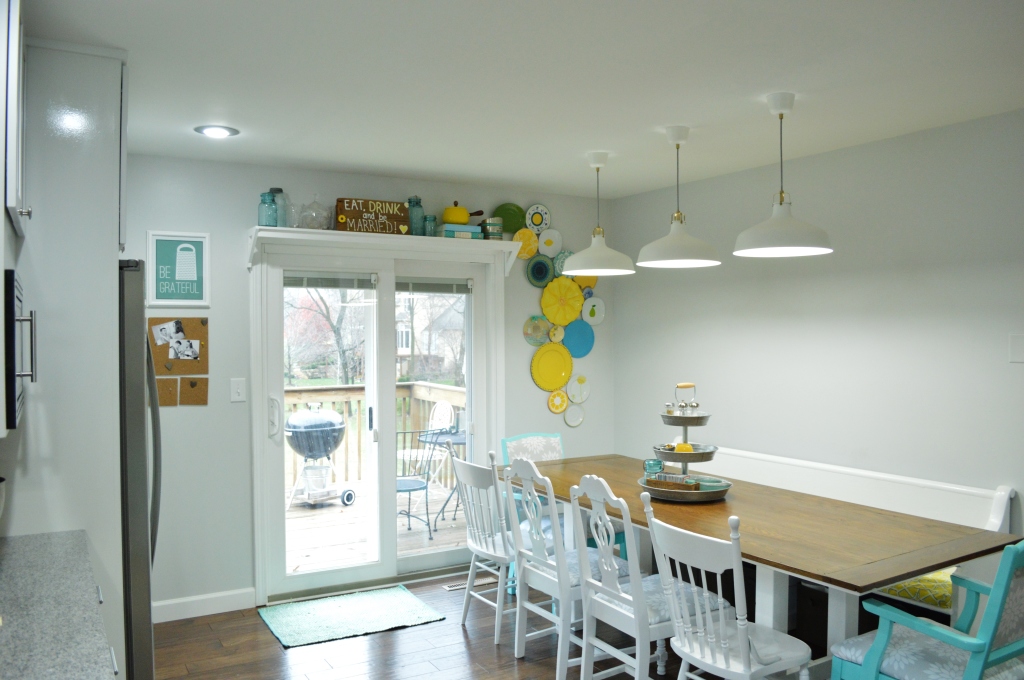 For more photos of the kitchen, click here.
I am currently planning some semi-seasonal art for over the table, and I'll probably focus on something more neutral after the holidays. Any suggestions? I'm thinking one large piece that will be sort of bold but not busy, to balance out the plate wall in the corner.