And function like one, too!
In all seriousness, we're really starting to use the kitchen as it is supposed to be used. As in, we have pots and pans in our cabinets.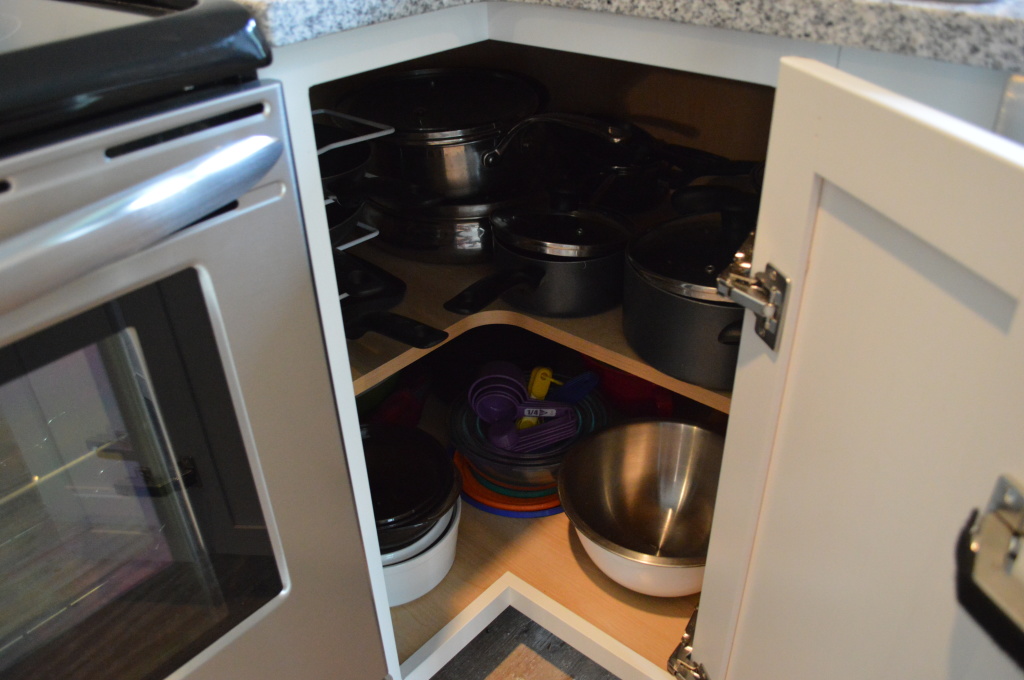 I'm also working on organizing things as I go, so you'll notice there isn't a whole lot of wonderful organization happening in these drawers yet. I'm more concerned right now with just getting things where they go (and figuring out where I want them to do) than having everything perfect. I can always rearrange and reorganized and add more functionality as we have more time for that in the future.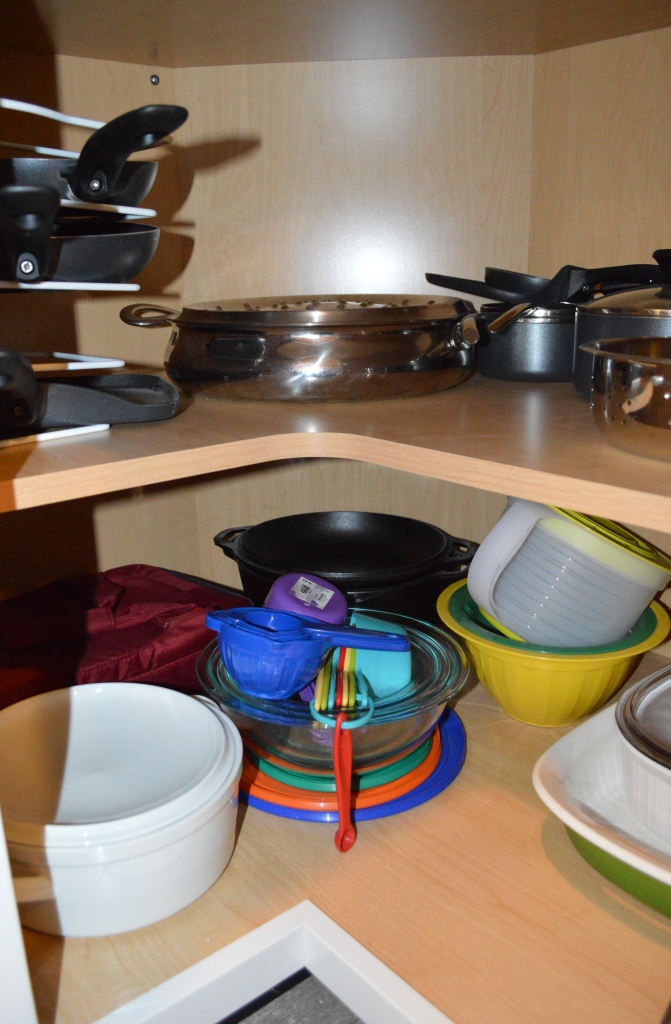 Under the sink, Wyatt had to cut the cabinet to make room for the plumbing. So, it left a big hole I was worried we'd lose sponges and such down into.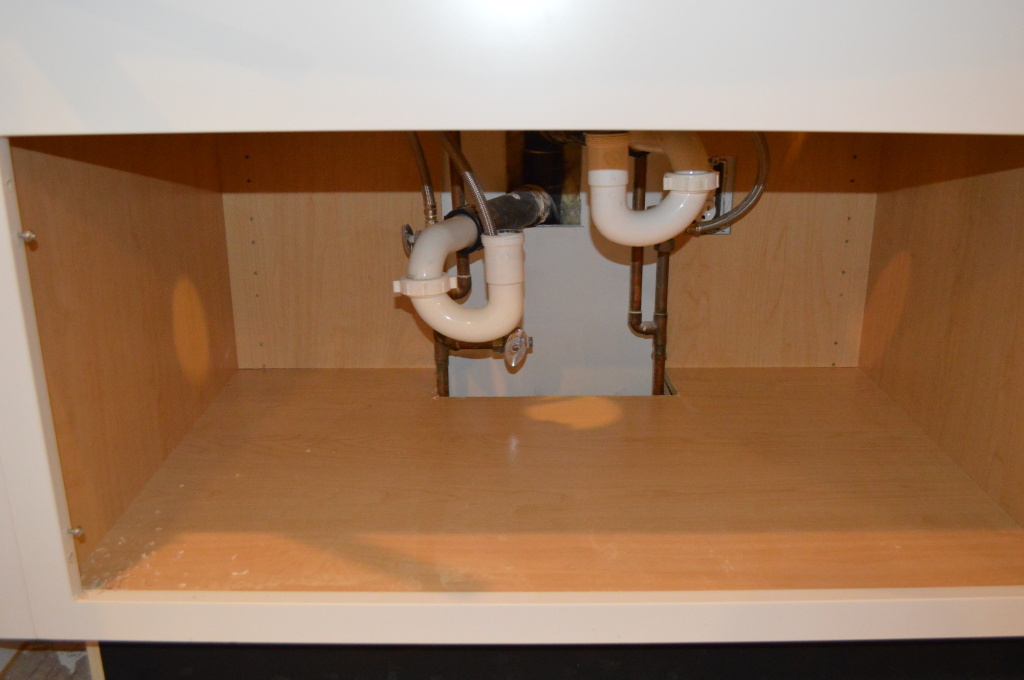 Then, he made a little edge guard with the scrap he removed.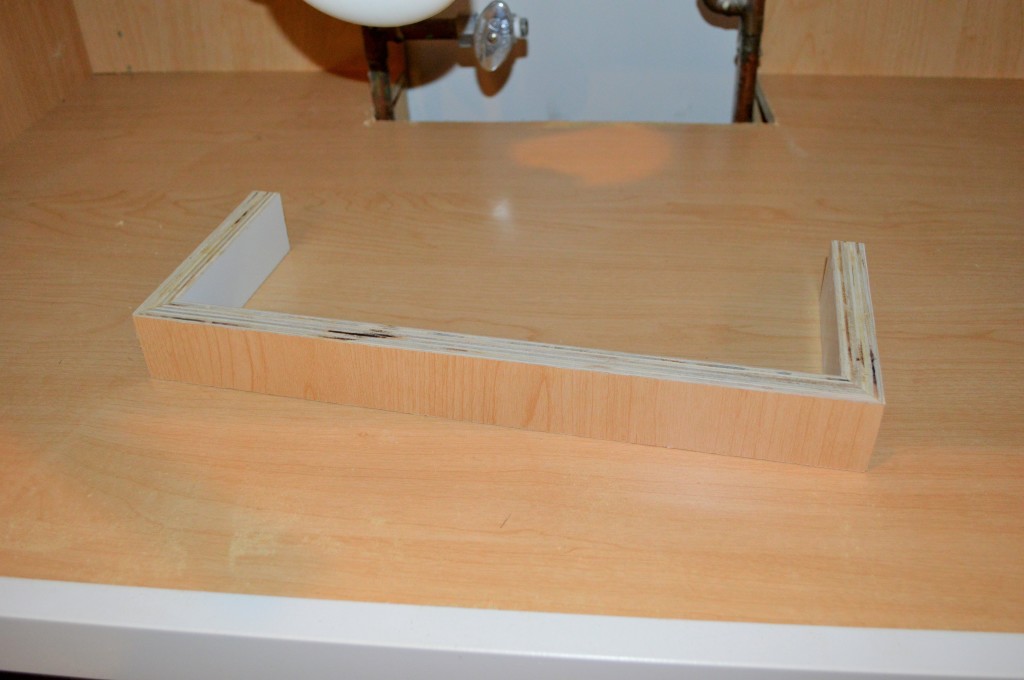 Ta-da!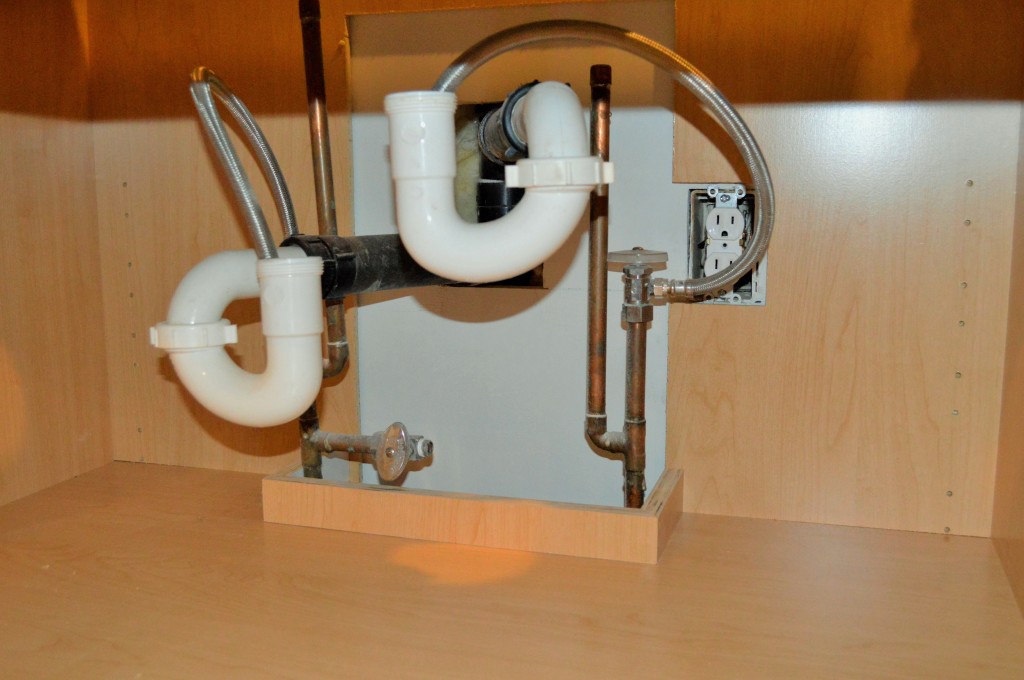 And then I promptly moved into that cabinet as well.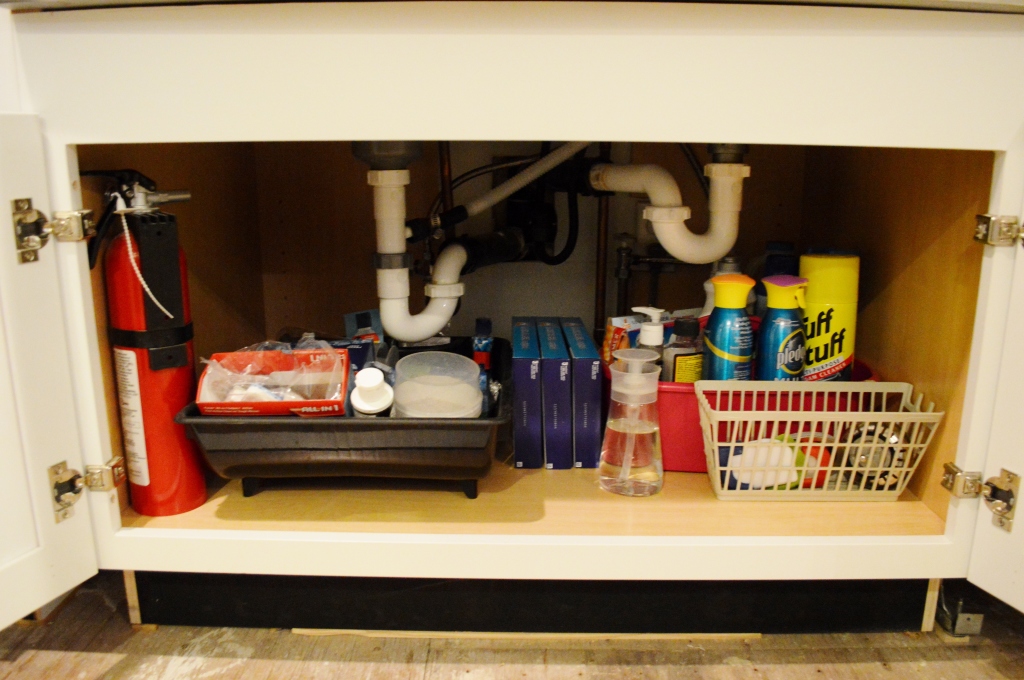 We also have utensils in our drawers instead of in the living room. Is it awful that I still sometimes walk into the living room looking for a spoon before remembering those are no longer in there. Habits form easy and die hard, I guess.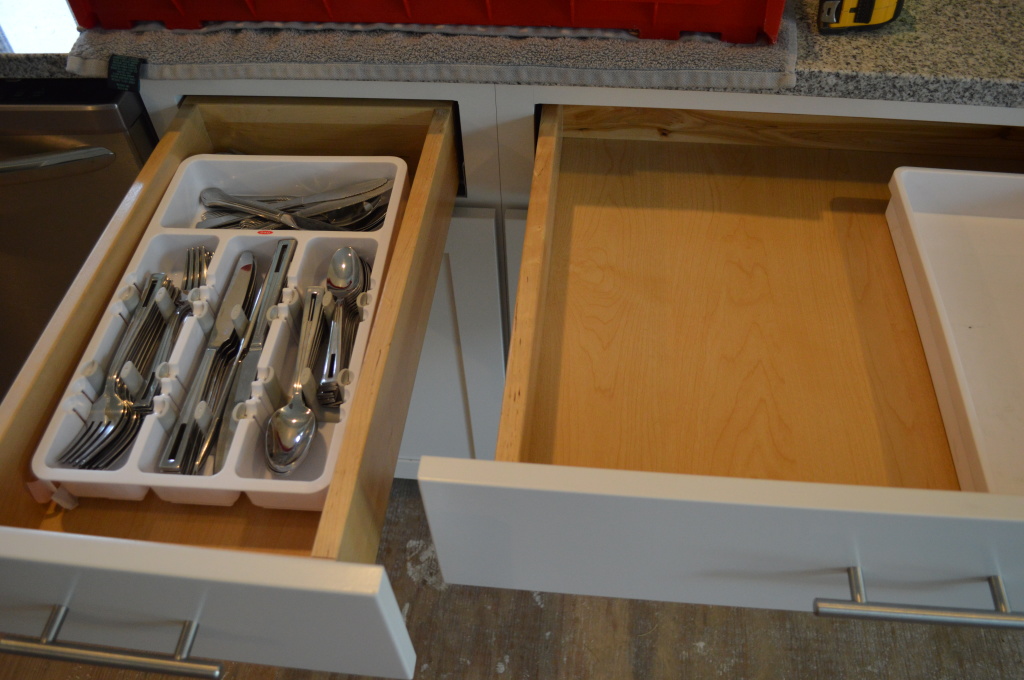 One of the hardest parts is deciding what to put where. I'm feeling like we have a lot more storage than we did before, so I'm not concerned about not having enough room. I am concerned about putting things in the place they make the most sense. Which is sometimes hard to figure out.
I determined some of this ahead of time way back during the design stage by making notes on the plans we got from Lowe's and Home Depot. It helped me determine where we needed drawers and where we could save money by having cabinets. And it helped reassure me that we were adding more function and storage and not taking anything away.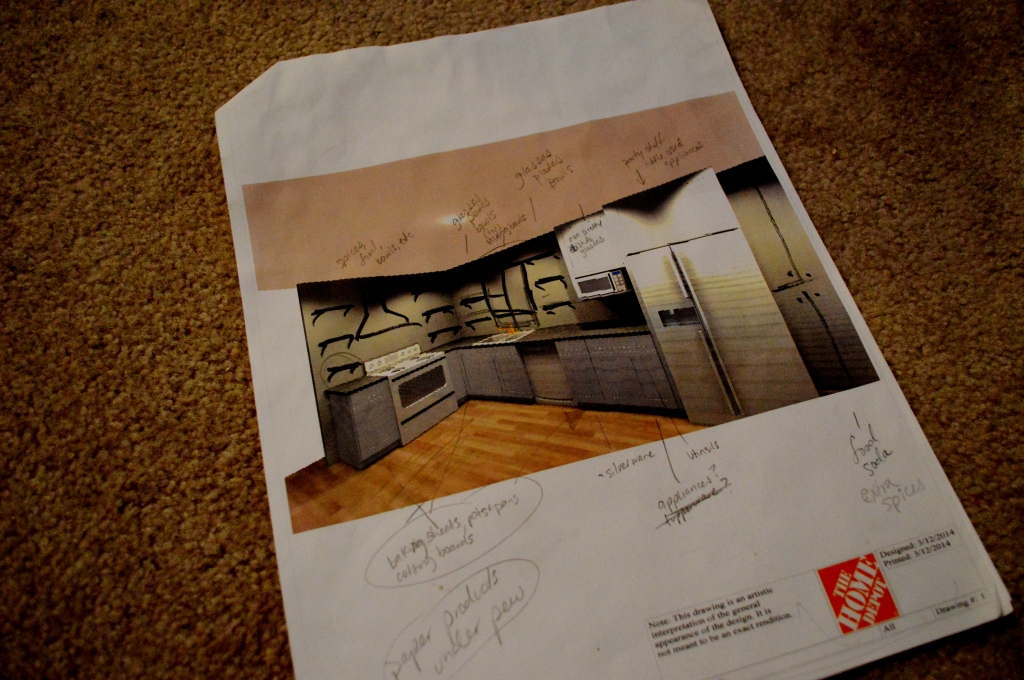 I also organized the junk drawer and I'm happy to say it's the most organized junk drawer I've ever seen in real life.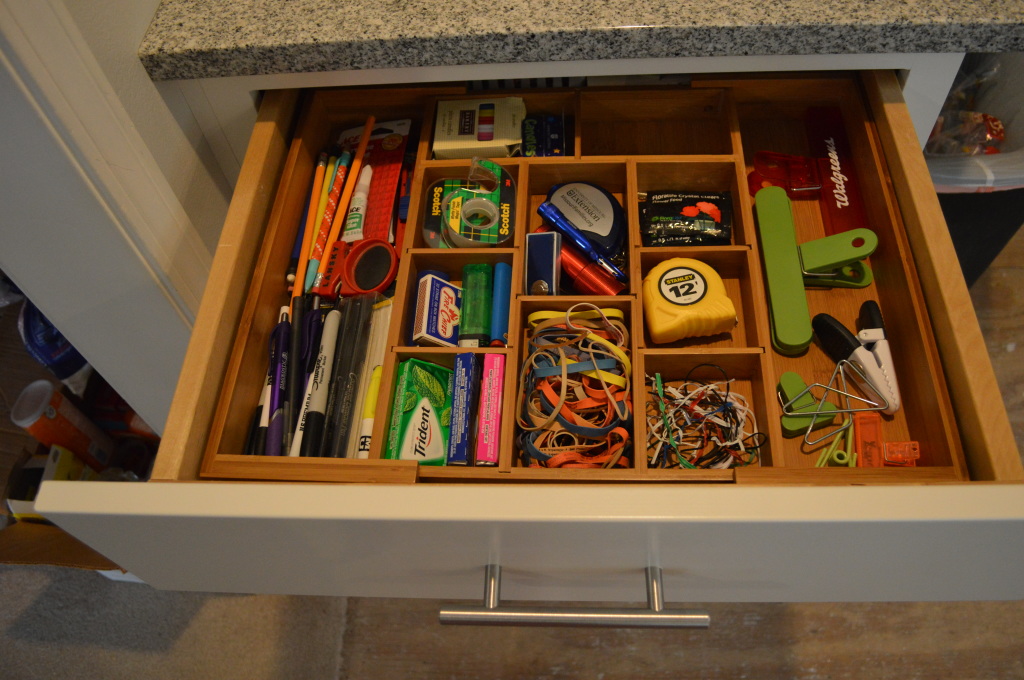 My secret? A drawer divider/organizer unit that I like and that I don't want to waste by filling it way too full of, well…junk. Seriously, though, it's like the best junk drawer ever. Or rather, I should say the best junk drawer I'll ever own considering Martha Stewart doesn't even have a junk drawer, I'm sure.
Unless, of course, she has a Monica's closet.
But I'm getting off topic. Back to the kitchen.
We still have a LOT of work to do, but it's exciting to start using this kitchen the way we imagined we might when we were in the design stage. For instance, I'm getting used to having the coffee mugs in the nook and the food in the living room the pizza pans under the stove.
How do you organize your cabinets? I'm still in search of some organization helpers and tools (little shelves and other dividers, etc.), so I'm open to suggestions and ideas! Feel free to share tips and tricks below! (Thanks!)