Earlier this week,  I sent an email to Hubs that looked like this: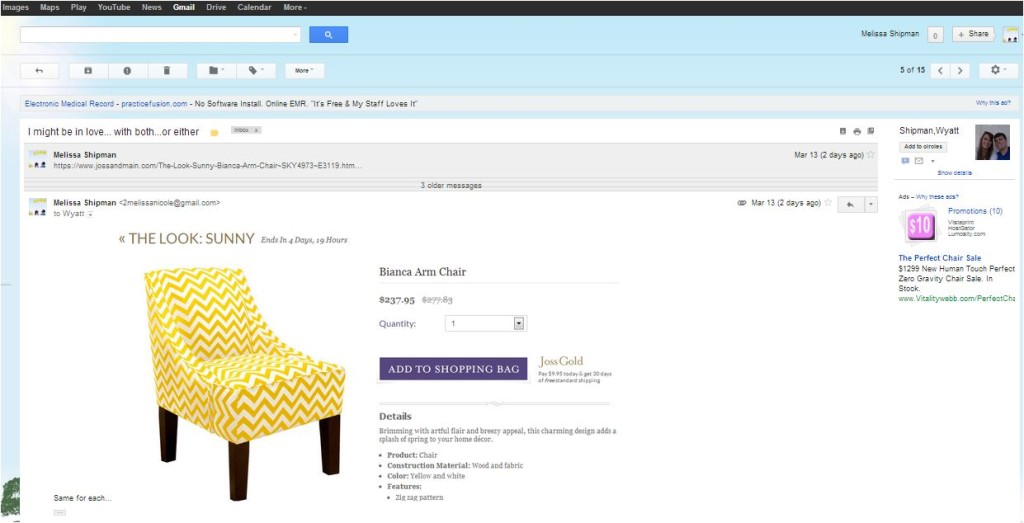 When I saw that chair, my heart started pitter-pattering just a little faster inside my chest. And yes, even on sale, it's a little too expensive for us since I'm not even sure which room it would go in.
"It's just so beautiful!"
"But Hubs, there's a matching ottoman! We could get it for the living room to replace our old black storage cubes…"
"Yes, I know it's the same price as the chair…"
"Yes, I know that $250 is a lot of money…"
"Yes, I know I could buy it if I really want to…but yes, you're right, we should save our money for things we really need…"
"Well, is it so bad to just want it anyway, pining after its yellow beauty with no hope of it ever being mine?"
Now do you understand a little more of why I'm lucky that man agrees to as much of my craziness as he does?
Happy Friday, everyone! Enjoy the sunshine—even if it's not in the form of an awesome yellow chair!