Painting stuff is on my mind (CHAIRS!), and since it's been awhile since we've talked about any of this stuff, I thought I'd share a few quick updates on some other items we've painted, or painted with, and let you know how we like them now that they're out of project mode and into the real world of every day use.
1. Painted Yellow Desk
I still really like my bright, cheerful desk, even though it's often covered in papers and clutter and I barely ever work in there these days. But… I have hopes of getting back into the swing of things eventually.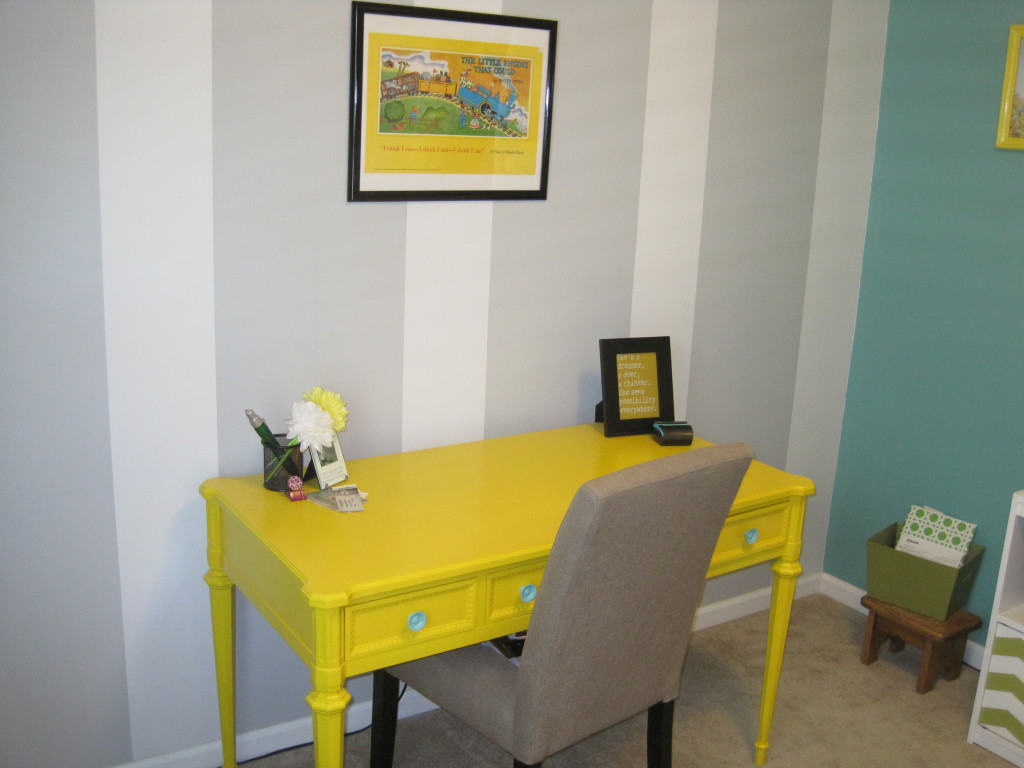 But…it's not looking as good as it did when I first painted it.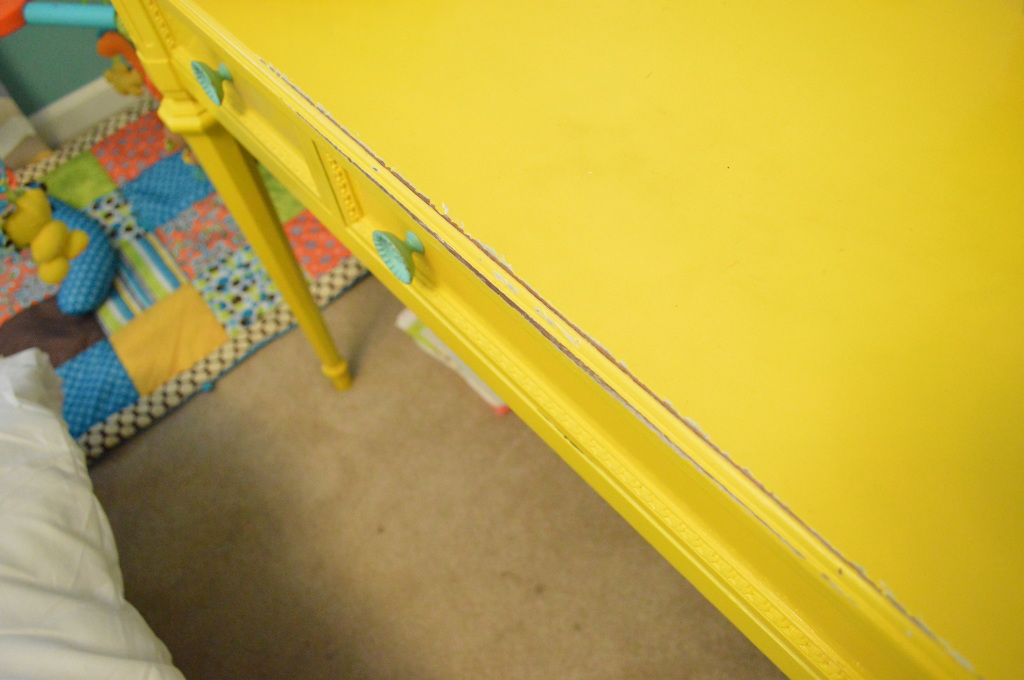 The front edge is wearing off a bit, sadly. It gives it the "distressed" look, but that's not really what I was going for in there so I don't plan to leave it like this. And even though I can repaint it, I'm a little bummed. To be fair, it has been two years of near every-day use. So, I get it. But, I'm not looking forward to touching it up. It won't be too bad since it's just that one spot, though.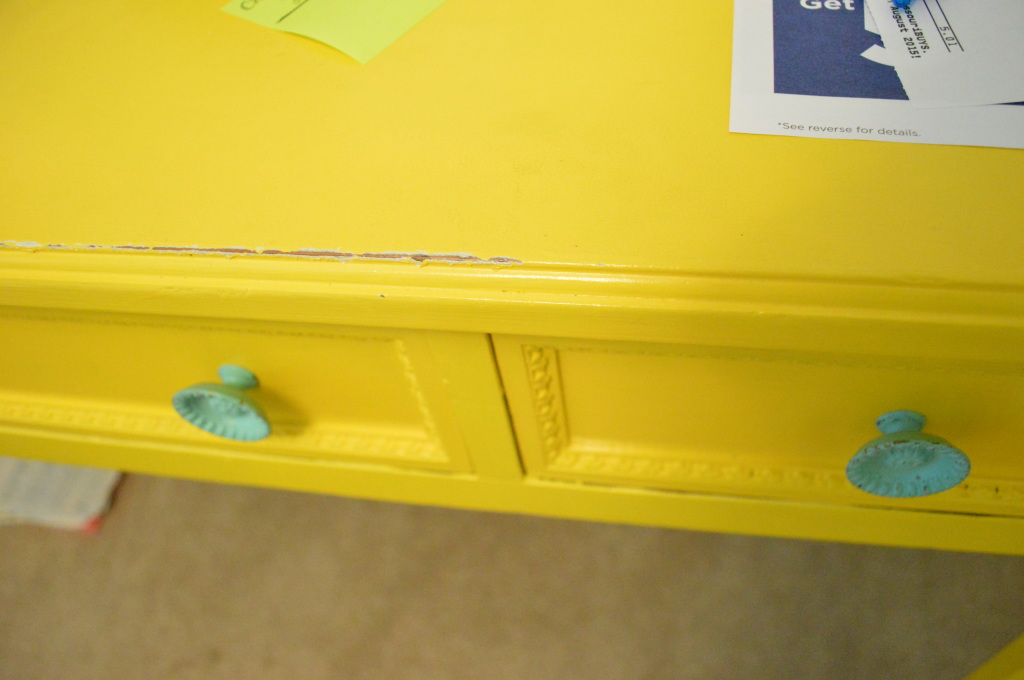 I should have done the touch up earlier, because now it is worn all the way through to the wood. At first, just the yellow paint wore off, leaving the white primer.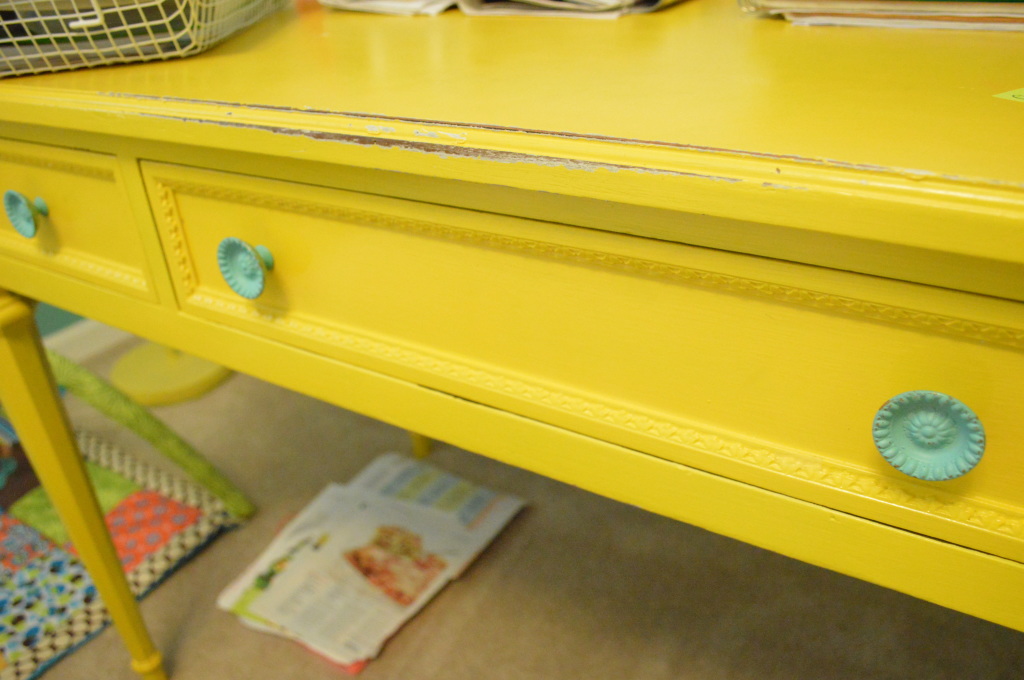 Still, I'm glad we did this. It was a cheap, thrift-store desk that we gave a seriously fun facelift to, and it makes me smile when I'm in my office. I'd give this project a "B+" and say even though the maintenance is a bummer, I'm still pleased we painted it.
2. Graco Paint Sprayer
We bought the Graco TrueCoat II electric airless paint sprayer at the end of 2013 to paint the kitchen pew, discussed here.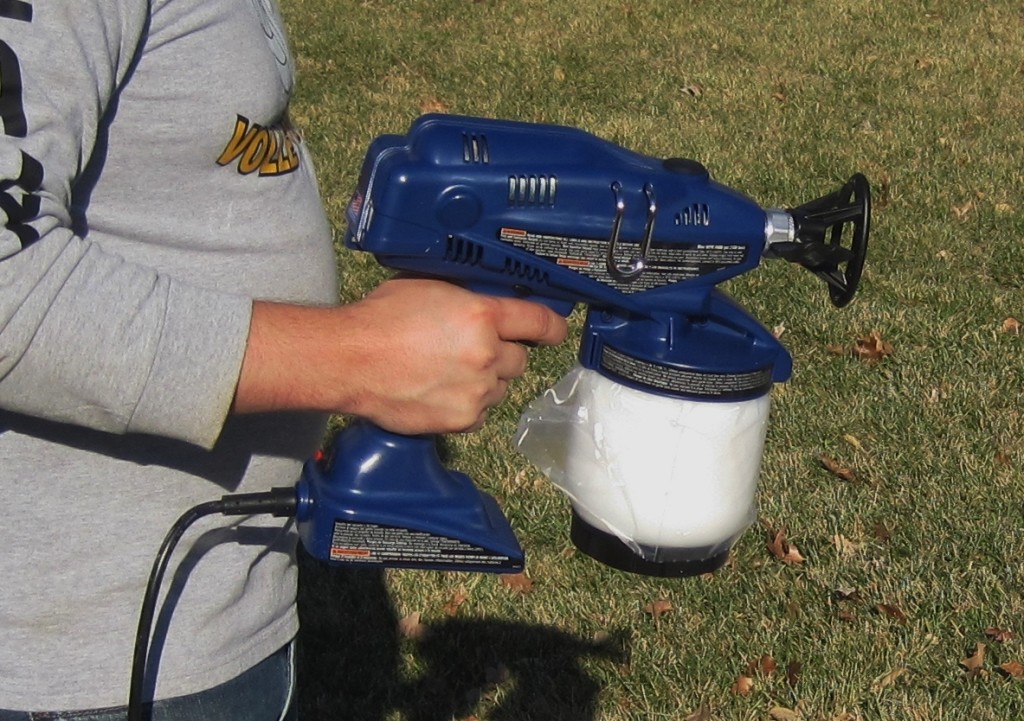 We just used it for the second time ever to prime all the kitchen chairs. Even though it has served us pretty well, to be honest, we are not a huge fan of this thing, and actually, we're selling it.
There's nothing we hate about it, but it's a little bit of a hassle to use for a few reasons.
First, it's messy to use, both in regards to the over-spray/airborne paint particles, and just in filling and refilling all the time by dipping/dripping paint from the can into the little cup.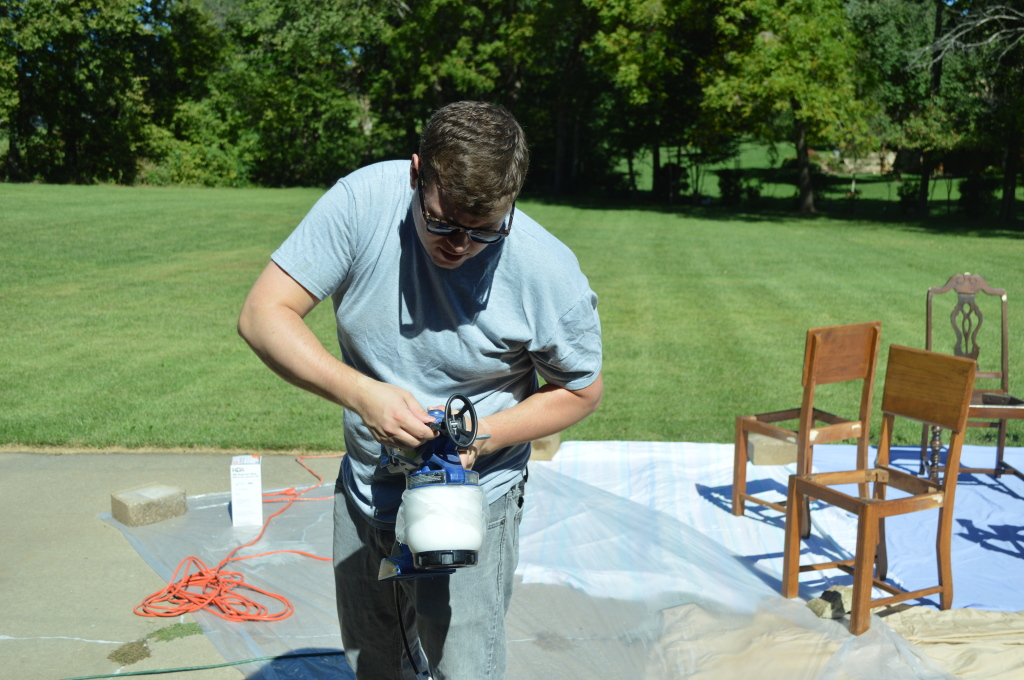 Basically, this MUST be used outside unless you have a dedicated painting area inside…which we don't. That's not ideal for us because it limits us to working on perfect condition days (not too hot or cold, not too windy) and we pretty much have to squeeze in projects whenever we can so having to wait for the perfect day feels like a drag when we have something we want to paint.
However, the biggest thing we dislike about having to paint outside is that there's no way to keep bugs out of the paint. We had so many little gnats and flies and bees hovering about while we were priming the chairs and so many ended up getting stuck in the paint. It was a bummer to have to remove those and fix all those little imperfections, and we ended up giving up and just waiting until we had them in the garage for the topcoat. So, we have found that we just prefer to paint in the garage when possible to avoid that.
Plus, it isn't much more expensive, or even more expensive at all, to use spray paint…although we are limited in color choices.
Overall, I'd give this a "C." It's okay, but we can do without it.
3. Painted Trash Can
We spray-painted our kitchen trash can, discussed here.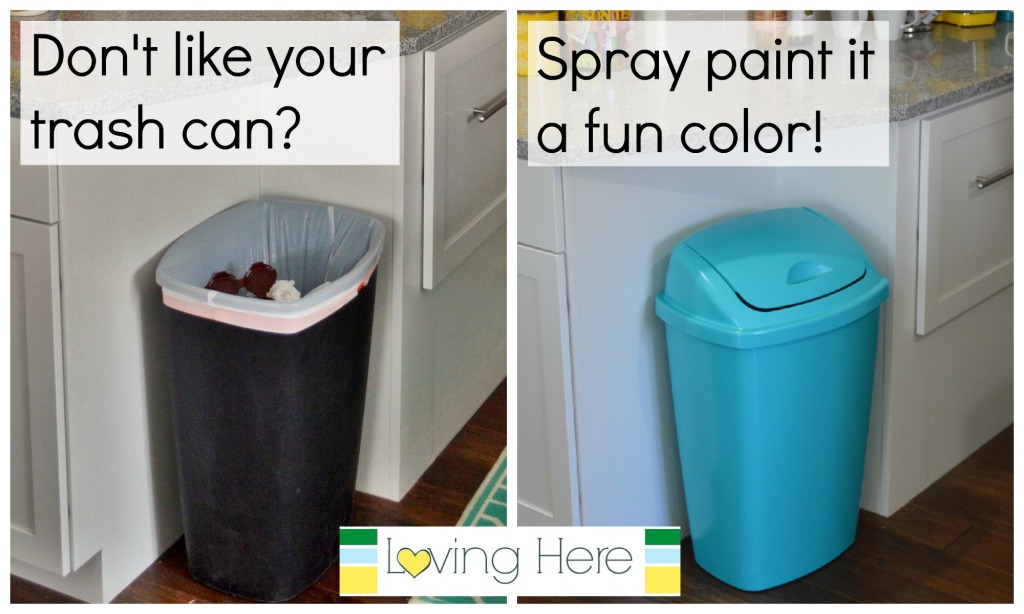 Originally, this was going to be a temporary fix while we saved up for a nicer, stainless steel trashcan. But, I like it so much I think I'm going to just keep it awhile. It's wearing pretty well, too, considering it gets pretty hard, daily use. The paint is wearing off slightly on the lid where objects rub against it on the way in. And, it shows the gunk and stuff worse than a black trashcan would…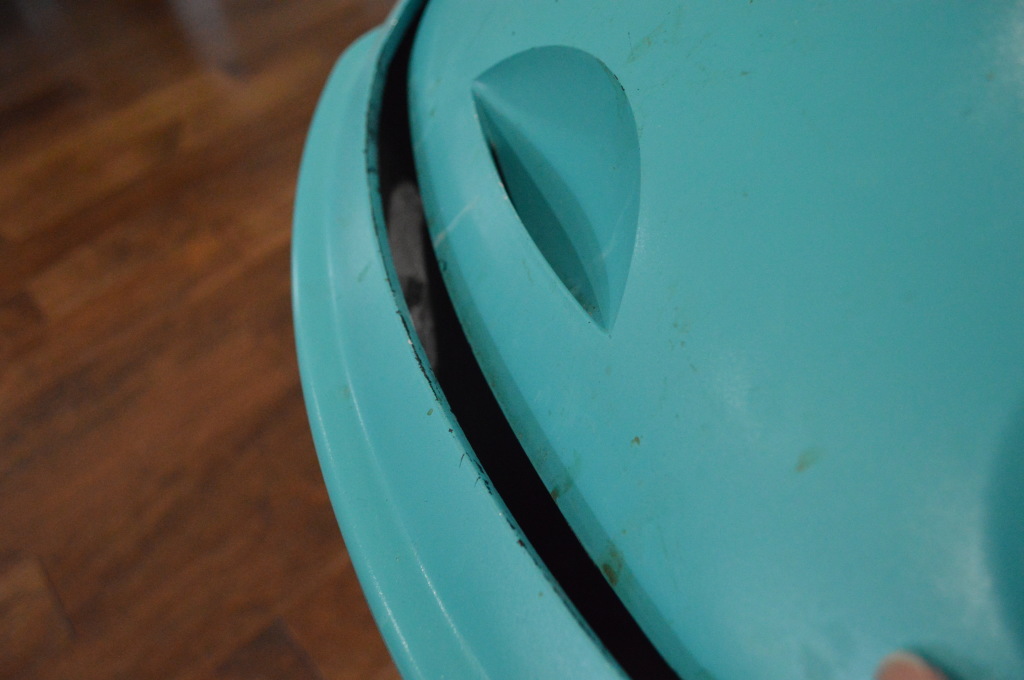 It's easy to wipe down, though, if I remember to do it. And would be quick to touch up with spray paint if we ever needed to. I'm not really worried about the paint wearing off that inner ledge though. It doesn't show.
I'm giving this project an "A."
4. White-washed Fireplace
I can't say enough good things about white-washing the brick and painting our mantle. It's one of my favorite projects we've done because it made such a huge difference in the living room!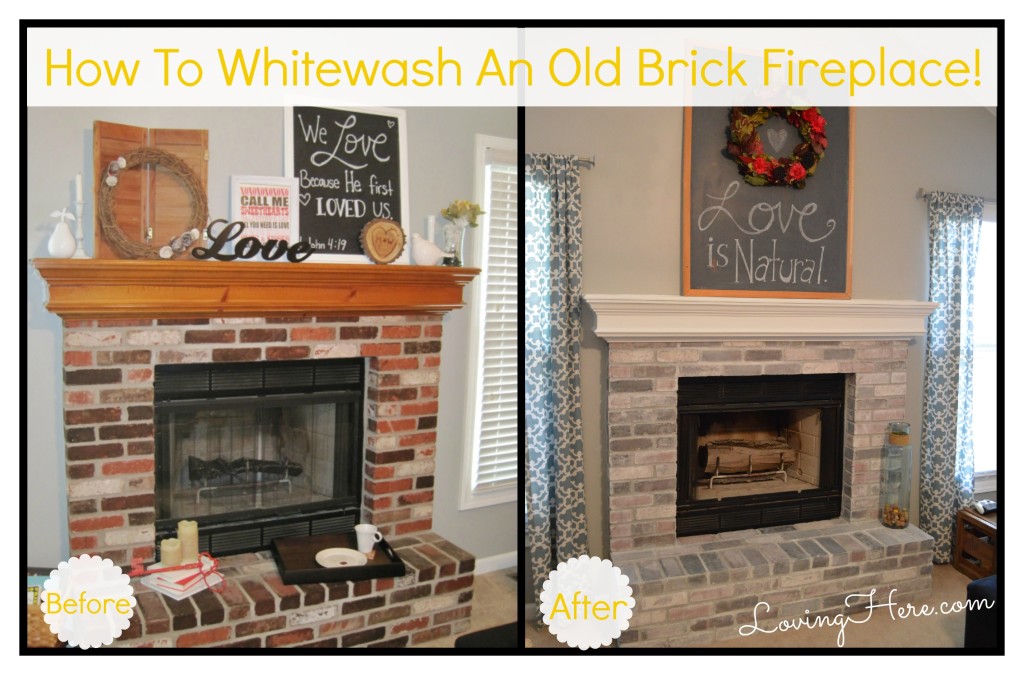 Add in the new wood floors and I can't say enough good things about this room.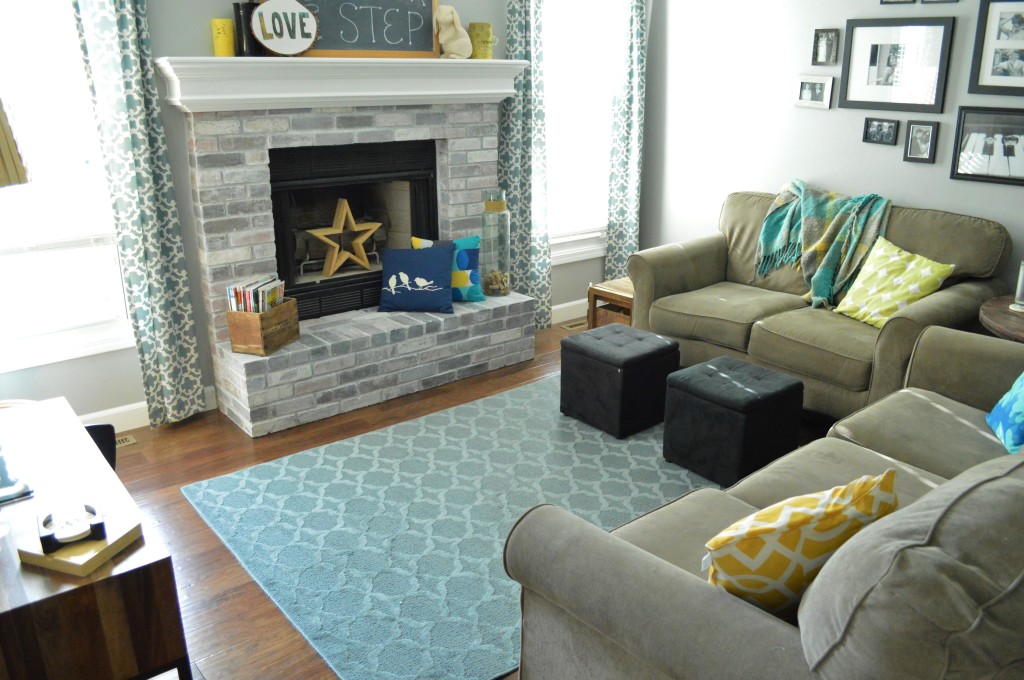 I haven't seen any signs of fading or anything, either. This project gets an "A++"!
(And, Wyatt has been asking if we could possibly whitewash the brick on the outside of our house! I'd say that's a sign he likes it considering he wasn't sure we should do it in the first place. 🙂
A few other bonus updates: the painted rug on our deck still looks awesome. Hasn't faded at all. I'm also still really happy with our painted living room lamp.
There's a quick update of a few painted and "painty" things around here. Anything I missed updating you on that you'd like to know how we still like…or dislike? Feel free to ask and I'll be happy to answer!