We're a few weeks into 2017 and it's time we (finally) share our goals for the year. After a fairly poor showing last year, I tried to be a bit more realistic, but I can't help myself–I did include some big stuff, too. As well as a few things we didn't get done from our previous list. Because we believe in second chances over here.
I mean, our kitchen took over a year, and look how worth it that was!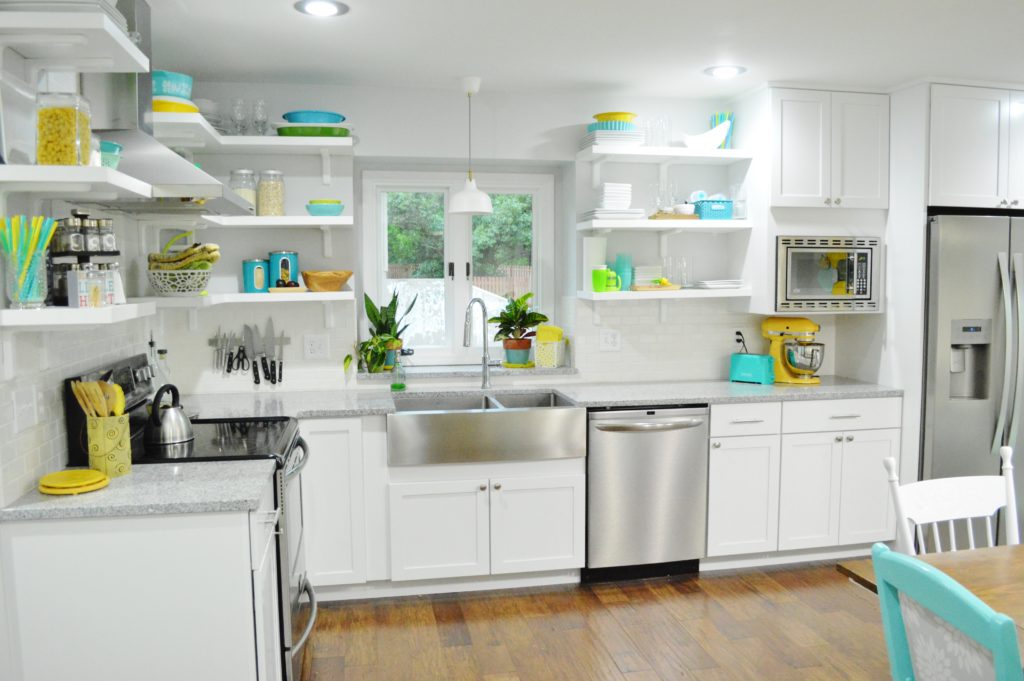 I'm a dreamer. A list maker. It's important for me to write down things I want to accomplish, if only for the purpose of reminding myself I want to do them before I get carried away and set new goals before finishing the old ones.
I have a big goal to really rededicate some time to the blog this year. I miss sharing our adventures here. I miss adventuring. We've had a really rough fall and winter so far with sicknesses and work schedules and I'm thankful for your grace in sticking around while we try to get our bearings and get back on the DIY horse, so to speak.
I'd love to work back up to posting several times a week, if not every day, but I know we have a long ways to go before that feels normal again, so we appreciate all of our readers who hang with us and we're so excited to start working on our goals and share our progress throughout the year.
Plus, we'd love to hear from you more, so feel free to leave us comments, send us emails (you can find that info on our contact page), and connect with us on Facebook and Instagram. Say hi. Tag photos to show us your progress and projects…let's encourage each other to embrace DIY, go on adventures, and celebrate all things family and home. Let's work on loving our homes, and loving well IN our homes, in 2017.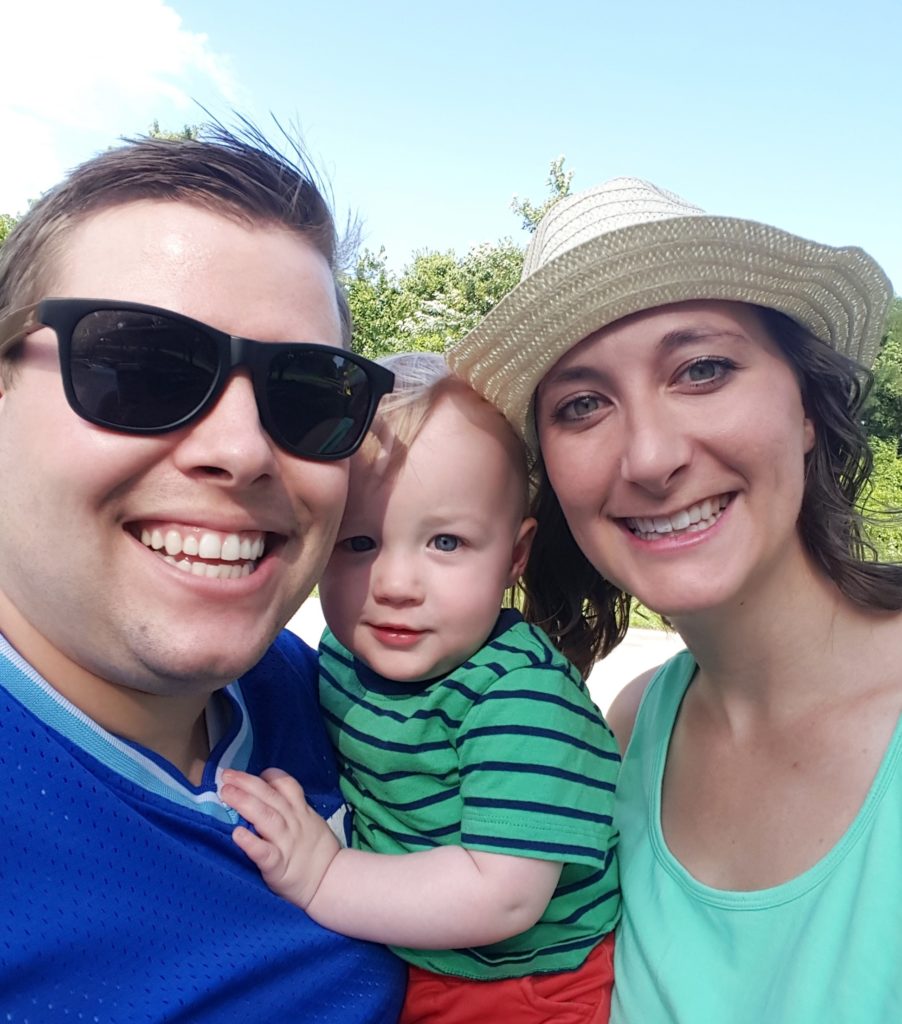 So, here we go!
1.Finish the basement family room.
No excuses. That means top to bottom, this room will be done. Possibly evolving in terms of furniture choices or decor, but finished enough to be fully functional.
Right now, we're working on painting trim and replacing outlets and light switches to make them all white. The next step will be choosing a paint color and painting the walls. Thankfully the ceiling repair is DONE and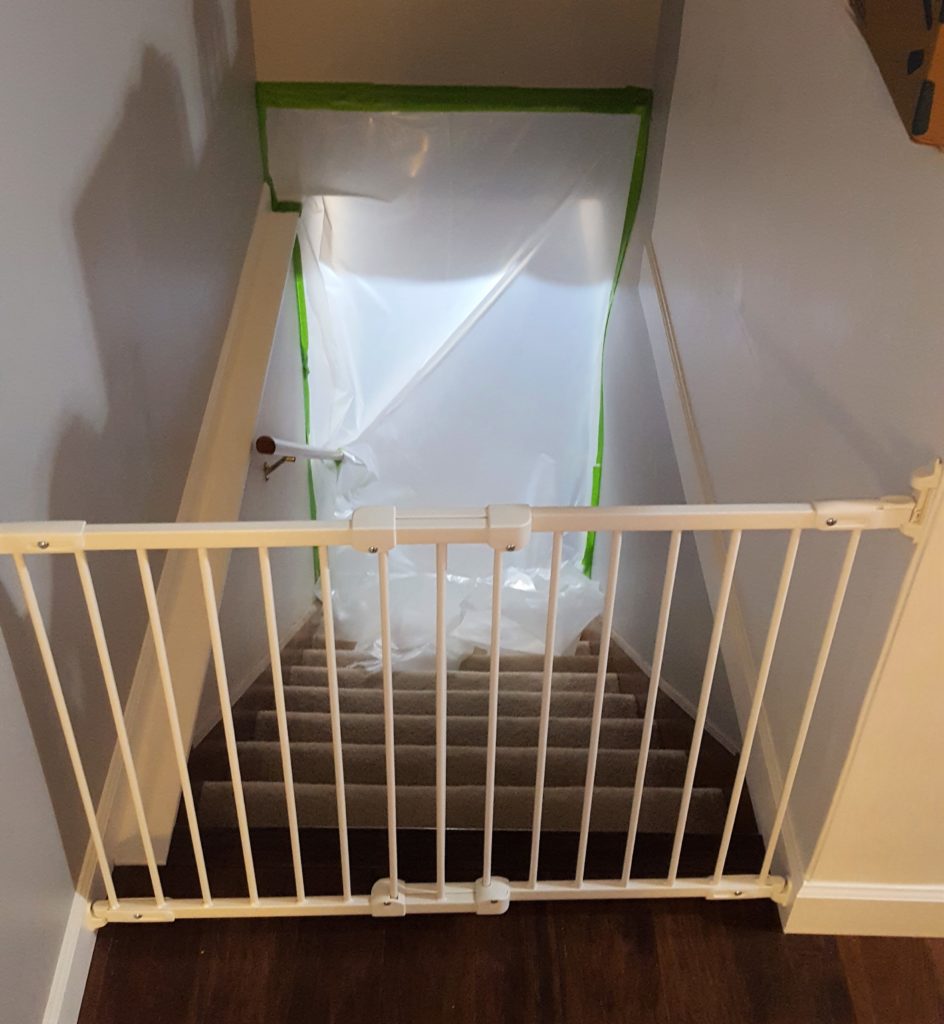 2. Do at least one concrete project.
We have been talking about doing some concrete projects for awhile. This is the year we do it. I'm not sure what it will be yet, but maybe planters. Or some type of counter top or surface. Or anything else. Suggestions to share or things you'd like to see us try?
3. Finish organizing the garage.
Again, it's okay if this is evolving, but we need to at least get a functioning recycling area set up and get rid of some stuff that we don't use out there. Wyatt has already started this thanks to a cabinet we got from a friend so I'm hopeful we'll get this done pretty soon.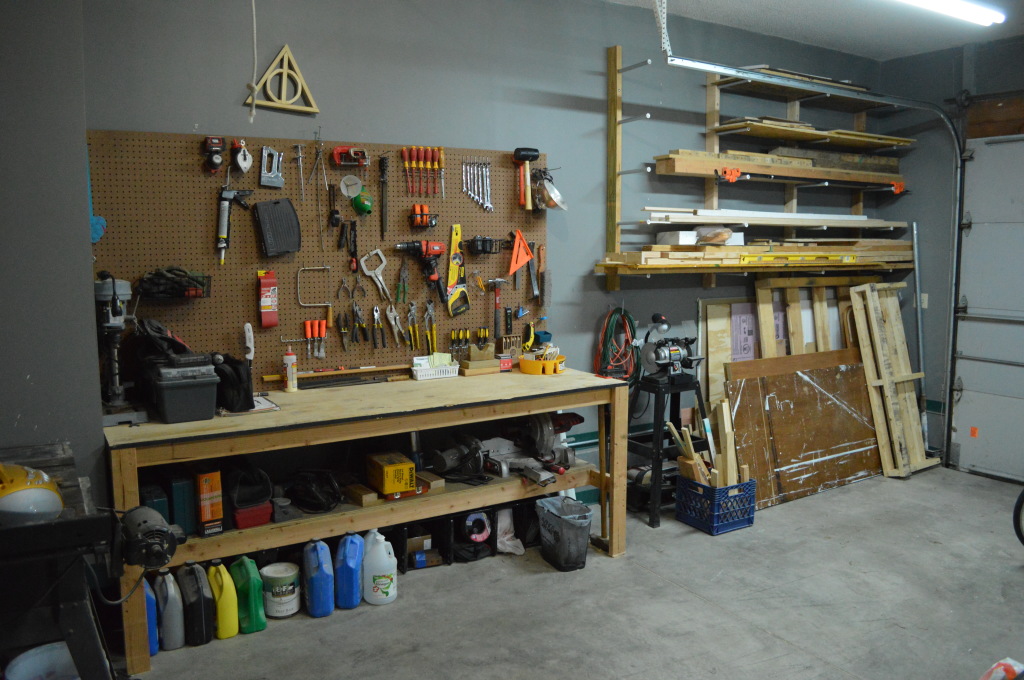 4. Revamp the laundry room. 
This is one that got carried over from last year, but I still really want to make this happen. I need a new hamper and more storage. I mean, I've been using a cruddy ripped hamper for YEARS. Why?
Ugh.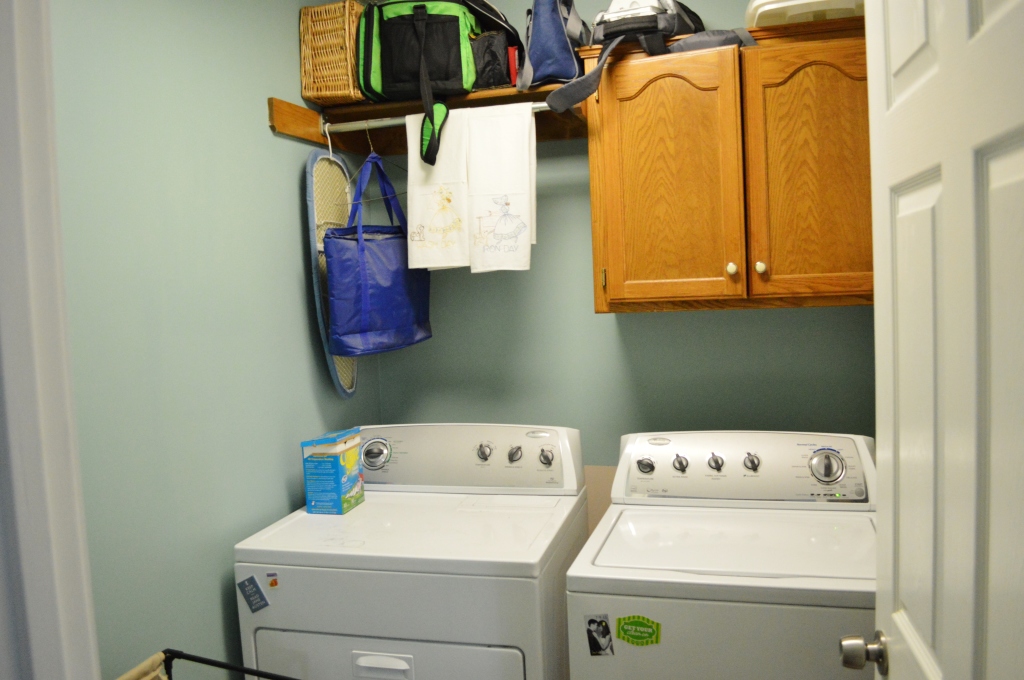 5. Rebuild all or some of the garden beds. 
We used our old hollow core doors to make our beds, which was fine, but they are starting to fall apart. If we want to keep using them, they'll need some repairs, or replacing.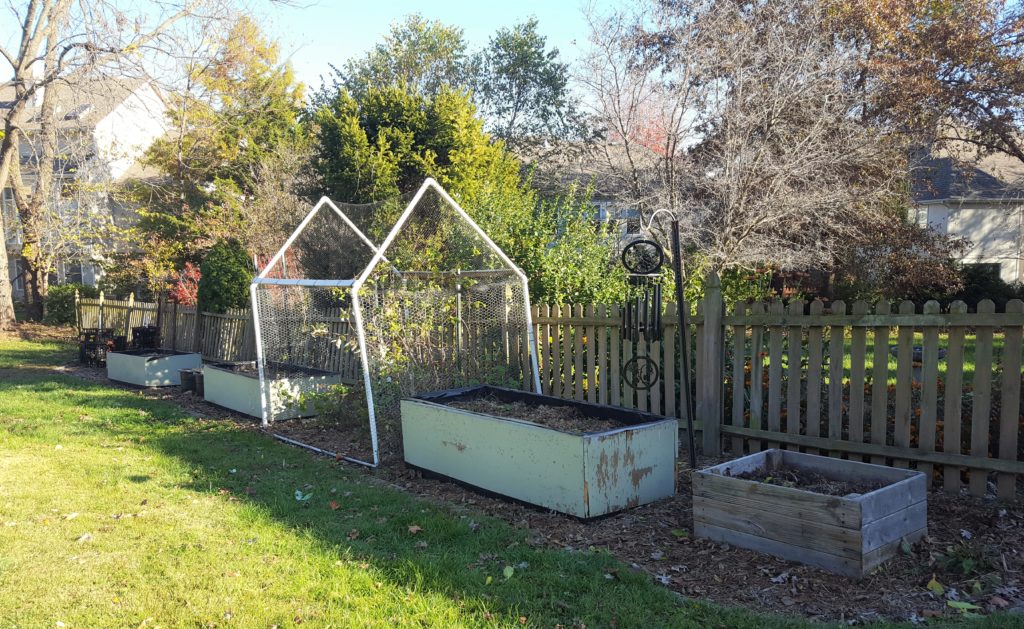 6. Maintain no more than 10 magazines in our "to be read" stash. 
Right now there are like 30. Yikes. Our little box won't even hold 30 so they are spilling out into other piles. Not good, friends. Not good. Also, we don't pay for any of these magazines. We get them free from various sources. And yes, we recycle them when we're done. And before you say, "just stop getting magazines!" I have to say that I adore magazines. It was my dream to work for a magazine back in the day. And I'm proud to have several in my current client list. I like the glossy pages and the high graphic spreads. I like that they are "happy mail" in the mailbox instead of bills. I'm in awe of the amount of content that gets created to fill magazines every month. But I can't handle being that far behind. Plus, it makes unnecessary clutter. So, this year, I'm going to sit down and read magazines instead of scroll on my phone. That's the goal, anyway.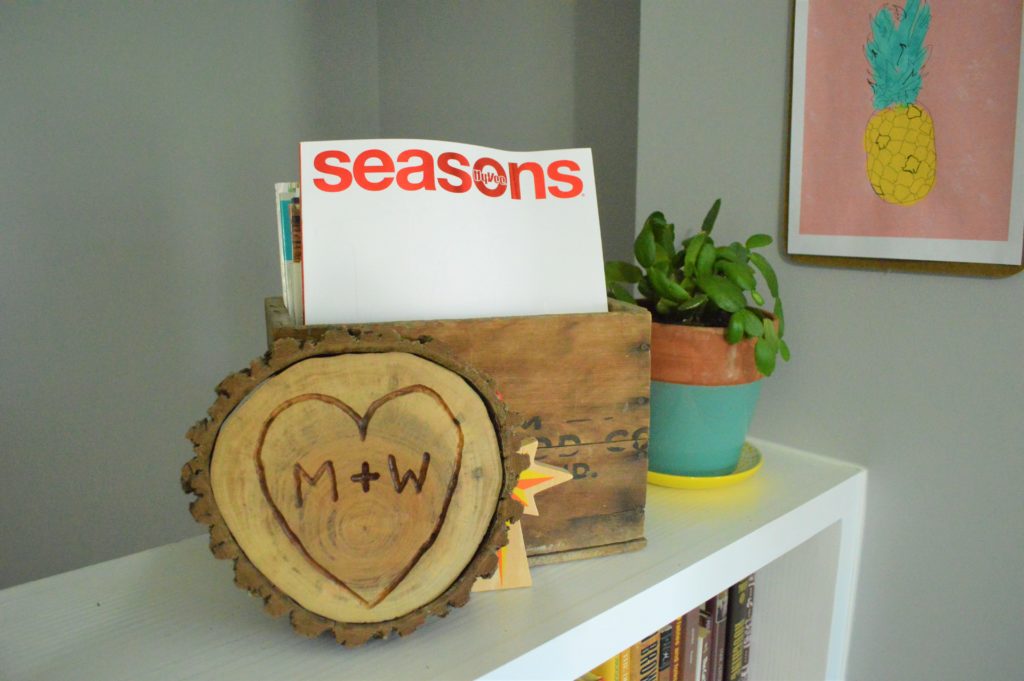 7. Finish 24 books. 
I'm upping this one to two books a month. I've had a goal of 20 books a year for the past two years and made it, so it was time to stretch myself a bit more.
That's a little scary, but thanks to audio books, I think I'll get there! That being said, I want to tackle a few from the bookshelf that haven't been read before buying a bunch of new ones…so, yea. I'll work on it.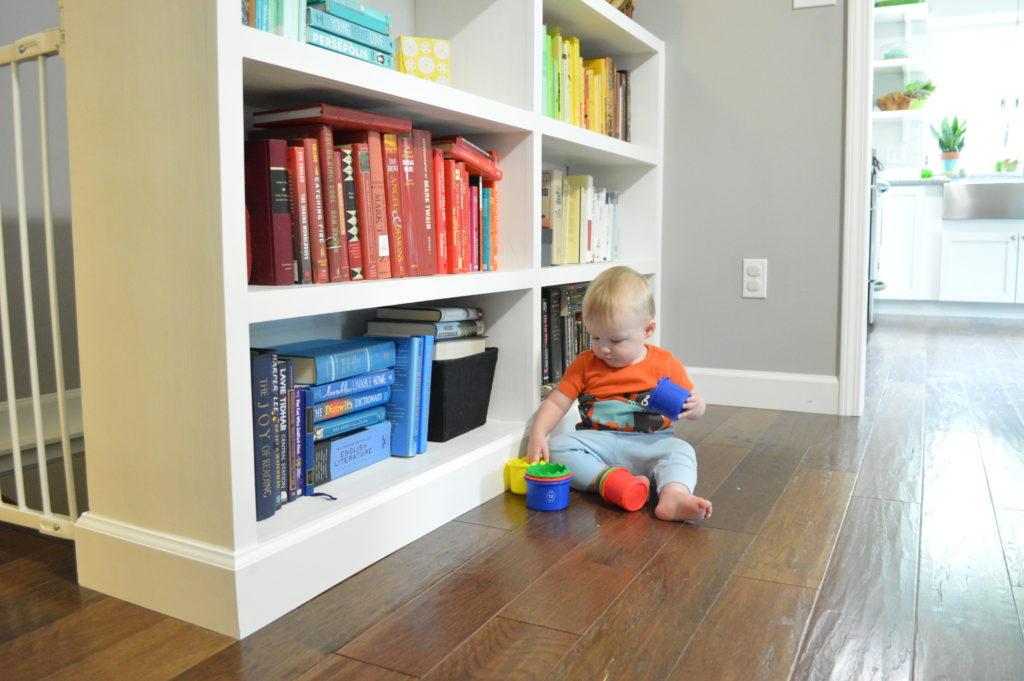 8. Finish decorating our master bedroom.
Again, this is carrying over from last year because we didn't get it done. But I'm determined this year. The goal is to make it less cluttered, more restful and retreat like. But we'll see where we end up. Things on the list are new bedding, new nightstands, new curtains and some art on the walls. Moving the bookshelf to the basement when we get that all furnished down there.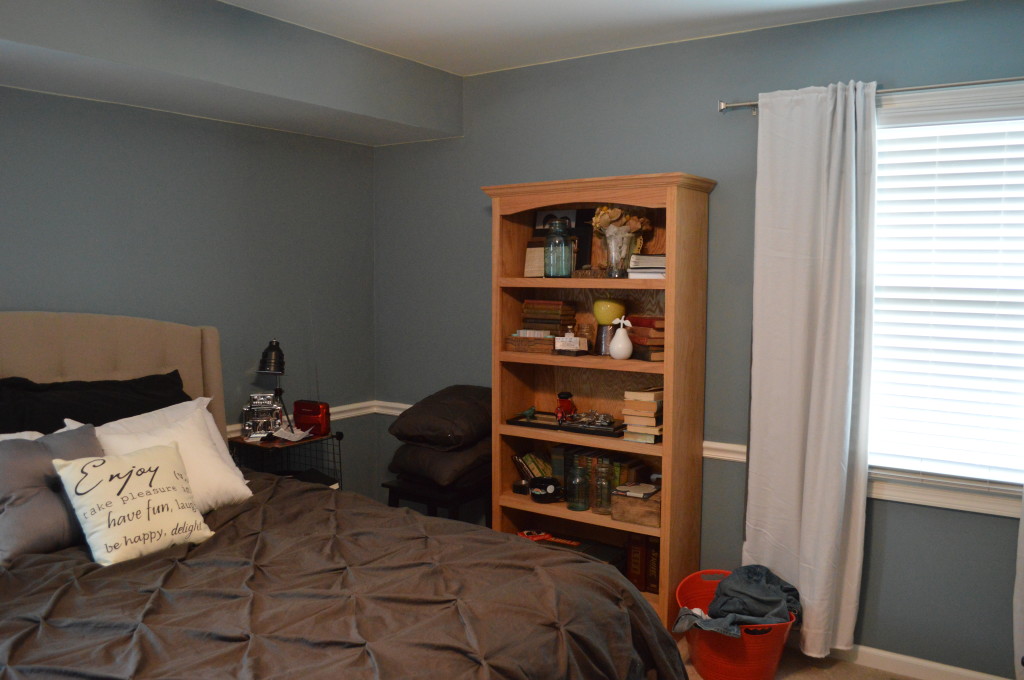 9. Replace or paint the front door. 
I want to replace this one for one with a window I think. (Even though I'll be sad to lose our peephole and our FRIENDS frame if we do that.) But, we might decide to just paint it. Either way, we need to do something because with the hot afternoon sun bearing down on the door, it smells so hot with the current paint on it. It's awful, even though we used exterior paint. It's time to get it fixed.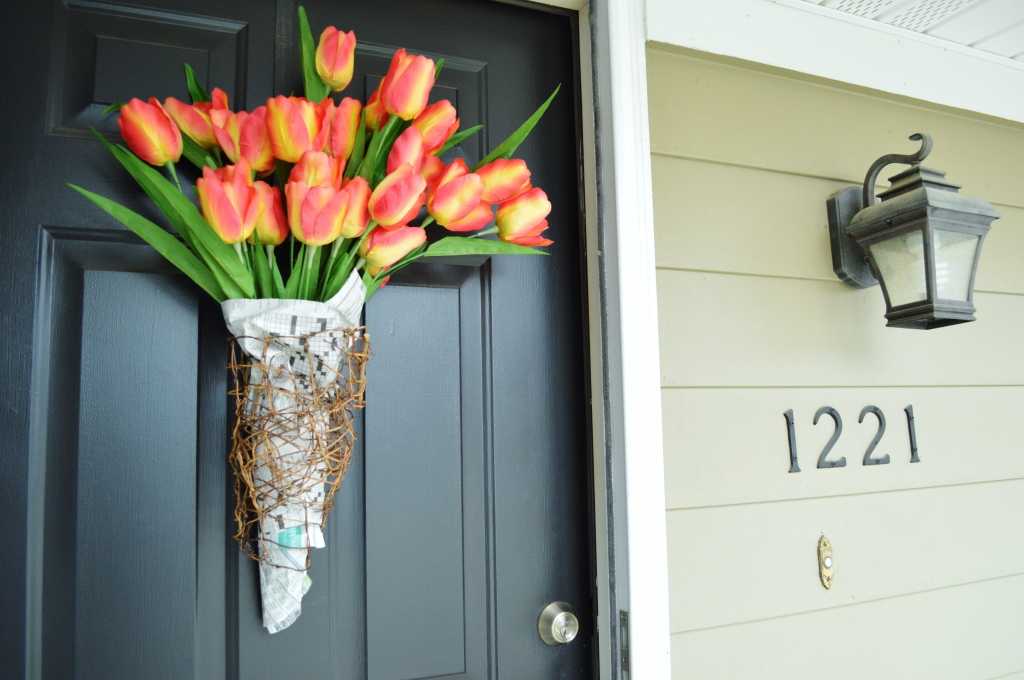 10. Replace the garage door. 
The scratches and scuffs and terrible seal on this door are going to be replaced this year. It's time. We just need to get it done. So, it's getting added to the list. Plus, I want to paint it a nice, fun color I think.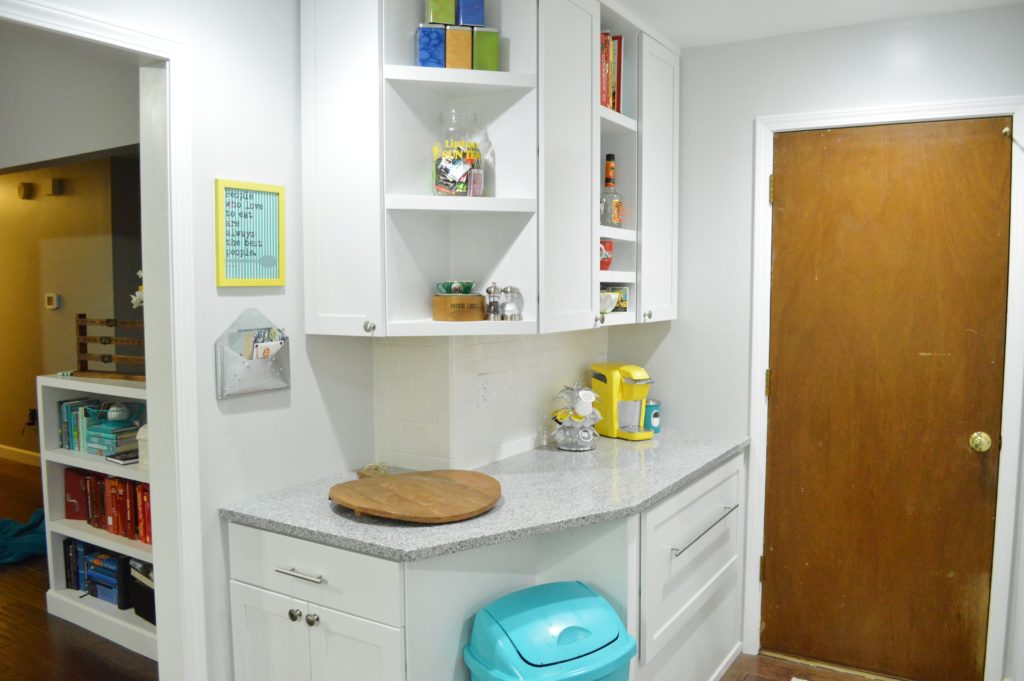 11. Get my office organized. 
Some of you may know that I am a rep for Usborne books. (You can find out more here.) That means I'm getting TONS of free books…and now I need to figure out how to store them all. They are taking over my office right now. Not to mention all the clutter that gets dumped in there when we need to clean up the living room. And, I need a new home for some of my plants…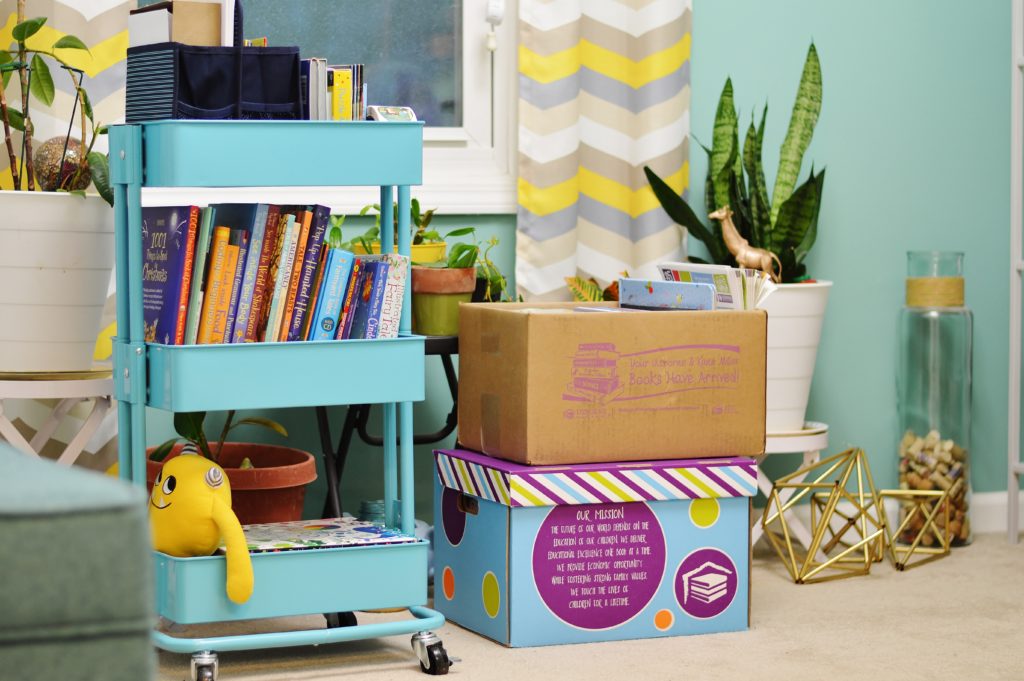 12. Take a family vacation. 
We did manage to cross this off the list last year, but barely. Preferably this year we'll be able to take more than one family vacation…but we'll see how the year goes. At least one family trip will happen, for sure.
And fingers crossed no one will get sick and cut the trip short like this December. Blaugh–flu bugs suck!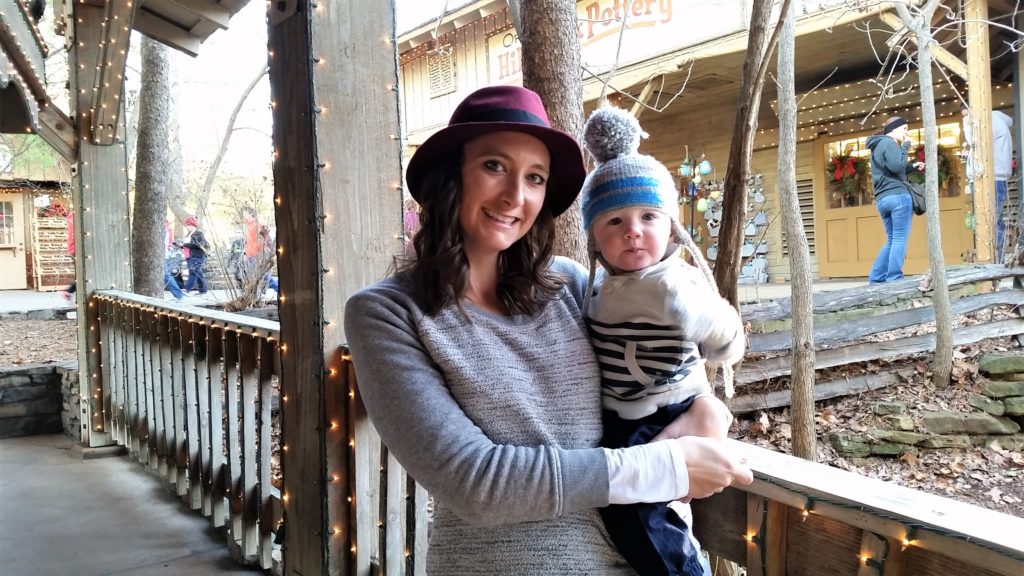 13. Take a couple vacation. 
We're not sure where, or when, but Wyatt and I want to have a little trip this year. Maybe for our anniversary. Even if it's just one night, it would be good for us. The last time we spent a night without Will was July 17, 2015….the night before he was born. The last trip we took just the two of us was also shortly before Will was born…and I was VERY pregnant.
I think this year will be the year we try it again. 🙂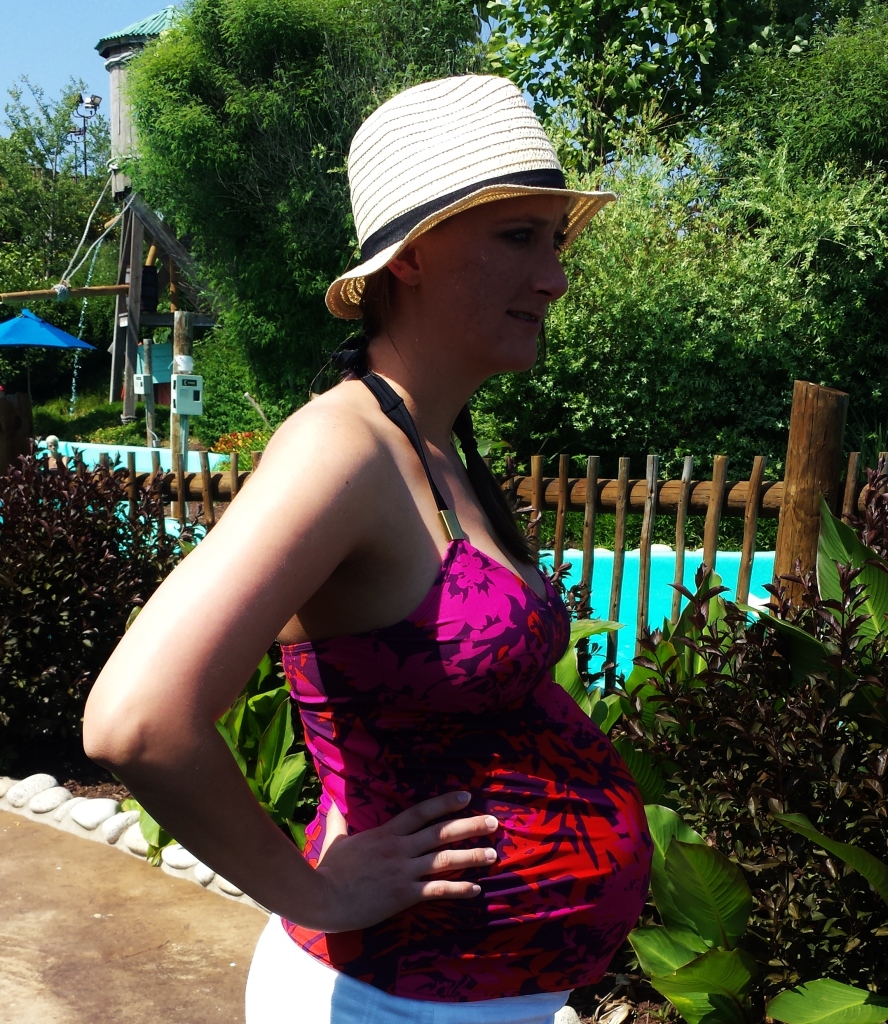 14. Conquer the toy clutter
We don't even have that many toys and I'm already feeling like it's too much. Will gets bored a lot faster when he has a lot of toys to choose from. When we only get out a few things, he'll sit and play a lot longer. I'm thinking of doing a weekly system where we box up a lot of the toys and get out different ones throughout the week.
Or maybe play with the same ones for a week before switching it out? I'm not sure, but I'm excited to try some systems out until we get one that works. Anyone have a system that works for you? I'm sure there are a lot of ideas on Pinterest for this, too.
(Also, aw…look at my tiny boy who could't reach the couch–he's getting so big!)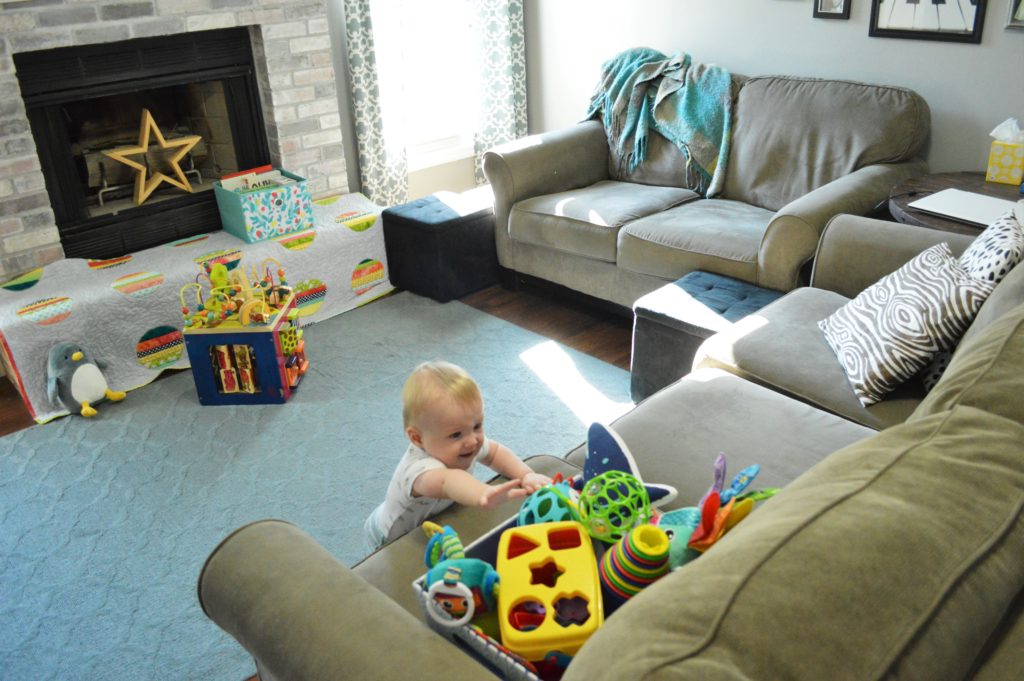 15. Finish and order more photo books. 
I am so glad I was able to order several books last year. (Shout out to my friends who send my codes and discounts!)
This year, I want to keep at it. Printed photos are so important in this digital age, I think, and these books are a great way to store memories. I started Will's book for his first birthday but never got it ordered. I need to finish that one, and I'd love to do a few others, too.
He loves to read the family books we made him, and I'm glad to have my pregnancy one, too.
Ok, so there's our list for 2017! We're off to a pretty good start with a few of these in progress already…so I'm hoping that's a good sign.
Now, let us know your goals for the year. Let's be a community of doers in 2017–join in and share!