~ This post contains affiliate links, which means we will receive a small commission if you make a purchase after clicking on our direct link. Don't worry, it doesn't cost you anything extra. And, we won't recommend anything we're not personally a fan of! Please reach out if you have any questions about sponsorship or ads on our blog. We're happy to help explain how this works, and as always, thank you for reading and supporting LovingHere! ~
---
How many of you are done with your holiday shopping? Um…we're not! Actually, we're getting a late start because I'm super slow to the black Friday deals. Oops. Today I'm sharing some fun gift ideas that you can buy from your couch–and this weekend is a great time to do that! So sip some wine, or coffee, and do some shopping!
I've tried to note deals and discounts, but please keep in mind those will end and this blog post will still be live and I won't be able to help you find a bargain once the sale is over, so shop fast to save the most money!
For the home…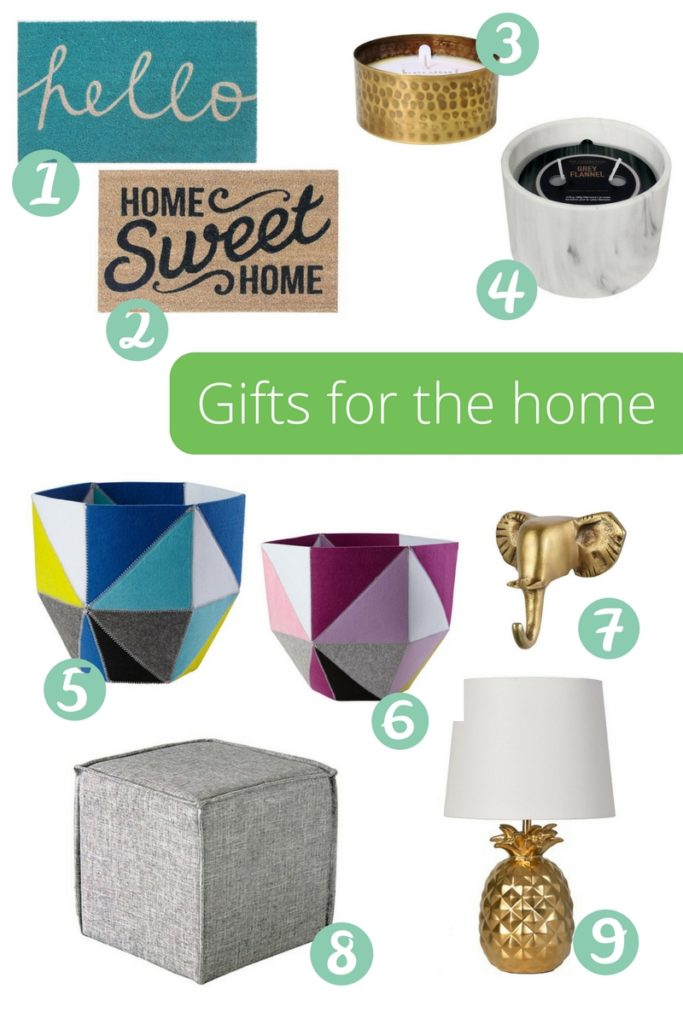 For her…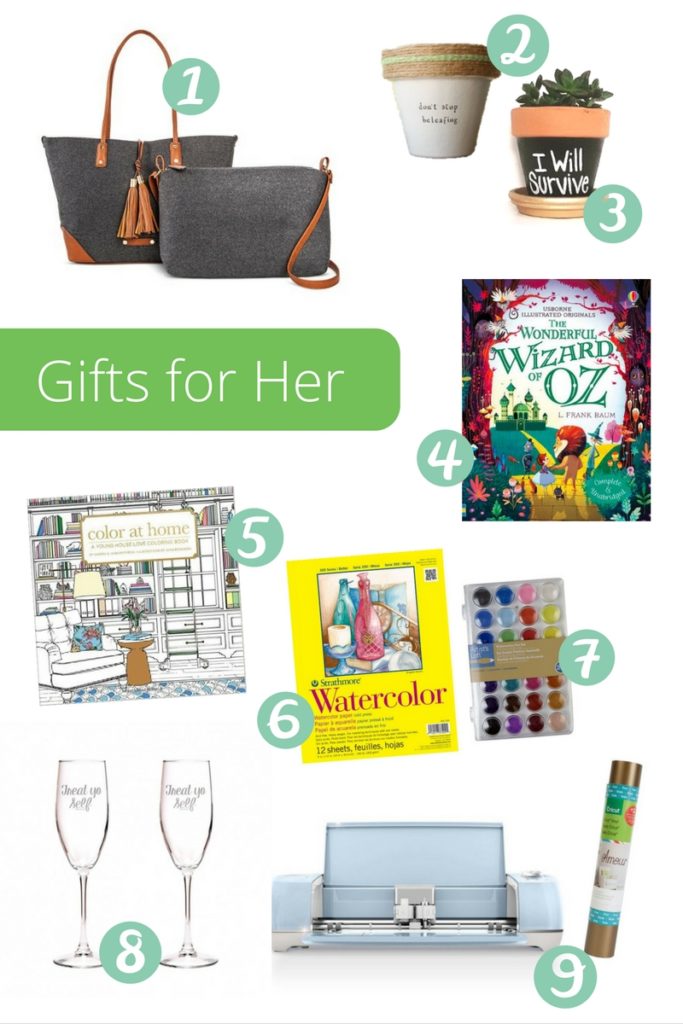 For the kids…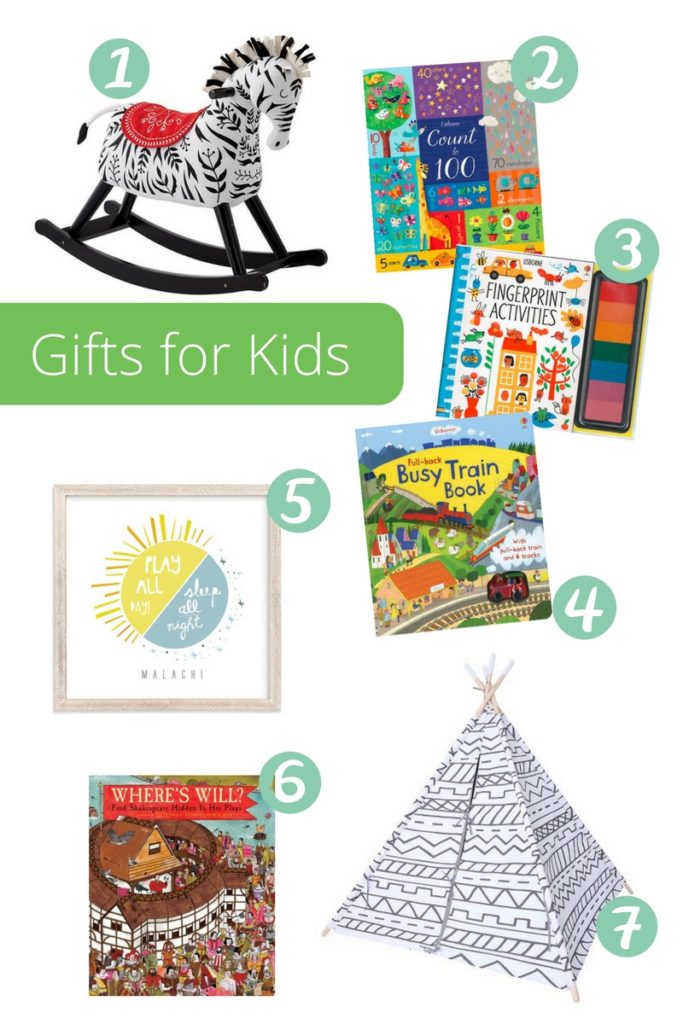 For little ones, I'm a big fan of toys that are fun to play with but that don't look so messy and cluttered. This Zebra Rocker is so fun and would be a super present for Santa to bring!
Babies also need books! This Count to 100 book is so great for little learners! The illustrations are so charming and it's great for hours of looking and snuggling on the couch.
Fingerprint Activities is another favorite for wintertime fun, and it works for younger kids with supervision, or older kids who need some quiet, creative time by themselves.
Kids will also love this Busy Train book—it includes a toy train and tracks built into each page for it ride along as you read. It's so fun!
Babies need stylish art, too! I think this super cute Play All Day, Sleep All Night Nursery Custom Art Print would be great for babies or toddlers, maybe it would even encourage more restful sleep? Ha!
I also love the Where's Will look and find book. Think Where's Waldo…but with William Skakespeare.
I've been looking at a teepee for Will, and they are so popular right now with kids and adults so I'm sure it would be a hit under the tree this year for anyone! This Pillowfort teepee is one of the cutest and most affordable options I've found. It's on sale this weekend—right now it's 50% off so order before the sale ends.
For him…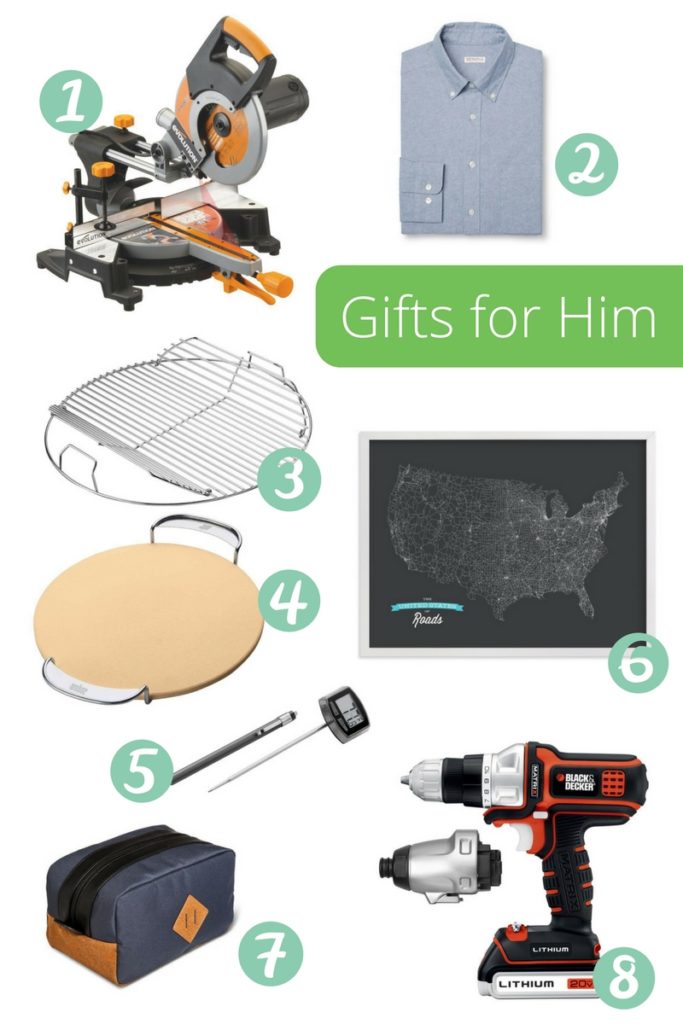 Wyatt has had a Compound Sliding Miter Saw on his list for awhile. This one is on sale this weekend for Black Friday, so it's a great buy if you're also looking for one of these for someone on your wish list!
Shirts are always appreciated, at least by the men in our family, who don't want to take the time to shop for their own clothes. This one is classic and great when you're not exactly sure what someone would like.
For the grill guy, Wyatt says a new grate is always a great idea. This Weber Plated-Steel Hinged Cooking Grate is actually on his list for the year.
There's no better time than winter to grab some new grill accessories, too, like this Pizza Stone Insert with Carry Rack is awesome for guys, or gals, who want to up their homemade pizza game. And even if it's cold outside, I bet it will still get some use this winter.
A digital thermometer is also great for the chefs in your family. It can be used inside or outside on the patio, and this Weber Instant-Read Thermometer is a great buy.
I know several guys who would like this United Roads Art Print. It's masculine, and maybe even educational, but not too man cave-ish, and it looks super classy in the frames offered through Minted.
A new men's travel case for toiletries or other items (chargers, valuables, etc.) is also a great stocking stuffer option. This one is affordable and stylish, plus it's 30% off through tonight so hurry before it's gone!
Another great tool buy is this 20-Volt Max Lithium-Ion Matrix Drill and Impact Combo Kit. It's nice because you get both tools in one, without needing two more tools to store since the head switches out. Safe saving and money saving is a good deal in our book.
Who else are you shopping for this year? Maybe you're a gift card giver? Or a homemade gift giver? We'll probably do some of that, too! But I'm sure I'll be crossing several items off our online list. We do have a toddler to drag around from store to store this year…and that means we deserve an extra present, right? Or just a glass of wine?
Happy shopping!
---
~ This post contains affiliate links, which means we will receive a small commission if you make a purchase after clicking on our direct link. Don't worry, it doesn't cost you anything extra. And, we won't recommend anything we're not personally a fan of! Please reach out if you have any questions about sponsorship or ads on our blog. We're happy to help explain how this works, and as always, thank you for reading and supporting LovingHere! ~