Happy Friday, everyone! And, even though this is a day late, happy May!
Is anyone else super excited to see some May flowers spring up after all these April showers? (Not that we won't still have rain in May…I'm just hoping we'll also have more sunshine….)
So, in honor of my excitement about hopefully having some warmer weather soon, and because I'm in the mood for gardening and other outside activities, I made a new spring wreath for the front door this week and I wanted to share it with you all because I think it turned out really cute!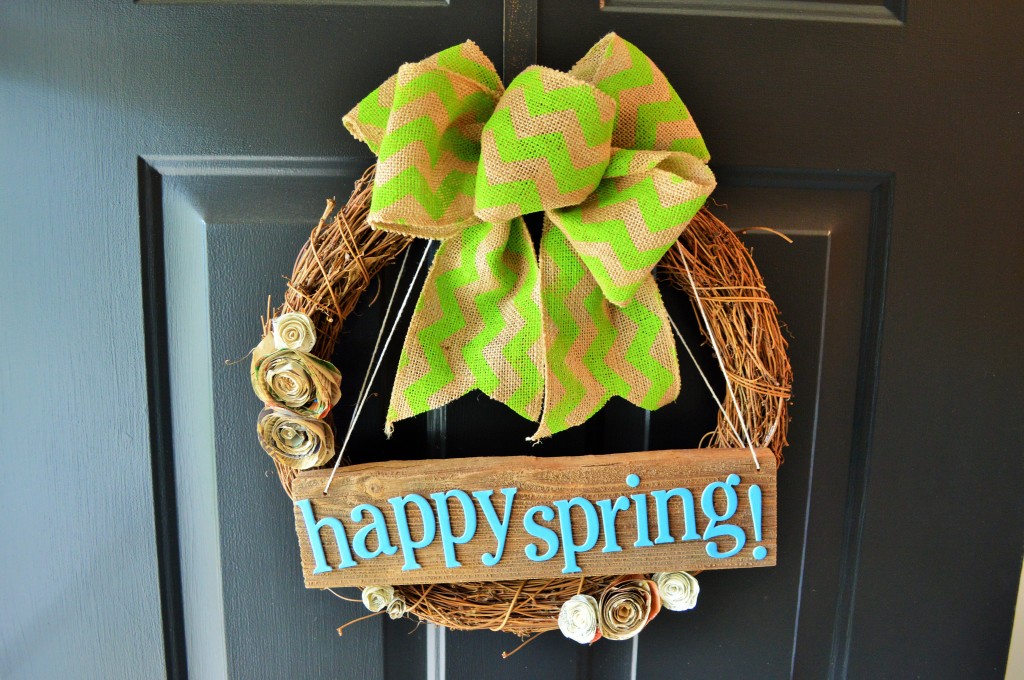 For starters, I removed the little green bow I had added to the simple grapevine wreath that had been hanging on our front door, since St. Patrick's Day…oops.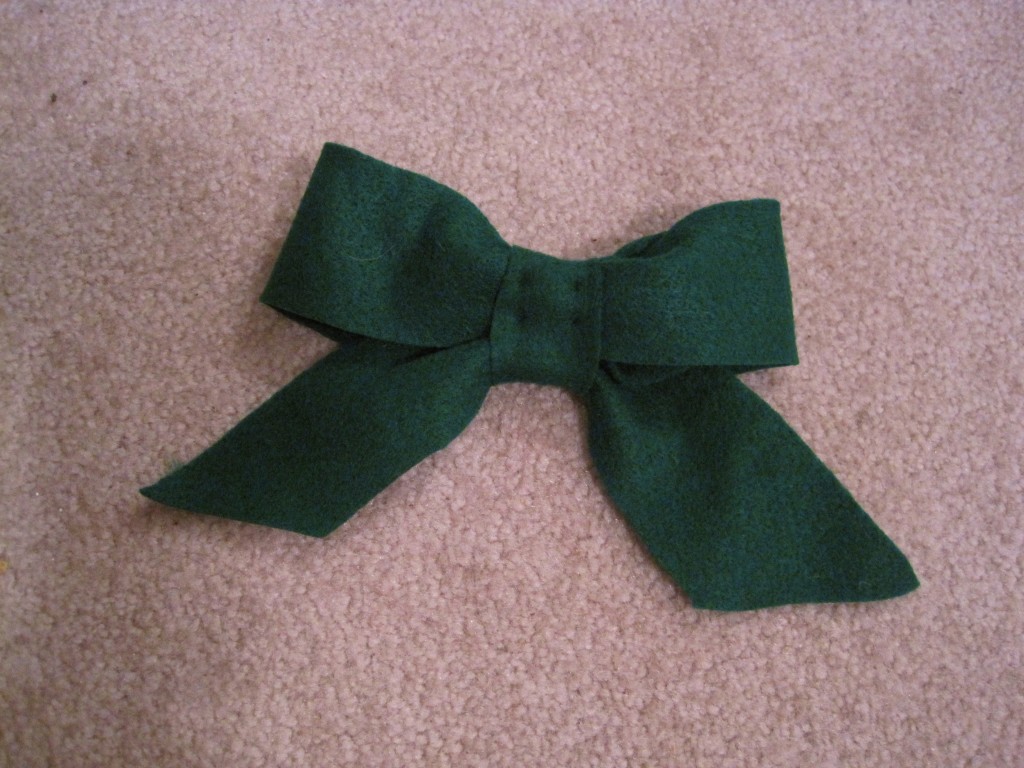 Then, I grabbed this roll of printed burlap ribbon I had snagged on Easter clearance at Wal-Mart last week. I decided the green was best for spring, but the blue is on tap for a summer upgrade to this little wreath. I liked all the patterns so much it was hard to choose which one to use.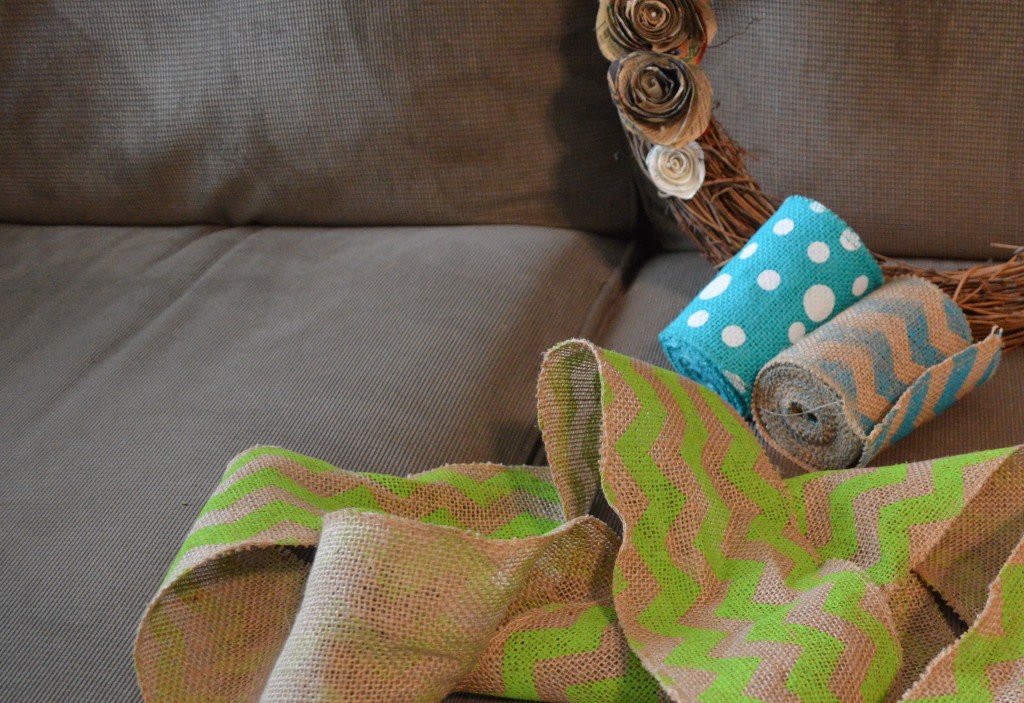 Making bows is definitely not the easiest thing in the world to do, but I thought I'd share my technique for anyone who struggles with it as much as I do. You can also try this technique if you want a video tutorial. But, most bow tutorials out there are for really, really big bows, and I wanted something a little more simple for this wreath.
Supplies are really simple…your ribbon and some pipe cleaners. (Or wire or string…whatever works for you.)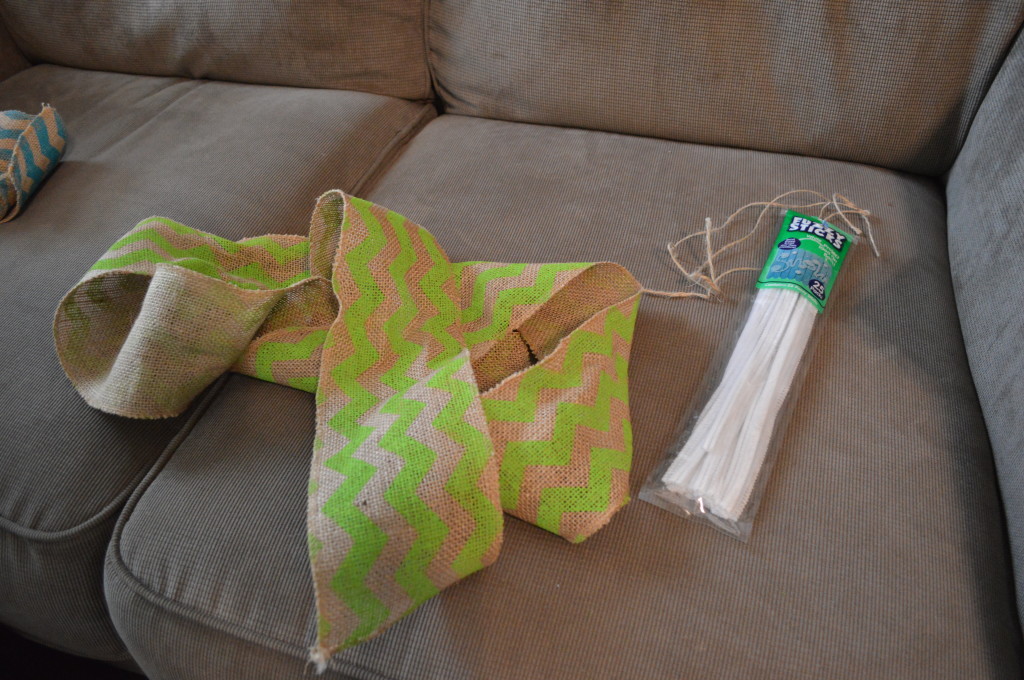 To start, I made a loop out of the ribbon, leaving about a foot at the bottom for the tail.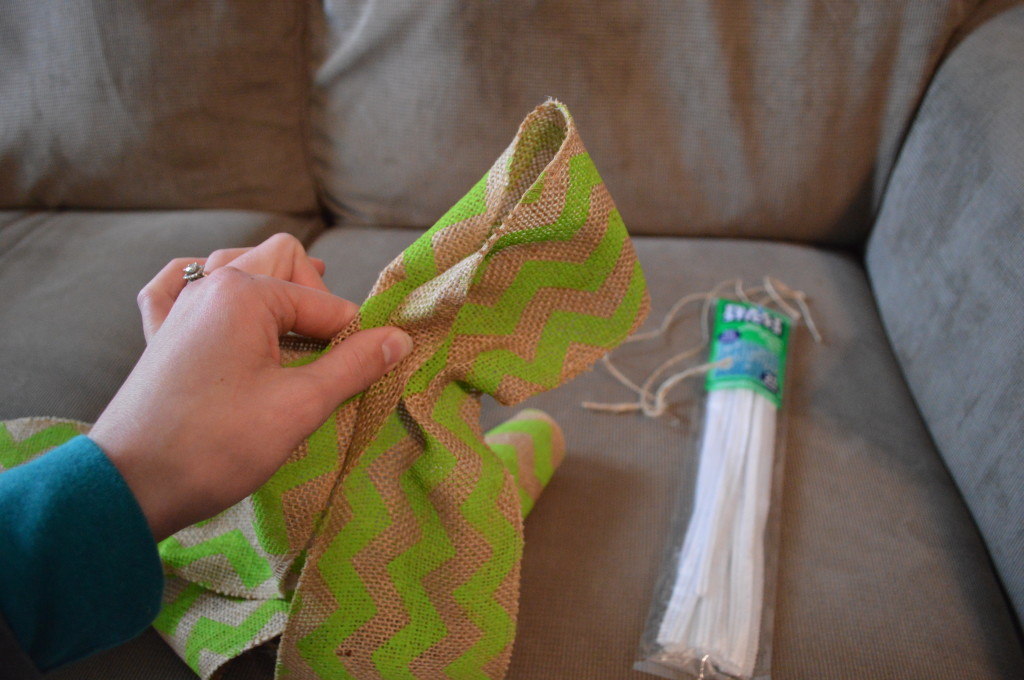 Then, I added another loop, making it about the same size and holding them tightly together with my fingers.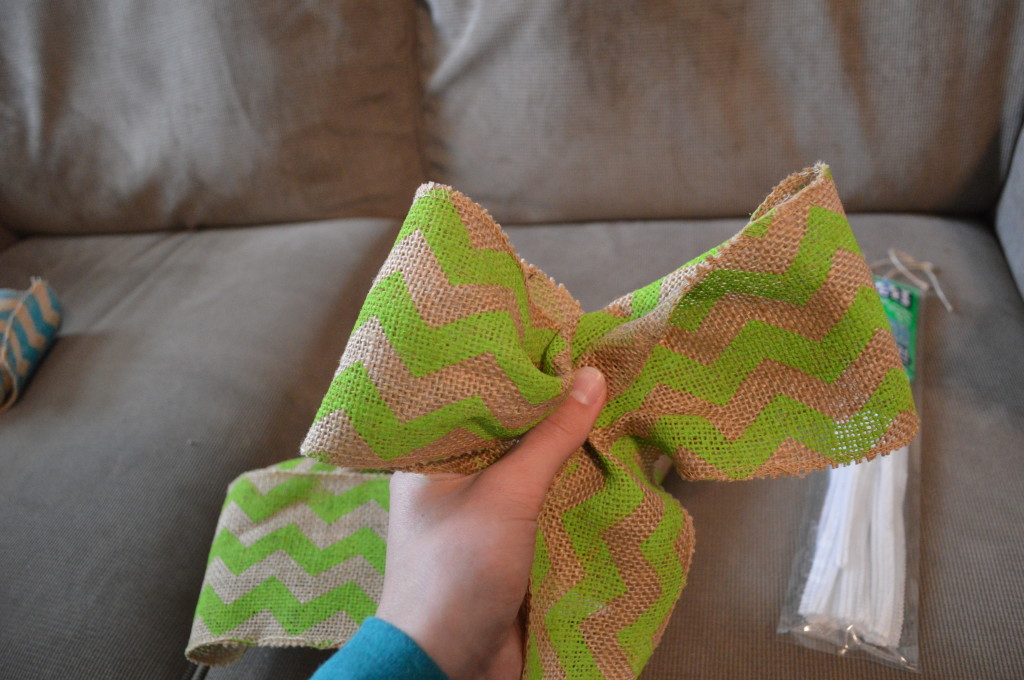 Now, I wanted an odd number of loops because I wanted one in the middle and two on each side for the front layer of my bow (you'll see why later), so I added another loop, giving me a clover-like shape, still holding everything tightly together.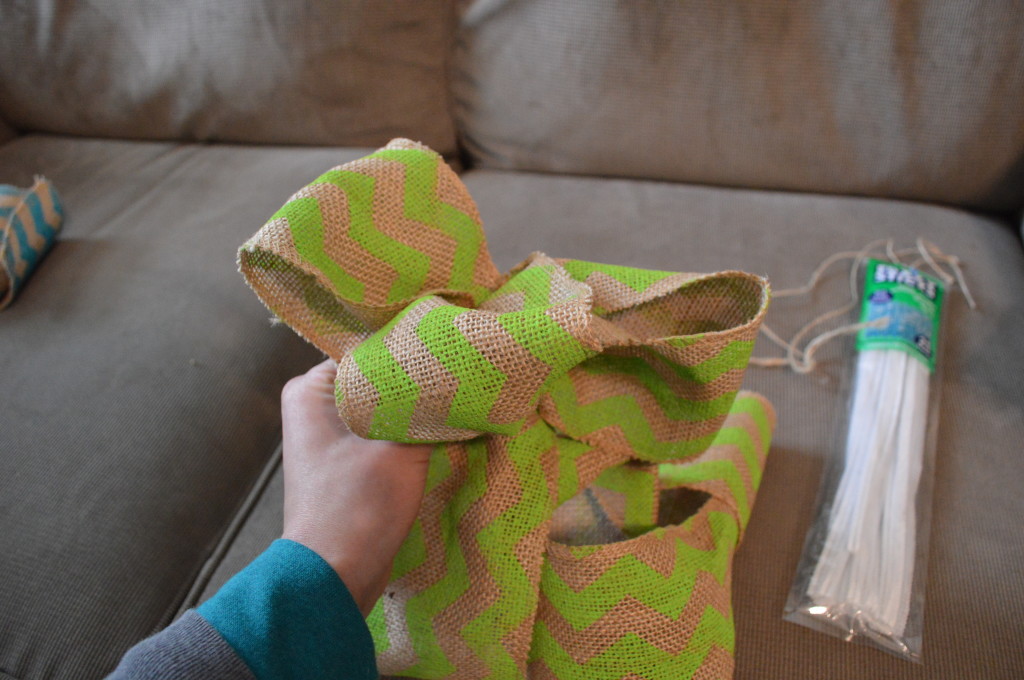 Then, I added two more loops on the back side of the bow, keeping them about the same size as the front loops. Again, keep holding everything together tightly. If you drop any of the loops, you'll probably have to start over. (That may or may not have happened a few times while I was doing this.)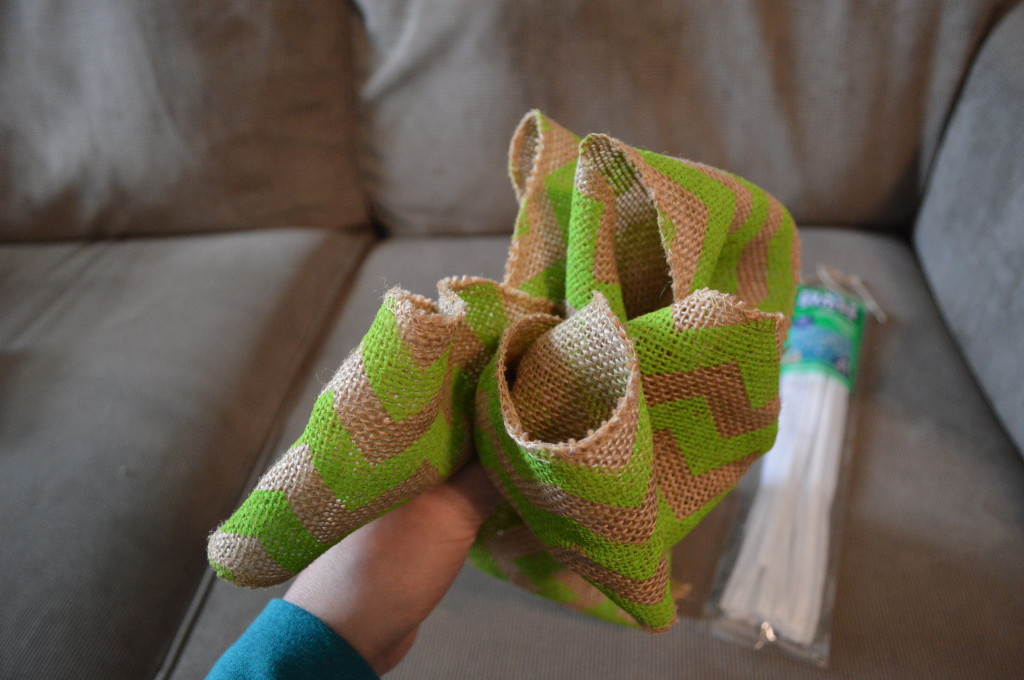 Don't worry if the loops aren't arranged perfectly, though. You can adjust later.
Then, I grabbed a couple pipe cleaners to use to twist and hold everything together. I started by placing one pipe cleaner through my front middle loop and twisting it tightly together around the back, grabbing as many of the other loops as possible. (It's okay if you don't get them all, just keep holding them tightly!)
(If you look closely, you'll see the pipe cleaner inside the front center loop, making it also inside the third loop on the top right. Keep your finger there to avoid dropping that third loop because nothing is holding it in place yet.)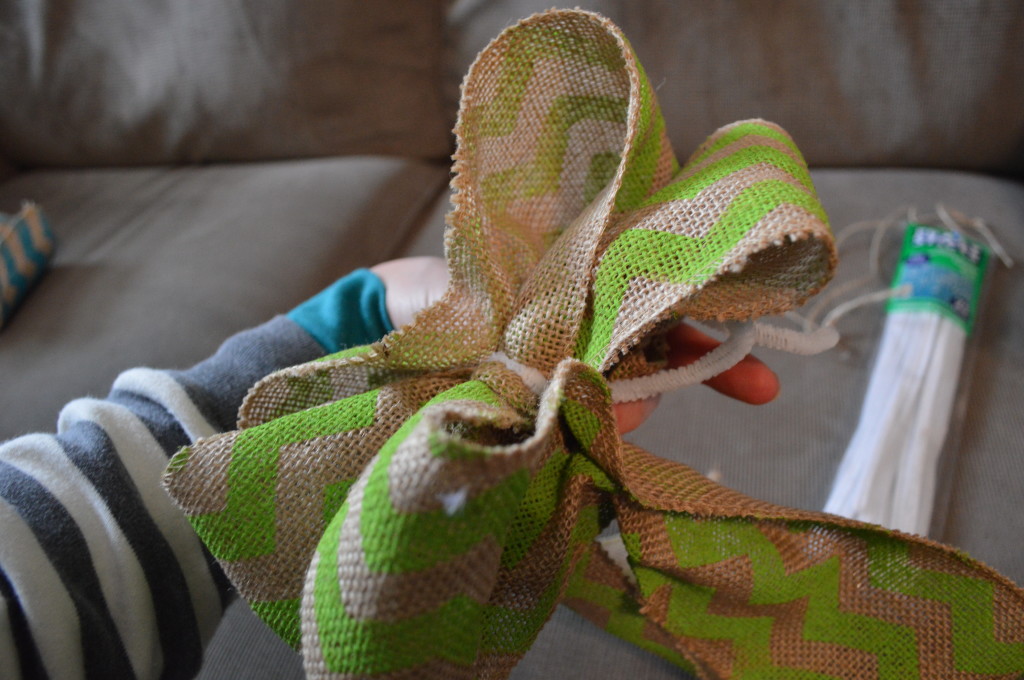 Then, once that was secured, I used another pipe cleaner to secure the remaining loops. You can see that this time I straddled the front center loop…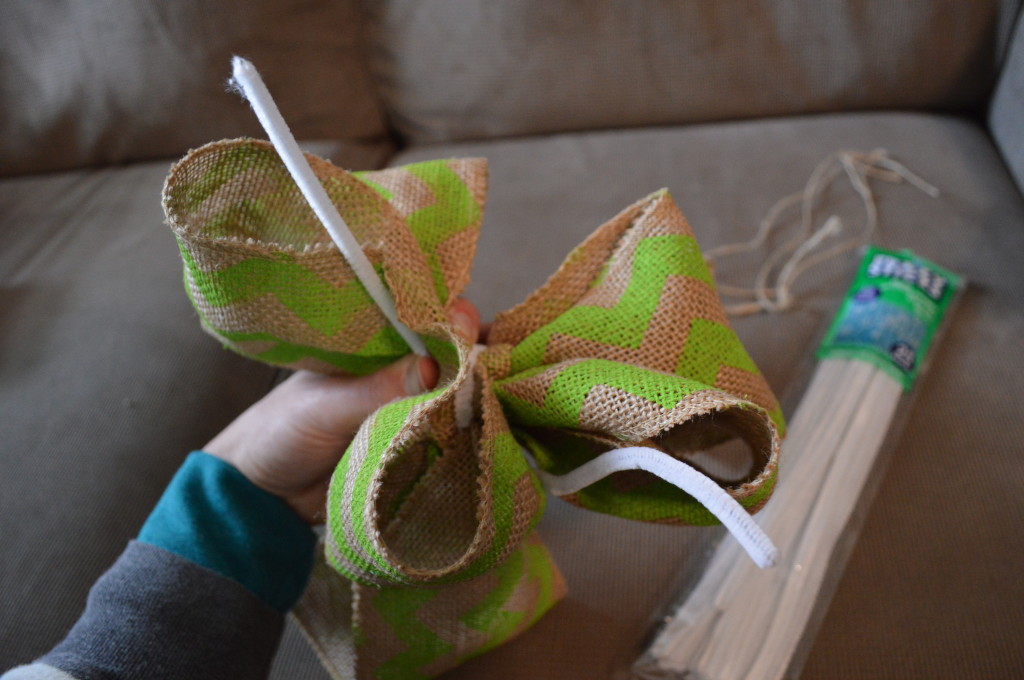 …before bringing the pipe cleaner to the middle in the back and then twisting it tightly together.
Then, twist both pipe cleaner ends together as tightly as you can.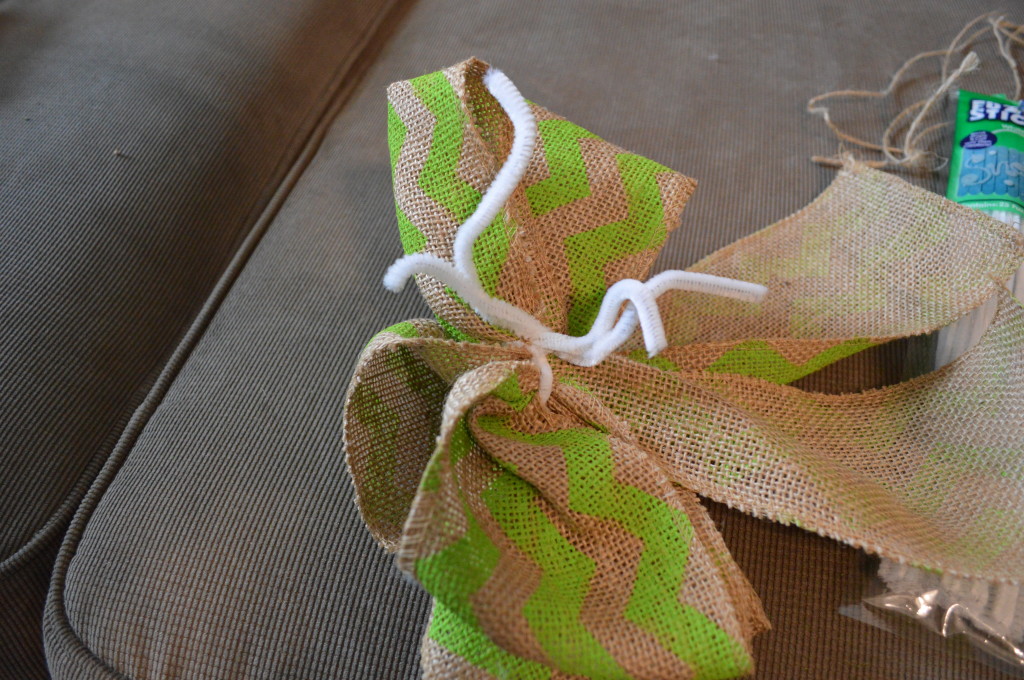 Flip your bow over and try not to freak out if it looks all wonky.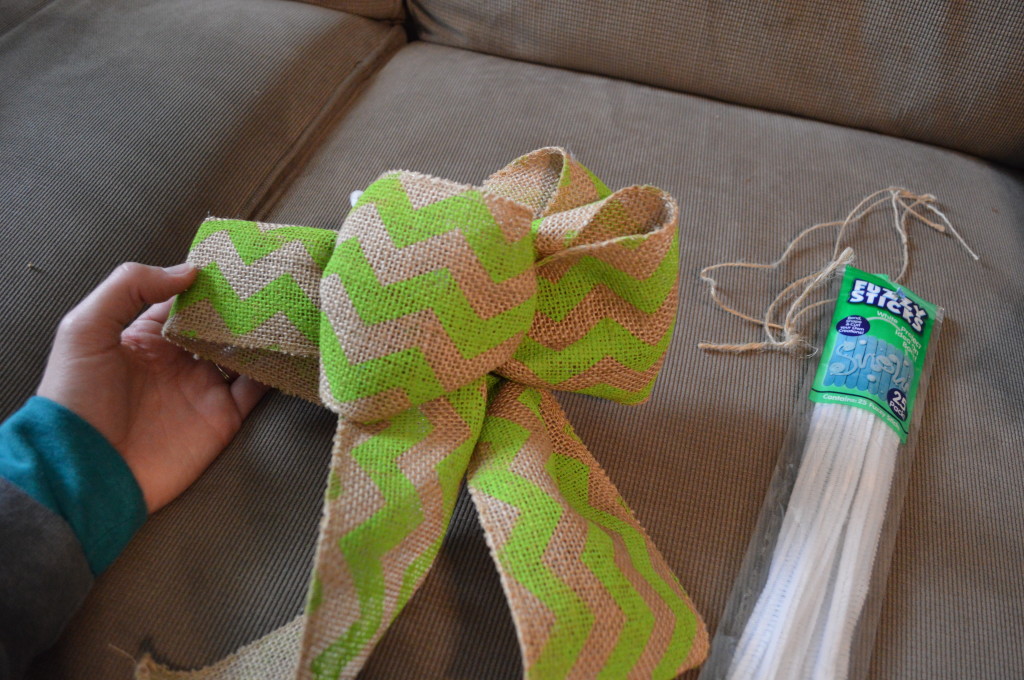 A few adjustments will leave it looking great…and if not, simply untwist your pipe cleaners and try again. This sounds like a complicated process written out like this, but it's really mostly trial and error. Don't fuss about it too much and you'll eventually get a bow that looks decent.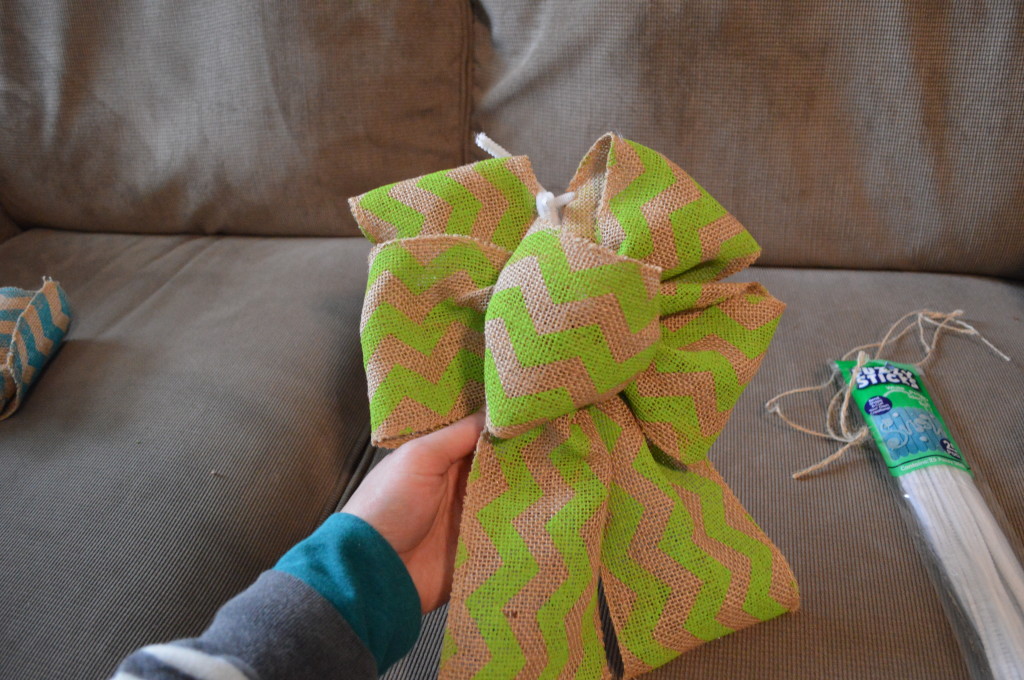 Then, I snipped the ends of my burlap to give it the traditional ribbon cut at the bottom because I just like it that way. This step is totally optional.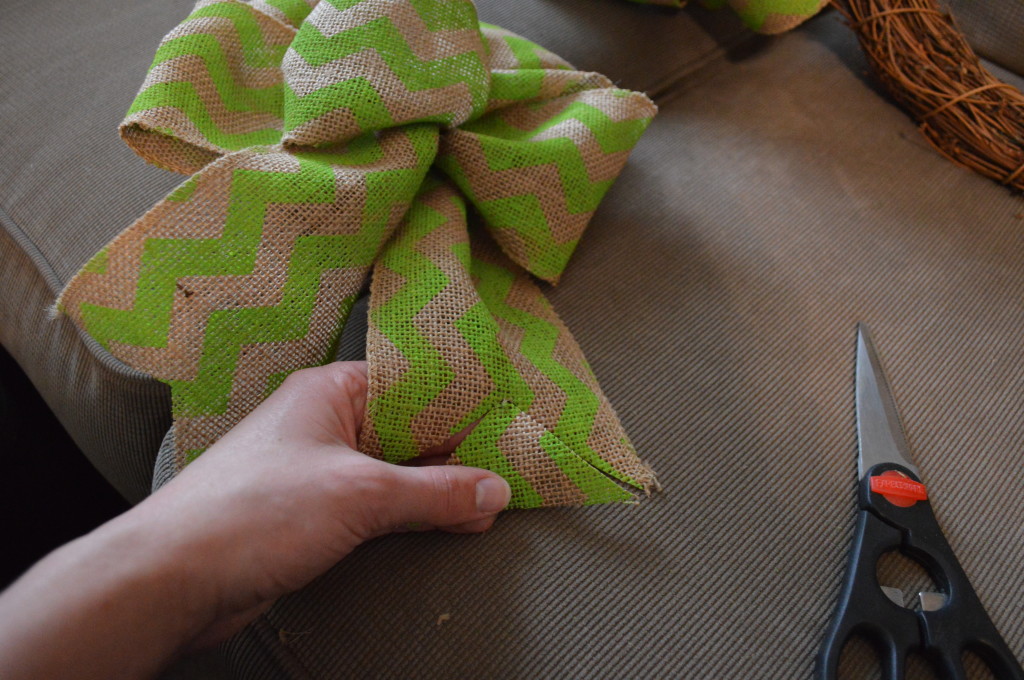 Now, it's time to attach the bow. Flip it over and make sure you have two distinct tails by pairing up the four ends and twisting them together.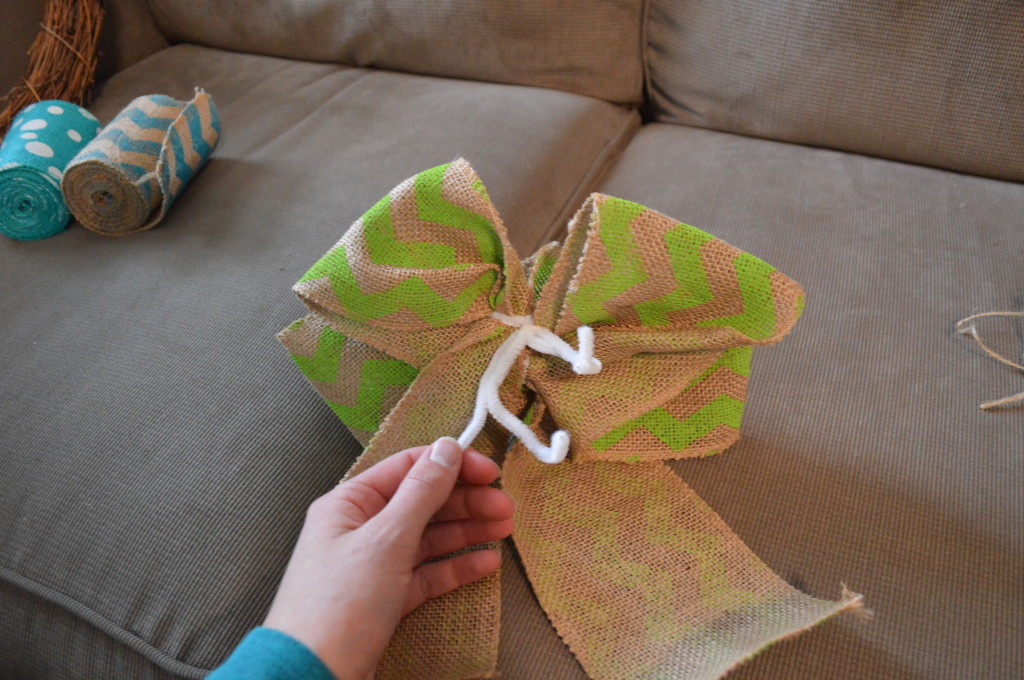 Then, slip one end through a piece of the grapevine wreath and twist it together tightly to hold it in place.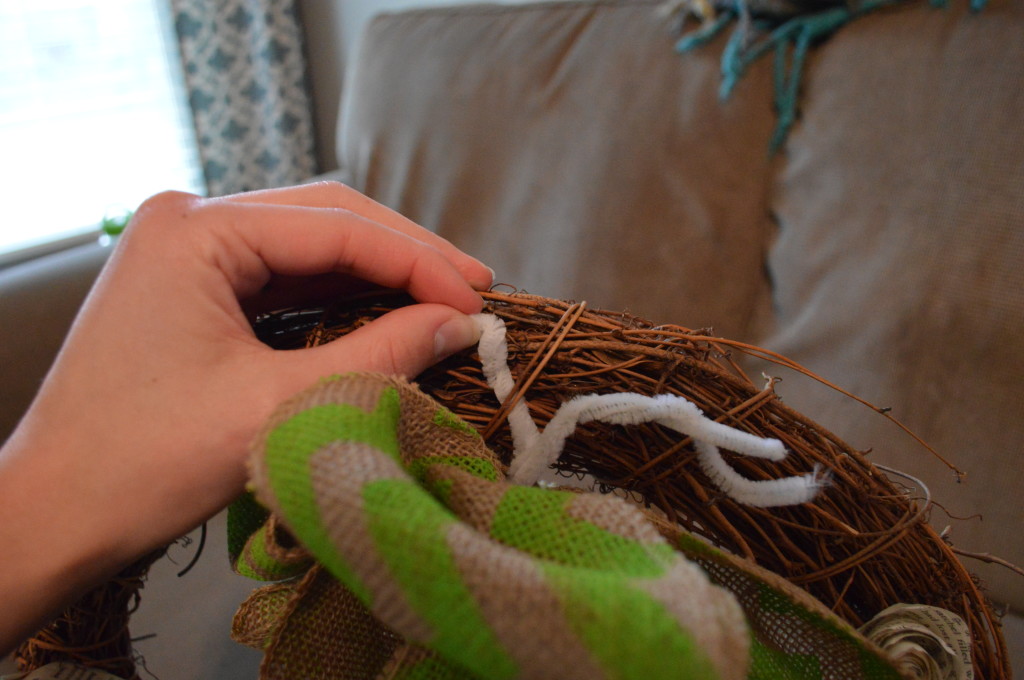 Ta-da! You now have a bow on your wreath!
Then, I got to work on the wooden sign, sorting out some old cardboard scrapbook letters to spell out a happy message.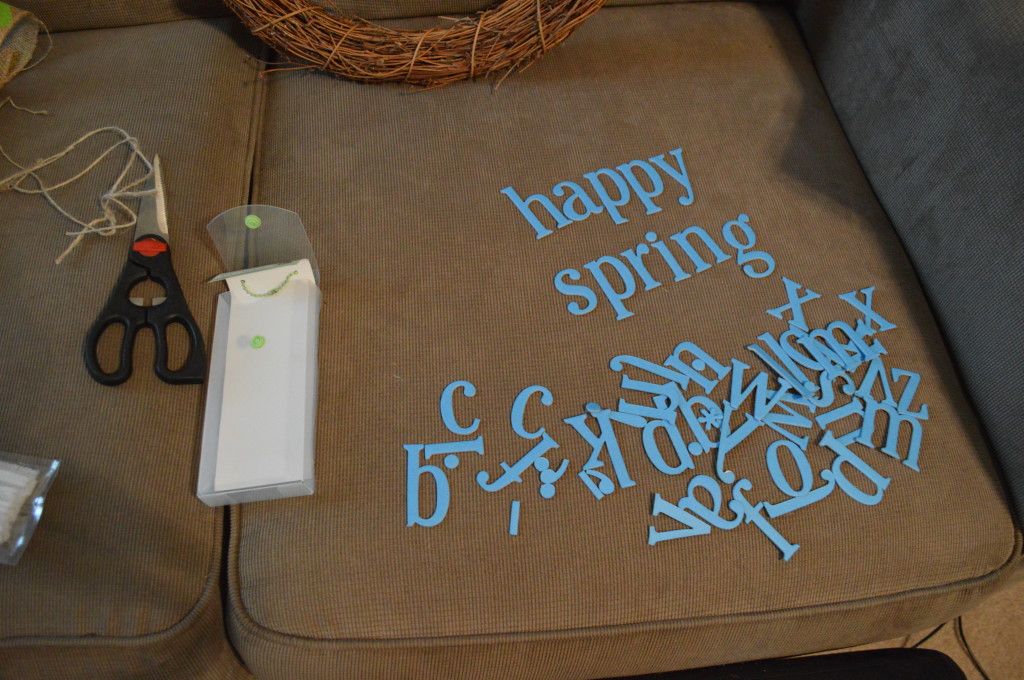 I used some craft glue to attach the letters to a piece of barnwood I found in Wyatt's scrap wood pile.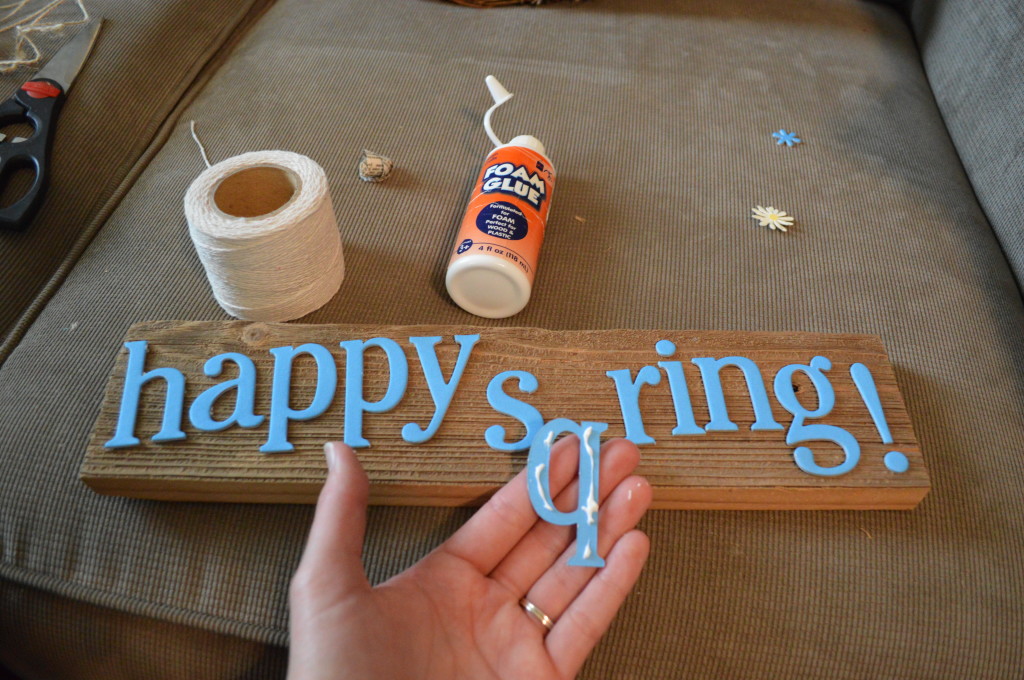 I wanted to hang my sign rather than glue it onto the wreath, so that I can reuse this wreath later for another season by removing the decorations.
So, I used a drill to drill two small holes in the wood. (Yup, girls can use power tools, too!)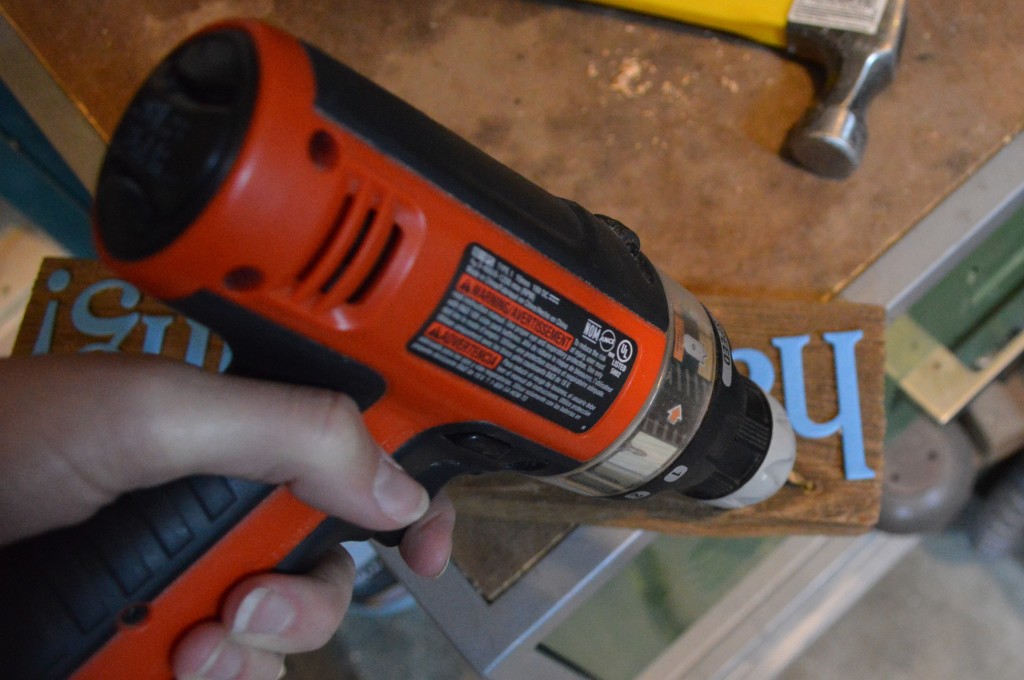 The holes should be small, but large enough to fit wire or twine into.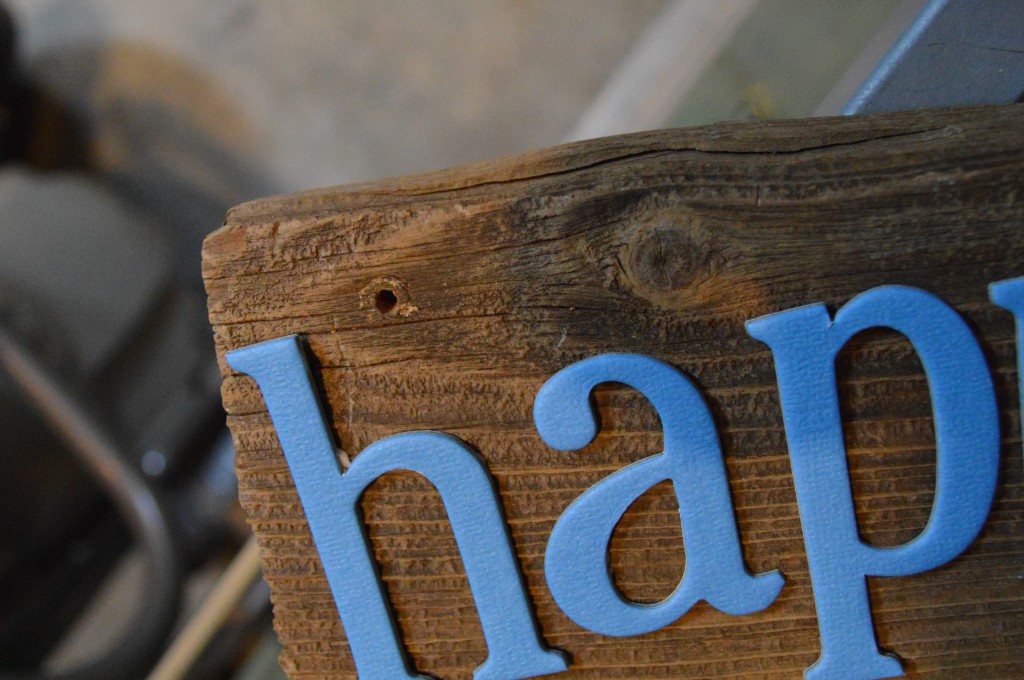 Then, I threaded some twine through the holes and cut it to size after arranging my sign on the wreath.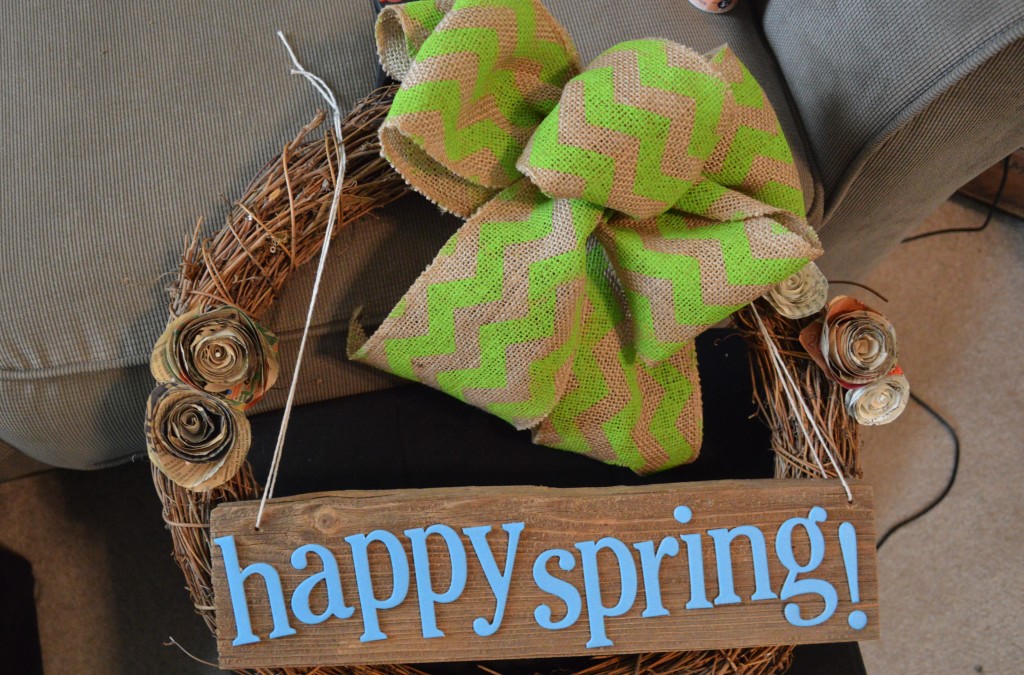 I straddled the wreath with the ends of the twine on each side of the bow…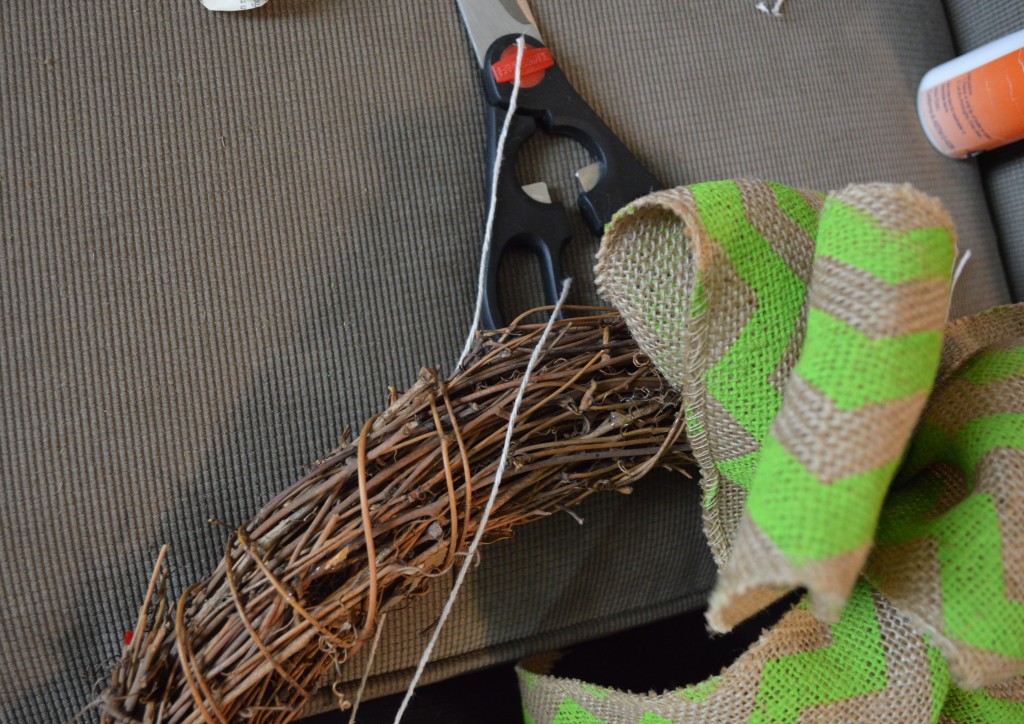 Then, I tied it together into a knot at the top of the wreath, hidden behind the bow.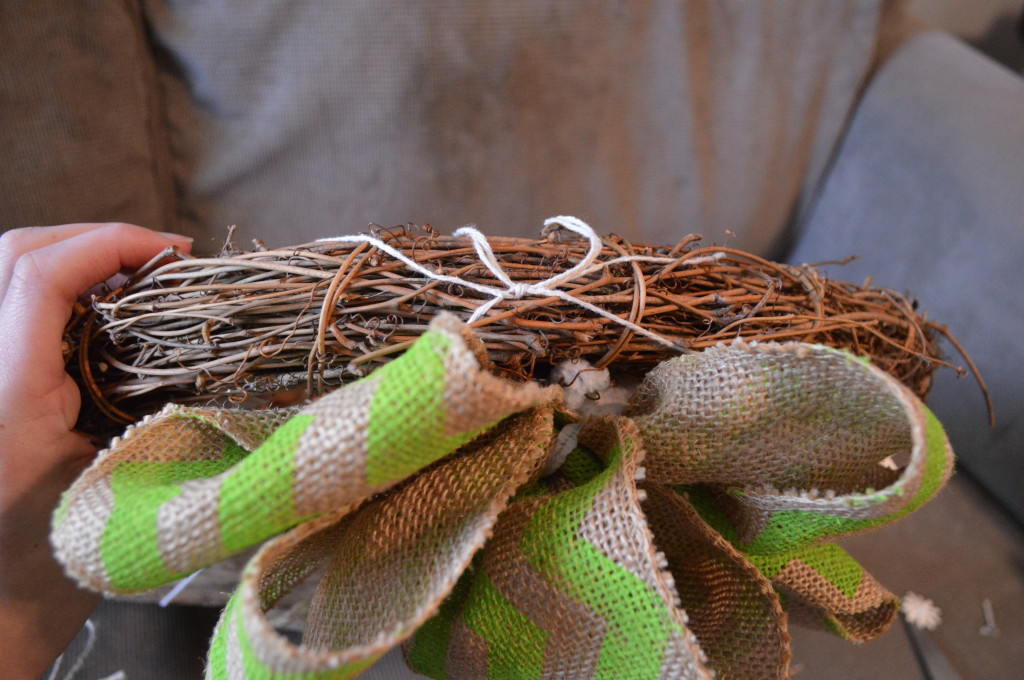 And just like that, I had a hanging sign on my wreath. Easy-peasy, right?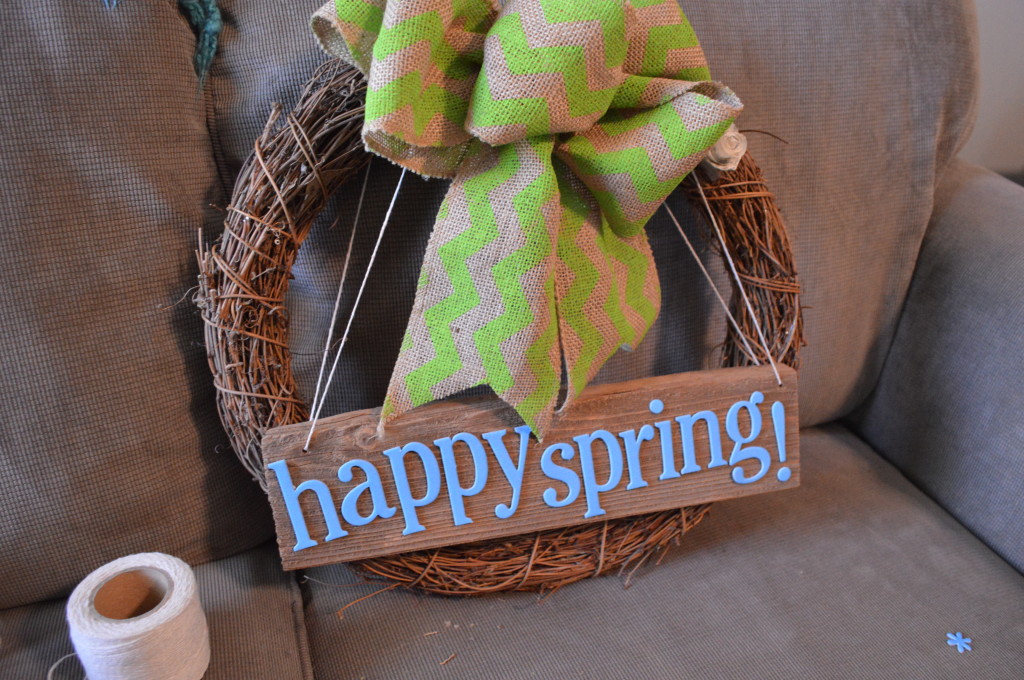 Finally, I used some tape and push pins to attach some paper flowers I already had on hand. You could also use silk flowers, or anything else you like to decorate the rest of the wreath.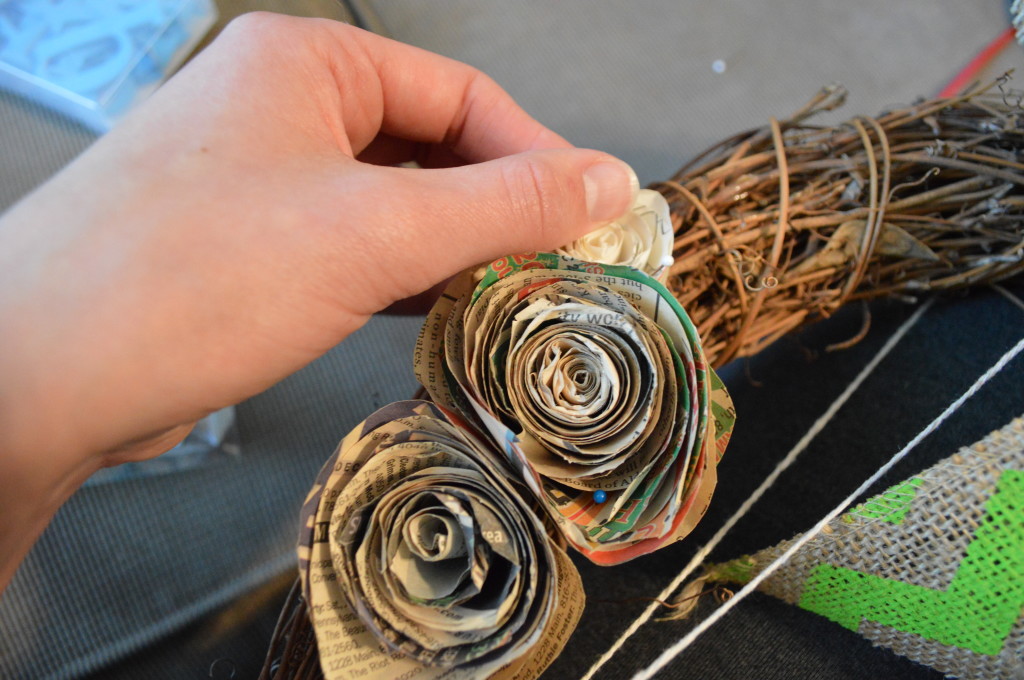 I think it's super bright and cheerful hanging at the front door.
Plus, it matched the ADORABLE rug that was given to us by a sweet friend at church. (Thank you, thank you! You shouldn't have…but I am so smitten with it so I'm a little selfishly glad you did!)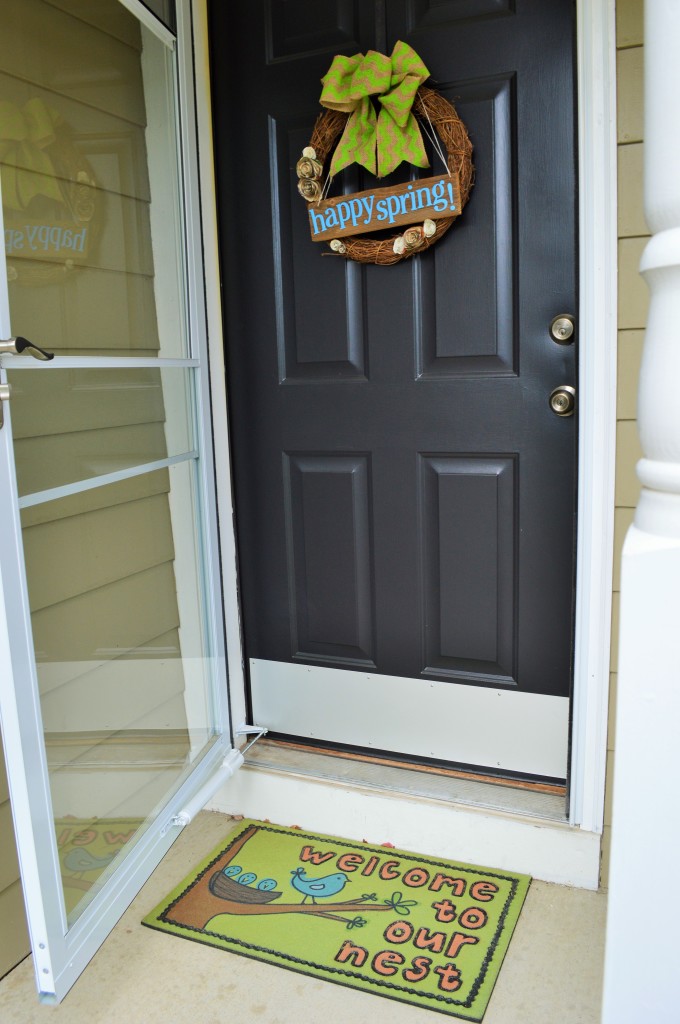 Yay for springy green pops of color at the front of the house to set the tone for a happy home!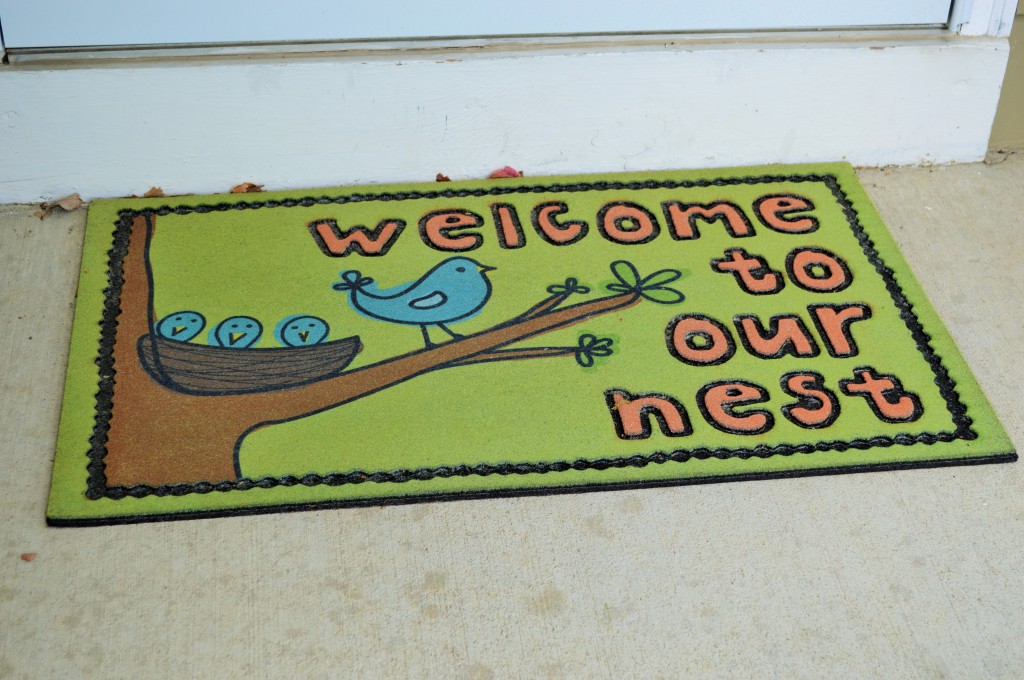 Oh, and you'll see I used the front center loop on my bow to hide the wreath hanger. I just slip that loop right over the metal and it's perfectly hidden.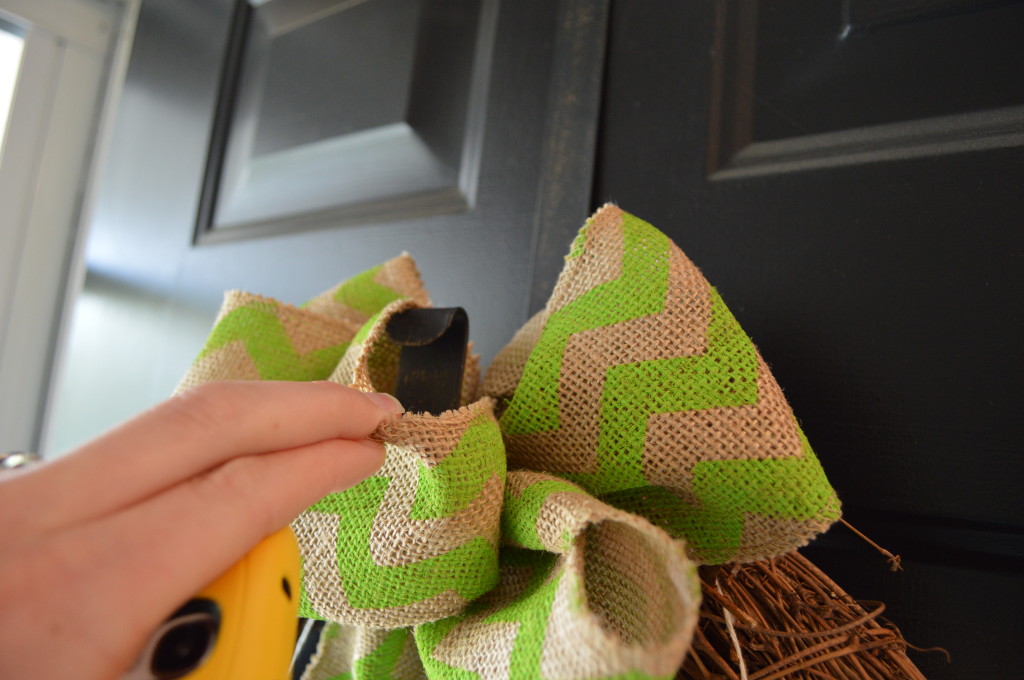 Plus, I just like the way it looks to have a loop in the center…more like a traditional single/flat bow (like a Minnie Mouse bow) than one of those big round bows you see on wreaths sometimes (like church pew wedding bows).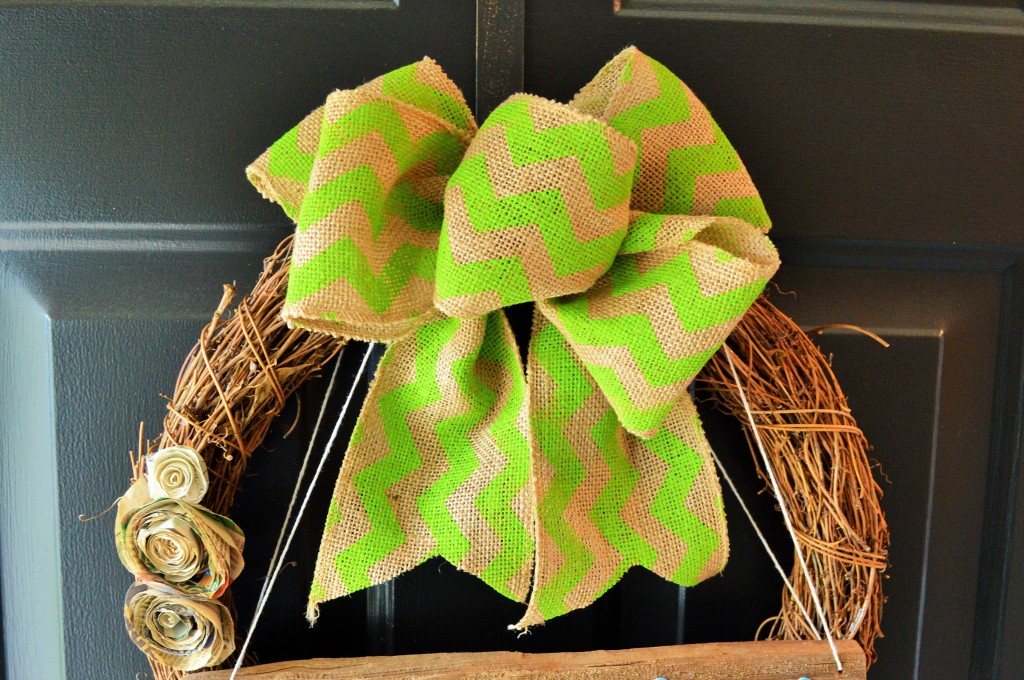 All in all, a super easy and fun spring project to add a little cheer to the front of the house. And with such a messy, disaster of a kitchen and living room right now, I can use all the fun little easy updates I can get…especially when they're mostly free!
Of course, if you didn't have all the supplies on hand, this might cost you around 20 bucks for the wreath, ribbon, letters, twine, pipe cleaners, and wood, but that's still pretty cheap…and it's likely you might have at least a few of these items around the house. (You could also use cardboard or something else for your little sign…I just liked the natural wood look.)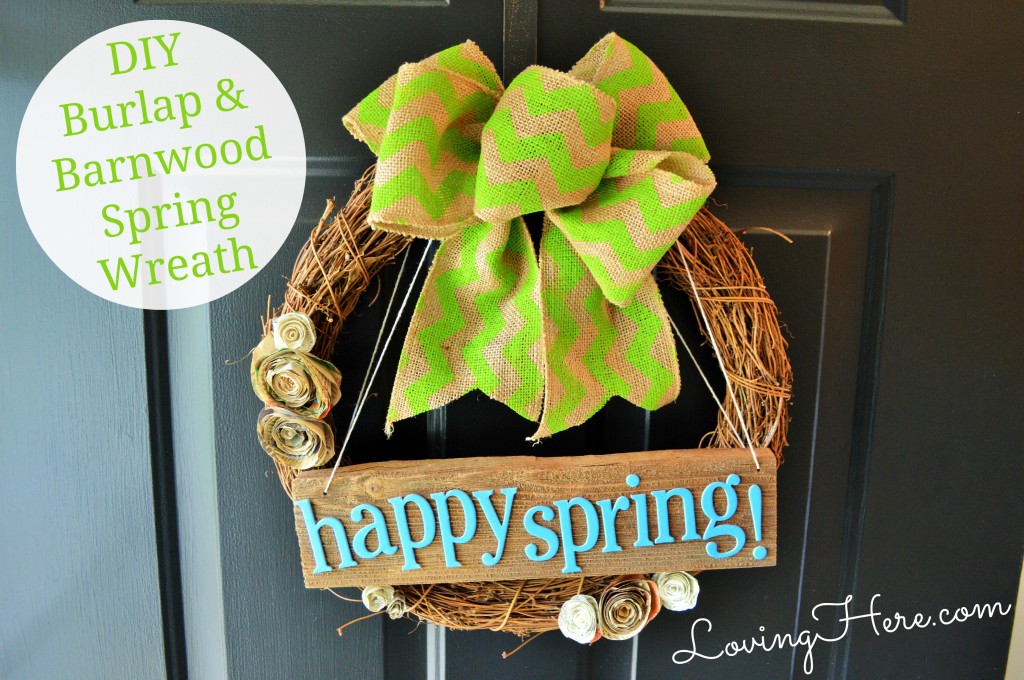 Fun, right?
So, I'd love to see any easy spring updates you've done around your house? How are you celebrating May? Or celebrating Friday? Any big plans for the weekend ahead? I'd love to hear about it!