Giveaway Closed. Winner will be notified.
It's the second to last day for our blogiversary giveaway week and today is especially in honor of Wyatt's birthday today—some books he picked out as being awesome enough to share with you all!
But first, some stats…
Search terms are always an interesting statistic in my mind and the top three search terms that bring people to our blog are "ruler growth chart," DIY growth chart ruler," and DIY ruler growth chart." In fact, 15 of the top 20 go to that post. Ha! Pretty exciting stuff. The next most popular one is for my DIY foam roller, though, so that's fun. We also get a lot of people searching for our mason jar toothbrush holder and burlap pillows.
However, some of the weirdest ones include the following. (I've linked where they likely ended up with those search terms when I could.)
rustoleum spray paint colors
little cuties
oven food tray dehydrators
diy pickles
can i use a pool noodle as a foam roller
living with a pouting husband
missouri state fair beef house
my seedlings are wilting
That last one gets me. Would you believe 3(!!) people found us that way!?
We have a signed copy of Nick Offerman's new book (signed!) and an awesomely silly and practical(?) sharknado advice book.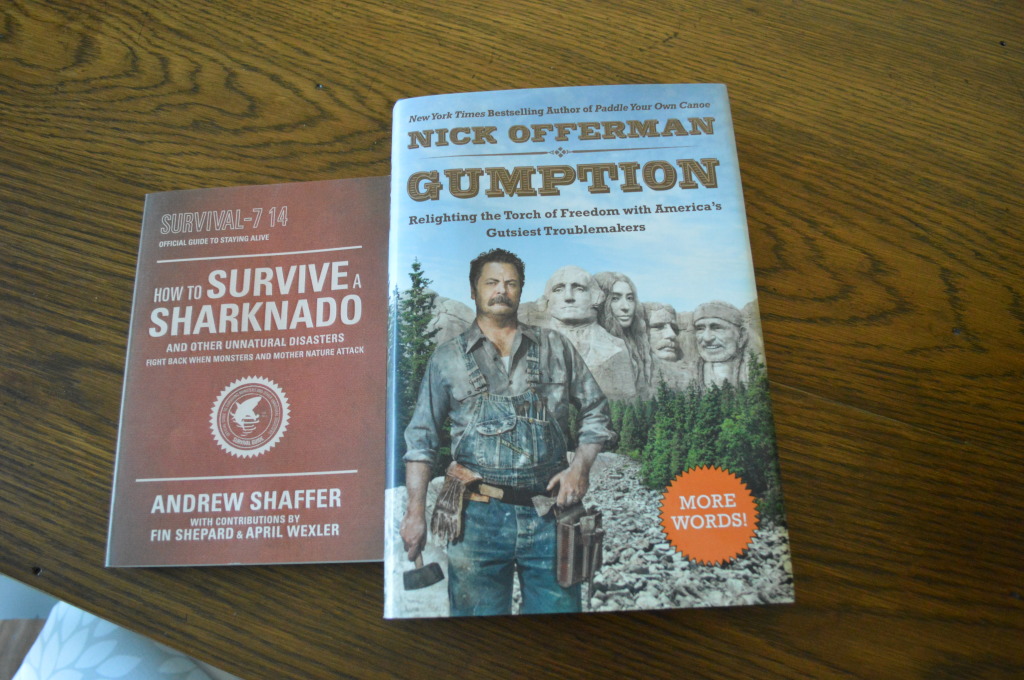 To enter, leave a comment below telling me you'd like to win. For an extra entry, share this post on Facebook, Twitter, or Instagram and come back to leave a comment telling me you did that (put the link to your post in the comment so I can find it to double check).
DEADLINE to enter is Sunday, December 6, at midnight, central time.
Winner will be chosen at random and notified by email. If no response within 48 hours, prize will be forfeited and a new winner will be chosen. Prize will be shipped to an address you provide.
Good luck! And tell me what your favorite search term is!—Or maybe how you found us!