A couple of weeks ago, Wyatt and I were debating whether to even fool with the garden this year. We're both trying to keep an open mind about how much adjusting we'll need when Beanie gets here. On one hand, I want to make room for us to spend time recovering, resting, and relaxing this summer. On the other hand, I don't want to become hermits who never leave the house or step outside for sunshine. I think we need to land somewhere in the middle. So, we decided to go ahead and go for the garden.
After all, if we weed less and forget to water a few days, I figure it's still better than no garden at all.
So, that means, we had to spend some time getting it all set up and ready to go this spring. We're a little later than we might have wanted to be, but we're still ready to go before June, so that's not too bad I think. And it's consistent with how early we got things planted the last two years…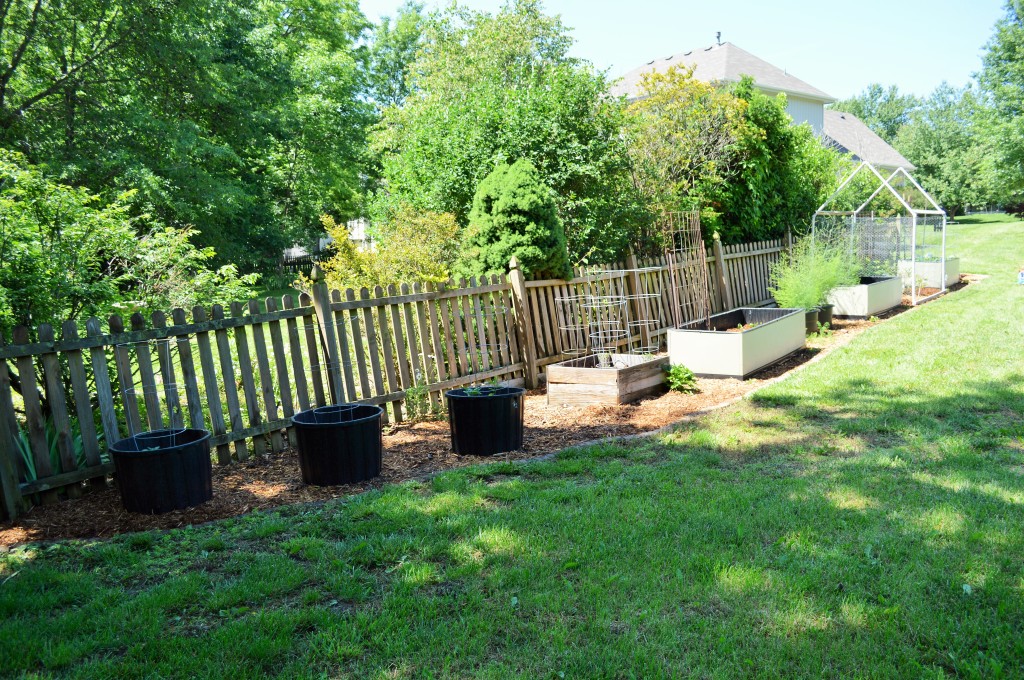 We moved some things around this year in the spirit of rotating our crops to keep the soil a little fresher and to maybe help with some pests. It's mostly trial and error, though. We put the peppers in the tubs at the end. I hope they get enough sun down there…it's less than they get at the front…so I'm not sure…we'll see, though.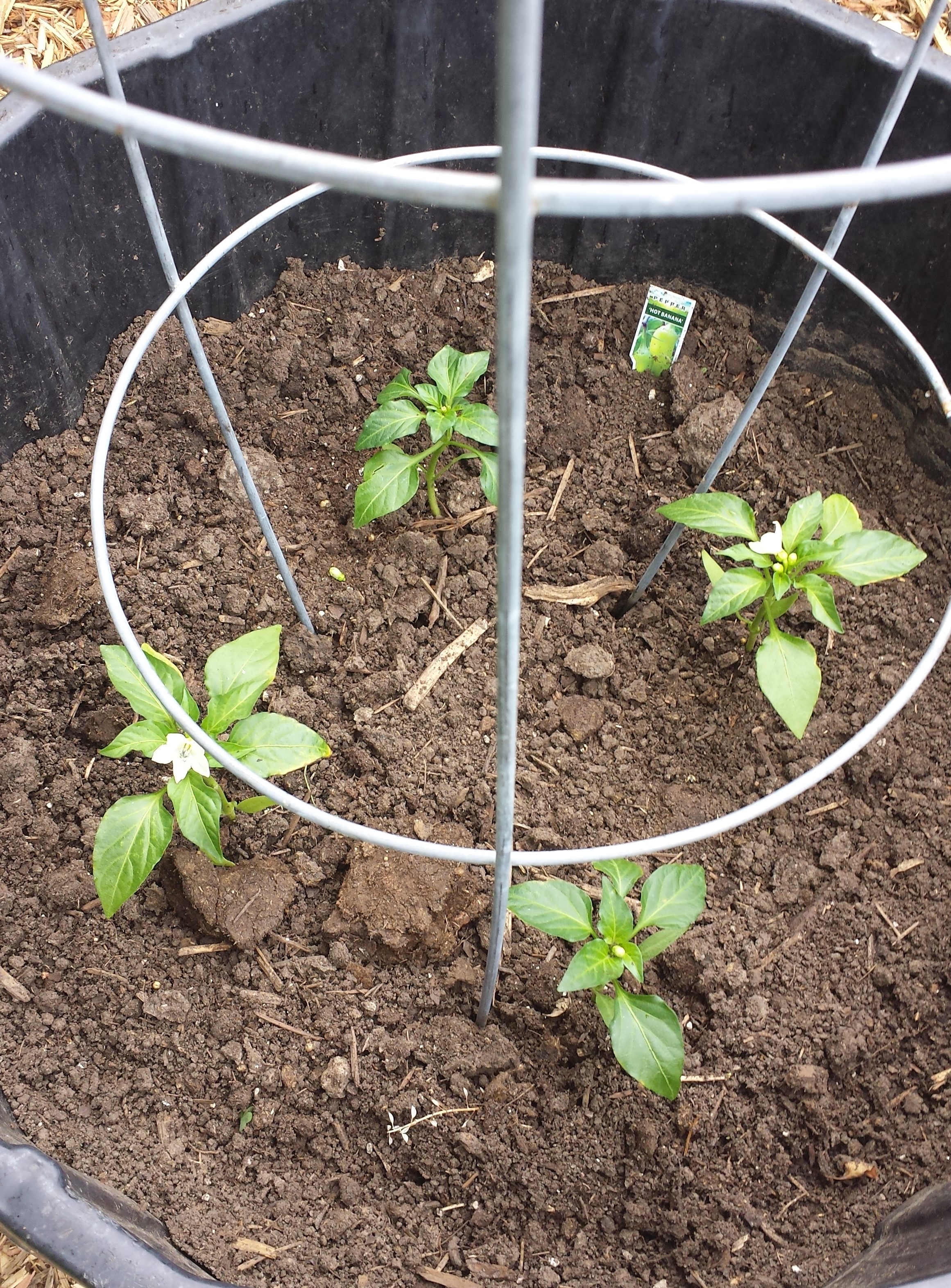 I used the two square beds for tomatoes. I planted 13 tomato plants this year…so I'm bound and determined we'll have more than we did last year, which was a pitiful tomato year. I think I got a couple handfuls of cherries and maybe 5 larger tomatoes. Pitiful.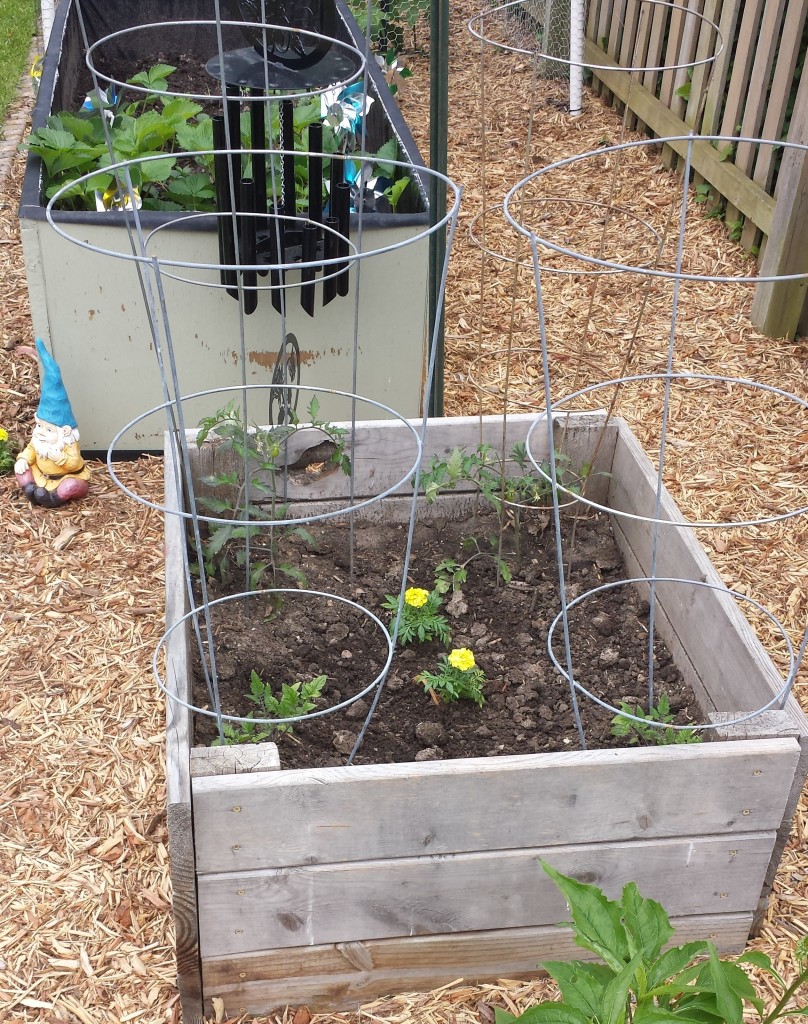 I didn't have enough room in the garden for all the tomatoes so I put some in our big patio pots on the deck.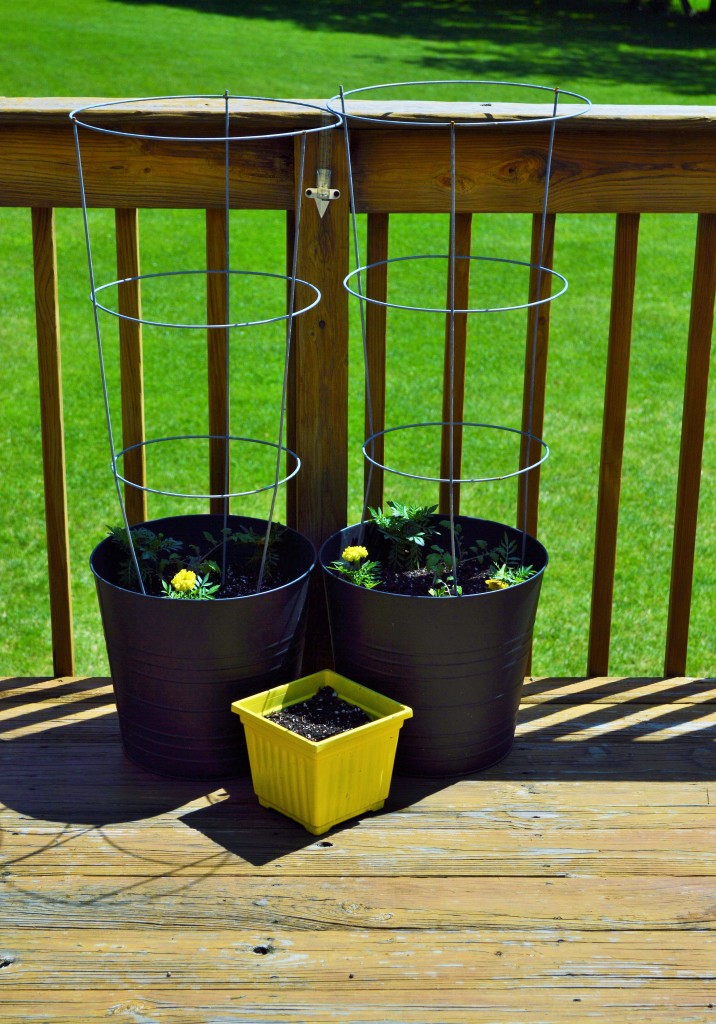 I'm not sure how that will go, but it should work, right? It's the same concept as planting them in a pot or a raised bed in our garden. In face, they probably get even more sun up here.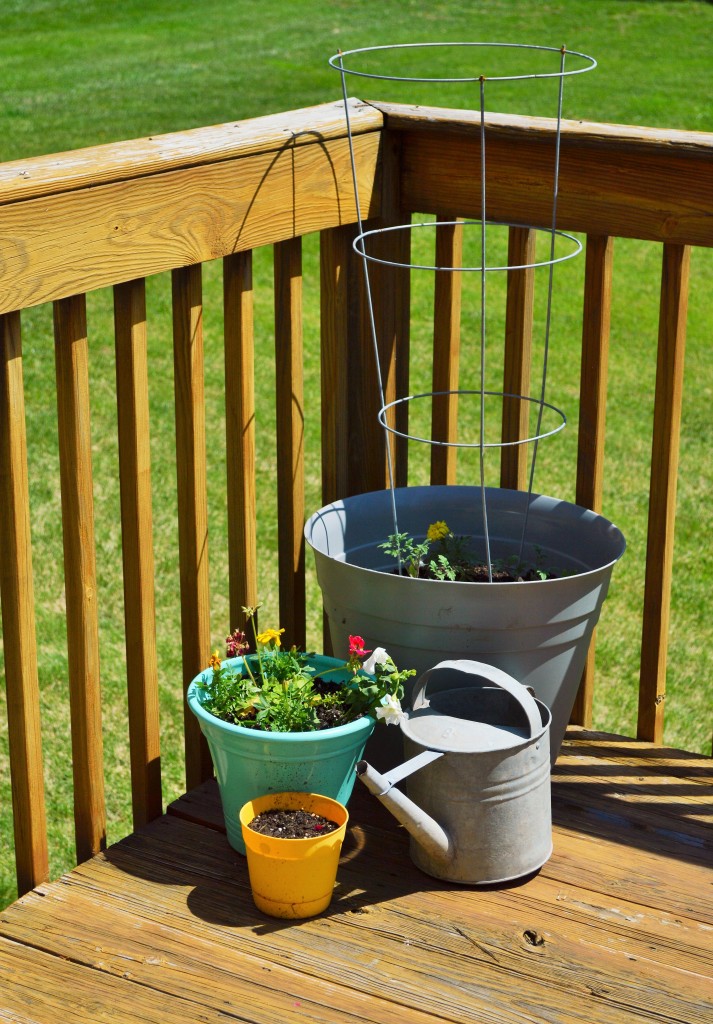 Plus, it makes the deck a little more "festive" with the colorful pots and little marigolds sticking out of each one.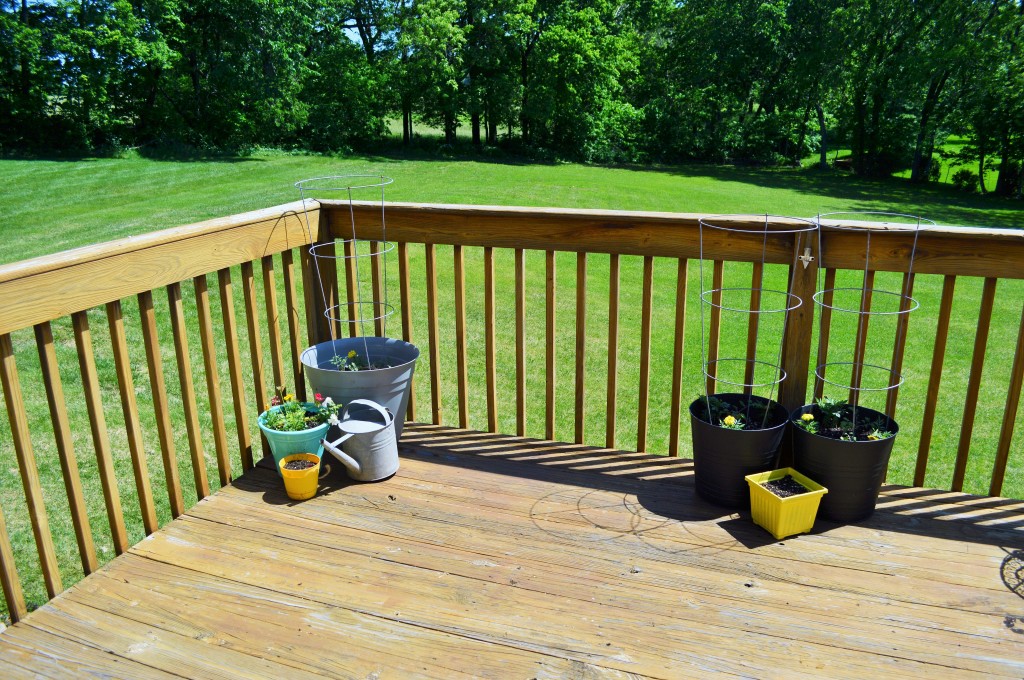 There are also some herbs (cilantro and dill) planted in the smaller yellow patio pots so they'll be handy for me in the kitchen. I use both of those a lot in the summer.
I can't forget about the okra. We ended up trying three little starts. I'm hoping they grow into beautiful tall, blooming plants along the fence. Right now, they're being kept company by a rogue daisy that made its way into our yard from the neighbor's flower bed. I like daisies, so he gets to stay.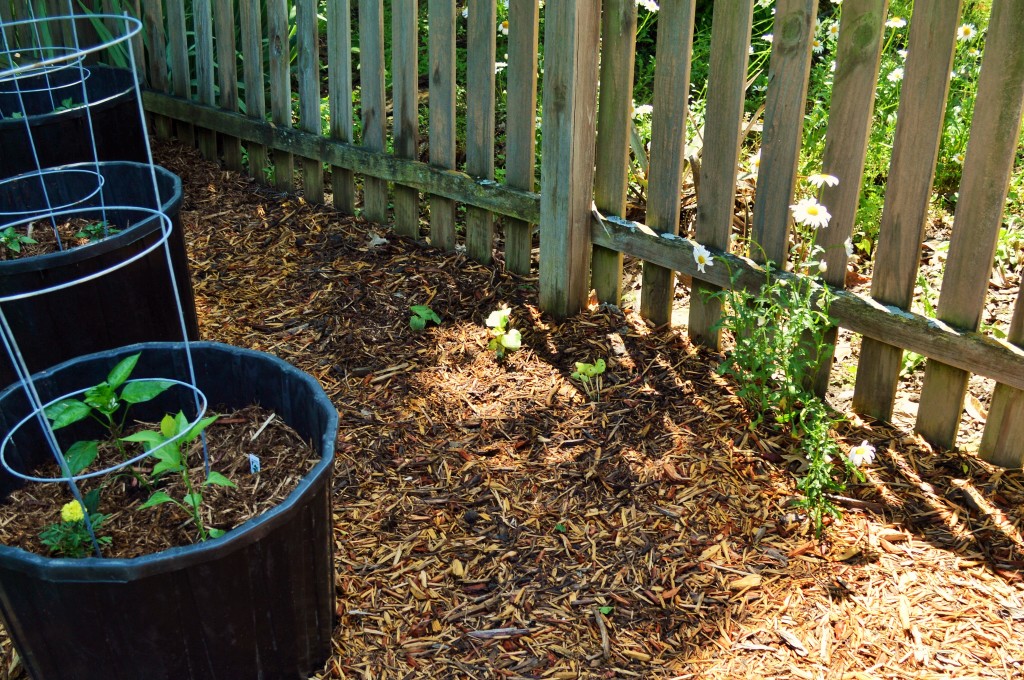 My cone flowers are also doing great, especially considering I just transplanted them as sprouts from the ones in our front flower bed at the end of last summer. They are there pretty much just to attract bees and other pollinators, but I figure they also look pretty when they bloom, so it's a bonus.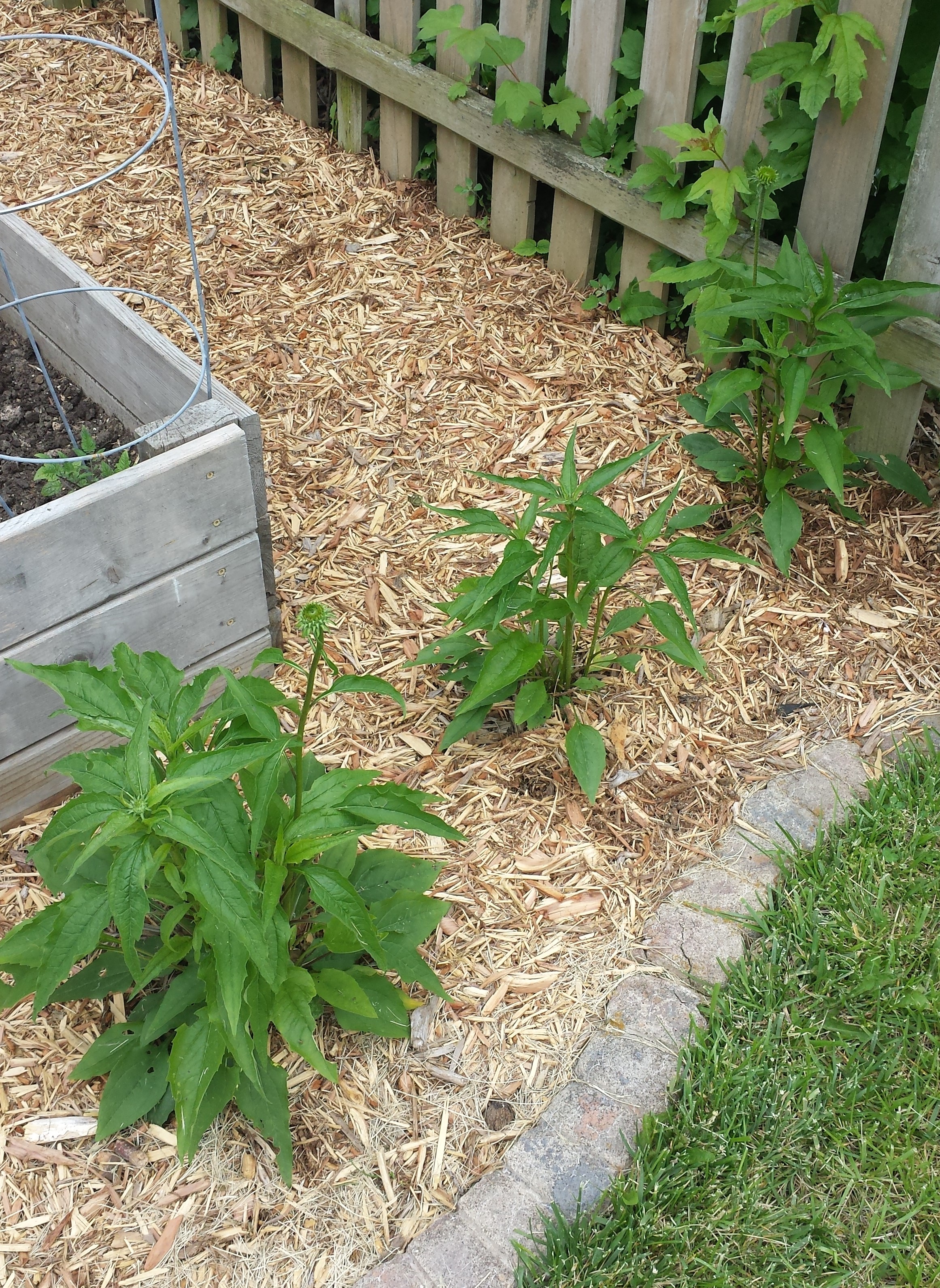 This year, we added a few onion bulbs to see if we have any luck with those. I've never done them before but we got them from a friend at church so I figured I'd try a few.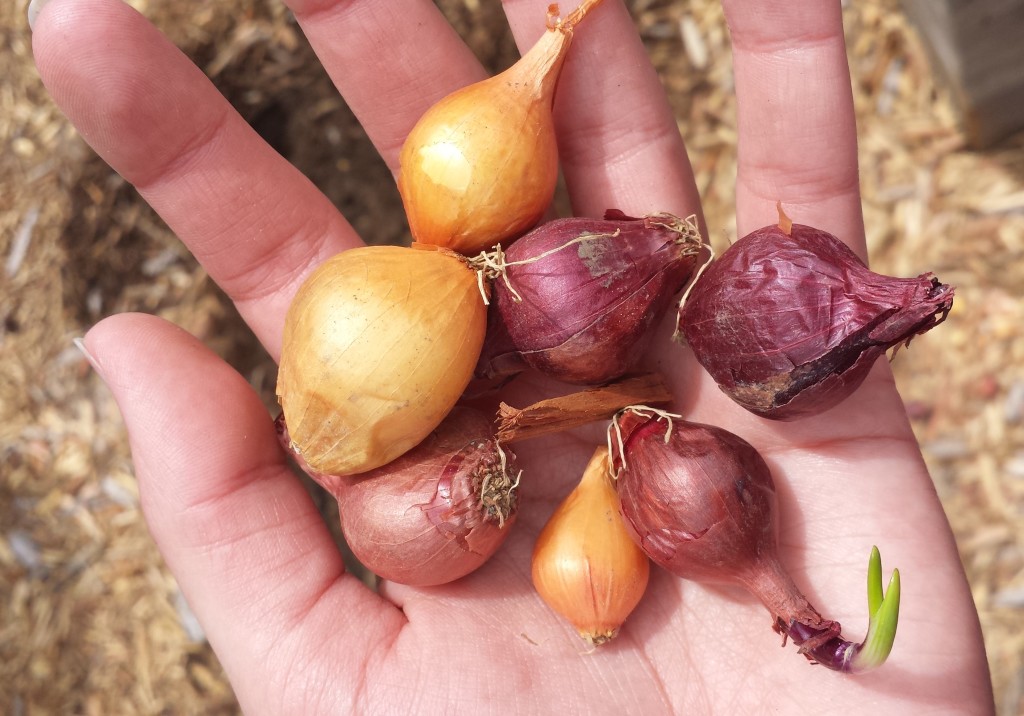 I stuck them in the ground instead of the beds. Our bed space is at a premium and I figured this would be a fine place to try them.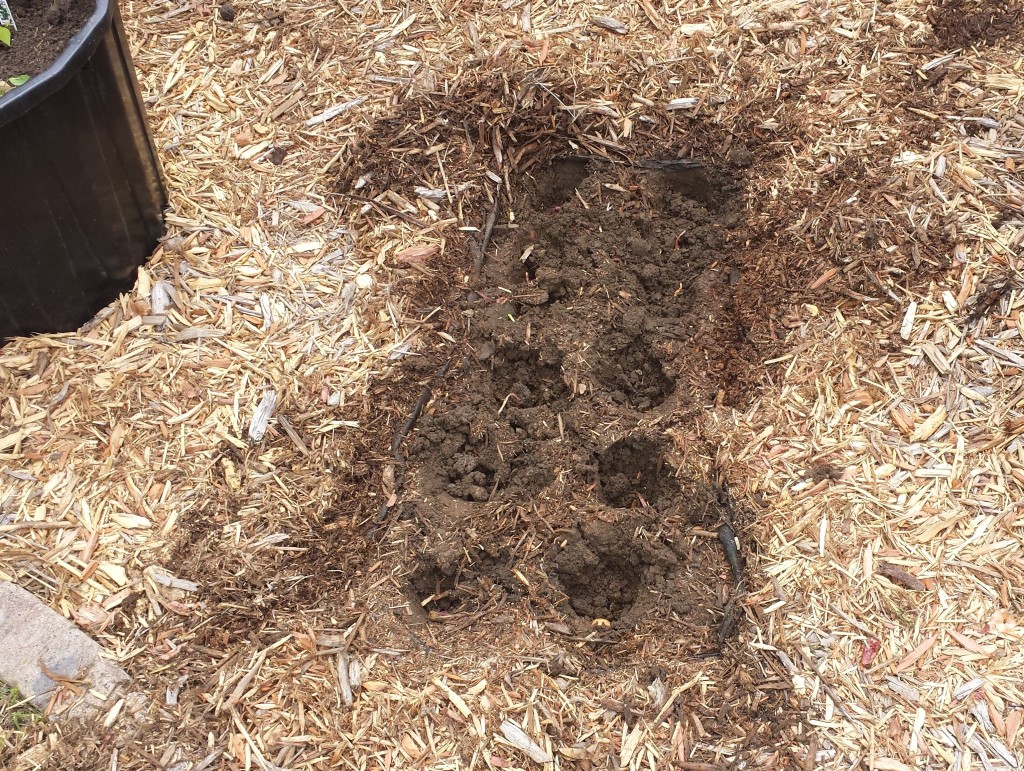 I did go ahead and mulch over them, but lightly, so I hope they'll come up. Fingers crossed, I guess.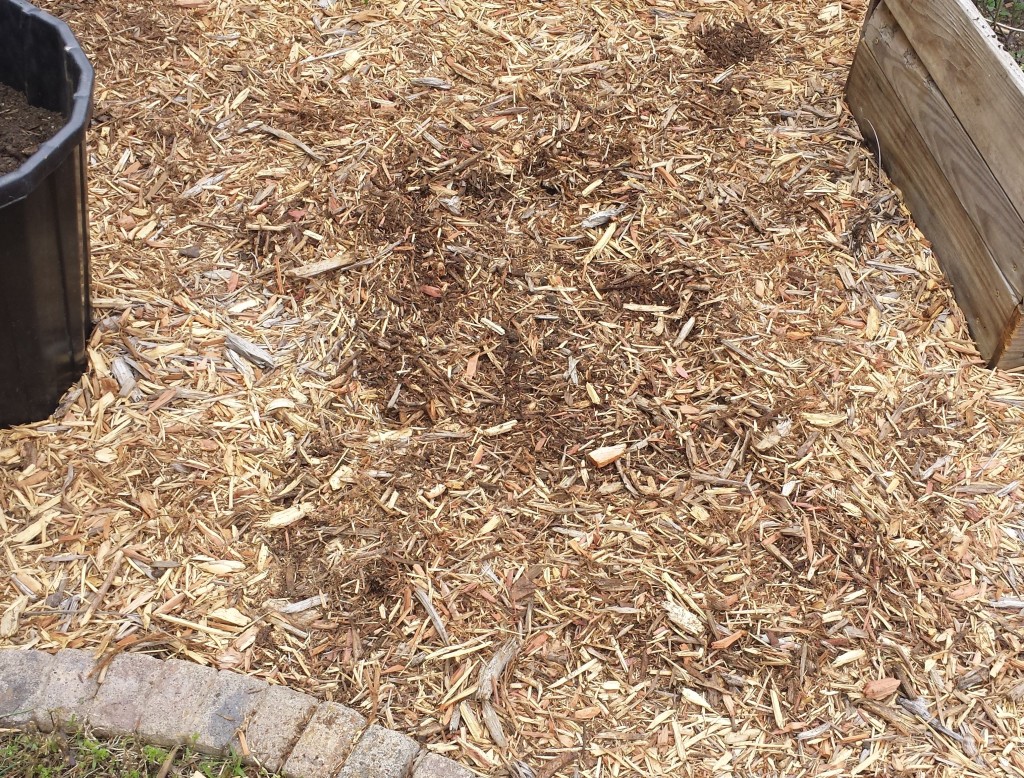 We even got the mulch down inside the beds, which will help keep weeds to a minimum…we hope. And since we use cedar mulch, it's also supposed to be a natural pest prevention system…again, we hope.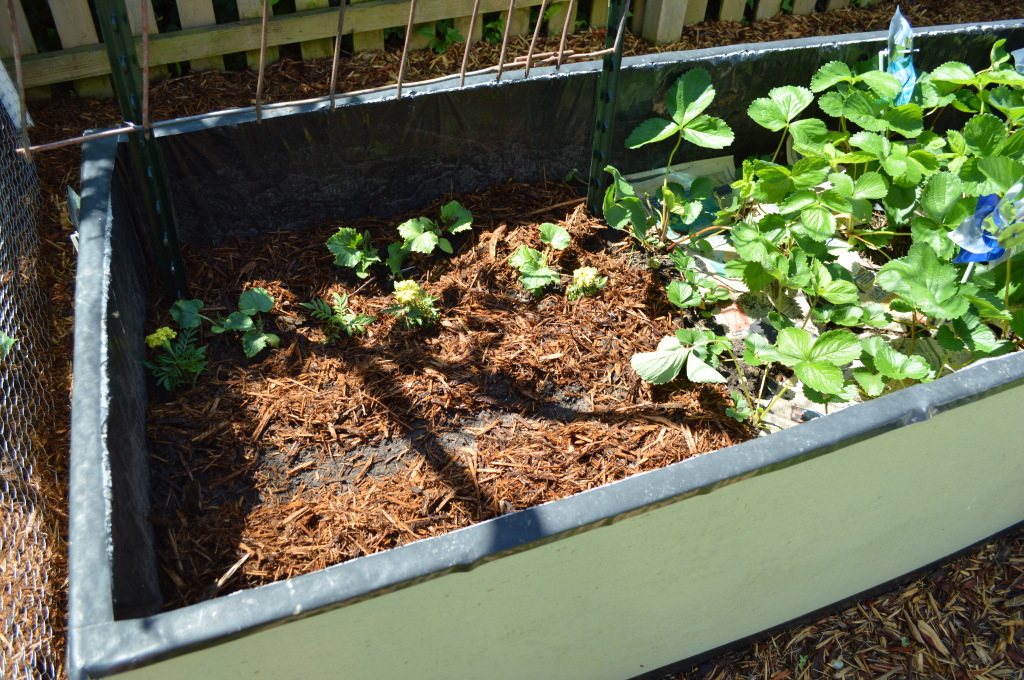 Of course, we have to leave room for the newly planted seeds to come up. This year I didn't take the time to start anything in seed trays ahead of time so I put all the seeds directly into the garden beds. We saved some mulch to add around those later as needed.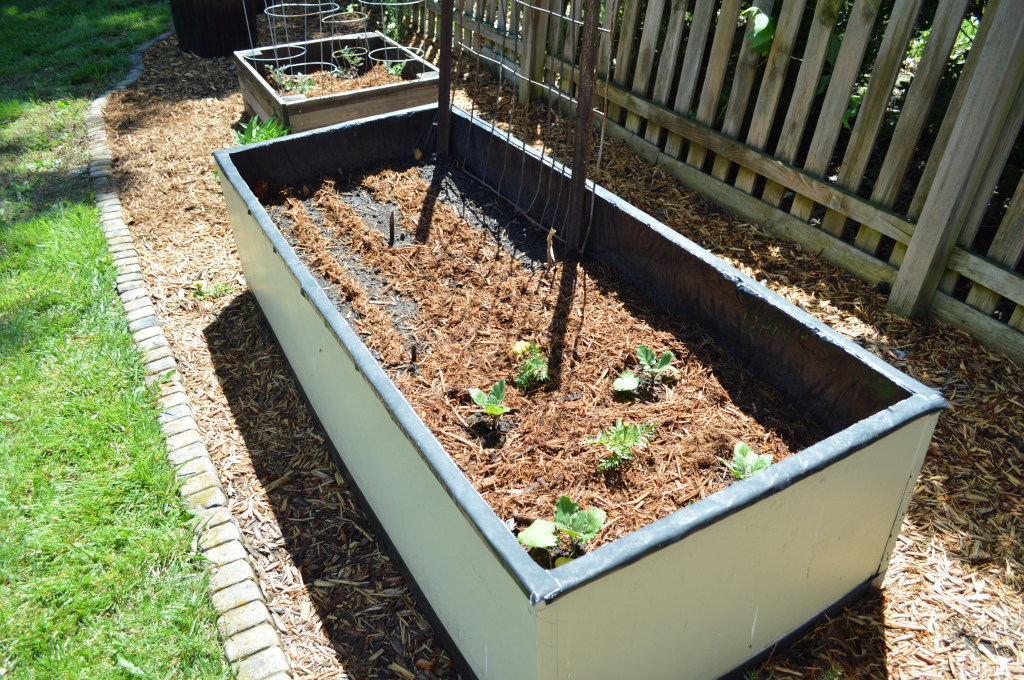 The dill is already doing its thing, of course. So, I've already been pulling some of it up to keep it contained…sort of. It's likely to take over if we let it.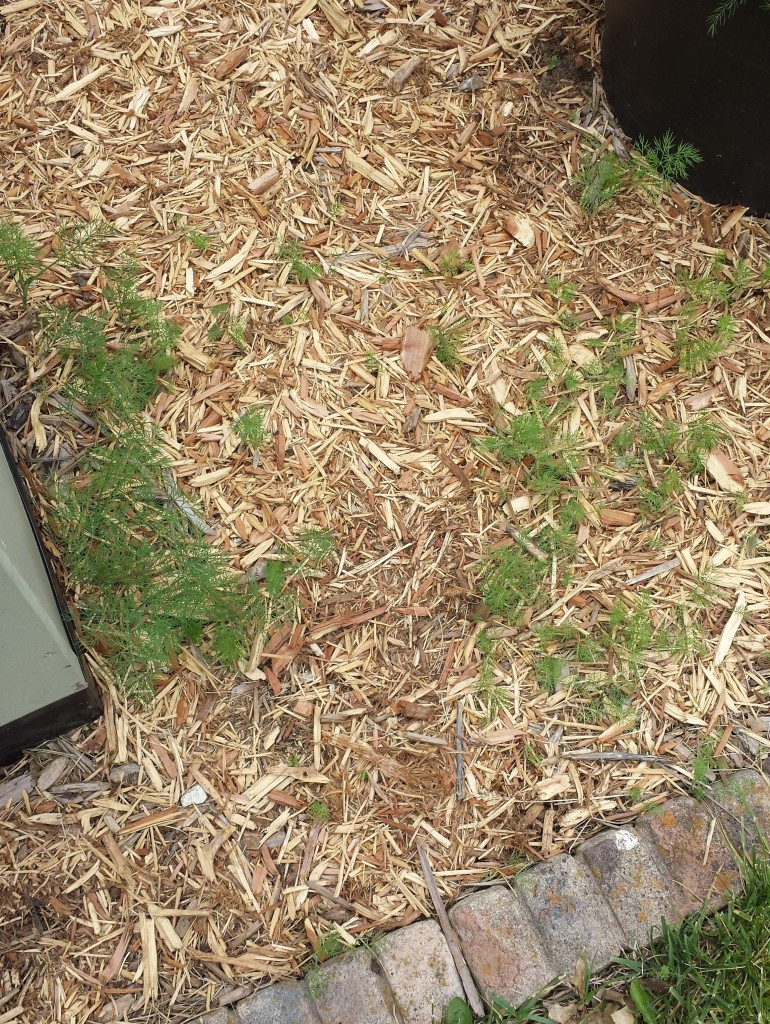 I also put newspaper down in the strawberries to help keep the darn rolly pollys from nibbling them. They tend to stay in the dark, shadowy areas, and by putting newspaper down, it reduces the amount of bugs on top where the berries are.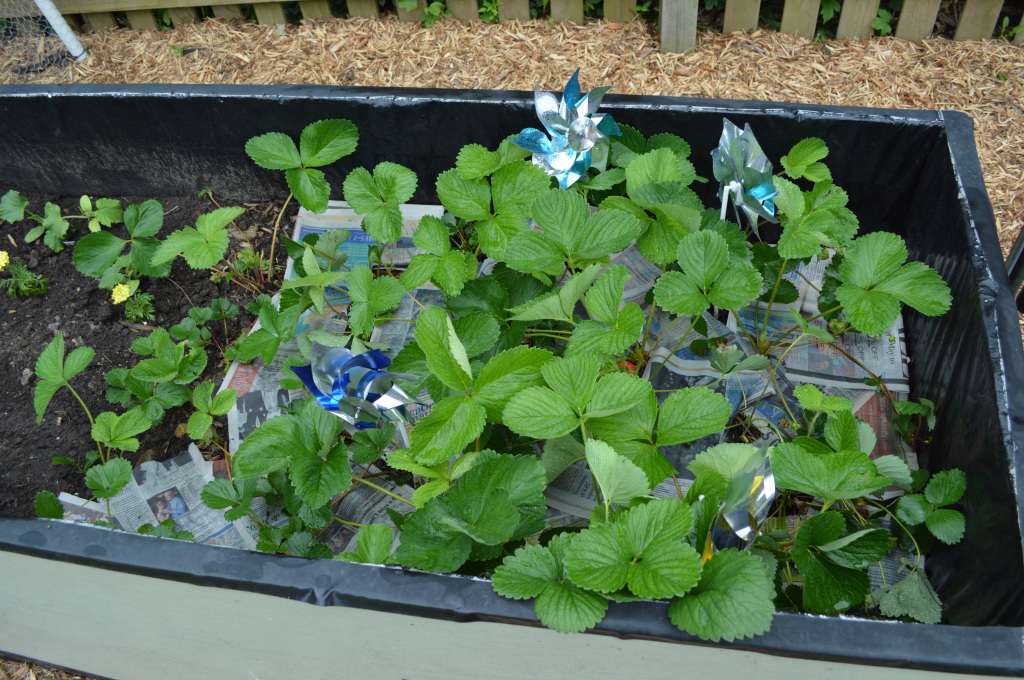 We picked our first two strawberries on Monday and they were beautiful and delicious. One of my favorite things we grow. (And easy because they come back every year!)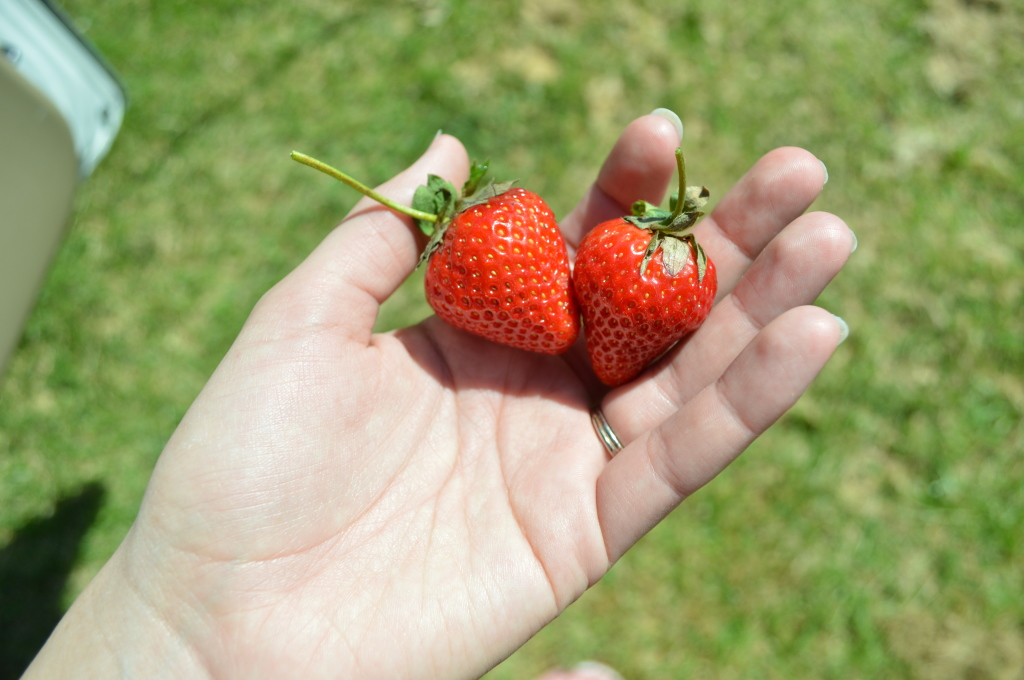 I can't wait for our first "big" berry harvest. We have lots of little berries out there getting ready to do their thing.
Some of the peppers are also already doing a little something exciting. I like to see those early blooms and fruit start appearing.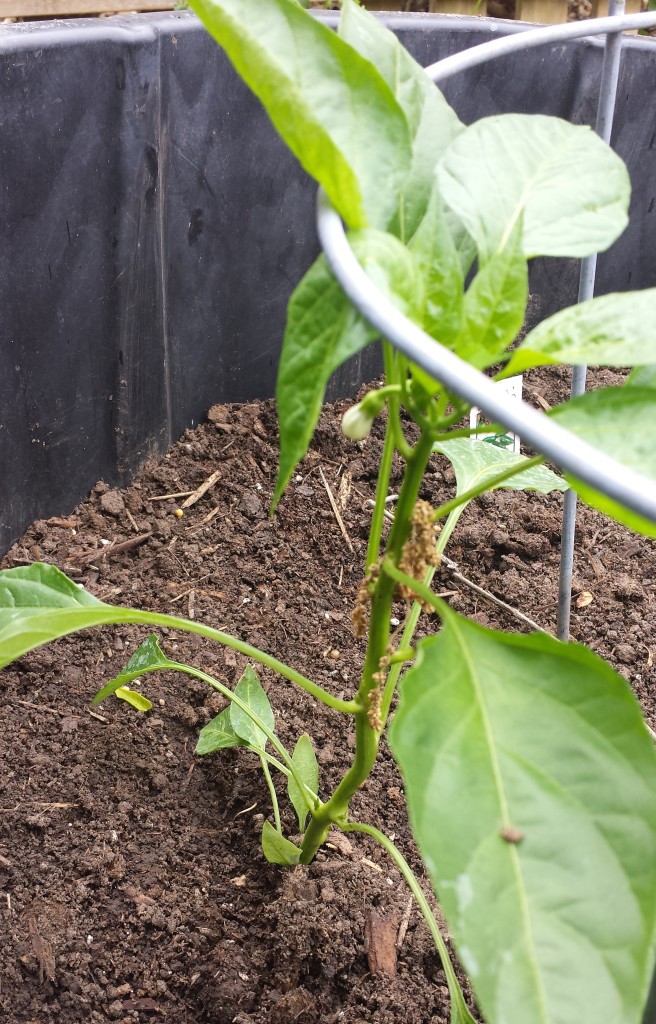 All in all, I think we ended up planting even more than last year.
You'll notice no zucchini though. My dad agreed to plant some for me at their house instead. I know I won't have time to be picking off individual little squash borer eggs like we did all last summer. TOO MUCH WORK for this pregnant lady. Not to mention how uncomfortable it would be to bend over and do all that with my giant belly for the next couple months. Not happening.
Here's our final planting list:
3 rows of green beans (rows are only about 7 feet long)
1/2 row carrots
1/2 row beets
1/2 row spinach
1 1/2 rows of romaine lettuce
1 row of peas
4 cucumber plants
6 red onions
6 white onions
3 okra plants
6 Roma tomato plants
3 cherry/grape tomato plants
4 slicing tomato plants
2 jalapeno plants (I may grab a few more of those…not sure, but I have some room left in the green bean bed)
4 hot banana pepper plants
4 sweet banana pepper plants
4 eggplants
strawberries
blueberries
raspberries (if they'll ever bloom and do anything–grr!)
So much for a smaller garden, right?
(For a refresher, you can see our "starting the garden post" from last year, here.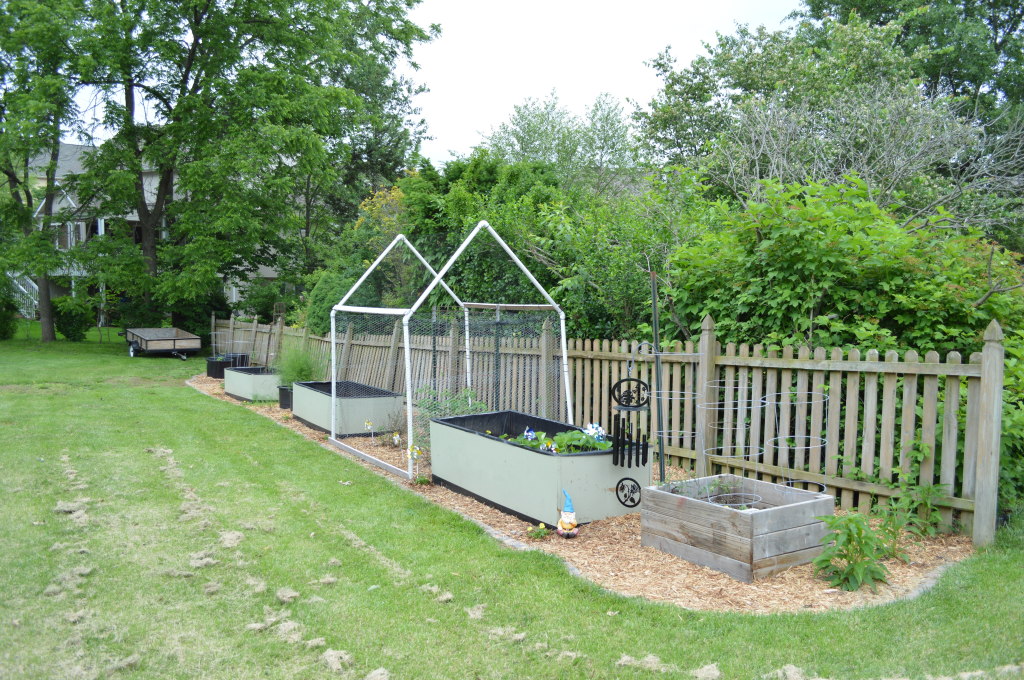 But that gives us some wiggle room in case things don't make it through the rainy spring we're having. The two days of sunshine have helped though, even though we may have two more days of rain starting tomorrow…
What do you think? Are we crazy for trying to garden this year? Wyatt thinks he'll end up taking care of it all summer by himself. I'm hopeful I'll be recovered and rested enough to do just about as much out there as I've always done. We'll see, though. Neither of us knows what to expect!
For more on our suburban garden project, including how we created our raised garden beds, check out these archives.