Last summer, we switched out our ceiling fan in the living room (which was all brass and light wood tones (not our style).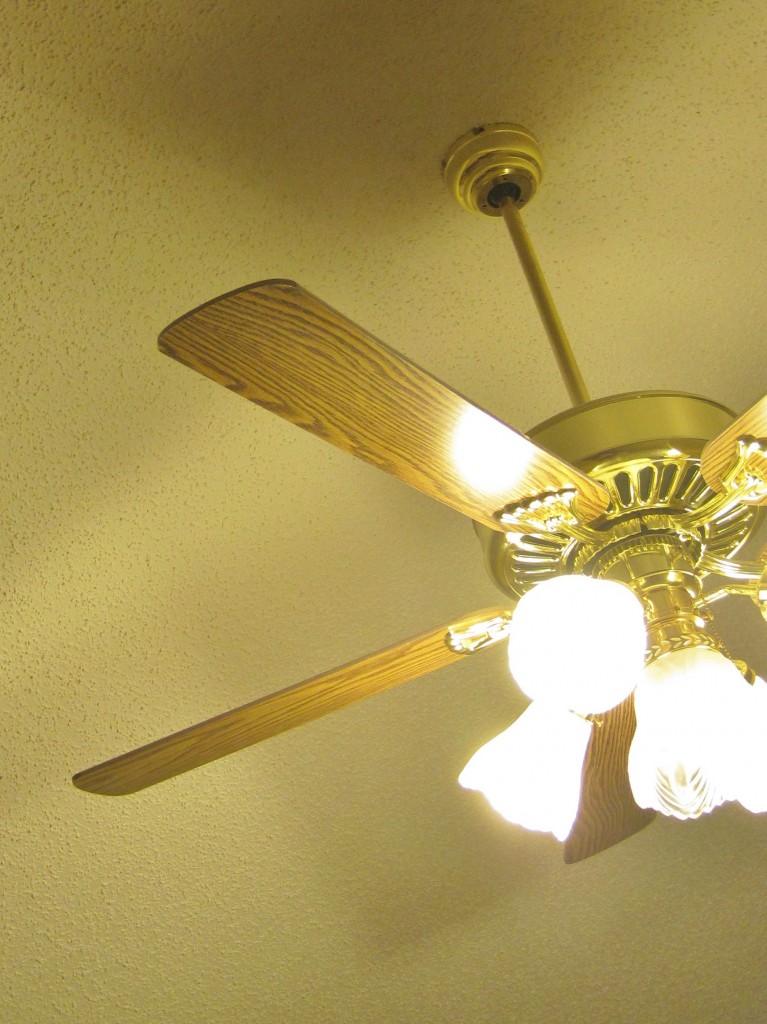 We went with one that was a lot more modern looking.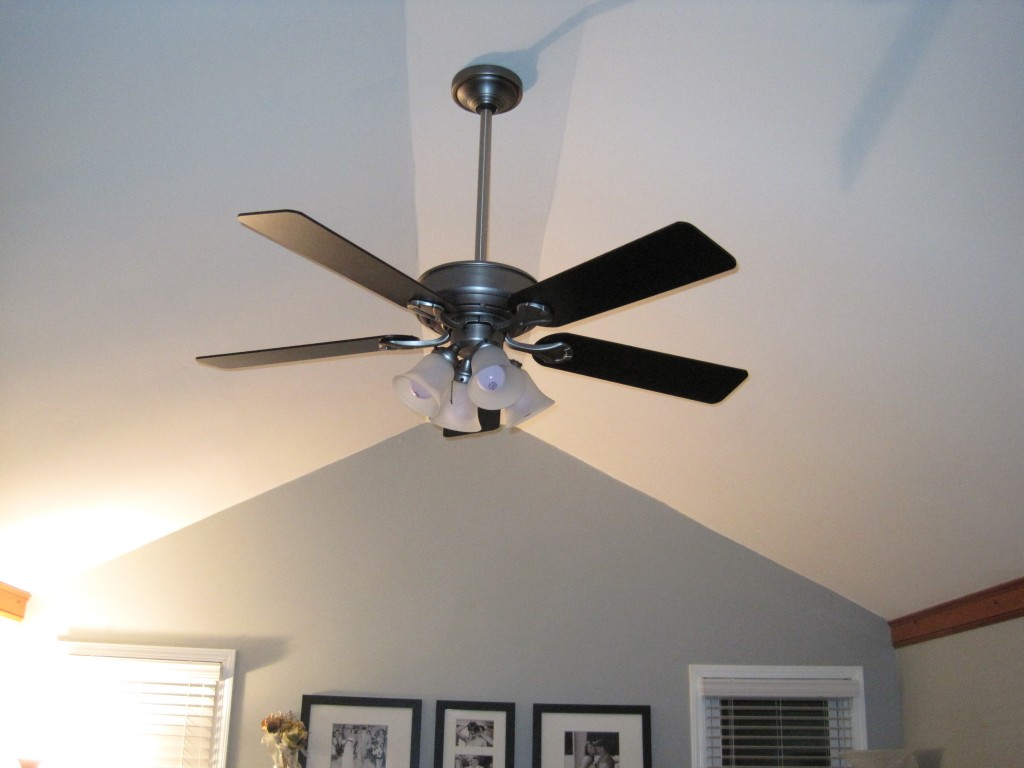 Some back story: Fortunately, my parents happen to like brass and lighter wood tones (it goes better in their 100 year old farmhouse than it does in our house).
So, they offered to trade us our fan for a new one of our choice. (They'd been looking for a fan like ours by have had trouble finding one with the kind of light kit ours had.)
We jumped at the chance to trade and we really enjoy our new fan.  You can read about how we switched them out here.
But that also left the lighting fixture that they had originally had in their living room. It was an old fashioned chandelier, but in good shape despite the faded metal.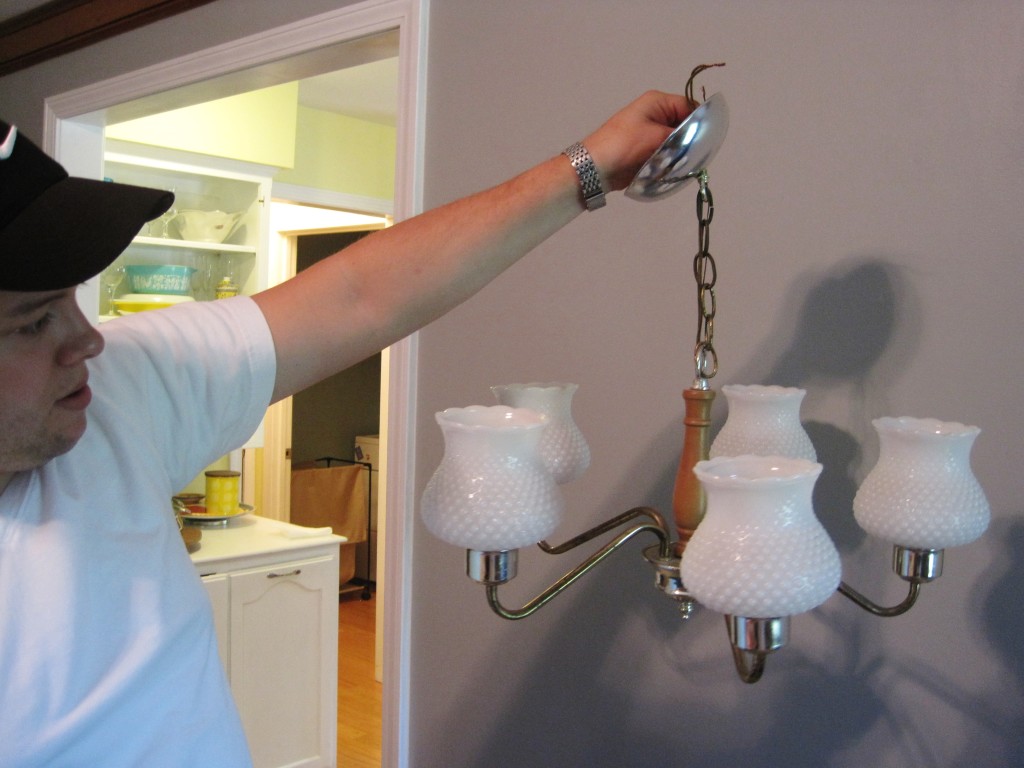 It's crazy how metal finishes tend to all revert back to the same tarnished tone, no matter what color it started our as.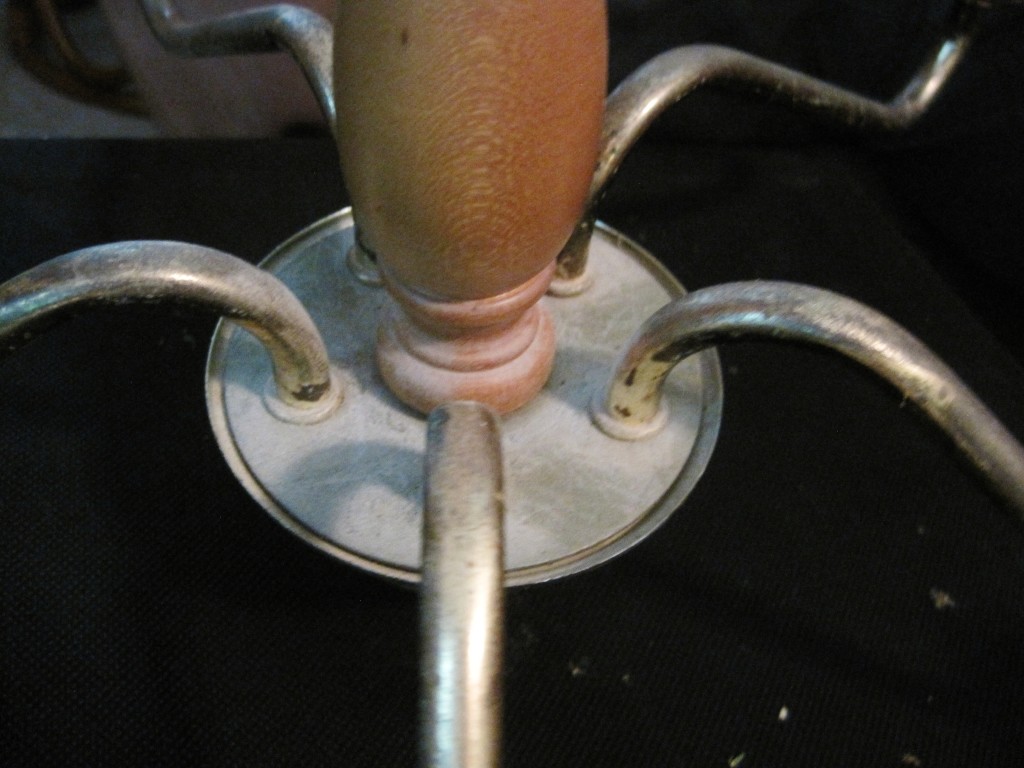 Anyway, they brought the chandelier up to the garage sale this spring and when it didn't sell, I offered to try and fix it up to reuse. (Hubs was thrilled, of course.)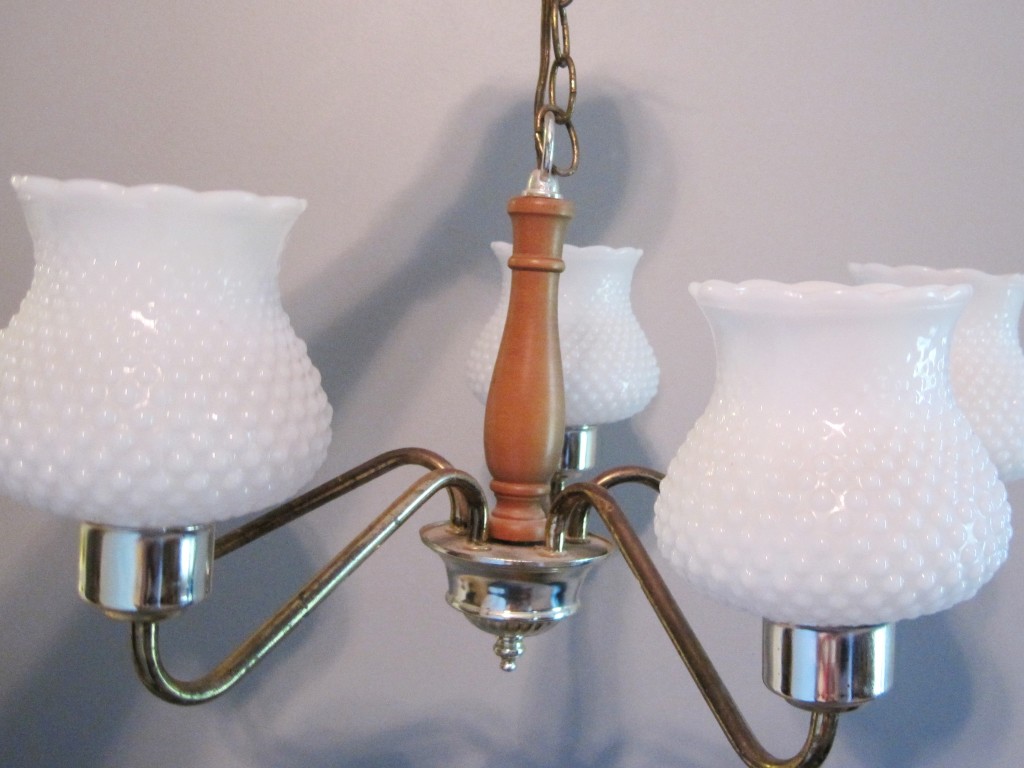 Really, it didn't need too much work, though. At least not the actual light, but we'll get to that in a bit. We started by taking it all apart to get it cleaned out.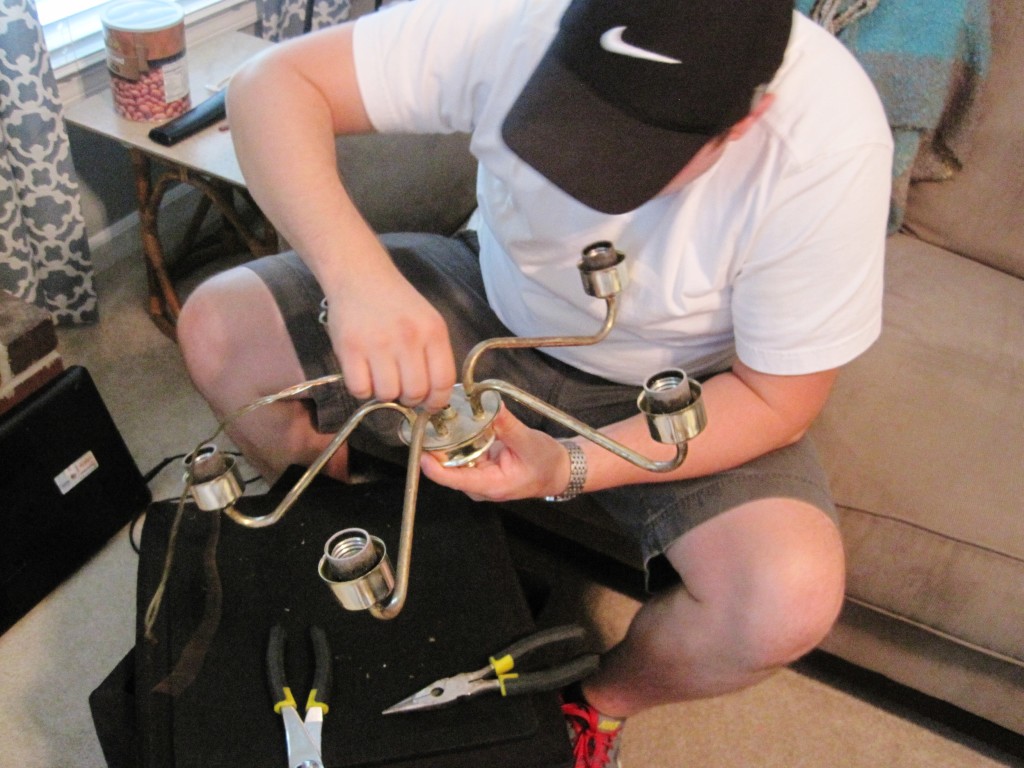 First, he unscrewed the wooden brace in the middle of the light.
The cords and the metal support rod fit inside this wooden decorative brace.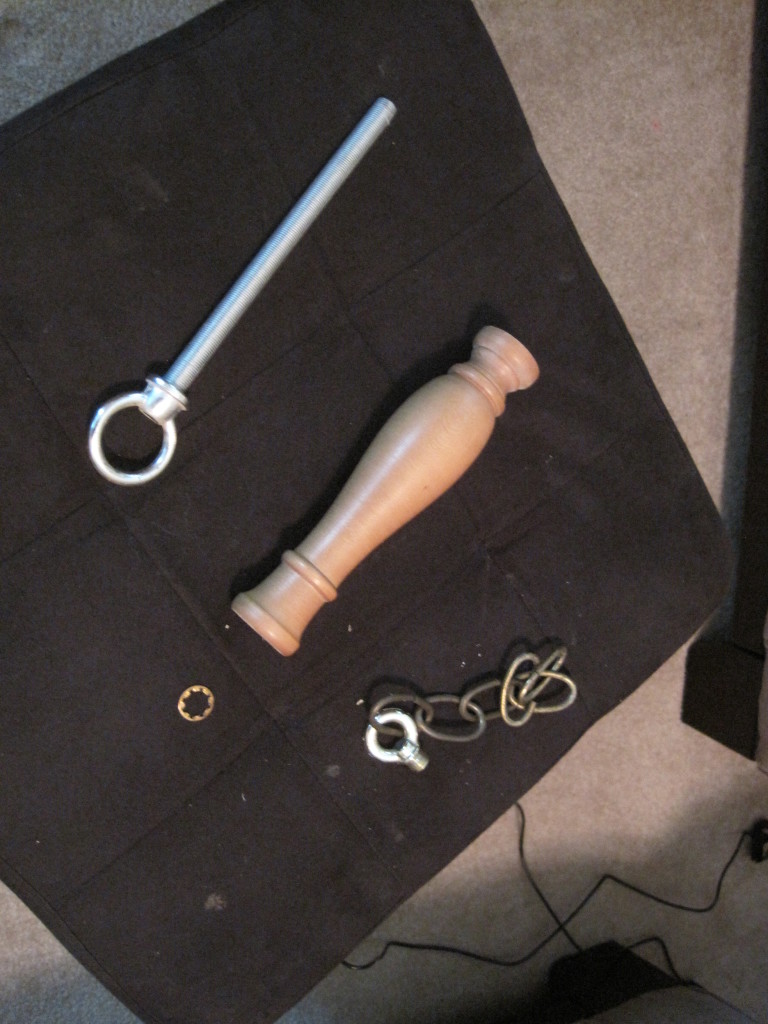 After he got that apart, he unscrewed the cap on the bottom, where we found a bunch of tiny little big skeletons. Ick.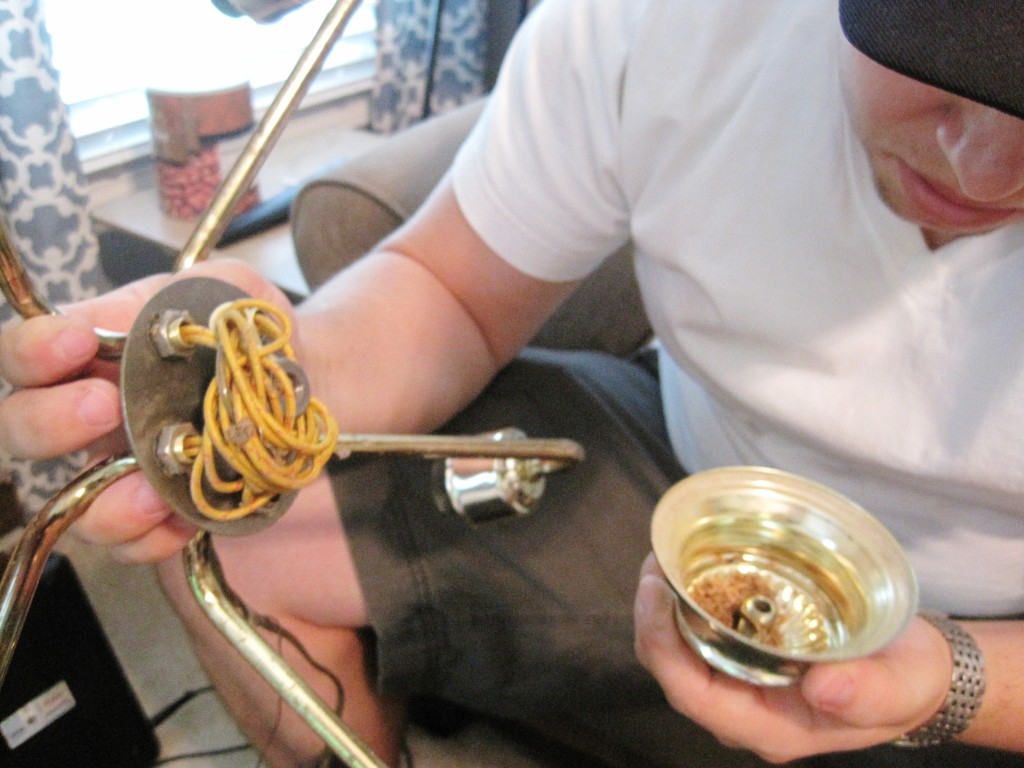 But after a quick cleaning, it was ready to be painted. I chose a bright blue, leftover from when we painted our wicker furniture, and gave it a few coats.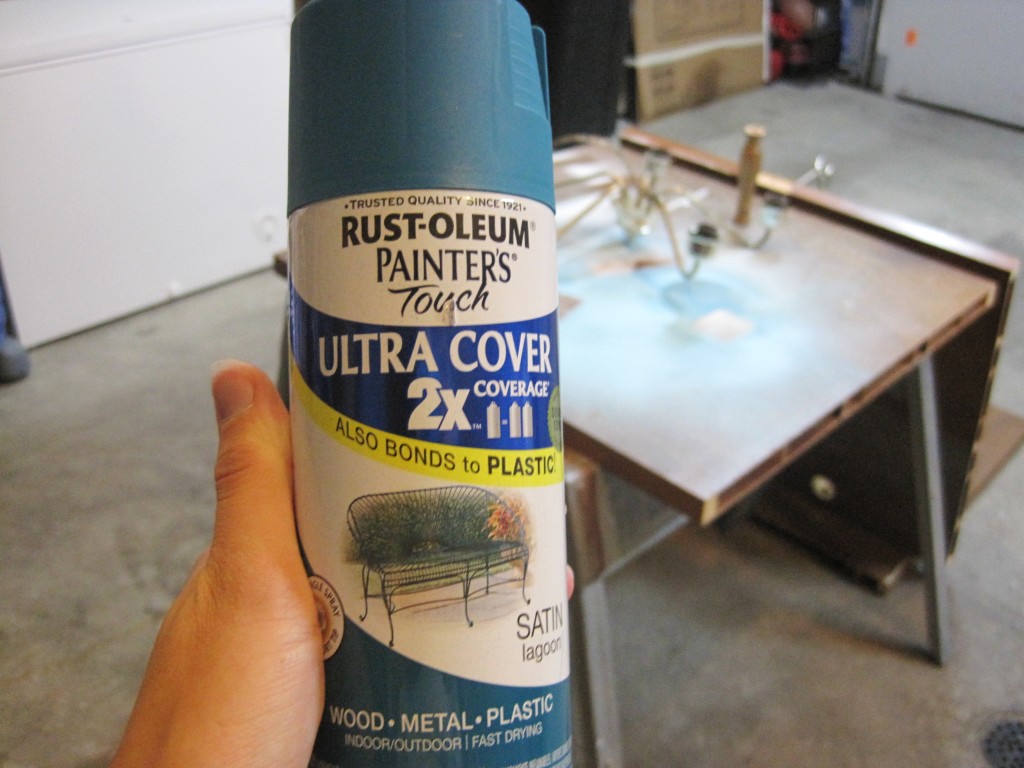 Hubs rigged up a sweet contraption so I wouldn't have to hold it while I painted. It covered really smoothly since the finished wasn't damaged at all really.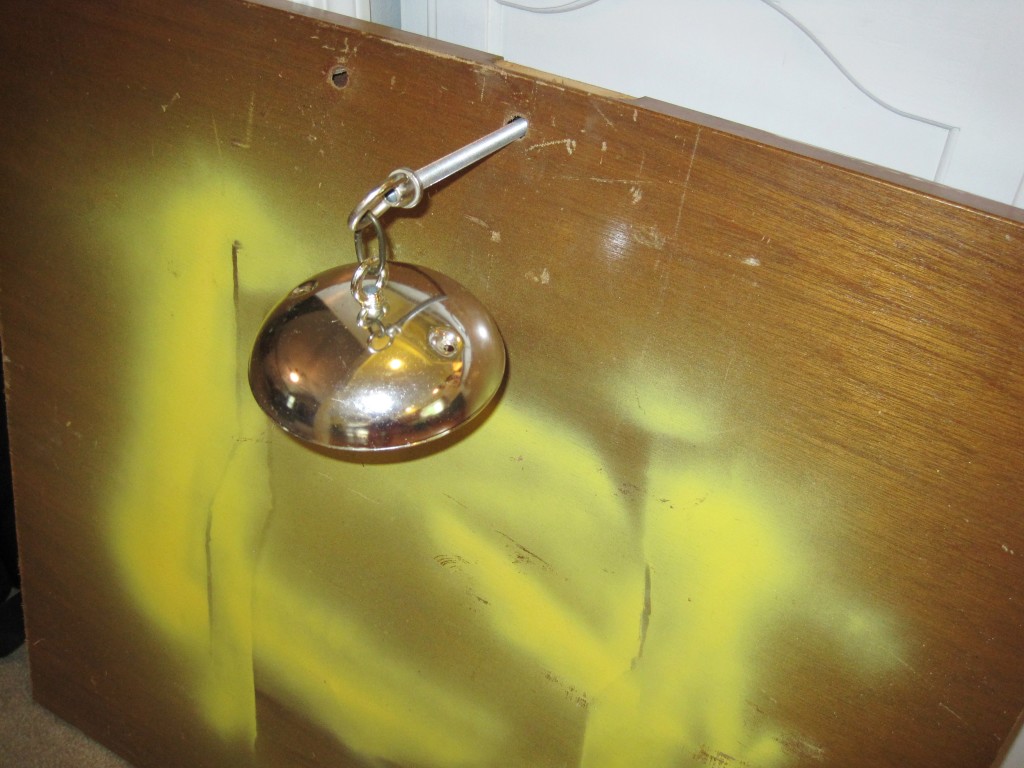 And we made sure to tape over the electrical parts to protect them.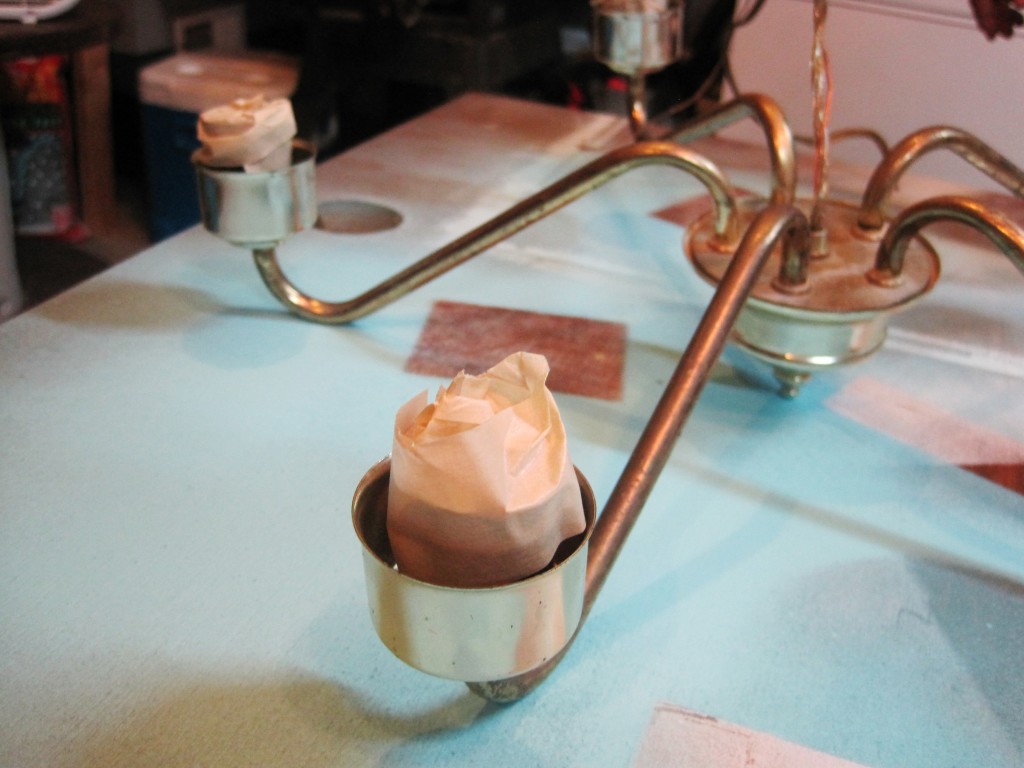 I gave it several thin coats to make it as smooth as possible.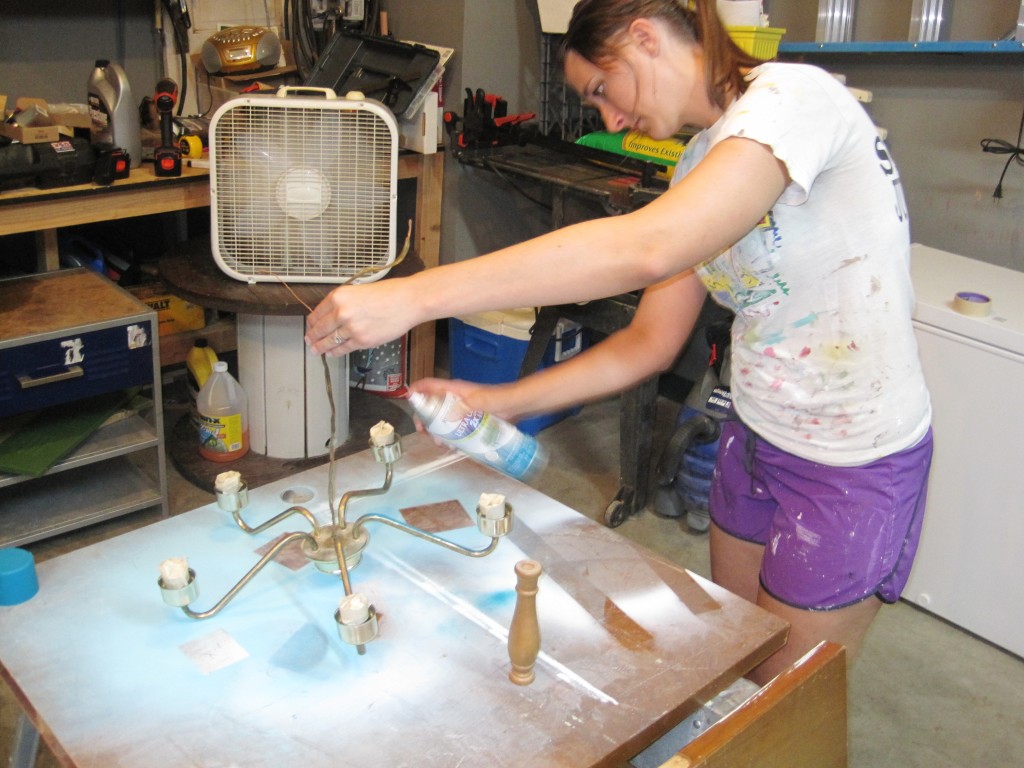 Ta-Da! I'm super excited about how bright and fun it is.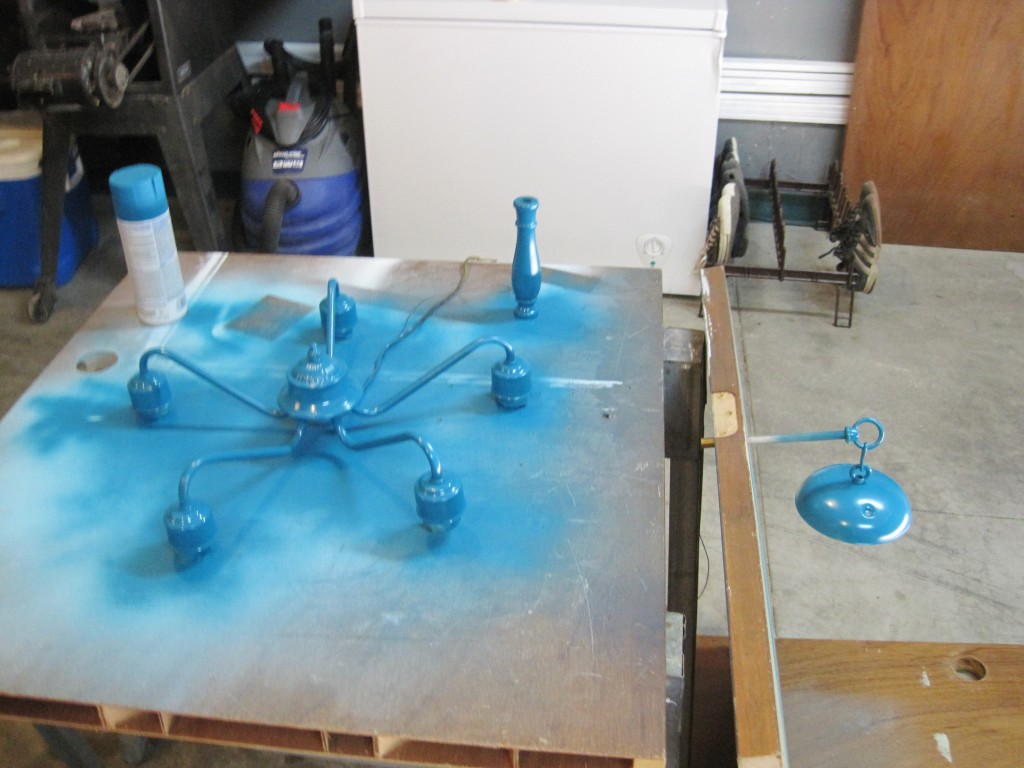 I love the eclectic look of something old that's been given a new touch. We looked into getting new globes or even Edison bulbs instead of globes to make it look more modern (or more vintage) but none of them really spoke to us that much and we ended up deciding to just work with the existing bulbs for now.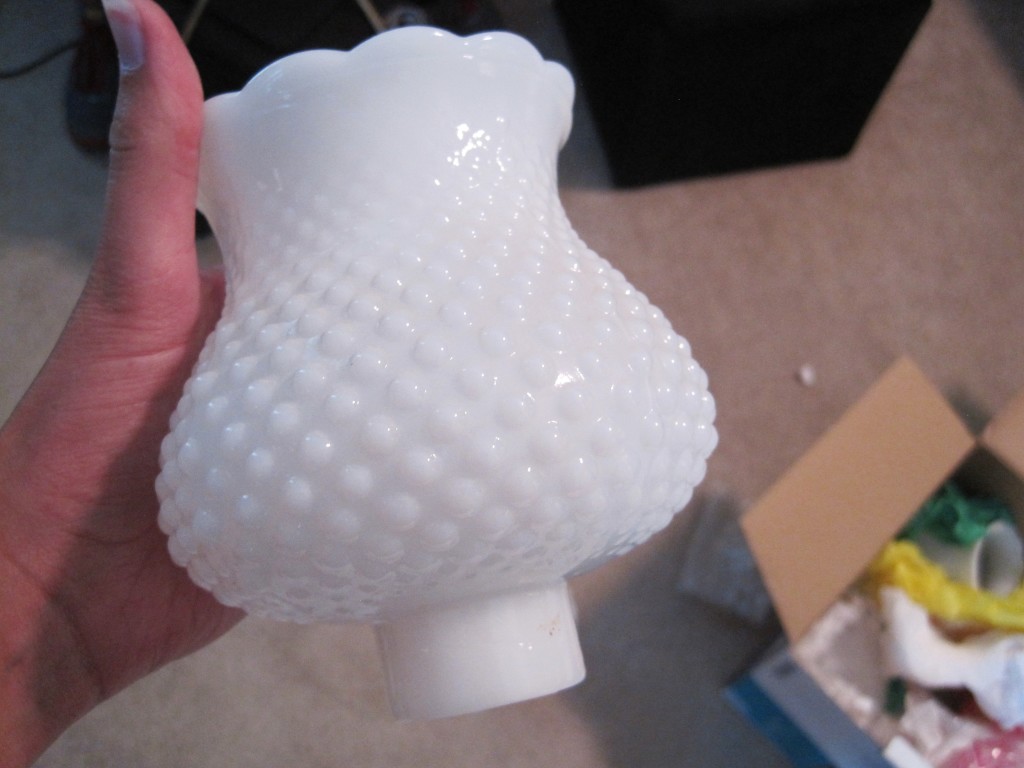 We can always switch them out later, but at about $10 bucks a pop, for a globe and/or a bulb, we thought we'd try it as it was for a bit.
So after saving that $50, we reassembled the light and got ready to hang it up.
Hubs turned off the power (don't forget this step!) and removed the old lighting fixture. See why I was excited about a bright blue chandelier in my office?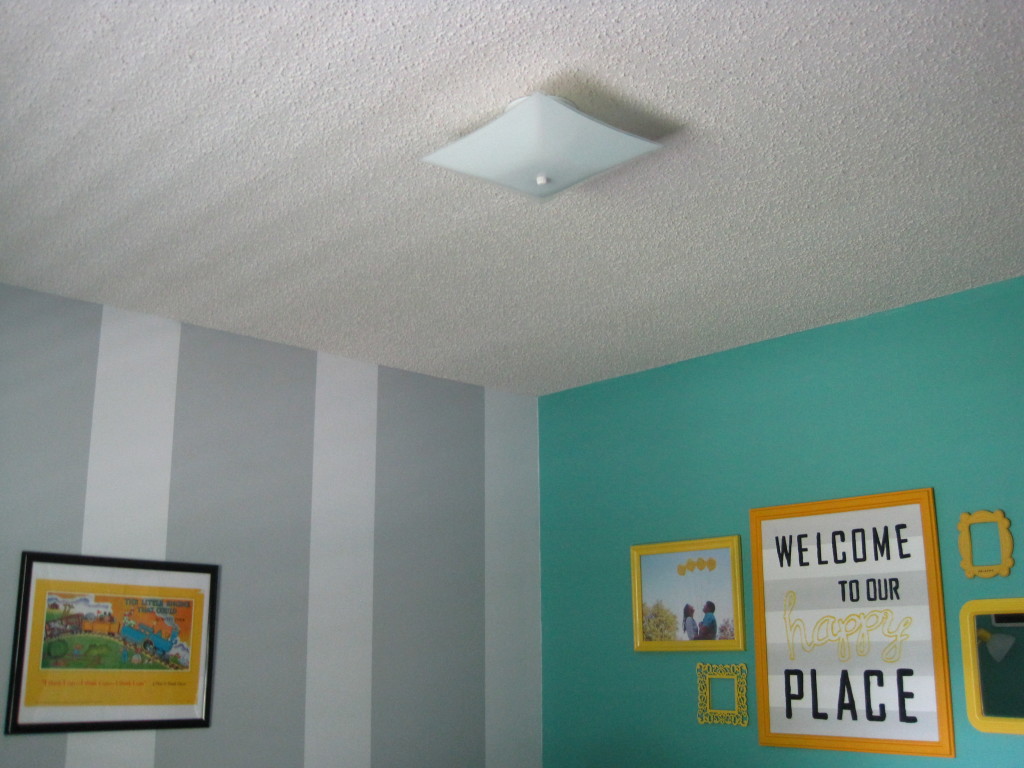 It's way more fun than this builder basic economy model, right? But when he got the light down, we found something was missing.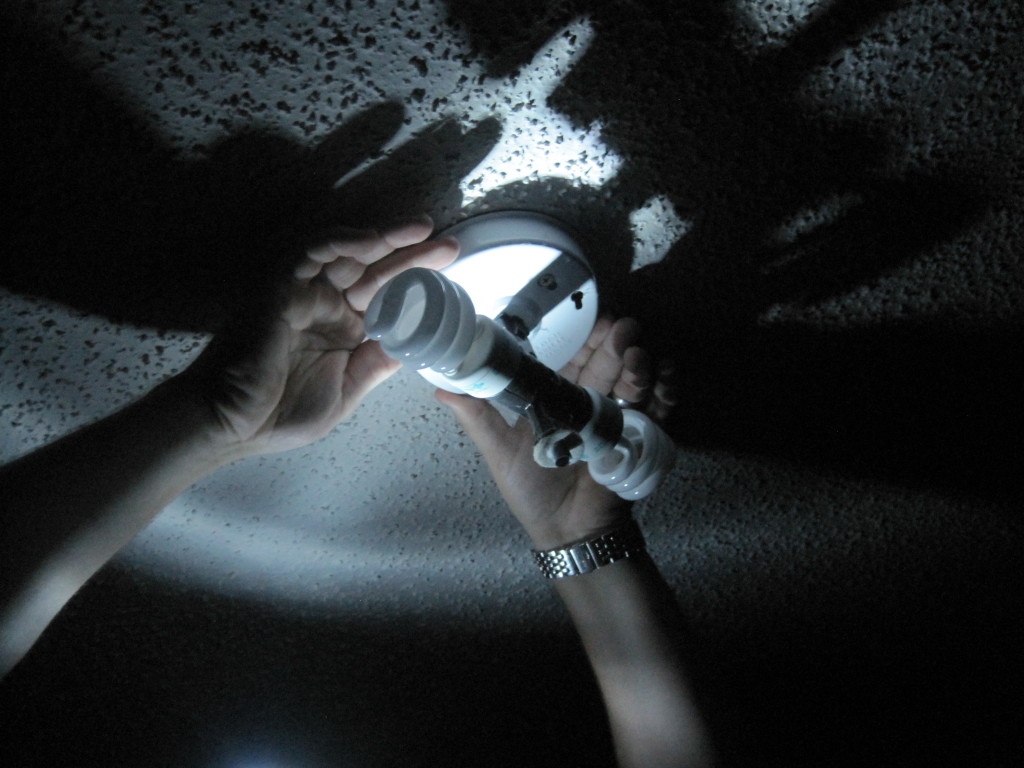 Can anybody guess what it was?
Yup, no electrical box. Dangit. (None of our lighting fixtures seem to have these.
Just another problem with a builder basic house I guess.
Those guys are all about cutting corners whenver possible.)
So, we hit a roadblock for the night since we didn't have the stuff to add a box. (You need to do it to be considered up to code, plus, we need it to screw the chandelier into.)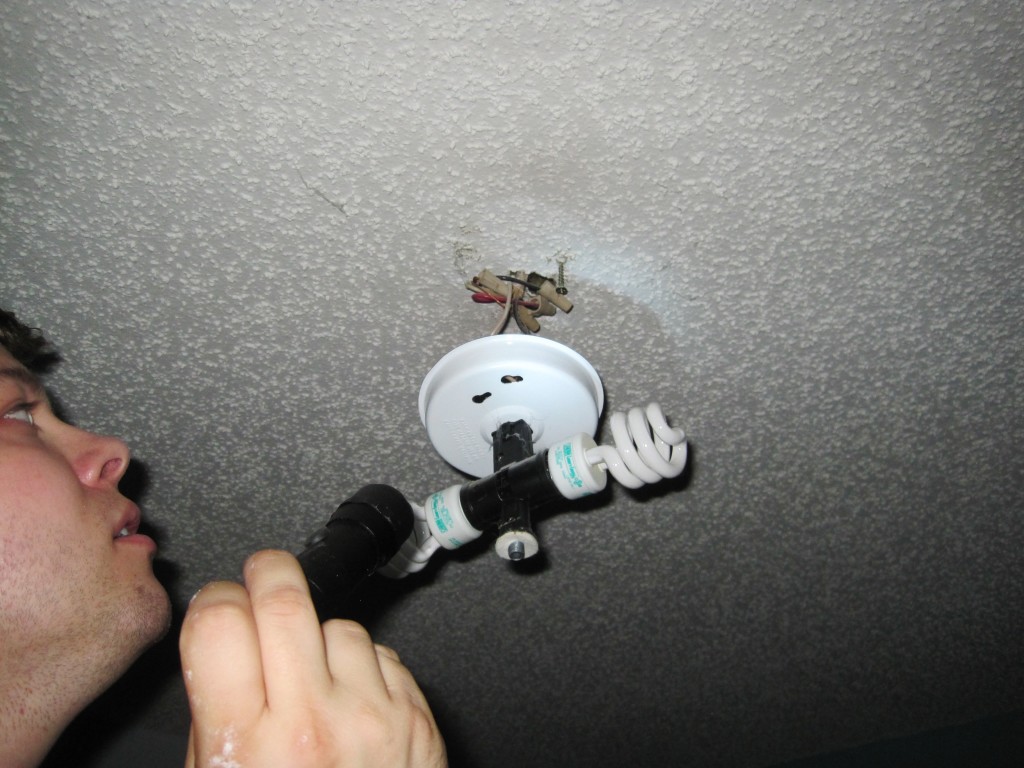 Oh, and yes, I'm aware this chandelier would look better if we had removed the popcorn ceiling in here…but this was just a quickie update, and neither of us wanted the mess or the hassle of removing it yet.
We still may do it someday, just not today… (If you're wanting to remove the popcorn ceiling in your rooms, however, feel free to check out our tutorial on that process, here.)
Have you ever found a similar surprise that makes a project fight back more? We'll be back with another post about how we got this all finished up soon, so stay tuned!