A few weeks ago, while buying our food processor at Bed, Bath & Beyond, Hubs found some cool metal canisters in the clearance section for around $0.50 each. I had seen them, too, but had passed them over because I didn't think we needed a "Soup Coverlet."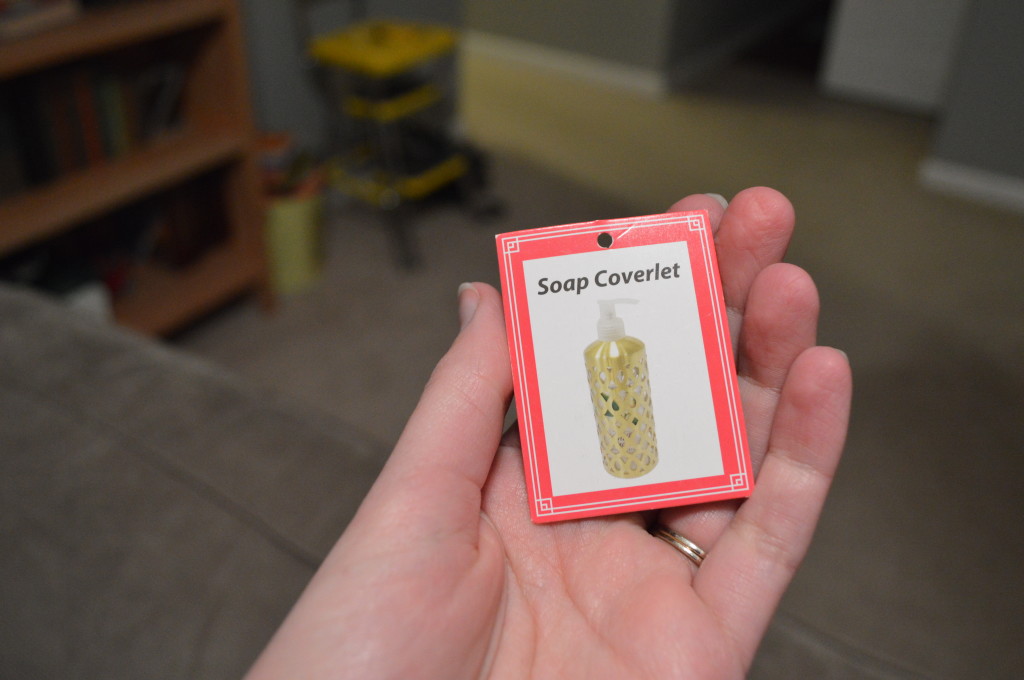 Hubs had the creative foresight to image using them for another purpose, though, and after asking if we could make candle holders with them. I thought it sounded like a fun project so we grabbed three of each design they had. The first ones were really modern looking with a brass geometric pattern all around it.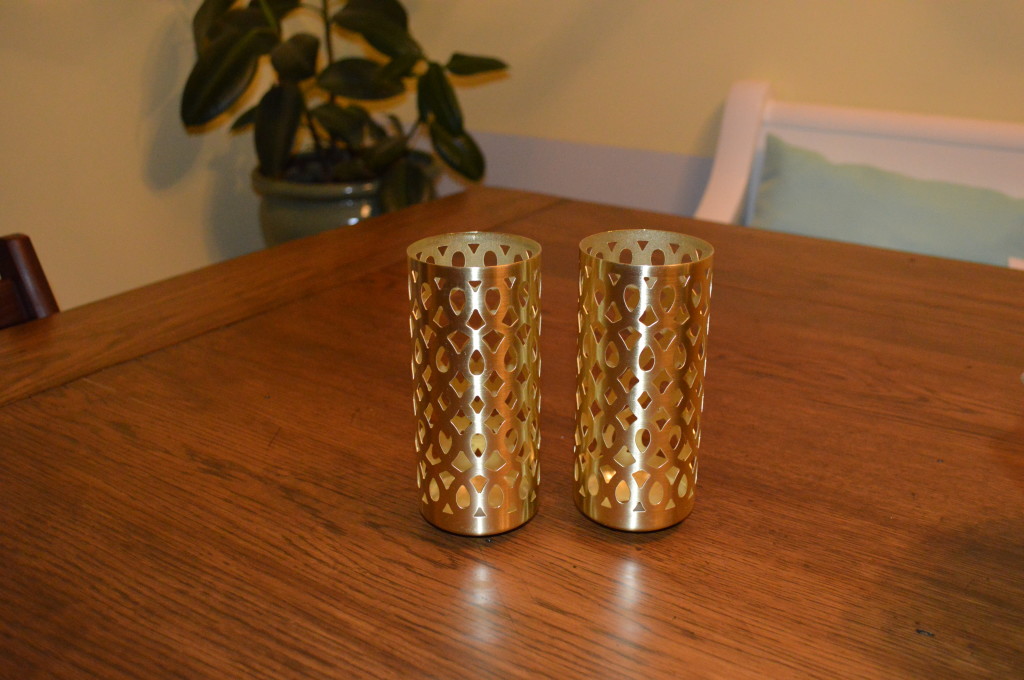 I thought it would be even more fun to paint the inside of the canister a bright color to really pop against the shiny metallic finish on the outside, so I grabbed a can of leftover teal paint from my office and a small brush to apply a quick coat of blue.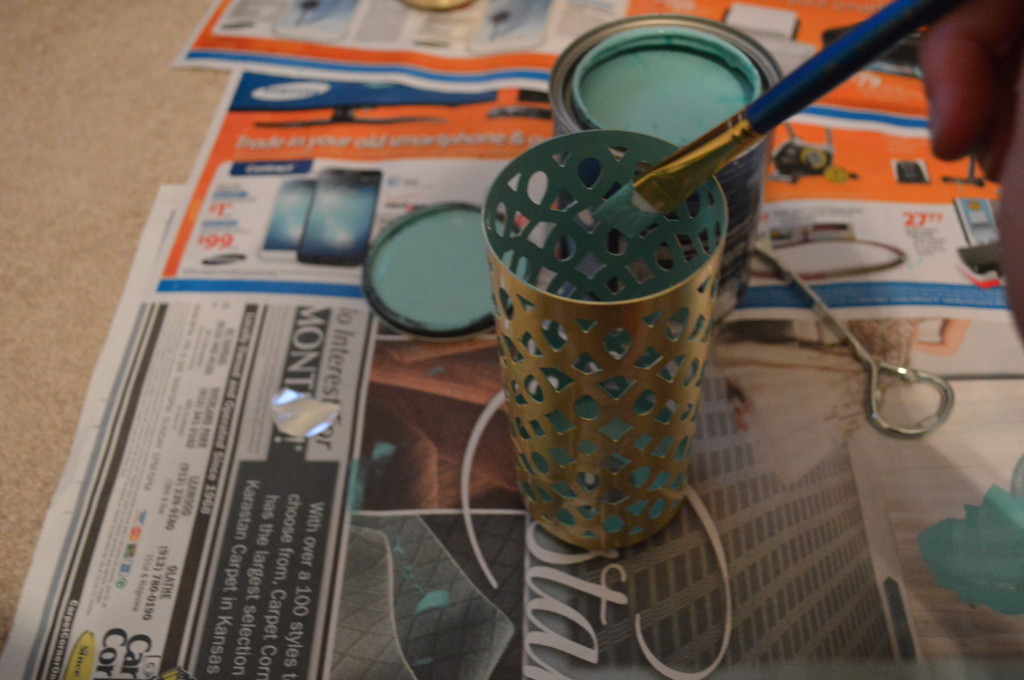 As it turns out, no matter how careful I was, some of the paint snuck through the holes in the metal so I had to do a little clean up afterwards.
It only took a few minutes, but a small brush was a must to fit in the tight canister. Then, as I mentioned before, I simply scrubbed the outsides a little with a paper towel and some Goo Gone before declaring my portion of the project finished.
Hubs was challenged with coming up with a way to hold the candles in place, standing up straight. He decided to cut little wooden saucers from some scrap wood he had in the garage and then drill out a hole in the center for the candles to sit into.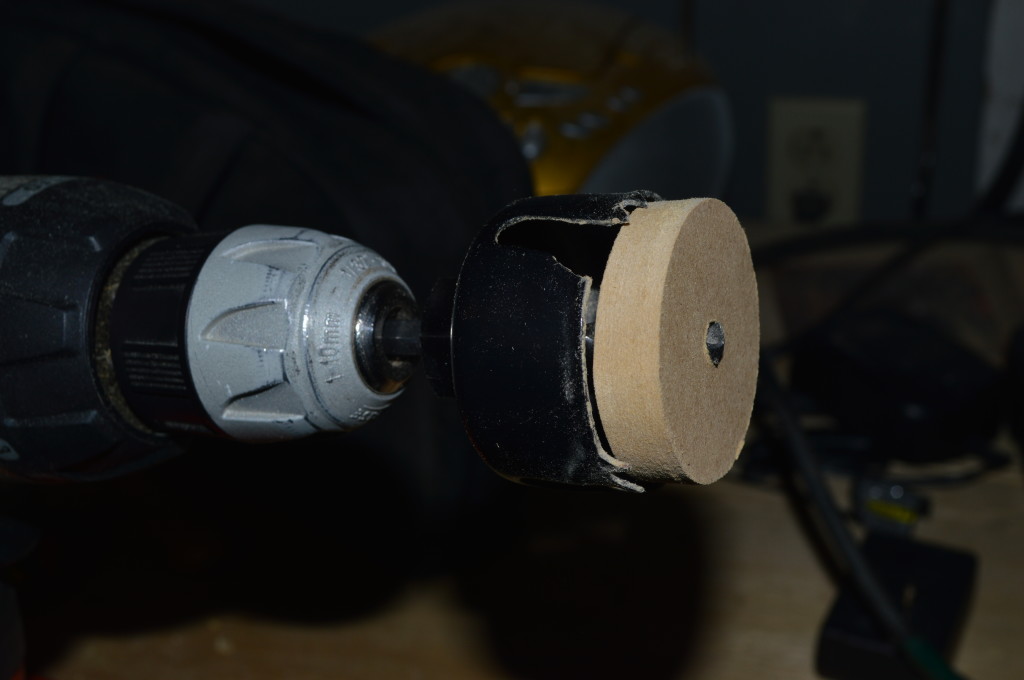 This turned out to be a pretty easy solution, once he went to Home Depot to pick up a hole saw.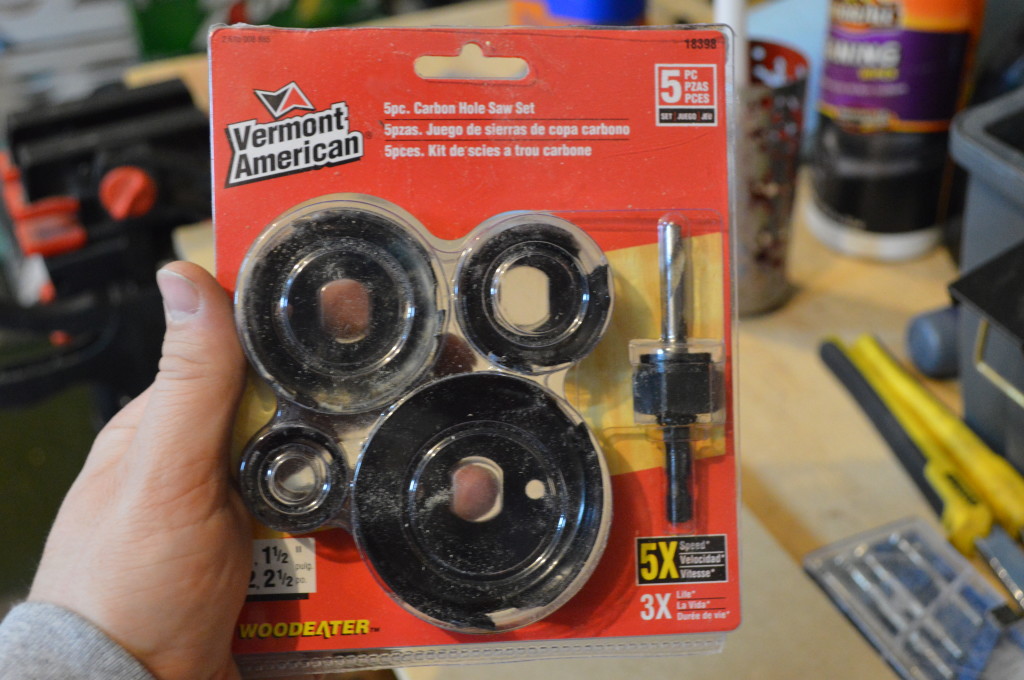 He used his new vice grip C clamp pliers to hold everything in place while he was working. He's been eyeing those at the store for several months and was excited to finally get them and use them.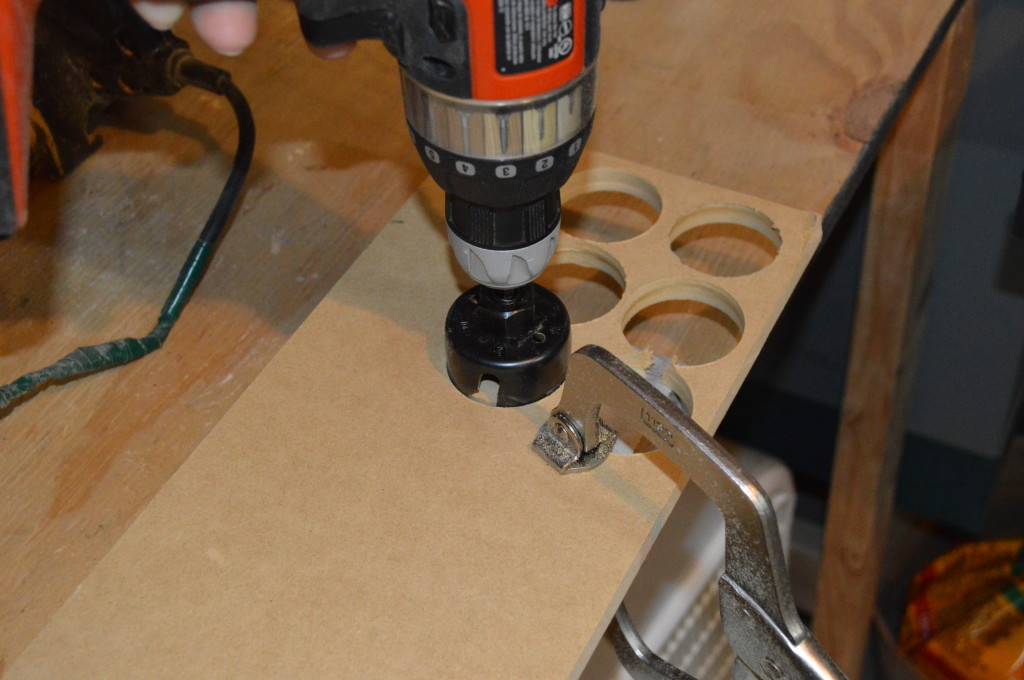 Then, he drilled six discs from a piece of scrap wood, perfectly sized to fit inside the base of our coverlets.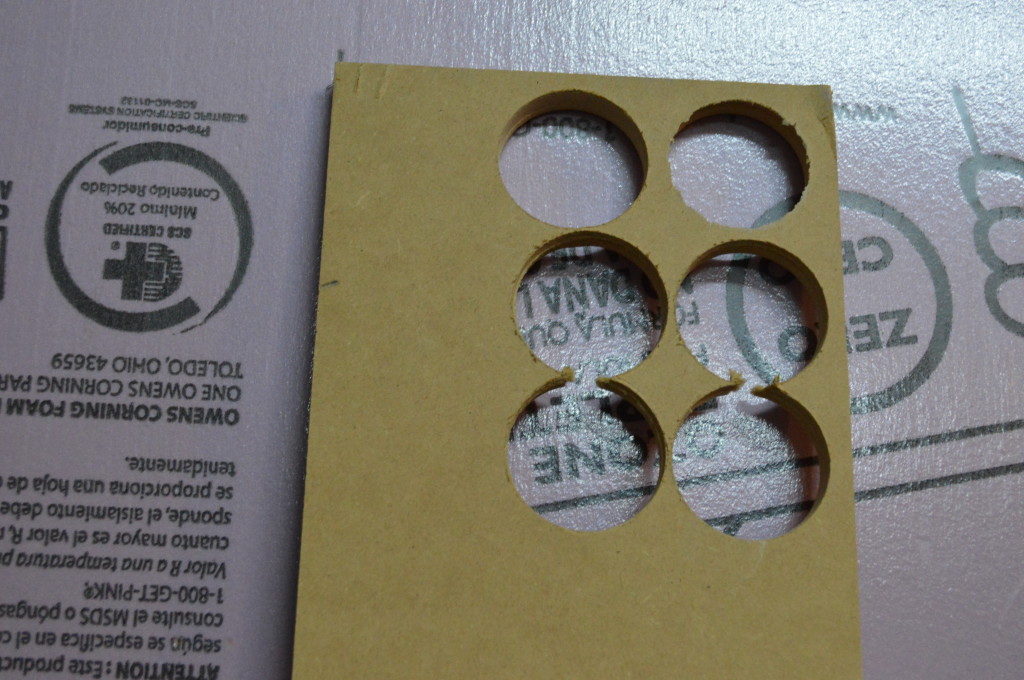 There was already a flat hole on the bottom of the metal (for the soap dispenser to come out of if you were using it right-side up  as a coverlet) so they balanced pretty well. The added weight of the wooden disc does give them more stability though.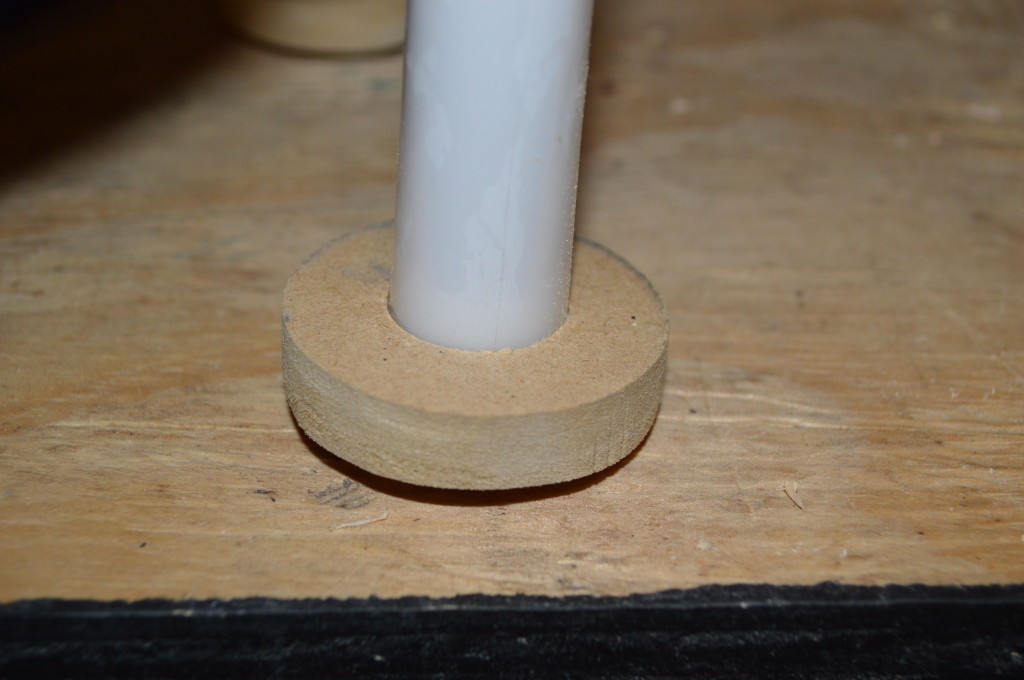 He sanded the bottom edges of the discs a bit so they'd lay flat in the curved bottom of the coverlet.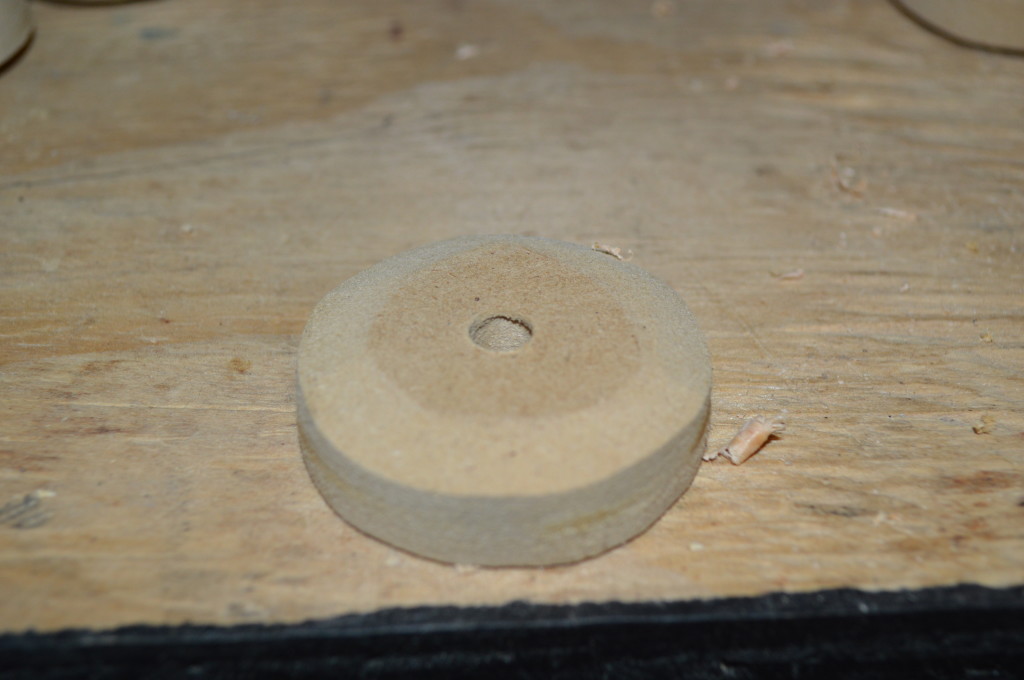 Next, he drilled out the center of each disc to the same size as the taper candles, which were about 3/4 inch diameter.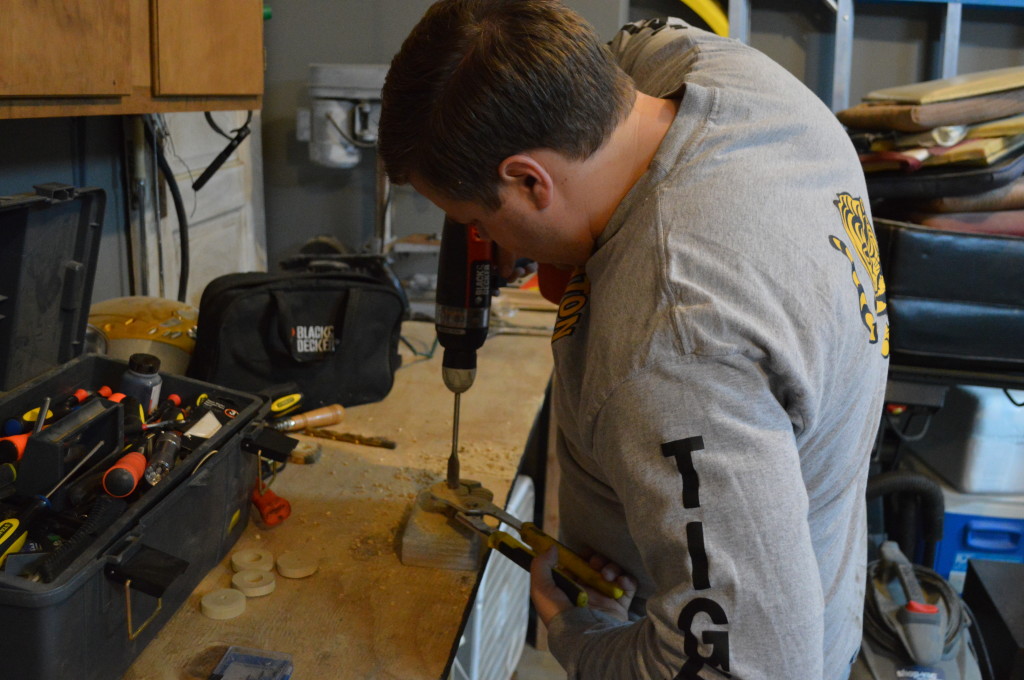 He used a paddle bit for this. He held the discs with a pair of pliers, because he couldn't clamp it to anything due to their size.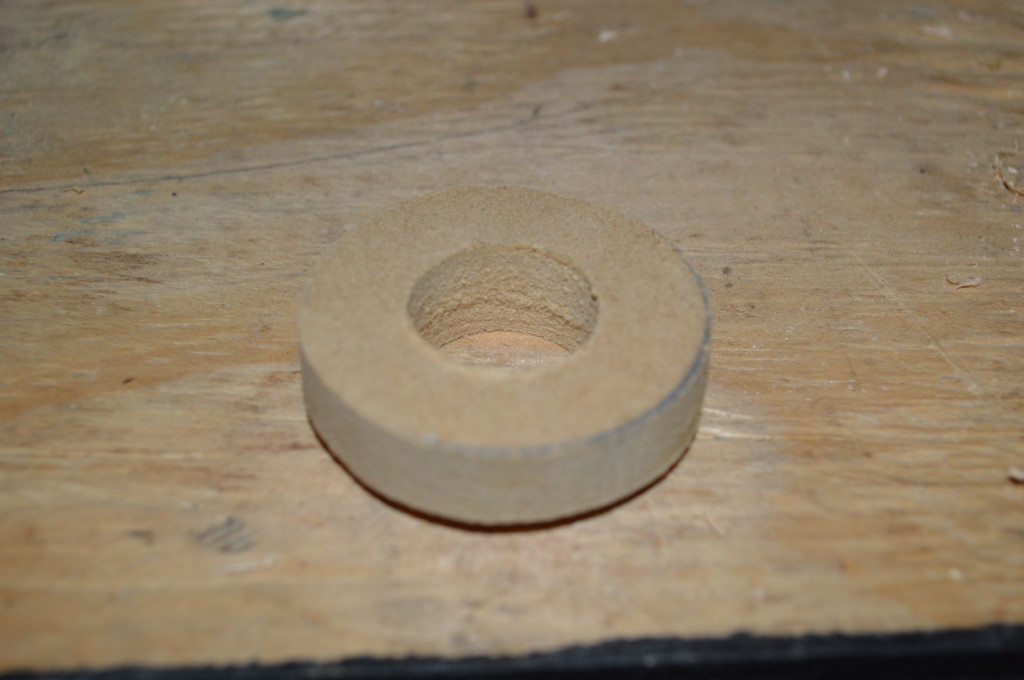 Then, we painted them to match the insides of the coverlets.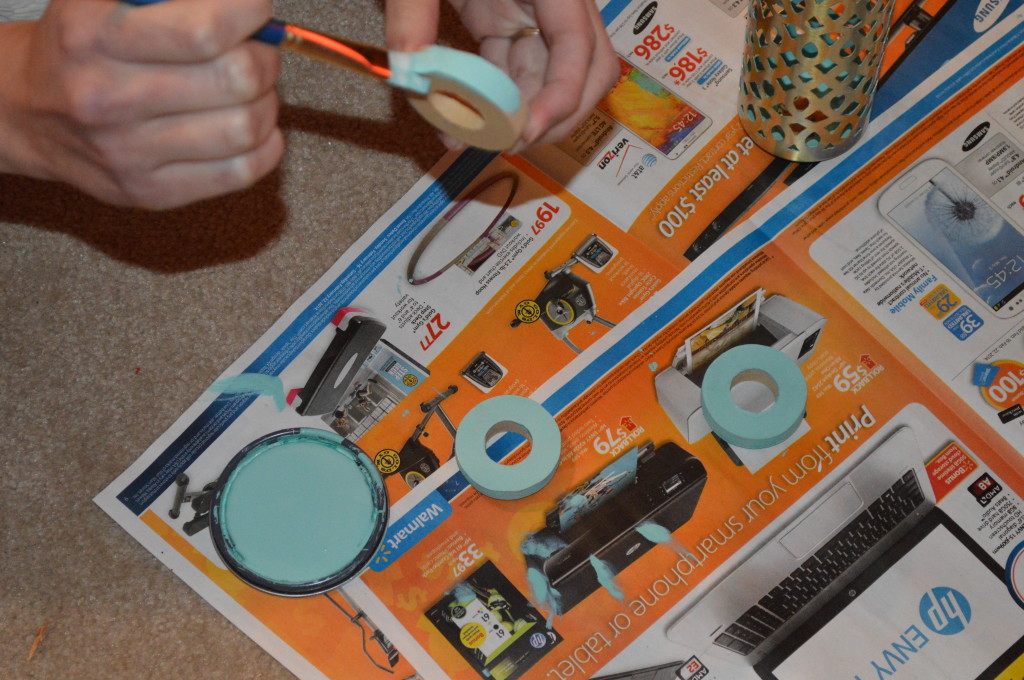 Pretty soon, we were ready to assemble everything together.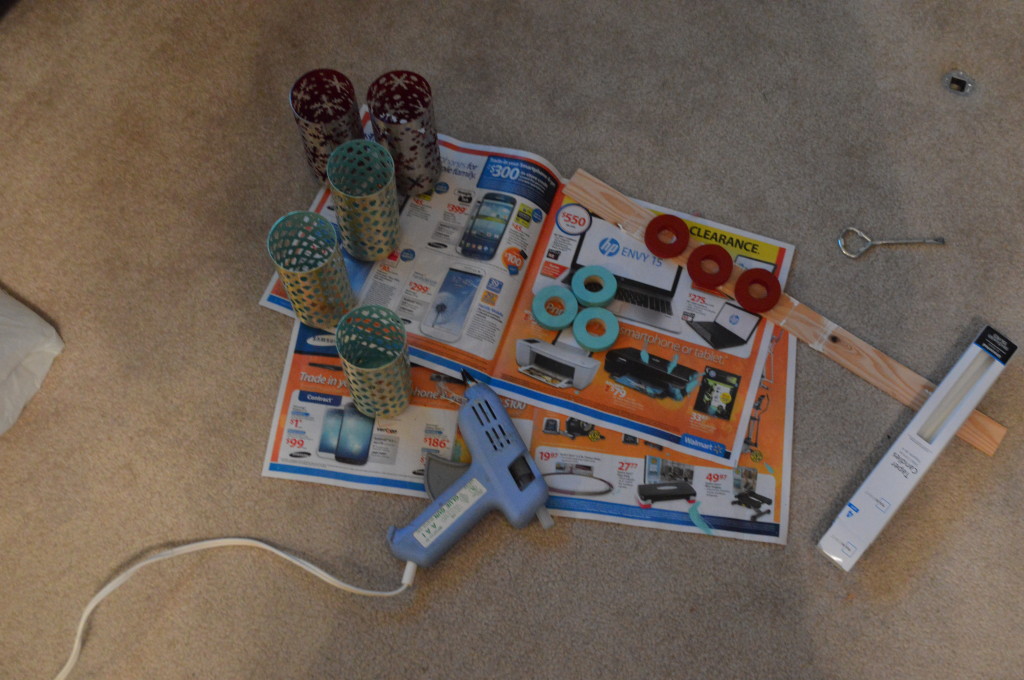 To secure them, we hot glued them in place, using the taper candles as a handle to maneuver them in place.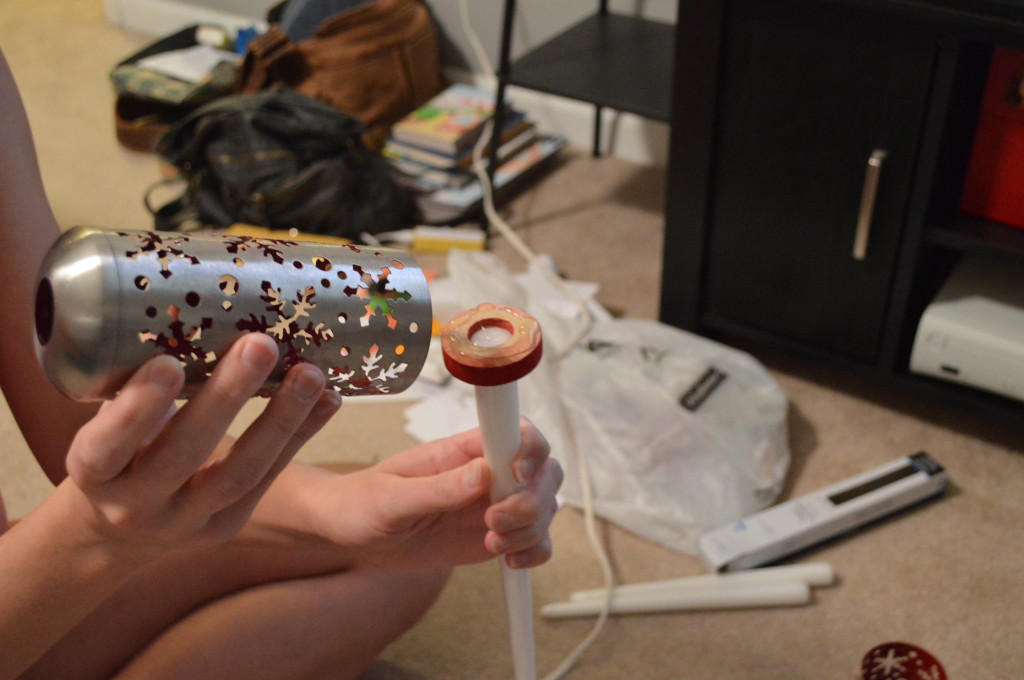 We also picked up three silver snow flake coverlets, again for about $0.50 cents each with the idea of making a few Christmasy candle holders as well.
I wanted to paint these red on the inside, but after trying some red acrylic craft paint, I decided I'd have to spray paint them. I didn't have any red latex paint on hand and the acrylic was too thin. I would have needed several coats, as evidenced by the streaky red  you can see in the photo below.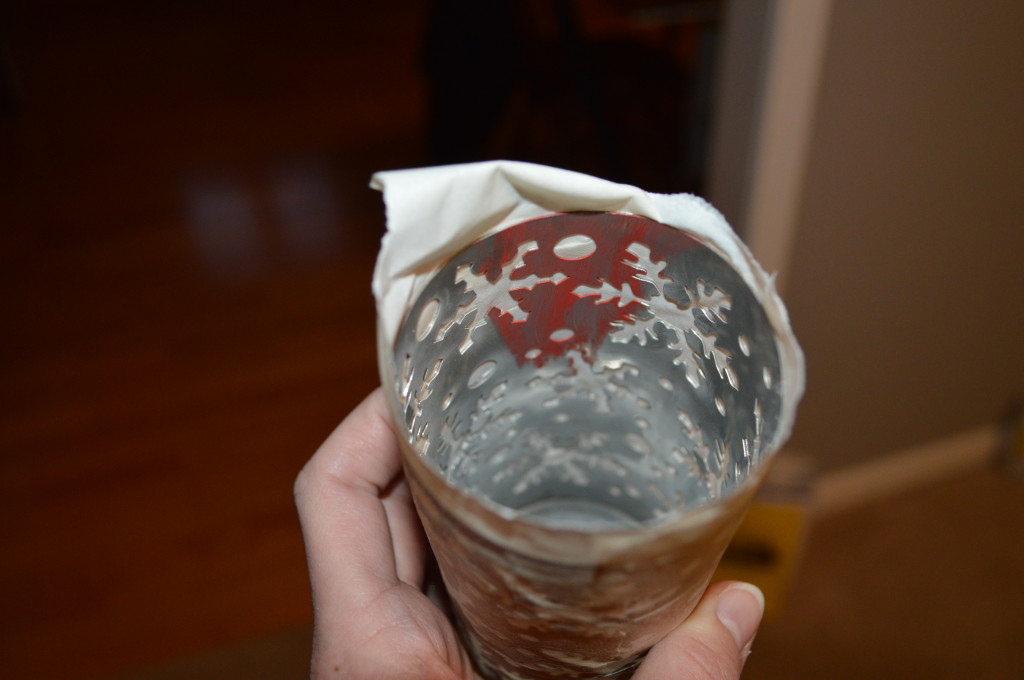 So, we used spray paint, and to keep the paint from getting all over the outside of the metal, I wrapped it tightly with tape to prevent any overspray.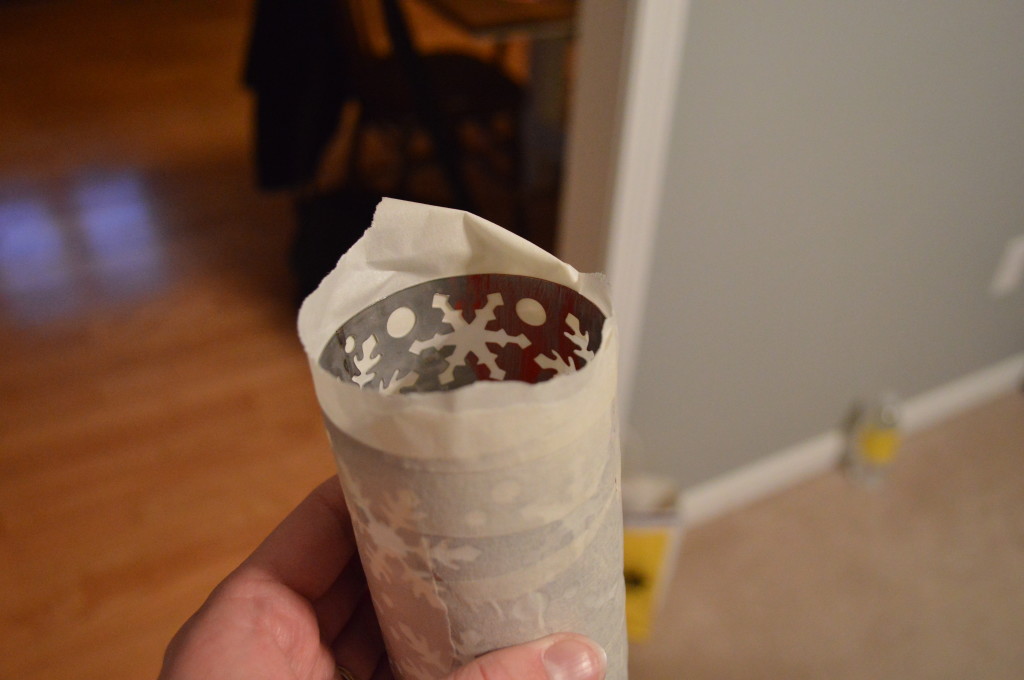 Again, I had to touch them up a little with the Goo Gone because a little seeped through around the holes, but between that and my fingernail, I was able to get them looking pretty perfect, if I do say so myself.
I think the touch of color inside really contrasts nicely with the metallic outsides, giving these a fun, eclectic, modern, and a little high end look to them.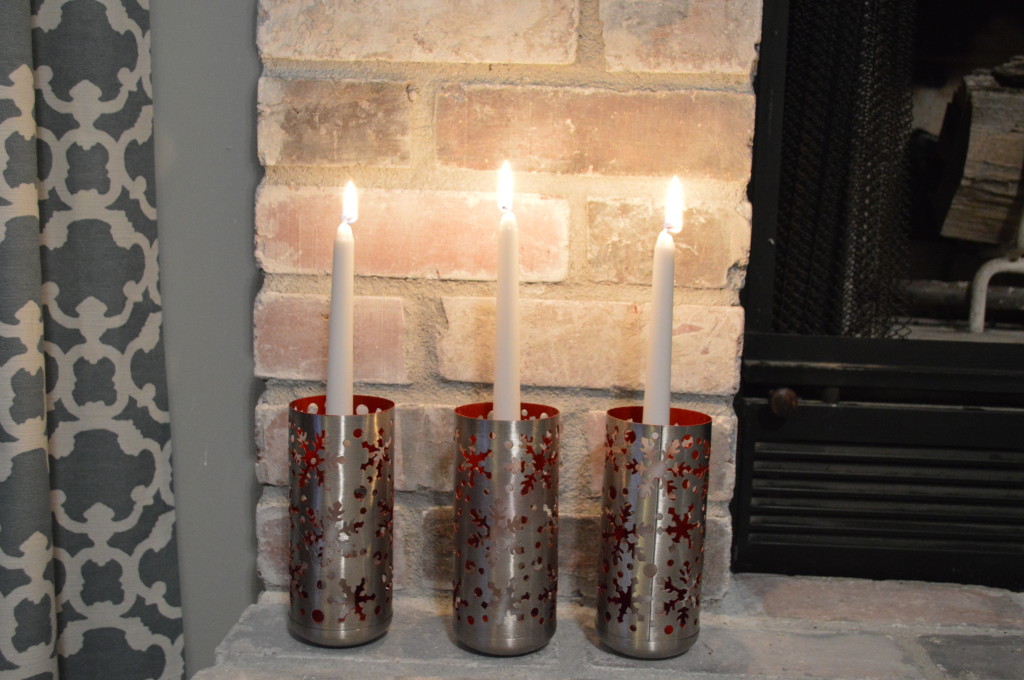 And, I like the funky shape for a taper candle holder. It's very different from other taper candle holders I've seen, which look really formal to me.
I think the gold and blue ones are awesome.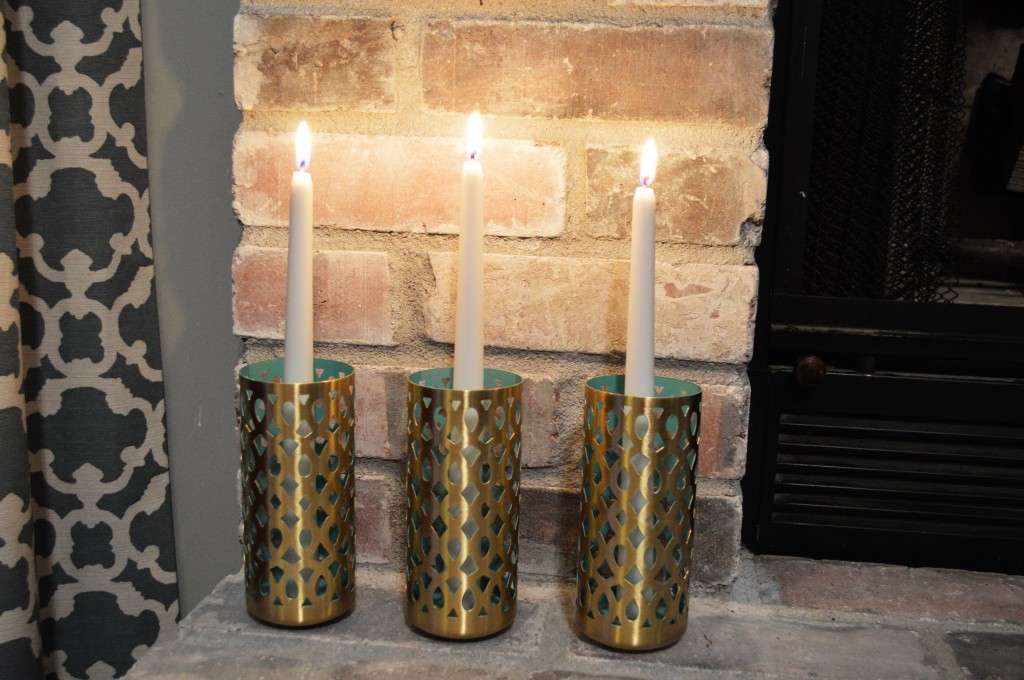 Although, Hubs is still convinced these would be really cool to use with a little tea light candle, and I agree, so we may try that sometime in the future as well.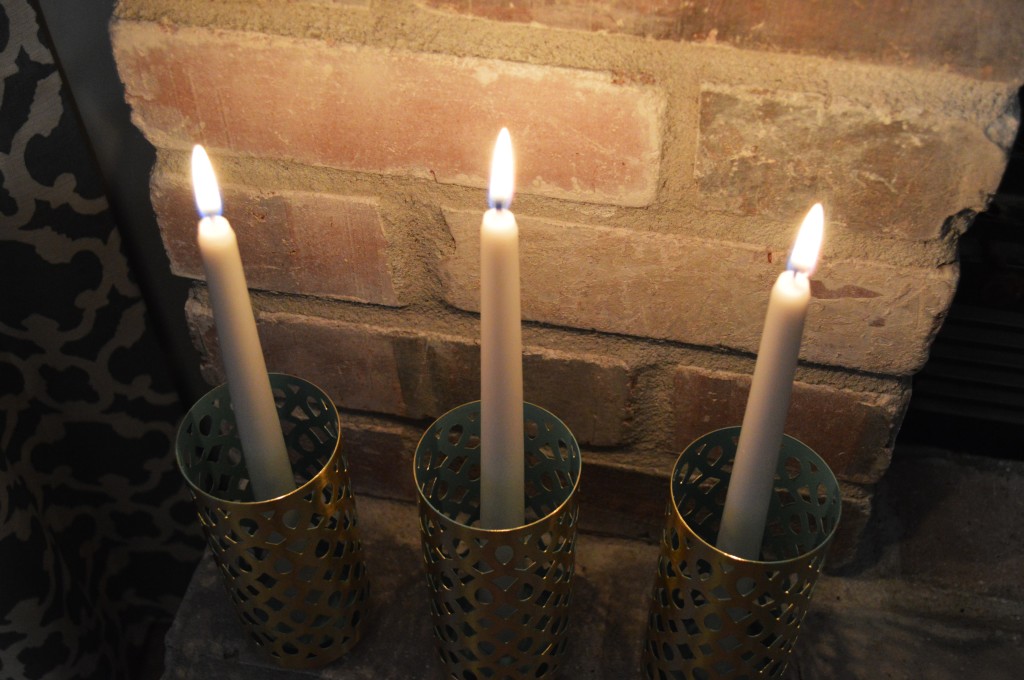 So, there's our coverlet to candlestick holder project, which came in at about $3, not including the hole saw Hubs had to buy. He's wanted to get some of those anyway though, so I'm not sure it counts as a purchase specifically for this project.
I think having these cool new candle holders may inspire me to actually burn some candles now!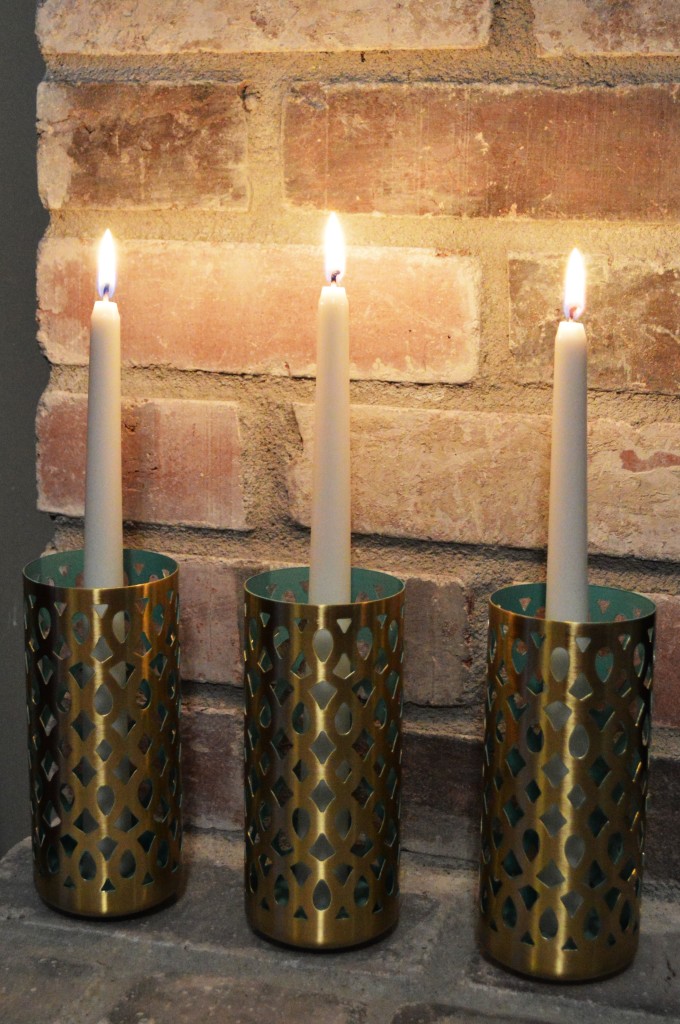 And of course, we're already getting ready for next Christmas.
Have you ever found something on clearance to turn into something else? Ever used a soap coverlet? I'd never heard of them before this project but I guess there's a market for the, since there were several options to choose from at Bed Bath & Beyond. I think they'll serve us better as candle holders!