Now that it's a week before Halloween, I'm finally getting on the decoration bandwagon.
I already showed you guys the new fall wreath I made, here.
But last night, I finally got the rest of our house all fall-ified.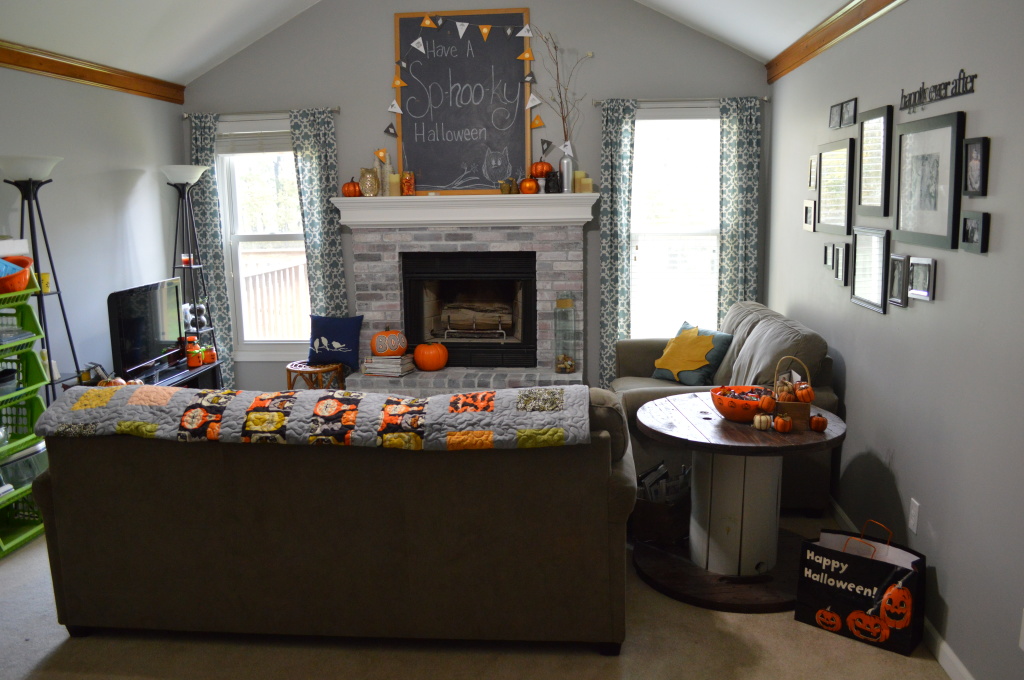 I was hesitant at first to decorate because I knew we are going to be tearing up the living room soon to do the flooring project, but I finally just decided that I had so many awesome fall things that I wanted to use them. Plus, there weren't really going to be decorations on the floor, so I figured why not?
(The vintage gift bag in the photo above has spare decorations in it, and can be easily moved.)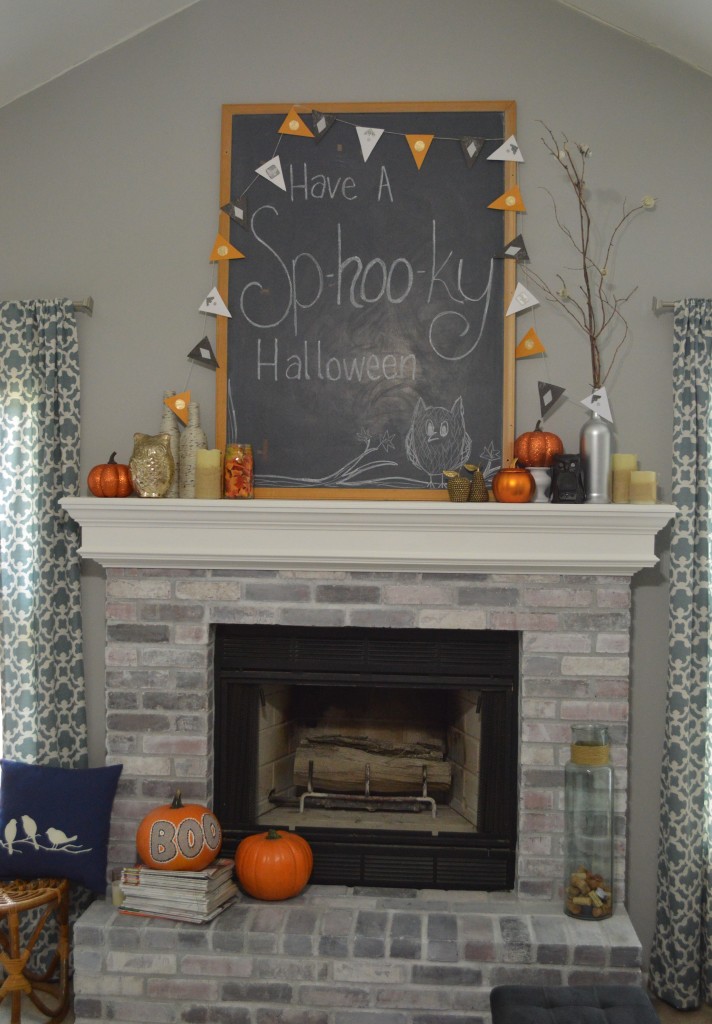 For example, Wyatt's mom made me the most adorable Halloween quilt and I couldn't stand the thought of not getting it out and putting it on the couch. I mean, just look at the cute Halloween bottles? I'm not one for gore or scary Halloween stuff, but these are the perfect combination of cute and festive.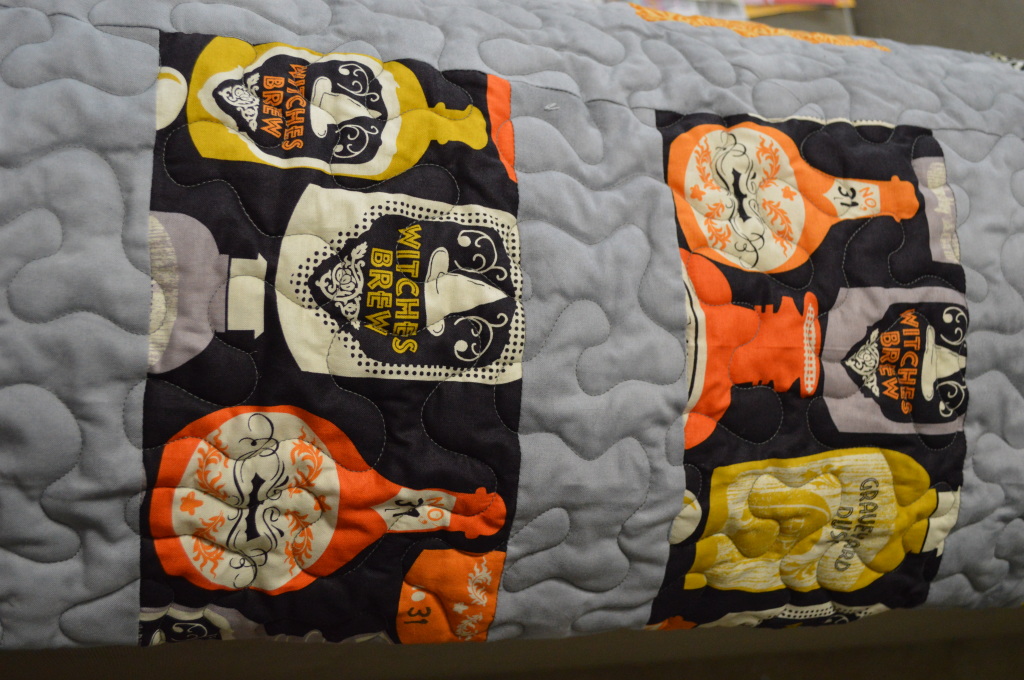 It makes the couch look extra festive.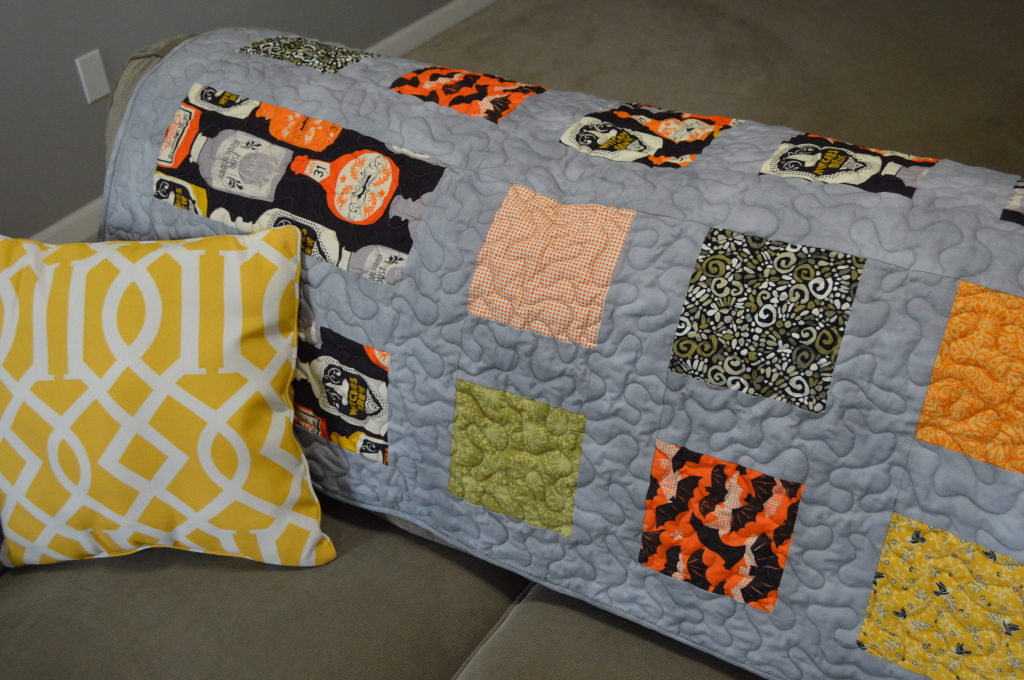 I also grabbed the fall pillow I DIYed last year and replaced some of the more summery throw pillows with something more festive. You can find the tutorial for that, here.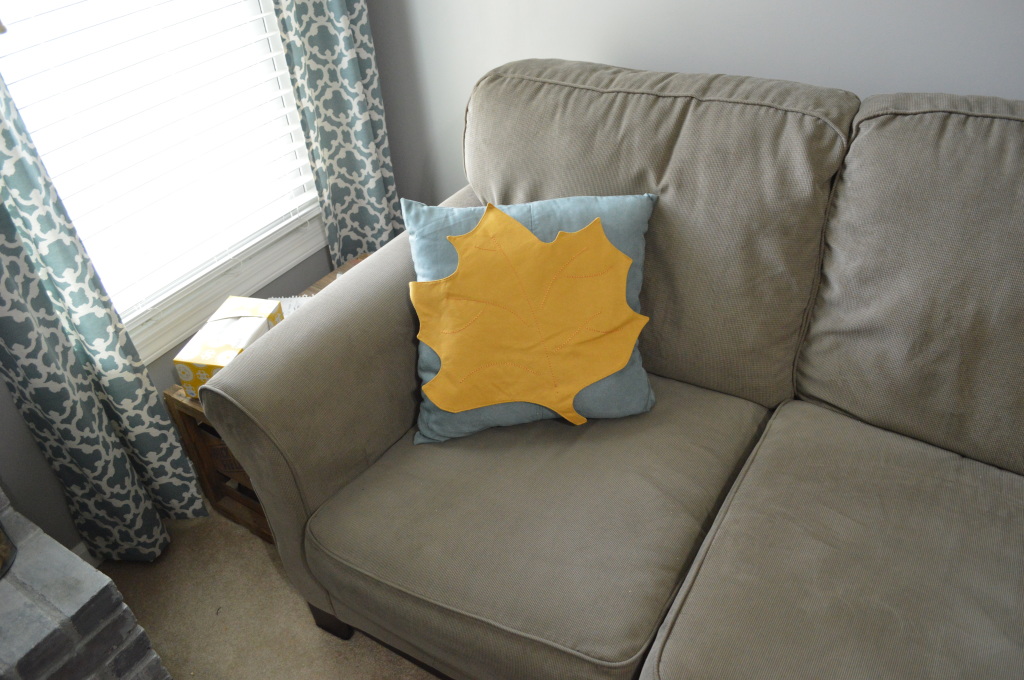 I added a few more pumpkins I had in my stash and drew new faces on my little glass pumpkin jars. You can find the tutorial for those, here.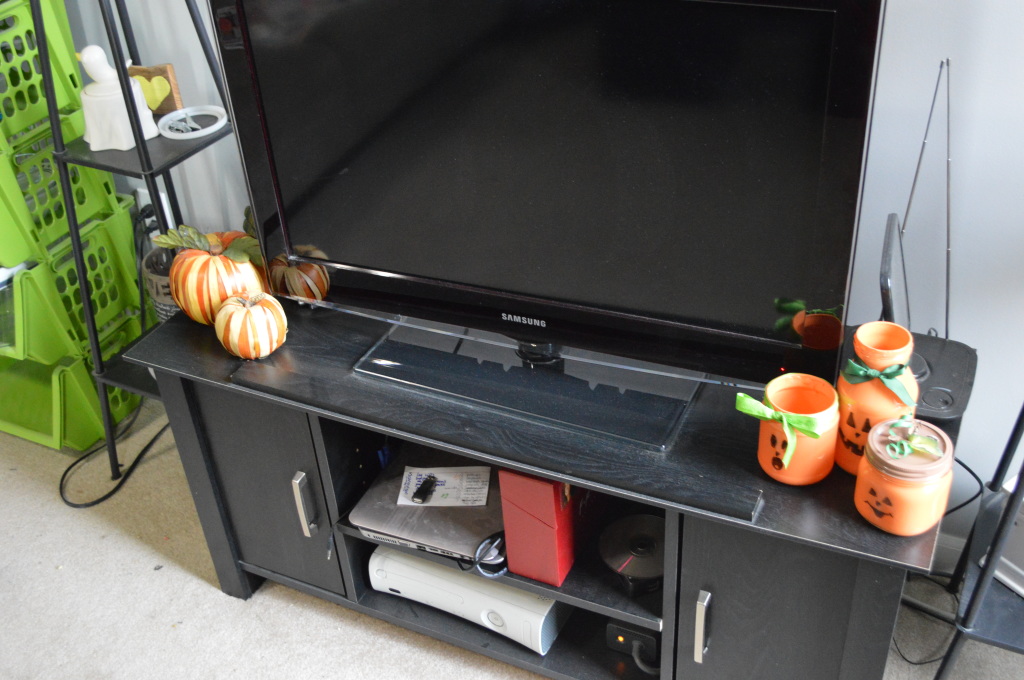 Then, onto the mantle.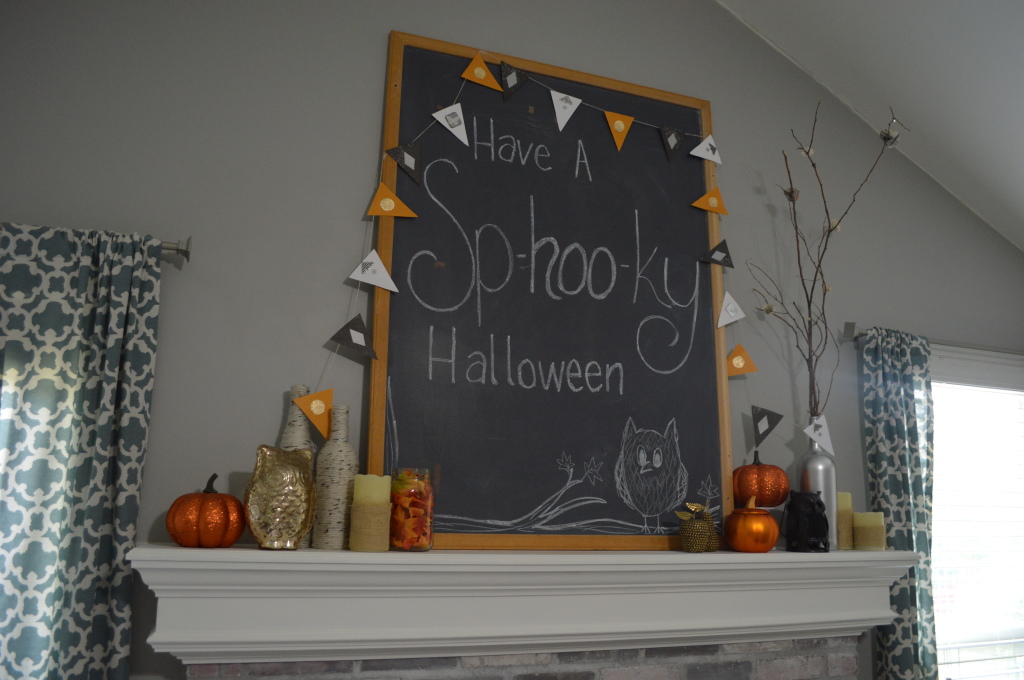 I redid the chalkboard for the first time since we started this crazy-long kitchen project and went with an owl theme. It had "Bless this Mess" long enough. There's only so much mess-blessing allowed per year I'm afraid. Ha!
I grabbed a few new pieces at Salvation Army the last time Wyatt and I were there and decided they would be perfect for creating a sort of glittery, glam Halloween theme. I already had some glittery pumpkins from Target clearance last year and I made a glittery painted real pumpkin earlier this year with some friends.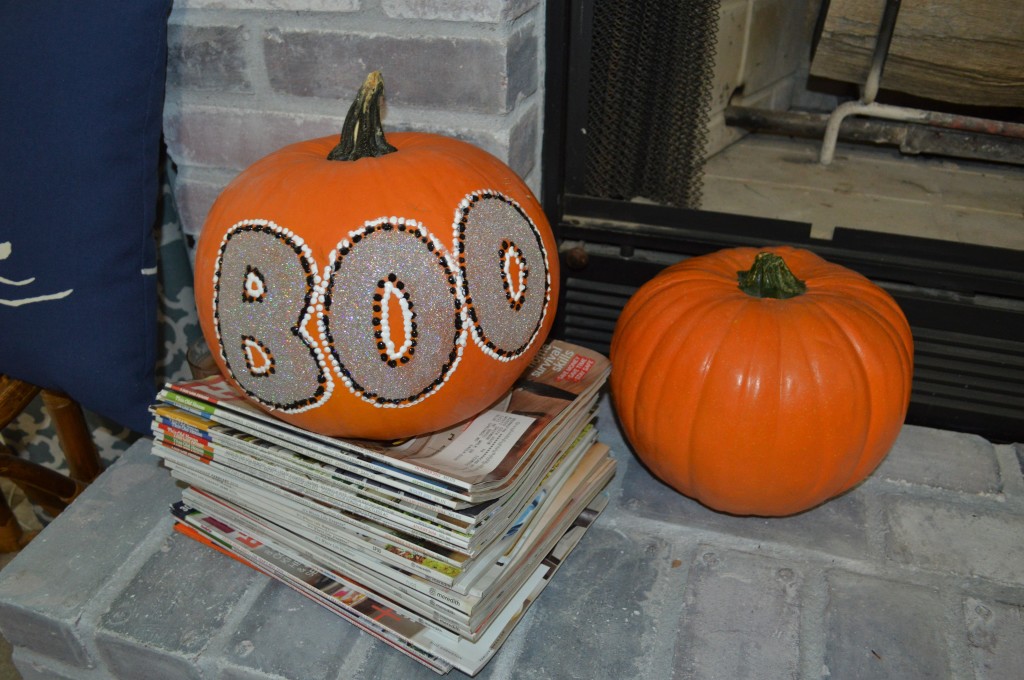 Can you tell I am behind on my magazine reading? Sheesh! I need to get to work on that, huh? (To be fair, I have probably read half of them but are saving them for ideas–as a side note, I need to figure out a way to do that without saving the whole magazine or loosing a torn out page…)
But, back to the Halloween decorations. This little (originally blue) thrifted owl lantern got a coat of spray paint to make it more Halloween-themed.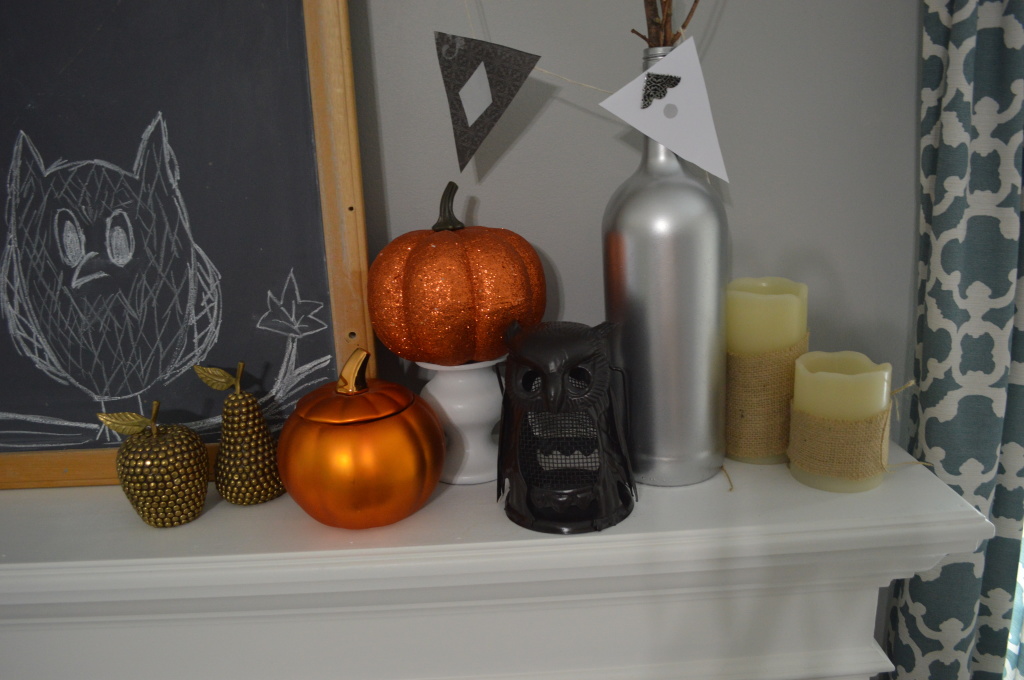 I also spray painted a giant wine bottle with silver spray paint for some more metallic glam, then stuck in some dried tree branches.
The shiny gold owl was already perfect as is.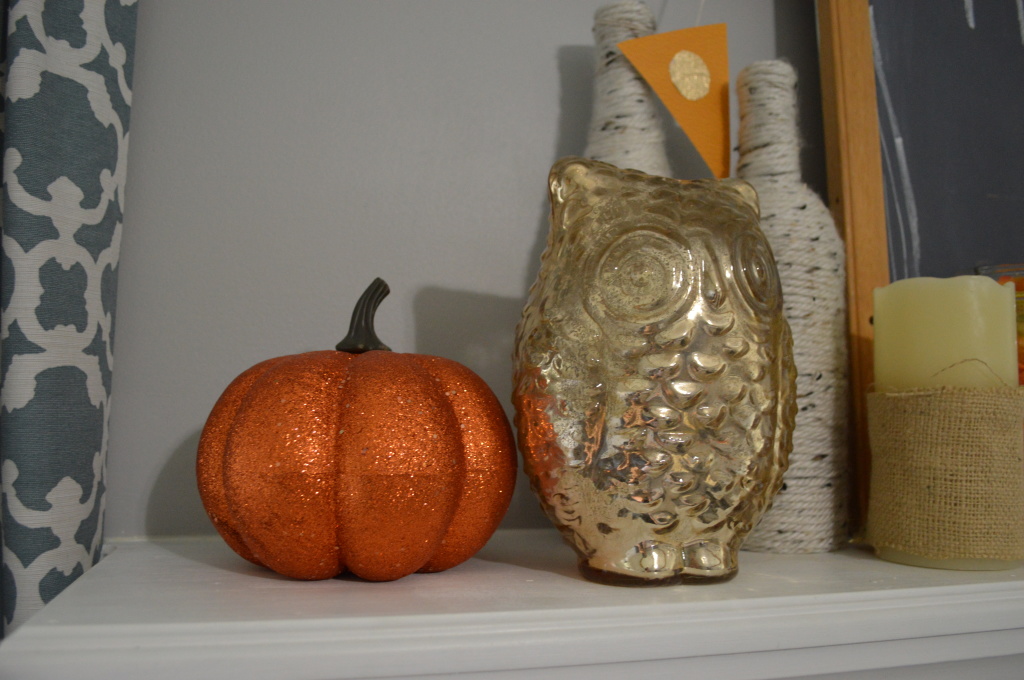 My little chalkboard owl isn't super fancy, but it gets the job done. I know I'll be taking this down soon since I waited so long to decorate so I didn't want to spend a ton of time on it.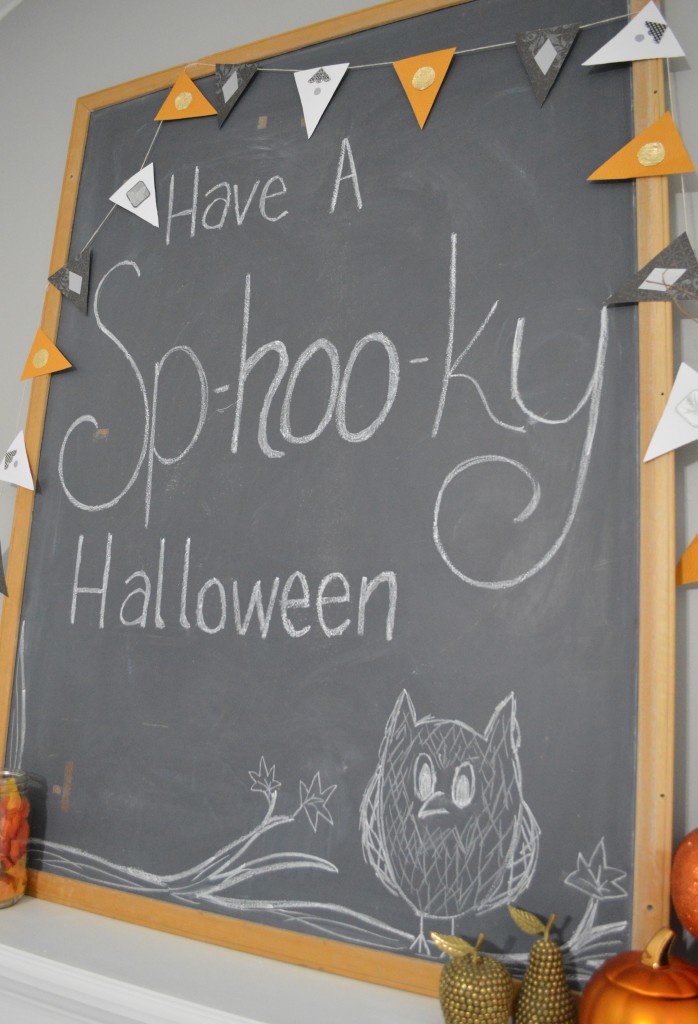 It was looking pretty good, but needed a little extra touch, so I DIYed a quick little pendant banner with some bright pops of orange and some silver and gold glittery accents. This took me about 30 minutes with some scraps of paper, tape, and twine.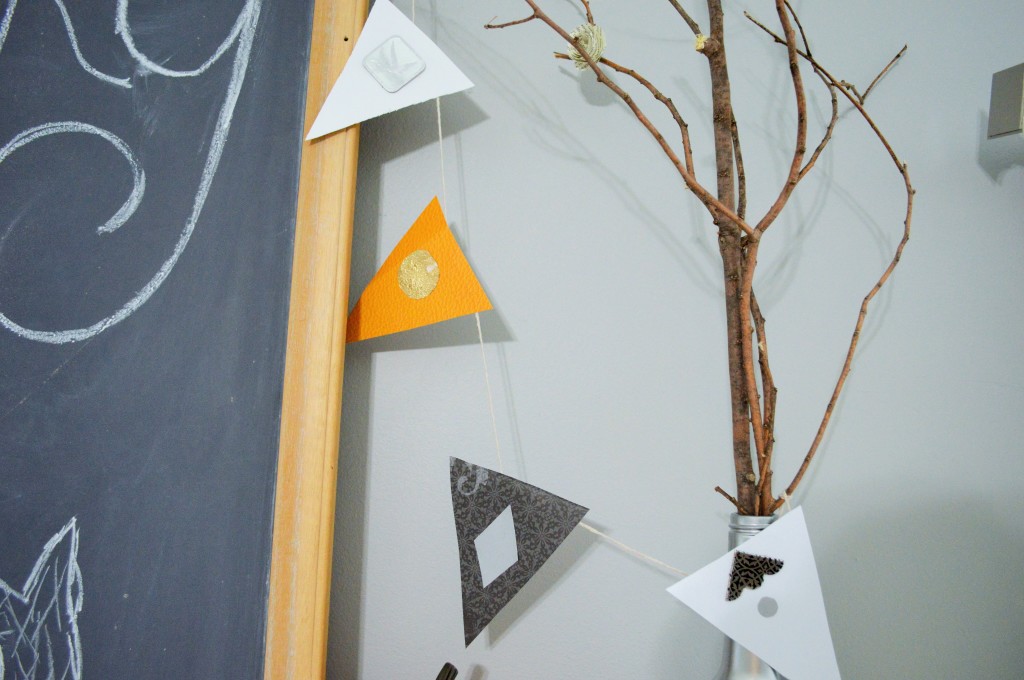 I draped (taped) it onto the chalkboard and considered the room done.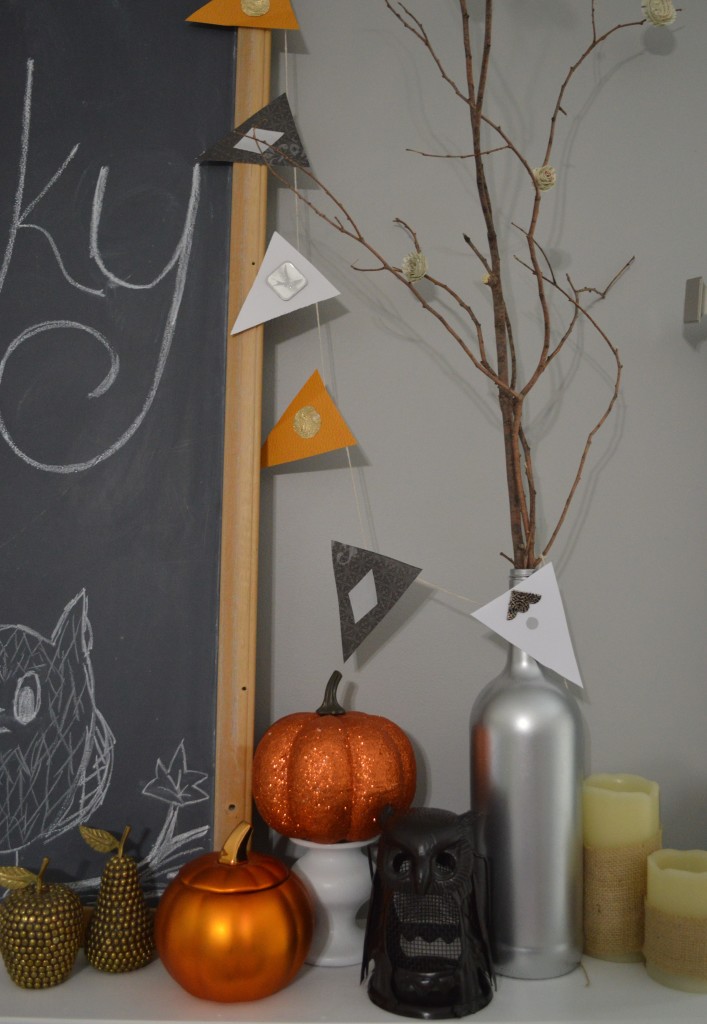 Perfectly easy, really cheap, and still fun.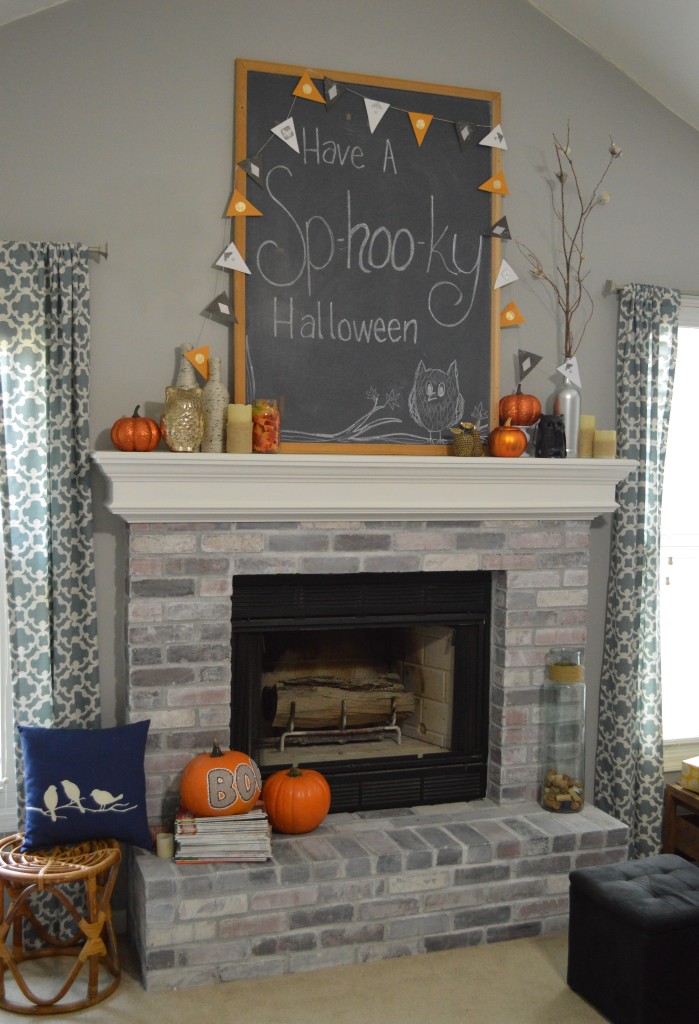 And for some reason, I just really enjoy glitter for Halloween and Christmas…it's like an excuse to be extra festive and fun, right?
I'd love to see your decorations. Do any of you like glittery-glam decorations for for Halloween as much as I do? I think it's more fun than the ghosts or spiders (ick!) and I've never been into the scary stuff either. 
Oh–and don't forget, you can download your FREE Halloween prints if you don't already have them! Who can resist Linus, right? Get them HERE.