Even though the kitchen is finally done (woohoo!—and thank goodness!), the wall over the big table has been totally bare and boring for over a year now.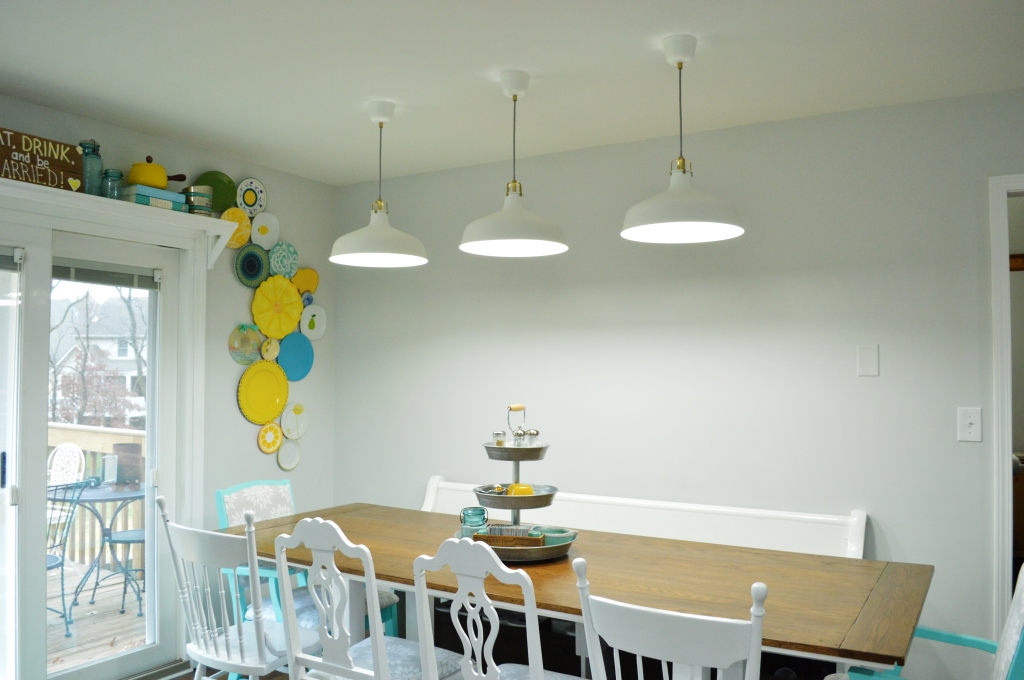 I knew I wanted something large, rather than a lot of smaller things, mainly because of the plate wall in the corner. I didn't want whatever I chose to compete with that and look busy. Sadly, large art is PRICEY. And we're not pricey people. We're thrifty people. So, that meant we would be DIYing something. Or doing without. We did without for over a year, so it was time to DIY.
I actually have a long-term plan in place, and underway, but in the meantime, I wanted something a little more seasonal for Christmas.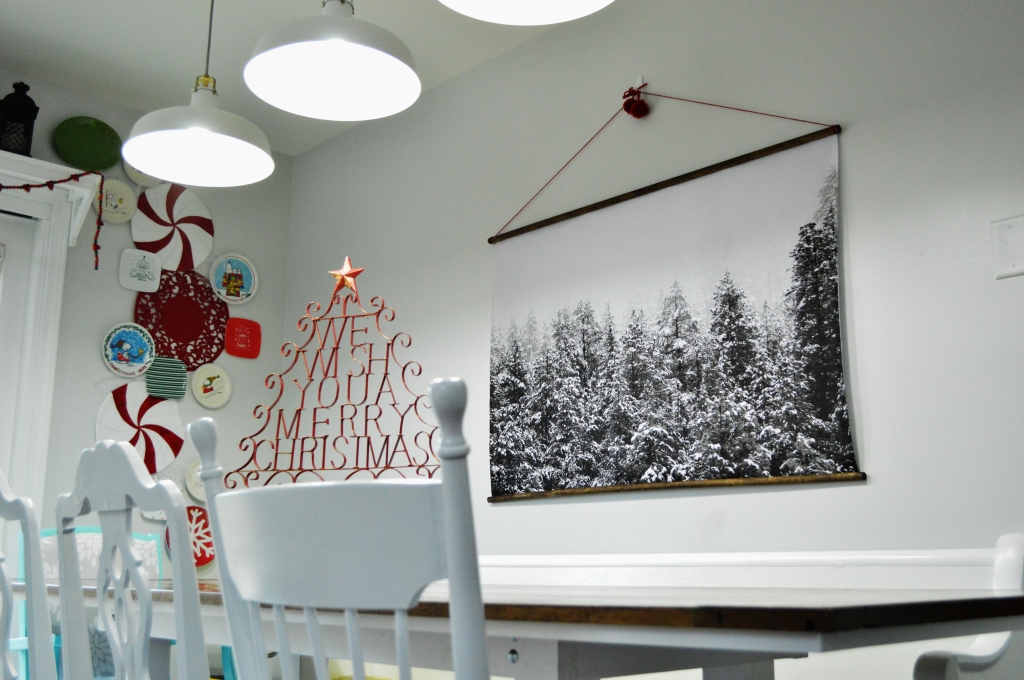 Here's how I did it:
First, I chose a wintery photo. This happens to be one I found on my favorite free stock site, Unsplash. Seriously, go check it out. Then, I ordered a large format print from Office Depot. It turned out to be four feet by three feet, which cost us a whopping total of $5.88. (And I had a coupon, making it only $4.41. Cheapest art ever, right?
And the quality is super good for that price…it's not photo paper, but I don't care. It does exactly what I need it to and I don't mind that it isn't glossy.
Then, I picked up two dowel rods at Home Depot. These were 4 feet long, which was perfect for my size of photo–I just trimmed an inch or so off each side.
I went ahead and stained them a dark walnut color, but that's optional, you could leave them natural wood if you preferred. (Sorry for the blurry phone pics.)
It doesn't have to look that great because there isn't much wood grain to see on these cheap dowel rods, you're basically just slopping some stain on to darken the overall look.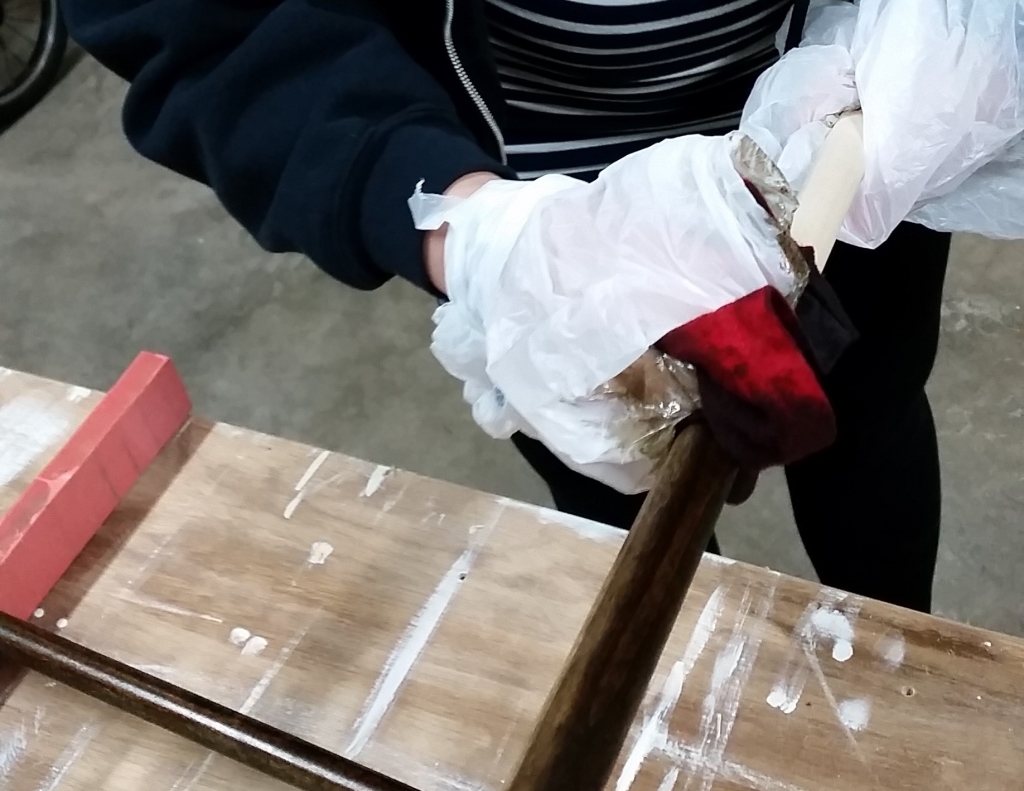 In case you're wondering, yes, all the cool kids use plastic bags on their hands when they can't find any gloves.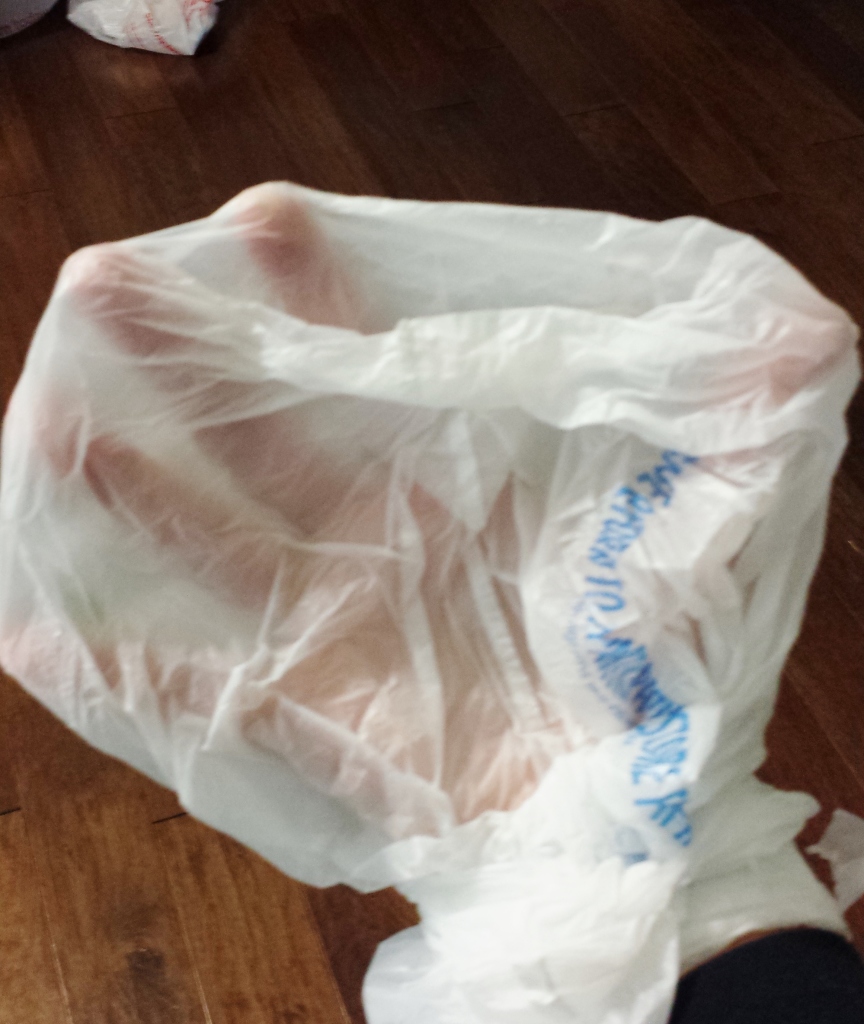 I trimmed my photo print to size and got everything all lined up.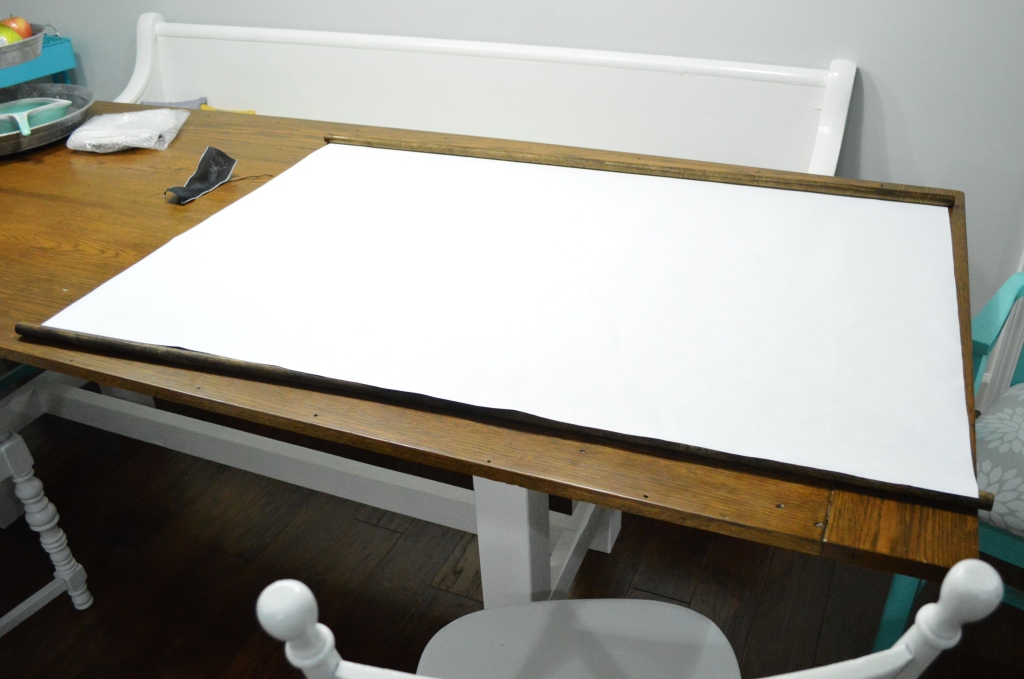 Then, I stapled the print onto the dowel rods. You'll need a large, flat surface, but I actually found it was easier to do the stapling on the floor since the carpet kept the rods from spinning.
I used a bunch of staples to help ensure the weight was spread evenly so none of them pulled out and ripped the paper.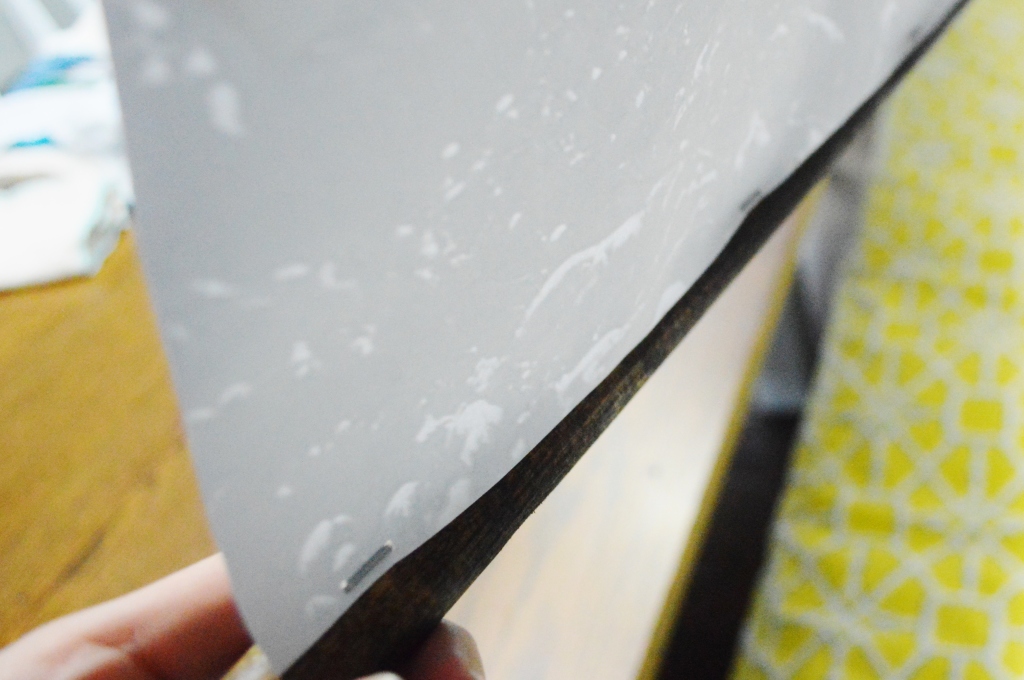 Once everything was secure, Wyatt helped me tie a long piece of yarn to each end of the top dowel rod. I thought we might have to add a dab of hot glue to the ends to keep the yarn from slipping, but we didn't. It's been fine as is.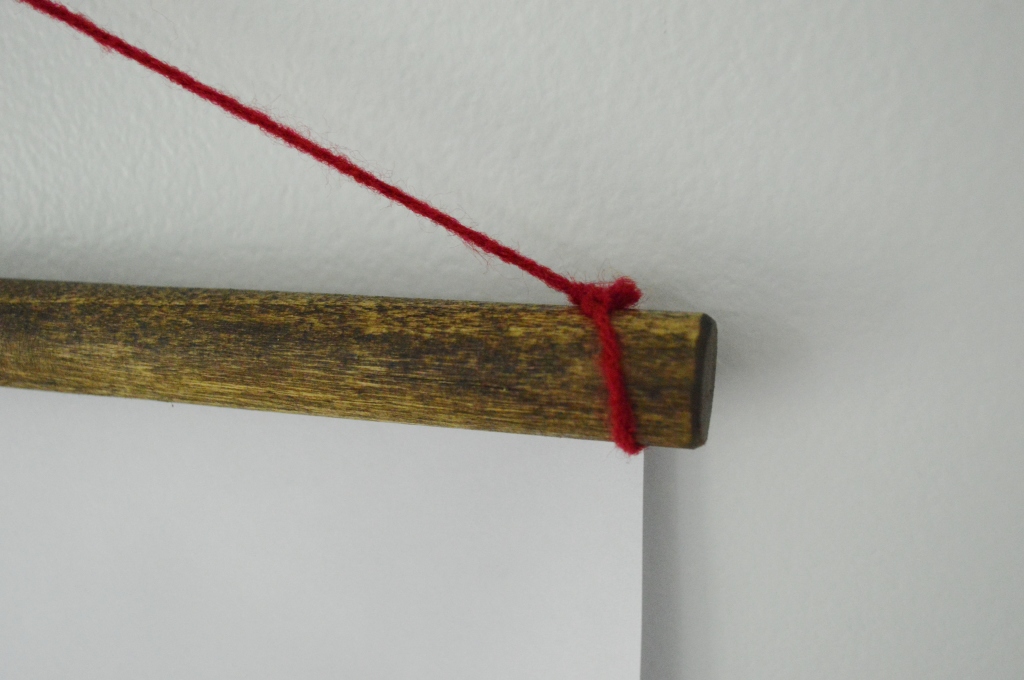 You don't want to leave any slack really because yarn is really stretchy so it will sag on its own. See?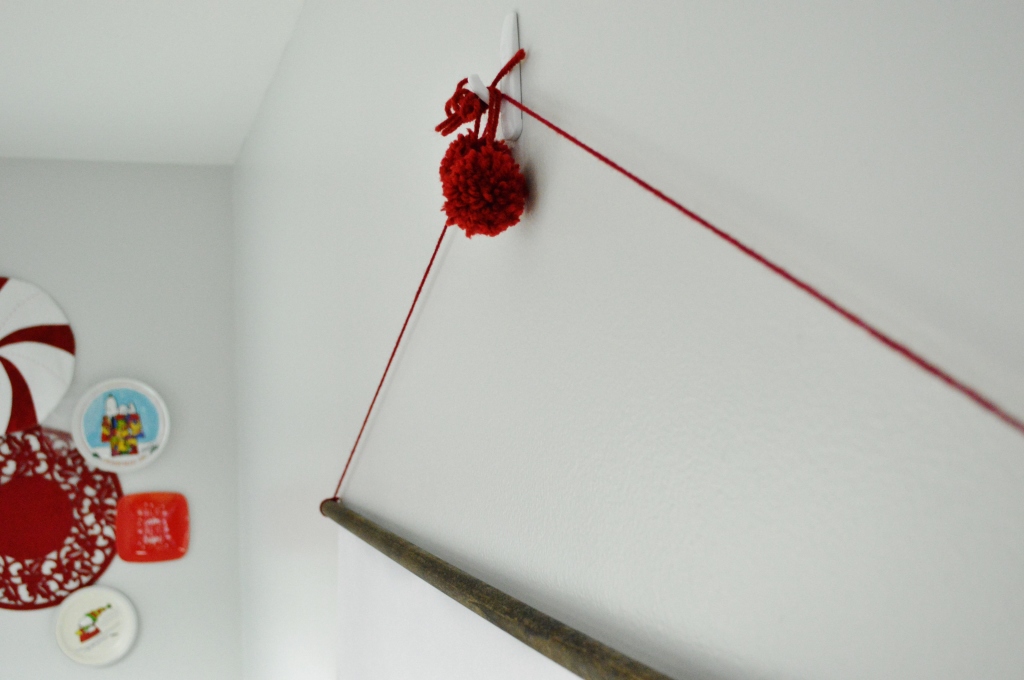 We used a command hook to hang it so it will be removable after Christmas, and I added a couple little yarn pom poms (tutorial here) for a little extra festiveness.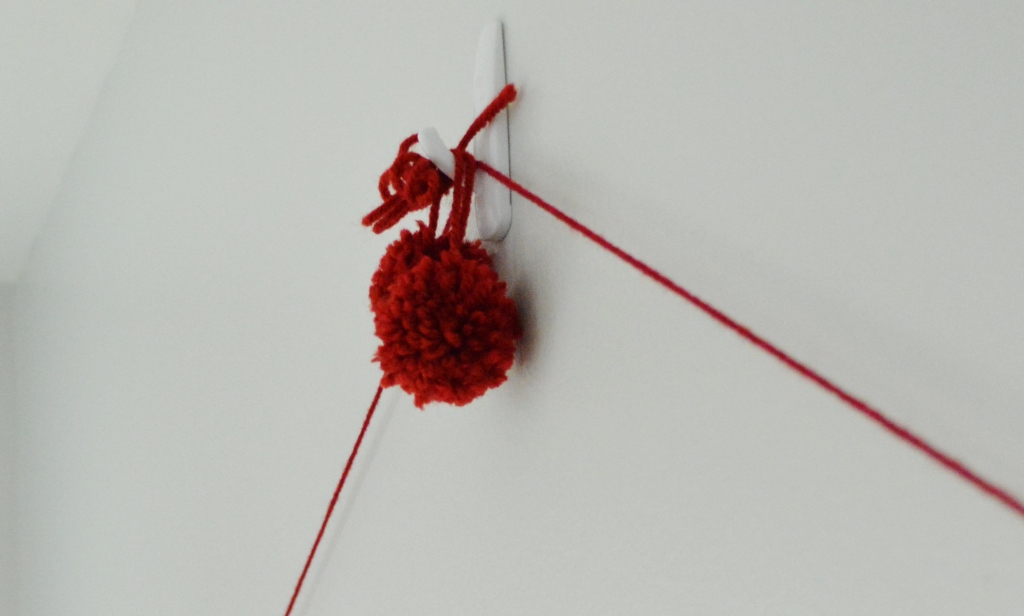 I think it turned out awesome. Perfect for adding something interesting on the wall in that big blank space, and it was less than $10. Crazy, right?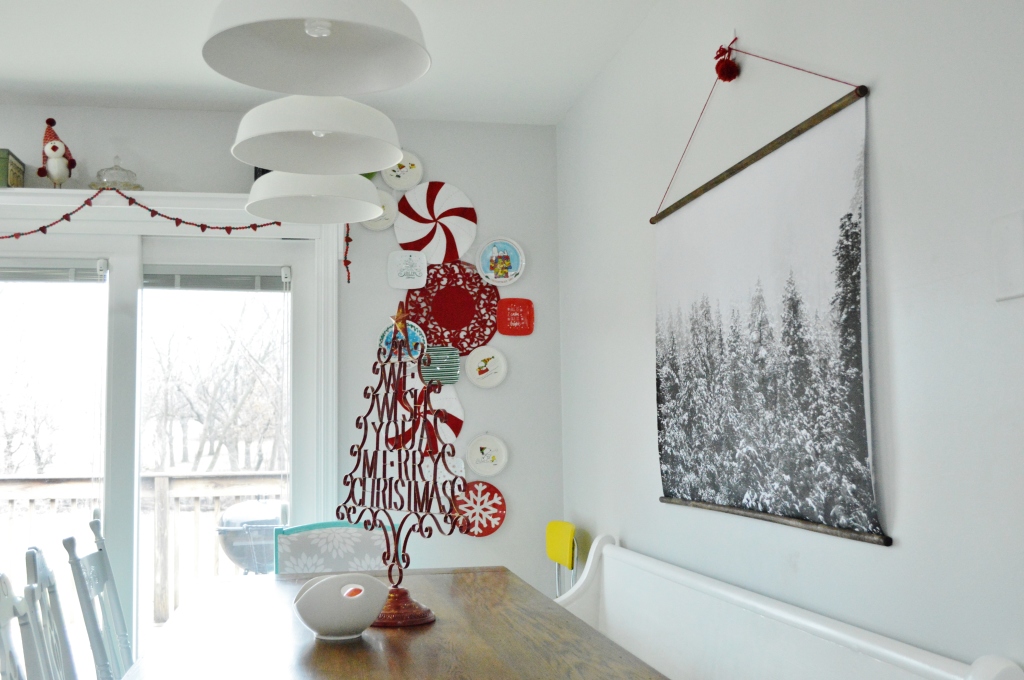 Stay tuned for what we end up hanging over the table after the Christmas season is over…I'll give you a hint that it's pretty beefy!  Any guesses?
Although, I like this one so much might leave this one up all winter….it's not that Christmas-y…right?