Last year, our strawberries didn't do all that well, mostly because they were shaded by the cucumbers and overgrown and just sitting on the ground where bugs and moisture took a toll on our harvest. Lots of blooms, but not many ripened berries.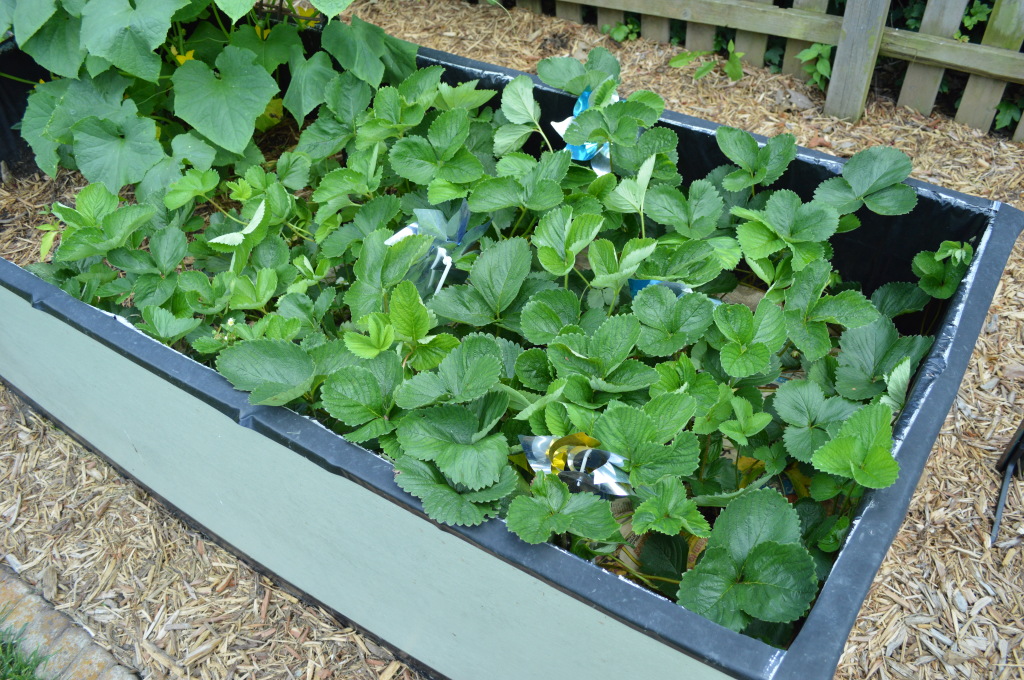 So, this year, I wanted to try and transplant them to a planter where they could get more sunlight and, hopefully, be safer from bugs and other issues.
My first thought was something wooden, like the first one on the left, below: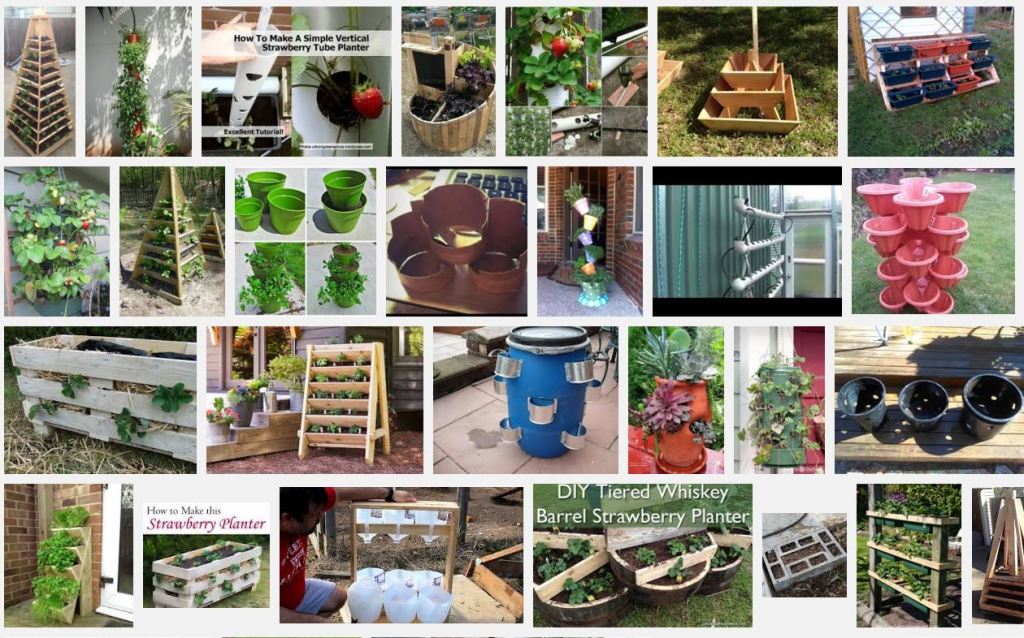 But, Wyatt is a busy guy and I keep adding other things to his list. And I had no idea where to put that giant semi-permanent tower. Plus, wood that will last outside (but isn't treated with chemicals) isn't all that cheap when you consider this is just going to be filled with dirt…and hopefully strawberries.
So, when I saw this tutorial on YouTube (while looking for something else, coincidentally enough!), I decided to give it a try.
It looks like the original idea-creator was Organics Best Urban Garden. You can check out his channel HERE.
Of course, our Wal-Mart didn't have these crates, so I thought I'd be extra thrifty and buy the $0.97 laundry baskets and stack them up…which sort of worked…but they were so flimsy they buckled when we got them all stacked up and full of dirt…whoops.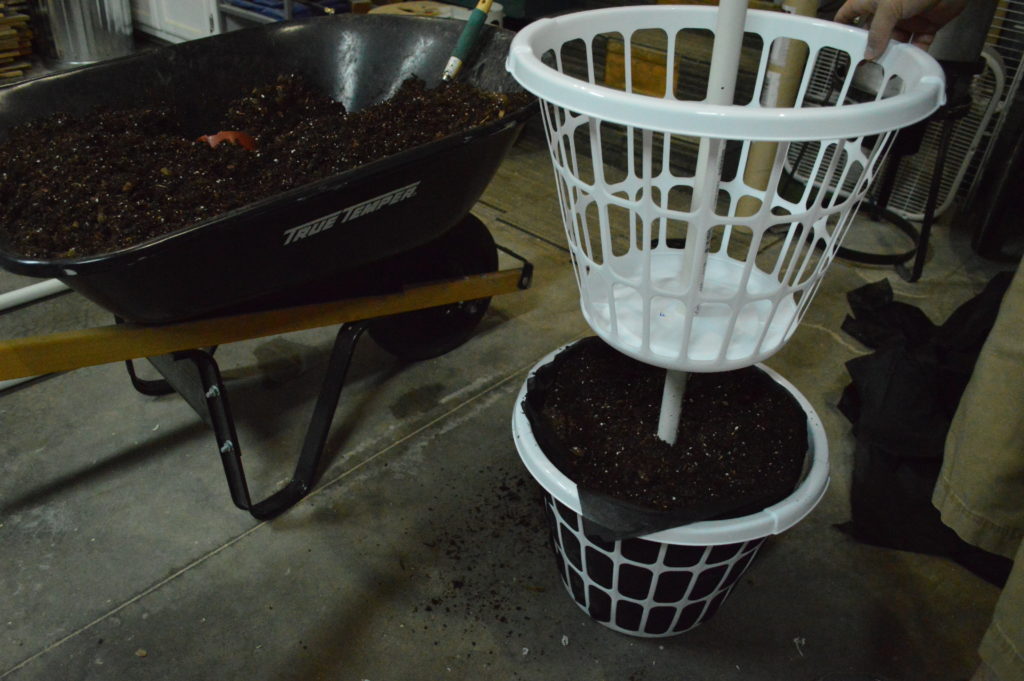 So, the next day, we ended up finding the crates at Office Depot (after a tip from a friend at church–thanks!) and we were all set to try again. The ones we found actually came in a 3-pack and were cheaper than the ones I saw online from Wal-Mart, but any similar crate will work. Heck, you might even have some of these on hand! We actually do, but they are full of junk in the basement, and milk in the chest freezer.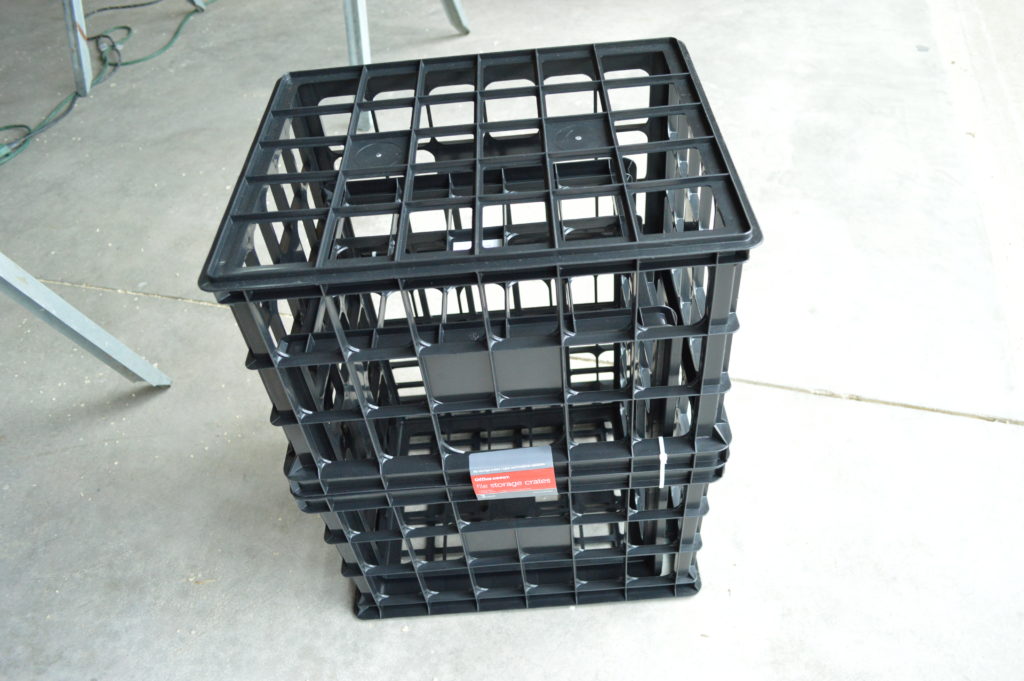 The first step in this process was to dig up all the strawberries from the garden and separate them into individual plants. That was fun. Especially because we found they were covered in aphids so we individually washed them all off in the sink…Wyatt was a huge fan of this step in the process.
Then, we basically just followed the steps in her video tutorial to make the towers. But, we went a little farther to add a watering tube made from PVC down the middle to help with watering issues.
To do that, we cut two lengths of 1-inch PVC to the height of our towers. Then, we drilled holes using a tiny drill bit. We drilled 24 holes in each pipe and added a cap on to the end to make sure the water didn't all drain out the bottom too fast.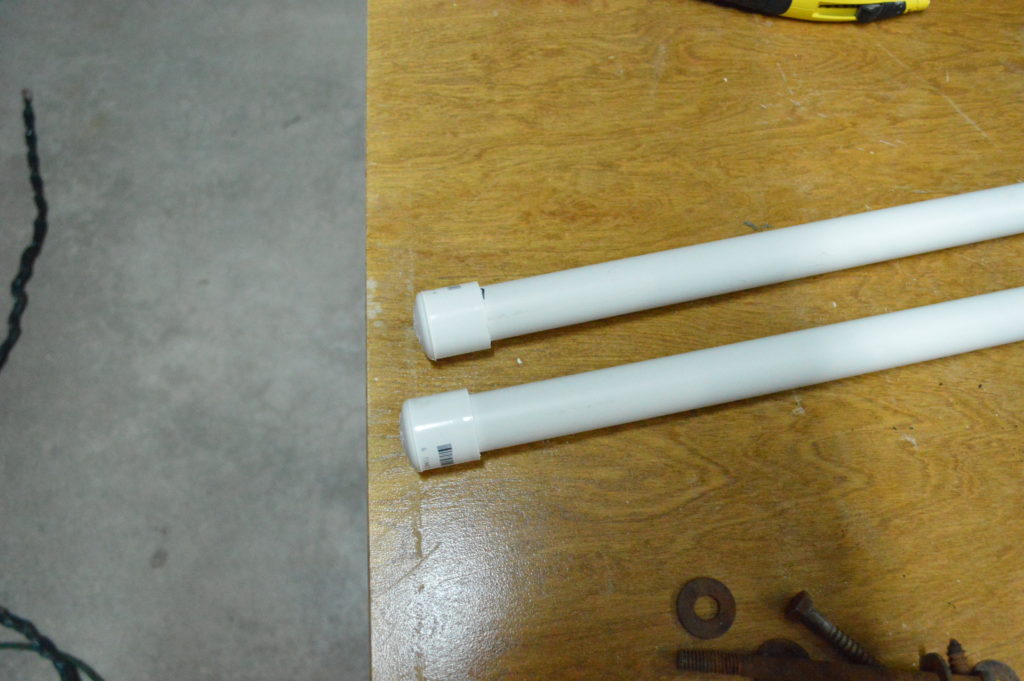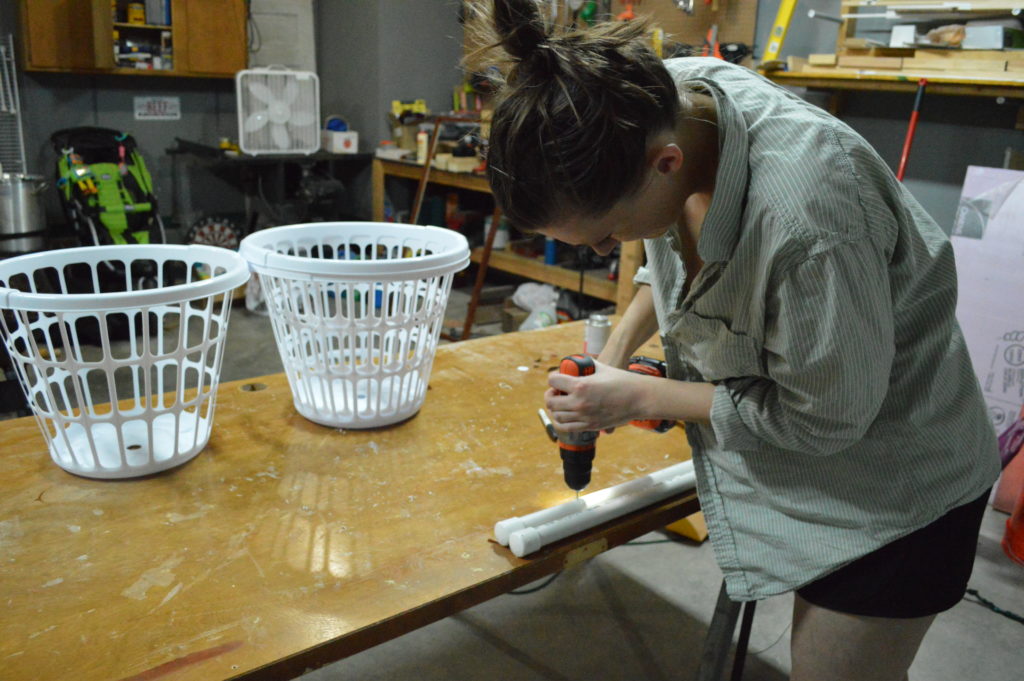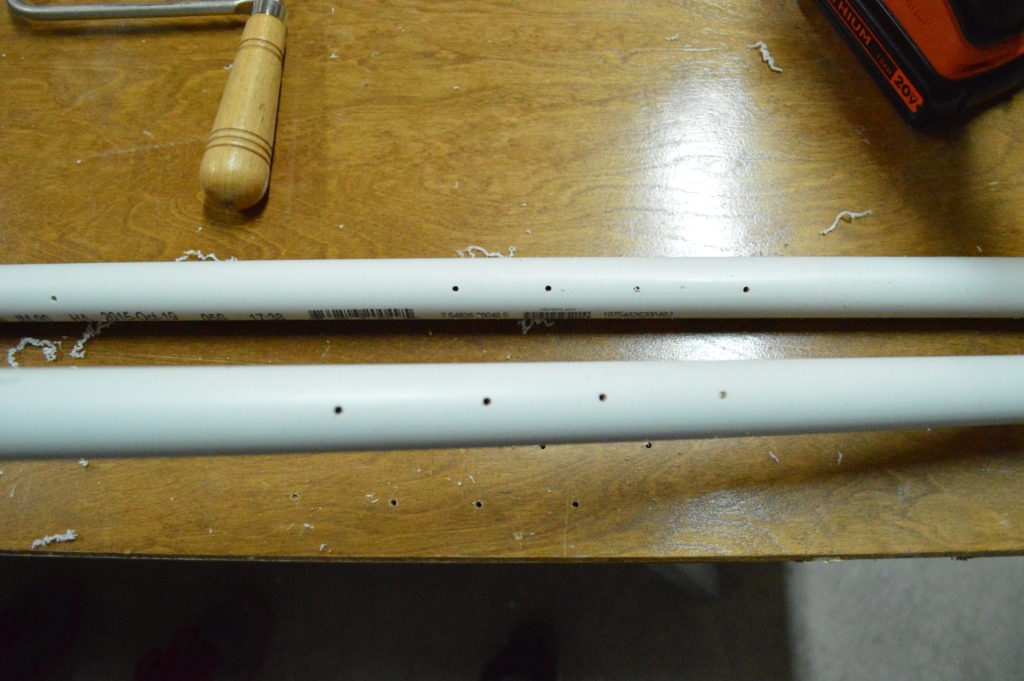 We wrapped each section of drilled holes with weed barrier fabric to prevent the pipes from getting clogged with dirt.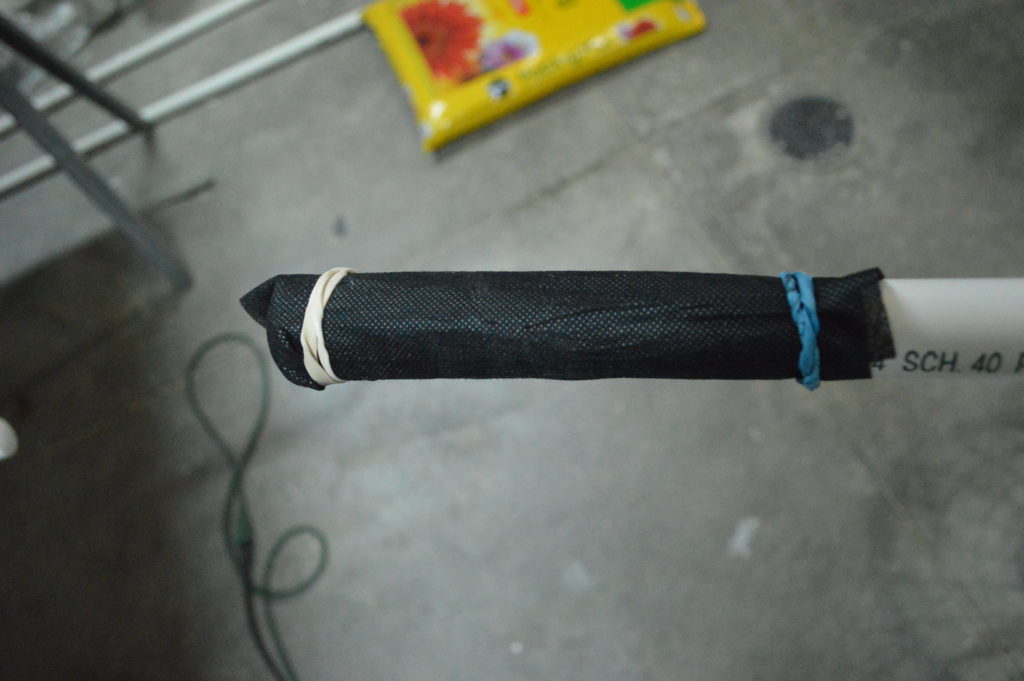 Then, we filled the bottom crate with dirt (after lining it with weed barrier fabric) and added the pipe. Then, we stacked the next crate on top and repeated the process.
(yes, I'm very fashionable in my work clothes…)
Keep in mind, the pipe has to be slightly off center because of the way the crates are made with a plastic bar down the middle of them.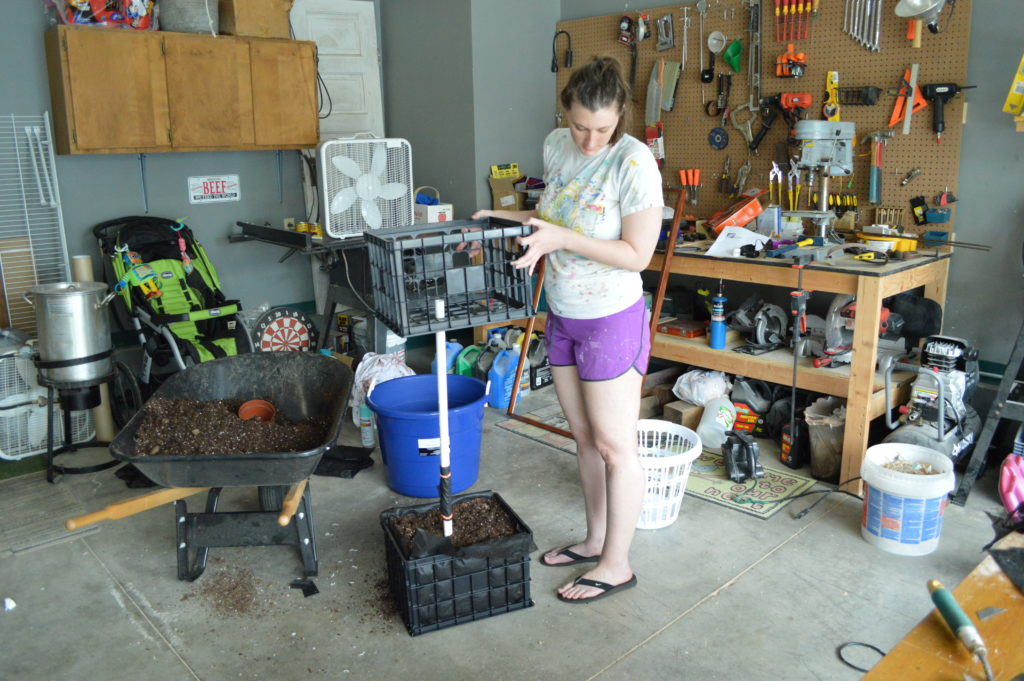 Once we had the towers built, we snipped holes in the weed barrier fabric, and added the plants. The most important part here is to give the plants enough room…without making the holes too big so the dirt all rushes out when you water it.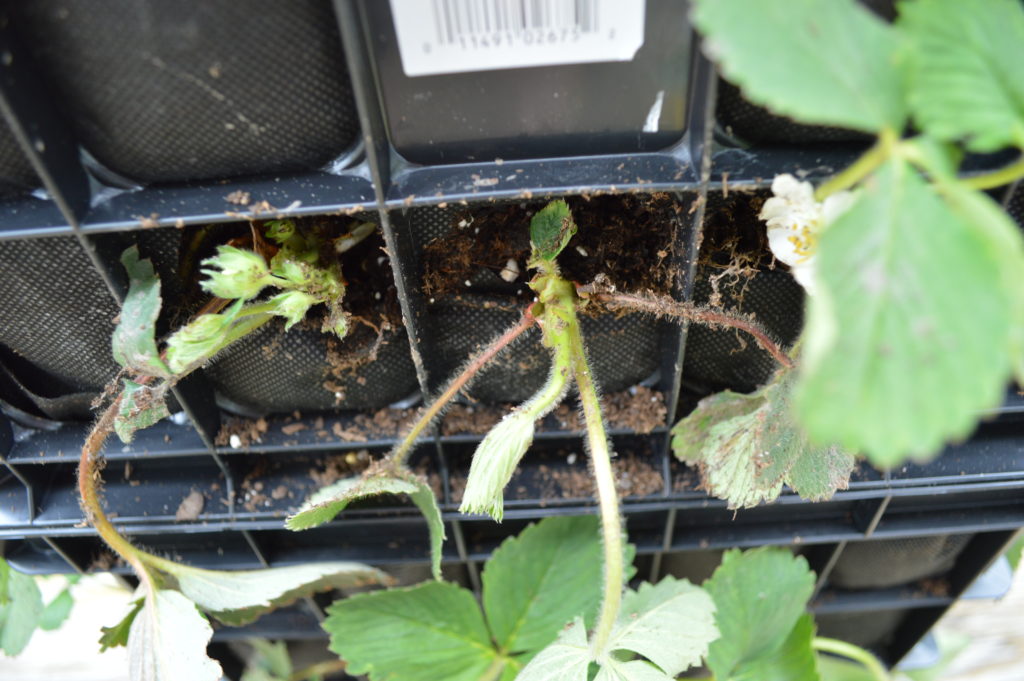 We saved some dirt on each plant, but it was still rough on them to transplant them this way. We've actually lost a few plants, but I figure we would have lost them anyway because I would have needed to thin them in the garden if we hadn't moved them…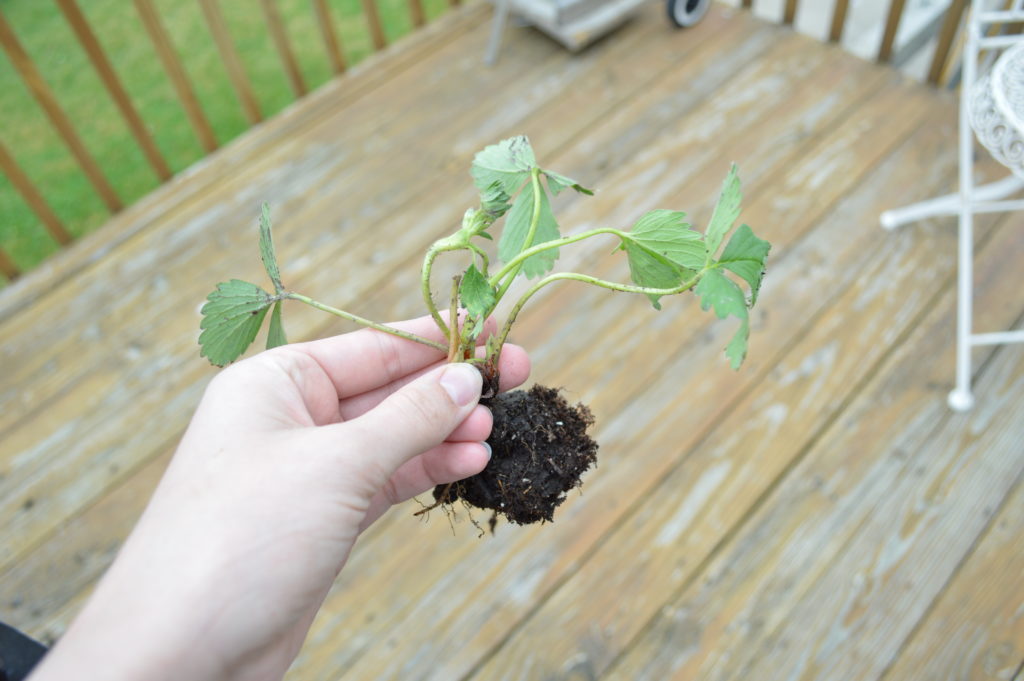 When we were all done, they looked pretty good. A little puny, but they should fill out. We also wanted to leave a lot of empty spots to add the runners we're hoping these plants will produce all summer.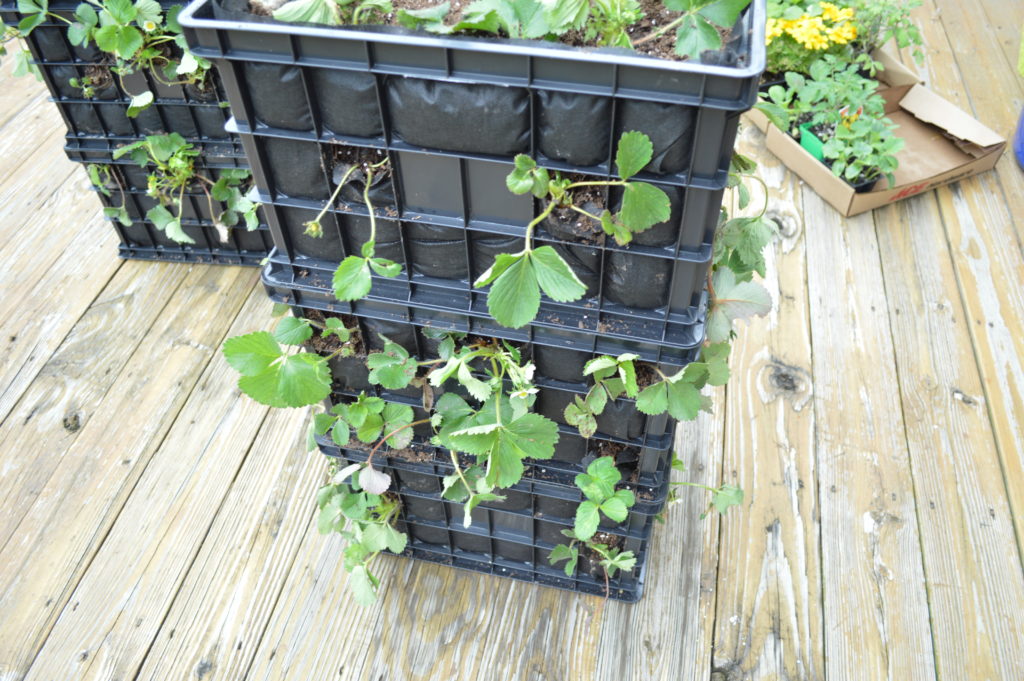 I added the biggest plants to the top since there was more room for their root systems.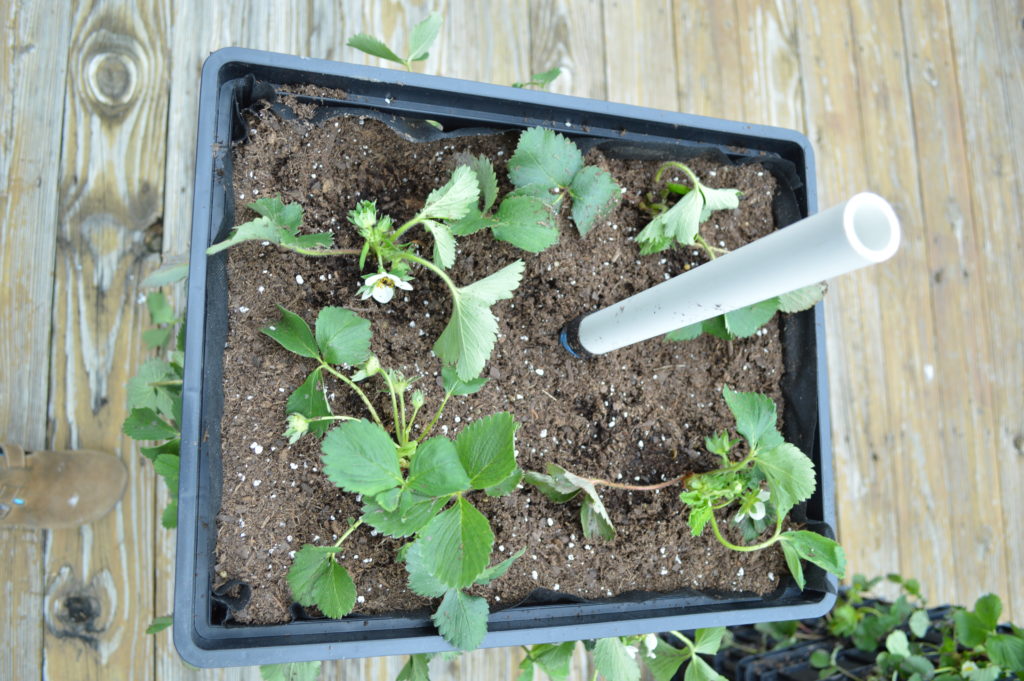 It turned out to be a pretty easy project once we got the right materials. I learned that cheap laundry baskets won't work, so you can learn from my mistake and go straight to the plastic crates. You're welcome.
Now that the plants have been settling in for a couple weeks, things are looking pretty good. We have a lot of blooms and little baby berries.
The biggest challenge so far seems to be watering. Even with the watering tube, they seem to dry out really, really quickly.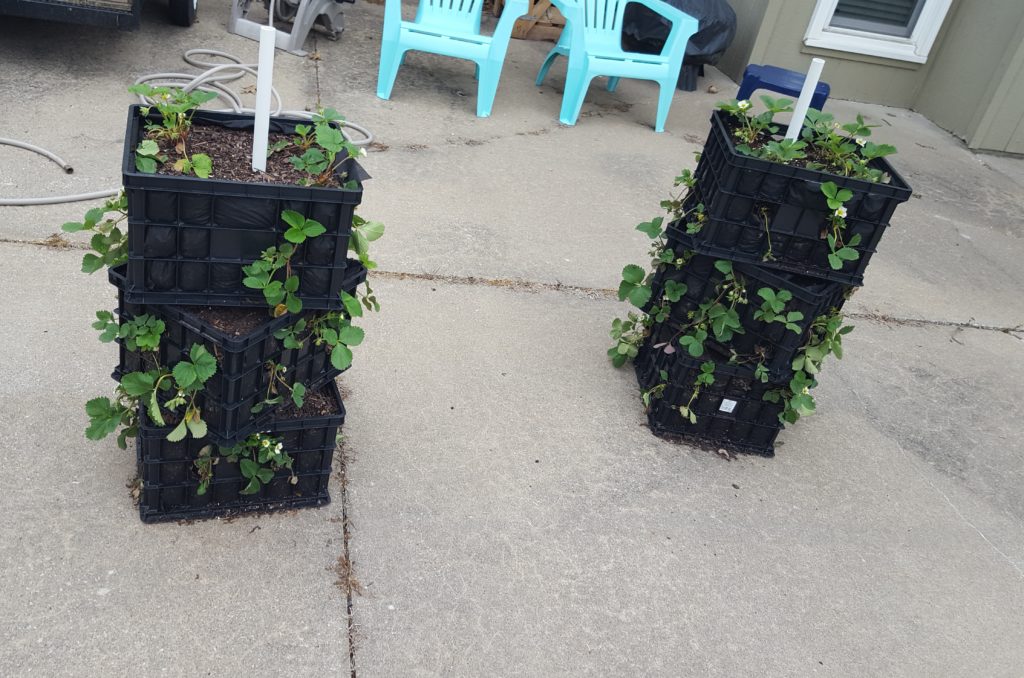 Ever make a creative strawberry tower? Any suggestions for watering this one? Any advice for the best way to get the most berries out of our plants?