---
This is Part 2 of our DIY Travel Pin Board Map. For Part 1 of this project, read this post. 
Wyatt already showed you guys the interesting part of this project.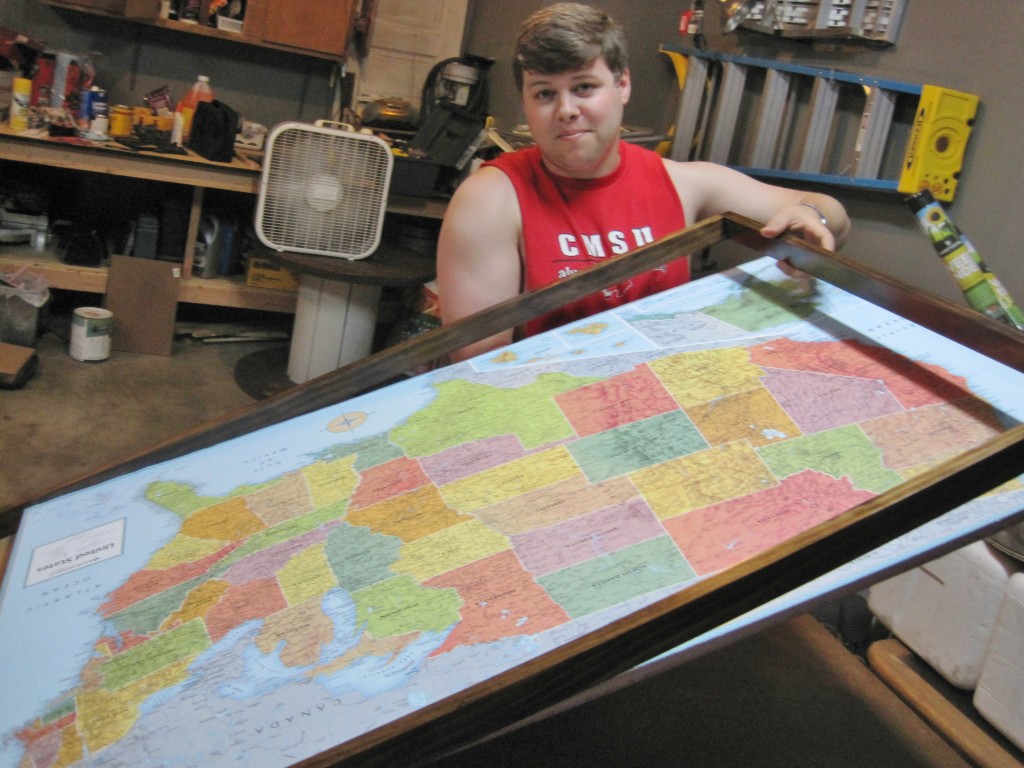 He talked about building the frame and getting the map to be "pin-able," but I wanted to do a "quick" post about how we finished up this project. Plus, it's time for the big reveal, right?
Oh, and If you missed his post, or just want a refresher, check it out here.
Wyatt left off talking about how we fastened the back of the frame on and added the hardware to hang it.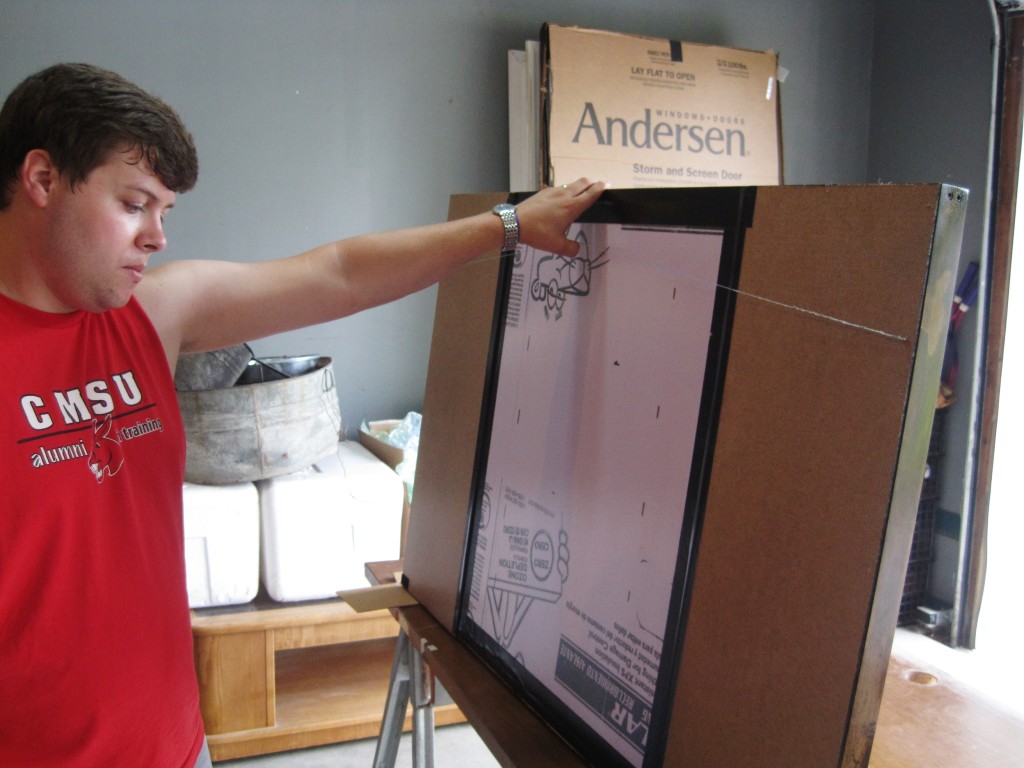 We also added some stick-on felt bumpers to the back to keep it from scratching the wall and to hold it out a bit to make it hang more evenly, top to bottom.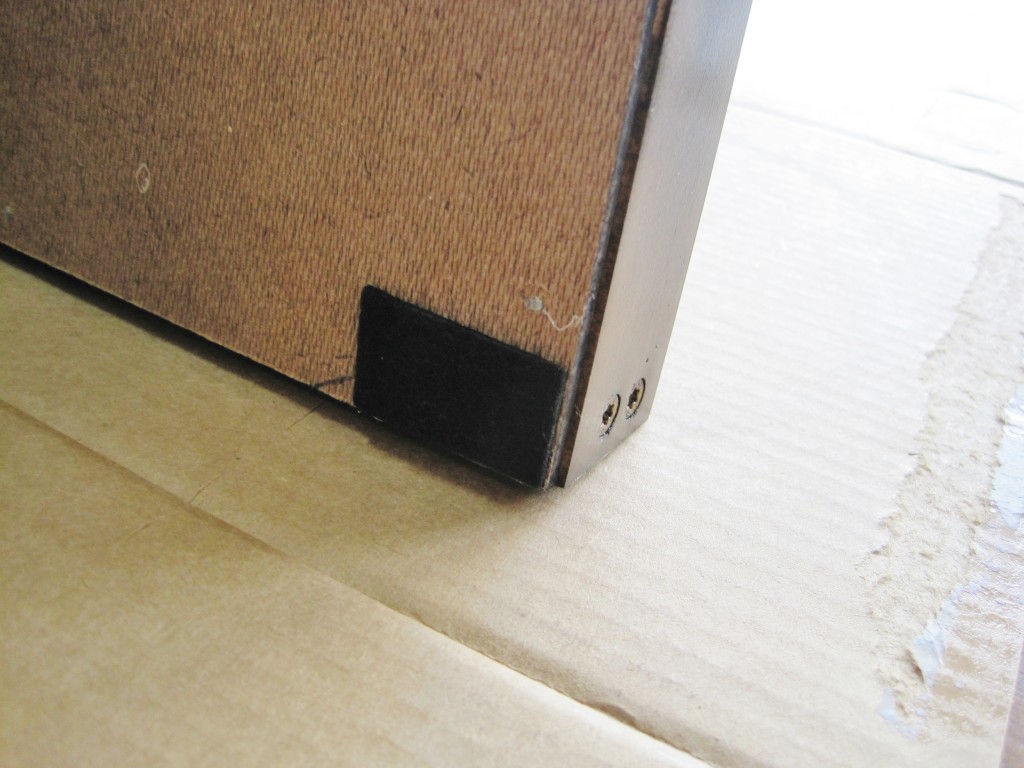 At this point, it was my turn to make the actual pins we were going to use on our map. I did a lot of "research" before starting this project. (Meaning, I read a lot of blogs and shopped a lot online to see what options were out there.)
I knew I didn't want to just put pins in the places we'd been because after awhile (we hope to use this map our whole lives) we'd forget when we went to each place and which pins went together for each trip.
So, I decided to make little flags for each pin so I could write the date and description of each trip. I used the excess map we'd trimmed off to make it fit our frame. (And yes, those used to be my sister's scissors I guess.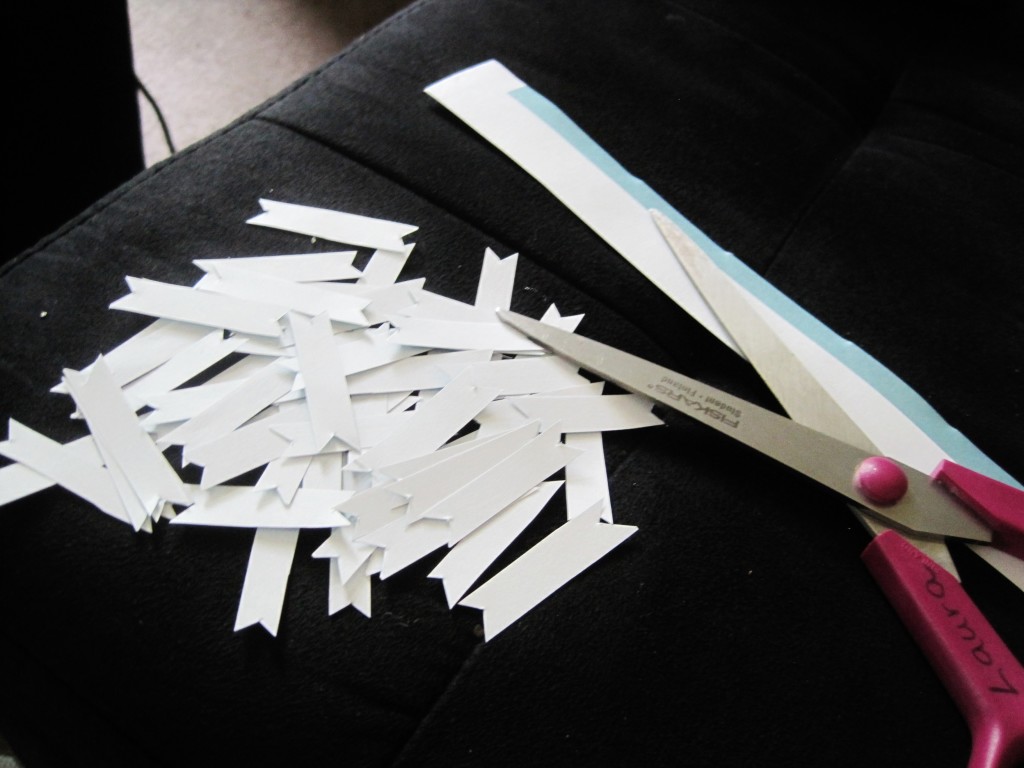 Then, I tried two different ways of attaching them to my pins. I went with plain straight pins (for sewing) instead of using map pins from Office Depot because I thought the flag gave it enough bulk–no need for a giant pin head.
I debated between sticking the pin through the flag and just taping it on the back.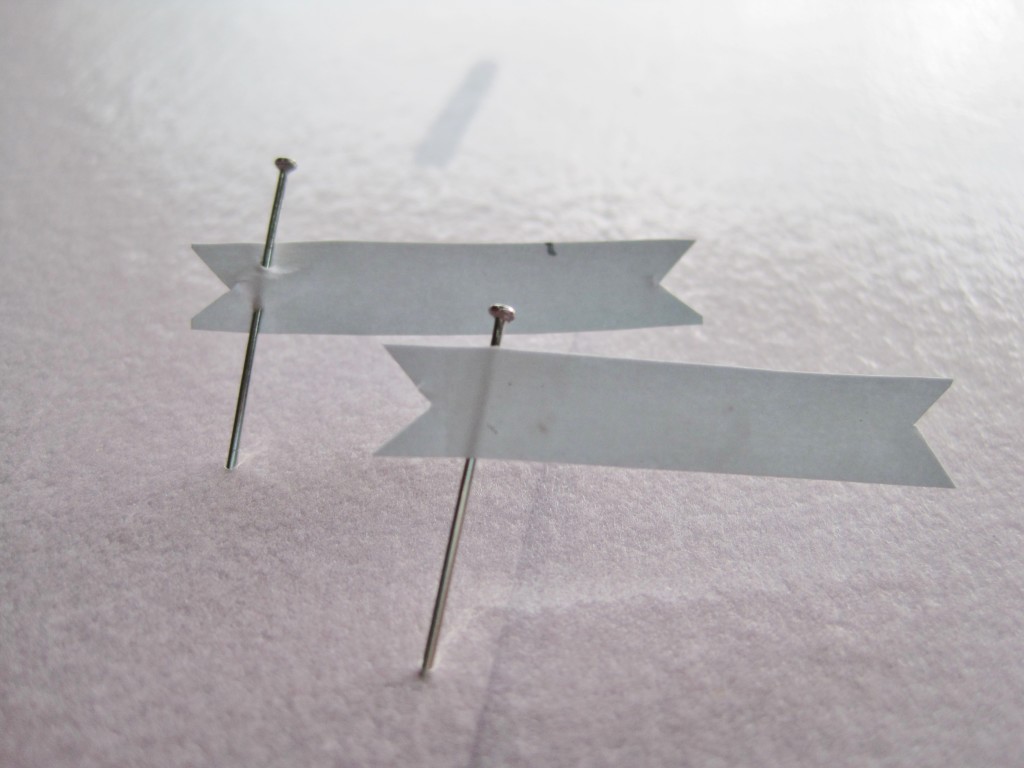 I ended up decided I liked the taped method better because it was a smoother look (no bunch from sticking the pin in the paper). Plus, it was quite a bit easier to cut small pieces of tape than it was to stick the pins through without ripping the little flag.
Finally, I wrote my descriptions on the pins and started adding them to the map. Here's the first pin that earned a place on our map.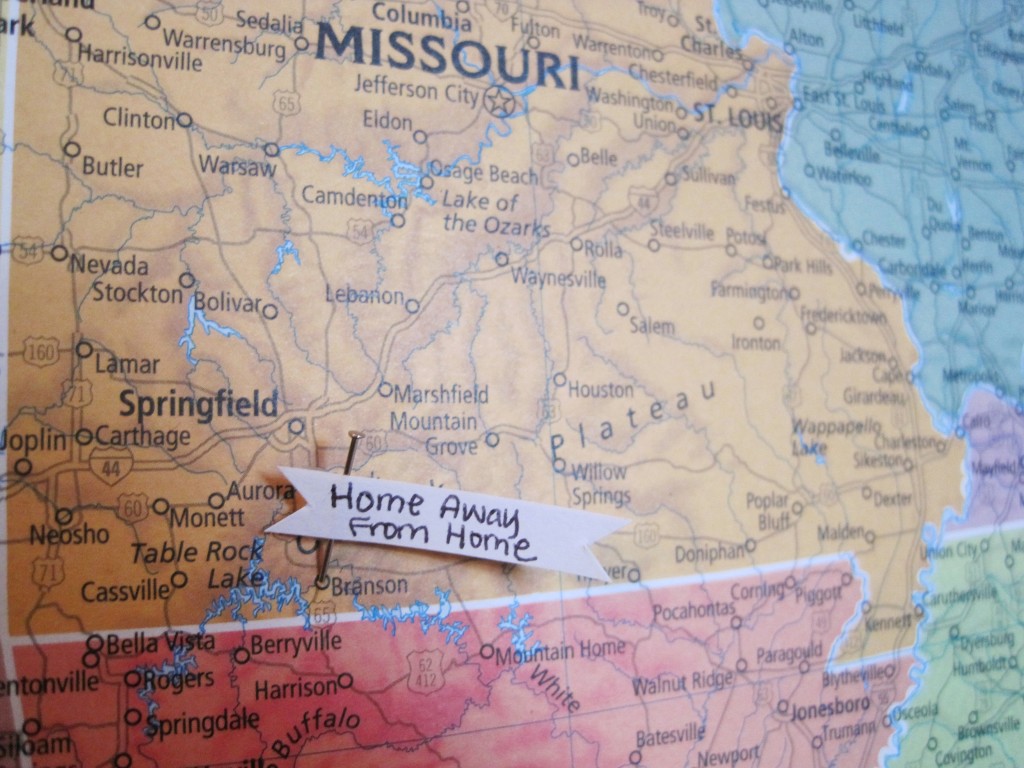 I tried to stick the pins down into the foam so they were as close to parallel (as opposed to perpendicular) with the surface of our map so they are less likely to get bumped or snagged. Plus, it helps make the flags easier to read.
Then we added our honeymoon trip pins.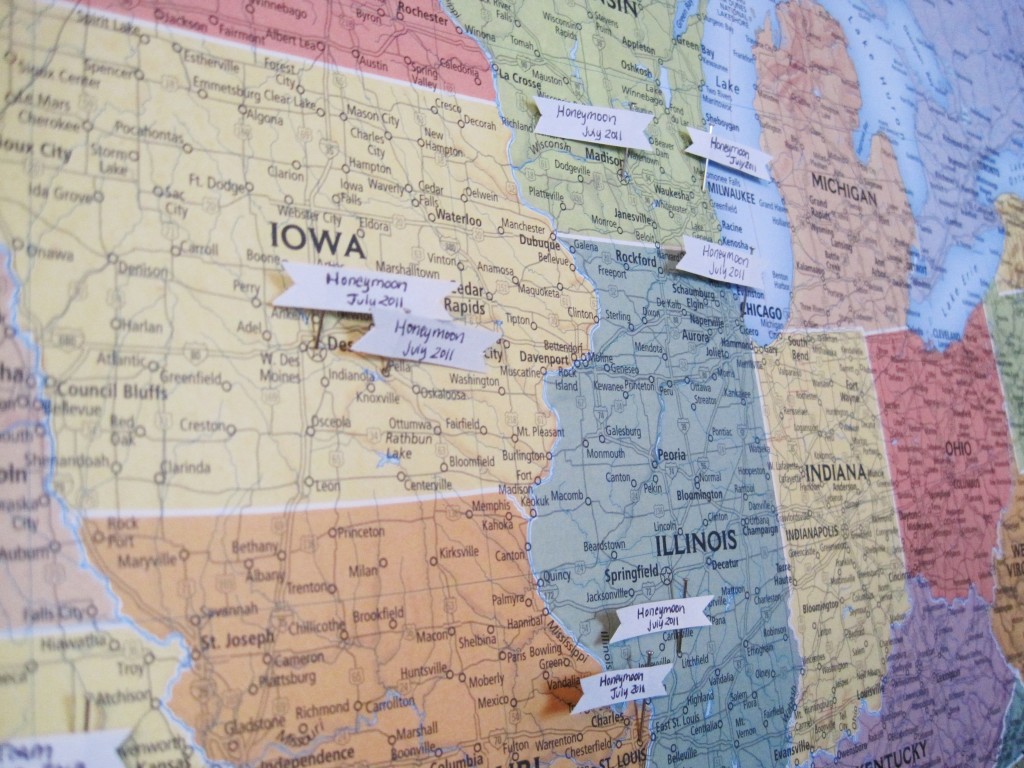 And the Missouri pins. These may get really crowded really quickly. We'll have to come up with a plan for what gets a pin and what doesn't. Or get smaller flags. 🙂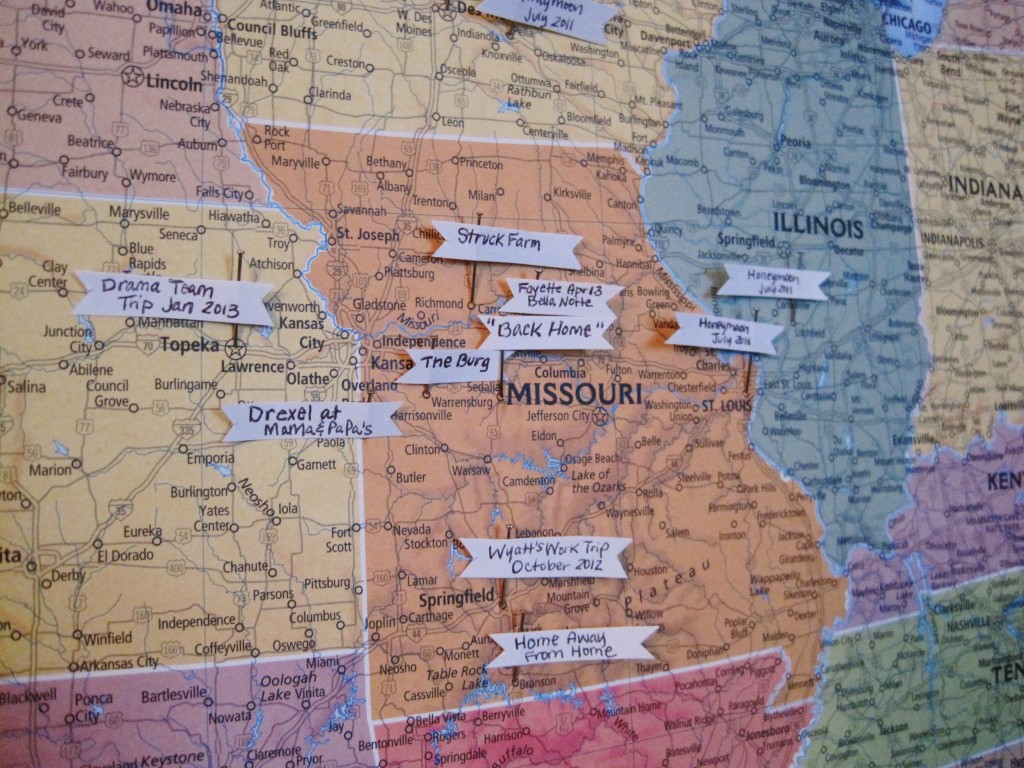 At this point, we haven't added a pin for "Home" but we might. I'm thinking if we do, we'll use another color. Plus, we can add a pin for where our first apartment was if we do our house now. Wyatt even had the idea to use string to tie all the pins from one trip together and then link them all back up at our "Home" pin but I think that would only work if we didn't take many trips since the pin with all those strings attached would get full really fast.
Here's how all our pins look so far. We're doing really well in the middle of the country so far! Here's to making it to both coasts!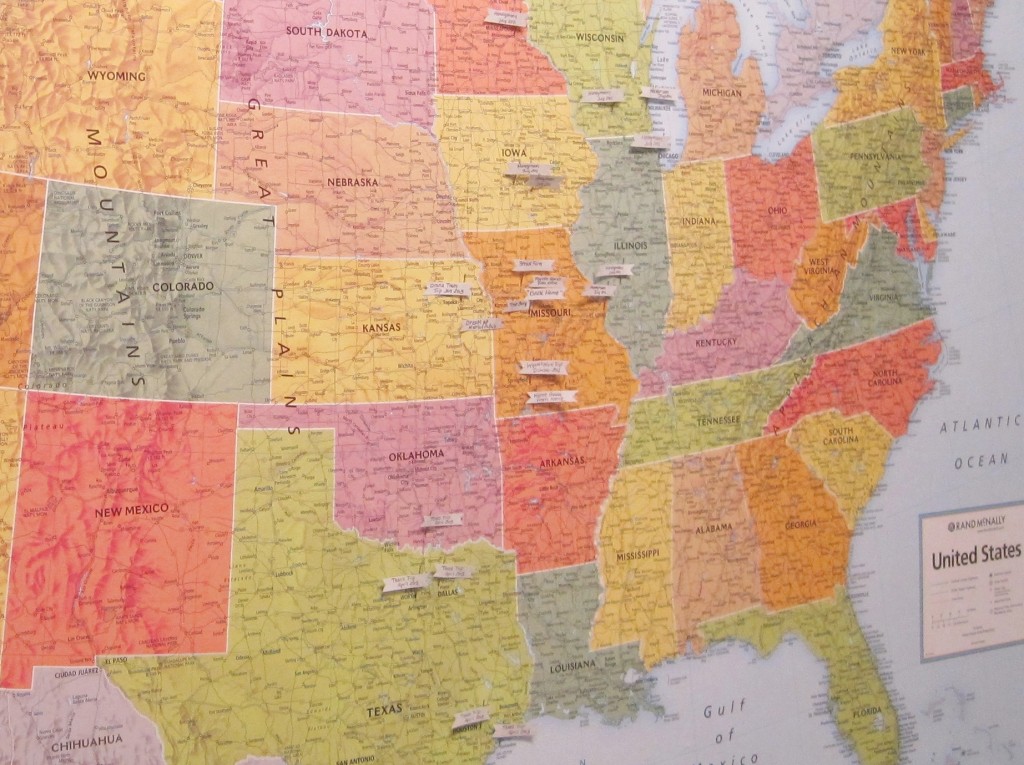 We hung the map in our entryway since we had a nice big wall there and we think it will be a fun focal point. We made sure to hit a stud with our nail even though it isn't all that heavy.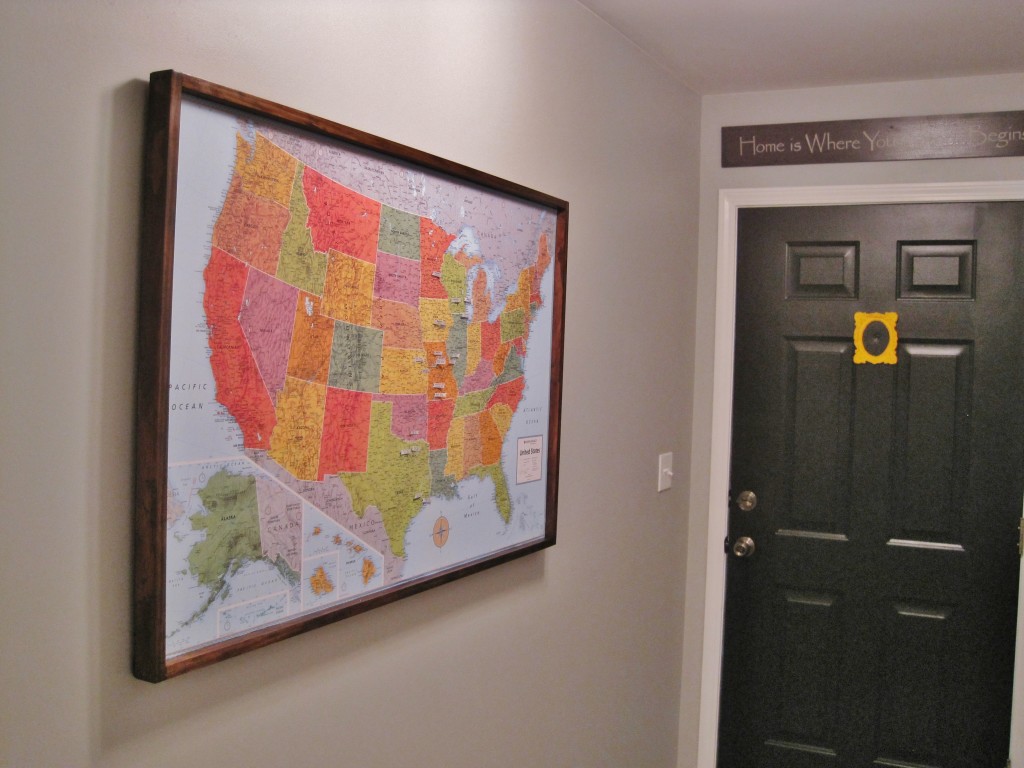 I have to say that I am totally thrilled with how this project turned out. I sometimes catch myself just staring over at it from the couch.
It's big, it's bright, it's interactive, it's beautiful (if we do say so ourselves). In short, we're totally pleased with this project.
We're excited to get out there and see more of the country so we can add more pins, although we know there's no rush since we want to take our kiddos to as many places as we can, too.
And yes, we could have gone with a world map instead of the national one (it was the same price from Rand McNally) but we know our travels will be mostly focused here even if we do make a trip to Europe or something. This lets us have more detail where the bulk of our traveling will be.
We could have also added a LOT more pins if we'd included places we'd been separately, but we want this to be a travel map for our family, not for ourselves, if that makes sense. We also only included places we've been since we were married, although we went to Myrtle Beach on a mission trip together in college so if we'd included that we could have knocked out another coast.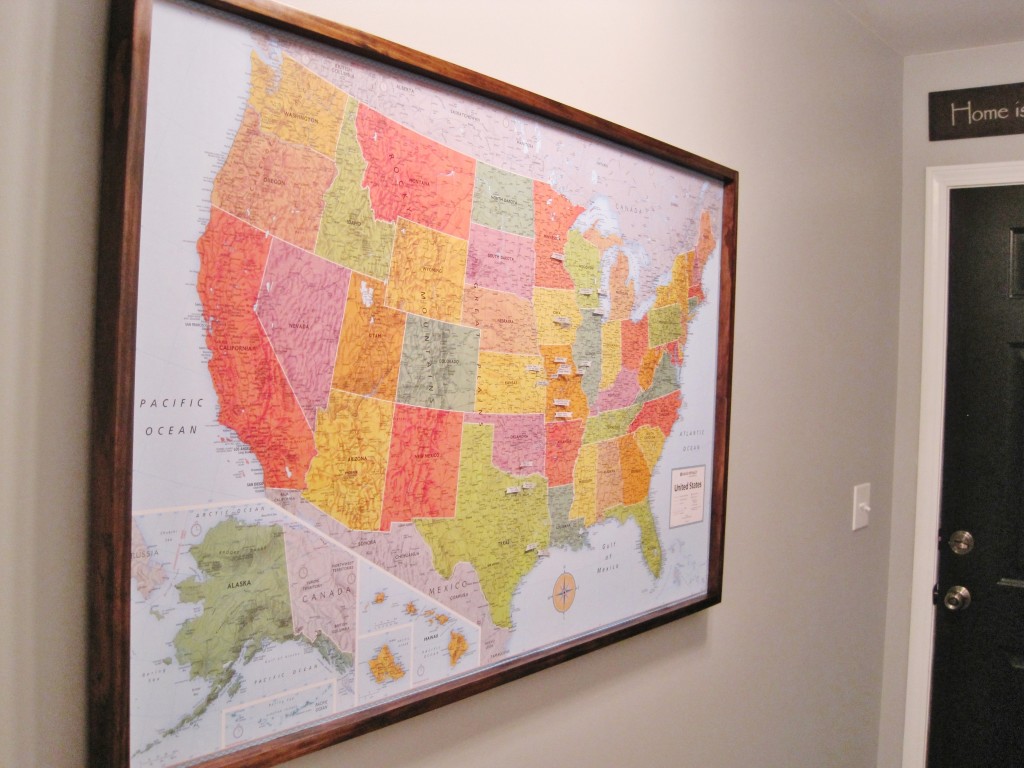 I'm not usually forceful with you guys, but I say you should get out there and build one of these bad boys right away. It wasn't the easiest project we've done (getting that map smooth was no piece of cake) but it has been so rewarding to look up and admire this beauty whenever we want. Plus, it wasn't too much of a pull on the budget, especially when considering the price of some already-made versions for sale and how much cork would have been. Here's the break down:
Map – $7.74

Pins, Paper – Already had

Wood for Frame – $15.08 (Have leftover scraps)

Foam – $12.58 (Have lots extra)

Stain – $7.77 (Have LOTS extra)

Tools, supplies – Already Had

Total – $43.17
Seriously, try this one. You'll love it.
What do you say? Have a travel map? Want to build one? Do you like to travel or are you a homebody? Have suggestions or comments on our map? Let's discuss!
I'm linking this post up here and here. Again, if you missed Part 1 of this project, you can read it here.