We've taken a break from talking about the kitchen DIY project, or working on the kitchen, but it's time to get back in the swing of things and get this never-ending project finished up completely. So, today, we're going to take a bit of step back and catch up talking about building our open shelves in the kitchen.
About a month ago, I shared the first peek of the finished shelves. We wanted to do open shelving for several reasons. For one thing, it's cheaper than cabinets and we were already stretching our budget on this project. For another thing, it helps open up the room and make it seem bigger and brighter.
Also, it is just a look I like a lot. I think Wyatt was neutral, but all for saving money and doing this ourselves since it wasn't too hard. It isn't for everyone, but I thought it work well for us. Plus, it's pretty.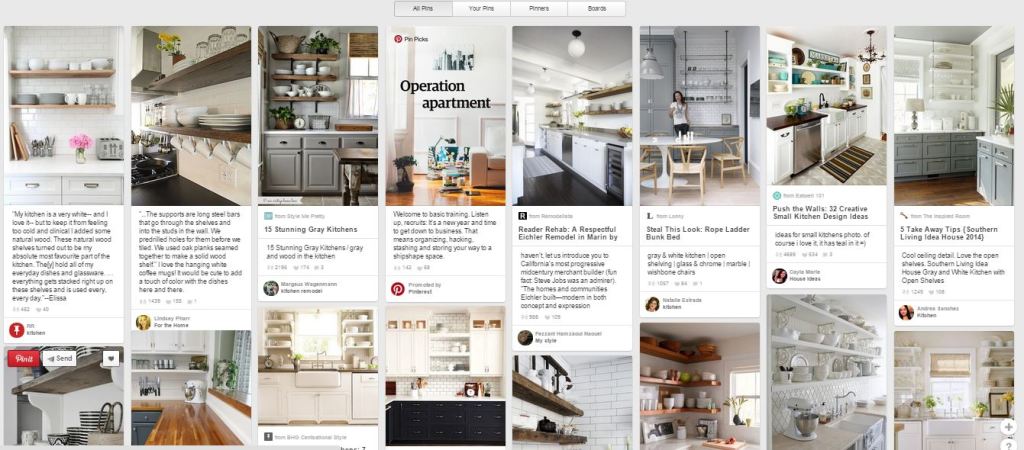 The first problem was deciding on a shelf bracket. Because we were going to be using these to hold all of our dishes (which aren't light!), we wanted to mount these into studs and use brackets for extra support. We really didn't want to hear a crash into the middle of the night at some point in the future and wake up to broken dishes all over the kitchen.
These are the brackets we chose. They are metal and heavy duty to support our heavy plates. But, they came with a plastic/rubber cover thing to make it blend into the shelf more and just disappear.

View full product details at The Home Depot
We looked at a bunch of other options, including wood and cast iron brackets, which were much more decorative. I swooned over these for awhile online:

From HouseBeautiful.com
But in the end, the budget won out again. The metal and plastic ones we chose were only $3.98 each, while the wooden one were going to be about $8 – $10 each. The decorative metal ones started around $30 – $80 each. Seriously?
We needed 24 of them, so the cost was a big factor. Plus, we ended up liking the idea that these were so simple, they sort of blended into the shelves and don't really draw your eye at all. Almost invisible. Which is fine because it lets the items on the shelves stand out.
Here's the way we assembled the shelves: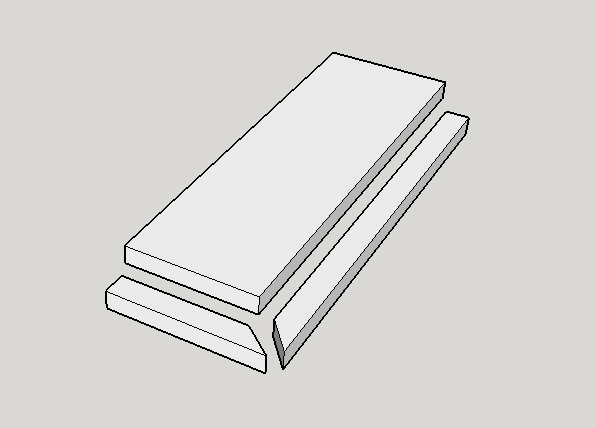 It was Wyatt's job to cut everything to size and attach the pieces.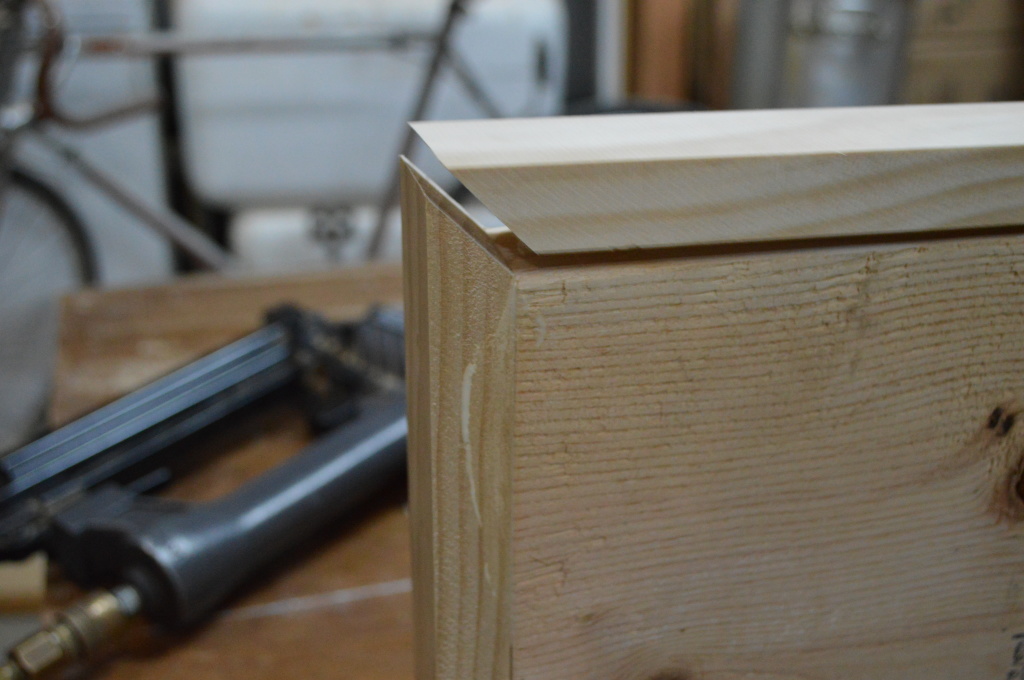 He used glue and finishing nails.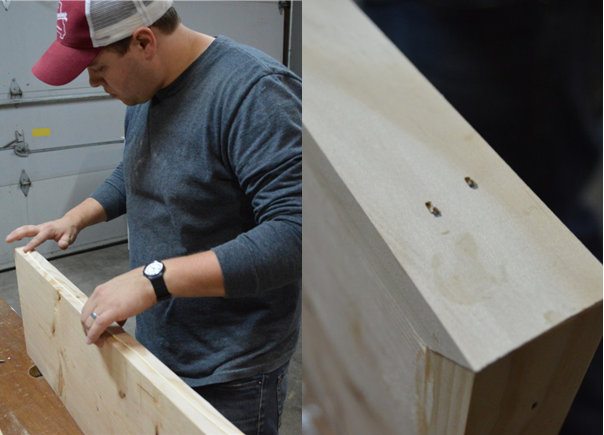 Then, he applied wood putty and sanded everything smooth. Since we were using "cheap" framing lumber (2×12 boards), there was a significant amount of putty to apply to each one to ensure we had nice square shelves with no weird knots showing.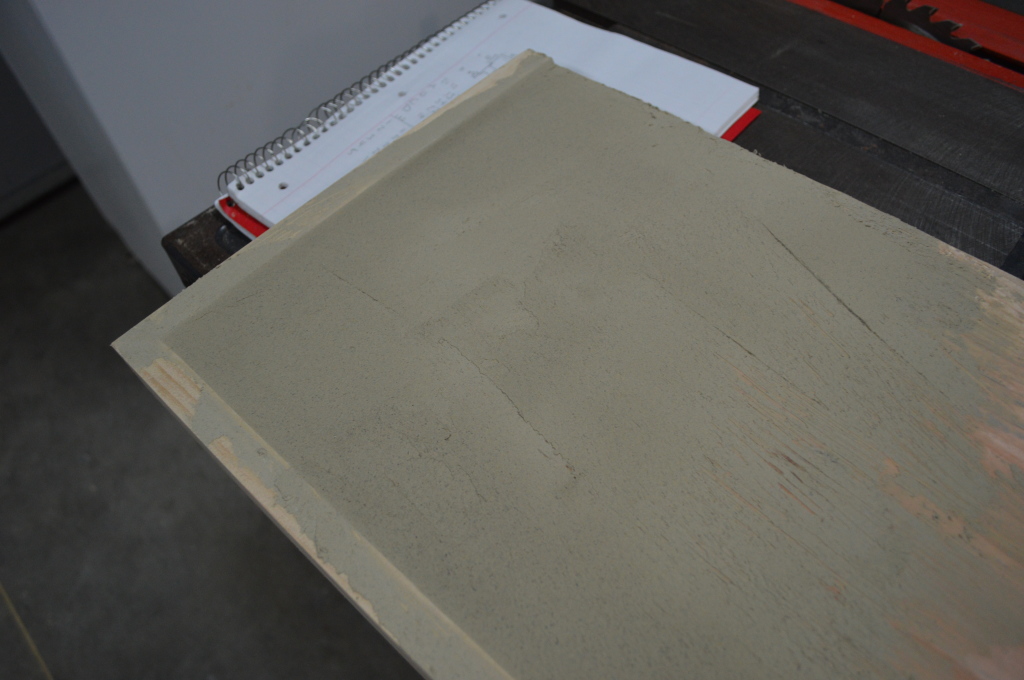 I was in charge of painting, and Wyatt even helped with that a lot of the time. If that task ratio seems unfair, remember I was spending a lot of this time in bed, so the bulk of everything was falling to him in December. I'm a lucky lady, huh?
Anyway, we used two coats of our trusty Zinsser primer to start. I wore a mask even though it's low VOC just because I don't want to breathe too many fumes on Beanie's behalf.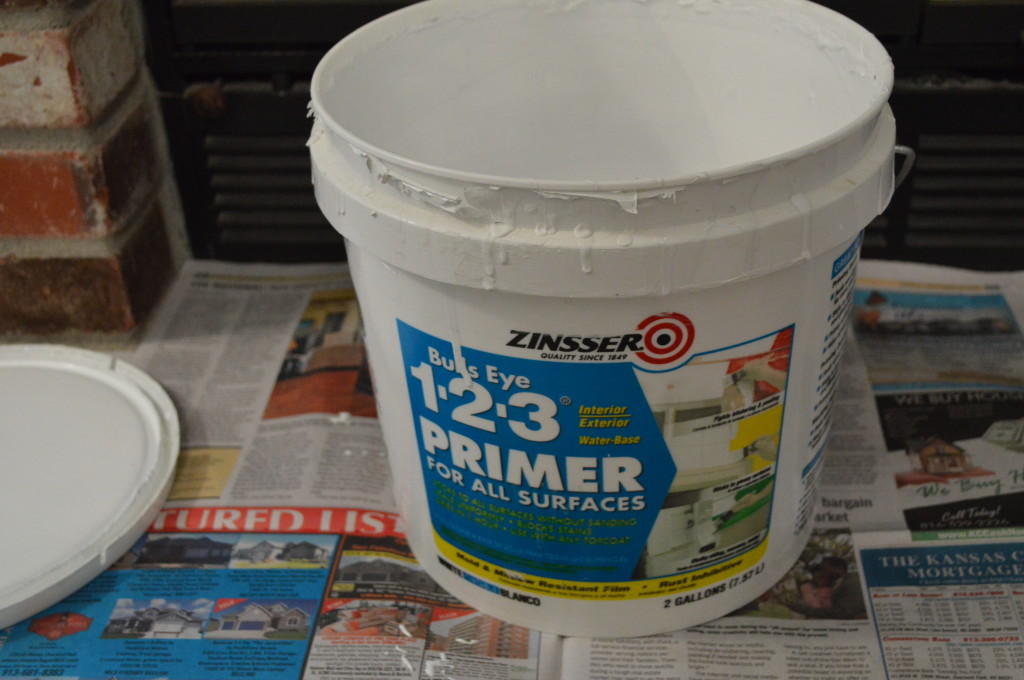 Then, we added another two coats of our paint. I did most of this in the basement and didn't get any photos. Just trust that we painted it even with no photo evidence, okay? 🙂
And, finally, everything got 2 coats of spray lacquer to give it a nice, scrubbable, unsticky finish.
Wyatt was in charge of this part of the process because the spray paint fumes were crazy intense to my super-heightened sense of smell. I had to hide in the back bedroom with the door closed because the smell crept into the entire house from the garage. Sheesh!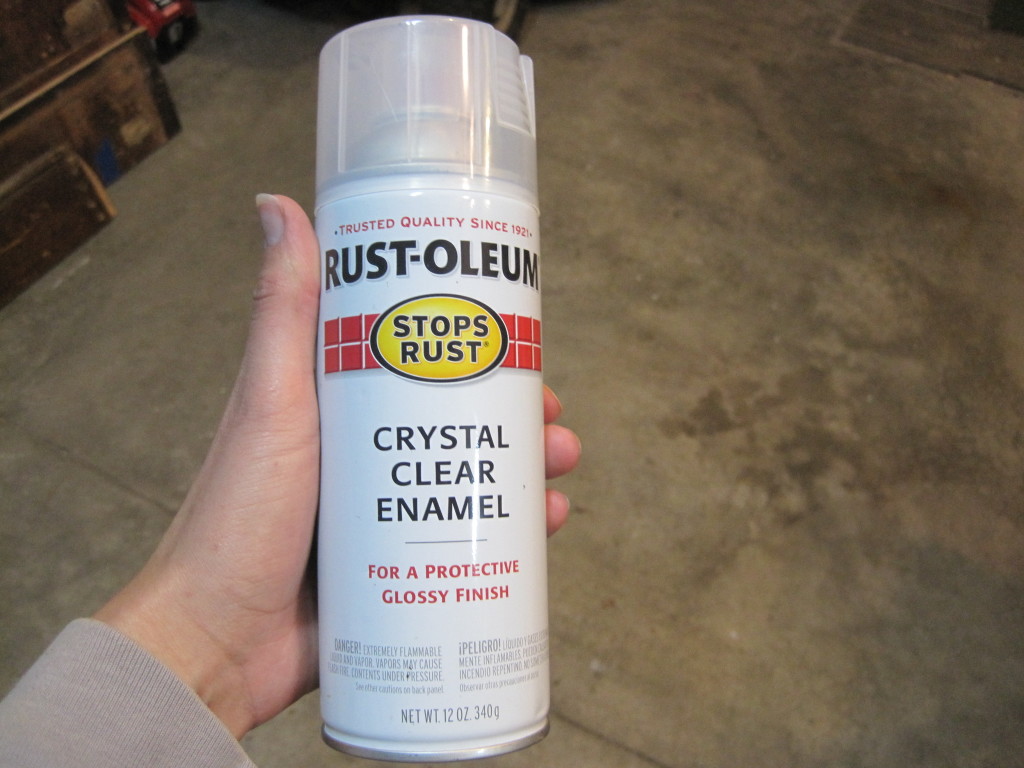 There was a lot of waiting and drying time which wasn't fun for anyone.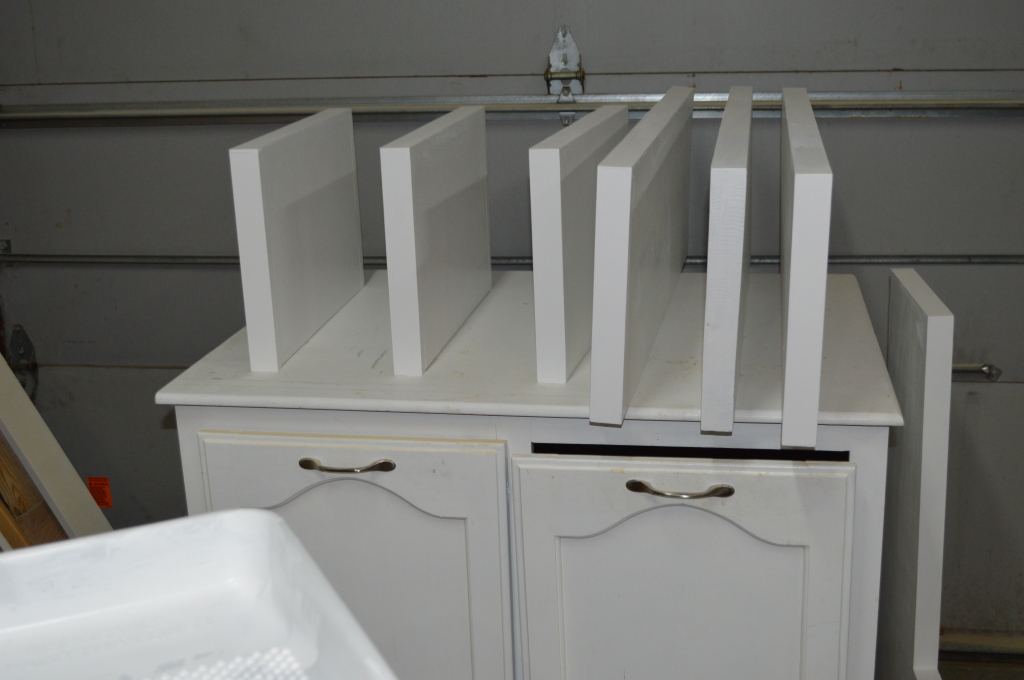 But eventually, we finished these open shelves and got most of our dishes arranged on them, temporarily before the holidays. I've since rearranged a lot of the items, and will probably continue to do that as we adapt to using the new kitchen.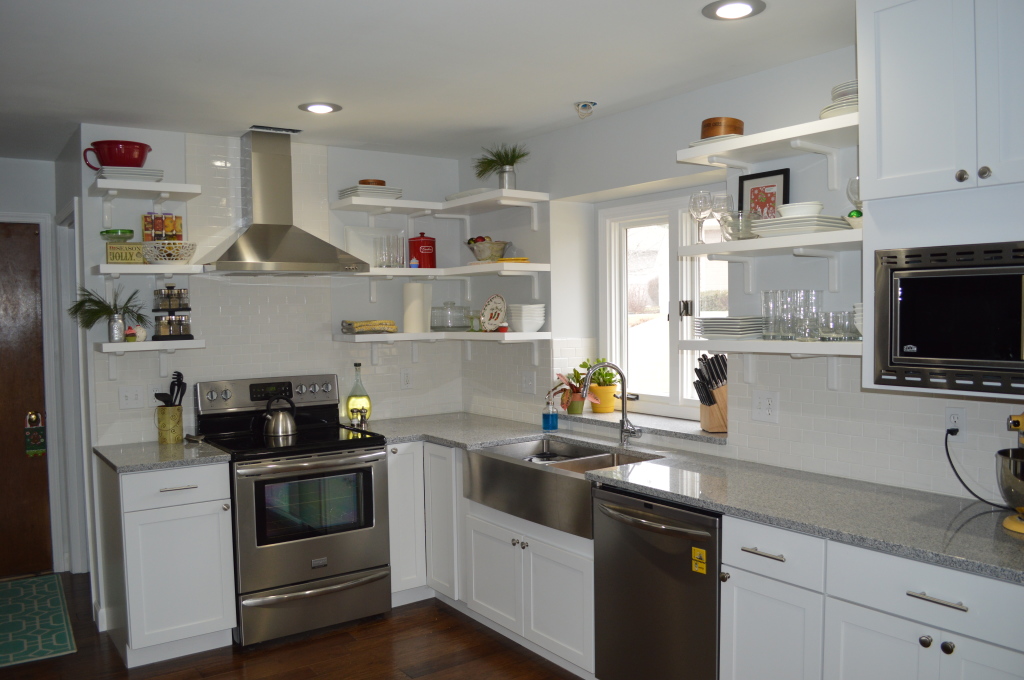 No matter how they end up being arranged though it's no secret how much I'm liking these open shelves. It really helps keep the kitchen feeling lighter and brighter since there aren't any upper cabinets to block the light and draw your eye down. So much open storage space!
It's a regular space…fest.
Ever built open shelves before? How did you do it? Where do you stand on the open shelves in the kitchen trend? I'm all for it, but I know it wouldn't work for everyone…