We're slowly checking off the list of remaining kitchen projects and one of those was reusing the can light we removed from the soffit above the sink in the entryway to the garage.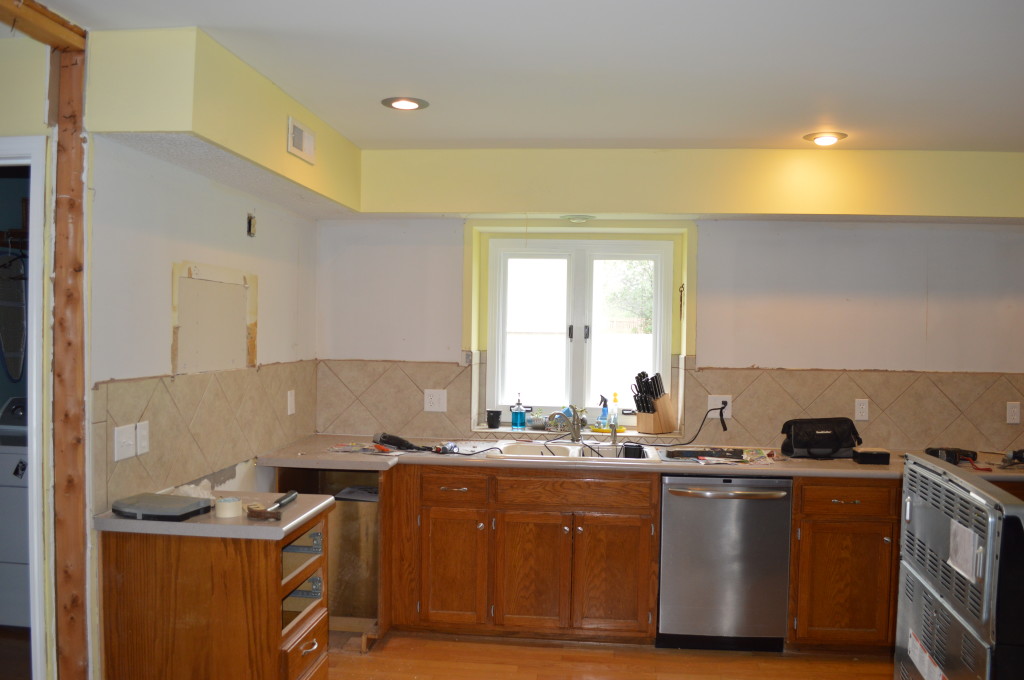 There had been a regular flush mount lighting fixture in that location.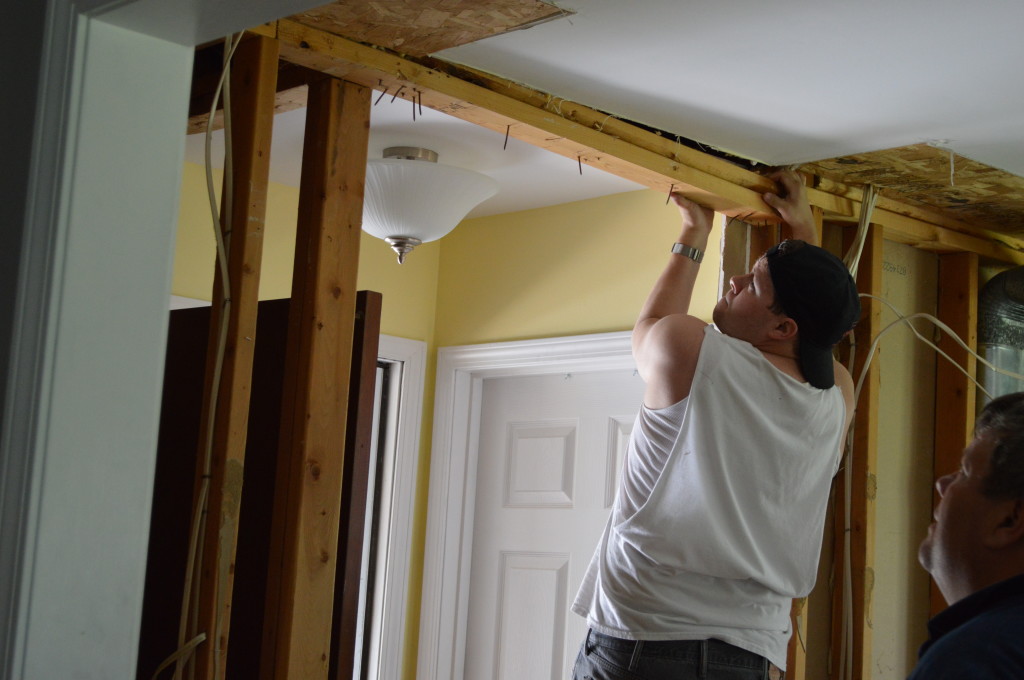 Although for awhile, it has looked like this, a dark area with wires sticking out of the junction box: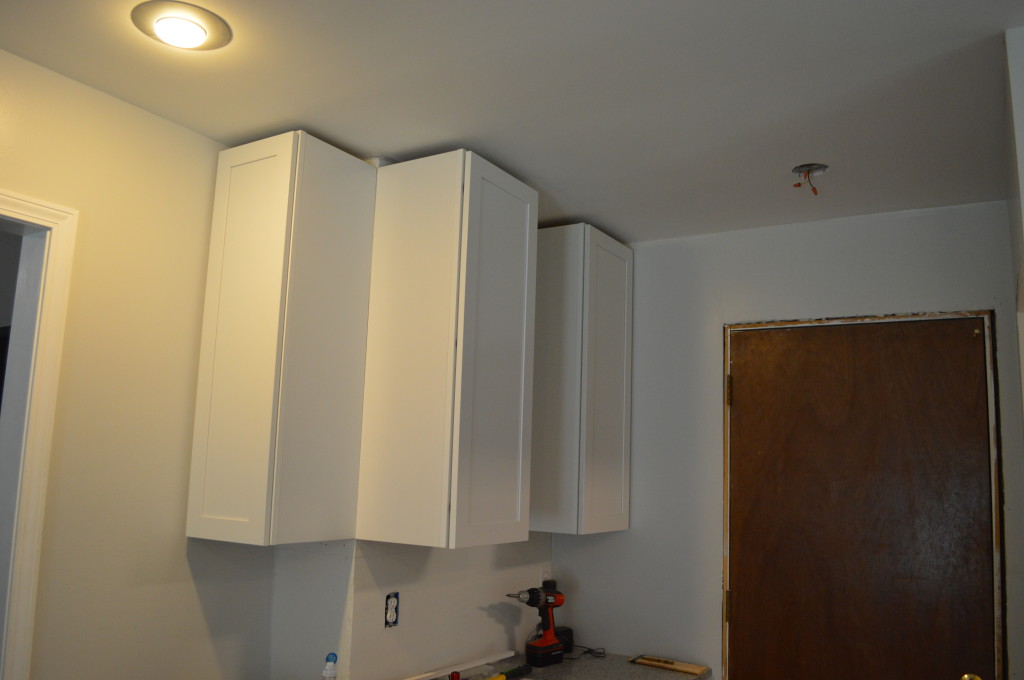 We thought we could reuse the entire can light, but ended up having to buy a new base kit and only reusing the frame on the outside. Basically, the builders had removed one of the necessary side braces. But, a replacement base kit was only about $7 at Home Depot, and we could still reuse the trim ring from the old can light kit.
Because we were working with an existing hole in the ceiling, I did some prep work to make sure the face frame would be large enough to cover the hole we'd need to cut and to determine the best way to enlarge the hole for the can light.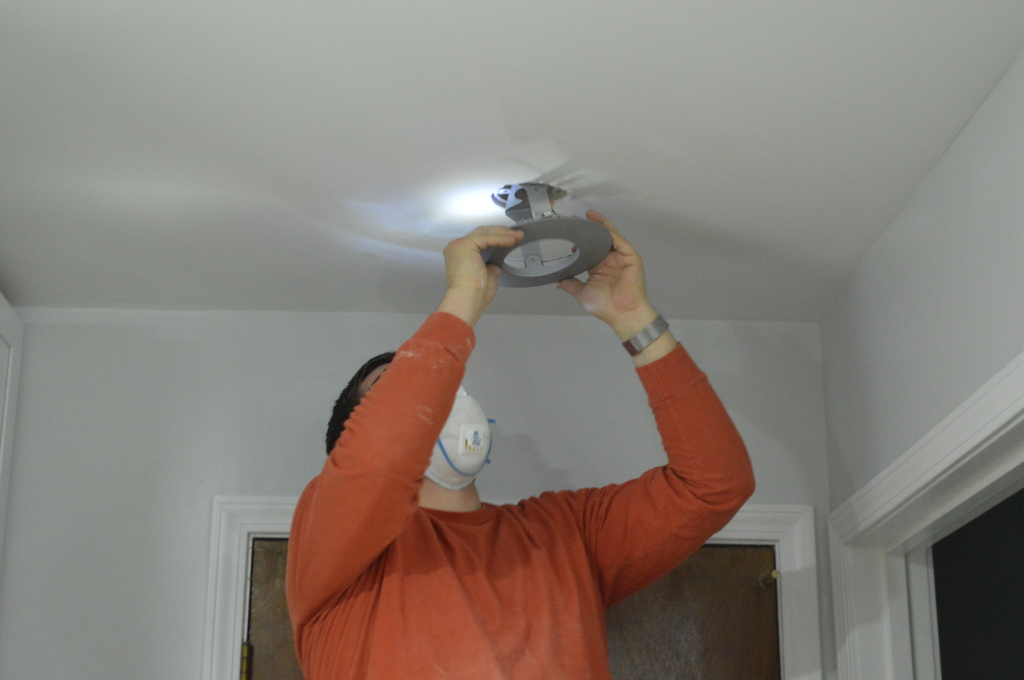 I created a template using a compass set a little over half as wide as the can light on some paper. After cutting it out and taping it to the ceiling, I was ready to use it to cut the right size hole with my Dremel tool and dry wall bit.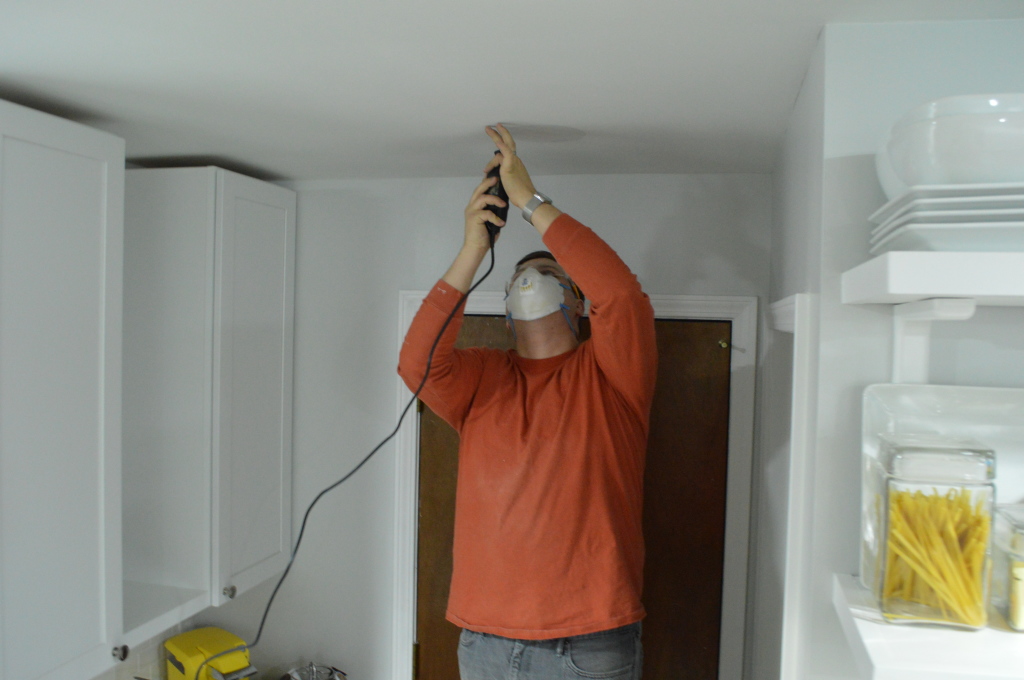 Here's the piece we cut out. Reminds me of Star Wars…
After cutting out the hole, I was ready to go into the attic and fasten the new kit into place. It has adjustable arms that extend to the ceiling joists with nails.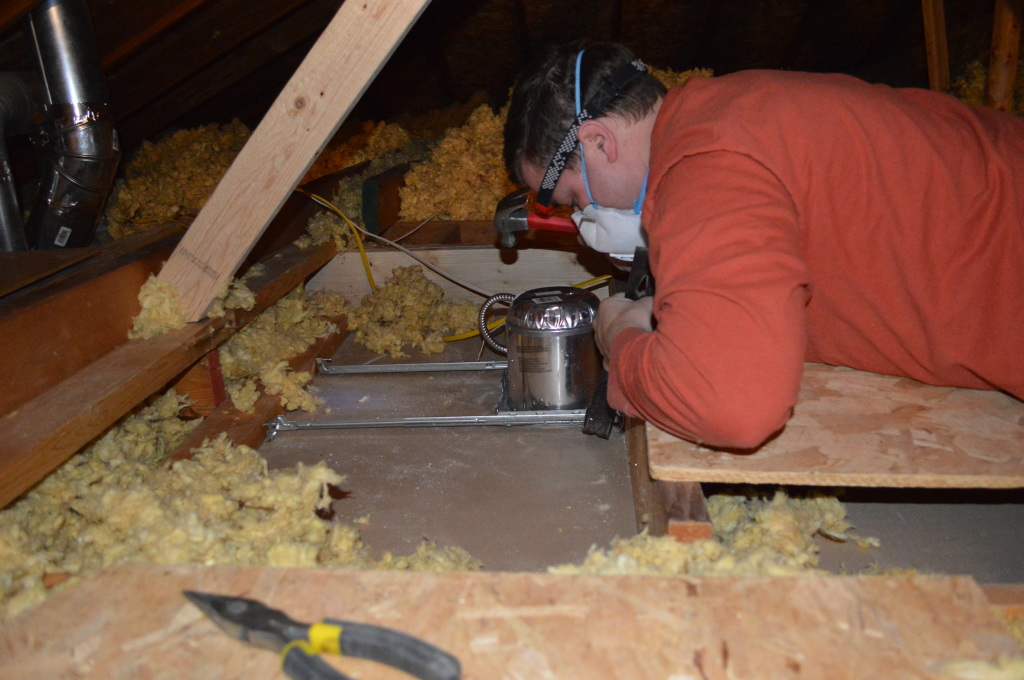 As usual, when you're doing any wiring, we recommend you work with a professional to ensure you get things exactly right. And always make sure the power is off before working on any electrical project.
Here's how it looked once it was installed: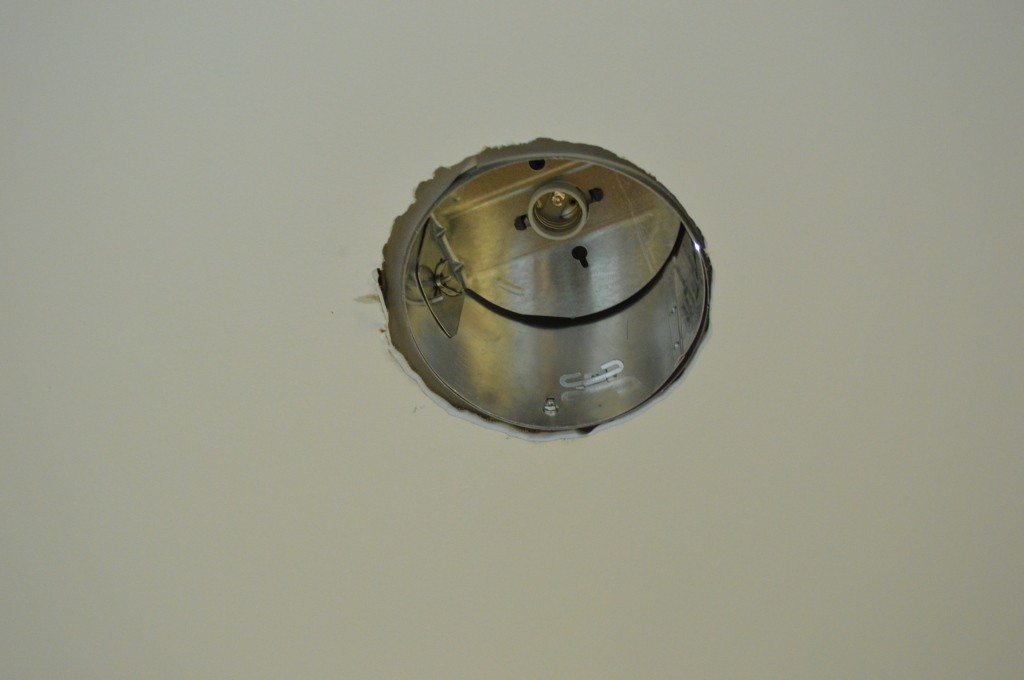 We used a regular light bulb to try it out.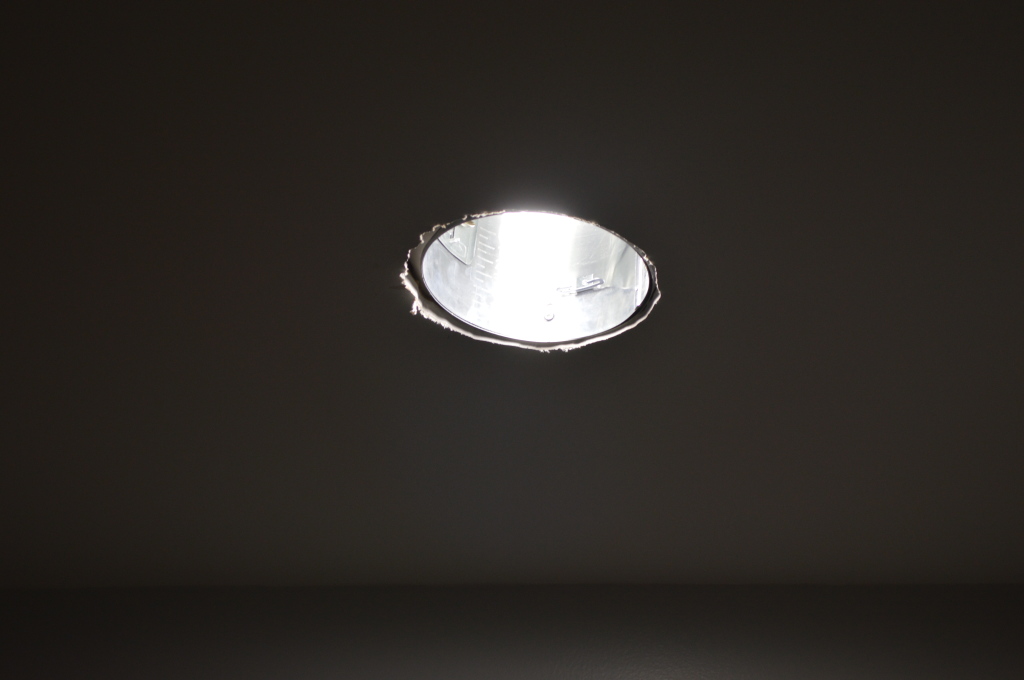 Then, it was time to finish the installation by adding the trim ring. If you'll remember, we spray painted these trim rings with silver grill spray paint to give them a refreshing makeover in our phase 1 kitchen project.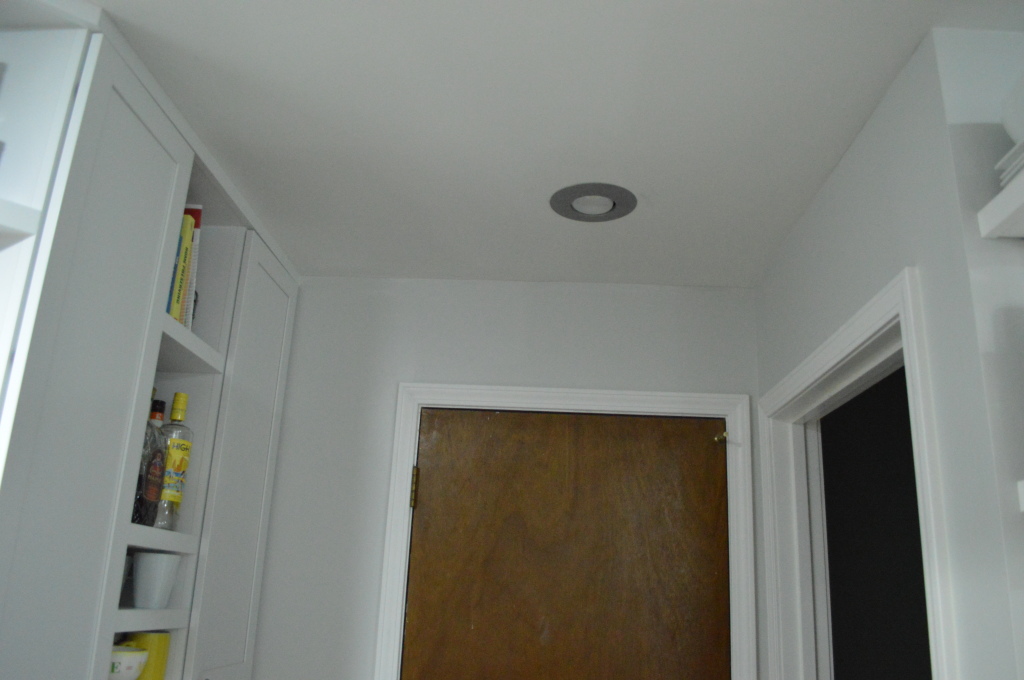 We have been really pleased with the LED bulbs we purchased for the other kitchen can lights so we went to Home Depot to grab one more of those for this light as well.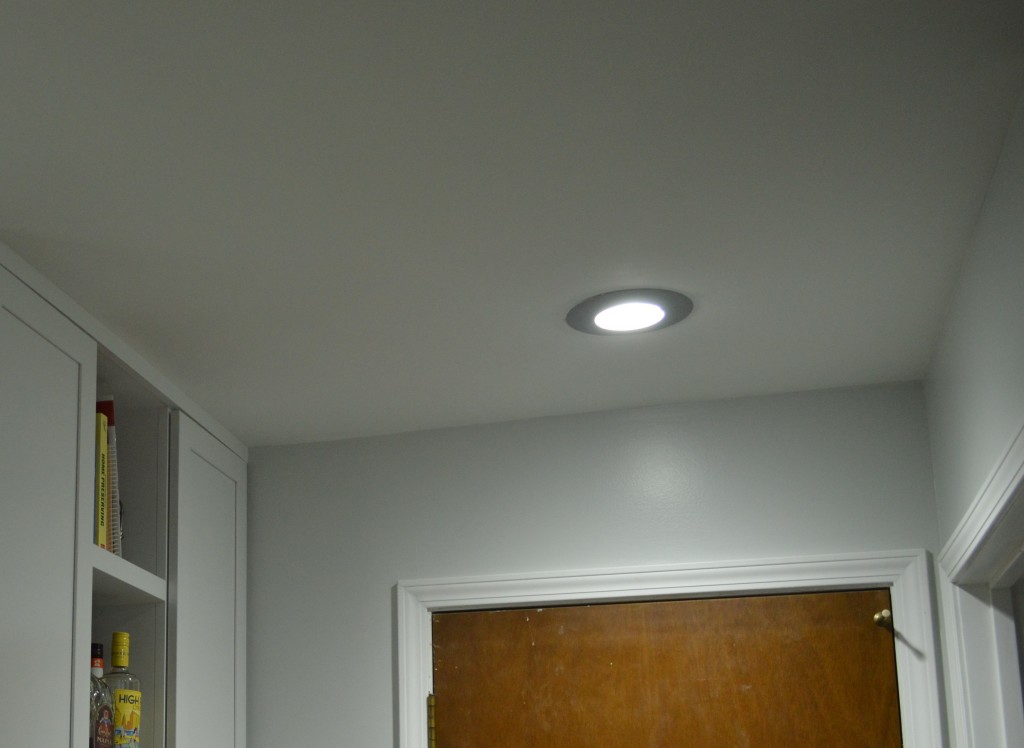 All in all, a very simple project considering all the things we've had to work on for this remodel. It helps that nothing about this project really fought back, so we could finish it in one night. Very encouraging considering all the struggles we've had with fitting trim in our un-square house lately.
And now, there's no more dark corner in the nook. Melissa has found this to be a big improvement. It helped a lot to have this step done when working on the trim for this area, too.
We took a little break over the weekend to celebrate Easter with our families but we're planning to try and finish the kitchen this week if possible. (That's Melissa's goal, anyway) so we'll be back with more updates, soon.
How did you celebrate Easter? Do any DIYing?