Melissa asked me to share the tutorial and plans behind our DIY stadium seat she debuted on our blog's instagram.
Here's the backstory: over the weekend, we met up with some friends for Shakespeare in the Park, a "free" (donations accepted) show held each summer near the Plaza in Kansas City.
It's an open seating event and the majority of the people bring blankets, although there are chair sections in the back if you prefer lawn chairs. Blanket seating is nice, especially because we bring a picnic supper, but it can get quite uncomfortable to sit and watch an entire play with no back support. Plus, since it's it's crowded, you can't really stretch out and lounge around, so sitting up straight for that long is rough. This is the photo from the last time we were there, which shows the crowd.
Last time, we went with our picnic basket and blanket and enjoyed the show from our blanket, in spite of a rain delay. While waiting, we discussed options for the next year, and how we could be more comfortable. Seats are allowed in the blanket area as long as they touch or nearly touch the ground. We considered stadium seats, beach chairs, and bed rest pillows. But as the year went on, we had forgotten, until about two hours before we planned to leave for this year's event. Plus, all those options are fairly expensive.
Melissa ran to Wal-Mart for some groceries and came back with a couple pillows, but they were too flimsy to really help us out much. We brainstormed for a few minutes, and decided to try making some stadium seats out of scrap MDF we had piled up in the garage, leftover from a custom order.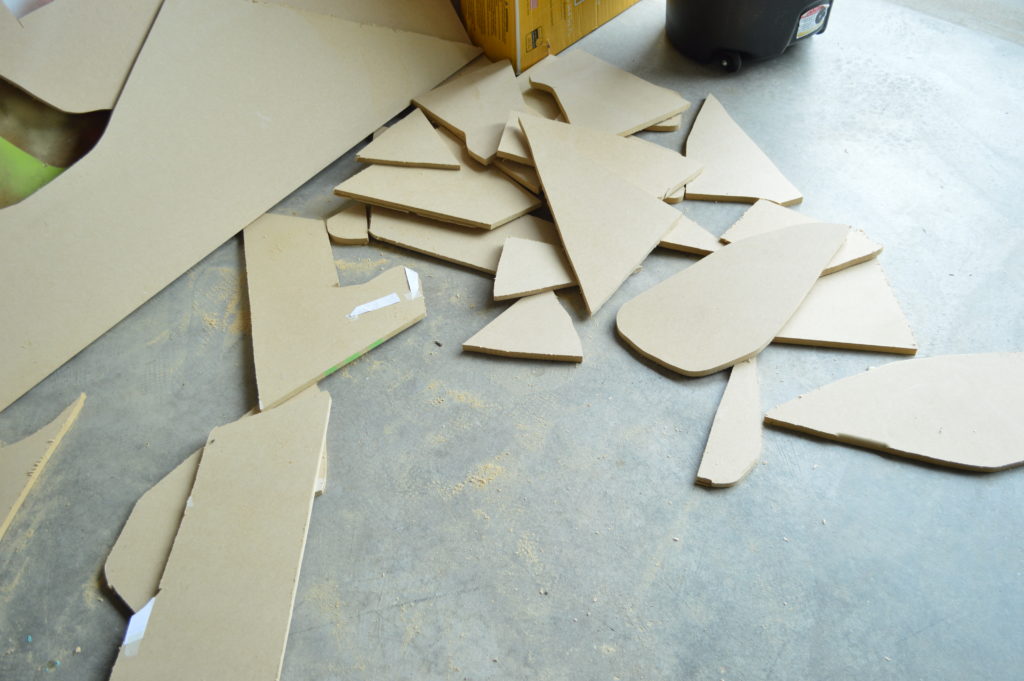 I cut out two backs and two seats, basically making them as large as I could with the scraps we had available. I also measured across my body to make sure 18 inches wide for the seat would be comfortable enough. It was also big enough to fit our old outdoor cushions for some added seat padding.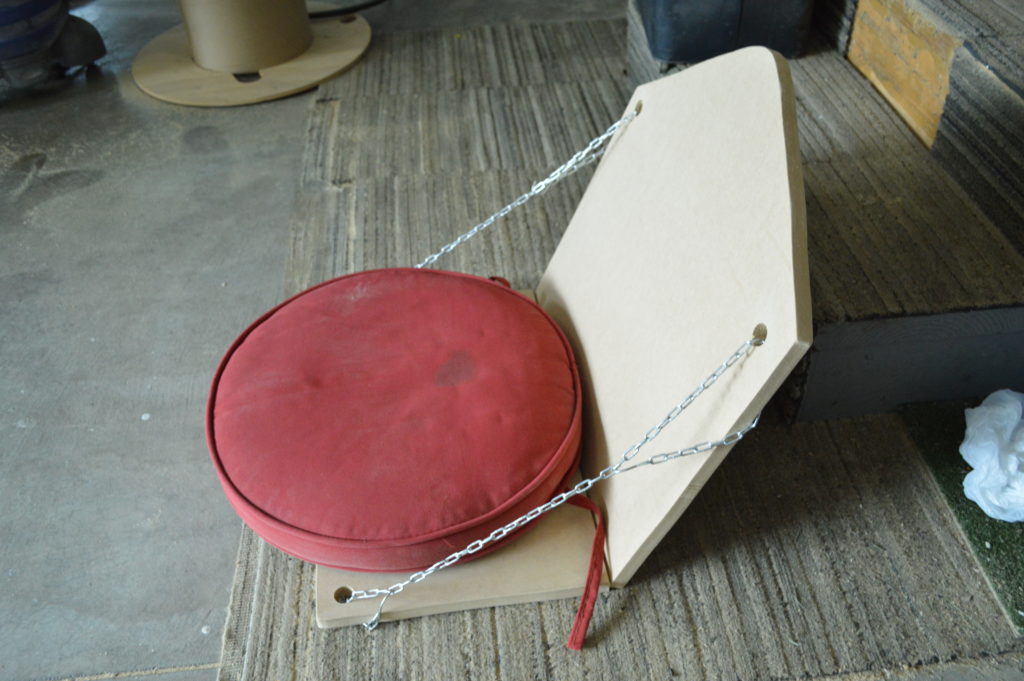 To attach them, I drilled holes at the top corners of the back and the front corners of the seat, but I'll get into that more later. I also cut out two handles from the back and seat by drilling four holes and then connecting them with the jig saw. These line up with each other when the seat is folded up so you can easily carry it.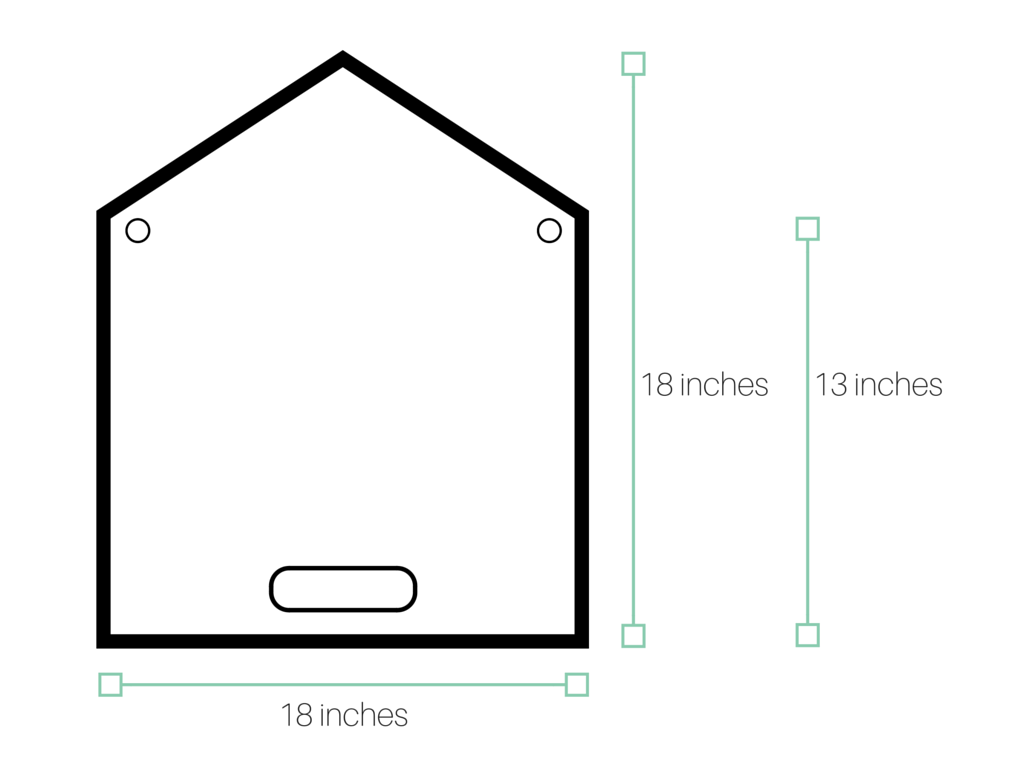 Now, it was time to attach the pieces together. I used a 3/4 inch drill bit to make holes that were large enough for a piece of chain to slide through. We also considered using some nylon rope, but decided to try the chain first.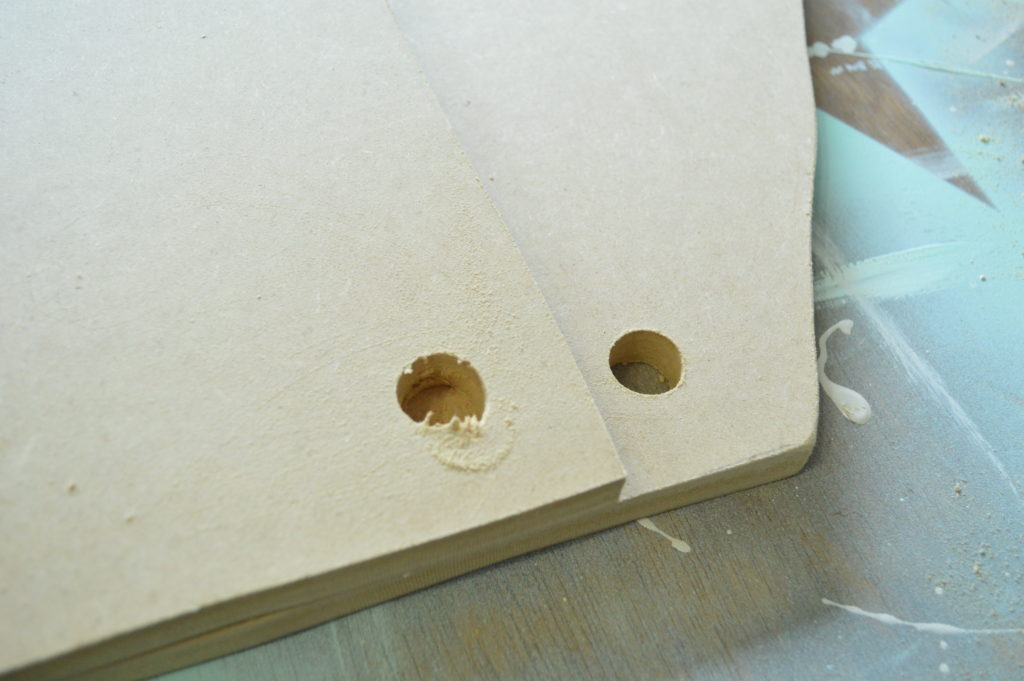 We had some small chain on hand so I figured that would work well to attach the back to the seat.
I used spare nuts and bolts to secure the chains together after looping them through the holes, but if you used rope, you would just need to tie it off with not so it wouldn't pull through the holes in the seat. I attached the other end of the chains so that the back made a comfortable angle with the seat. I would guess that ours are about 105 degree angles, but you could make your chains, or ropes, any length that's comfortable for you.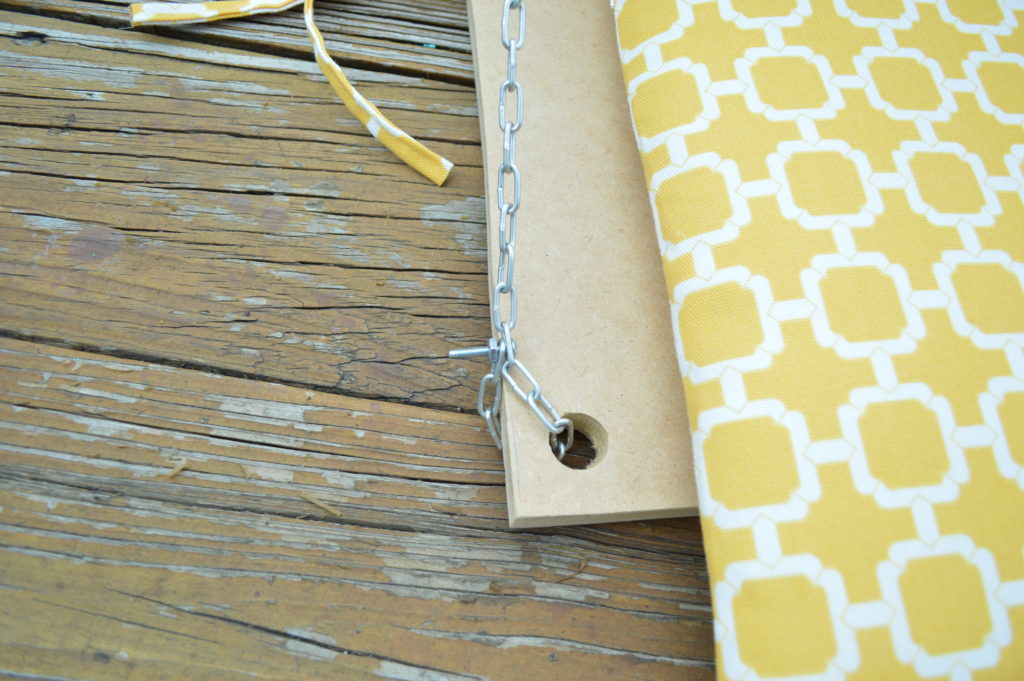 The nice thing about using the looped chain as opposed to a knotted rope is that it's semi-adjustable. If you want a straighter back, just keep the chain on top of the seat back. If you want it more reclined, let it slip off and down the side. See the difference? It's probably 10-15 degrees difference in incline.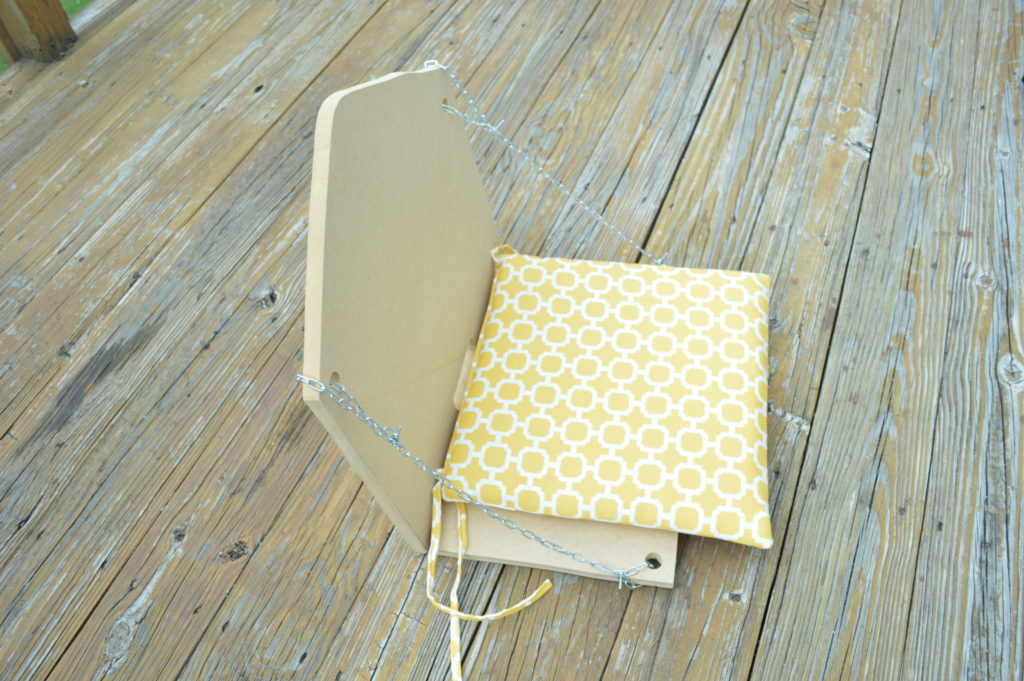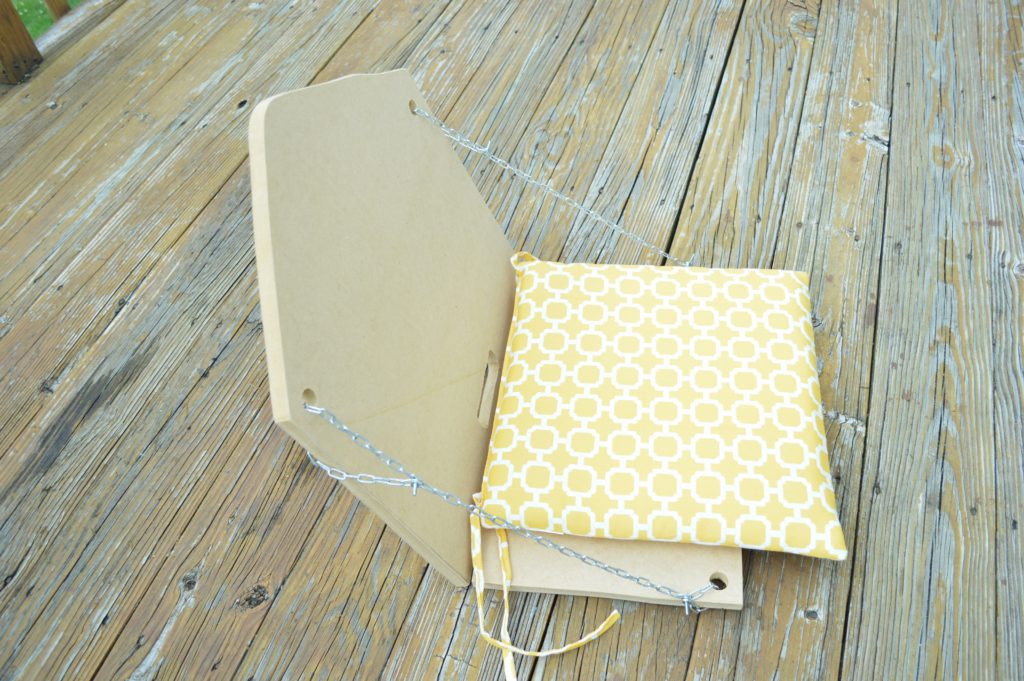 Once the seats and backs were chained together, we were essentially done with DIY stadium seat because the pieces worked as a functioning chair that opens and closes.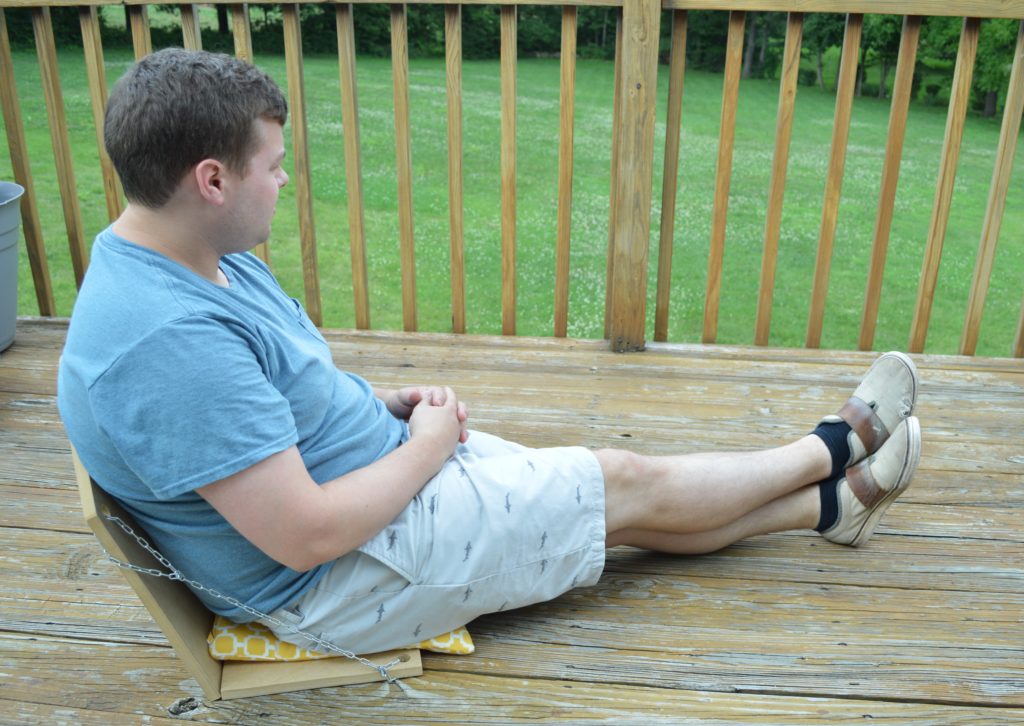 For the handles, I marked the center and drilled four holes in the "corners" of  the handle area. I made it about 4 inches long and deep enough for my knuckles to fit through.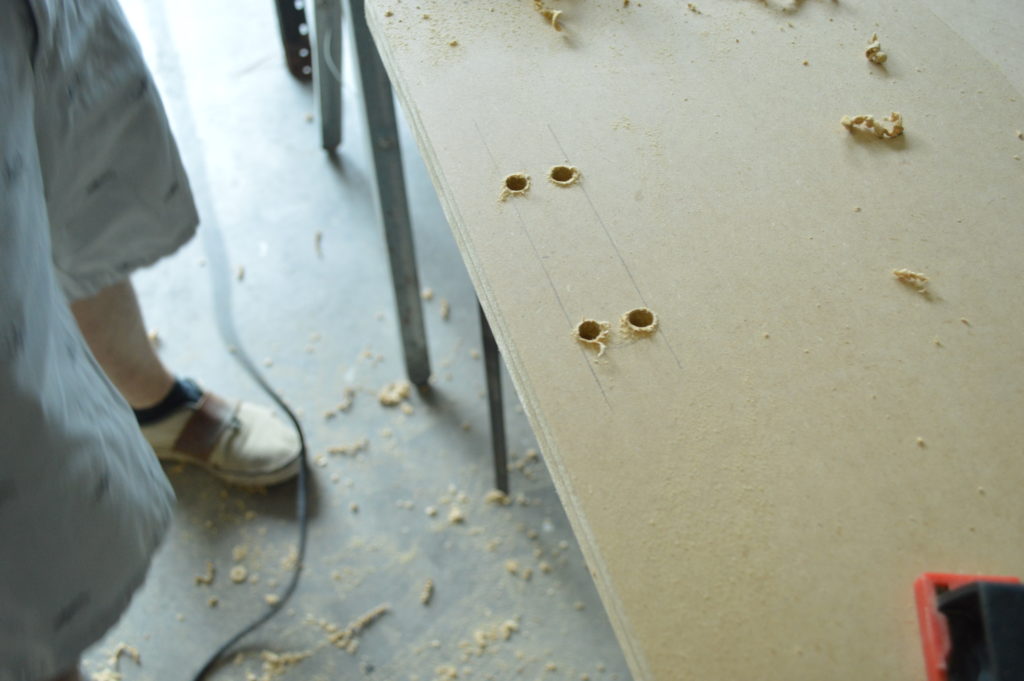 Then, I used the jigsaw to connect those holes and cut out the handle hole.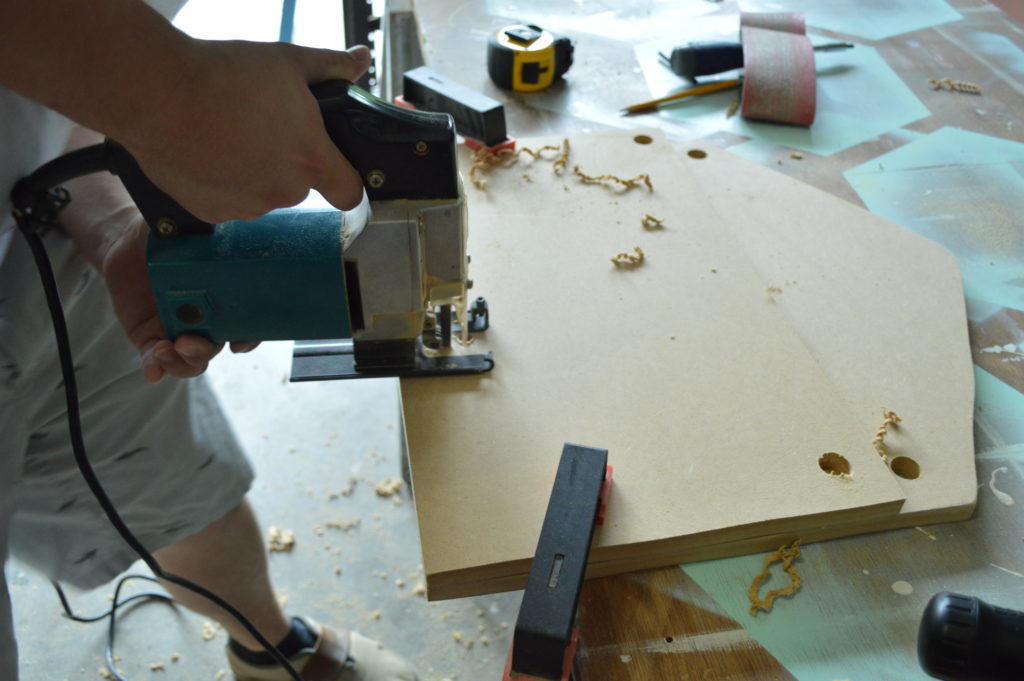 You'll want to be sure to sand this so it's more comfortable to carry. But, it works well and made it a lot less awkward to haul this around.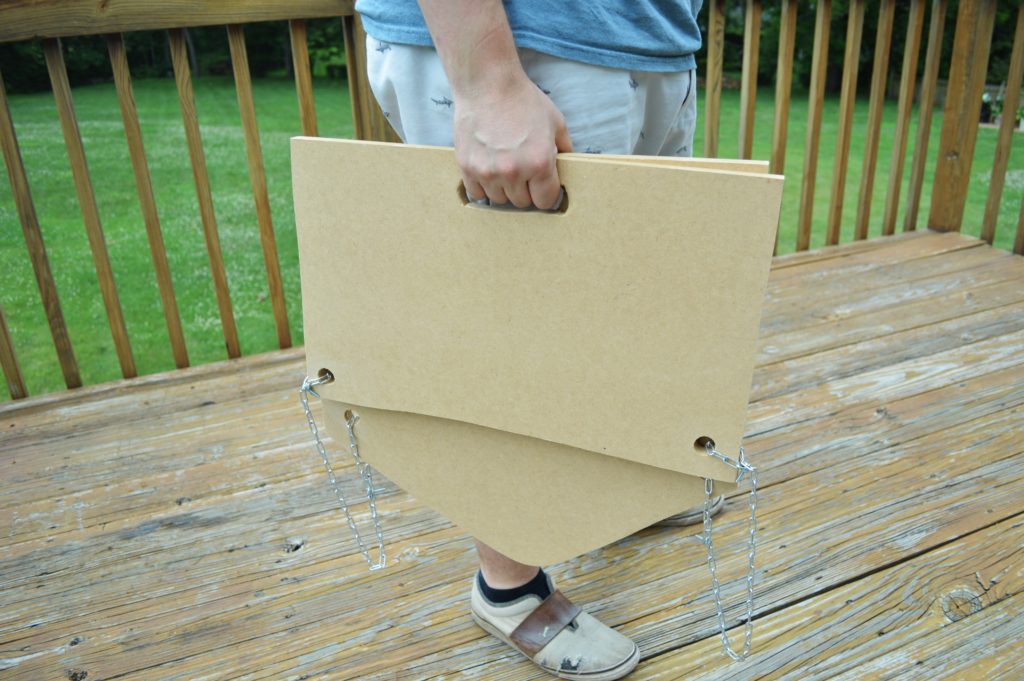 At this point, I had a little extra time, so I roughly sanded all of the edges with 80 grit sandpaper and Melissa scrounged around her stash of pillows to add some nicer seat cushions.
These were really sturdy to use for the play, and made watching from the ground so much more comfortable, but there could have been a little more cushioning to make them softer since we were sitting in them for more than just a short picnic. Melissa wanted to bring some additional cushioning, but I thought we'd be fine. I underestimated the toll the seats would take on our bottoms for the length of the play. Next year, we will take more cushions so we can have one for the back and the bottom.
Overall, though, we're really excited to have these for various blanket-seating events. From things like ballgames to outdoor concerts or plays. Even just for things like picnics, or trips to the beach, or future soccer practices and t-ball tournaments, I think we'll get a lot of use out of these. They happened to fit perfectly in the bag our printer came in, randomly, so for now, we have them stashed in there with the cushions for easy access and throwing in the car. You know, for those spontaneous summer picnics we're sure to take with a baby and a busy schedule, right?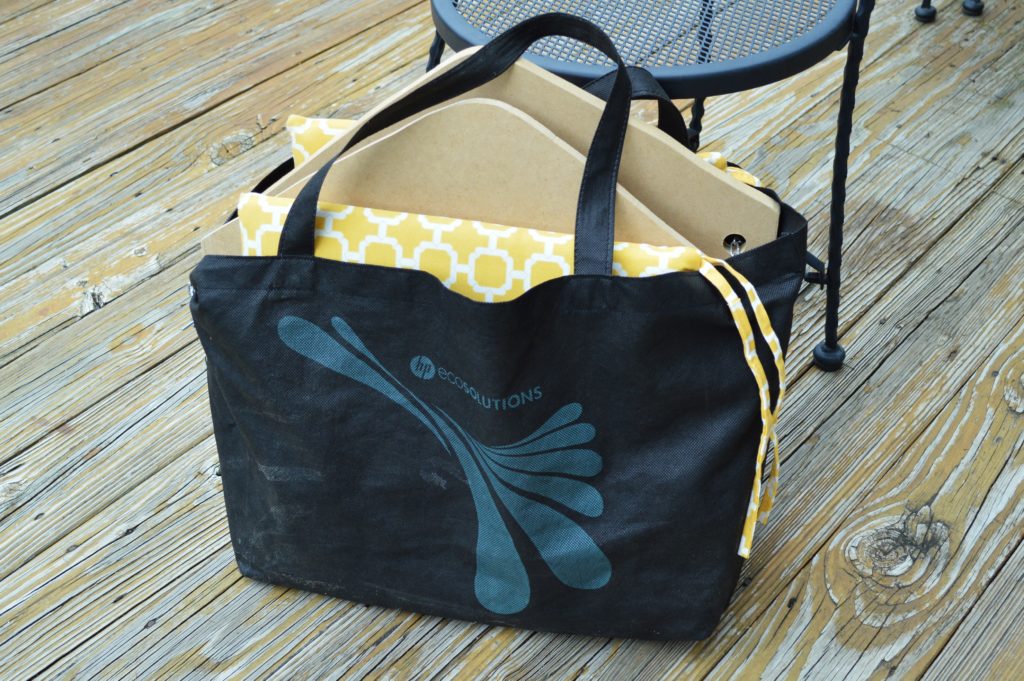 For now, we just left them raw MDF since we didn't have time to paint them, but I think Melissa may give them a few coats of outdoor paint to make them more moisture resistant. Of course, if you happened to have some plywood or even some nice cedar boards, you could really make these fancy. Or you could paint them with your favorite team logo or customize them with family names.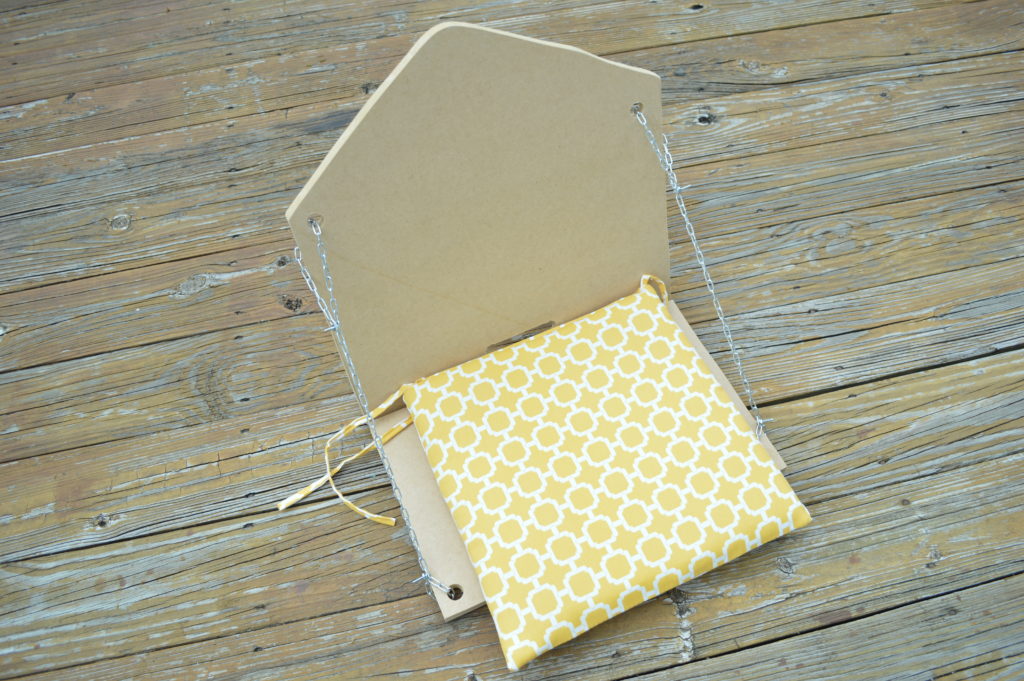 All in all, this DIY stadium seat turned out really well for a super quick project and really made the event a lot more fun since we weren't crunched up trying to get comfortable sitting on a blanket. And, we think these were a great way to use up scrap lumber, and we like that they are sturdy, easy to carry, and for us, were totally free. Plus, they can be customized to suit your preference for the best angle and cushioning, not to mention color or other design features.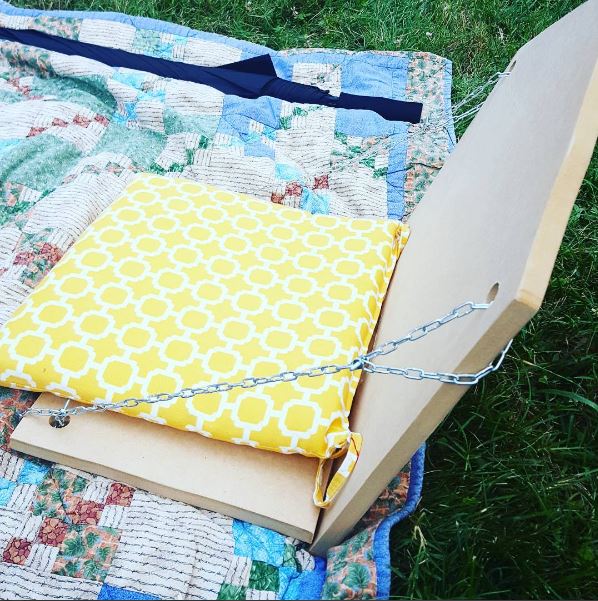 But…
…if you did want to buy a similar option, we found a few at Target to compare to. (affiliate links)
This Coleman stadium seat is the most similar to our version, but it isn't wood. In fact, it might be nice that it isn't wood since it wood be lighter to carry around if you had to walk a long way with them, or if you wanted kids to be able to carry their own.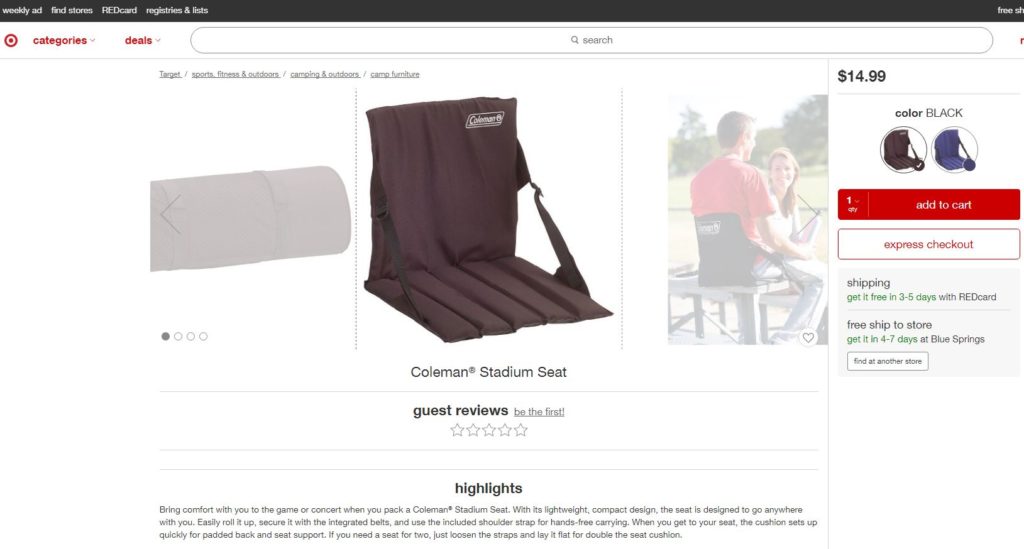 This Crazy Creek Portable Chair is slightly more expensive but seems sturdy and comfortable.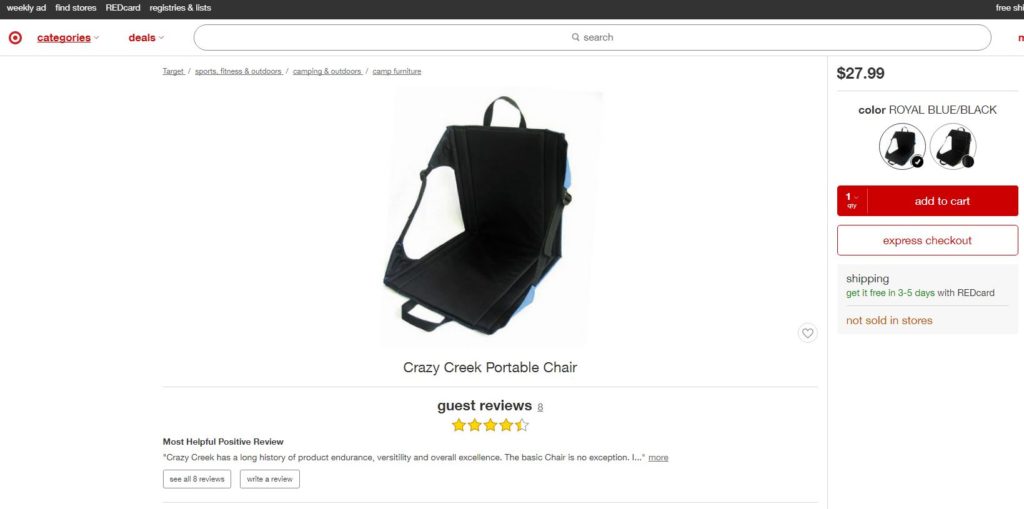 What do you think, is this DIY stadium seat something you'd make? Or buy? What kinds of events can you see yourself using it for? How would you customize it? We'd love to hear your ideas and feedback!
---
~ This post contains affiliate links, which means we will receive a small commission if you make a purchase after clicking on our direct link. It doesn't cost you anything extra but it helps us! Please reach out if you have any questions about sponsorship or ads on our blog. We're happy to help explain how this works, and as always, thank you for reading and supporting LovingHere! ~