I know I've already given you all some glimpses of our Christmas decorations with various projects, but I wanted to do one post that wraps up all the areas of the house. We'll call it a little mini Christmas tour of our house!
The first thing you'll notice is the monogram wreath I made this year.
On the back of that door is the recycled toilet paper tinsel wreath I made.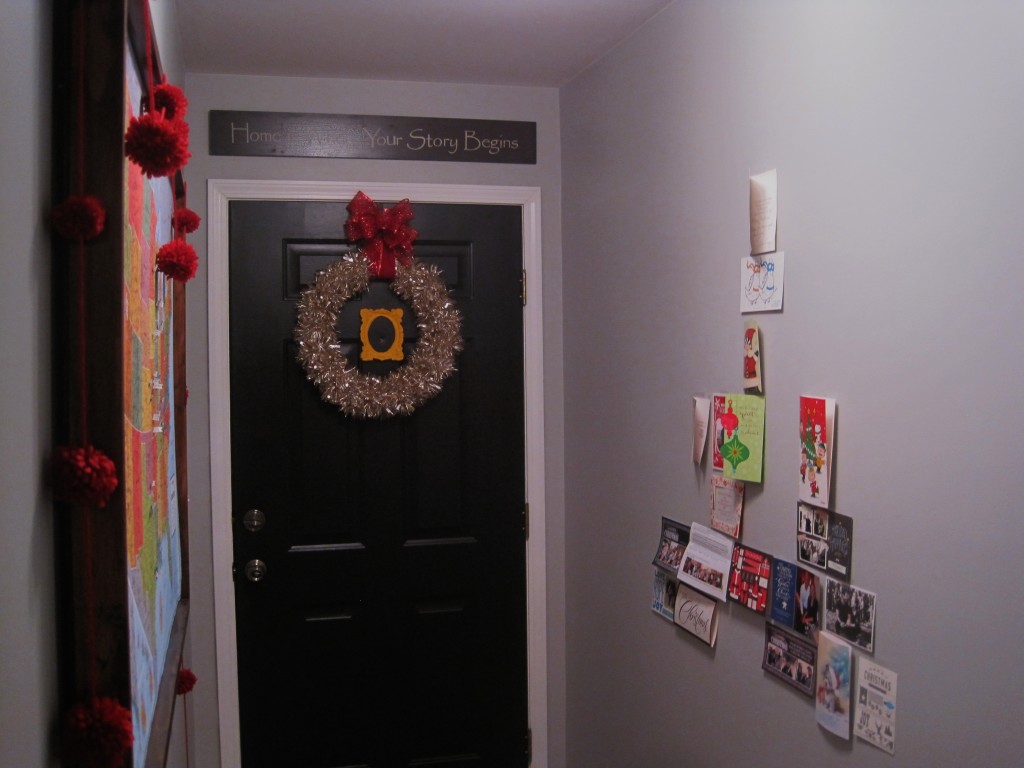 In the entry-way, I added the yarn pom-pom garland I made last year to the map pin board we made this summer. It adds a little festivity without adding bulk since that hallway is so skinny there's no room for putting anything on the floor that would take up space.
On the opposite wall, I tape the Christmas cards we receive up in the shape of a tree. It's just something fun I started last year and really enjoy doing. Several have fallen in the throughout the month and we haven't gotten around to hanging them back up.  Maybe Next year we will make something to clamp them up.
When you look down, you'll see the adorable little rug my mom gave us for our first married Christmas. Cute!
Coming into the living room, you'll see the little table Wyatt made to hold our nativity set.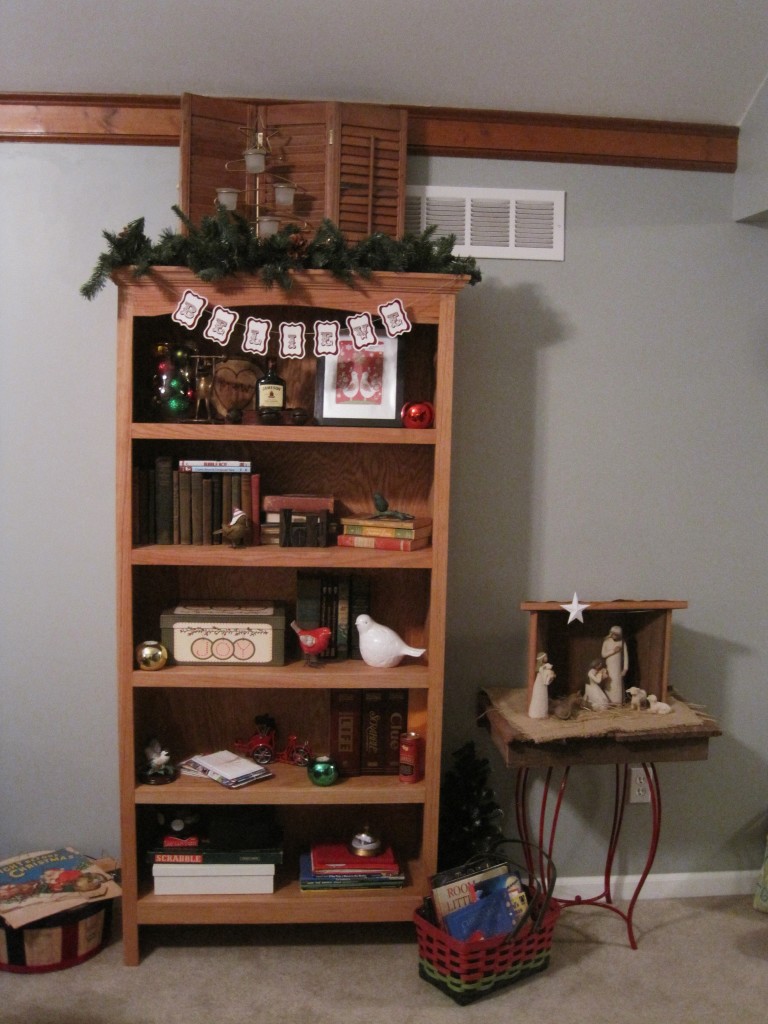 The bookshelves are also all dressed up for the holidays. This year I put all my little Christmas birdies over there because I'm a sucker for alliteration and who doesn't love a bookcase full of birds and books, right?
My Christmas Book collection is over there in a basket and on the bottom shelf. Lots of special memories there. Those little books make my heart so happy!
We also finally pulled the free wooden cable spool we found on Craigslist earlier this year into the house. It's been in the garage all year and Wyatt finally had the idea to just use it as an end table. Originally we had wanted to use it as a coffee table but it was too tall. I can't believe we didn't think of that idea any sooner because I really really like it in there. He's a smart one, that husband of mine.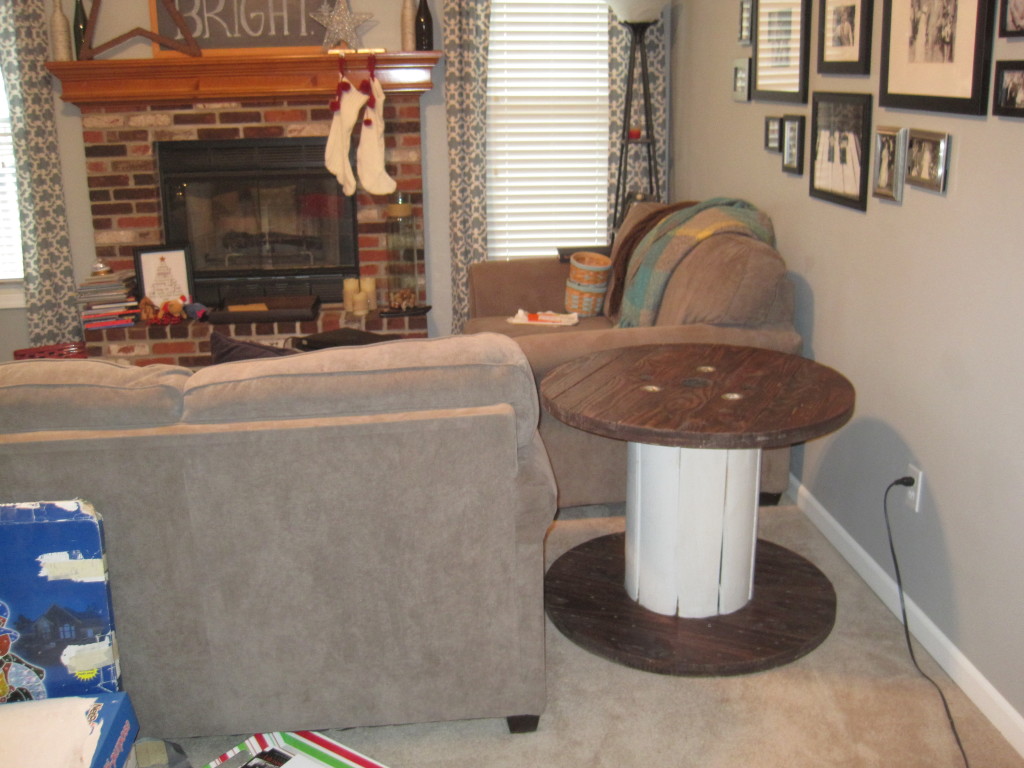 I dressed up the bottom of the spool with a Christmas print I bought at Silver Dollar City on Christmas clearance last year.
On top of the spool is one more birdie, (he was a little too big for the bookcase) also from Silver Dollar City. I also grabbed the little spruce tree from Home Depot on a whim because it was adorable and reminded me of the tree from Charlie Brown's Christmas.
On the other side of the living room is the tree, theNorth Pole shipping crates, and Rudy. I think this is my favorite little decorated area, even though it's hard to narrow it down since I'm really happy with the whole festive atmosphere this year.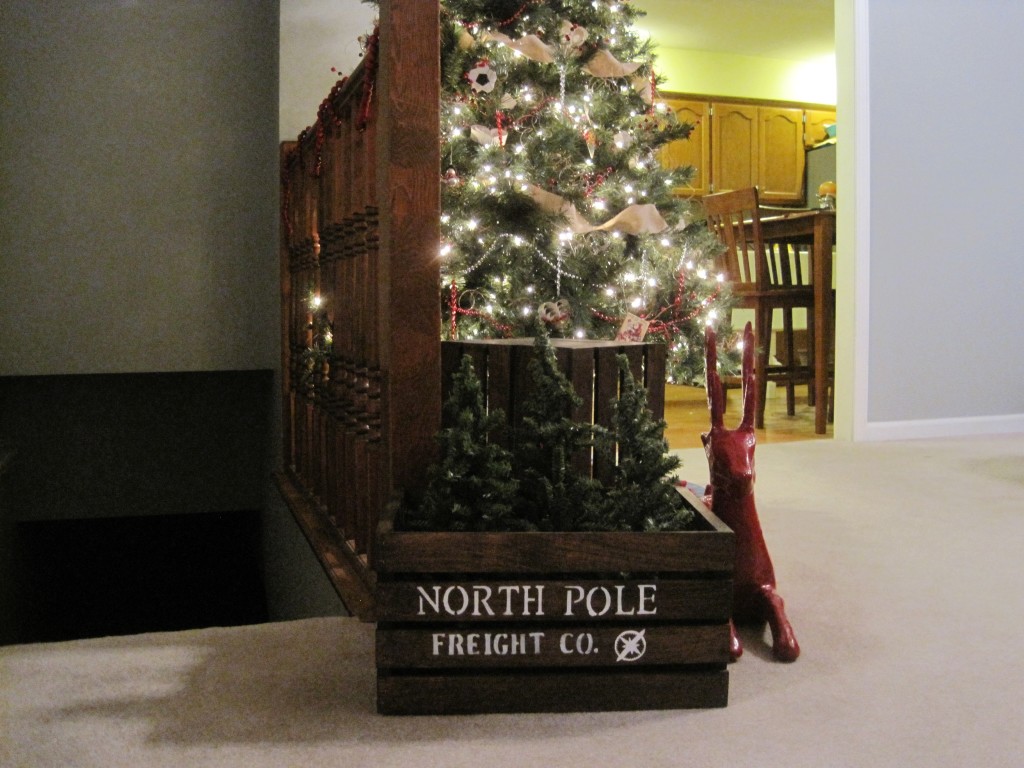 The mantle is also decorated, of course. I went with a star theme over there this year and really like how it turned out. The big stars are made from paint stir sticks and wrapped in yarn. The chalkboard is a salvage find that Hubs fixed up for me.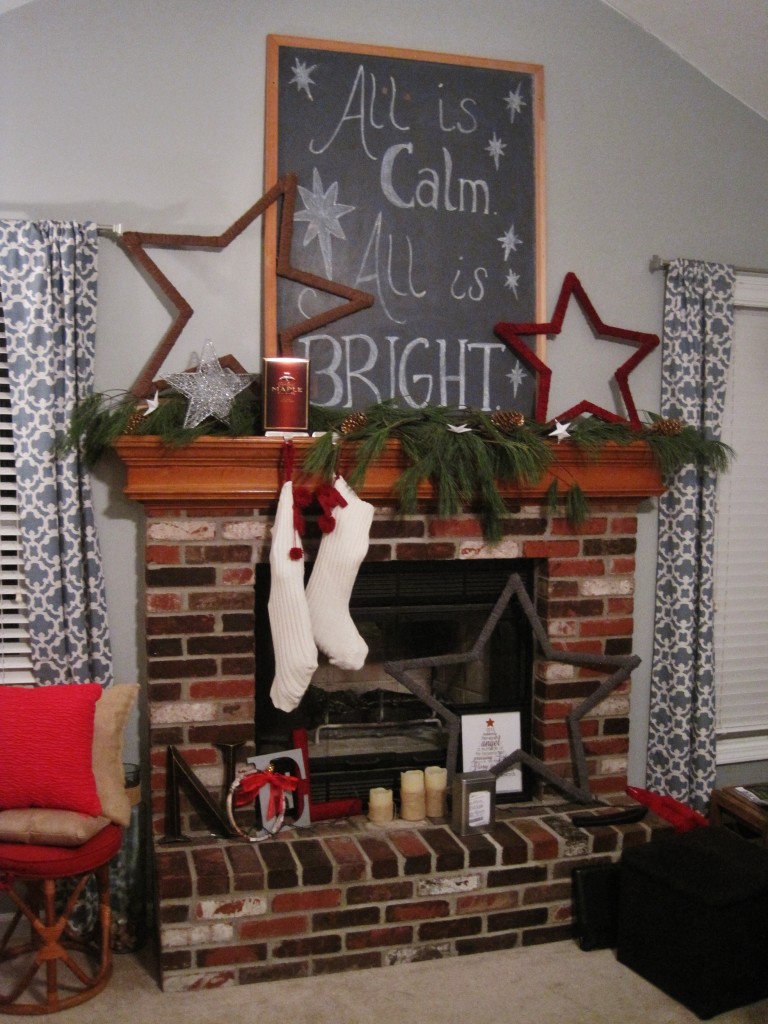 The kitchen isn't as decorated but I did add this little print I've had for a few years. It's from Eighteen 25.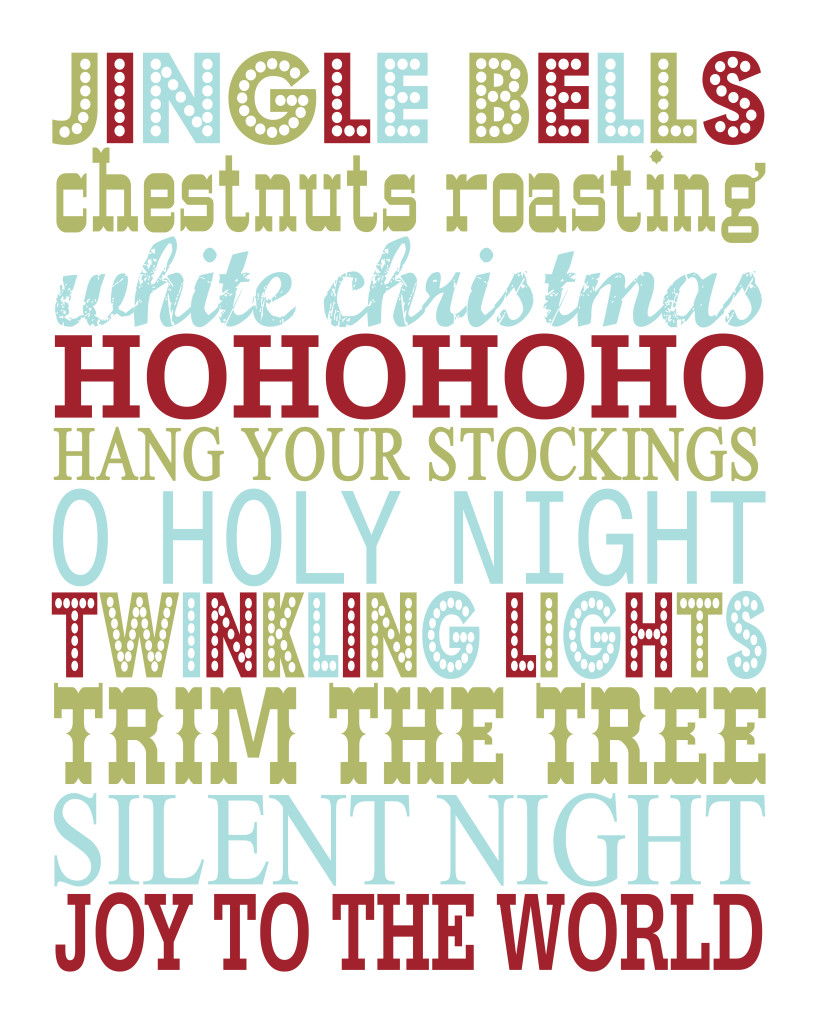 I also switch out the items on the open shelving for more holiday themed dishes, as well as the little adorable cupcake ornament series my mom has started to give me each year. Cute! Some of these dishes are family pieces, so it's really special to see them out and about, even if I don't have room for them all year.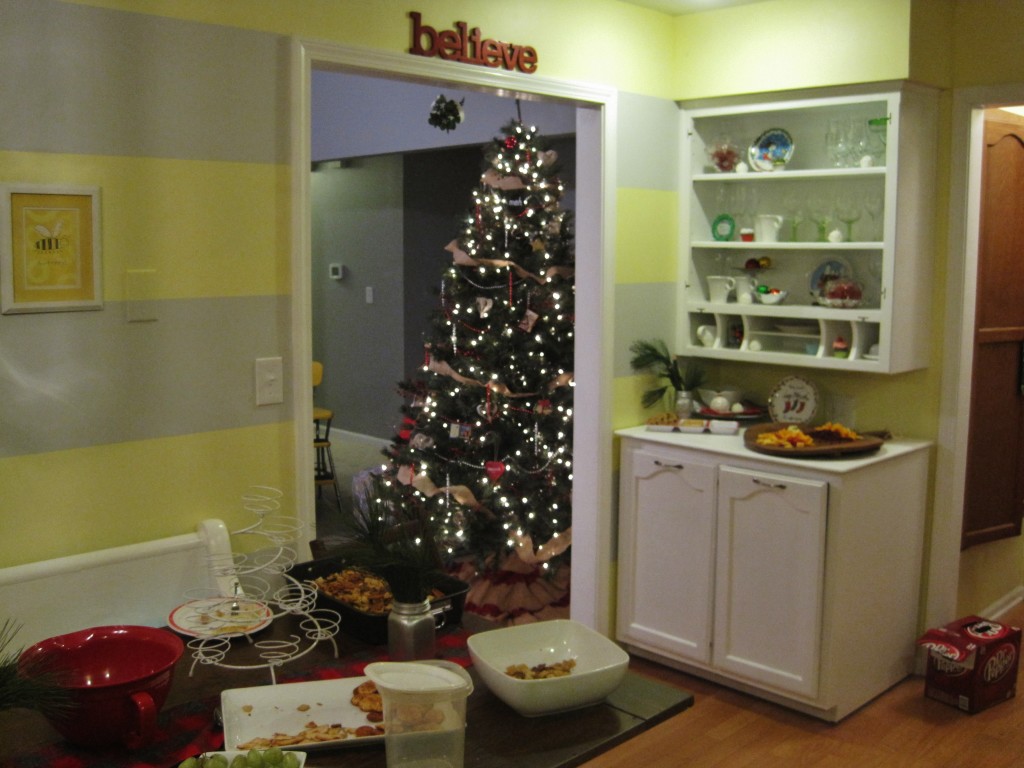 The little sign above the door was a Hobby Lobby clearance find from their wooden craft supply section that I sprayed red and then added glitter to, using the same method as I did for the monogram on the wreath.
The tomato cage trees were the biggest addition to this room though and it feels really festive I think.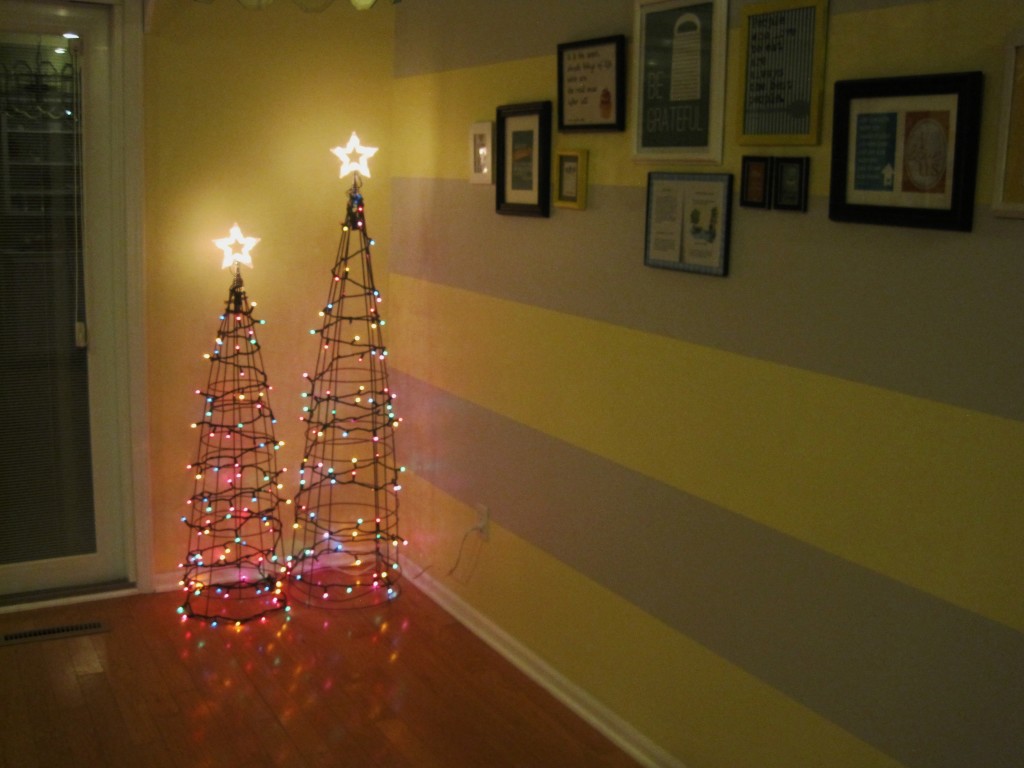 Moving to the hallway, you'll see the little white houses I painted from thrift store  trinkets, as well as the vintage Christmas prints I framed last year.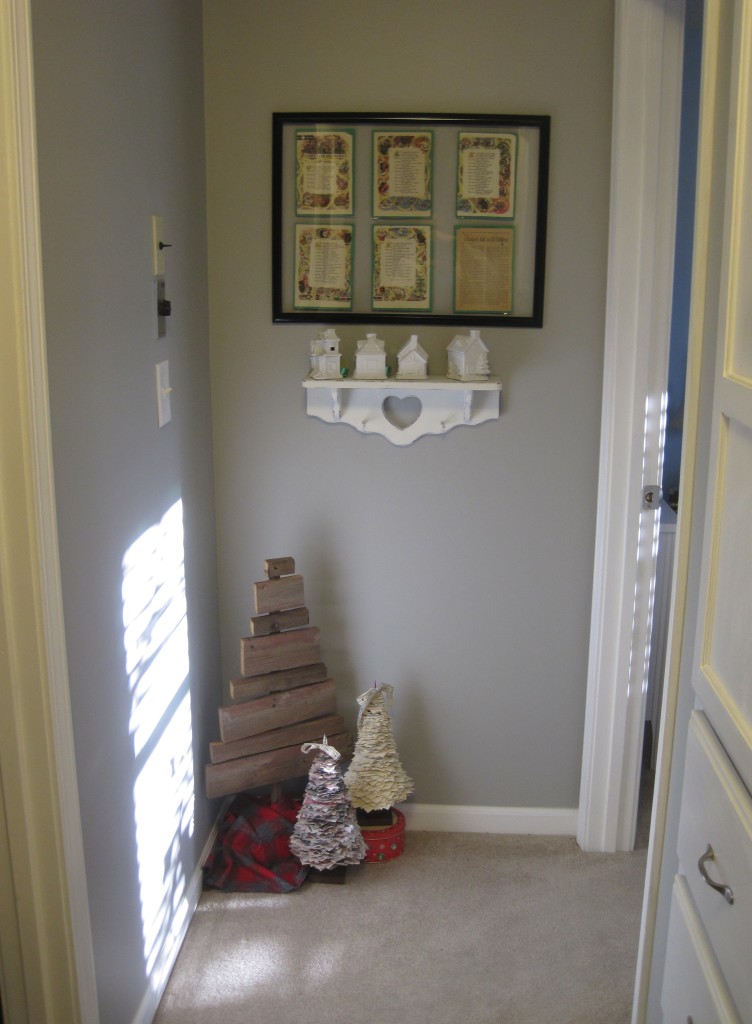 Wyatt's barnwood tree (post coming soon!) is also there, grouped with the stacked paper trees I made for our first Christmas in our little apartment.
We also have a few items in various bedrooms and bathrooms, but for the most part, that's everything. All in all, I'm feeling especially festive this year with all the projects we completed and all the adorable little finds we were able to incorporate. I really appreciate Christmas decorations because my mom used to go all out decorating with her snow men each year and it was so fun to get everything out and decorated as we got closer to Christmas.
Now that I'm decorating my own house, I've found I also enjoy the act of making most of my decorations, something that isn't necessarily from my mom (she's self-admitted to being very uncrafty!) but I think that's what makes Christmas decorations special for everyone–they're so personal and sentimental.
Pair a night of crafts and decorations with some Alabama Christmas music and you've made me a very, very happy girl!
Now, tell me about your Christmas decorations! I'd love to see pictures of your home all dressed up for the holidays!